Fetishism and BDSM have not gone out of fashion for years – mostly in the form of clothes that create ambiguous fantasies and special feelings. In fact, BDSM practices can be painful, disgusting, and humiliating and not for everyone, and sex in them is not mandatory. Therefore, whoever wants to expand his sexual horizons must get acquainted with the basic concepts and decide for himself whether this is for him.
You must first understand what BDSM is. This set of three abbreviations: BD (Bondage & Discipline) – binding and discipline, DS (Domination & Submission) – domination and submission, and SM (Sadism & Masochism) – sadism and masochism. Each format has its own type of relationship between the dominant party and a subordinate party.
BDSM toys, also called SM or power play toys, include a range of products designed to enhance or inhibit the sensation and/or movement of yourself or a partner.
Despite an emphasis in fetish and BDSM literature on having the most expensive accouterment, the fact is that you can explore BDSM toys safely and enjoyably on any budget.
Many BDSM players say that their favorite sex shop is the hardware store. They even have a name for their homemade sex toys; "pervertibles". If you'd prefer store-bought toys, here's a breakdown of the different kinds of BDSM toys available.
Bondage and Restraints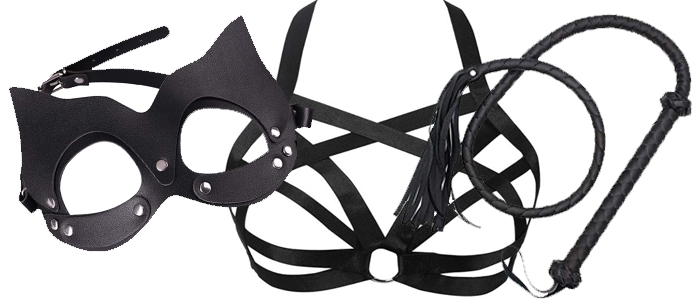 T
here are hundreds of styles of cuffs and restraints designed to prevent someone from moving, or allow them a certain range of movement. Restraints can attached to the limbs or torso or some combination of both. Make sure the sizing is right, the material is comfortable, and the edges are either soft or beveled so they don't cut into the skin. Other bondage items can inhibit sensory input. A blindfold prevents you from seeing, a ball gag makes it difficult to talk, a hood that covers your ears, etc…
Paddles and Floggers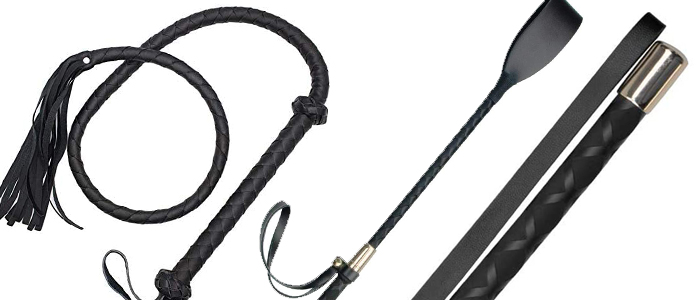 W
ooden or leather paddles, floggers, whips, riding crops, and canes are all toys used to create sensation on a partner's body from a light tickle to an intense thud. If you don't use a paddle or flogger correctly you could seriously hurt your partner or yourself, so learning the basics is essential. The firmer the toy is the easier it is for a beginner to manipulate in terms of where it hits and how much pressure is applied. The differences in these toys depends on the material, weight, and how they are meant to be used.
Nipple Clamps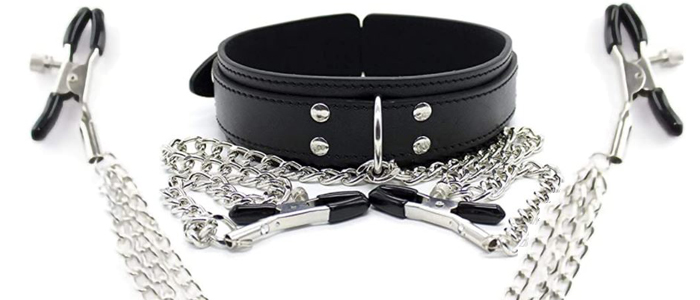 W
hen applied nipple clamps squeeze the skin together and force the blood out of the area being clamped down on, creating a sensation some people find both uncomfortable and pleasurable. Even though they're called nipple clamps in most shops, these toys can be used on all parts of the body if desired. Clamps differ depending on the amount of pressure they can apply, and the mechanism for controlling the pressure applied.
Sensation Toys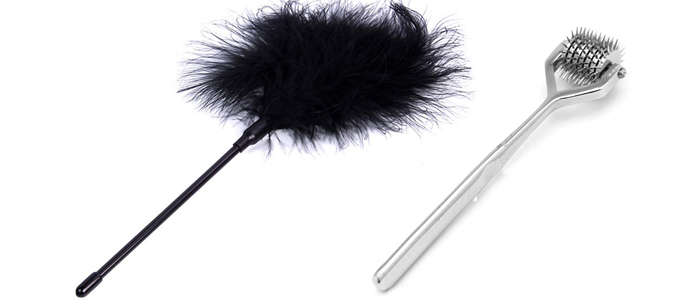 S
ensation toys range from a feather that creates the gentlest (but no less intense) sensation, to a Wartenberg Pinwheel (shown on the left) which has sharp spikes and is designed to be lightly run across the body to chilling erotic effect. There are gloves with tiny spikes in them, wax candles that melt at a low temperature but still create a searingly hot sensation, and many other possibilities. Each of these toys is designed to create a different sensation without causing any damage to the body.
Cock Cages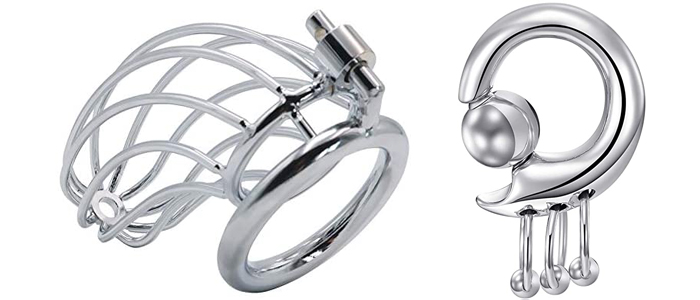 N
o one can make you do something you don't want to do. This is exactly what makes the
cock cages
, or the male version of "chastity" belts. The man himself clicks the padlock, gives the key to his mistress (or master!) And this leaves the dominant in complete control over his masculinity in the hands of others. Your comfort. Your pleasure. Your erection. It all depends on the strict rules of the game you're playing.
It's easy to get carried away with buying new, exciting toys, but the truth is that you already have enough tools at hand that do a great job. You don't need restraints and chains to embark on a sexual adventure. You have hands and teeth, and they can give you a number of sensations.
From light bites to leaving marks, biting can really drive you crazy if this is your type of play. The neck is one of the places for biting your partner (don't forget to ask if you can leave marks!), But most places on the body are suitable for at least a light bite.
Your hands can also deliver a variety of sensual pleasures. Grabbing, pinching, scratching, spanking – the possibilities are endless.
However, if you believe BDSM play is not your cup of tea, you can easily choose one of the popular adult toys and tease your partner with it: