If all you knew about male sexuality was what you learned from male sex toys, you'd think men were quite sad in terms of sexuality. Penis rings, pumps, and cuffs have been around as long as sex toys have been around, but somehow male sex toy manufacturers are just starting to celebrate sexual pleasure for men (instead of fixing a problem or correcting the deficit).
It's important to remember that anatomy does not equal sex, that not all men have the same body parts, and that certainly not everyone who likes male sex toys has to identify as a man.
A better way to understand this category of sex toys is to think about the function of the toy and not who it is marketed to. If you are trying to navigate the world of male sex toys, the following breakdown may help.
Penis rings
Penis rings are considered more of an aid to maintaining an erection than a sex toy. It's true that the right kind of penis ring can help you prolong an erection. But penis rings can also provide a world of pleasurable sensations.
By altering the sensation of erection, a penis ring not only changes the way you have and enjoy sex, but also heightens your awareness of your body when you are aroused. Some people also use penis rings as body jewelry.
Vibrators for men
Any vibrator designed for external stimulation can also be used by a man, and many men love the strong, steady buzz a clitoral wand vibrator can produce.
Vibrators designed specifically for men are usually attached to the penis with a ring or strap (essentially a vibrating penis ring). These can be fun to use and are virtually hands-free sex toys. Men enjoy them most when the vibrator stimulates the scrotum face down. They can also be worn with the vibrator on top to stimulate the partner during penetration.
The disadvantage of vibrating rings is that they usually do not have the power that men need. Electric or rechargeable handheld vibrators are more capable of delivering the powerful vibrations that bring a man to climax.
Penis pumps
Aside from the false claims of permanent penis enlargement, penis pumps are a popular sex toy for men, especially for masturbation. When a penis is placed in a pump and the pump is activated, there is a feeling of pressure and suction; the tightness around the opening of the pump is pleasurable for some men.
Penis pumps are definitely for connoisseurs, but with models available for as little as $20 and options that include vibration, they can be another fun toy to try. Just remember that they do not permanently increase anything except the wallets of penis pump manufacturers.
Sleeves and "Masturbators"
Another type of male sex toy is called a penis sleeve or a realistic penis masturbator. The term "masturbator" is somewhat misleading, as many couples incorporate these toys into their partner's play. There are thousands of variations of the penis sleeves, but most share a common design. They are tubular in shape and have an opening for the penis. Inside the sleeve, there may be bumps or grooves, as well as features like vibration, suction, or even motors that move up and down.
Some sleeves have an open-end (which, by the way, makes cleaning easier). Some are much shorter than the penis, while others are longer. A big difference between the sleeves is the material they are made of. The material differs in durability, density, and overall feel. There is no "best" material, but a material where you can feel the pressure applied to the sheath from the outside is recommended.
The Fleshlight
The Fleshlight falls into the previous category of penis sleeves, but it is such a unique product that it deserves its own category. (Plus, there are so many variations that it's more than just one product).
The Fleshlight is one of the most durable and softest male sex toys on the market. The Fleshlight is made of a unique material that has yet to be copied. It creates an enveloping feeling and the models with grooves and elevations can provide intense stimulation at the same time.
The Fleshlight is not only available in the look of female genitals, which I appreciate. It has not only inconspicuous openings but also a vulva, mouth, anus and butt. This product is appreciated by most male sex toy lovers it is totally worth the price.
Where to buy The Fleshloght: Lovehoney
Anal Sex Toys
While it must be said that anal play is not necessary for a happy and hot sex life, the fact remains that the anus is a place of enormous pleasure potential for both men and women because of its sensitivity to pressure and concentration of nerve endings.
For any man who wants to explore anal play, there are a variety of great anal sex toys designed to be safe. There are three types of anal toys, each used for a different type of anal play: Butt Plugs, Anal Beads, and Anal Dildos.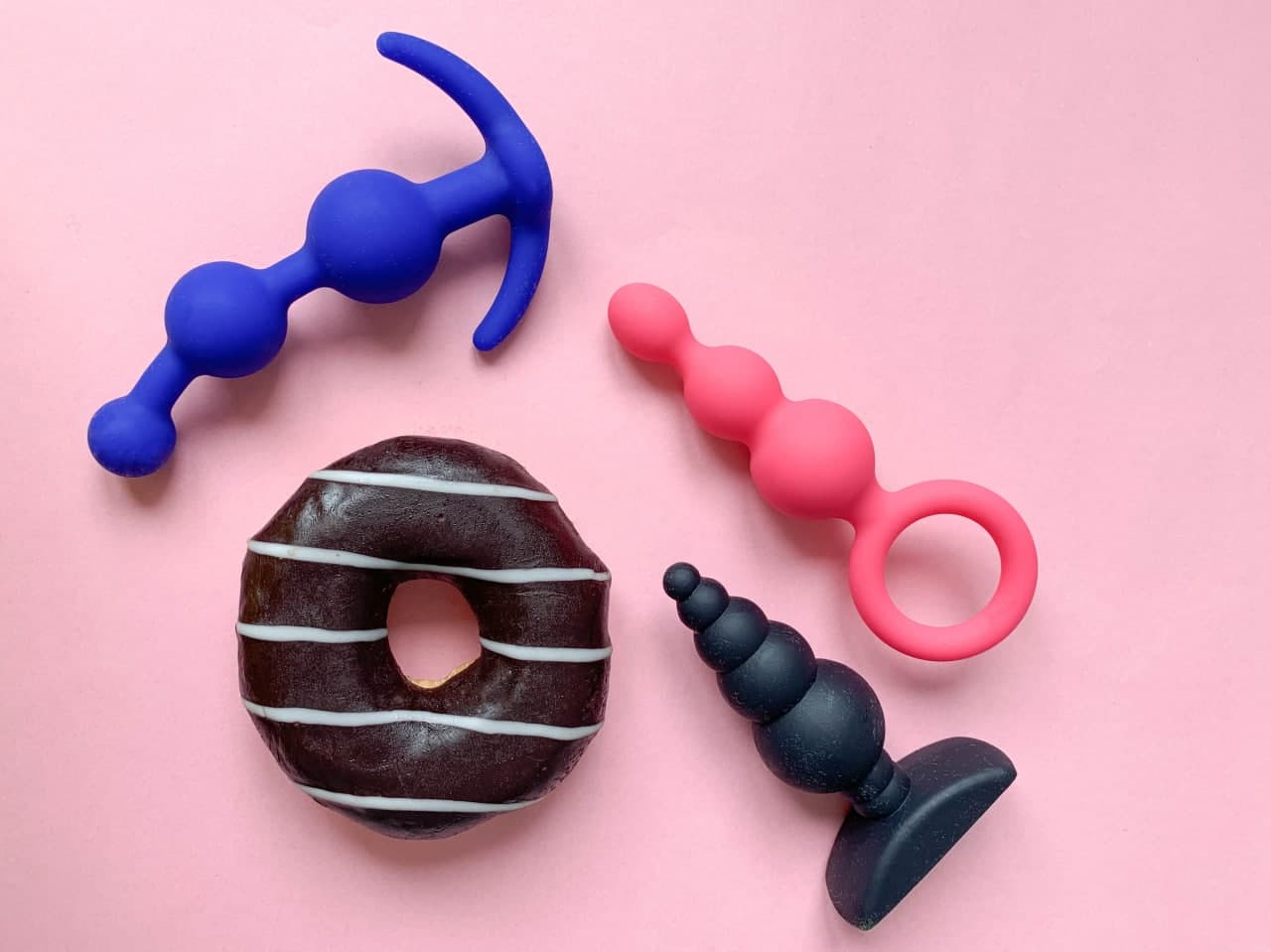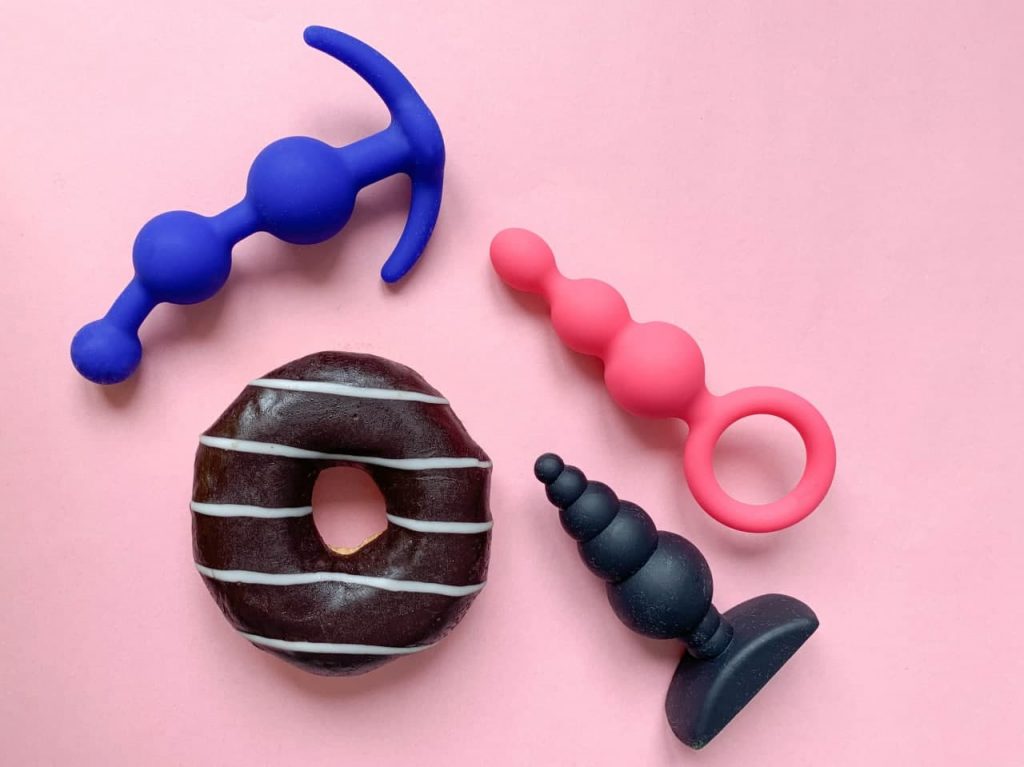 In addition, some companies have started making toys specifically for prostate stimulation. The first on the market and still the most famous is the Aneros line of prostate massagers for men.