OhMiBod Lovelife Discover is a mini-sized vibrator that might not impress you with awesome features but is the perfect combination of affordable price, compact size and optimal performance. Discover is impressively versatile and will catch you unprepared for the pleasurable surprise it can offer once you give it a go.
Solo masturbation can be so much fun if you're a fan of intense and targeted internal stimulation. The name of the bullet toy is not a coincidence – with Discover, you'll be able to detect the most satisfying ways to stimulate your clit.
OhMiBod LoveLife Discover: Performance
The simple truth about  OhMiBod LoveLife Discover is that there aren't many reviews, written by real users on the internet. So, in order to be as accurate as possible, we took into account the few reviews available and compared them to the results we got after trying the Discover mini vibe.
This mini vibrator has so much to offer if you're looking for different kinds of pulsations – Discover has 7 preset scalable pulsations you can choose from and most of them are well accepted by users. However, in terms of intensity, both online reviewers and our testers share the same concern. With Discover, increasing the intensity of stimulation only means more buzzing-type of stimulation, which, for most users is just tickly and irritating.
Thankfully, even the lowest settings of this small vibe offer decent stimulation which turned out to be just perfect for reaching an orgasm. It does take time to adjust the optimal intensity and pattern for your own preferences, but once you do, it will take only second until the heavens open and angels begin to sing.
This little guy may be small but it's powerful enough to give you the thrills of a wand. A perfect size for external stimulation as well as some internal teasing.
Discover can be used for clitoral stimulation, you can add it to your foreplay or solo pleasuring. When used externally, it can be a great turn-on when applied to various erogenous zones, such as nipples, tights, or even perineum. Just start on the lowest settings and gradually increase the tempo.
Where to buy OhMiBod LoveLife Discover:  OhMiBod
What's OhMiBod LoveLife Discover made of?
Just like all other OhMiBod sex toys, this one is made of 100% body-safe materials. The vibrating shaft is made of body safe silicone and the handle is PU coated ABS, 100% Phthalate, latex, and BPA-free.
Keep in mind that sex toys, intended for external use only should also be manufactured from body safe materials, as harmful compounds can easily penetrate the skin.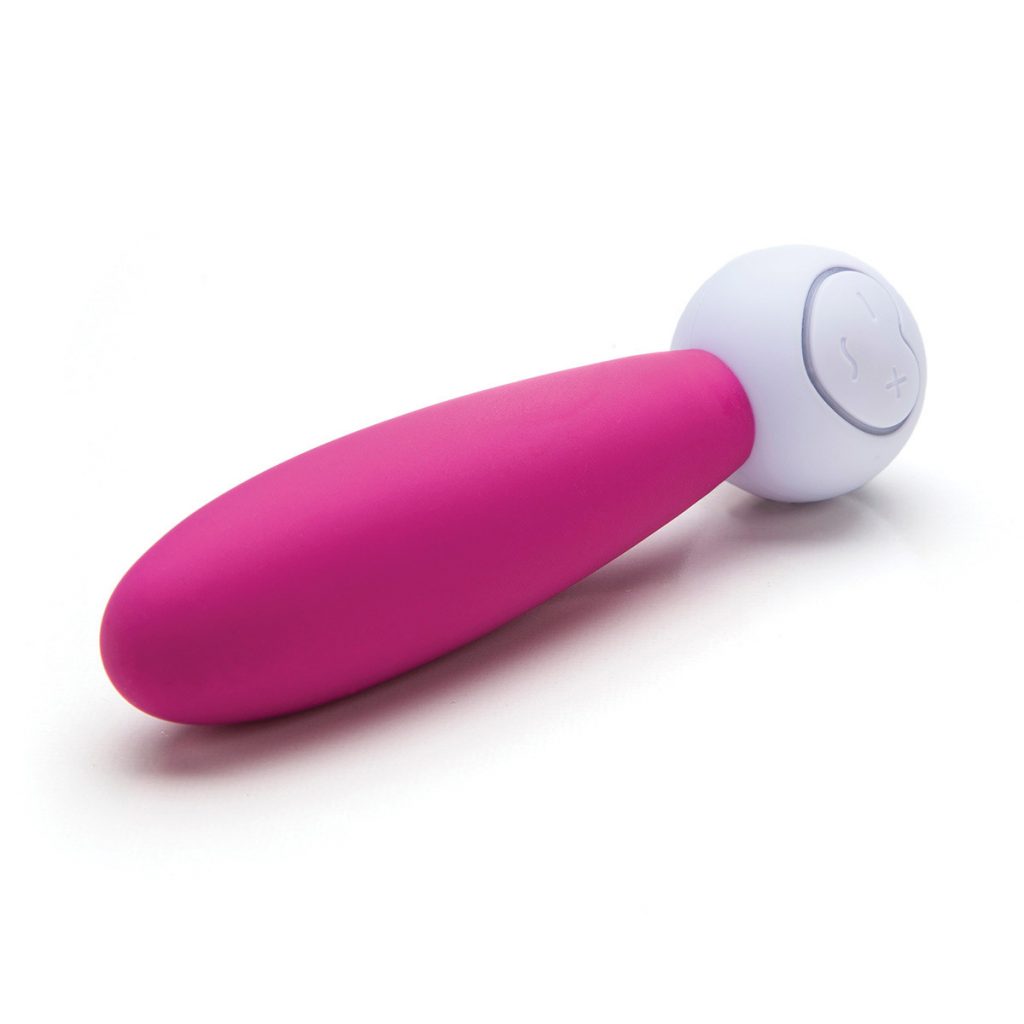 Discover's design
Everybody shares the same opinion regarding the aesthetic appeal of LoveLife Discover bullet – it it super cute and elegant. And not only the design of the toy but the packaging as well. If you're looking for an affordable, yet cute gift for someone, the Discover vibe might be a great option!
Is OhMiBod LoveLife Discover loud?
Discover is not the most discreet sex toy you can have, there are devices with quieter performance (such as Tango by We-Vibe). Yet, this mini vibe still belongs to the category 'silent vibrators'
How does the Discover work?
Especially fond of the many settings and speed variations and honestly it's fun to just check it out and feel all the settings.
The various patterns of vibration are the favorite feature for most users.
You can easily adjust the speed level and type of stimulation through the push buttons at the base of your mini vibrator.
Pressing and holding the wave button activates the mini vibe. The same button also controls the patterns of vibration (you can choose between 7 different patterns). To increase or decrease the intensity, just press the + or – button.
This mini vibe is not intended for internal use. It doesn't have  a comfortable and reliable handle to provide comfortable grip when used vaginally but plenty of users have tried and enjoyed the vibrations that way.
We don't recommend using Discover for internal stimulation due to safety purposes.
Just like most modern adult toys, the Discover is USB-rechargeable – no need to buy and change batteries. A complete charging takes about 2.5 hours and you can continuously use the toy during the next 2 to 3 hours, which is an impressive performance, having the super affordable price of Discover. The stand-by time is up to 90 days, if this information is of some use.
Is the Discover waterproof?
Bad news for the fans of shower masturbation. Discover is not waterproof, so you can't use it for that purpose. It is only splash-proof, which means you can only clean it (carefully) using water. In fact, your easiest, 100% safe option is to use a sex toy cleaner because several users noticed that their toys absorb the water-based lubricant right after application, which is weird, having that the tip of Discover is made of silicone.
Discover Packaging
This mini toy comes in a cute box – it resembles a bed where your small beastie sleeps. Additionally, you get a satin privacy pouch that is perfect for discreet traveling.
Because of the gorgeous appearance of both the vibrator and the box, many people bought the mini toy as a gift.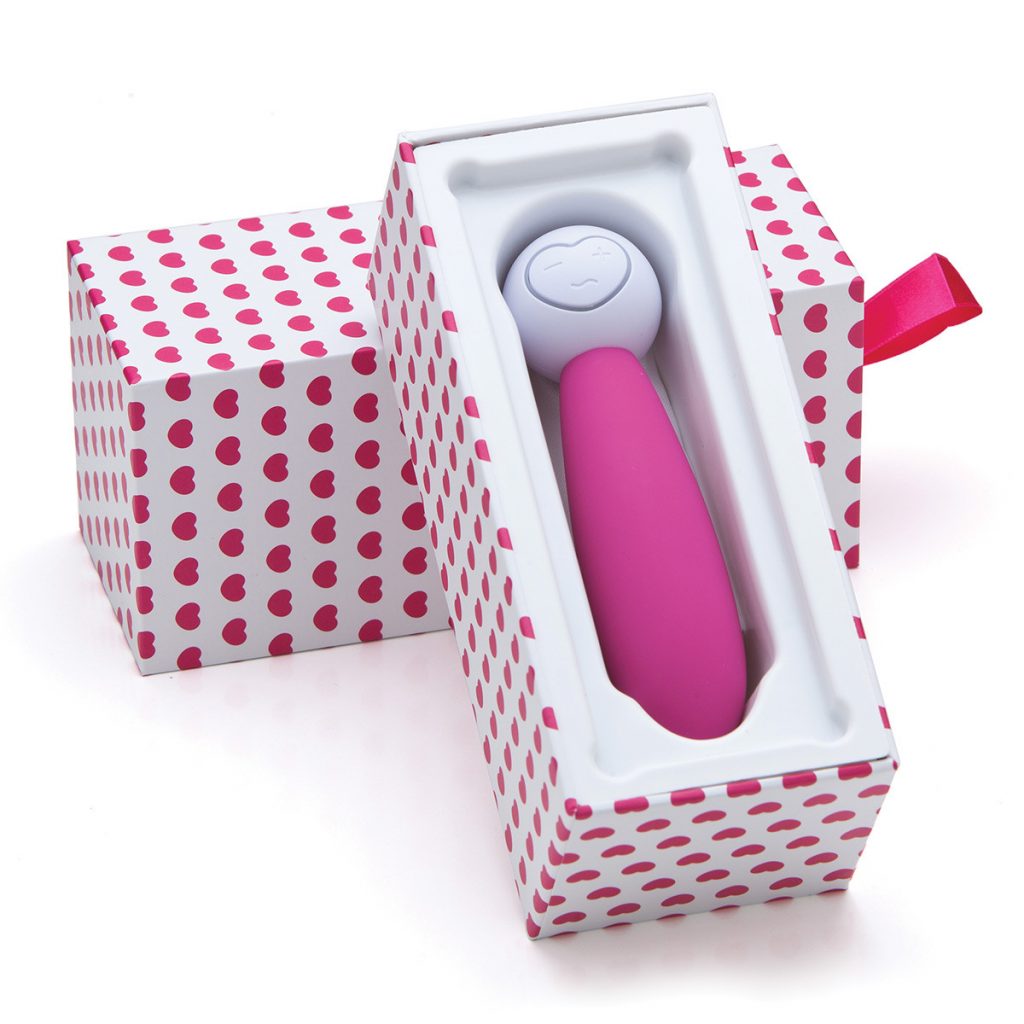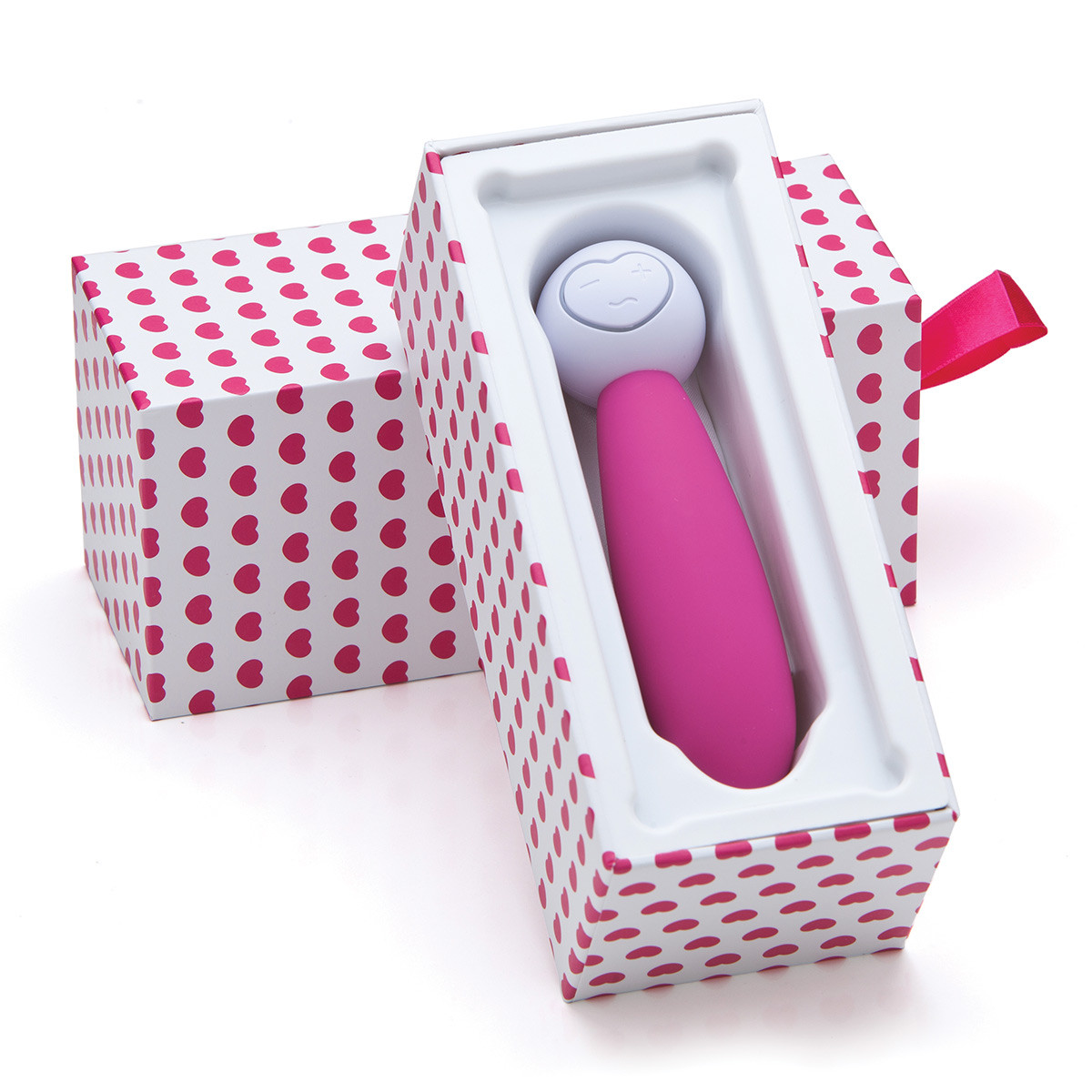 OhMiBod Warranty
OhMiBod LoveLife Discover comes with a 1-year warranty, so you can get a replacement (free of charge) in case your mini toy misbehaves within the first year.
Where to buy OhMiBod LoveLife Discover:  OhMiBod
If you want to read more unspoiled sex toy reviews, do check the following articles we prepared for you: