The Bottom Line
Ride On is a game-changer in the world of penile prostheses and male strap ons. Made of incredibly soft and supple silicone, Ride On is easy to clean, feels great, and stays in place without extra straps. With a little practice, you can easily integrate the Ride On into your sexual movements and it becomes an extension of your own body. After decades of poorly made, aesthetically challenged male strap ons Vixen VixSkin has done a wonderful thing by providing us with this much sought after product that actually delivers.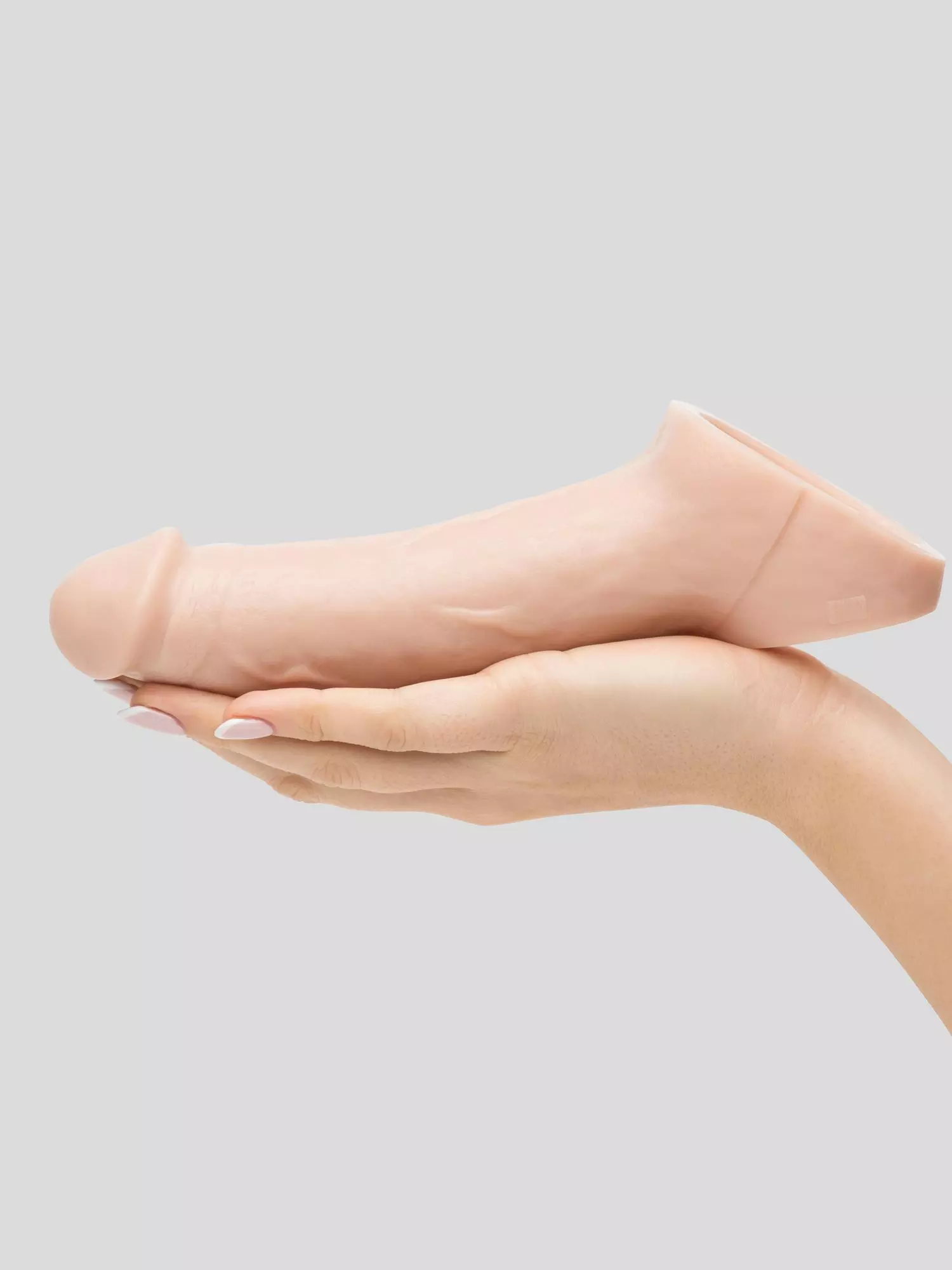 Pros
Silicone heats up and stays warm, feels soft yet firm like skin
Made from lifelike VixSkin with pronounced head and veins for realistic-feeling during penetration
Stays on without straps and without the need to hold it in place
Works in many positions
Cons
Doesn't work well in the woman on top position
Good for vaginal penetration but not anal sex
High-quality material means a higher retail price
May not be comfortable for men with large penises
Where to buy:  LoveHoney Website
Learn more about the best anal vibes for men and women, the most realistic male masturbators, anal beads fun, BDSM toys and everything related to sex toys!
Description
Made of platinum silicone from Vixen VixSkin
Measurements: outside is 6-1/2″ long by 1-3/4″ diameter; inside is 4″ long by 1-3/8″; solid tip measures 2 1/2″ long
One strap stretches behind the scrotum and keeps the Ride On tight against your body.
Available in two colors: flesh pink and black.
Guide Review – Ride On Penile Prosthesis/Male Strap On
The Ride On was made for men who have difficulty getting and maintaining erections as well as trans-women looking for an alternative to a standard strap on and dildo harness. It's a soft hollow dildo that slips over the penis and is attached by a strap that extends around the scrotum. The dildo stays in place during penetration, allowing someone without an erection to penetrate a partner vaginally.
The Ride On is different from any other male strap on or penile prosthesis. Firstly it is made of lifelike VixSkin, arguably the best material for dildos. The material is soft and "lifelike" it warms up to your body temperature while you use it and holds its temperature longer than other materials.
But the real genius of the Ride On is the design. Many other male strap ons have straps that go around the waist and between the legs. The straps are usually uncomfortable, in the way, and of poor quality, which means they don't keep the dildo tight against the wearer's body. The Ride On works with a single, wide, very comfortable strap that is pulled around the scrotum. The penis is slipped inside the hollow part of Ride On and the toy stays very tight against the body and it stays put, even during rigorous penetration play. The Ride On works in many positions (except "woman on top").
How to Put on Ride On:
Take Ride On out of the package and wash it well.
Put some lube inside the hollow part of the dildo as this will make it more comfortable going on and coming off.
It's easiest to put Ride On on while lying on your back. First, slip the dildo over your penis and hold it on with one hand.
Grab the strap at the base and pull it over your scrotum, until your testicles and scrotum are through the hole and the strap is behind them, near your perineum.
Apply a water-based lubricant to the dildo and you're ready to go!
Where to buy:  LoveHoney Website