Vibrators are designed to stimulate the most sensual erogenous zones, causing strong orgasms in both women and men. They are the ideal lover during your solo games and bring spice into the sex life of couples. You can use the vibrators of your choice to explore your hidden sensitive areas or to provide additional stimulation to your most orgasmic ones.
The "best" vibrator is simply the one that's best for you, that's a good fit with what you want to do and how you like stimulation.
Finding the vibrator that's best for you involves asking a lot of questions, and experimenting with vibrators. The only way to know what's best for you is to try it out.
Keep in mind that the "best" vibrator for you now may be very different later in life, or if you're using it with a partner, or a different partner. Here are some of the major questions to ask yourself when trying to find the right vibrator, along with key vibrator differences that should help you find the vibrator that's best for you.
What do I want my vibrator to do?
The easiest way to choose a vibrator is to think about what you want to do with it.
Most people use sex toys for external stimulation (women use them on or around the clitoris, and men use them either on the head or shaft of the penis and around the scrotum). Examples of external vibrators are wand vibrators, mini bullets, clit sucking toys, and panty vibes.
But some people like to use vibrators for penetration,. If you're not sure what you like you may want to choose a vibrator that can be good for both. This is the case with bunny-shaped vibrators that stimulate both the clitoris and the vagina.
Questions and answers to help you choose the best vibrator based on function.
One way to choose a vibrator is based on function, or what you want the vibrator to do/what you want to do with the vibrator. Vibrators are designed to be used:
Exclusively for vaginal penetration
Exclusively for anal penetration
Exclusively for external stimulation
For both penetration and external stimulation
For simultaneous external and internal use
In any way you can imagine – versatile vibrators
First consider electric, battery-powered, and remote control vibrators.
Most electric vibrators are only for external stimulation, although with some models you can purchase attachments for penetration. While many battery vibrators are also for external stimulation, there are more options if you are looking for something for penetration.
If you are looking for a vibrator for penetration, you may want to choose one made of soft rubber ( jelly rubber, silicone rubber, or elastomer) as many people find the somewhat softer vibrations more comfortable.
If you're looking for a vibrator for external stimulation, hard plastic battery vibrators and electric vibrators will offer stronger vibrations and they tend to be easier to clean.
If you're looking for a vibrator that you can use for both, just make sure that the motor is near the tip of the toy, and that most of the vibration can be felt at the tip. If the motor is near the base, it means you will only get the full vibration when you're using it for penetration, so vibrators, where the motor is at the tip, are preferred.
Dual-action vibrators are designed to offer simultaneous penetration and clitoral stimulation. They can be a lot of fun but are arguably less versatile as they only really work when you are using them for both at the same time.
Finally, there are now many electric and battery vibrator models that offer different styles and patterns of vibration, in addition to having multiple speeds. Some will pulsate, some will vibrate in an escalating and de-escalating pattern. Most vibrators like these come with five, six patterns or unlimited patterns that you can create yourself. While most people tend to find one pattern that works for them and stick with it, having the option can be good for a first time vibrator purchase, or a nice change of pace for someone who has many vibrators and is looking for something a little different.
How much do I want to spend on my vibrator?
Another way to ask this question is what is more important to you, quality or price.
If you're buying your first vibrator, I recommend starting with something simple and inexpensive. The only way you're going to discover what you like is by trying them, and you can end up with a $200 vibrator that you only use once simply because its not your taste.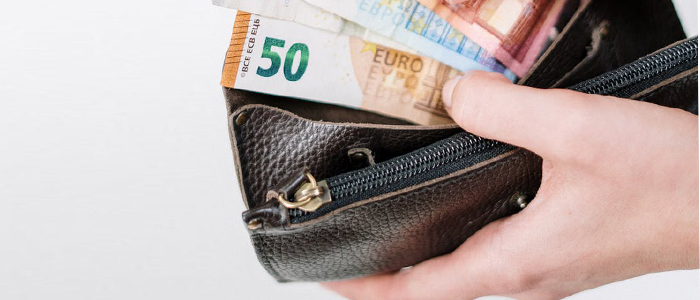 Could I have any negative physical reactions to my vibrator?
The best vibrator for you is obviously one that won't cause you harm. There are a few different physical reactions people can have to vibrators, if any of these are concerns, be sure to ask more about them before you buy a vibrator:
Shopping for a vibrator if you have multiple chemical sensitivities or a reduced immune system.
Reacting to the chemicals in the vibrator material including a latex reaction.
Using a vibrator can trigger autonomic dysreflexia if you have a spinal cord injury at or above T-6.
Is this my first or my thirty-first vibrator?
If this is your first time buying a vibrator I recommend going simple and inexpensive (given all the above considerations, some of which might rule out less expensive vibrators). But if you're a vibrator connoisseur, you may not be looking for another multi-purpose vibrator, but instead something that you only pull out on special occasions.
Try a new material, or shape, or style of vibration.
Consider what's missing from your collection, and if you're dealing with a knowledgeable salesperson don't be shy, let them know what's worked and what hasn't, they may surprise you with the perfect toy you've been missing.
Try to reach to the edge
Once you get used to your new vibrator, try this crazy technique: get to the brink of orgasm and point the toy at an area of your body that isn't as sensitive to stimulation right now.
Try to do it several times (as long as you can last) to bring yourself to an incredibly high level of arousal, which makes you feel each subsequent touch like an explosion. Sound fun to you? Well, it really is, especially if you have chosen the right vibrator for you.
Are there people who might find or hear my vibrator? What's my privacy situation?
When looking for the best vibrator, you're going to want to consider your privacy requirements. Whether you have inquisitive kids, thin walls, nosey neighbors, or you're expecting house guests, you may want to choose your vibrator based on two keys of vibrator privacy:
The sound level of the vibrator
What your vibrator looks like
That huge penis like cyber skin vibrator may be what you're craving, but if you have no safe place to keep your vibrator from prying eyes, you may want to opt for any one of the number of discrete vibrators you can find these days that look like lipstick, hand blenders, or just art objects.
In terms of noise level, soft rubber battery vibrators are almost always quieter than hard plastic vibrators. Coil style electric vibrators are also virtually silent as they don't have motors in them to make noise, and they have the benefit of strong vibrations and long life of an electric vibrator.