Recently, there have been a variety of news stories about "toxic sex toys," directly linked to the use of phthalates in adult toys.
Unfortunately, killer sex toys headlines also struggle to give us the evidence we really need to make choices about whether or not we can use sex toys with phthalates in them. Here are some basic details about phthalates and their use in the manufacture of sex toys.
On TheToy you'll find reviews about high-quality, 100% safe sex toys, including magic wand vibrators, ideal bullet vibrators, rabbit massagers, male masturbators, and anal vibrators for men and women.
What are Phthalates?
Phthalates are esters used as plasticizers – they are added to increase the flexibility, transparency and durability of plastics. However, they are not part of their chemical structure, so when you age or scratch the plastic product, they easily "leak".
Experts have proven that we "supply" them mainly with food, such as fatty foods – milk, fat and meat contain the most phthalates, because fat is a solvent for them. And since they have neither color nor smell, there is no way to "smell" them.
There are two groups of phthalates: low (3-6 carbon atoms in the molecule) and high (more than 6) molecular weight. More toxic phthalates are considered to belong to the first group.
Phthalate-producing plants seriously pollute the environment and damage the environment. About 1 million tons of these chemicals are produced annually. The most common are the following types of plasticizers.
Diethyl phthalate (DEP) is one of the most popular monoethyl phthalates. In cosmetic production it is used as a solvent and odor, as well as as a substitute for alcohol.
Phthalates (di-p-butyl) phthalate (DBP) is also widely used in cosmetics. This is a common component of nail polish.
Di (2-ethylhexyl) phthalate (DEHP). The dominant plasticizer, whose low price and excellent technological qualities determine its wide application as an additive in polyvinyl chloride, including PVC foam, other construction and finishing materials. It is also used in perfumery.
How do Phthalates Improve Sex Toys?
Phthalates boost sex toys' texture. The material softens the rubbers and lets them experience a soft cushy sensation for sex toys. They are used in a wide variety of sex toys, although many other phthalate-free toys are available.
Am I Exposed to a Health Risk?
There is simply not enough information to specifically address this issue, since there are only a few studies on using sex toys and their safety. But in general, it is proven that phthalates in intimate toys may be harmful to human health.
A number of individuals and academic organizations are expressing serious concern. There is a growing body of research suggesting that phthalates have a toxic impact, particularly on the male reproductive system. Many organizations (with the notable exception of the chemical industry) accept that phthalates pose a certain risk, both directly and indirectly, to health and reproduction through their environmental effects.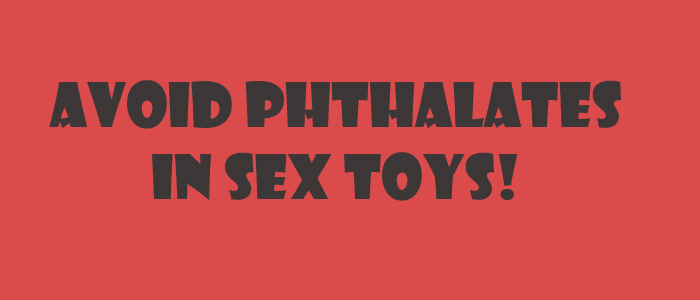 Studies on rodents have revealed that when exposed to very large doses, phthalates can cause damage to the liver, lungs, kidneys, testes and can cause hormonal disruption. Preliminary studies on humans (where they have measured phthalate levels in the body and compared them to other health markers) have suggested a relationship between phthalates and poor semen quality and a relationship between phthalates and genital development.
In 2002, the FDA issued a warning that infant males who were ill and undergoing treatment, as well as other "vulnerable patients," could be harmed by phthalate exposure from vinyl medical devices.
In 2006, the National Toxicology Program reviewed the science and concluded that:
"There is serious concern that certain intensive medical treatments of male infants may result in DEHP exposures levels that affect development of the male reproductive tract."

"There is concern for adverse effects on development of the reproductive tract in male offspring of pregnant and breastfeeding women undergoing certain medical procedures that may result in exposure to high levels of DEHP."
Phthalate molecules are not chemically bound to the plastics that they soften, and as such, phthalates can relatively quickly "break free" from plastic, causing degradation of rubber and jelly toys over time. Some studies have indicated that the female hormone estrogen can be mimicked by phthalates.
Most recently, the Danish Environmental Protection Agency released a report on the safety of phthalates in sex toys. According to the report, titled Survey and Health Assessment of Chemical Substances in Sex Toys, using sex toys with phthalates for one hour a day or less poses no health risks unless you are pregnant or nursing.
At the same time, there is a move on the part of healthcare leaders in the U.S. and Europe to prefer products that don't contain phthalates in the interest of both patient and practitioner safety.
Given all this, it seems reasonable to say that it would be better if nothing were made with phthalates. If you are able to afford sex toys that are phthalate-free, I would certainly recommend them over toys that contain phthalates.
Why Do Manufacturers Prefer Phthalates?
There are always observational reports that give different views, and some reports have shown that exposure to neonatal phthalate has had no impact on infants, and the phthalate industry argues that the level of exposure to phthalate used in rat tests was so much greater than the level of exposure to phthalate incurred by real individuals that the findings were distorted.
But the biggest reason why manufacturers of sex toys are likely to use phthalates is that it's cheap, and it's the way they've always done it. Unfortunately, the industry is seldom proactive towards its consumers' wellbeing and often reacts when there is heavy pressure to do so instead.
Who Do I Believe?
This question is an impossible one to answer. For yourself, you need to determine the risk. On both sides of this question, the sources at the end of this article will guide you to details. You can use condoms on your toys if you have any questions, or you can opt to buy toys that are phthalate-free, and are also of higher quality.
How Do I Know There are Phthalates in my toy?
Just ask them which toys are phthalate-free, simple as that. The majority of good websites display which toys have phthalates in them. Most don't even sell toys with phtalates in them any longer – silicone is the modern, body-safe alternative.
The more a toy smells like plastic, the more phthalates it contains, as a general rule. This was named the "plastic shower curtain" test by one researcher I spoke with. If you take a toy out of the box and it smells like a fresh shower curtain and has a heavy "chemical scent," it probably has phthalates in it. There are no phthalates in sex toys made from the following materials: