If you are wondering which is the best prostate massager you have come to the right place. After months of testing different prostate toys, talking to sex bloggers and sexual well-being experts, I created this comprehensive review guide with the top prostate vibrators money can buy. They combine the flawless performance, portability and refinement that you'll surely appreciate.
My vote goes on We-Vibe Vector as the best P-spot massager on the market at the moment but you'll find other decent prostate play toys that you should check before making your decision.
If you aren't sure what a prostate massager is, I'll give you a clue. Prostate (or P-spot) massagers are men's fastest way to experience mind-blowing orgasms. Multiple, long-lasting, knee-shaking orgasms, way stronger than climaxing from penis stimulation alone.
This amazing effect is provoked by the insane number of nerve endings, located 2-3 inches inside your butt (that's where the walnut-sized prostate gland is). When stimulated, these nerve endings make you experience the sweet sensation when you're just about to cum. But massaging the prostate can make this sensation last for minutes.
Reviews of the Best Prostate Massagers
Lovense Edge 2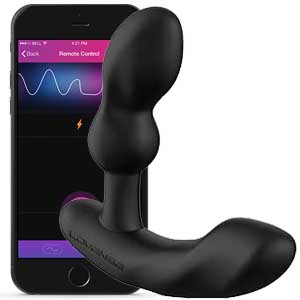 Amazing pleasure at a distance thanks to Edge 2, the silicone prostate vibrator created by Lovense, with dual motors, designed to satisfy your wildest fantasies!
This is the newer, upgraded version of the previous model, Edge. There are various improvements that Lovense added, all of which promoting an exceptionally fulfilling and orgasmic sexual pleasure.
First, they created an adjustable arm design to offer more powerful and accurate P-spot stimulation, a feature no anal vibrator Lovense also increased the size of the insertable bulb so that you shouldn't worry about the stability of your toy. The size of the bulb provokes muscle retention, which will add even more passion to your orgasmic prostate massages.
The newer version of Edge has a more durable rechargeable battery for prolonged and intense stimulation, while the magnetic port makes the process of charging easier and shorter.
The flared base makes it safe for anal use.
Of course, the connectivity of Edge 2 is also improved, so that you can enjoy uninterrupted stimulation even if you are a long-distance away from your lover.
When connected to the Lovense Remote application on an iOS or Android device, you can enjoy unparalleled control over your sex toy through your smartphone. In Bluetooth mode, you can stimulate your partner up to 6 meters when he is standing, worn under clothes, for discreet games in public … But above all, thanks to the option to control your toy via the internet, whether you are next to him or thousands of miles away you can trigger his pleasure!
Equipped with 2 extremely powerful motors, Edge 2 will allow even experienced users to find new sensations, delivering extra powerful orgasms. Its ergonomic design makes it fit perfectly into your body for
hands-free stimulation
and an unimaginable pleasure. An optimized neck, an adjustable head that will allow you to perfectly target and stimulate your P-spot (prostate) and your perineum with 3 vibration intensities (low, medium, and high).
The first adjustable and flexible head of the Edge 2 prostate massager allows, once inserted, to be perfectly positioned to intensely stimulate your prostate by delivering intense vibrations and its neck ensures stability for hands-free use, the second head will offer you stimulation of your perineum, 2 simultaneous sensations with a single sex toy!

The Prostatic Edge 2 butt stimulator has outstanding intelligent technology that will allow you to discover vibrations in harmony with different patterns and intensity modes.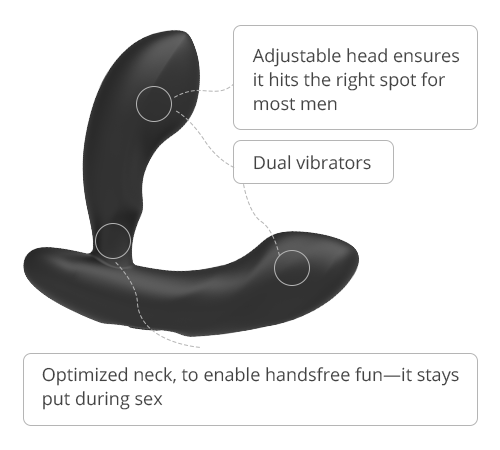 With the Lovense Remote application you will be able to vary the vibrations according to your desires:
Synchronize the stimulation to the rhythm of your favorite music vibes
Make your partner vibrate to the sound of voices and noises around you.
Download or create your own vibration patterns
The rotating head delivers targeted prostate massage while the vibrations in the secondary head stimulate the perineum.
Ideal for more experienced and beginners in direct prostate stimulation. According to men who already tried Edge, the intense orgasms delivered are the most powerful a man can reach.
Dimensions:
Total length: 4.5 in/11.4 cm
Insertable length 3.1 in/ 8 cm
Diameter (at widest): 1.4 in/ 3.6 cm
Your Edge 2 is made of hypoallergenic silicone, which makes it completely body-safe. It is 100% Waterproof, so you can use it in the shower as well as in the bath. Edge 2 is USB rechargeable (integrated USB charger is available in the box you'll receive) with battery life of around 2 hours. Edge 2 comes with a 1-year warranty.
The Lovense Remote application is available for free on the App Store and the Google Play Store.
Additional information: Before using it for the first time, fully recharge your bum toy for better performance afterward! Edge 2 is suitable for newbies and advanced users, depending on the range of vibration used.
Lovense has some other awesome vibes and you can get for up to 50% cheaper price, especially if you get a bundle. They have those deals on their store page often, so make sure to check regularly if there is no deal at the moment.
Use Edge 2 along with plenty of lube for maximum pleasure!
Where to buy: LovenseLovehoney
We-Vibe Vector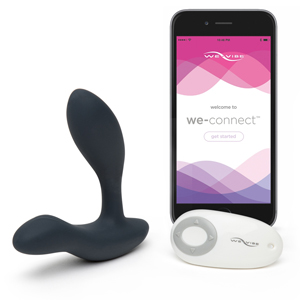 The We-Vibe Vector app-connected prostate stimulator will make you discover a unique and intense anal pleasure. Gentlemen, once tested, you will never be able to do without it!
Both heads adjust so that it really hits your spot(s), and We-Vibe has an app that allows you to control the 10 vibration speeds.
The prostate device by We-Vibe, Vector has been designed to suit both complete beginners who want to discover new horizons as well as more advanced users. With its bulbous head, curved shaft and flexible base, you can adapt the stimulator according to your desires and reach all the essential places for a powerful P-spot orgasm!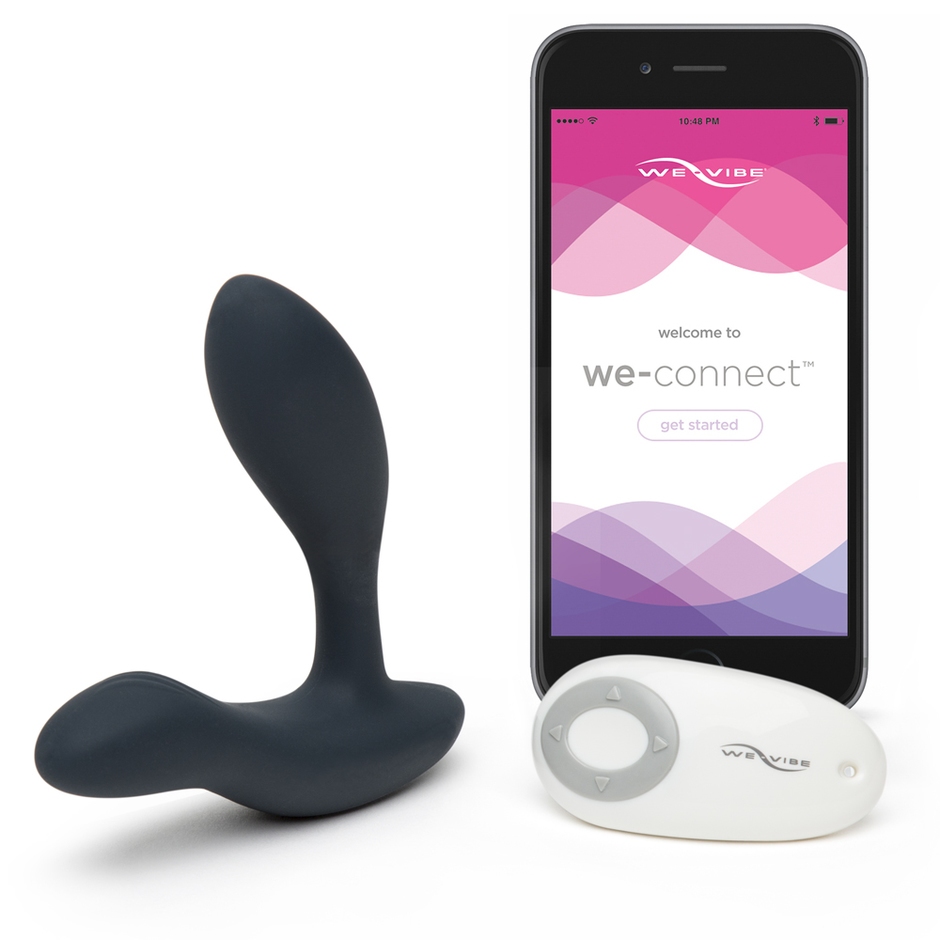 Thanks to its powerful vibrations, which will target your prostate as well as your perineum, Vector will make you discover sensations that you have never felt before. Between pleasure and innovation, it will quickly become an essential part of your naughty games! Its ergonomic shape allows you a good grip while avoiding all risks of stucking your toy into the anal passage.
We-Vibe Vector is made of smooth and silky silicone that will make the insertion soft and comfortable. Equipped with 2 powerful but totally silent motors, you have 10 vibration modes to titillate both your prostate and your perineum for an enjoyable stimulation! The wireless remote control allows you to manually and easily control the vibrations of your butt plug. Vector is equipped with a low-battery warning system to keep you informed about the condition of your toy. And there will be no risk of being interrupted during your lovemaking!
The Vector prostate stimulation toy is also a connected sex toy! It connects to IOS and Android devices via the We-Connect application. So you can control your pleasure by simply activating Bluetooth, wherever you are. Create and record a multitude of vibration modes for a totally personalized pleasure! With the application, your partner will be able to choose the vibrations to make you tremble with pleasure from a distance. It can be used as a tip-controlled vibrator as well. Spice up your naughty games with this connected stimulator!
How do I use We-Vibe's Vector with my smartphone? :
Download the We-Connect application on the App Store or on Google Play Store.
Connect your Vector in Bluetooth to your smartphone.
And now, it's your turn to enjoy a 100% hands-free experience!
Its dual motors offer perineum massage AND direct P-spot stimulation.
Your Vector Connected Prostate Stimulator is made of 100% hypoallergenic, medical-grade silicone that is ultra-soft to the touch. Without phthalates, latex or BPA, Vector ensures your optimal skin health, even the for the most sensitive types. 100% Waterproof, it can be easily cleaned with water or with a sex toy cleaner. Vector is a recommended option for beginners as unlike most butt plugs, it allows gradual penetration that won't provoke any discomfort.
Dimensions :
Total Length: 4.3 in/ 10.9 cm Insertable length: 3.5 in/ 9 cm Total Width: 3.9 in/ 10.0 cm Insertable diameter: 1.2 in/ 3 cm Rechargeable (magnetic USB charger included). Charging time – 90 minutes. Uninterrupted play – 120 minutes.
Rechargeable (magnetic USB charger included). Charging time – 90 minutes. Uninterrupted play – 120 minutes.
Sold with a discreet storage bag to take it with you everywhere. Sold with USB charger, a sample of We-Vibe Lube, and user manual. You will also get a 2-year We-Vibe warranty. Always use water-based lubricants with your We-Vibe Vector, as silicone lubes may damage your anal stimulator.
Paloqueth Male Vibrating Prostate Massager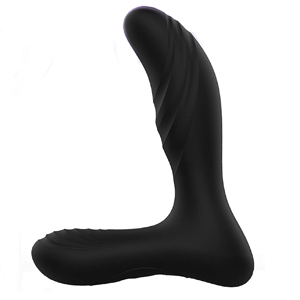 | | |
| --- | --- |
| Power: | (4.0 / 5) |
| Noise: | (3.0 / 5) |
| Material: | (5.0 / 5) |
| Price: | (5.0 / 5) |
| Ease: | (0.0 / 5) |
| of: | (0.0 / 5) |
| use: | (5.0 / 5) |
Extra-powerful vibrating massager with 10 different vibration modes and intensities for great prostate pleasure. Suitable for complete beginners and intermediate users
Paloqueth is a vibrating anal plug, with 7 powerful rotations and 10 intense vibration modes, to increase your level of pleasure in an instant.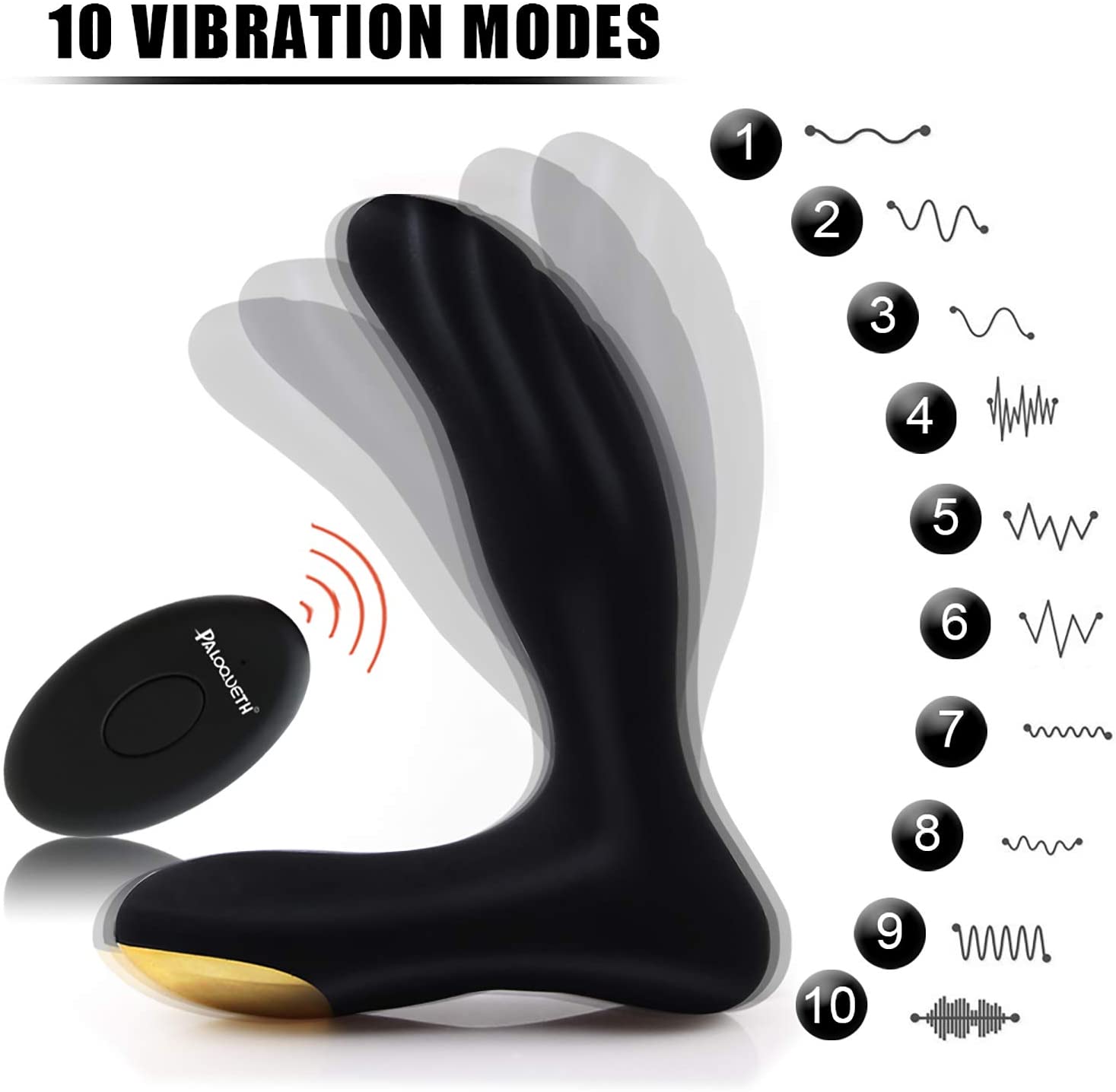 The authentic design mimics the effect of anal beads, with multiple circumferences, designed to make you vibrate with insane amounts of stimulation, with a T-bar at the base to ensure the vibrator stays inserted while playing.
Paloqueth vibrating anal plug is completely waterproof, so you can use it while showering or lounging in the bathtub. Its waterproof design makes the vibrator easy to clean and maintain for long-lasting prostate milking pleasure.
The two motors can be controlled independently of each other. This allows you to personalize the sensations. They are quieter than the standard motor, giving you the privacy you need to fully enjoy your new anal toy and it's amazing features.
Paloqueth is made of high-quality silicone, hypoallergenic, and latex-free, allowing you to play safely while maintaining its resistance to penetration and preserving your health.
Although this toy is designed for anal play, you can also use it for vaginal stimulation once you have carefully cleaned the toy. You and your partner will enjoy using Paloqueth in many different ways, due to the curved design and flexible shaft of the prostrate massager. The fun for both multifunctional vibrators can be used equally for men and women. Really great as a complement to the usual dildos and vibrators. When Paloqueth anal plug is completely inserted, it's extremely comfortable and will stay in place until you decide to take it out.
The Paloqueth anal vibrator comes with a USB-cable, a luxury storage pouch, and a very straight-forward user manual that will help you enjoy your anal vibe to the maximum.
Lelo Hugo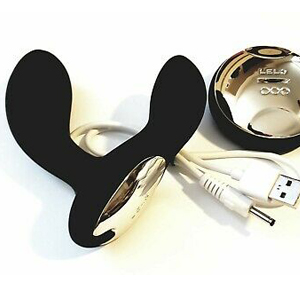 This well-sized silicone prostate massager comes with two motors. It will precisely stimulate the perineum and prostate. Hugo has been designed to provide maximum pleasure and comfort for men. It is great for solo stimulation and remote use, perfect for complete beginners and more experienced users.
With its ergonomic design, the Hugo prostatic stimulator adapts perfectly to the male morphology in order to stimulate the prostate, perineum, and anus in the best possible way. A real jewel, offering you the greatest pleasure.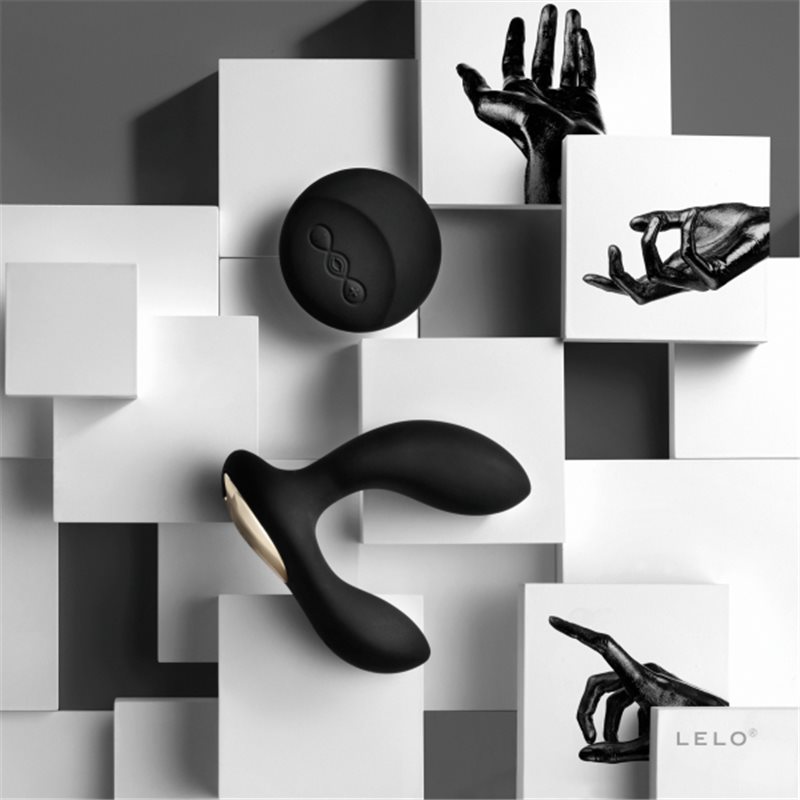 Designed with two powerful motors, the first in its extremity the second in the base of Hugo, you will feel deep vibrations targeted on each of your erogenous zones. You will also be able to choose between the 8 intensities of vibrations of Hugo.
Thanks to the innovative SenseMotion technology and its wireless remote control with motion sensors with a range of up to 12 meters, Hugo offers strong vibrations controlled by simple hand movements. You will be able to control your partner's pleasure with precision.
You can use Hugo with or without the remote control.
This prostate toy will make your partner's erogenous zones shiver, while your partner can use the remote control, which also has a motor to feel the vibrations Hugo transmits to your partner in the palm of his hand.
Hugo has 8 modes of vibration that you can adjust using the intuitive interface on the wireless remote control. Choose between the 2 SenseMotion modes and the 6 standard modes for ever more intense sensations for your prostate massage.
In addition to its beauty, Hugo will give you the opportunity to spice up your sex life as a couple. While you control your partner's pleasure by making tilting, sweeping and shaking movements with your wrist, your partner is on the way to orgasm.
How do I use the SenseMotion vibration modes?
SenseMotion mode 1: Tilt the wireless remote control to change the intensity of the vibrations. When the remote control is in the horizontal position, the vibration intensity is at a minimum. The more you turn it to the vertical position, the more the vibration intensity increases.
SenseMotion 2 mode: Shake or rotate the wireless remote control to change the vibration intensity. Circular movements also increase the intensity and the more varied and rapid your movements are, the more your sex toy will respond.
The other "standard" stimulation modes are used with the (+) and (-) buttons to switch the intensity levels.
The Hugo by Lelo Prostatic Stimulator is rechargeable, just leave it to charge for 2 hours. The remote control works with 2 AAA batteries (not included).
Sold in its superb box with its satin storage pouch, its charger, and the user manual. Your Hugo Prostate Stimulator is made of ultra-soft medical-grade silicone that is 100% hypoallergenic. It is totally waterproof for use in the shower or bath! This toy is great for all experience levels.
You also get a 1-year manufacturer warranty. The device is completely rechargeable (USB charger included).
Additional info: Before its first use, it is necessary to fully recharge your sex toy to ensure its' optimal performance! Use along with water-based lubes
Compare price of Lelo Hugo: LeloLovehoney
Lelo Bruno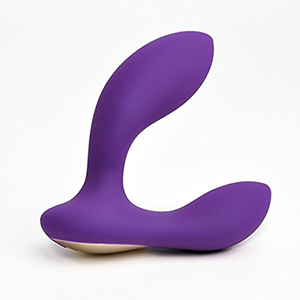 | | |
| --- | --- |
| Power: | (4.0 / 5) |
| Noise: | (4.5 / 5) |
| Material: | (4.5 / 5) |
| Price: | (3.0 / 5) |
| Ease Of Use: | (4.5 / 5) |
Rumbly prostate massage toy, made of waterproof, silky-smooth silicone, with an easy push-button control
You can buy this product from:
Unique male pleasure – with Bruno by Lelo you can increase the intensity of male orgasm by up to 10 times for the most satisfying pleasure!
Bruno has 2 powerful motors, one in the curved end to stimulate the prostate and the other is located at the base of the prostate massager do double the intensity of stimulation. Bruno is a luxury prostate vibrator combining 6 vibration patterns delivering various orgasmic sensations.
Even if you thought you wouldn't really appreciate the toy at first, here's what happened to most men who tried it:
This whole thing with the prostate massages was so not my thing. I did not know what I was missing. It took me a few months of research to start thinking about it. Bruno is elegant and the right size. It was strange in the beginning while gentle silicone helped me get used to the toy. Now it is a well of pleasure. From a person saying NO to a person loving this kind of toy. Not so usual, I guess.
The design of Bruno provides maximum comfort for hands-free prostate orgasms.
The high-grade silicone Bruno is made of is also completely waterproof, and the unique shape makes Bruno one of the most desired vibrators of its kind.
Lelo Bruno is not app-controlled, unfortunately, it has a single button interface to control the vibrating prostate massager: To turn it on, press the button twice. Keep pushing to go through the powerful vibration modes.
To switch off, simply press and hold for about 3 seconds.
Always clean the Lelo toy well before and after each use.
Always add some lube before using your P-Spot massager as the area doesn't self-lubricate. If you want to use a body safe silicone-based lubricant, first test it in a small part somewhere close to the base or bottom of your toy.
We don't recommend the use of massage oils or hand cream as a lubricant for the intimate areas. To clean, use a sex toy cleaner. If this is not possible, wash the stem with warm water and a high-quality antibacterial soap.
Let's not forget about the emotional aspect when it comes to unpacking Lelo products – think about the celebration of satisfaction, about the complete expression of contentment and excitement.
Share it wisely, often, and carefully. You will find the Bruno rechargeable prostate massager, enclosed in a luxury box, including: USB-charging cable, a satin storage pouch, detailed user manual (multi-language), and Lelo's manufacture warranty card. Prostate milking has never been so satisfying! The base also features P-tabs to stimulate the sensitive nerve endings in the perineum.
Compare price of Lelo Bruno: LeloVibrators.com
Aneros Vice 2
Aneros prostate massager is a classic. Simple, but powerful. It has a luxurious feel to it, but it is not overly expensive. It is made of two pieces, which simplifies maintenance. The vibrating mechanism that slides out from the bottom to replace or clean the battery (if necessary).
Aneros Vice 2 massager's design distinguishes it from other prostate massagers or male vibrators. The dildo is made up of three distinct bulbs that are linked together. When inserting this toy, these bulbs add a bit of kink. Each bulb clicks into place, causing ripples of stimulation. It is a great addition to anal sex and can lead to an unexpected anal orgasm.
You can find Aneros Vice 2 here: Lovehoney
NJoy Pure Wand
The Pure Wand is a prostate toy made of sleek stainless steel, but its design intelligence extends beyond appearances. Its deceptive curve pinpoints your P-spot. It has the thinnest arm you'll ever find, so if you're afraid of anal penetration, it'll sneak up on you before you know it. However I have experienced a prostate orgasm with it.
Don't be fooled by the probe's simplicity. This is a well-thought-out toy that will always find its way back to its proper place. This can lead to multiple orgasms. When I use it, I can precisely control the pressure on my prostate. When the toy is inserted, it acts like a lever and can create an intense orgasm. A simple press down will nudge the other end of the Wand up when I'm lying on my back. This puts more strain on my prostate.
You can find NJoy Pure Wand here: Lovehoney
Aneros progasm
The Progasm predates Aneros' luxury era, barely competing with the price of a capuchino. It's basically just a swath of ABS plastic that (looks more like a butt plug) with no frills or thrills, but that's exactly why we like it. At an entry-level price perineum massager, it has all the curves you could want.
Aneros progasm is nothing out of the ordinary. It's old school prostate toy. It's simple, but it gets the job done. It's also reasonably priced, which appeals to me. It's just plain hard plastic. This baby is silicone-free. Having said that, the exterior lacks a soft velvety texture. But it can do the job for prostate stimulation or just regular anal play.
You can find Aneros Progasm here: Lovehoney
Other toys that deserve honorable mention on this article are: Svakom Judy, Svakom Julie, Svakom Primo, Svakom Vick, THOR By GIDDI, TOMO by GIDDI, L'Amourose Rosa Rouge, Lelo Loki, Nexus Revo, b-Vibe Cinco, Tantus Bullet Vibrator, Duke Vibrating Prostate Stimulator, Aneros Helix Syn, Tantus P Spot
Additional tips before buying a prostate massager
It's not a good idea to use inexpensive plastics near your intimate zones, but there's no need to invest a fortune either. Looking for prostate vibrators in the $50-150 range that have satisfied users for their simple user guides, and that are manufactured by a reputable company is a good way to start.
Many people lie in the fetal position on their side or backs with their knees up and feet down while using a prostate massager. The position allows the angled shaft of the massager to be easily inserted and follow the natural twist to your prostate.
You can choose a prostate massager with a longer (or shorter) insertable length depending on how far you want to be penetrated, although some people prefer girth over length.
Medical grade silicone is a commonly used material in the sex toy industry and for good reason. It has a velvety smooth texture, but it's also phthalate-free, which makes it absolutely body-safe. Jelly and other types of plastic anal stimulation toys are not to be used during anal play because they may have a harmful effect on your body.
There are different types of vibrations. I recommend choosing a toy that provides maximum, high-powered vibrations while also allows you to start on a lower level that is gentle and suitable for newbies.
Convenience – corded anal toys require you to be located within two feet of a power outlet, while cordless toys come with a remote control that allow you to enjoy the sweet pulsation wherever you are located.
Primary head motions, such as come-hither motion or head rotation, are the most important features to look for.
Final Thoughts
Prostate toys can be used not only for pleasure but also to maintain a good condition of the prostate gland (a walnut-sized gland located just below the bladder.). With their amazing features, comfortable shafts, and intense vibration settings, these pleasure things will bring prostate milking to a whole new level.
They come in different shapes and colors and their main purpose is only to deliver anal pleasure, reaching the male P-point. Prostate massages can deliver an unimaginable level of sexual pleasure, thanks to the different vibrations, bodies, features, and patterns they have.
Sex toys designed for P-spot stimulation have a specific curve so that they can easily reach the targeted area (just like the vibrators for G-spot stimulation).
They can also be used for external, indirect P-point stimulation.
Prostate massages are a great way to ensure your optimal prostate health while enjoying deep and pleasurable experiences.
Note that there are other amazing sex toys you can use to stimulate your prostate with. For instance, if you're seeking more intensity, the most powerful wand massagers got your back – these kinky devices will bring you straight to heaven!
But if your goal is to try something gentle and non-intrusive, you can try mini-sized bullet vibrator – these are both comfortable and pleasurable if you want the sensation prior to climaxing.