Which is the best rabbit vibrator? I've spent the past four months testing different rabbit-type vibes and reading other sex bloggers' reviews to find the answer. And the best bunny vibrator of 2022 is We-Vibe Nova 2. Nova 2 is a fantastic combination of excellent features – it is powerful, silent, discrete, and very well designed to stimulate both your clit and your G-spot. It is made of 100% medical silicone, so it won't cause any allergies and is very easy to clean.
The dual stimulation rabbit toys have an external function that stimulates the clit and an internal shaft that can rotate, thrust or stimulate "pearls" at the base, providing a blended orgasm experience. Some rabbit vibrator types have their remote control versions, such as Lovense Nora and We-Vibe Nova 2.
A particular curve, angle, or pair of bunny ears may be ideal for one person, while for another, something longer, shorter, more flexible, or more powerful is required. That's why I reviewed versatile bunny sex toys. You only need to find your perfect match.
The top rabbit vibrators – at a glance
There are several other models worth mentioning that are almost as exceptional, and you can read about them below:
Best Rabbit Vibrators For An All Over Experience
1.

Lovense Nora
The only remote control bunny vibrator with a gyrating head
Presentation
Nora is the name of the exceptional rabbit toy created by the Lovense company. Nora offers unlimited pleasure options, can be controlled manually or remotely, and is powerful enough to make you experience those rhythmic muscle spasms bringing intense pleasure. The gyrating head of Nora grinds directly against the G-spot while the flexible pulsating arm stimulates the clit.
Lovense designed the Nora rabbit vibe with the idea to offer complete satisfaction to partners who are away from each other but want to keep the flame burning (another great vibe from Lovense is their powerful bullet vibe – Lush 2).
Your Nora can be controlled by your lover from everywhere as long as you are both connected to the internet. Plus, this pleasure toy offers multiple options for interactive play, allowing you to connect your rabbit vibe with other sex toys. For instance, you can connect your Nora bunny to Max or Max 2 masturbators for men, also manufactured by Lovense. Virtual sex is now more realistic than ever! The similar vibes and intensities will make you feel just like having sex.
But if you intend to use Nora for solo play, you can entirely rely on its' impeccable performance. You can either use the buttons located at the bottom of the toy or use the Lovense app, free for Android and iOS users. Just install the free application on your smartphone and start enjoying the orgasmic rhythm of your rabbit toy. The application allows you to choose from the preset patterns or to create your vibrations, just the way you like it! You can enjoy up to 4 hours of uninterrupted play before your rabbit needs a recharge.
Note that you can also choose separate settings for the shaft and the tickler if you wish.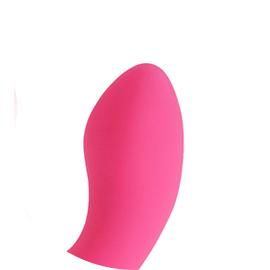 Or even sync the vibration settings to your favorite music! What a time to be alive!
Some women choose to use the Nora vibe for camming. Nora is a perfect choice if you intend to perform live shows and let viewers give you tips while they control the vibrations of your Nora.
And, if you want to go even further, you can use your Nora toy for anal stimulation! Check the below discussion to find out more:
My Partner Wants To know if the Lovense Nora Can Be Used Anally? from r/SexToys
Design
Nora's design is very similar to most rabbit toys but, unlike them, Nora has a flexible tickler that accommodates all body shapes. It is created that way because each woman has her unique body shape and the distance between the clitoris and vagina varies. Whatever your case, Nora got you covered. Literally!
Power
The intensity of the vibes is another aspect that distinguishes Nora from standard rabbit vibrators. Yes, rabbits are originally more powerful, and Nora is not an exception, but it offers even more!
Not only can you create and adjust the vibration pattern and the intensity of the shaft, but you can also have independent control of the flexible part that stimulates your clit!
Materials
Lovense designed the Nora rabbit with 100% body-safe materials, as usual. The insertable part and the clitoral attachment are made of high-quality silicone, and the bottom part is made of ABS plastic.
Convenience
You don't need to be tech-savvy to manipulate with your Nora rabbit toy – the easily accessible, straightforward menu allows you to operate your toy the way you like it the most. Controlling the vibration pattern, increasing or decreasing the intensity, and even controlling the rotations of the head of your toy can be quickly done thanks to the convenient Lovense app.
Cost
If you've read the above description, you probably expect such a quality toy would cost hundreds of dollars, but Nora is an average-priced product. You can get it for only $99 from Lovense official website.
NB: I would suggest choosing the original manufacturer's website or trusted vendors to buy Nora, rabbit, to avoid counterfeit products!
Is Nora water-resistant?
Nora vibrator is water-resistant and splash-proof. You can use it during water activities, such as pool parties or in a jacuzzi. You can safely wash it under running water, using soap, or a sex toy cleaner.
Is Nora noisy?
If you expect a rabbit toy to perform in complete silence, you'll be disappointed by most products. Nora is very quiet for a rabbit vibe of its' range but not utterly silent for sure, especially if you can't hold your moans.
Dimensions
The exact dimensions of Nora are as follows: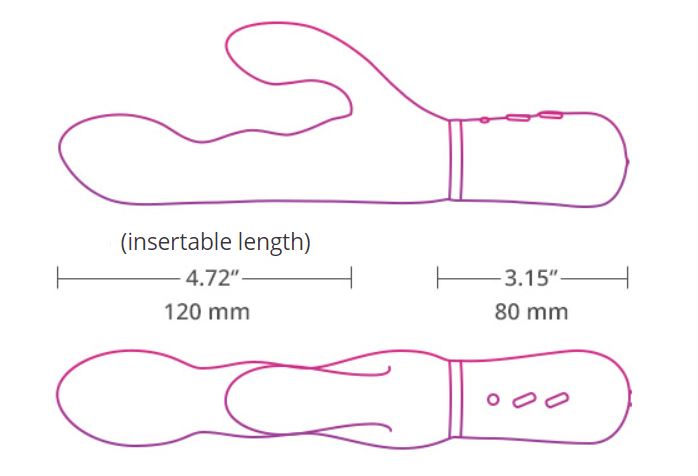 But they don't matter because the design is not intended to enlarge your vagina but to hit the exact spot where the sensations are most pleasurable.  As for the outer part, designed for clit stimulation, it fits perfectly to all body shapes, thanks to the extra flexibility of the vibrating arm.
And since Nora is made of silicone, we highly recommend using a water-based lubricant to make sure you'll enjoy your experience to the max!
What do reviews say about Nora?
The below reviews are not taken from the website of the official manufacturer or distributors to be accurate as possible. These are comments published on independent platforms by women who shared their honest opinions about Nora rabbit.
Here's a Reddit discussion:
The following comment is posted by a camgirl using Nora for her performance (on WeCamgirls):
And someone else shared his opinion on Nora for long-distance sex:

Lovense company has some other great deals on their store page, and they often provide discounts, so make sure to check their site regularly.
Read the complete review of Nora by Lovense.
Check the price of Lovense Nora: LovenseLovehoney
2.

We-Vibe Nova 2 Dual Stimulator
Performance
We-Vibe is the name of a world-class company dedicated to shaping the future of sexual wellness. Their Nova 2 Dual Stimulator is developed to sync with the human body, combining G-spot stimulation and powerful clitoral vibration. It allows you to try different combinations, using the G-spot and/or clitoral vibration and increasing or decreasing the intensity of stimulation.
Beyond the classic bunny vibrator, Nova 2 offers pleasure non-stop, even during your slightest movements. Experience a mixed orgasm – the new and improved Nova stimulates your clitoris while stimulating your G-spot.
Insert the internal G-spot stimulator into the vagina and place the external vibrating arm on the clitoris. The curved part of the stimulator remains on the clitoris and bends with each movement.
Using the buttons, adjust the vibration mode and intensity and select whether the internal motor (G-spot stimulation), the external motor (clitoral stimulation), or both (double stimulation) work. The flexible arm and adjustable mounting offer an ultra-satisfying and fulfilling experience each time you feel like orgasming.
We-Vibe Nova 2 has an Ergonomic handle, providing a comfortable grip without numbing your hand. This rabbit-type vibrator is 100% waterproof. You can use it while in the shower/bath/pool/jacuzzi. 
Nova 2 is made of body-safe silicone, so you don't have to worry about anything while you're enjoying your moments of privacy.  The powerful vibrations of Nova 2 are what distinguish this rabbit toy from the conventional vibrators. It is recommended for the more experienced women precisely because of the higher intensity of its vibrations.
Vibration strength
Adjustable, according to your personal preferences.
Materials
Body-safe silicone, phthalate-free
Aesthetic appeal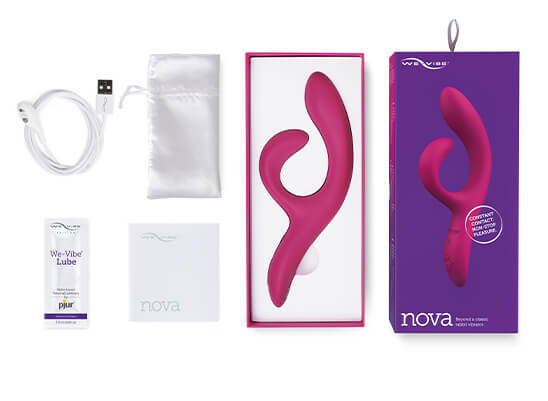 Ease of use
Push buttons and an option to use your We-Vibe Nova 2 with the phone app
Price
An affordable option, considering the multiple features of the product
Charging
USB (you'll need 90 minutes of charging for 2 hours of pleasure)
Is We-Vibe Nova 2 waterproof?
Yes, this is a 100% waterproof device that you can use under the shower
What about the vibration modes and speed levels?
We-Vibe Nova 2 has ten vibration modes, plus you can easily create your own with the We-Connect application o your phone. You can also play together with your partner from anywhere in the world. You need just to connect and enjoy the rhythm of pleasure. The travel-lock feature of this vibrator allows you to travel safely and comfortably. Travel lock will disable your vibrator from being able to turn on and vibrating.
Size
Circumference: 10.8 cm/4.25 in
Insertable Length: 12 cm/4.75 inches
Overall Length: 21.6 cm/8.5 in
What do other people think about We-Vibe Nova 2?
Well, some people liked it, and some are entirely dissatisfied. The first group considers the device exceptional. Even really experienced women share that this toy provided so intense stimulation no other vibrator was able to provide.
The people who wrote negative reviews about this vibrator mostly had trouble connecting the device with their phones.
Read the complete review of Nova 2 by We-Vibe.
Where to buy: We-VibeLovehoney
3. Soraya 2 by LELO
Overall Performance
This luxury device is one of the best-selling sex toys currently available on the market. It adapts freely so it can provide ultimate pleasure sensations, thanks to simultaneous vaginal and clitoral stimulation. The precision used delivers rumbly, whisper-quiet vibrations you can enjoy wherever you like, as long as you want.
Soraya 2 Vibration strength
From a teasing murmur to potent, satisfying pulsations
Soraya 2 Materials
Body-safe silicone; ABS Plastic
Aesthetic appeal
This rabbit vibrator is available in pink and rose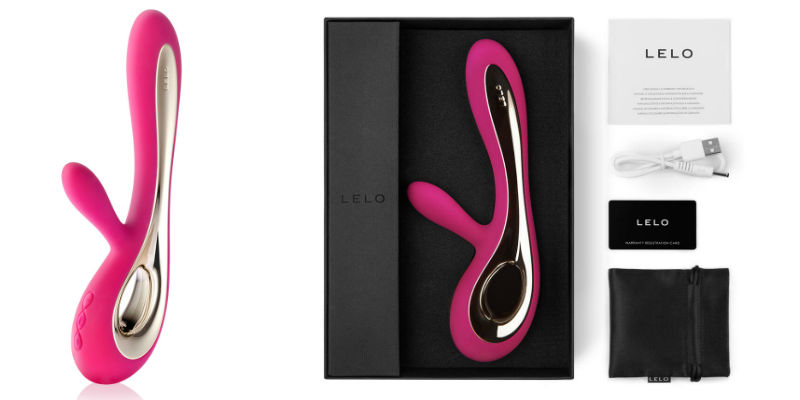 Noise level
The maximum noise level is 50dB, which makes this vibrator a comparatively discreet option.
Soraya 2 Ease of use
Three-button interface, eight adjustable stimulation modes available; locking feature for easy traveling
Price info
This is one of the high-priced silicone toys due to the quality materials and functions provided
Charging method
USB (cable included)
Is Soraya 2 waterproof?
Yes, 100% waterproof and submersible device
Soraya 2 vibration modes and speed
Eight modes from lowest (slight murmur) to highest (intense pulsations) setting
Size
220 x 69 x 44mm / 8.7 x 2.7 x 1.7in.
Diameter: ⌀ 36mm / 1.4in.
What do other people think about this device?
People who decided to share their experience with Soraya 2 are delighted with the product's overall performance. Some women have been using this device for years now. The customer care LELO brand provides appears to be very satisfying – they also offer a 1-year warranty if you notice something disturbing about your toy.
A lady who decided to share her experience says that Soraya 2is delicate when you want it to be intense when you need to turn it up a notch. Another one defines the surging motion divine, and there are even people who used Soraya 2 for either foreplay or as an additional stimulation with their partners:
Used it with my boyfriend recently and he loves it just as much!
However, there are two aspects that many customers find disturbing, and we recommend carefully consider before making a purchase:
As expected, the price of the device is not one of the positive features of this device. Yes, you get the highest-quality product, but this is not your cheapest option.
Read the complete review of Soraya 2 by Lelo
Where to buy:  LeloLovehoneyLiberator.com
4. Happy Rabbit G-Spot
Rechargeable Rabbit Vibrator
Happy Rabbit Performance
Excellent product performance is offered at a moderate price – this is what you'll get if you purchase this multifunctional and reliable sex toy. Happy Rabbit g-spot vibrator is recommended for combined clitoral and penetrative stimulation, multiple vibration patterns, throbbing ears, and perfectly fitting design, simulating the experience.
Happy Rabbit Vibration strength
Provides powerful and intense vibrations
Materials used
Happy Rabbit g-spot vibrator is made of 100 % medical grade silicone
Happy Rabbit Design
The happy rabbit vibrator is available in pink, purple and black
Discretion
Whisper-quiet
Ease of use
Push buttons to easily change the speeds and patterns of vibration
Happy Rabbit Price
An averagely priced device (compared to similar rabbit vibes)
Happy Rabbit Charging method
USB-chargeable (cable included)
Is it waterproof?
100% waterproof design
Happy Rabbit vibration modes and speed
The happy rabbit vibe has 15 vibration modes (three speeds and nine patterns in the shaft, three speeds in the ears)
Size
Circumference: 4.75 inches
Insertable Length: 5.25 inches
Length: 9.5 inches
What do other people think about it?
The positive reviews people wrote on the Internet make us believe that this happy rabbit powerful g-spot vibrator performs well during pleasure sessions. The toy is larger than most sex toys, so consider this before proceeding to purchase. But this is also an aspect more experienced women like the most, as they can get external and deep internal penetration for a more intense, fulfilling experience.
Where to buy: Lovehoney
5. Lelo Ina 2 Wave Dual-Action
G-Spot and External Massage Vibrator with Motion Movement
Performance
Edging is the act of bringing a person to the edge of climax and then stop. This gets heightened arousal and multiple, potent orgasms. And this vibrator is perfect for this purpose, in case you'd like to heat your sex life.
But if you just need to reach the finish line, just keep playing. And after you experience the ultimate orgasm, keep playing. Your clitoris will still be sensitive, but that doesn't mean you should back off. You can experience multiple orgasms thanks to the intense waves and finger-like massage motions of LELO Ina 2.
The 2 points of simultaneous stimulation (G-spot and clitoral) will surely make your solo or threesome more fulfilling and pleasurable. Just see for yourself:
Vibration strength
Depending on your personal preferences, you can adjust the setting, starting from the slight teasing murmur to the super intense stimulation mode.
Materials
FDA-approved, body-safe silicone and ABS plastic which are both latex and phthalate-free
Aesthetic appeal
You are probably going to like it -it has a perfectly fit, slender body with a rounded tip combined with a solid yet flexible clitoral stimulator. Ina 2 is available in purple, rose, and green.
You'll get your toy in a stylish gift box, which you will also like.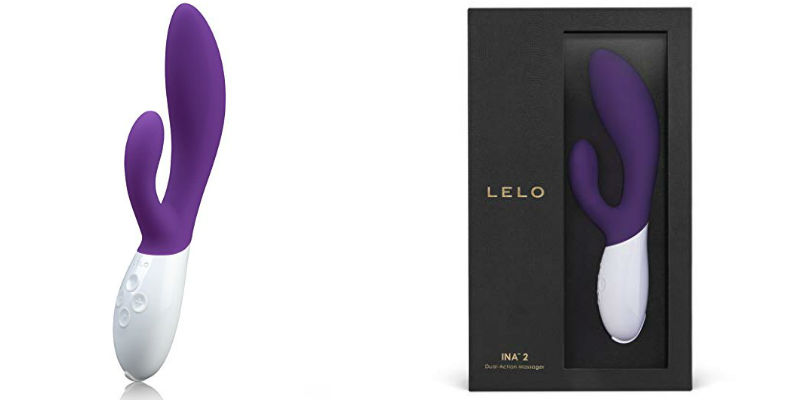 Ease of use
Simple 4-button controls for easier control. You can switch to both external and internal stimulation (pulsations, vibrations, and waves)
Price
Comparatively higher than other devices
Charging
USB (cable included), a single charging will let you use the device for up to 2 hours
Is LELO Ina waterproof?
Completely waterproof, designed to be completely submerged
Vibration modes and speed settings
Eight different settings, providing strong vibration
Discretion
Less than 50db, which makes its performance discreet
Size
Overall: 60.14 x 195.49mm
Diameter: 37.09mm
Insertable Length: 120.3mm
People share…
Those who purchased LELO Ina 2 adore the device. Some consider it even better than their newest model, Soraya 2. Lelo has a powerful wand massager too.
Someone who was on medications, which made it hard for her to come, says she is now able to orgasm again, thanks to Ina:
Thanks to the Ina Wave I've had the easiest and most powerful climaxes ever since I started the medication.
And here's the summary about the experience of those who have never tried vibrators before:
Never thought I would even buy something like this
because just thought it wouldn't be able to make me orgasm. I climaxed
multiple times without any difficulty and felt so much stress relief.
The overall reputation of this vibrator is indeed impressive.
Where to buy: LeloVibrators.com
Best Rabbit Vibrator For Intense Sensations
6.

Greedy Girl G-Spot Rabbit Vibe
Fifty Shades of Grey-inspired vibe
Performance
Have you read the book? Any thoughts?
Lust, desire, and passion are the first words that will come to your mind after you have tried this Greedy Girl vibe. This designer toy is provided with loads of different pulse and strength settings, so you can start soft and slow and build up to full strength. According to many who purchased this toy, intense and explosive orgasms are even better than actual sex.
Greedy Girl Rabbit Vibration strength
This is one of the most powerful devices currently available on the market
Materials
Greedy Girl is made of silicone, silky smooth to the touch
Aesthetic appeal
This fancy-looking curved shaft black-colored toy comes in a luxurious satin storage bag.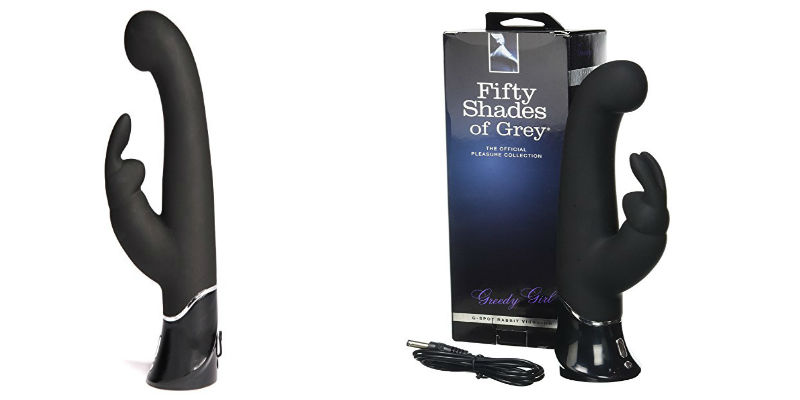 Discretion
Whisper-quiet for discreet play
Ease of use
Ears: 3 x speeds; Shaft: 3 x speeds, 9 x patterns which you can easily adjust thanks to the push buttons at the bottom of your dual pleasure toy
Price
An average-priced option, compared to other rabbit vibrators
Charging
USB; 120 minutes for 60 minutes of maximum pleasuring
Can I use it under running water?
Yes, the device is 100% waterproof
Greedy Girl Rabbit vibration modes and speed
This rabbit vibrator provides two powerful motors and 15 speeds and patterns, three speeds in the flexible ears for simultaneous clitoral stimulation and g-spot stimulation, travel friendly-option available.
Size
Length: 9.5 inches
Insertable length: 5.25 inches
Circumference: 5.25 inches
The flexibility follows every curve of the female anatomy and allows you to enjoy pleasurable masturbation even after trying a different position.
What do other people think about Greedy Girl?
There are versatile reviews about this rabbit vibe. As the stimulation provided is intense, this is not an option, which we would recommend for beginners. However, the more experienced ladies share they really enjoy the independent vibration modes and the size of their rabbit vibrator, and some even consider it the best performing option:
This is by far the best vibrator I own!
Where to buy: Lovehoney
 7.

Jack Rabbit Thrusting Bunny Vibrator
Performance
Do you often see yourself naked? Because you are going to enjoy the picture of your Jack Rabbit and your orgasmic convulsions.
This luxurious device is designed to make you experience deep, penetrating g-spot pleasure. The thrusting feature will make your experience even better – you can adjust the thrusting power until you reach the most pleasurable moments alone or with your partner. Enjoy different stimulation patterns and speeds. Teasing your G-spot with the cushiony-soft upper tip or/and clitoris have never been so satisfying! Just push the independent controls and play!
Vibration strength
You can choose between multiple vibration modes, starting from the slightest to intense pulsations.
Materials
A combination of body-safe hypoallergenic Silicone and ABS plastic
Design
The unique design of your rabbit toy with a cushiony soft tip and silky smooth rabbit ears will meet your expectations, even if you have the most pretentious requirements.
Discretion
It depends on your mood – your Jack Rabbit can perform quietly, teasing your senses, or you can adjust its functions to the max, and… you are the one that won't be able to hold your moans.
Ease of use
3-button control, easy to operate with
Price
An average prices rabbit vibrator
Charging
USB – chargeable, 2.5 hours of charging will let you enjoy your rabbit toy for up to 150 minutes
Can I use my Jack Rabbit underwater?
Sure, the waterproof silicone covering your toy offers various options for a shower, bath, or hot tub double pleasure.
What are the different vibration modes and speeds?
The tip provides three thrusting levels. The shaft has seven vibration functions, and the rabbit ears – 7 thrilling vibration functions.
Size
Length: 5.5 inches
Width: 1.5 inches
What do other people think?
This is a vibrator with a highly positive reputation among women. The first thing they noticed after they received their brand new Jack Rabbit is the silky soft surface of the device. And after they tried the performance of the thrusting vibrators, some ladies decided to share their positive experience:
I finished in about 20 seconds. 10/10 definitely recommend.
For some, it took longer:
I used this toy for the first time last night and it was amazing! It brought me to orgasm in less than 10 mins.
But the fact that we had trouble finding negative reviews says it all – impressive satisfaction rate!
Where to buy: Lovehoney
Best Rabbit Vibrator As First Sex Toy
8.

Eve's First Thruster
Performance
Why is this the best option for a first-time rabbit vibe? Well, it is cheap and easy to manipulate. And this is all you need in case you are not entirely sure whether rabbit vibrators are your kind of sex toys.
Also, you get a high-quality thrusting rabbit with rotating features and a clit attachment with 12 functions of vibration, pulsation, and duration. This g-spot and clit massager pleasures more than enough for a beginner!
Vibration strength
Moderate strength, providing both clitoral and G-spot stimulation, different vibration patterns
Materials
TPR with a Firm plastic base; latex-free; free of phthalates; free of chemicals
Aesthetic appeal
After receiving this rabbit vibe, the impression you'll have won't be related to something a beginner would use, as its size is not neglectable. It looks stylish and comfortable to hold.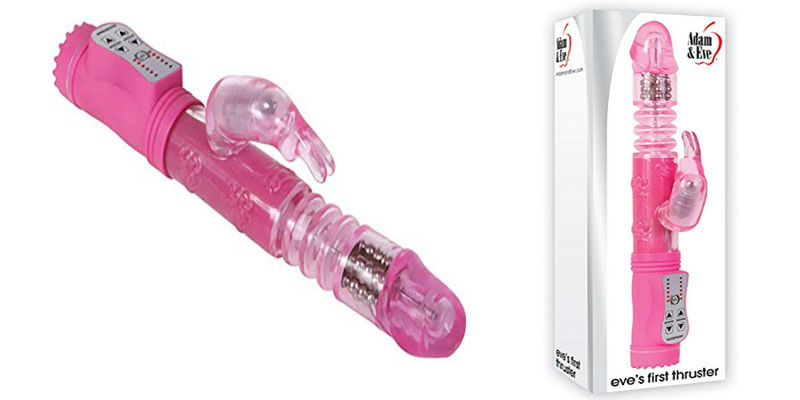 Ease of use
This sex toy offers a straightforward menu. which will help you adjust the settings as desired
Price
Cheap
Charging
4 AAA batteries (sold separately)
Waterproof vibrators for the win!
100% waterproof, which gives you the option to enjoy the best thrusting orgasm in the shower
Adjustable vibration modes and speed
Six speeds of thrusting, 12 patterns of vibration for the clit stimulator
Size
9.75″ length
5.5″ insertable length
1.25″ width
What do other people think?
Most people do like it, especially those who never tried the rechargeable rabbit vibrators. Women also confirm that the variety of speed options for both internal and external stimulation are the best feature of this device.
However, several comments inform that the love bug attachment is not an optimal option for clitoral stimulation, as it is not flexible, so you cannot adjust it every time.
Where to buy: Amazon
9. Evolved Wild Orchid Vibrator
Performance
This curvy-designed adult toy is just a representation of art! It resembles an orchid flower that penetrates deeply into your body so it can reach your most sensitive spot and provoke an explosive sensation of complete satisfaction. This mighty toy will tease and massage precisely where you want it for guaranteed excitement.
The vibrating clitoral attachment will keep pulsating with more and more intensity until you won't be able to resist any longer and reach your orgasm.
Vibration strength
This Wild Orchid rabbit vibrator uses strong, intense pulsations. It is perfect for more experienced ladies seeking deep, fulfilling penetration and super intense stimulation. You can easily switch the vibration patterns.
Materials
100% Silicone, hypoallergenic
Aesthetic appeal
This sexy, luxurious, orchid-shaped toy will inspire you, thanks to the combination of fancy design and excellent performance.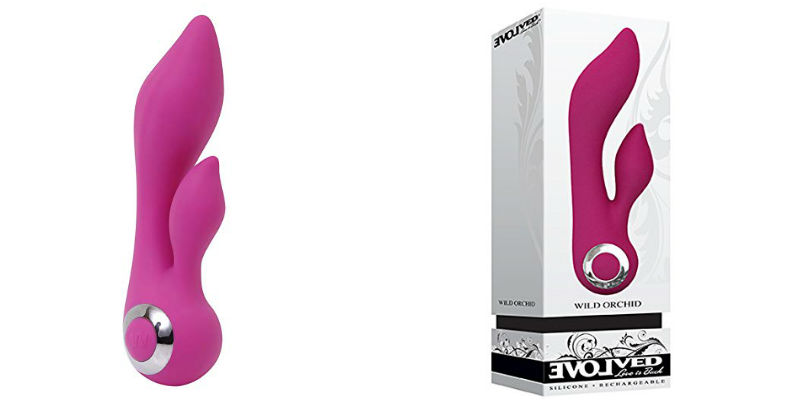 Ease of use
Two press buttons for simplified manipulation
Price
An average-priced rabbit vibrator
Charging
USB
Is the Wild Orchid waterproof?
Yes, this is a 100% waterproof toy
Vibration modes and speed
You can enjoy different vibe patterns, including steady vibration, pulsation, or waves. You can adjust various stimulation patterns using different speeds.
Size
7-inch total length

4-inch insertable length

2-inch clit vibrator
What do other people think?
Among the (almost) 300 people who shared their experience with the Wild Orchid vibrator, more than 70% ranked this toy an excellent choice for solo play or a threesome with your partner. Here's a happily-married husband who did enjoy the reaction of his wife after they used The Orchid for the first time:
…in about two minutes she had such an intense orgasm she was shaking on the bed and covering her mouth rolling back and forth.
As mentioned above, the intensity of the shaft vibrations are strong, but here's what you can do about it:
It can be intense but since it's adjustable it is easy to find the perfect settings for hours of fun.
Where to buy: Amazon
10. Evolved Novelties Bunny Vibrator
Performance
This easy-to-use rechargeable rabbit vibrator is perfect for those of you seeking intense stimulation. The arched shaft is specially designed for G-spot stimulation, while the plump rabbit ears will tease you from the outside. Both waterproof and submersible, offering plenty of playing options, this rabbit vibe may be just what you are looking for.
Adam and Eve Rabbit Vibration strength
Powerful and fulfilling vibrations with super flexible rabbit ears
Materials
Luxurious Silicone which is easy to slide in and out with ABS plastic handle; latex-free
Aesthetic appeal
This rabbit vibrator is available in green. It is offered in a luxurious black box.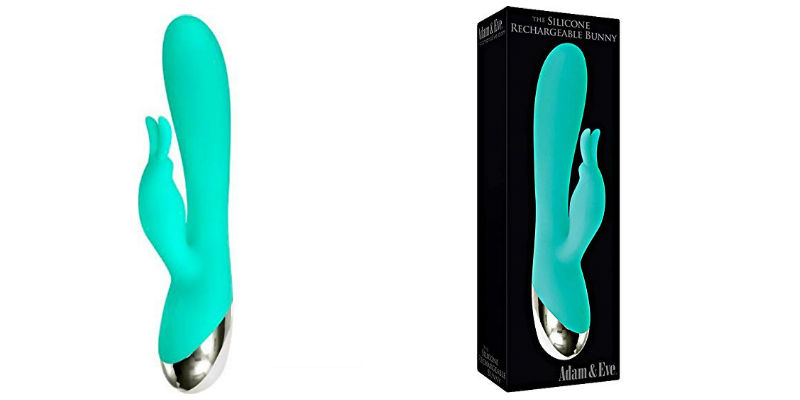 Ease of use
Turn on or off button, control vibration strength, press and hold either "+" or "-" buttons.
Price
Quite affordable, compared to similar products
Adam and Eve Rabbit Charging
USB rechargeable rabbit vibrator; 2-hour charge provides 60 minutes on high settings, up to 2 hours on lower settings
Seek waterproof devices
This one is 100% waterproof, designed to be completely submerged
Enjoy different vibration modes and speed
Ten unique vibration patterns, plus six different levels of vibration strength
Dimension
7.5″ Length
4.5″ Insertable Length
What do other people think?
People adore this rabbit vibrator because it provides high-quality performance, while the price is comparatively lower than similar sex toys. Here's what a woman shared:
This gave me the best orgasm I have had in a long time. There are many vibration settings and some of the are STRONG
Very few people left negative comments regarding the functionality of this rabbit vibrator. Most people had problems with the delivery but did enjoy the 'effect' of the g-spot stimulation and vibration patterns.
Where to buy: Amazon
11. Satisfyer Pro G-spot Rabbit Vibrator
Performance
If you seek a combination of luxurious design, satisfying performance, and affordable price, Satisfyer Pro G-spot Rabbit Vibrator might be the perfect option for you. It is slightly different from the typical rabbits, as it uses pressure wave and touch-free clitoral stimulation surrounding your love bud. In contrast, the vibrating shaft of the rabbit vibrator thrills your G-spot, using the 11 different wave settings.
Vibration strength
You can enjoy both strong vibrations and pressure waves at once without the need to hide under the blankets. This classy rabbit vibrator is very discreet, and you will be able to experience the sensation of ultimate pleasure without worrying.
Materials
Body-safe silicone and ABS plastic
Aesthetic design
A classy rabbit vibrator, specially designed to provide intense touch-free air pressure waves for external and internal stimulation. Available in white, rose, and gold.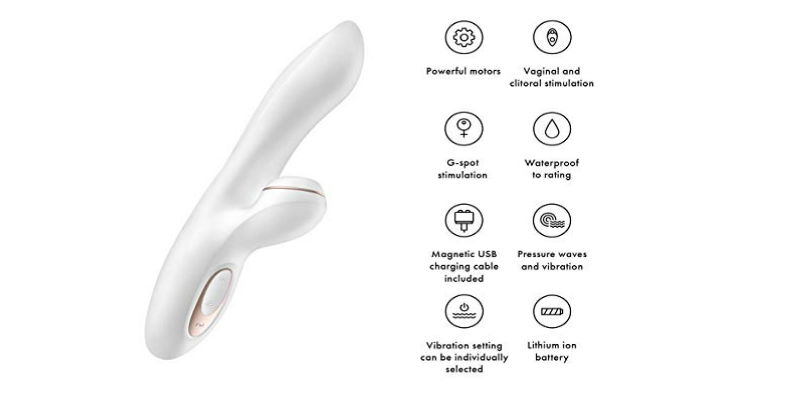 Ease of use
Press buttons for easier manipulation
Price
Very affordable
Charging
USB (includes magnetic USB charging cable), a single charge will allow you to enjoy your rabbit vibrator for up to 2 hours
Always waterproof!
As expected, this nice rabbit vibrator can be used or cleaned under running water.
Vibration modes and speed
The shaft uses 11 vibration functions, while the clitoral stimulator uses air pressure waves. You can use them both or separately.
Size
An insertable length of 4.5"
Width 1.5"
What do other people think?
There are not many people who shared their experience with the Satisfyer Pro rabbit vibrator but those who did claim that the device offers absolute satisfaction:
I've never had an intense orgasm in less than a minute until the Satisfyer
Women are also impressed by the silky smooth surface of this powerful rabbit vibrator. Also, a couple of comments say that you may need some time until you get used to the rabbit ears, to their correct placing, but once you do, you'll be able to enjoy a fabulous experience!
Where to buy: Amazon
How to decide which Rabbit Vibrator to buy?
Deciding on which rabbit vibrator to buy can be considered a tall order, having dozens of brands, shapes, and characteristics. This is why we have written a detailed article that will guide you by choosing the rabbit vibrator, which will best meet your personal needs and expectations.
The only problem is that most manufacturers skip a significant part of the information needed before purchasing a new vibrator. The characteristics mentioned below are the most important ones to consider before spending your money on rabbit sex toys – this is how you can be sure you are making the right decision, which you won't regret afterward:
How other people found their experience with the sex toy; did they like it; did they face any troubles using it; is there something they would change etc.
Are the pulsations strong enough or not compared to the other popular devices? Is there a rotating feature for additional stimulation?
What materials are used to manufacture your sex toy; are they body-safe, or will they harm your health?
This aspect is usually based on personal preferences, but we decided to share if people like the design of the rabbit sex toy.
Will the neighbors next door hear the vibrations of your sex toy?
Most devices are very straightforward and are easy to manipulate. However, there are exceptions to every rule.
Let's not forget the price factor- the purchase of a rabbit vibrator is always an excellent investment in your better sexperience but is it necessary to pay a fortune for a sex toy?
you cannot neglect the convenience of USB charging. You should change batteries after 60-90 minutes of usage.
Most people don't enjoy the idea of shower sex – it is slippery and often uncomfortable. Not if you are pleasuring yourself with your rabbit toy – you can just relax and let your toy do the work. Also, such devices are easily cleanable – you just need to wash them under running water using some soap.
Enjoy different vibration modes and speeds.
Choose a vibrator offering different patterns or intensities of vibration. You can adjust them depending on your current mood.
This is one of the essential features for sex toys: will the length and the width fit your vagina, and will the rabbit ears stimulate the exact spot needed.
Keep reading, and you will be able to find all this information about the most famous rabbit vibrators summarized in one place. For your convenience, we collected additional details that may substantially impact your experience with your toy.
How to Use a Rabbit Vibrator
The best rabbit vibrators are made easy to manipulate. They provide both internal (including G-spot) and external (clitoral) stimulation. The different functions and speeds depend on the brand you have chosen, but the minimum you can get is a 3-speed vibrator.
What you need to do with your rabbit vibrator is insert the shaft into your vagina (after you have adjusted the speed and the setting) and then turn the 'rabbit ears on. You can apply them to the clitoris and… just enjoy.
The video below shows the simulation of the process:
How to Get the Most Out of Your Bunny Toy
Try adding lubricant to your pleasure sessions- this will enhance your experience even if you weren't aroused initially.
The best rabbit vibrators are 100% waterproof which allows you to take yours in the shower.
The best rabbit vibrators usually provide a G-spot stimulation setting, which you can use for external (clitoral) play as well.
Use different vibration settings until you find the one that hits the spot the best way possible. Then, do your best to hold your moans.
Have a threesome with your lover and your new rabbit vibrator – your sexual partner will be excited to include the rabbit during sex.
Here's an idea for the more adventurous: you seek a profound experience, you can ask your partner to penetrate anally. At the same time, your rabbit vibrator stimulates your G-spot and vulva.
Choose devices with proven quality
10-dollar rabbit vibrators are highly unlikely to give you what you are looking for. You can at least imagine the materials used for the production of such sex toys. If you find a visibly cheaper toy (compared to the commonly-priced products), it usually has something to do with low quality.
Such products might harm your overall health, or the best-case scenario is that the rabbit vibrator would break or stop working after several uses.
Standard features of rabbit vibrators
Vibration – the vibration strength can be adjusted, depending on your personal preferences or expectations. The less powerful rabbit vibes are recommended for beginners, while the adult toys with more power are for experienced toy lovers.
Power used – we at TheToy prefer the USB-chargeable devices, but you can also find battery-powered rabbit vibrators as well. The main difference is that the batteries should be changed when worn out, which is an additional expense, plus USB is a more eco-friendly option.
Thrusting, Rotating, Beads, and More – The thrusting feature of your rabbit vibrator simulates the way in and out of your vagina, this makes reaching orgasm easier, and the experience resembles real sex; the rotating feature enhances the pleasurable sensations during your play; the beads are not just a part of some creative designs – you can feel them, and the effect can blow your mind in case you prefer more intense play.
Clitoral Attachments – a.k.a. rabbit ears, but you can also find dolphins and butterflies. The reason for the animal-inspired sex toys is that Japanese manufacturers couldn't sell realistic sex toys, and also, the idea of something cute makes these vibrators even more popular.
Controls – look for remote control vibrators with clitoral arms – they are easy to manipulate. Most of them let you focus on your pleasure game and not on trying to figure out which button to push. Usually, control buttons are located in the base of the vibrator, and they control your toy – turning it on and off and adjusting the setting available. The procedure is a lot easier when you can do all that using a phone app.
Materials
The Problem with Bunny Vibrators
You should ask yourself before purchasing a rabbit toy if it will be the best one for you. As vaginas are different shaped and sized, you should take these aspects into account.
Of course, there's no need to measure your external and internal sex organs, but you certainly need to know what shape or size of the vibrator will best serve your needs, as there are endless options available. The dimensions and location of the rabbit ears are just as important – depending on where your clitoris is, you should seek the toy that will fit perfectly so that you can be delighted with your experience.
Note that you cannot return most sex toys. Such items do not have a money-back guarantee nor a trial period.
Cleaning and useful tips
Cleaning your vibrator before and after each use is essential – it will eliminate the bacteria that may otherwise harm your health and guarantee that your device will last as long as possible. Remember that the bacteria and acid substances and other secretions available in the vagina may react with the material your vibrator is made of, so make sure you never skip the cleaning part – this will eliminate chances for bacteria formation, infections, or unpleasant smells.
If your vibrator is made of silicone, store it in a separate box far from other silicone-covered items. Also, if your device is battery-powered, it is highly recommended to remove the batteries (to avoid battery leaks) after every session.
What's the story behind the rabbit sex toys?
The first rabbit vibrators appeared in the 80s. They provided the same dual stimulation (external and internal effect) and were well accepted by the female audience. However, the first massive introduction to the rabbit vibrators appeared on Sex and the city in 1997 when they featured The Pearl manufactured by Vibratex(The original rabbit vibrator). In the scene, Charlotte tells about her new addiction and the best rabbit vibrator she ever owned. Sex and the city is a popular TV comedy-drama about four women with different natures and ever-changing sex lives. Sex and the city is among the most popular TV shows in the USA.
What are the Rabbit Vibrators?
All this overstimulation. Everywhere.
Rabbit vibrators are vibrating and rotating sex toys with clitoral stimulators attached to their penis-shaped bodies. Why rabbit? Their name comes from the shape of the clitoral stimulators, which resemble rabbit ears.
Rabbit vibrators are intended to provide an additional pleasurable experience by combining the traditional vibrator with an external stimulator. By providing simultaneous vaginal and clitoral stimulation, these sex toys can be used for solo play or include as a part of partner sex. Some of the devices offer shaft rotation speeds that give a more intense, more profound experience. On the other hand, the' bunny ears can perform by using different rates and patterns of clitoral stimulation.
Additional lubrication is highly recommended to avoid friction against the skin, as the lack of moisture during penetration can lead to adverse reactions, such as irritation, pain, and discomfort. An interesting fact is that rabbit vibrators are among the most preferred sex toys among sexually active females.
Since then, this particular sex toy has gained exceptional popularity, making it a best-selling product in most sex shops.