The rabbit vibrator has come a long way since it rose in popularity after that famous Sex and the City episode. Back then, rabbit toys were mostly made out of cheap materials like rubber and jelly and had fairly simple movements. Now there are higher quality medical-grade silicone rabbit vibrators that have powerful motors, rotating and thrusting shafts, and can even be controlled by your partner with a remote control or an app.
In my eight years of testing sex toys, I've tried more than 40 different rabbit vibes. And I can tell you one thing – rabbit vibrators are not for beginners. Vibrating bunnies are probably the greatest gimmick in the world of sex toys because they are so alluring. We're drawn to the promise of having a toy that does the work of two, three, or even four different toys. And it can work, but it takes a lot of research and knowing your body and the type of vibrations you enjoy.
There are four things to consider before buying a rabbit vibrator that will work for your body.
– How far up your clitoris is from the opening of your vagina, how deep your g-spot is, how long your arm is and how flexible you are.
– The intensity of the vibration you find most pleasurable and if you prefer rumbly or buzzy vibrations.
– Do you want the insertable shaft to rotate or thrust inside?
– Do you want the vibrator to be controlled remotely by our partner?
I have put at the top of this article the best rabbit vibrators that I have tested by far, with their exact dimensions, the power of their motors and the intensity and type of vibration so that you be able to make an informed decision as to what is the best rabbit vibrator to buy for your own preferences.
All of the bunny toys I've listed on the top are made from body-safe silicone and have stood the test of time, so you shouldn't worry about the quality of those bunny vibes. Just choose the one that best suits your needs.
The top rabbit vibes – at a glance
There are several other models worth mentioning that are almost as exceptional, and you can read about them below:
Reviews of the best rabbit vibrator models
1. Lovense Nora
The only remote control bunny vibrator with a gyrating head
Presentation
Nora is the name of the exceptional rabbit toy created by the Lovense company. Nora offers unlimited pleasure options, can be controlled manually or remotely, and is powerful enough to make you experience those rhythmic muscle spasms bringing intense pleasure. The gyrating head of Nora grinds directly against the G-spot while the flexible pulsating arm stimulates the clit.
Lovense designed the Nora rabbit vibe with the idea to offer complete satisfaction to partners who are away from each other but want to keep the flame burning (another great vibe from Lovense is their powerful bullet vibe – Lush 2).
Your Nora can be controlled by your lover from everywhere as long as you are both connected to the internet. Plus, this pleasure toy offers multiple options for interactive play, allowing you to connect your rabbit vibe with other sex toys. For instance, you can connect your Nora bunny to Max or Max 2 masturbators for men, also manufactured by Lovense. Virtual sex is now more realistic than ever! The similar vibes and intensities will make you feel just like having sex.
But if you intend to use Nora for solo play, you can entirely rely on its' impeccable performance. You can either use the buttons located at the bottom of the toy or use the Lovense app, free for Android and iOS users. Just install the free application on your smartphone and start enjoying the orgasmic rhythm of your rabbit toy. The application allows you to choose from the preset patterns or to create your vibrations, just the way you like it! You can enjoy up to 4 hours of uninterrupted play before your rabbit needs a recharge.
Read the complete review of Nora by Lovense.
Check the price of Lovense Nora: LovenseLovehoney
2. We-Vibe Nova 2
Performance
We-Vibe is the name of a world-class company dedicated to shaping the future of sexual wellness. Their We-Vibe Nova 2 dual-stimulation vibrator is developed to sync with the human body, combining G-spot stimulation and powerful clitoral vibration. It allows you to try different combinations, using the G-spot and/or clitoral vibration and increasing or decreasing the intensity of stimulation.
Beyond the classic bunny vibrator, Nova 2 offers pleasure non-stop, even during your slightest movements. Experience a mixed orgasm – the new and improved Nova stimulates your clitoris while stimulating your G-spot.
Insert the internal G-spot stimulator into the vagina and place the external vibrating arm on the clitoris. The curved part of the stimulator remains on the clitoris and bends with each movement.
Using the buttons, adjust the vibration mode and intensity and select whether the internal motor (G-spot stimulation), the external motor (clitoral stimulation), or both (double stimulation) work. The flexible arm and adjustable mounting offer an ultra-satisfying and fulfilling experience each time you feel like orgasming.
We-Vibe Nova 2 has an Ergonomic handle, providing a comfortable grip without numbing your hand. This rabbit-type vibrator is 100% waterproof. You can use it while in the shower/bath/pool/jacuzzi.
Read the complete review of Nova 2 by We-Vibe.
Where to buy: We-VibeLovehoney
3. Lelo Soraya 2
Overall Performance
This luxury device is one of the best-selling sex toys currently available on the market. It adapts freely so it can provide ultimate pleasure sensations, thanks to simultaneous vaginal wall and clitoral stimulation. The precision used delivers rumbly, whisper-quiet vibrations you can enjoy wherever you like, as long as you want.
Soraya 2 Vibration strength
From a teasing murmur to potent, satisfying pulsations
Soraya 2 Materials
Body-safe silicone; ABS Plastic
Aesthetic appeal
This rabbit vibrator is available in pink and rose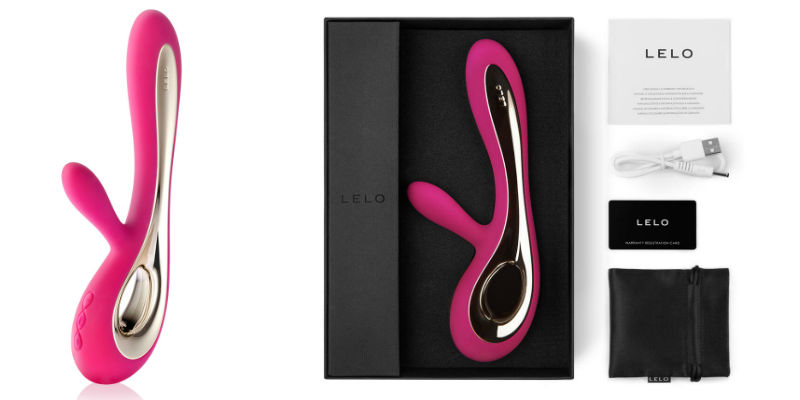 Read the complete review of Lelo Soraya 2
Where to buy: LeloLovehoneyLiberator.com
4. Happy Rabbit G-Spot
Rechargeable Rabbit Vibrator
Happy Rabbit Performance
Excellent product performance is offered at a moderate price – this is what you'll get if you purchase this multifunctional and reliable sex toy. Happy Rabbit g-spot vibrator is recommended for combined clitoral and penetrative stimulation, multiple vibration patterns, throbbing ears, and perfectly fitting design, simulating the experience.
Happy Rabbit Vibration strength
Provides powerful and intense vibrations
Materials used
Happy Rabbit g-spot vibrator is made of 100 % medical grade silicone
Happy Rabbit Design
The happy rabbit vibrator is available in pink, purple and black
Where to buy: Lovehoney
5. Lelo INA Wave 2
G-Spot and External Massage Vibrator with Motion Movement
Performance
Edging is the act of bringing a person to the edge of climax and then stop. This gets heightened arousal and multiple, potent orgasms. And this vibrator is perfect for this purpose, in case you'd like to heat your sex life.
But if you just need to reach the finish line, just keep playing. And after you experience the ultimate orgasm, keep playing. Your clitoris will still be sensitive, but that doesn't mean you should back off. You can experience multiple orgasms thanks to the intense waves and finger-like massage motions of LELO INA Wave 2.
The 2 points of simultaneous stimulation (G-spot and clitoral) will surely make your solo or threesome more fulfilling and pleasurable. Just see for yourself:
Vibration strength
Depending on your personal preferences, you can adjust the setting, starting from the slight teasing murmur to the super intense stimulation mode.
Where to buy: LeloVibrators.com
6. Jack Rabbit Thrusting Vibrator
Performance
Do you often see yourself naked? Because you are going to enjoy the picture of your Jack Rabbit and your orgasmic convulsions.
This luxurious device is designed to make you experience deep, penetrating g-spot pleasure. The thrusting feature will make your experience even better – you can adjust the thrusting power until you reach the most pleasurable moments alone or with your partner. Enjoy different stimulation patterns and speeds. Teasing your sweet spot with the cushiony-soft upper tip or/and clitoris have never been so satisfying! Just push the independent controls and play!
Where to buy: Lovehoney
7. Fifty Shades of Grey 'Greedy Girl'
Fifty Shades of Grey-inspired vibe
Performance
Have you read the book? Any thoughts?
Lust, desire, and passion are the first words that will come to your mind after you have tried this Greedy Girl vibe. This designer toy is provided with loads of different pulse and strength settings, so you can start soft and slow and build up to full strength. According to many who purchased this toy, intense and explosive orgasms are even better than actual sex.
Greedy Girl Rabbit Vibration strength
This is one of the most powerful devices currently available on the market
Materials
Greedy Girl is made of silicone, silky smooth to the touch
Lovehoney
8.

Eve's First Thruster
Performance
Why is this the best option for a first-time rabbit vibe? Well, it is cheap and easy to manipulate. And this is all you need in case you are not entirely sure whether rabbit vibrators are your kind of sex toys.
Also, you get a high-quality thrusting rabbit with rotating features and a clit attachment with 12 functions of vibration, pulsation, and duration. This g-spot and clit massager pleasures more than enough for a beginner!
Where to buy: Amazon
9. Satisfyer Pro + G-spot
Performance
If you seek a combination of luxurious ergonomic design, satisfying performance, and affordable price, Satisfyer Pro G-spot Rabbit Vibrator might be the perfect option for you. It is slightly different from the typical rabbits, as it uses pressure wave and touch-free clitoral stimulation surrounding your love bud. In contrast, the vibrating shaft of the rabbit vibrator thrills your G-spot, using the 11 different wave settings.
Vibration strength
You can enjoy both strong vibrations and pressure waves at once without the need to hide under the blankets. This classy rabbit vibrator is very discreet, and you will be able to experience the sensation of ultimate pleasure without worrying.
Materials
Body-safe silicone and ABS plastic
Other vibrating rabbits to consider
Satisfyer Magic Bunny
For me, the magic bunny is the perfect size for pleasurable clitoral and G-spots orgasms. It' s too short to simulate a deep thrusting from an aggressive partner but it' s ideal for experiencing some sensual and slow pleasures reminiscent of very skilled fingers and a focused and concentrated penetrating experience that' s about finesse rather than force.
Womanizer Duo
The Womanizer Duo combines two different types of vibrating functions into one single toy. It's not just a traditional rabbit vibrator; instead, it has a clitoral suctions cup at one end and an internal G-spot stimulator at the other end.
The Womanizer Duo is a dual stimulation toy for women that combines an internal vibrator with an external suction device. It allows you to choose from three different angles and positions so that you can achieve the best results.
The vibrator stimulates the internal nerves of the clitoral body, while the airflow presses on the clitoral body, stimulating the G-spot and causing blood flow throughout the vagina.
Romp Jazz Rabbit
Romp Jazz looks great and very attractive to the eyes, but its performances are disappointing. The shape of its insertable part is satisfactory but the clitoral stimulators' form is just wrong. The vibrator is noisy but the vibration is too weak. Judging by other user's opinion, I can say that it does not fit my needs. Therefore, this toy will stay in the closet forever.
Zalo Rosalie
I was very pleasantly surprised with the overall performance of the Zalo Rosalie Rabbit Vibrator. For starters, the design is beautiful; the pink color scheme is absolutely stunning. The material feels soft yet sturdy, and the head is made out of silicone. The vibe features two speeds – low and medium. I personally found the medium speed to be perfect for clitoral orgasm. It does take some practice to get used to how the vibe works, though. Once you figure out what angle you should hold it at, you'll find yourself having multiple orgasms before you know it.
FemmeFunn Pirouette
The FemmeFunn Pirouette is made from soft, body safe silicone and squishy to touch. It allows easy access to the G-Spot and Clitoral Area. Unlike most rabbit vibrators, the controls are also coated in silicone so there's no chance of bacteria getting stuck inside and escaping.
It features three motors providing a well-balanced, rumbling feel throughout its entire body. The vibrator has eight strong rumbly vibrations and two additional functions that really stand out in my mind.
CalExotics Orange County Cutie
CalExotics Orange County Cutie Rabbit has ten powerful functions of vibration and three thrusting speed settings make it an excellent choice for beginners and experts alike. It can also be used for anal stimulation and vaginal penetration. It features a sleek design with a curved head that provides a great sensation during sex. With its waterproof feature, you can enjoy fun in the shower too!
Unbound Clutch
Unbound's Clutch dual-stimulating toy combines thrusting and vibrating powers (separately and together). Made of body-safe materials, it also features a unique triangular ergonomic handle and a flexible external arm to adjust the angles and sensations to your tastes.
Happy Rabbit Triple Vibrator
The Happy Rabbit Triple Curve Vibrator has three motor functions. There are two silver pushbutons on the base, one small and round and one large and oblong. By pressing the elongate button, you activate the central part of the vibraotor – the rod. In just a quarter of an hour, your climax arrived.It is one of the most discrete vibrating toys on the marketplace.
Satisfyer Mr. Rabbit Vibrator
The Satisfyer Mr Rabbit offers a simple yet effective design. With two powerful motors, it can deliver 12 vibration modes and 10 pattern settings. Its small size means it won't take up much room in your home, and the universal control loop ensures you can easily adjust the device if needed. While it might not stand out in any particular category, its low price makes it an excellent choice for those who want something affordable but also reliable.
Le Wand Blend
iVibe Select iRoll
I'm calling all bad rabbits! Get into the spirit with the iVibe Select iRoll, an erotic rabbit vibe for women. With eight powerful vibration modes and a rotating "tongue" feature, this bunny can do everything from teasing to tingling. And if you want to try something new, simply rotate the dials to change speeds and patterns. It's designed to fit comfortably inside so it won't get lost between the sheets, and it comes complete with a handy storage case.
Fun Factory Miss Bi G5
If you're looking for something small and waterproof, check out Miss Bii. It offers dual vibration and strong and powerful motors. Besides, it has independent motors (shorter shafts and arms). They can be operated independently or simultaneously. The shaft of this sex toy isn't quite as big as regular rabbit vibes, but don't let its small length fool you. It really works well. It's official – this vibrator is designed for anal play. Double the pleasure!
Babeland Snail Vibe
Don't be fooled by its odd shape; the Snail Vibe really is as sexually innovative as its name suggests. It's a completely new twist on dual-acti­vity sex toys, allowing you to stimulate your vagina and clitoris simultaneously. Each of its two knobs has five vibration speeds and 5 different patterns to play with.
Lovehoney Desire Luxury Strap-On Dildo Vibrator
Using the Lovehoney strap on was one of the best parts because it kept me close to the penetrating partner. Being so close made the experience more intimate.
If you're looking for something to spice up your sex lives, this Lovehoney vibrator will give you simultaneous penetration and a poseable toy.
Romp Jazz Rabbit By We-vibe
Romp Jazz Rabbit is a rechargeable silicone budget rabbit vibrator with plush G-Spot tip and clitoral stimulator. Dual motors in shaft's tip and outer stimulator vibrate in concert, giving you intense pleasure inside & out. 10 functions of vibration: 6 vibration speeds + 4 pattern settings.
Vibratex Rabbit Habit Deluxe
It was featured on Sex and the City, and in O magazine, and in Glamour, and it has been widely copied but never equaled. The new Rabbit Habit Original Deluxe is even better than its predecessor. It features an improved design, a stronger motor, and enhanced vibration patterns. When the shaft rotations, the pearls tumbles, and the rabbit head /earz buzzes frenetically, it means the shaft is going to strike your G spot, the pearls are going to stimulate your vagina, and the rabbit earz are going to tease and please your clitoris.
BMS Factory Wonderlust Harmony
BMS Factory Wonderlust Harmony seems like a good idea for beginners because they're easy to use. It's effective without being too intense. It starts quietly but ends loudly. If you're looking for something inexpensive, but high quality, I'd suggest checking out the BMS Wonderlust Serenity.
Beaded Thrusting Rabbit
The Thrusting Rabbit is a versatile vibrator that can be used for clitoral, vaginal, anal and G-spot pleasure. It has a powerful motor that provides intense vibrations through the shaft and head. It also comes with a remote control so you can change speed and intensity. For those who love the feeling of being penetrated, this is the perfect toy for them.
Adam & Eve Warming Rabbit G
Adam & Eve's Warming rabbit heats to 107.6 degrees for maximum G-Spot and clitoral stimulation. Warmth radiates from inner ridges of shaft. Takes 3 minutes to reach soothing warmth, or 1.5 hours to reach peak arousal. A focused motor concentrates pleasurable stimulation right where you're concerned. It features the same 5 intensity levels. It also has a great battery life.
Smartbod Inc. Lioness Smart Vibrator
VeDO Rockie Vibrator
Smile Makers The Artist
Satisfyer Hot Lover Connect
Picobong Kaya
Ann Summers Moregasm+ Boost Rampant Rabbit
So Divine Kiss Kiss Rabbit Vibrator
Phanxy G-Spot Rabbit Vibrator with Heating Function
How to Get the Most Out of Your Bunny Toy
Try adding lubricant to your pleasure sessions- this will enhance your experience even if you weren't aroused initially. Do not use silicone lube with silicone toys. Silicone-based lube can damage the surface.
The best rabbit vibes are 100% waterproof which allows you to take yours in the shower.
Quality bunny vibrators usually provide a G-spot stimulation setting, which you can use for external (clitoral) play as well.
Use different vibration settings until you find the one that hits the spot the best way possible. Then, do your best to hold your moans.
Have a threesome with your lover and your new rabbit vibrator – your sexual partner will be excited to include the rabbit during sex.
Here's an idea for the more adventurous: you seek a profound experience, you can ask your partner to penetrate anally. At the same time, your rabbit vibrator stimulates your G-spot and vulva.
Choose devices with proven quality
10-dollar rabbit vibrators are highly unlikely to give you what you are looking for. You can at least imagine the materials used for the production of such sex toys. If you find a visibly cheaper toy (compared to the commonly-priced products), it usually has something to do with low quality.
Such products might harm your overall health, or the best-case scenario is that the rabbit vibrator would break or stop working after several uses.
Standard features of rabbit vibrators
Vibration – the internal vibration strength can be adjusted, depending on your personal preferences or expectations. The less powerful rabbit vibes are recommended for beginners, while the adult toys with more power are for experienced toy lovers.
Power used – we at TheToy prefer the USB-chargeable devices, but you can also find battery-powered rabbit vibrators as well. The main difference is that the batteries should be changed when worn out, which is an additional expense, plus USB is a more eco-friendly option.
Thrusting, Rotating, Beads, and More – The thrusting feature of your rabbit vibrator simulates the way in and out of your vagina, this makes reaching orgasm easier, and the experience resembles real sex; the rotating feature enhances the pleasurable sensations during your play; the beads are not just a part of some creative designs – you can feel them, and the effect can blow your mind in case you prefer more intense play.
Clitoral Attachments – a.k.a. rabbit ears, but you can also find dolphins and butterflies. The reason for the animal-inspired sex toys is that Japanese manufacturers couldn't sell realistic sex toys, and also, the idea of something cute makes these vibrators even more popular.
Controls – look for remote control vibrators with clitoral arms – they are easy to manipulate. Most of them let you focus on your pleasure game and not on trying to figure out which button to push. Usually, control buttons are located in the base of the vibrator, and they control your toy – turning it on and off and adjusting the setting available. The procedure is a lot easier when you can do all that using a phone app.
Materials
The Problem with Bunny Vibrators
Before purchasing a rabbit toy, you should ask yourself if it will be the best one for you. As vaginas are different shaped and sized, you should consider these aspects.
Of course, there's no need to measure your external and internal sex organs, but you certainly need to know what shape or size of the vibrator will best serve your needs, as endless options are available. The dimensions and location of the rabbit ears are just as important – depending on where your clitoris is, you should seek the toy that will fit perfectly so that you can be delighted with your experience.
Note that you cannot return most sex toys. Such items do not have a money-back guarantee nor a trial period.
Cleaning and useful tips
Cleaning your vibrator before and after each use is essential – it will eliminate the bacteria that may otherwise harm your health and guarantee that your device will last as long as possible. Remember that the bacteria and acid substances and other secretions available in the vagina may react with the material your vibrator is made of, so make sure you never skip the cleaning part – this will eliminate chances for bacteria formation, infections, or unpleasant smells.
If your vibrator is made of silicone, store it in a separate box far from other silicone-covered items. Also, if your device is battery-powered, it is highly recommended to remove the batteries (to avoid battery leaks) after every session.
What's the story behind the rabbit sex toys?
The first rabbit vibrators appeared in the 80s. They provided the same dual stimulation (external and internal effect) and were well accepted by the female audience. However, the first massive introduction to the rabbit vibrators appeared on Sex and the city in 1997 when they featured The Pearl manufactured by Vibratex(The original rabbit vibrator). In the scene, Charlotte tells about her new addiction and the rabbit vibrator she ever owned. Sex and the city is a popular TV comedy-drama about four women with different natures and ever-changing sex lives. Sex and the city is among the most popular TV shows in the USA.
What are the Rabbit Vibrators?
All this overstimulation. Everywhere.
Rabbit vibrators are vibrating and rotating sex toys with clitoral stimulators attached to their penis-shaped bodies. Why rabbit? Their name comes from the shape of the clitoral stimulators, which resemble rabbit ears.
Rabbit vibrators are intended to provide an additional pleasurable experience by combining the traditional vibrator with an external stimulator. By providing simultaneous vaginal and clitoral stimulation, these sex toys can be used for solo play or include as a part of partner sex. Some of the devices offer shaft rotation speeds that give a more intense, more profound experience. On the other hand, the' bunny ears can perform by using different rates and patterns of clitoral stimulation.
Additional lubrication is highly recommended to avoid friction against the skin, as the lack of moisture during penetration can lead to adverse reactions, such as irritation, pain, and discomfort. An interesting fact is that rabbit vibrators are among the most preferred sex toys among sexually active females.
Since then, this particular sex toy has gained exceptional popularity, making it a best-selling product in most sex shops.