Arcwave Ion is created by the most brilliant minds in engineering. With such classy design, this innovative male masturbator will leave you feeling like the luckiest man on earth!
Seconds after you slip into the first-ever pleasure air stroker, the pulse waves will create an orgasm, unlike anything you've experienced. You'll get more used to delay ejaculation over time but the first few times will feel like an earthquake.
Based on changes that shift from slow to fast, this new way to masturbate will stimulate your sensitive frenulum with unique pulsating airwaves. The goal of this male masturbator is to provide a powerful new type of sensation based entirely on air pressure changes.
It is the first masturbator to use pulsating airwaves. By targeting pleasure receptors on the tip of the penis, men can achieve intensified orgasms — which science has found are no different from those achieved by women due to the presence of these same receptors in the clitoris.
To sum up,
New, more intense sensations? Check.
Varying pressure waves? Check.
Playing with your penis in the most sensual way? Check.
Compare price of Arcwave Ion:  ArcwaveLovehoney
The Ion is a toy that edges you so that you orgasm much harder than you are used to. The pro-quality features of this sex toy make it quite a remarkable find.
Arcwave Ion is described as a "stroker," but it's actually a sex toy targeting just the head of the penis.
If you enjoy focusing on your penis head during masturbation, the Ion is a great option. The insertable length is 3.5 inches or 8.9 cm. It's like a clit sucker, but for your manhood. It's not necessarily bad for the rest of your penis, but there may be times when you wish to experience some added stimulation if you prefer your entire penis to be stimulated.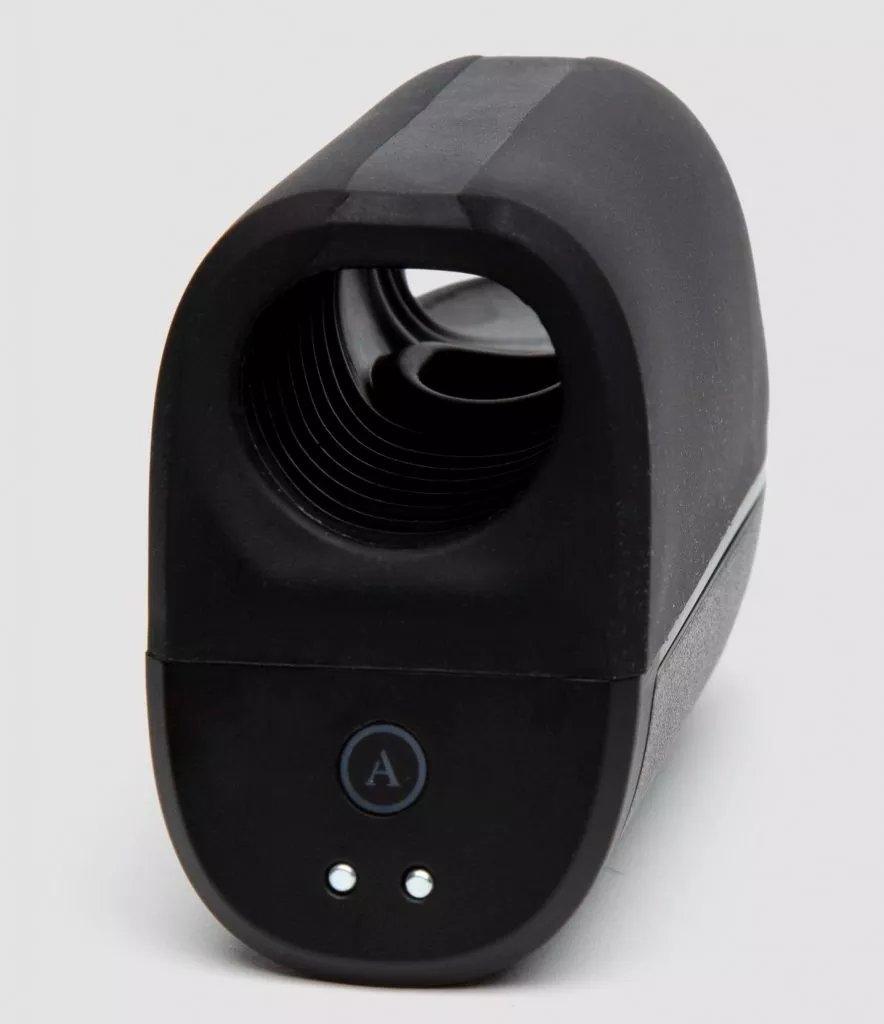 Ion's specs

The Ion was made with Arcwave's CleanTech silicone, which allows it to grow and shrink as necessary. The diameter (unstretched) is 33mm. During stretching, it can go to a max of 44mm. Its two open ends can accommodate any length or thickness.
After trying it, I came to the conclusion that Arcwave Ion is a bit louder than I expected. However, it does have an option for those who do not want that noise level. The Smart Silence feature is based on the Pleasure Air sensors; when the penis enters, the technology pauses until optimal pleasure has been achieved.
As for the materials Arcwave Ion was made of, you can rest assured – they are 100% body-safe, latex-free, and phthalate-free.
It's awkward to try to find the off button when your masturbator is getting in the way of your moment, but Ion has a solution for that. Its' Smart Silence technology uses cutting-edge Pleasure Air sensor technology to make sure that only when you need it will the vibrator be on, or off. Now you can sit back and relax while the stroker does the work.
As for the weight of Ion, I guess you'd have to check with the website or something. However, I can tell you that the product feels about as light as a feather, and I don't even notice its actual weight on my hands and it doesn't strain your muscles after prolonged use.
Ion works for both circumcised and uncircumcised penises. There should be no difference in the use or enjoyment of the device, regardless of whether a man has been circumcised.
Cleaning the Arcwave Ion
It's hard to believe how easy WowTech makes it to clean your stroker. To ensure that you don't forget to clean your cum-filled stroker, WowTech has made the process simpler than ever. The end result is intuitive for users and can be easily replicated again and again.
Holding the Arcwave upright with both hands, push inward on the two sides of the stroker with your thumbs. That will split the Ion into two parts, which you can then easily wash with some soap and lukewarm water. This is great news because remember how most masturbation devices don't have an open-top but the Ion does. A pro tip is that this device offers a glimpse while ejaculating (you can watch yourself shoot a load).
In addition to its waterproofing protection, the Arcwave is also a quick-dry device. This device can be submerged underwater, although an open-ended design means that you probably won't have to. It can dry quickly and safely store Ion when not in use.
Ion's Storage Base
I wanted to mention another awesome thing about the Ion – its' storage base. This is something you will definitely appreciate on the spot.
The storage base works as a charging station as well. You only need to place your Ion into the charging base, leave it for a couple of hours and you're ready to play again.
One great thing about the storage base is that you can rely on it to keep the toy protected from any dirt, dust, or damage. The base keeps the toy in place, safeguarding it from anything dangerous as well. If there was ever an instance where lint or water was trapped inside the stroker, it would be no problem. The Ion can dry off quickly with the silicone stick at the bottom of the storage base.
Battery Life
Last but not least, I wanted to talk about was the battery life of Arcwave. The Ion's battery could last between 60-70 minutes; however, this all depends on how you use your toy. Moreover, when in the storage base, it takes around an hour and a half to charge up fully.
One impressive point is that Arcwave's battery can last from 60-70 minutes per charge — depending on the frequency and intensity of play.
Compare price of Arcwave Ion:  ArcwaveLovehoney
On TheToy, you can find all kinds of sex toys for male satisfaction, including all kinds of Bluetooth vibrators, awesome hands-free sex toys, vibrating anal toys, prostate massagers for powerful orgasms, and even bouncy dildo balls for men