Have you used a bouncy ball while exercising? Have you tried bouncing on it? If yes, it is very likely that the practice has created naughty thoughts in your head.
Now, imagine bouncing on an exercise ball with dildo attached to it. Yes, this sex toy already exists and people use it for masturbation all the time!
Dildo balls come in different sizes, colors, and various types of phallic-shaped attachments and this article will give you important hints about how to choose the best bouncy ball dildo and enjoy your orgasmic training to the max!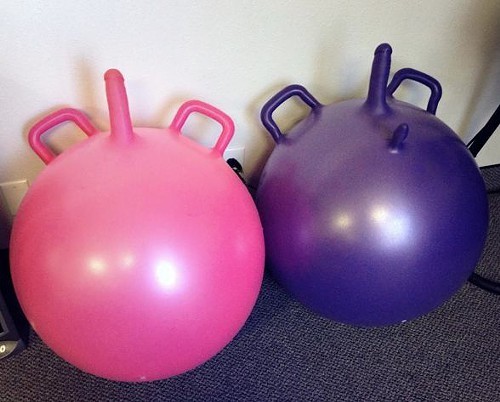 When I first started my research for this article I noticed there aren't many places where you can purchase a yoga ball with a dildo. There are some cheap inflatable products on Amazon and Aliexpress that I bought. I won't include them, since I would not recommend them.
Currently, the only real (real as the one you see the cam girls and the girls in the adult movies) dildo ball is sold by Pinkdiamond69. It is solid, has handles, made of body-safe materials and the best part is that it has 10 years warranty. You can buy it here. It looks exactly as the bouncy dildo ball on the picture below.
Pump Included
Small and discreet packaging
Max Inflatable Diameter: 23in/58cm
Max Inflatable Circumference: 73in/185cm
Insertable Length: 6in/15cm
Holds up to 330 pounds / 150Kg
Max Inflatable Diameter: 23in/58cm
Max Inflatable Circumference: 73in/185cm
Dildo Length: 6in/15cm
Plug Length: 3in/7.6cm
What is a bouncing dildo ball?
This innovative kind of sex toy is a yoga ball (usually with handles) with one or two dildo attachments for vaginal and/or anal stimulation. Most models have regular dildos attached on top, but you can also choose a bouncing ball with a vibrating dildo. The vibrating attachments are usually corded and operated via push buttons.
You can also choose the size of the dildo bounce ball and the size of the dildo based on your personal preferences. The bouncy dildo ball provides deep penetration and is perfect for solo masturbation.
What Are The Main Features Of Dildo Balls?
Just like any other type of sex toy, the material and the design of your bouncy dildo ball make it special. You'll also need to consider the size of the ball you'll be bouncing on as well as the size of the dildo on top.
All these features should align with your body quirks for an ultimately pleasurable experience.
Now, it is time to check out the main features you should have in mind before buying a dildo yoga ball:
Material
The material of the yoga dildo ball is rubber, to offer maximum strength and stability. You just have to make sure you are buying a product made of high-quality rubber that withstanding the weight of up to 250 lb (115 kg). The attachments in most dildo bouncing balls are also made of rubber but there are better options for the insertable part, such as silicone or elastomers. You can choose from regular and realistic dildoes.
Whatever the material of your bouncy dildo ball, make sure you clean the dildo part before and after each use, just like any other kind of sex toy.
Size
First, you need to consider how big the bouncy ball with dildo is – you'll have better control over your sex toy if it is smaller, but the bigger balls offer more intense stimulation because they bounce better.
The next thing you'll need to choose is the size of the dildo attachment. There are all sizes of dildoes, so it is up to you to decide what you'll like the most. Note that jumping dildo balls offer deep penetration, so you need to carefully choose the size of the attachment(s).
With or Without Handles
Most yoga ball dildo toys come with handles attached to hold your sex toy while bouncing on it. The handles provide a more secure and comfortable experience, especially if you have chosen a bigger dildo ball. The handles also provide a better balance while riding your dildo ball. The handles are located on both sides of the bouncy ball, the strap-on (or strap-ons) are located in the middle.
But you can find models without handles as well. The design is quite simple – you only have a ball and one or two attachments to it.
Color
Like with most sex toys, you can choose from various colors.
Bounce for tips
An exercise ball dildo is very popular for camming. Instead of using a special tip-controlled vibe, the camgirl bounces on the dildo ball for receiving tips and these shows have thousands of views.
If you want to read unbiased sex toy reviews, read our articles about the best hands-free male masturbators, clitoral sucking sex toys, butt vibrators, remote-controlled vibrators, sex wands, jack rabbit sex toys, vibrating underwear, and many more sexy topics!
Pros and Cons of Using a Dildo Ball
Pros
Masturbating with a dildo bouncy ball is extra comfortable, as it gives you complete control over your experience. It is just like riding a real penis but is way more convenient, as you also have the bouncing effect of the ball underneath you
The sensation is close to real sexual intercourse, the main difference is the depth of penetration – you can control it, while bouncing
You don't need to numb your hands while masturbating, just bounce, enjoy and explore your erogenous zones while the dildo is penetrating your vagina and/or anus
The prices of yoga ball dildoes are comparatively cheap, especially if you're not looking for vibrating dildo attachments
Most dildo balls can be easily deflated by uncapping the air inlet and squeezing the ball until it's deflated
Cons
The design of an exercise ball with a dildo attached doesn't allow users to try various sex positions, having that the idea of this sex toy requires bouncing on it, i.e. the user being on top
Yoga ball dildo is not the most discreet masturbation toy if you keep yours fully inflated (think about its' size before buying one). Plus, the dildo's purpose is quite obvious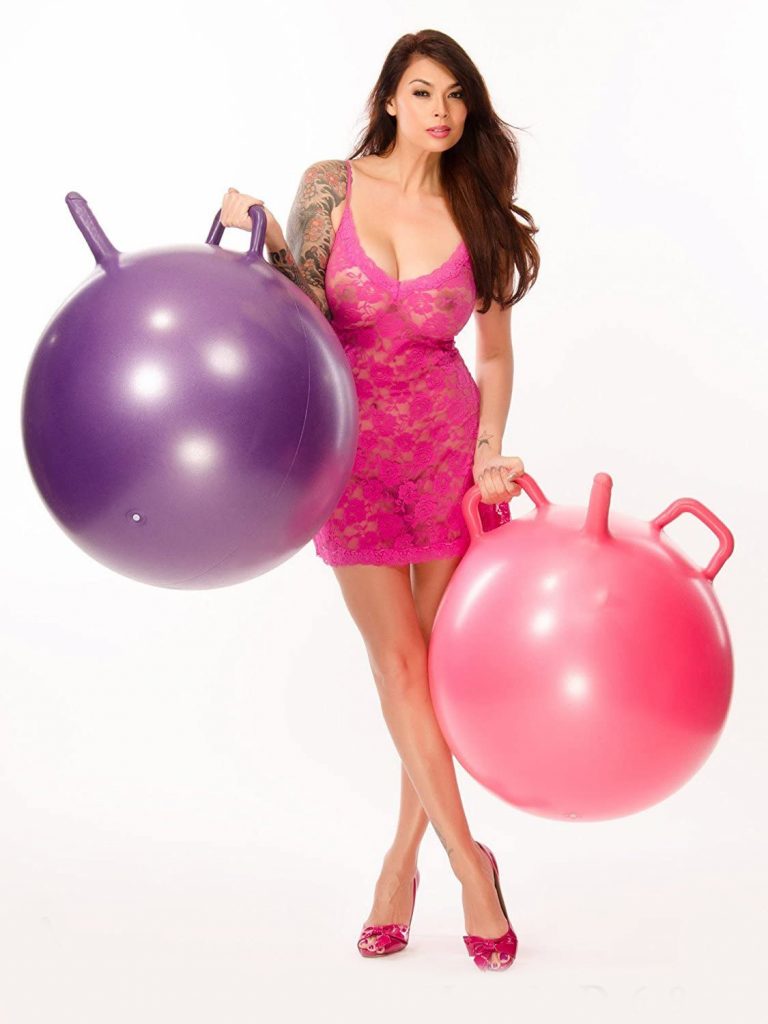 How to pick the best bounce ball dildo?
Let's assume you've already decided on buying a bouncy ball with a dildo attached to it. The next step is choosing a dildo ball that will be suitable for your personal needs. We at TheToy recommend choosing a product with handles attached to it to ensure safe riding. The exercise ball dildo responds to your every bounce, for extra pleasure. But there are a couple of details you may want to consider before proceeding with a purchase:
Make sure you're buying from a legit manufacturer – check the material used for the production of your sex toy to avoid potential reactions. If possible, choose a manufacturer that you've already tested and are satisfied with the quality offered. Avoid fake products and cheap replicas
The dildo part should be made of silicone, rubber, elastomer, or any other material that is non-porous and doesn't proliferate germs and bacteria
Prepare your lube before masturbating! Always use some lube before sexercising on your bouncy ball to avoid any unpleasant friction and enjoy a super pleasurable solo session. The good news is that most bouncy dildo balls come with a free lubricant. Make sure the lubricant you're using is suitable for the material of the dildo part. For instance, if your sex toy comes with a silicone dildo attachment, you shouldn't be using a silicone-based lube. You should get a water-based one instead
Remember to check the weight capacity of the exercise ball dildo – most products are intended for people weighing up to 250 lb (115 kg)
Ideas for using a bouncy dildo ball
Clean your toy (or at least the insertable attachment) using mild soap and water. Carefully rinse and let the toy dry completely or use a damp cloth
Apply some personal lube to the dildo part and some more to your vagina and/or rectum
Women can a single plug or 2 plugs at the same time or individually. Men can hop on the ball and use the attached dildo as an anal plug for prostate stimulation.
Start slowly until you find the perfect pace and the most comfortable position for masturbation
Make sure you can keep your balance in case your sex toy doesn't have handles
If you experience any discomfort during solo pleasuring, apply some more lubricant and start again – you can try changing your position or the angle of penetration
The best bouncing ball dildo for 2021
PinkDiamond69 is currently the top manufacturer of dildo balls, they offer 4 different models with single or with double attachments. All their products have handles to ensure 100% secure masturbation. The attachment dildo parts have realistic shapes, tapered heads, and vein-like textures on the shafts. You can choose from multiple colors.
Enjoy bouncing!
Bouncing on a ball with a dildo on top is great and no one can deny it but there's an additional benefit of the masturbation game. While masturbating, you exercise your body muscles, getting in better shape!