Even though clit suckers (a kind of clitoral vibrators) recently appeared on the market, they get more and more attention every single day. These unique and innovative sex toys use air instead of vibration to stimulate your clitoris.
Clit sucking toys have nozzles that envelop the clitoris without touching it. For most women, the orgasm comes after less than a minute. For others – it may take a bit longer. It all depends on how sensitive your clit is.
The sensation is similar to that of oral sex, which tickles until orgasm.
I have spent the last four months trying to find the best clitoral suction vibrator. I bought all the good clitoral suction vibrators that other sex bloggers recommended and tested them.
The Womanizer brand is the undisputed leader because they specialize in developing clitoral suction toys! Their Pro40 sex toy is so far the best clitoral suction vibrator I have tested because it provides powerful orgasmic stimulation, at an affordable price, and with fantastic suction power. It has worked wonders every time!
Or you can take your sexy time with your lover even further by taking complete control of your clitoral suction with the incredible app-controlled We-Vibe Melt. With the Melt toy, you will be able to enjoy a whole new level of sexual satisfaction!
We-Vibe Melt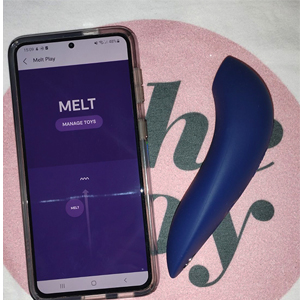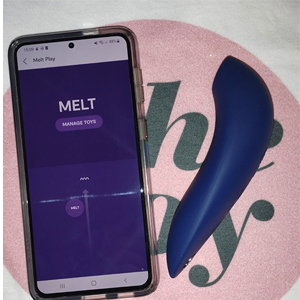 The revolutionary wave suction technology, which we hardly need to introduce anymore, makes its grand entrance at We-Vibe with its first sex toy equipped with Pleasure Air technology! Discover in preview, the We-Vibe Melt App-connected clitoral stimulator which this time pays tribute to the pleasures of women but also long-distance couples!
This extraordinary clitoral sucking stimulator provides you with a unique and contactless pleasure, connected via your smartphone and above all it is the first clitoral suction stimulator designed for couples!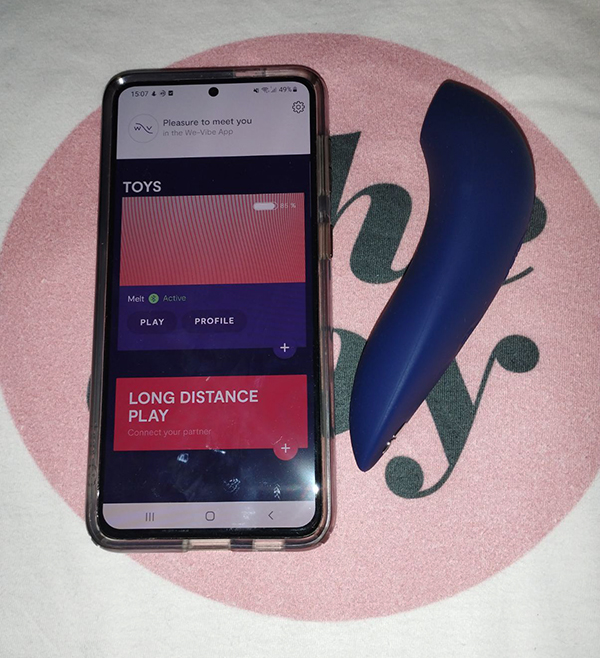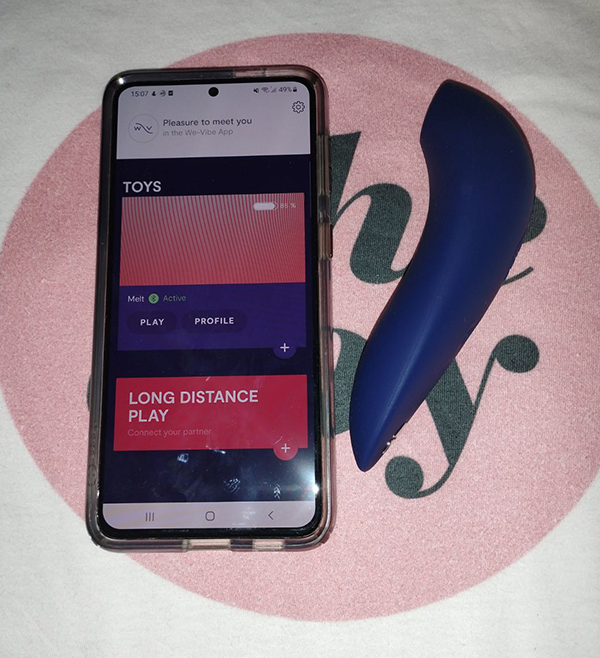 Featuring a sleek and compact design with a soft and silky touch, as well as ergonomics specially designed for a perfect grip and use in couples, its curved design is easy to hold and will fit perfectly between you in any position allowing you to enjoy your lovemaking together, it promises sensational orgasms like never before! Robust, ergonomic, waterproof, silent, and app-connected vibrator for unlimited fun!
Using patented Pleasure Air® technology, many compare it to oral stimulation, ranging from gentle kisses to more potent suction as you increase the intensity. Its powerful motor gives you 10 intensities of pleasure! Equipped with a kind of hollow 'mouth' that is placed in front of the clitoris, without touching it, Melt sucks the targeted area and sends pleasure waves at the same time. This new and patented Pleasure Air ® technology, which may seem weird (how come it works without contacting my clit?!), is intended to be highly effective and has won women's hearts.
Manually controllable thanks to the buttons at its end, Melt is also an app-connected sextoy. Whether you or your partner controls the device, play together and change the vibration mode easily and quickly thanks to the We-connect application. Easy to use, even in the middle of your lovemaking, you will be able to change the intensity of your toy to create a unique moment for two!
How to use We-Vibe Melt with my smartphone?
Download the We-Connect application on the App Store or Google Play Store.
Connect your We-Vibe Melt in Bluetooth to your smartphone.
All you have to do now is enjoy it!
So let yourself be carried away by the irresistible sensations of the Melt stimulator together!
Your We-Vibe Melt Connected Stimulator is made in soft and silky textured silicone that is 100% hypoallergenic and 100% Waterproof.
Rechargeable (USB cable included). Sold in its beautiful box, with its storage case and a sample of We-Vibe Lube as well as its user manual.
Read our complete We-Vibe Melt review here
Compare the price of Melt by We-Vibe: We-VibeLoveHoney
Womanizer Duo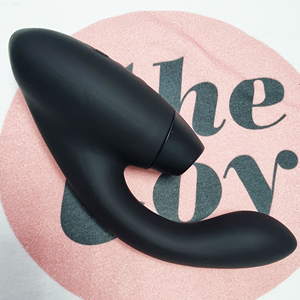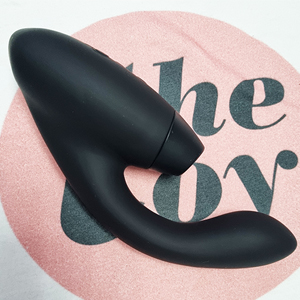 Orgasm Guaranteed! The perfect combination of powerful clitoral and G spot stimulation. Womanizer DUO is innovative and dedicated to women looking for something exceptional!
The new Womanizer DUO Stimulator, still with a modern design and featuring the world-famous Pleasure Air Technology, the revolutionary brand in female masturbation, is tackling the G-spot as well … Ready for extreme sensations?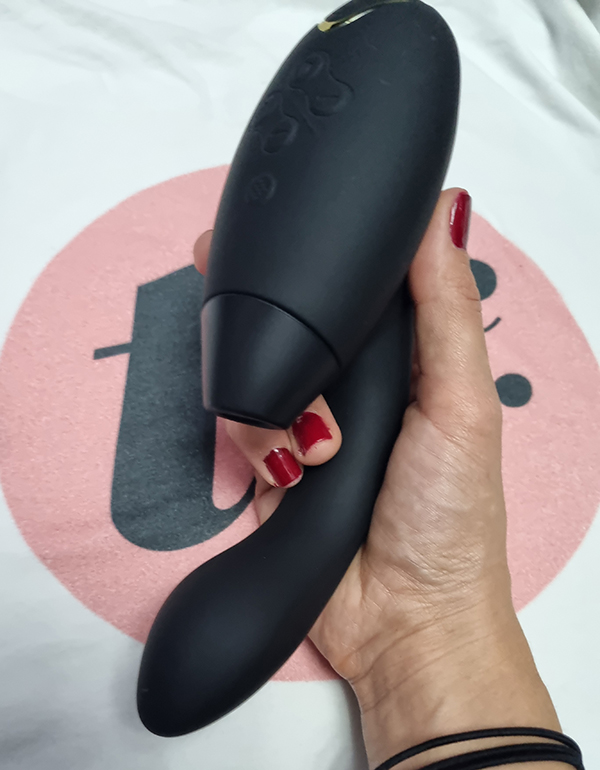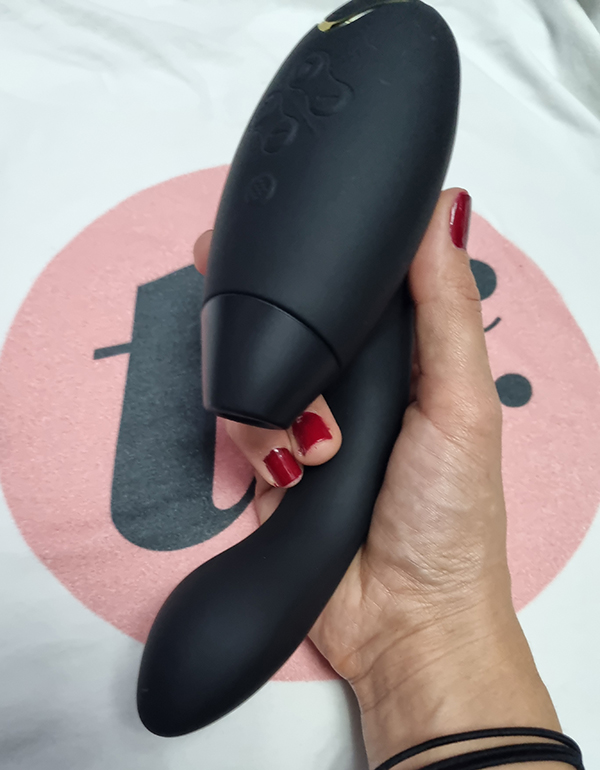 After focusing mainly on the clitoris, it was only natural that Womanizer wanted to also provide vaginal pleasure for ladies. After the release of the Womanizer I&O Inside Out Stimulator, this new toy is an even more powerful and improved version for clitoral suction pleasure wave stimulation and powerful G-spot stimulation to give the maximum of powerful orgasms.
While the long part fits inside you, reaching directly your G-spot thanks to its new wider shape and curved at the end to deliver intense vibrations, the smaller one is equipped with a kind of hollow mouth that is placed in front of the clitoris without touching it. The nozzle sucks in the targeted area and sends out pleasure waves at the same time. This "Pleasure Air Technology" is new and patented, extremely effective, and has won overall women who have tried it. A double stimulation for guaranteed orgasms every time!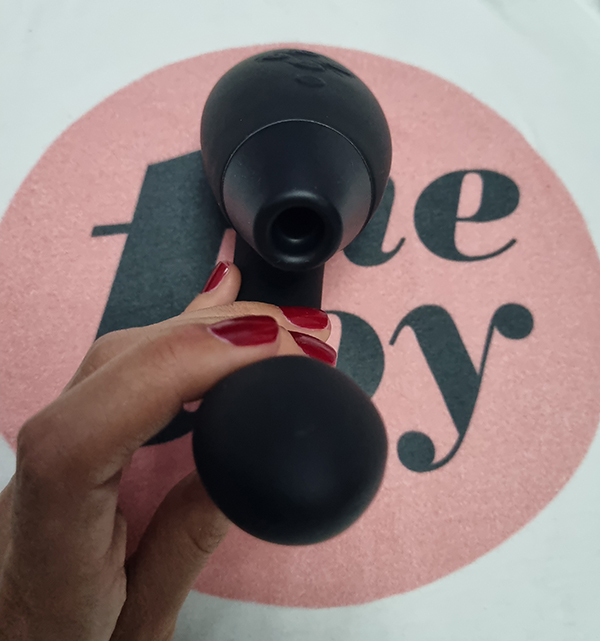 Your clit and G-spot vibrator is more powerful and silent than ever, the only noise will be your moans! Equipped with two independent motors, it is now with 12 intensities of aspiration to play with your clitoris, including Super-Soft mode at level 1 for women with sensitive clitoris and Super-Power mode at level 12 for the experts in the field, as well as 12 vibration intensities and 10 incredible vibration modes to stimulate your G spot for infinite combinations of pleasure! You will be able to control this range of sensations together or separately, thanks to the buttons at the base of your sex toy. All you have to do is find the perfect combination that will take you straight to heaven!
Dimensions :
Total length: 20.3 cm
Width: 8.8 cm
Your new clit sucker stimulator is also 100% waterproof and meets the requirements of the IPX7 standard, so you can discover new sensations underwater. When you are underwater, the pleasure waves will bring you even more intense orgasms! It is also equipped with the new patented "Smart Silence" technology, which means that your sex toy will only turn on when it comes into contact with your skin! If you move it away from your skin, it will automatically go into pause mode. It also has a Sleep Mode and a blue LED light on its head to show you its power and charge. The autonomy of Womanize Duo is 120 minutes.
Sold with one extra S-size stimulation nozzle, its USB charger with magnetic charging cable, its high-quality silk pouch with a cute clitoris-inspired keychain and its user manual (in 10+ languages).
Available in Black & Bordeaux
Read our complete Womanizer Duo review here
Compare the price of Womanizer Duo: WomanizerLoveHoney
Lelo Sona 2 Cruise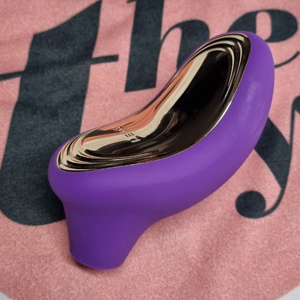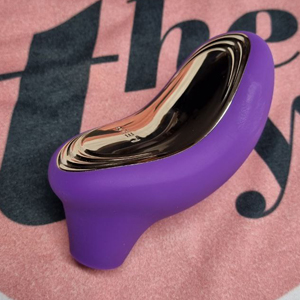 | | |
| --- | --- |
| Power: | (5.0 / 5) |
| Noise: | (4.0 / 5) |
| Material: | (4.0 / 5) |
| Price: | (3.5 / 5) |
| Ease Of Use: | (5.0 / 5) |
Intense clit sucker with tapping effect for fast and intense orgasms. Provides precise stimulation
You can buy this product from:
Experience a brand new level of climaxing!
You dreamed about it, LELO created it! With its new model, revolutionary in terms of clitoral pleasure, the Sona 2 Cruise suction vibrator will take you on an unforgettable journey deep down inside…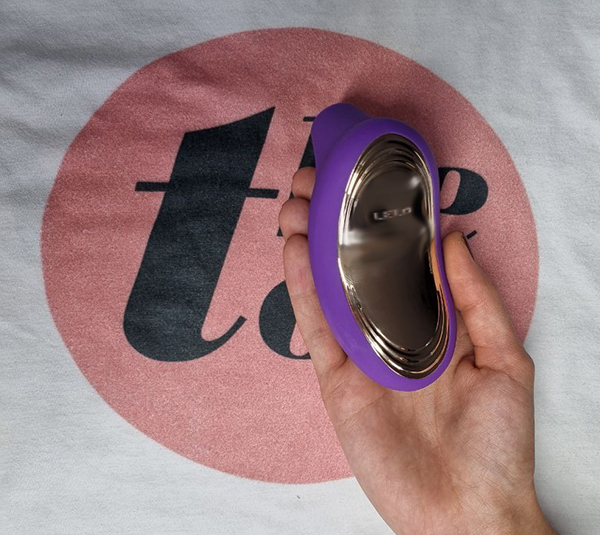 This non-contact stimulator works on a unique motion-based technology: thanks to its thin oscillating membrane, the Sona2 is able to create a draft of air coupled with deep vibrations, for a spectacular orgasmic intensity! To do so, simply place Sona's orifice on your clitoris and turn on the device. There are 12 vibration modes, which you can vary the intensity with the (+) and (-) control buttons. In other words, vibrate your clitoris in an infinite number of different combinations!
The clit stimulator also has a waterproof technology, which can be submerged up to one meter deep, so that the pleasure joins you in your bathtub, swimming pool or why not in the ocean! Become that irresistible singing mermaid by attracting your beautiful Ulysses with the Sona by Lelo.
Do not hesitate to apply a water-based lubricant for a more pleasurable sensation. Don't forget to clean your toy after each use. A specific cleaner is recommended, but if you don't have one, you can always use neutral soap and water.
When you first try Sona 2, you'll be bluffed by the power of the vibrations. Depending on your desires and sensitivity, you can place it on the clitoral hood or on the labia minora. The pulses will then be transmitted to these erogenous zones.
Vary the intensity, the angles, let the orgasm rise…and to amplify the pleasure, why not entrust the sex toy to your partner, and let him/her lead the dance?
Read our detailed review about LELO Sona 2 Cruise
Compare the price of LELO Sona 2 Cruise: LELOLiberator.com
Womanizer Pro40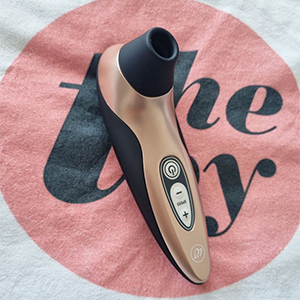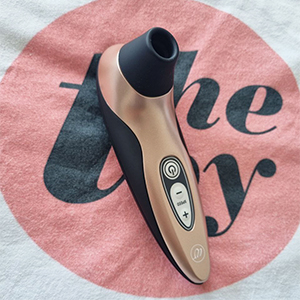 | | |
| --- | --- |
| Power: | (4.5 / 5) |
| Noise: | (4.0 / 5) |
| Material: | (4.0 / 5) |
| Price: | (5.0 / 5) |
| Ease of use: | (5.0 / 5) |
Contactless clit stimulation with six intensity levels for up to 4 hours of uninterrupted play
You can buy this product from:
Womanizer Pro40 may seem like a basic clit sucker at first but you'll find out that the affordable price of this gadget offers much more than expected.
This awesome clit-sucking toy uses soft air vibrations to pamper your clitoris. You can easily switch through the six intensity levels and find your perfect pace.
Womanizer Pro40 is completely waterproof and submersible, so you can enjoy it in the shower or bathtub; plus, cleaning is super easy.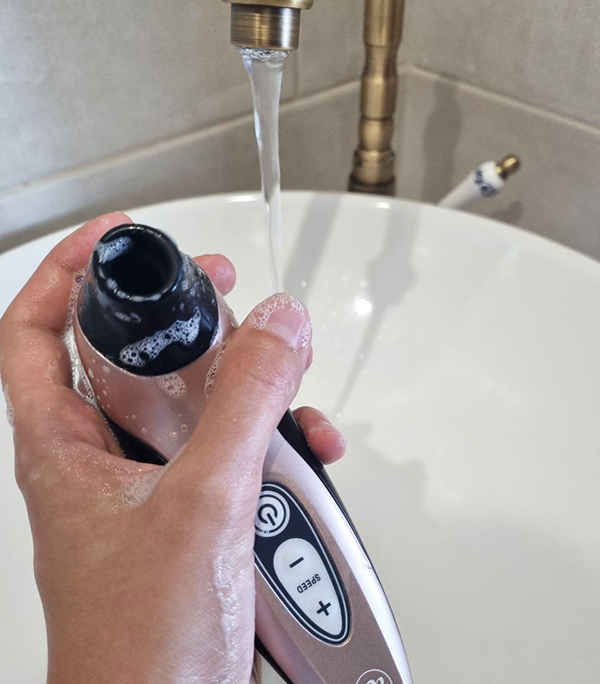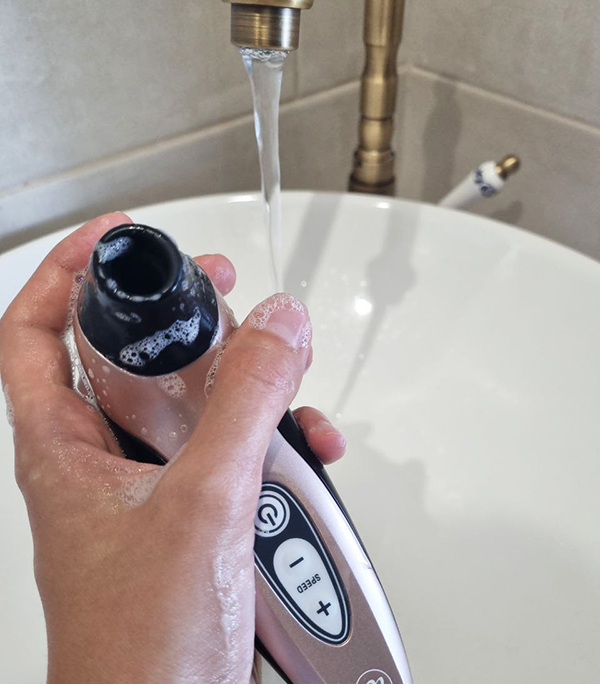 The Womanizer Pro40 combines gentle air vibrations to offer a delightful experience in just a short moment. For those who enjoy a prolonged experience, the device has lower settings that allow for a more gradual build-up of sensations.
Like other products in the Womanizer range, the Pro40 features USB charging. After a full charge, it's equipped to run up to 4 hours. This duration offers plenty of opportunities for several brief sessions on one charge.
It comes with six adjustable intensity levels. Starting from a gentle touch to an invigorating vibration, it promises varied experiences to suit your preference. Its unique stimulation technique is reminiscent of a soft suction mixed with gentle caresses.
To use the Pro40, simply part your labia to expose the clitoris and position the stimulation head gently around it.
Online feedback about the Pro40 is overwhelmingly positive. Many users share:
my clit doesn't tire or get numb
Users really enjoy their pleasure gadgets:
The texture is incredible. It feels so good.
I always thought solo sex was great. Now I know that it can get even better!
Furthermore, the Pro40 comes in four elegant color combinations: cherry red with black-silver, white silver, and magenta-silver. This ensures you get a stylish device without breaking the bank.
Best of all? This product is backed by a reassuring 5-year warranty, underscoring the brand's commitment to quality and customer satisfaction.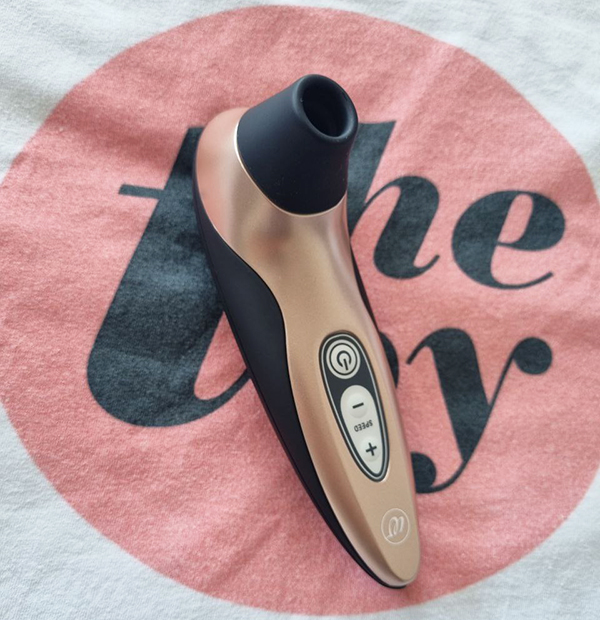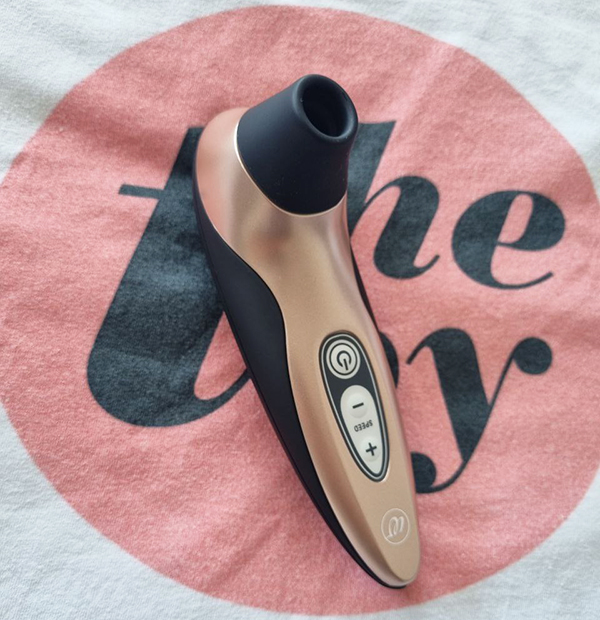 Read our complete review of Womanizer x Lovehoney Pro40
Check price of Womanizer Pro40: Womanizer Lovehoney
Womanizer Marilyn Monroe™ Special Edition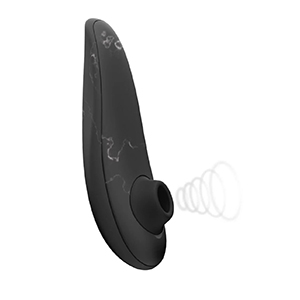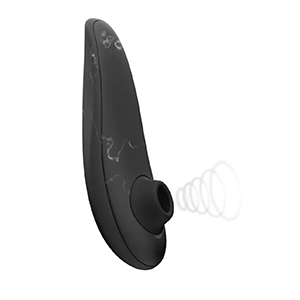 | | |
| --- | --- |
| Power: | (5.0 / 5) |
| Noise: | (5.0 / 5) |
| Material: | (5.0 / 5) |
| Price: | (4.0 / 5) |
| Ease Of Use: | (5.0 / 5) |
A Marilyn Monroe-inspired luxurious clitoral stimulator for those willing to embrace the joy of orgasming
You can buy this product from:
If you are willing to test something brand new, super stylish, and available for a limited period only, you can try out the new Womanizer Marilyn Monroe Special Edition. This gorgeous little clit sucker is dedicated to the iconic American actress symbolizing a blend of elegance, simplicity, and pleasure.
This Marilyn Monroe-inspired sex toy has similar characteristics as most other Womanizer clit suckers, but this time the design makes the real difference. This clitoral sucker is available in black/white marble, vivid red, and mint to inspire you to a new level.
It resembles other Womanizer vibrators in that it is waterproof, has pleasure air technology that generates a sucking feeling, and has 10 various strength levels, making it easy to pick the one that is just right for you.
The vibrator is constructed from silicone, and in addition to being free of latex and phthalates, it is also rechargeable.
You can compliment your femininity by investing in your pleasure at the very competitive price of $129!
Get on this Marilyn Monroe-themed vibrator with a cool design while still available!
Check the price of Womanizer X Marilyn Monroe Special Edition here: Womanizer
Womanizer Premium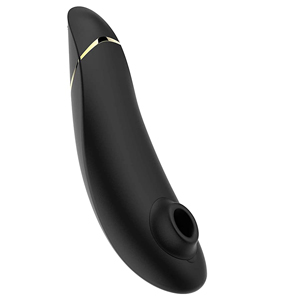 The newly released air-pulsing Womanizer Premium offers a whole new level of orgasms. It is so good that it will ruin all other kinds of vibrators you tried so far. Or if it is about to become your first ever sex toy – Womanizer Premium will raise the bar higher than you ever imagined.
The Premium is elegant and sturdy, it feels fantastic, offering intense push and pull vibes of suctioned air. Another awesome feature of this clit sucking toy is that it can be used in Autopilot mode, which allows you to just relax and enjoy the variety of stimulation modes and intensity levels. While using Autopilot, you won't know if the pace will increase or decrease, the Premium will keep surprising you with varying orgasmic sensations.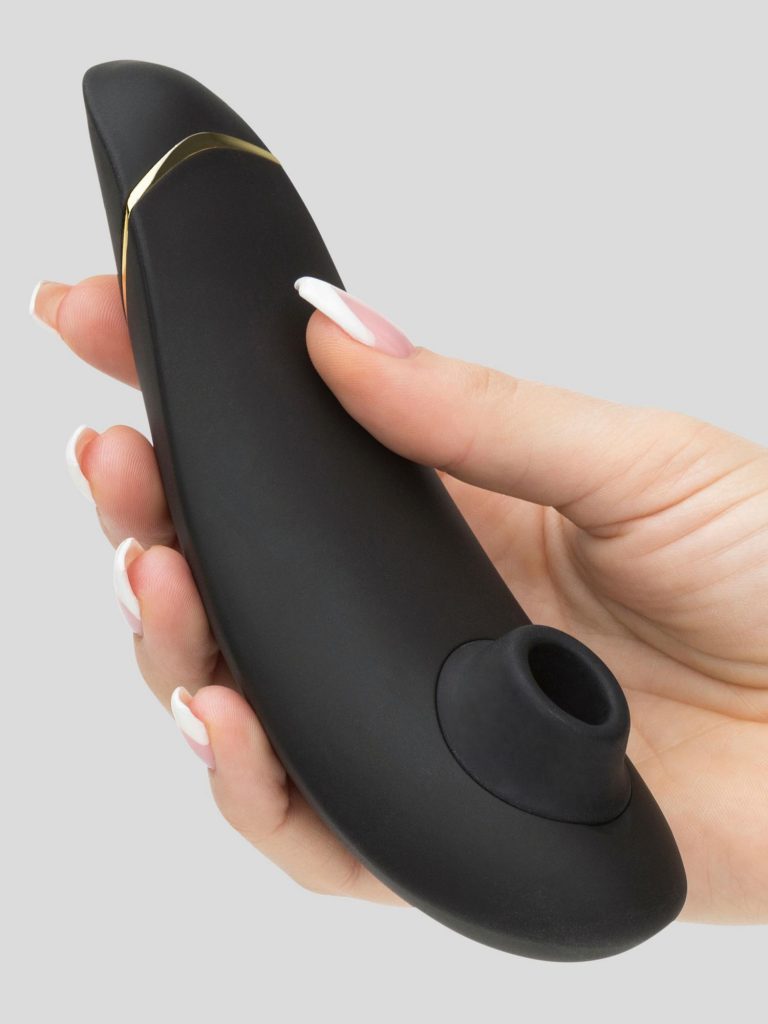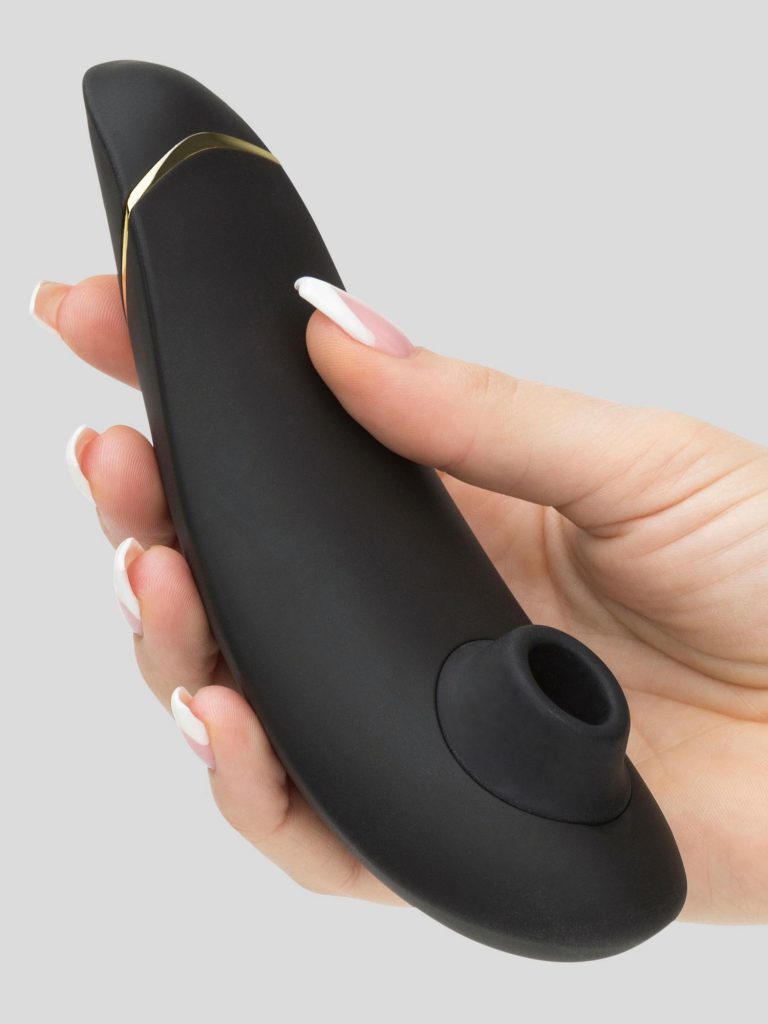 Another extra feature of Womanizer Premium is the quieter performance during use – it is so discreet that even if you're using it under a blanket and there's someone else in the same room, your secret will be safe. The Premium by Womanizer uses pleasure air technology that feels like a gentle suction over the clit. As with any other clit sucker – stimulation happens without a direct contact with your clit.
According to most reviewers and sex bloggers, the experience is similar to receiving extra pleasurable oral sex.
Even though the price of Womanizer Premium is higher, compared to similar sex toys, the orgasmic investment is indeed worth it and you won't need a replacement anytime soon. With a warranty of 5 years, you can make sure your pleasure toy will work just the way you want it to without any disappointments.
According to multiple reviews, written by women, Womanizer Premium is the best kind of vibrator they ever tried. Better than dual stimulation rabbit vibrators and small bullet toys, this clit sucker became the first choice partner of more women than you could imagine.
As expected, the stimulation head (nozzle) of Womanizer premium is made of 100% body-safe silicone, while the body is designed of ABS plastic to offer comfortable and reliable grip. With your Premium clit sucker, you actually get 2 nozzles with different sizes.
The Womanizer Premium can be completely charged within 120 minutes, allowing you to enjoy the pressure-wave clit device for about 240 minutes (4 hours).
This awesome pleasure giver is completely waterproof, so you can carry it with you in the shower, bathtub or pool. And, of course, it makes cleaning easier.
It is available in black, red, white, blue and purple color.
Compare price of Womanizer Premium: WomanizerLovehoney
Tracy's Dog OG Sucking Vibrator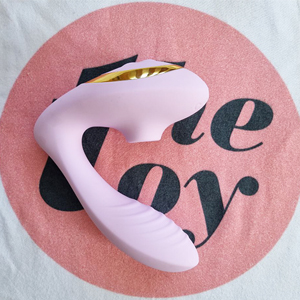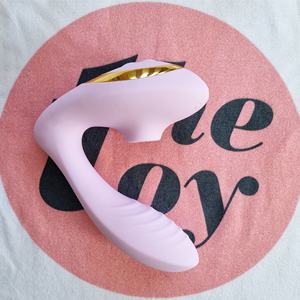 | | |
| --- | --- |
| Power: | (5.0 / 5) |
| Noise: | (3.5 / 5) |
| Material: | (4.0 / 5) |
| Price: | (5.0 / 5) |
| Ease of use: | (5.0 / 5) |
Impressively powerful dual stimulation: simultaneous clit suction and G-spot stimulation
You can buy this product from:
Tracy's Dog let me review their OG Clit sucker.
This inexpensive vibrator is good in many respects, and I'll explain why I think it's a good alternative to expensive clitoral suckers.
There were a few (small) things I didn't like about this vibrator, from the packaging to the fact that it can't be controlled by a smartphone, which would have made it the best clitoral sucker I have tried.
Still, the OG sucker is a great orgasm maker because while one side sucks on the clitoris, the opposite side penetrates the vagina and pulses around the G-spot and sensitive surrounding tissue. It feels great and provokes exceptional orgasms in seconds. And it's not just me; most women are in love with this affordable sex toy.
The OG sucker easily adapts to most women's bodies and can be controlled via its' remote.
This USB-powered device has 10 unique vibrations for the G-spot arm and ten different suction modes for the clitoral stimulation arm.
Read our Tracy's Dog OG sucker review here.
Check price of Tracy's Dog OG Sucker: Tracy's Dog
Womanizer Starlet 2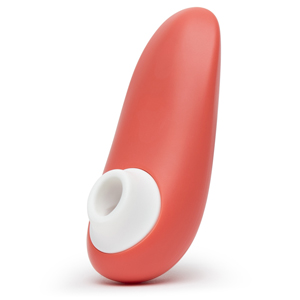 For those of you who haven't heard about Womanizer yet, this is the brand that brought contactless sex toys, or clitoral sucking toys, to the market. So it's not about vibrations, but rather about air pulsations on the clitoral area (or the nipples, why not). Many people have tried this unparalleled technology, which is becoming more and more popular. This kind of sex toy goes particularly well with my relaxation sessions, immersed in a good hot bath.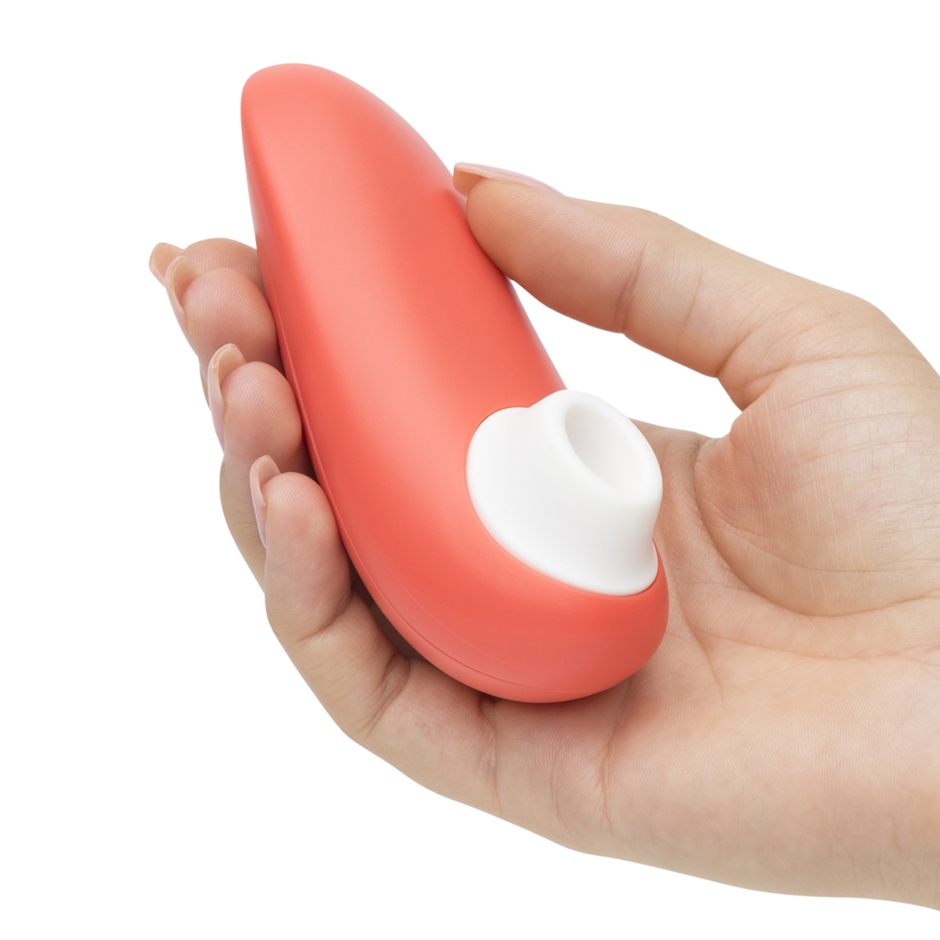 The revolutionary sex toy, which we almost don't need to introduce anymore, is making a comeback in an XS version. Discover the Womanizer Starlet 2, this new and extraordinary mini clitoral vibrator, which provides you with unique, hands-free pleasure, becoming both the most powerful, yet the smallest clitoral suction stimulator ever.
With its new ultra-compact and discreet pocket size that fits discreetly in the palm of your hand, the small toy of only 8.5 cm and 70 g is just as powerful as its predecessors. It will make you cum like never before with its 4 progressive suction intensities, small, powerful, light and splashproof design. Treat yourself wherever and whenever you want! It will follow you everywhere to give you unparalleled pleasure whenever you want!
The Womanizer Scarlet 2 is equipped with a hollow suction part in front of the clitoris, without touching it, the Womanizer Starlet aspirates the targeted area and at the same time sends pleasure waves. This new and patented "Pleasure Air Technology® " technology, which may seem strange without contact, is designed to be extremely effective and has won all the women who have tried it so far.
It's a kind of orgasmic explosion if you look at the tests carried out by the brand as well as the consumer opinions already you can check on the internet! More than 52% of women would have had an orgasm in less than a minute (about 30 seconds) and 28% shortly afterward. In addition, 76% of the women surveyed said they experienced a very intense orgasm. Finally, 73% of them said they were able to experience several orgasms per single session!
At first, these exceptional results may even sound misleading but a single try will change your mind for good! Let yourself be carried away by the new irresistible sensations offered by the Starlet stimulator!
Starlet is not waterproof, unlike its predecessors, so it cannot accompany you in the shower or bath, but it is slash-proof, which means that it is still washable. Always easy to clean, its stimulation nozzle is removable and interchangeable (identical to the nozzle of the Womanizer Pro 40).
Your Starlet 2 Stimulator is made of 100% hypoallergenic medical-grade silicone that is ultra-soft and splashproof. The vibrator is super discreet, still, enjoying it in public may get you in trouble!
Womanizer Scarlet 2 is rechargeable via micro USB cable (it comes with the vibrator). The autonomy of 30 minutes is absolutely enough to provide yourself with multiple, sensational orgasms.
Your Starlet comes in a sublime transparent and modern box that reveals your orgasmic jewel. Chic, elegant, and sleek, it is the perfect box for a gift that will please at first glance! It contains a micro USB charging cable, 1 spare head (standard), and the user manual in 5 different languages.
Womanizer Scarlet 2 is available in white, pink, and purple.
Additional information: Before using your sex toy for the first time, you should fully charge it for better performance afterward.
Compare the price of Womanizer Scarlet 2: WomanizerLoveHoney
Satisfyer Pro 2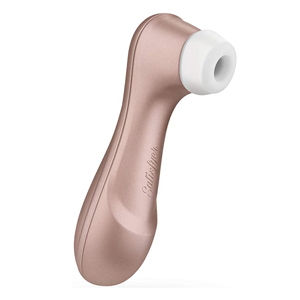 | | |
| --- | --- |
| Power: | (4 / 5) |
| Noise: | (4 / 5) |
| Material: | (3 / 5) |
| Price: | (5 / 5) |
| Ease of use: | (4 / 5) |
Next-generation Satisfyer Pro 2 pleasure air technology wave – the affordable clit sucking toy!
You can buy this product from:
"Orgasm in up to 3 minutes!"
The Satisfyer is an incredible clit sucker that revolutionizes female pleasure. Prepare yourself, it guarantees orgasm in less than 3 minutes for 100 percent of women thanks to the non-contact pleasure wave stimulation!
Its sumptuous design gives it an optimal grip. Satisfyer Pro has 11 pulsation modes. Simply place the silicone tip on the clitoris and enjoy orgasmic convulsions like never before.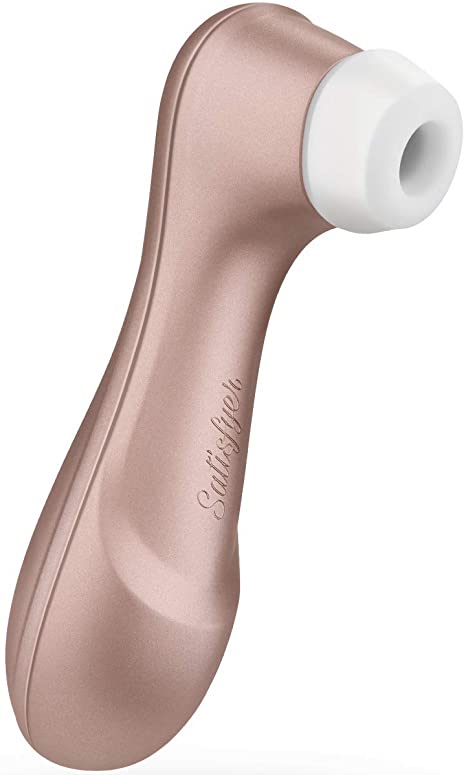 The cordless stimulator of Satisfyer Pro 2 is an exceptional sex toy! Do you want to have more intense, fast and repeated orgasms?
The Satisfyer Pro 2 Vibration clitsuction stimulator will seduce you with its design, technology, and especially its intensity!
Ideal for clitoral stimulation, this sex toy will amaze you with its incredible effects. It is equipped with pleasure wave stimulation like its predecessors but now it has a second motor dedicated to vibrations for evermore pleasurable clit orgasms!
The Satisfyer Pro 2 Vibration is equipped with a technology specially designed to suck and blow on the clitoris, these are the pleasure waves. This non-contact system allows you to place the head of the stimulator around your clitoris without touching it, sending waves that will intensely stimulate your pleasure zone.
This stimulator has an oval head, a perfect grip, 10 vibration programs and 11 orgasmic wave programs that will allow you to enjoy unlimited pleasure. Satisfy Pro 2 Vibration is equipped with 2 motors and can be controlled separately for continuous stimulation if you wish. Much quieter than its previous version and more powerful this clitoral sucking toy will become your best ally.
You will be able to take the Satisfyer Pro 2 everywhere with you, even in the shower… because, yes, it is 100% waterproof!
The advantages of the Satisfyer Pro 2 Clit-Sucker:
10 vibration programs just to make you vibrate…
11 orgasmic wave programs to make you fly away with pleasure…
2 powerful motors that can be controlled separately according to your desires
It will accompany you in the shower or bath because it is waterproof.
Quiet so as not to disturb the neighbors or roommates!
One of the best sex toys in terms of non-contact clitoral stimulation. Its sucking effects are very pleasant and thanks to its 11 levels of intensity, the pleasure is constantly increased.
Check price of Satisfyer Pro 2: Amazon
Liberty Rechargeable Travel Clit Suction Toy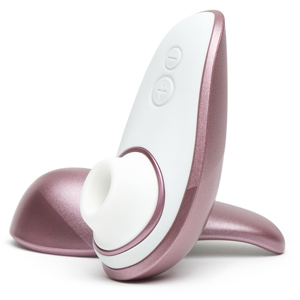 | | |
| --- | --- |
| Power: | (3.5 / 5) |
| Noise: | (4.0 / 5) |
| Material: | (5.0 / 5) |
| Price: | (4.0 / 5) |
| Ease of use: | (5.0 / 5) |
Pleasure air technology, provoking explosive clit orgasms in just a few seconds!
You can buy this product from:
Every new Womanizer model is an event and sex bloggers are always enthusiastic to write about it. That's how much influence Womanizer has in the adult toys market.
The revolutionary sex toy, which we almost don't need to introduce anymore, is back in a new version! Discover a sneak preview of the Womanizer Liberty, which once again pays tribute to feminine pleasures! This small and unusual clitoral sucker stimulator gives you a unique, contact-free pleasure. It promises a lot and actually provides even more!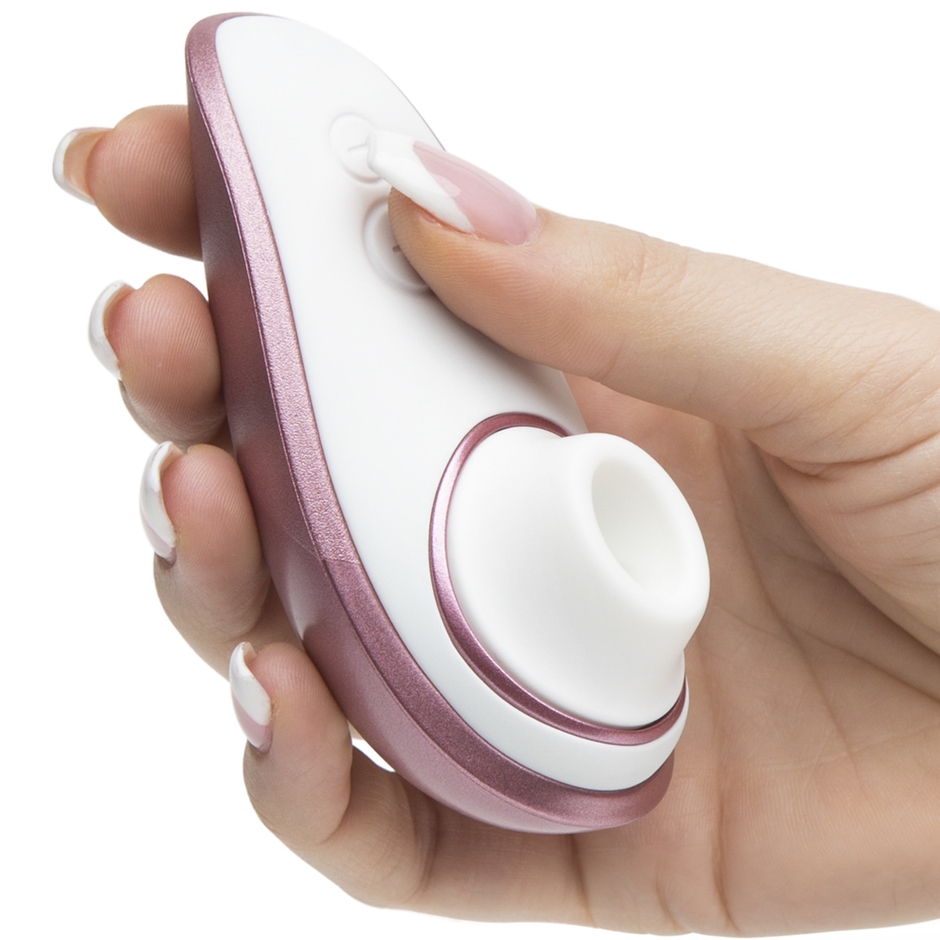 With its new, smaller and more compact design, as well as its redesigned ergonomics for a better grip, it promises to trigger your orgasms almost instantly! Don't be fooled by its mini size, it's still as powerful, ergonomic, water-resistant and silent as ever, with unbeatable autonomy for unlimited pleasure!
The greatest innovation about the Womanizer Liberty is that it is now equipped with optimal hygiene quality since it has a magnetic lid, unlike all its predecessors. This magnetic closure will also allow you to benefit from better hygiene and to protect it and carry it easily in your bag wherever you go, but also discreetly!
As usual, maximally discreet to let you spend some hot moments without waking up your neighbours, or even your partner… You will be able to enjoy 6 stimulation modes. The SuperSoft mode is ideal for sensitive clitoris while the SuperPower mode is ideal for those who always want more, for 2 hours of uninterrupted pleasure!
Equipped with a kind of hollow nozzle that is placed in front of the clitoris, without touching it, the Womanizer aspirates the targeted area and at the same time sends out pleasure waves.
The Womanizer Liberty has many remarkable features! Perfect ergonomics, a small and compact size, a sleek, smooth, and very luxurious look with an addictive clitoral stimulation thanks to its unique suction and wave system.
Your Womanizer Liberty Stimulator is made of medical silicone, 100% Waterproof, meeting the IPX7 waterproof standard, 100% hypoallergenic, ultra-soft, and water-resistant. Its head is removable and replaceable.
Rechargeable via magnetic USB. You'll be able to enjoy an uninterrupted play of 2 hours for 1-hour charge. The womanizer warranty is 2 years.
Contains USB charging cable, two replacement heads, satin storage pouch, and multi-language user manual.
Available in Pink, Lilac (purple), Bordeaux (red) & Powder Blue.
Compare the price of Womanizer Liberty:WomanizerLoveHoney
Other clit sucking toys worth mentioning
Sweet Vibrations Girl's Best Friend
Queen App-Controlled Warming G-Spot Vibrator with Suction Sleeve
What is a clit-sucking vibrator?
We tend to forget it, but the clitoris is composed of two parts. The external part, or the little acorn that we all know, and the internal part, often unknown and yet rich in nerve endings that are just waiting to be stimulated. Good clit sucking vibrators perform simultaneous stimulation of both the external and internal part of the clitoris, mostly by creating pleasure waves.
The clitoral revolution has been going on for some time now, but it has not yet finished disrupting the sexual practices of couples. Those who have come to understand this are the sex toy manufacturers. The innovations of the last few years are a new kind of vibrator, which we could call clitoral sucking toys (although technically they don't suck, they rather exert pressure).
Why do You Need to Try a Clit Suction Toy?
What I find a pity, if I really had to see a negative side, is that clit sucking toys are there to discover new pleasure and to test new things. But with clit suckers, there's no real exploration, you just go straight to orgasm.
In terms of sensation, it really feels like our clitoris is being swallowed by a vibrating hole. The stimulation is therefore directly targeted at this erogenous zone. Technically, it's a sonic massager. It doesn't use "vibrations" as such, but sonic waves and pulses that stimulate the whole clitoris, not just its contours.
The flagship models are waterproof, rechargeable, and offer different programs that adapt to our rhythm. It's a small revolution in itself, because no female orgasm has ever been so intense and fast with a sex toy. Serial-tester's opinion!
The design aims to integrate female sexuality by breaking away from the standards that have long prevailed. The latest vibrating models are all about inventing sex toys specially designed for women, outside the classic phallocentric shape
How to use a clit-sucking vibrator during foreplay
You can use your clit-sucking toy to stimulate your clitoris manually. Or you can let your partner do it for you. Just remember to begin gently and consistently. Place the toy over the clitoris and let it do the rest. Meanwhile, you can keep kissing and caressing your partner.
And remember that you can use the toy on more than just the clitoris. Other erogenous zones tend to respond very well to the gentle, yet deep suction. For instance, the nipple can be easily triggered and you can enjoy exceptional arousal by using your toy.
Among these stimulators, there are several different models, although they all work in the same way and have more or less the same shape: an easy-to-grip handle and a recessed tip.
This way, you will be able to take your sex toy in your hand and place it on your clitoris in the small dedicated hole. The first time, you really have to take the time to place it properly. The most sensitive part of the clitoris must be in the middle and the walls of the sex toy must be pressed against the lips and the clitoral cap.
Once your sextoy is in the right position, don't move it. At the bottom of the hole, a thin membrane will shake, creating faster and faster air movements and a certain pressure to stimulate the clitoris.
You can enjoy clit orgasms or combine it with a sex toy for a double stimulation: vaginal and clitoral.
How to combine oral sex with a clit-sucking vibrator?
While your partner is down on you, licking, teasing and preparing you to orgasm, you can just relax and enjoy. Once you experience the urge to cum and release the tension, this is where your clit-sucking toy can join the game. Using clit sucking device increases the intensity of your sensual experience. You'll be able to enjoy feet shaking orgasms never experienced before!
How to use a clitoral suction vibrator during intercourse?
Even if you can't imagine using a clit-sucking vibrator while you're having sex, it is actually possible. In fact, it is also quite simple and super arousing!
By adding external stimulation to PIV sex, you can enjoy more pleasurable stimulation, especially if you're not able to climax during intercourse, like most women, by the way.
But how to keep the toy over your clit without ruining your experience?
Just the way you would use a wand vibe while having sex. Yes, you (or your partner) should hold the vibrator but in return, sex will be more arousing and orgasmic for you.
But let's keep it real – you can't use your clit sucking toy in all positions. For a start, you can try it in missionary and doggy style. These positions allow you to stimulate the clit while holding the toy against it.
There are multiple other positions, allowing you to add your clit-sucking toy. A bit of practice will teach you how to comfortably use it and enjoy it to the max!
Penetrative sex combined with clitoral stimulation will make you reach trembling orgasms in a matter of seconds, especially if you can't experience climax during intercourse.