Hi-tech sex toys let us enjoy sensual masturbation for several years now. And it's not over yet with the arrival of OhMiBod connected sex toys, discreetly worn in the pants… or the ones that are remotely controllable by smartphone!
Presented for the very first time back in 2014, OhMiBod connected accessories have not stopped improving since.
The principle of connected sex toys is not an innovation anymore: the woman wears one of the toys, which the man can control from a distance, simple as that. While many couples are already taking advantage of this new high-tech sexuality, it must be acknowledged that OhMiBod engineers have gone particularly far in the possibilities offered.
OhMiBod's offer is divided into two main categories:
A wide choice of connected sex toy models, with different prices and functionalities.
The OhMiBod Remote smartphone application, allowing to control them remotely
The OhMiBod application comes in a fairly classic form: available for Android and iOS, it's free and easily found on Apple's AppStore and Google Play. Its interest lies in the number of new features it offers: you'll have a thousand and one ways to please yourself or your partner, thanks to music your toy can sync with, the virtual caresses on the touch screen, or even the sound of your voice.
All these features can be controlled from the other side of the world. In addition to being Bluetooth compatible, OhMiBod can also be used via a WiFi Internet connection!
Best OhMiBod remote control vibrator Esca 2
Discover Esca 2, the new generation Esca dedicated to OhMiBod G-spot stimulation, created in partnership with Kiiroo technology. Thanks to its ergonomics specially designed to directly target the G spot, you will obtain new generation orgasms.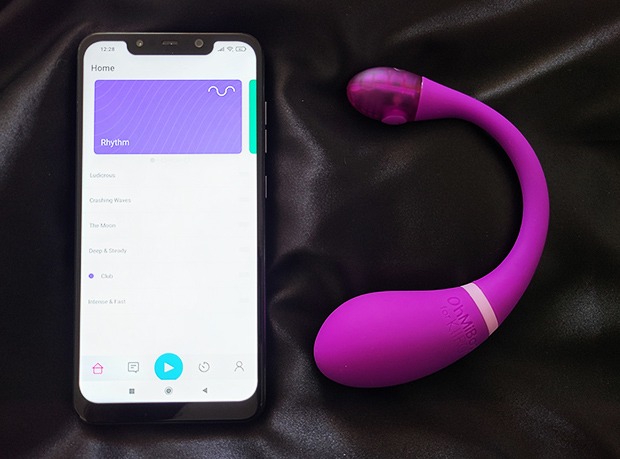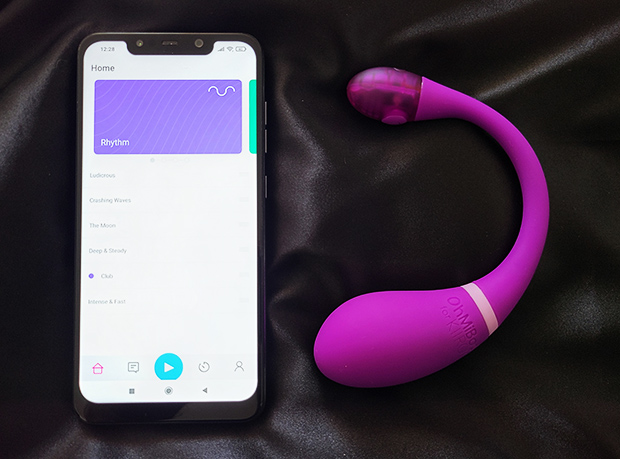 OhMiBod Esca 2 is a connected vibrating egg with an extra powerful motor for intense vaginal pleasure directly at your G spot, its shape will allow a smooth insertion with its soft and silky texture and its ergonomics will allow you to position it to fit exactly where it is supposed to be. Your Esca 2 also has a long stem for easy removal, it will also serve as a Bluetooth antenna for your long-distance sex in duo, and there's also a light feedback thanks to its LED system will give your partner a glimpse of the intensity of your stimulation. But if you prefer a more discreet stimulation, you can turn off the Esca2's LED light, allowing you to wear your intimate toy wherever and whenever you want.
Equipped with a powerful but discreet motor, Esca 2 will offer you 4 manual vibration modes, controllable either with the button on its tip or via its Bluetooth interface. With the OhMiBod Remote application available for free on the App Store, you can choose from multiple vibration patterns and have fun with your partner with a range of up to eight meters, or at an infinite distance thanks to its internet connection. All you have to do is create a free private or secure public account and invite your connected partner. You can also use it alone to have fun on your own.
Esca synchronizes with other Kiiroo products, so when your partner is having fun with his sex toy, his movements are transferred to your Esca egg which will vibrate and vice-versa.
Dimensions :
Insertable length 18.5 cm/7.3 in
Insertable diameter 3.3 cm/1.3 in
Total length: 20.4 cm/8 in
Total diameter: 3.4 cm/1.3 in
The Esca 2 Vibrating Egg is made of an ultra-soft, 100% hypoallergenic, phthalate-free silicone and is splash resistant.
Esca 2 is completely rechargeable (USB charger included). The battery life is up to 3 hours. Esca 2 comes with a 1-year warranty.
This insertable vibrator is sold with its charger, user's manual, an authenticity card, and a satin storage pouch.
Where to buy OhMiBod Esca 2: OhMiBodLovehoneyKIIROO
Best OhMiBod Mini Rabbit vibrator Snuggle
Snuggle is a mini bunny vibrator. It is super practical in terms of usage and convenience. To turn the toy on/off and select vibration patterns, there are three push buttons: one for each stimulation level.
Snuggle is fully rechargeable, so no batteries are needed. The lower settings are perfect for beginners or people with sensitive genitals.
The soft rabbit feel is great for tired hands. This feature also helps prevent hand numbness with prolonged use.
This rabbit is a good value-for-money vibrator. It's okay to wash the Snuggle after each use as long as you do not submerge it or water gets into the charging port.
The vibrations are weaker than competing bunny vibrators (note that not everyone enjoys strong stimulation), however, they are strong enough to deliver powerful clitoral and G-spot orgasms.
The Snuggle Rabbit toy is not compatible with mobile apps for long-distance play.
The control buttons on the base let you effortlessly change the vibrations of Snuggle's insertable shaft and clitoral arm. The + and – buttons control the intensity of each vibration pattern. Snuggle is more discreet than typical rabbit toys.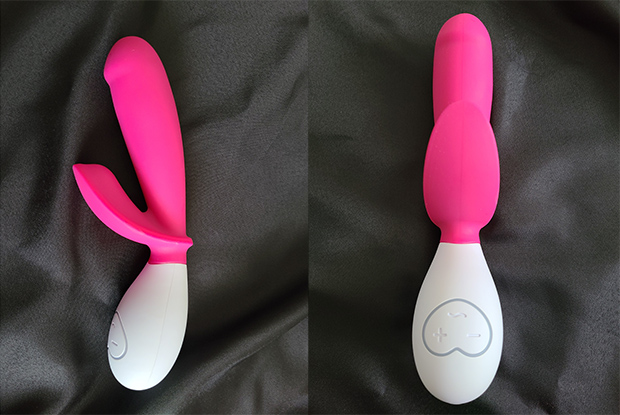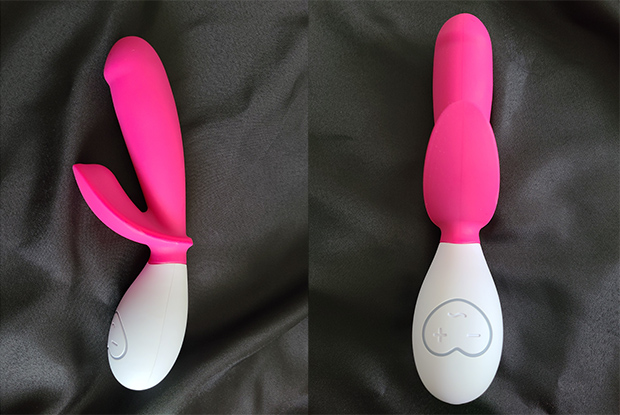 Before plugging the charging cable into Snuggle, make sure the bunny massager is completely dry. The USB plug should be plugged into a laptop or USB wall charger.
Once the vibrator is charged, the heart-shaped LED (along with the 3 buttons) will start flashing.
When the Snuggle Bunny is fully charged, it will display a steady glow, signaling that you should unplug it.
You can enjoy your toy for 1.5 hours of continuous playtime after 2.5 hours of charging. However, we recommend charging the vibrator more frequently to maximize battery life.
The insertable shaft and clitoral arm are both made of silicone. The control base is made of PU-coated ABS for a comfortable grip. These are the best high-quality materials that can be used for the manufacturing of adult toys.
With Snuggle, you get a stylish rabbit-style vibrator that conforms to your body. The outer arm covers the clitoris and the vaginal shaft hugs the body.
Where to buy OhMiBod Lovelife Snuggle: OhMiBod
Best OhMiBod Rabbit Fuse
Explore new pleasures with Kiiroo's OhMiBod Fuse Connected Rabbit Stimulator and discover the superpowers of this sex toy!
In addition to stimulating your vagina, your G spot, and your clitoris, this latest generation Rabbit responds to your body's contact, thanks to a tactile stimulation mode that intuitively manages 7 vibration programs according to the contact it will have with your skin, the sensations will increase according to the depth of penetration.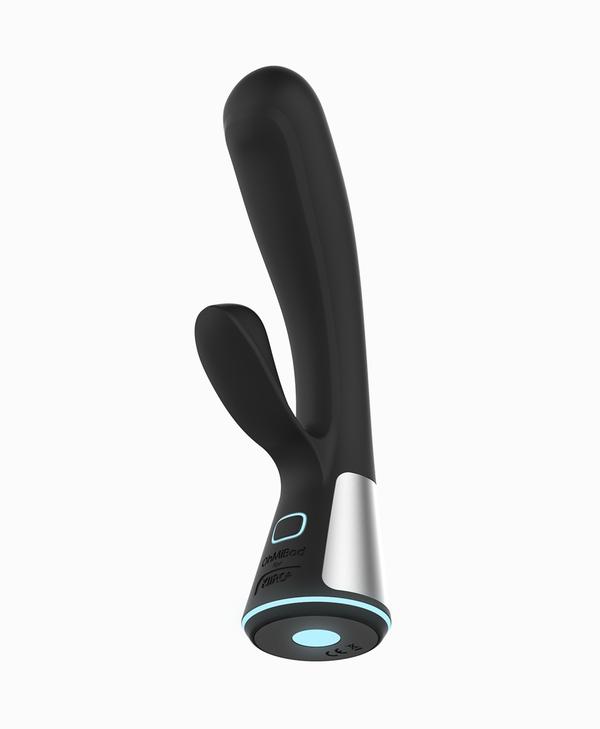 It can be controlled either manually or remotely by your partner thanks to the free FeelConnect application and in addition, your new futuristic toy will warn you with a light feedback thanks to its integrated LED system. Let the technology bring you closer, no matter where you are in the world. Virtual sex is now a hundred times better! Thanks to its Bluetooth interface, this interactive sex toy can be controlled from anywhere and give you some very exciting and naughty moments.
And since there are many ways to play, its technology doesn't stop there…
It also synchronizes with a Kiiroo Male Masturbator, or with the Fleshlight Interactive Masturbation System. When your partner is having fun with his sex toy, his movements are transferred to your Fuse stimulator which will vibrate and vice versa. It can also be synchronized with 2D or VR video content. With frequent updates, Fuse will have the latest features for even more fun!
Dimensions:
Total length 18.5 cm/7.2 in
Insertable 11.5 cm/4.5 in
Insertable diameter 3.4 cm/1.3 in
The OhMiBod Fuse Connected Rabbit Stimulator is made of 100% hypoallergenic, phthalate-free, splash-proof silicone. Rechargeable (USB charger included). The battery life of 60 minutes and locks with a password. 1 year warranty.
Sold with its satin storage pouch, charger and user manual.
For optimal use of your sex toy, we recommend that you use a water-based lubricant. Be sure to clean your sex toy thoroughly before and after each use.
Where to buy: LoveLifeToysLovehoneyKIIROO
Best OhMiBod bullet vibrator Discover
OhMiBod LoveLife Discover is the perfect size bullet toy for clitoral stimulation. Can be used externally to stimulate nipples, tights, or even perineum. Has 7 preset pulsations you can choose from and most are well accepted by users. Takes time to adjust the optimal intensity and pattern for your own preferences.
Even the lowest settings offer decent stimulation which turned out to be just perfect for reaching an orgasm. It may be small but it's powerful enough to give you the thrills of a wand.
OhMiBod LoveLife Discover is made of 100% body-safe materials. You can easily adjust the speed level and type of stimulation through the push buttons at the base of your mini vibrator. This mini vibe is not intended for internal use. It doesn't have a comfortable and reliable handle to provide comfortable grip when used vaginally.
The stand-by time is up to 90 days, if this information is of some use. Just like most modern adult toys, the Discover is USB-rechargeable.
Discover is USB-rechargeable – no need to buy and change batteries. A complete charging takes about 2.5 hours and you can continuously use the toy during the next 2 to 3 hours. OhMiBod LoveLife Discover comes with a 1-year warranty, so you can get a replacement (free of charge) within the first year.
This mini vibrator comes in a cute box and has its' own discreet satin pouch.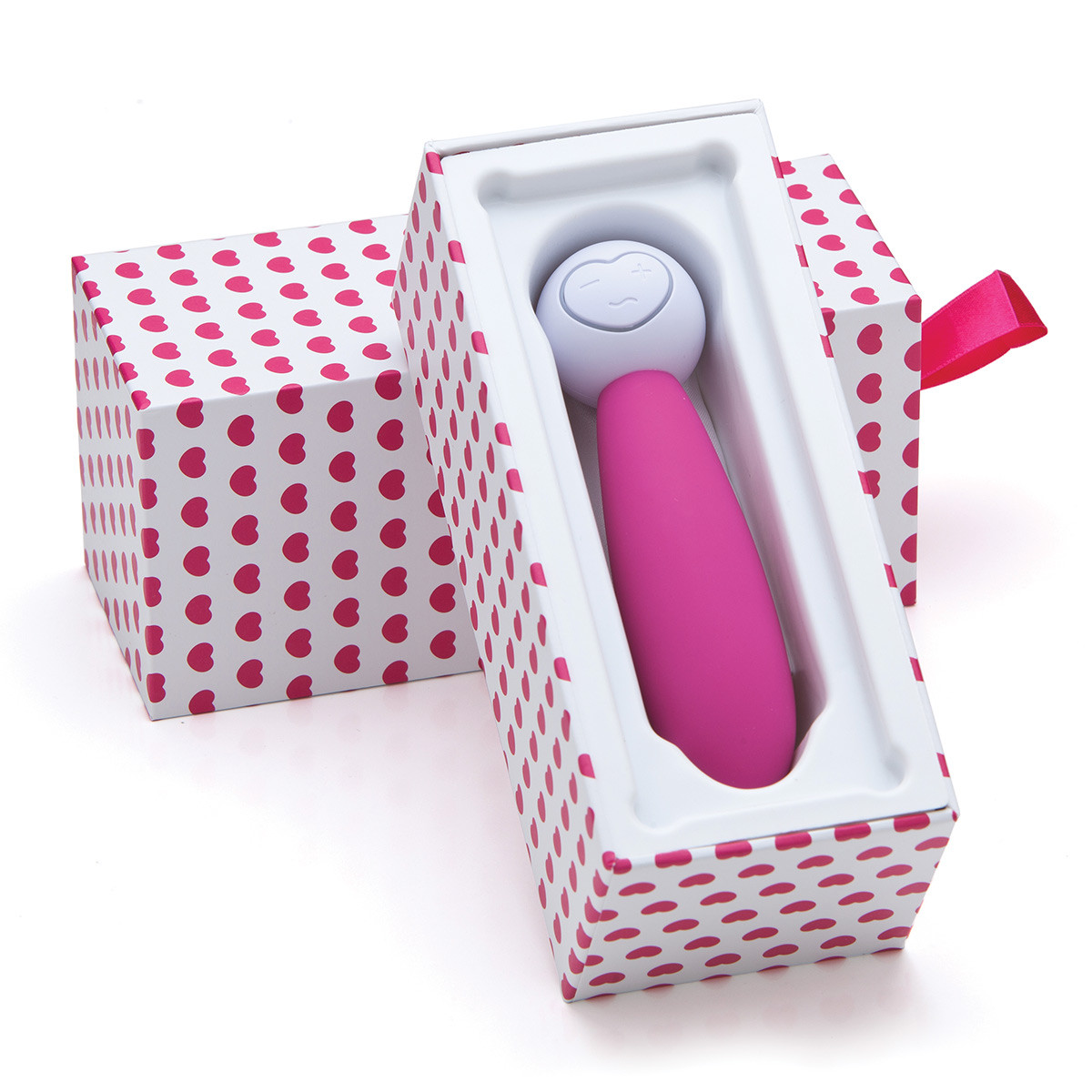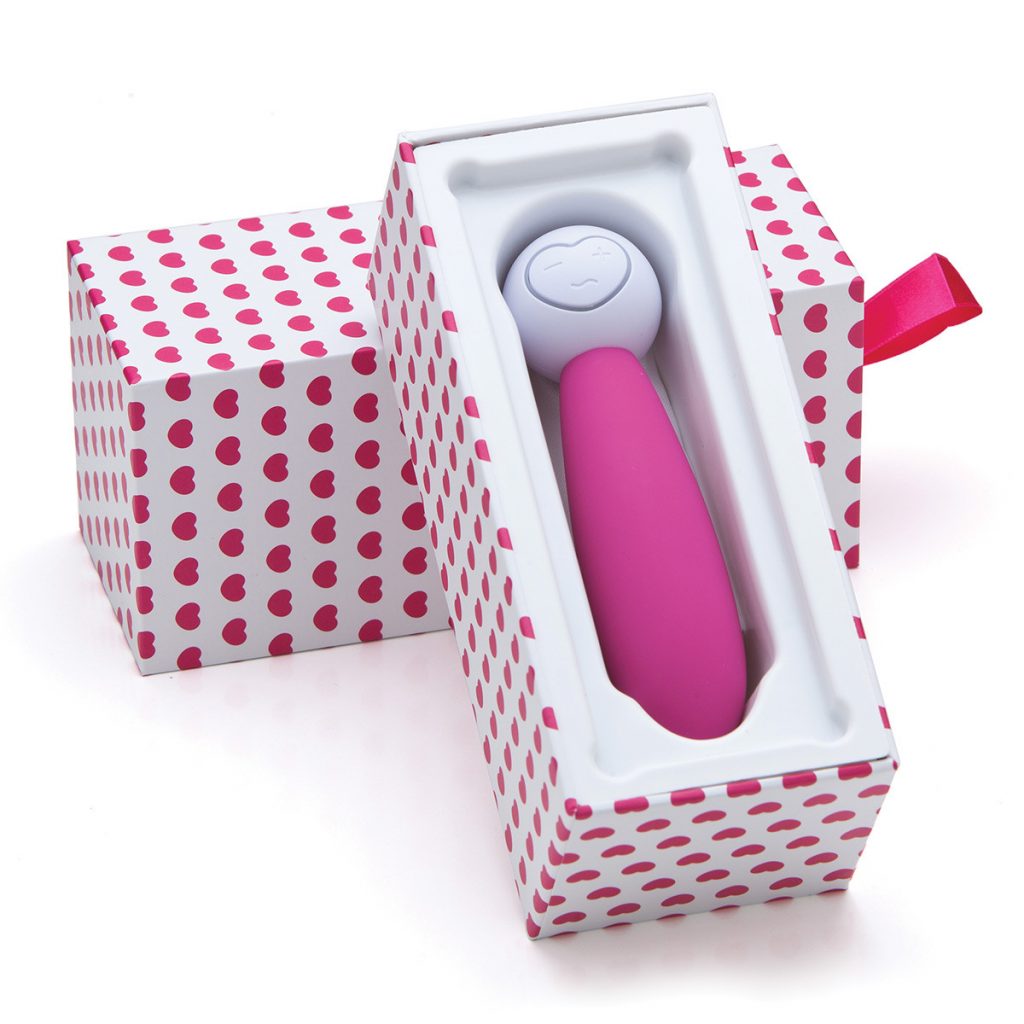 Dimensions :
Total length: 12.4 cm/4.9 in
Total diameter: 3 cm/1.2 in
Weight:
The Discover bullet comes at an affordable price – you can get yours for less than $50. The perfect price-quality ratio makes this vibrator the perfect gift for your lover or closest friend.
Check price of OhMiBod LoveLife Discover: OhMiBod
Best Male Masturbator Onyx+
Onyx+ is not a part of OhMiBod product line but works great when connected to OhMiBod Fuse or OhMiBod Esca (1 and 2). When connected, this high-end sex toy interacts with the other connected device, simulating the real sexual intercourse. This option allows all male users to experience a realistic and sensual stimulation, which will be simultaneously transferred to your toy.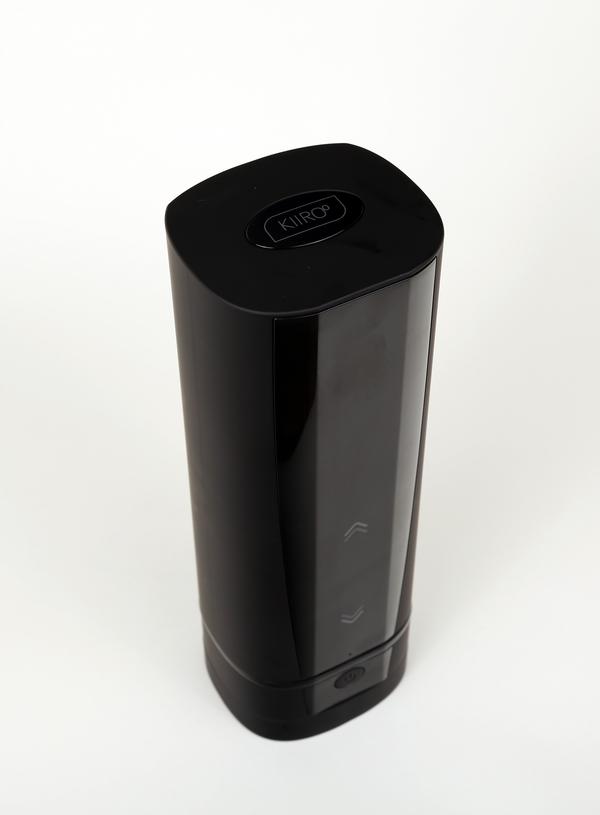 Onyx+ is part of the third generation of Kiiroo sex toys and features an all-new rotary motor that provides ultra-realistic back and forth sensations to simulate real sex!
Lightweight, discreet and silent, Onyx+ is the perfect ally for a solo moment, whether you're at home or traveling. Like its predecessors, it can connect via the FeelConnect application to another Kiiroo sex toy to synchronize your movements with those of your partner, and enjoy sex together even when you're apart.
Its durable and reusable sheath is surrounded by 10 rings that contract up and down as you wish, allowing up to 140 movements per minute. Control the speed of movement back and forth more intuitively than ever thanks to its touch-sensitive interface between the two arrows on the front of the device!
You will be able to choose between 3 stimulation modes: the manual mode and the automatic mode for solo use, and finally the interactive mode that will allow Onyx+ to connect to your partner's sex toy, to interactive 2D or 3D/VR online videos, or to live videos of camgirls and camguys (accessible on the FeelMe.com website).
The Kiiroo Onyx+ Connected Masturbator is made of soft-touch ABS for a good grip on your device and the sheath is made of POM (a low friction material with great sliding properties, 100% recyclable), a very soft, flexible, and durable material to keep its shape and ultra-realistic properties even after many uses! The sheath is removable for easy maintenance.
Onyx+ is rechargeable thanks to the USB cable provided. A full charge lasts about 4h and allows you to play with your interactive male masturbator for 1h.
Dimensions:
Total length: 26.3 cm/10.4 in
Width 1 : 9 cm/3.5 in
Width 2 : 8 cm/3.1 in
Opening diameter: 5 cm x 4.5 cm/2 in x 1.8 in
Insertable length: 16.5 cm/6.4 in
The FeelConnect application is available for free on the App Store and the Google Play Store.
Devices compatible with Onyx+: KIIROO Pearl (1 and 2), KIIROO Onyx (1, 2, and +), OhMiBod Fuse, OhMiBod Esca (1 and 2), Fleshlight Launch.
Where to buy: KIIROO
How to Use Kiiroo Technology :
When used in pairs, Kiiroo devices connect to a computer via Bluetooth. Using the Kiiroo Social Interface, sync your device and you can use your sex toys together! The Kiiroo Social Interface allows you to access many services. A video chat service, which will allow you to receive and send audio, video, etc. In short, this is the best way to touch your lover over the internet!
The Kiiroo interface has a secure connection that protects all user data. Thus, each private session is visible only to you and your partner, the information belongs to you, in complete privacy. To guarantee full security, an invitation request is sent by your partner, who must provide you with a password that is effective for only 5 minutes, to prevent any type of intrusion. If you don't want to play using the internet, Bluetooth can also be used locally via your computer.
| | | | | | | | | |
| --- | --- | --- | --- | --- | --- | --- | --- | --- |
| Name | Intended for | Focus on | Strength | App-compatible | Compact | Wearable | Waterproof | Price |
| Fuse | F | G-spot/Clitoris/Anal | Super Powerful Vibes | Yes | No | No | Yes | $149 |
| Esca 2 | F | G-spot/Clitoris | Teasing Pulsations | Yes | Yes | Yes | Yes | $119 |
| Onyx+ | M | Penis | Intense Multi-Level Stimulation | Yes | Yes | No | Yes | $219 |