Esca 2 is OhMiBod's second-generation wearable vibrator, an impressive follow-up to its predecessor, Esca. With its improved design, longer battery life, and stronger vibrations, Esca 2 is made exactly how users want it to be.
Esca 2 can be worn both outdoors and indoors. You can control the vibrator both locally and from anywhere in the world.
The vibrator is intended for intense G-spot stimulation, while the flexible antenna rests on the clitoris.
Thanks to its Bluetooth and internet connectivity, it is interactive and remotely controllable, which means that your partner can participate even if they are not with you, letting them be in total control of your orgasms.
With its stylish design, amazing features, and stunning vibrations, it's easy to see why the OhMiBod Esca 2 has become such hype over the years after its first release!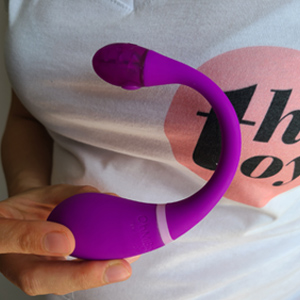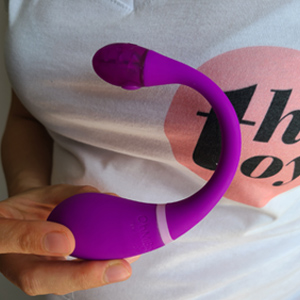 | | |
| --- | --- |
| Power: | (3.8 / 5) |
| Noise: | (5.0 / 5) |
| Material: | (4.0 / 5) |
| Design/Size: | (4.0 / 5) |
| Experience: | (4.0 / 5) |
| Price: | (4.0 / 5) |
| Controls: | (4.0 / 5) |
| App: | (4.0 / 5) |
Powerful G-spot stimulation – a perfect addition to a sexy outdoor session with more sensual foreplay or masturbation
You can buy this vibe from:
During long-distance sex, the light on the retrieval cord (antenna) brightens to indicate or give the partner a visual that the vibrations are being received.
Pros and Cons
Pros
Rumbly vibrations offering deep stimulation
Reliable app with multiple features and easy-to-use controls
Light to provide visual during long-distance sex
Quite discreet compared to similar products
Made from safe materials, easy to clean and care for
Reasonably-priced vibrator
Cons
Manual mode offers limited vibration patterns
Water-resistant, not fully waterproof
The vibrations are rumbly, penetrating deeper into the body, and don't lead to numbing.
The OhMiBod remote app is very stable and doesn't disconnect during sessions. It offers reliable connectivity and has an easy-to-understand menu.
The LED light at the end of the antenna that stays on the clitoris blinks each time it indicates vibrations. This feature provides visual feedback for your long-distance partner during a video session. Cam models much appreciate this feature.
After testing how audible Esca 2 is (in various locations), I concluded that the performance, even on higher power settings, is quite discreet. Compared to similar egg vibrators, the noise level is lower.
You can safely wash Esca 2 under running water. Use a mild soap to ensure the vibrator is clean before and after each use.
Compared to vibes in the same class, the price of Esca 2 is a bit lower, even though its' overall performance is just as good.
The manual controls are rather limited. There are only 6 preset vibration patterns on manual mode – 3 offer constant stimulation with increasing intensity, and the other two offer pulsations and gradual increasing/decreasing of the tempo.
Esca 2 is splash-proof but not 100% water-resistant. It's bad news for those who want to use Esca 2 for shower/bath/pool play.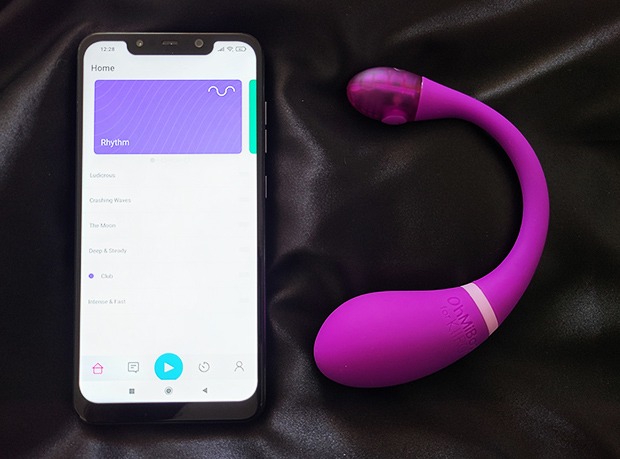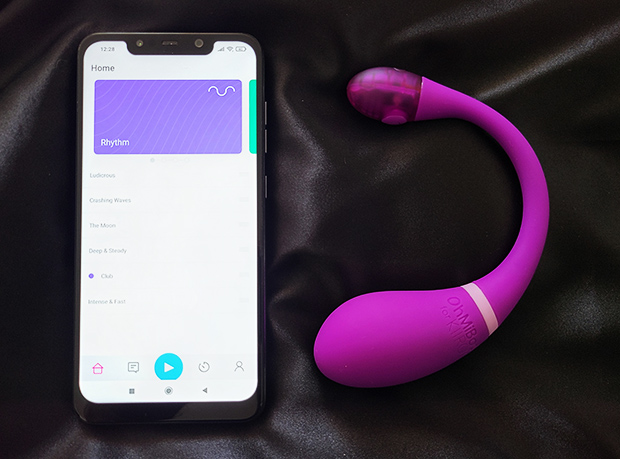 Where to buy OhMiBod Esca 2: OhMiBodLovehoneyKIIROO
How does the OhMiBod Esca 2 work?
OhMiBod Esca 2 offers 2 ways of stimulation:
Bluetooth – for proximity app-controlled play.
WiFi (over the internet) – for long-distance sex with an intimate partner
This means that it is inserted into the vagina and then controlled via your own (or your partner's) smartphone application (OhMiBod Remote) from anywhere in the world as long as you are connected.
Is your partner not in town?
You can always get closer with the OhMiBod Esca 2 and the OhMiBod remote app, which should help keep the magic between you.
Your lover must slide their fingers across the screen to send you pleasant vibrations.
Plus, if your partner has a Kiiroo device (Onyx 2, Pearl 2, OhMiBod Fuse, or Fleshlight Launch), you can download the FeelConnect application to be connected in real-time to the vibrations of your partner's toy and enjoy a truly interactive and immersive experience!
Learn more about the best OhMiBod vibrators for men and women!
As far as design is concerned, the vibrating egg shape is designed to give you the maximum pleasure possible, hitting your hottest spot.
The toy perfectly stimulates your G spot, and you will enjoy the "tail" of the Esca 2 that will tickle and stimulate your clitoris at the same time.
Furthermore, Esca 2 is made of hypoallergenic, non-toxic materials. It is completely free of latex and phthalates. It is made of silicone and is, therefore, completely safe.
Another exceptional feature is its ease of wearing. It is both comfortable and light, weighing only 56 grams.
It is the smallest vibrator that Kiiroo and OhMiBod have ever designed and is still affordable!
Features
Vibration Quality
Esca 2 offers rumbly vibrations. Rumbly are the pulsations that can be felt deeper in the body and deliver amazing stimulation during foreplay or sex. Not the pinpoint vibrations a bullet vibrator provides. Most rabbit vibes and wand massagers offer the same kind of vibes.
Holding the Esca 2 in your palm will give you an idea of what I mean by deeper vibrations – you can feel them on the entire bulbous head of Esca 2. When you insert the vibrator, the pulsations will feel more fulfilling and deeper.
Vibration strength
The intensity of stimulation Esca 2 delivers is impressive – it's comparable to the most powerful wearable sex toys in the same class.
The vibration strength is relative to other vibrators in the same class. To measure it, I have used a vibrometer phone app that measures the vibrations in the modified Mercalli intensity scale (the one we use for earthquakes). I have the vibrators approximately 2 inches (5cm) away from the phone on my desk. I have set the vibration strength to the maximum and measured it against each other.
Here in the photo, you can see how Esca 2 performs against Lush 3(one of the strongest insertable vibrators), and the vibration strength of both is almost identical.
Vibration strength rating:
I rate the Esca 2's vibration strength at (on my egg vibrator scale):
Low setting: 5/10
Medium setting: 6/10
High setting: 7/10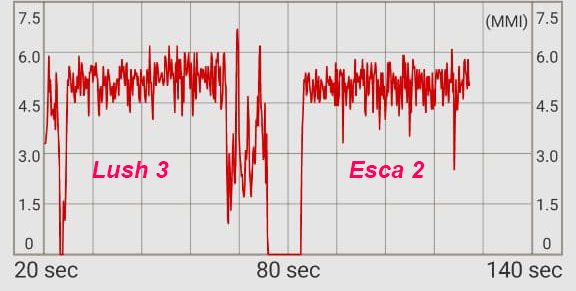 Noise
I measured how noisy Esca 2 was by holding the vibrator in my palm and my phone with the sound meter app 1 inch (2.5 cm) away and 3 feet (91 cm).
At 1 inch, it is around 44 dB (this can compare to a quiet residential area or a park) and as low as 30 dB at 3 feet away (like a whisper or a library).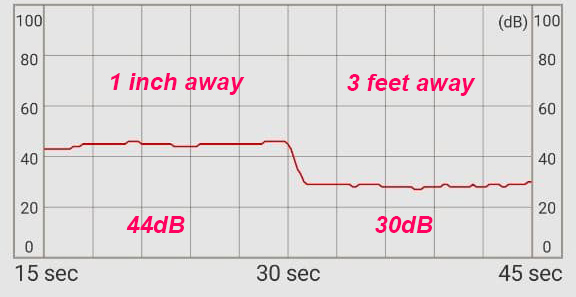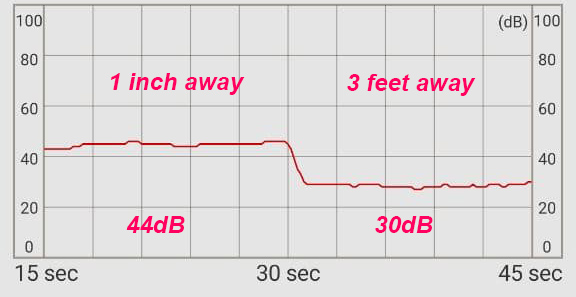 The sound is buzzy, and if someone is in the same room, they might hear it, but nobody out of the room will be able to notice it.
Enough about Esca 2's performance while holding it in my palm. Let's talk about the real purpose of this wearable wonder.
Esca 2 offers quite discreet vibrations, but I would like to discuss the locations where I used mine to give you a clearer picture.
When inserted vaginally, the Esca 2 noise level was measured:
30-33 dB on low setting
35-38 dB on medium setting
40-45 dB on high setting
Real-world testing:
I asked my partner if they heard anything from under the blanket. I have already inserted the Esca 2 into my vagina and started on the lowest settings. There was no sound at all.
Increasing the stimulation intensity made it clear that I was up to something masturbation-related because of the faint buzzy sound that could barely be distinguished.
I don't have roommates to share an apartment with, but my partner came to the rescue again and helped me find out whether he could hear any noise from the other room. When the door is closed, he reported he could hear no sound from the bedroom.
However, once I opened the door, the highest vibrations were audible. Here's the time to mention there was no blanket 'barrier' this time.
Note that mine is older, but no sound or vibration can still be heard whether the motor is working. I don't know whether it is because I was wearing undies and a pair of jeans, but it was perfectly discreet in my car. Esca 2 stayed connected reliably when music was playing over car speakers via Bluetooth.
I'd like to mention I was not the driver during the test because of the obvious distraction I got between my legs.
When the weather is nice, all parks and gardens are crowded, so you rarely hear the birds singing. So, your wearable secret will be safe if you don't start moaning in the middle of a picnic spot. Tested Esca 2 in a 50dB coffee shop from 5 feet away. Partner could not hear it at max intensity.
A bar/club is the most discreet place to enjoy all kinds of vibrations, whatever the intensity. Used Esca 2 successfully, even in a quieter restaurant booth. My partner sitting next to me could not hear it.
Walking around: Noticed some light tapping sensation against my clit from antenna movement when walking quickly.
And here's the place to add that you can sync your Esca 2 to music vibes – I tried this feature at home but can't wait to try it in a club.
Charging
With Esca 2, the charging process is quite simple – there's a USB cable that you should plug into a USB port or a power outlet with a USB port. The charging cable is a regular one with a plug. The charging port is located right under the serial number(as you can see in the photo)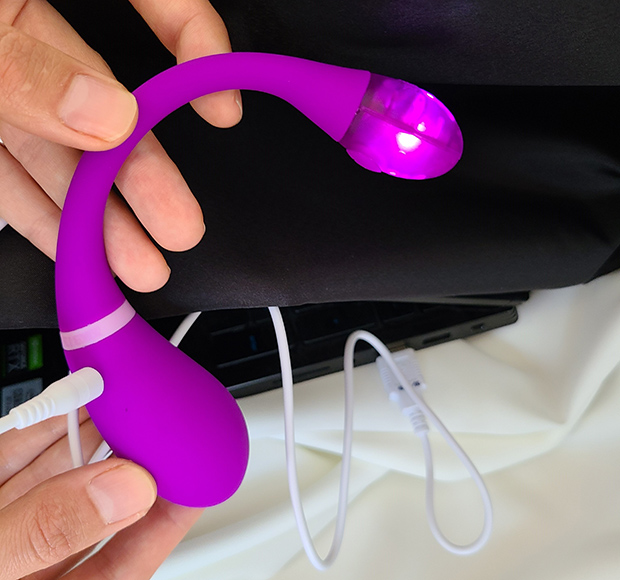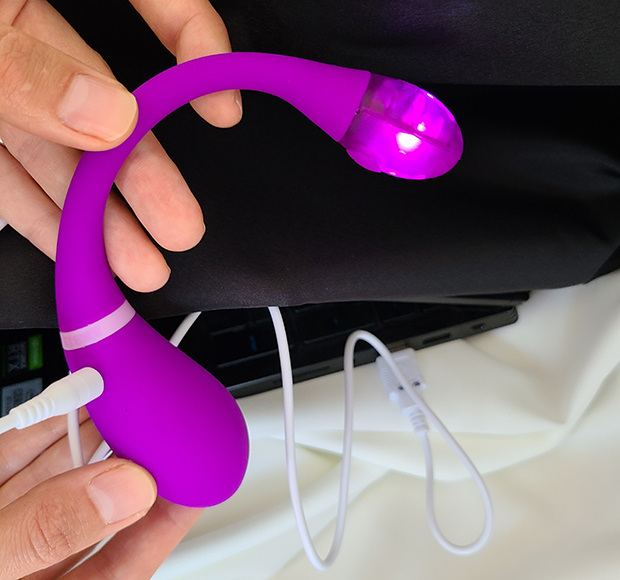 Complete charging takes 1.5 hours, allowing you to enjoy your Esca 2 for up to 3 hours.

Materials
The vibrator is made of medical silicone, and the head of the antenna(where the LED light is) is made of ABS plastic.
The interactive LED light on the Esca 2's antenna, which visually offers feedback based on rhythmic vibrations, is one of the main differences between the Lovesense Lush 3 and We-Vibe Jive.
Design
The purple Esca 2 is bulbous shaped to target the G-spot, a visibly comfortable, tried, and true design. The antenna that rests on the clitoris functions as a retrieval cord for added convenience. You can feel some leftover vibrations at the end of the antenna, but these will not be sufficient to provoke a clitoral orgasm. The LED at the end of the antenna blinks each time the Esca 2 vibrates. Thus it provides visual feedback during foreplay or video calls.
To turn off the LED light, turn the toy on, then double-tap the power button. This will spare you unwanted flashing if you're wearing light clothes while in public,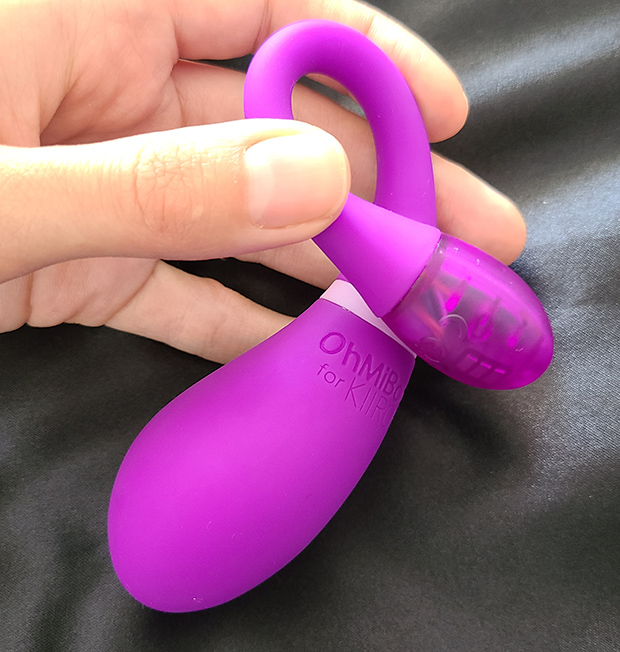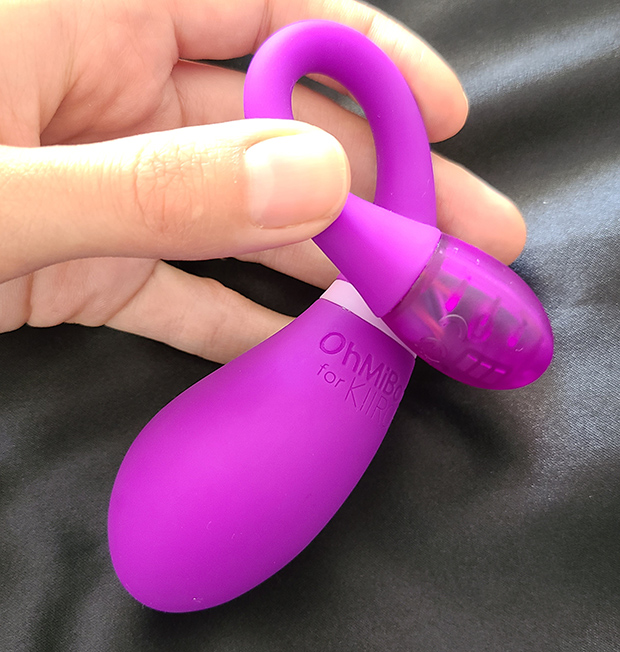 Comfort and wear:
The Esca 2 is reasonably comfortable but can sometimes pivot out of place. The antenna is thicker than some models. Overall, it is better for shorter wear sessions.
Size
The exact dimensions of Esca 2 are as follows:
the toy is 7.3 inches in length (185.4 mm)
1.3 inches diameter (33.1 mm) of the bulbous head
5.5 inches antenna length (139.7 mm)
It only weighs 1.9 oz (56g), making it a convenient option to carry in a purse or inside you without any worries.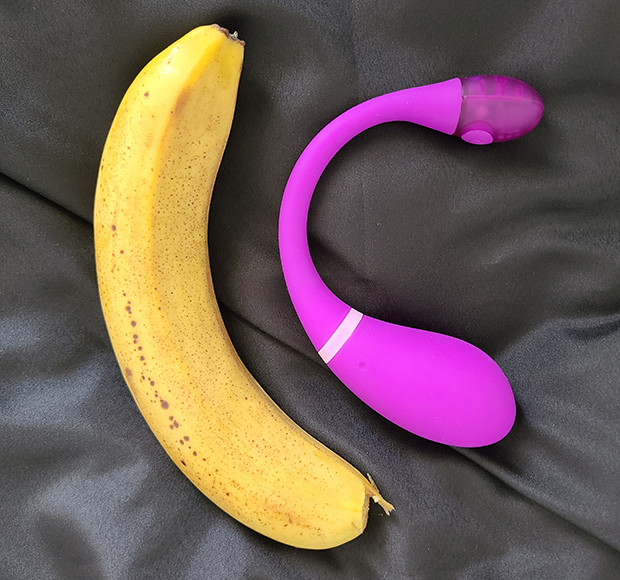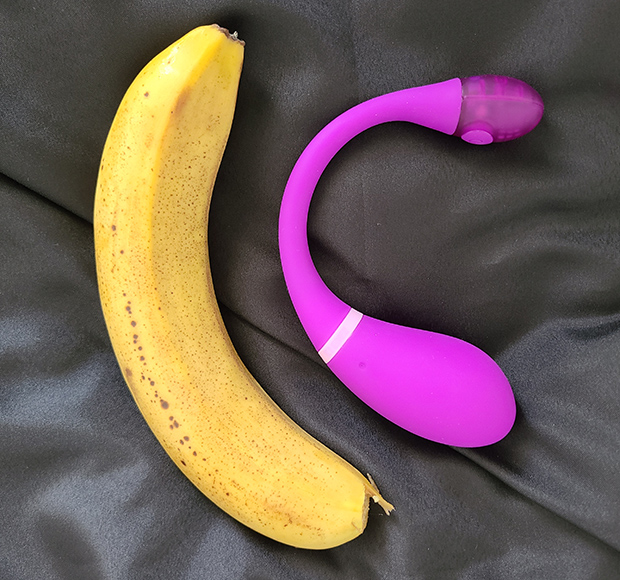 Versatility
Its' main purpose is to provide strong and constant stimulation to the G-spot, and you can use the remaining vibes for clitoral stimulation. However, these are not strong enough, and they can be used as a very gentle way to add more pleasure to your solo session.
If you want extra strong stimulation on your clit, just apply the bulbous part of Esca 2, and you'll be able to climax in less than a minute (or at least this is how it works for me). It is more powerful than most buzzy bullet vibrators but less powerful than magic wand massagers.
You should not use Esca 2 for anal play. I know many would try eventually, but there are various convenient ways to play with anal toys safely. If you are into anal pleasure, here is a list of the best anal vibrators and the best prostate massagers.
You can insert Esca 2 vaginally and let your partner penetrate you anally – I already tried it, and all I can say it was amazing. Thanks to the additional friction and excitement, I was able to cum multiple times per single session.
Battery life
When used continuously, the OhMiBod Esca 2 has a 3-hour (180 minutes) battery life. Checking the OhMiBod Remote app profile menu will tell you how much battery life you have left(under the battery level row).
So far, I had an hour-long session in the park while continuously switching between the settings of my Esca 2. I still had 32% of my battery left before the next charge, which is enough time for me. Esca 2 has a fairly long battery life. Based on my testing, the Esca 2 lasts 110-150 minutes on a full charge.
Controls
Esca 2's manual mode has three steady vibration speeds (low, moderate, and high) and two patterns (pulsing and looping).
To make it work, hold down the "ON" for three seconds and start switching the settings until you find the right one.
It gets even more exciting with each click as the intensity increases.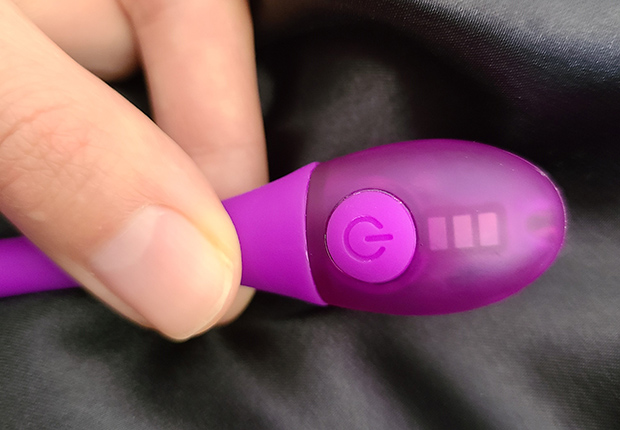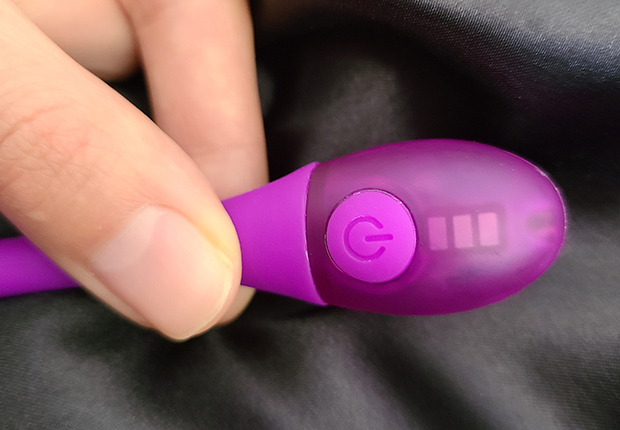 App Quality and Connectivity
Short Distance
The OhMiBod remote app does stand out from most competitors due to its innovative and intuitive features. It is straightforward to use, gives unlimited stimulation options, and you don't need to be tech-savvy to learn the app functionalities, which will spare you unwanted frustration.
The OhMiBod remote app is free to download on the App Store and Google Play Store.
To use your Esca 2 with the app:
Press the power button on the vibe once for 3s to put it into pairing mode
Activate Bluetooth on your smartphone
Activate the location on your phone
Pair your phone with Esca 2 and adjust the phone volume to 75%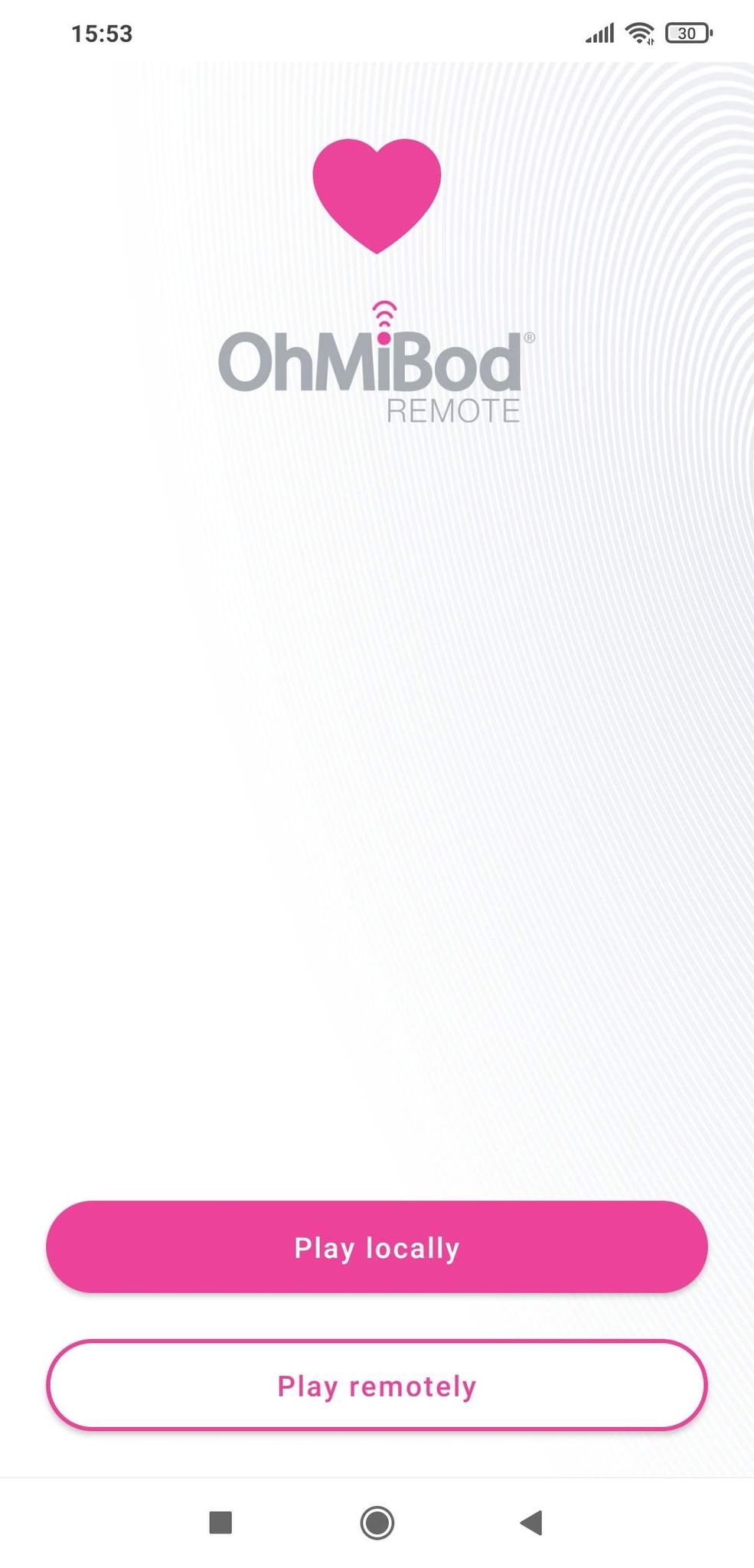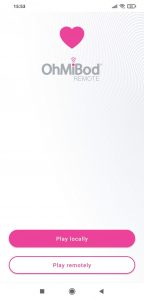 There are four different options to enjoy the Esca 2. The first one is through the 6 preset patterns of vibration.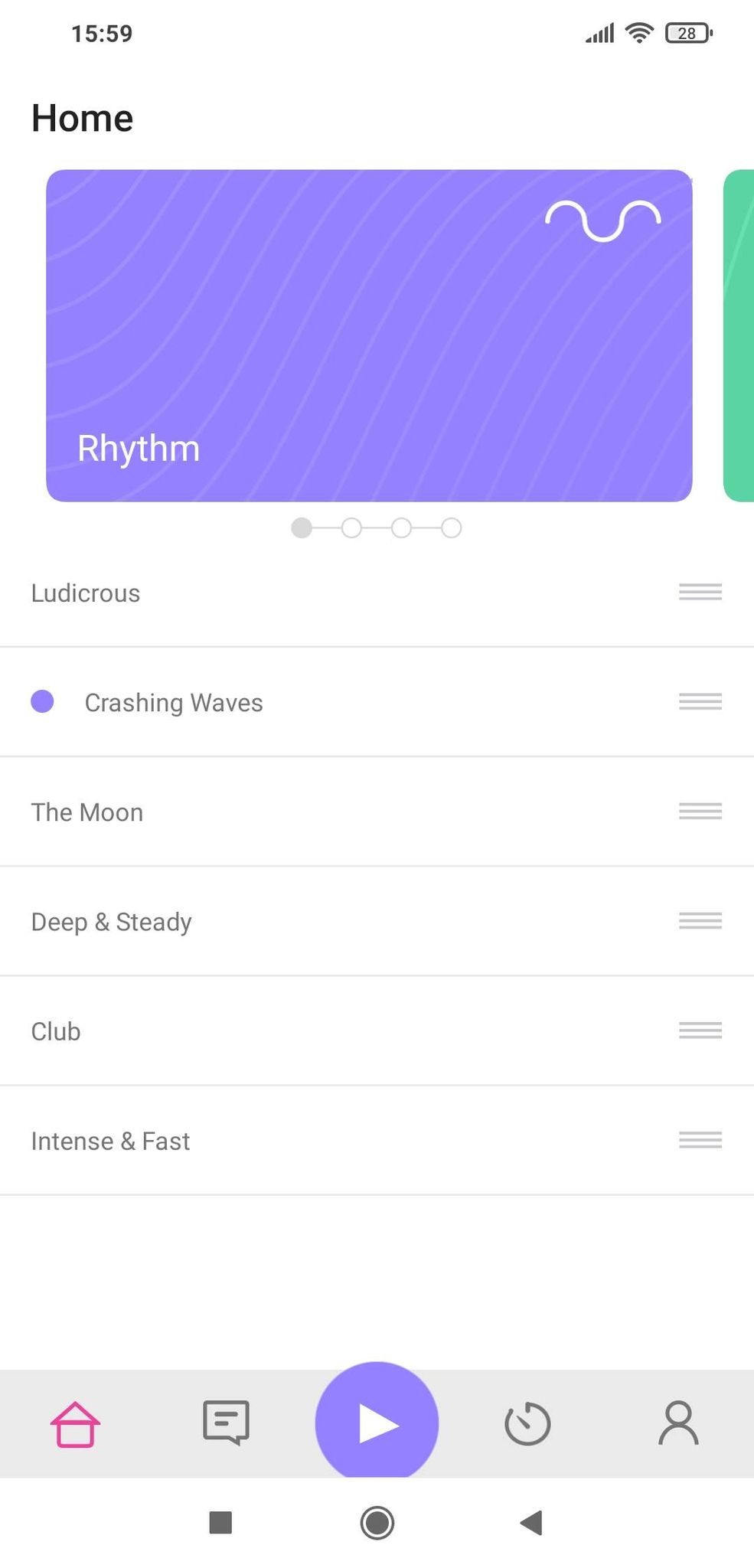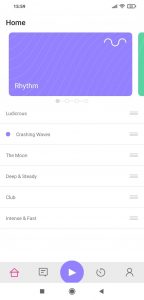 The vibration intensity can be adjusted using the volume control buttons on your phone.
Next is the "Tap" function, which allows you to operate the vibrator by tapping on the screen. You can decrease/increase the vibration intensity by moving your finger toward the turtle/rabbit icon.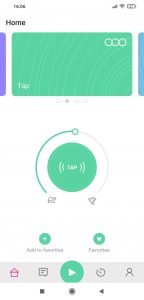 This feature repeats the tap sequence you performed. Once you tap out a pattern, you can leave your phone as it is, and it will repeat the same pattern until the next time you tap on your screen.
The "Touch" feature is also very convenient, but I rarely use it, especially when having fun outdoors.  The idea is to move the dot (or two dots) to decrease and increase the intensity. Again, moving the dot to your left (turtle) will lower the vibrations, and moving it to the right (rabbit) will increase them.
The "Club Vibe" feature is the one that may find you unprepared. Your phone picks up sounds in your environment and vibrates to them. The first time I tried this feature was during a random conversation with my SO, and I almost felt nothing.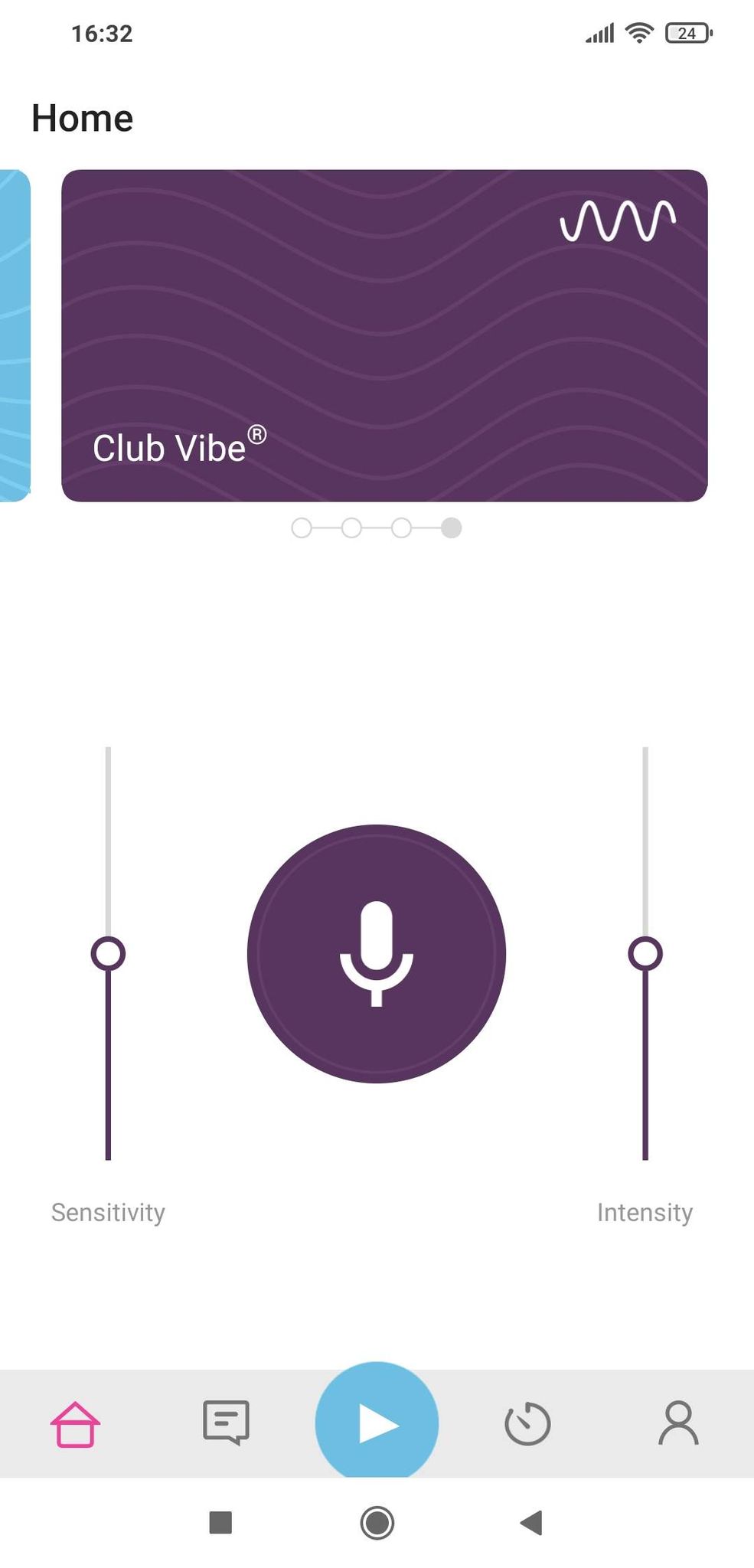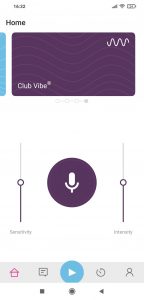 Then I realized this feature will be used with strong music in a bar/club. If you use it there, your Esca 2 will vibrate with the rhythm of the music, which can be very exciting.
Long Distance
Esca 2's long-distance connectivity allows people to connect from everywhere worldwide as long as an internet connection is available.
To do this, you'll need to create an account within the app first. Then, you can connect your Esca 2 (again, you should enable Bluetooth and Location on your phone).
The next step is to connect to a partner, who should also have the app installed and the account created.
How to add a contact?
Tap on the search bar (top right, next to the recycle bin), write the username of the partner you'd like to add, then tap on the username when it appears below and choose from the following options:
Add new connection
Request to control their vibe
Invite to control my vibe
Now, wait for the partner to accept your invitation.
When your partner accepts the invitation, they can start controlling your vibe remotely using all the options you can choose from when using your vibe locally. Additionally, you can start a video chat, and your partner can control your vibrator while the video chat runs without interruption. The vibrator controls appear on top of the video connection. You can also use the chat function to share your naughty thoughts.
How to delete a contact?
You'll see a recycle bin on the top right of your screen. Tap on this icon, then choose (by marking) the contact(s) you'd like to delete, then confirm and proceed to delete.
The Esca 2 has 5 preset patterns. The app adds 7 more rhythms and options like "Club Vibe" music syncing, "Tap" to create patterns, and "Touch" wave patterns. Simple but good range of control.
Experience with music:
The Esca 2 syncs vibrations very strongly to music beats and rhythms in "Club Vibe" mode. It pulses along even when the volume drops between songs. Worked well with genres from jazz to pop.
Cleaning and care
To clean, thoroughly hand wash the Esca 2 in warm, soapy water before and after each use and allow it to dry completely. You can then store it in the white satin pouch in the box.
Lubricants to use with Esca 2
I recommend using non-corrosive water-based lubricants with the Esca 2 if needed. Avoid silicone-based lubes, as they may degrade the texture of the vibrator.
Price & Where to buy
The price of Esca 2 is more affordable compared to all alternative wearable G-spot vibrators.
I recommend buying yours from the official manufacturer or an authorized dealer. This way, you'll avoid any risk of receiving a counterfeit product and keep yourself away from unwanted frustration.
Where to buy OhMiBod Esca 2: OhMiBodLovehoneyKIIROO
What's in the Esca's box?
OhMiBod Esca 2 is shipped within two days following your purchase. Your Esca 2 will be delivered in discreet packaging in a standard brown cardboard box that won't reveal the contents inside.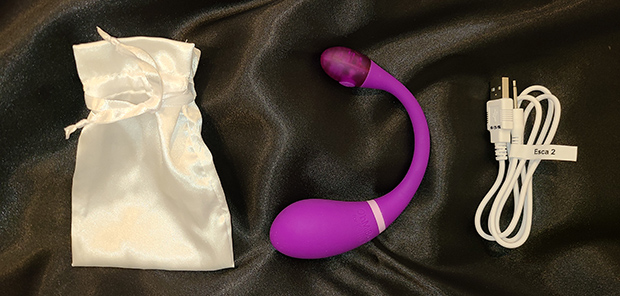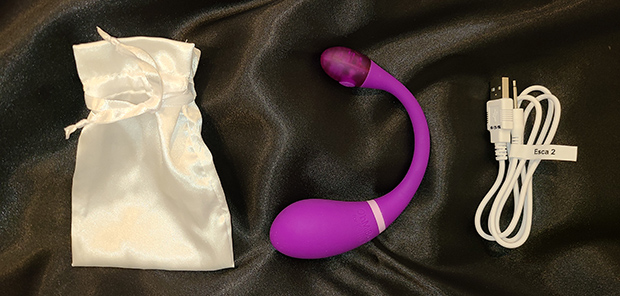 Then, there's the original Esca 2 box – classy and futuristic, like all other OhMiBod sex toys. There, you'll find:
The original Esca 2 vibrator
A multilanguage user manual
USB-charging cord
White satin storage pouch
To improve comfort, nothing else is required to use the OhMiBod Esca to its full potential, although a little water-based lubricant is recommended before insertion.
My experience with Esca 2
On opening, I thought Esca 2 looked bigger than I expected. A bulbous shape (head) on one side and a flexible antenna on the other. It felt silky, soft, and quite nice when I touched it.
I wanted to try it immediately, but it needed some charging first. While waiting for the charging to be complete, I asked my partner to download the free OhMiBod app, and I did the same.
When the LED light at the base of the antenna stopped blinking, it was time to test the purple plaything.
When I pushed the power button and started testing the settings available for manual mode, I was quite impressed by how intense the vibrations felt while holding it.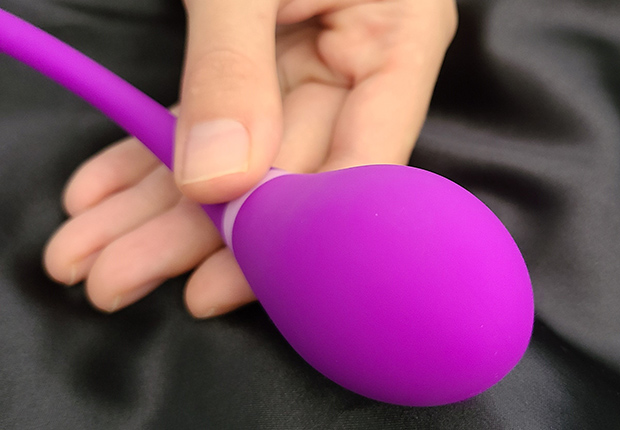 My idea was to try it while walking in the park, and it turned out to be a good one. After inserting the Esca 2 and pairing it to a smartphone, I put my panties on and then a pair of jeans, as it was cold outside.
My partner had to be the one controlling the app. We didn't have strict rules for our public play, so I was surprised to feel the first vibes after walking out of the apartment door. That was a very gentle, teasing stimulation, which I enjoyed, but I felt much stronger vibes while holding the Esca 2. I thought the intensity was somewhat absorbed into my body because I could easily distinguish the switching of patterns. And I thought there was no way such intensity could lead me to orgasm. Well, at least there's no way someone else would know what we are up to.
We were reaching a bench. I wanted to sit and see whether the vibes would feel more intense, but still nothing. At that point, I knew there was something wrong!
I immediately took the phone and pressed the volume up button, and WOW – the intensity magically increased to the point that I just had to keep my hips crossed to look normal while my private parts were starting to prepare for climax.
I wanted to postpone it, tho. I have a ritual of reaching the edge of orgasm a couple of times before I finally enjoy one – for me, this is the best way to feel the ultimate satisfaction of an orgasm.
I knew I could reach it in seconds, but I also wanted to enjoy the exciting sensation for longer.
After learning how to increase/decrease the tempo, my partner wanted to control the vibes once again, but this time, I wanted to play by my own rules – I got teased for more than half an hour, so I thought I deserved an orgasm the exact way I like it. So, I kept teasing myself, reaching to the edge and then lowering the tempo a couple more times, and I felt my undies were soaking wet. Just one more time, and I'll cum, I thought. But I managed to climax without increasing the intensity – I might have waited for too long…
It felt as strong as a blizzard. I can't describe my reaction since I was experiencing it, but my SO said it looked like spasms I couldn't control, which was indeed true. It was Esca 2 controlling my sweet orgasm all along.
The alternatives of Esca 2
If the characteristics of Esca 2 don't seem satisfying enough, I have some good news for you. Esca 2's big brother, Lush 3, has a similar shape, features, and price tag. Another decent alternative to Esca 2 is Jive, the remote control vibrator created by We-Vibe.
The OhMiBod Esca 2 has some key differences compared to similar app-controlled egg vibrators like the Lovense Lush 3 and We-Vibe Jive:
Vibration strength: The Esca 2 is milder at around 5-7/10, the We-Vibe Jive rate is around 7-8/10, and the Lush 3 is 9/10.
The vibration feels: The Esca 2 has a buzzy vibration, while the Lush 3 is more rumbly. The Jive is the most rumbley of the three.
Connectivity: The Esca 2 has good but not flawless Bluetooth connectivity. The Lush 3 has the most reliable connectivity.
Comfort: The Esca 2 is reasonably comfortable but can pivot out of place. The Jive is the most comfortable and stays put well during wear.
App control: The Esca 2 has a simple app with good features. The Lush 3 app offers the most advanced control for customization.
Lush 3
Lush 3 has an almost identical design. The power button is also quite convenient (located on the antenna). I've already measured the vibration strength of both vibrators, and they appear to be similar – both are powerful and deep.  Lush 3 seems a bit noisier, and this might be because more vibrations are transferred to the antenna.
I find Esca 2 more comfortable because the antenna is way more flexible and can be comfortably adjusted. Lush 3's antenna is less flexible. It stays fixed once you adjust it on your clit.
Another difference between the vibrators is that Esca 2 is more easily inserted because the toy's head is not that wide. As for Lush 3, the head part has a special curve to apply more pressure to your G-spot, thus providing stronger vibrations.
In terms of connectivity, both apps are immaculate. Both offer reliable, uninterrupted connections and have easy-to-use controls and features.
In Bluetooth mode, the Esca 2 and Lush 3 perform just as well.
An important difference between these egg toys is that Lush 3 has a magnetic charging port, a faster and more convenient charging option, giving you up to 5 hours of continuous stimulation.
Lush 3 is completely waterproof, unlike the Esca 2, which is only splashproof.
The price of Lush 3 is a bit higher, tho.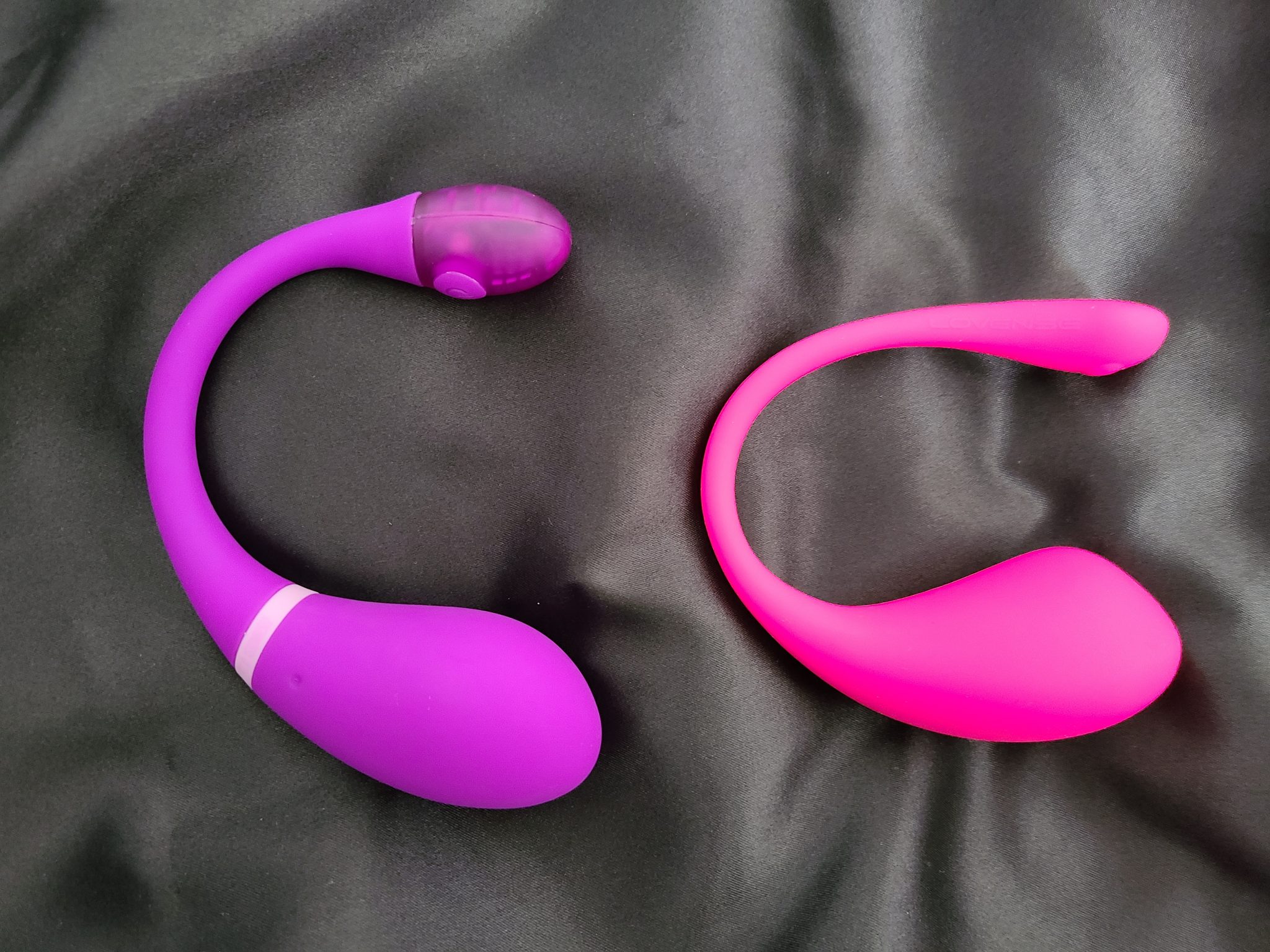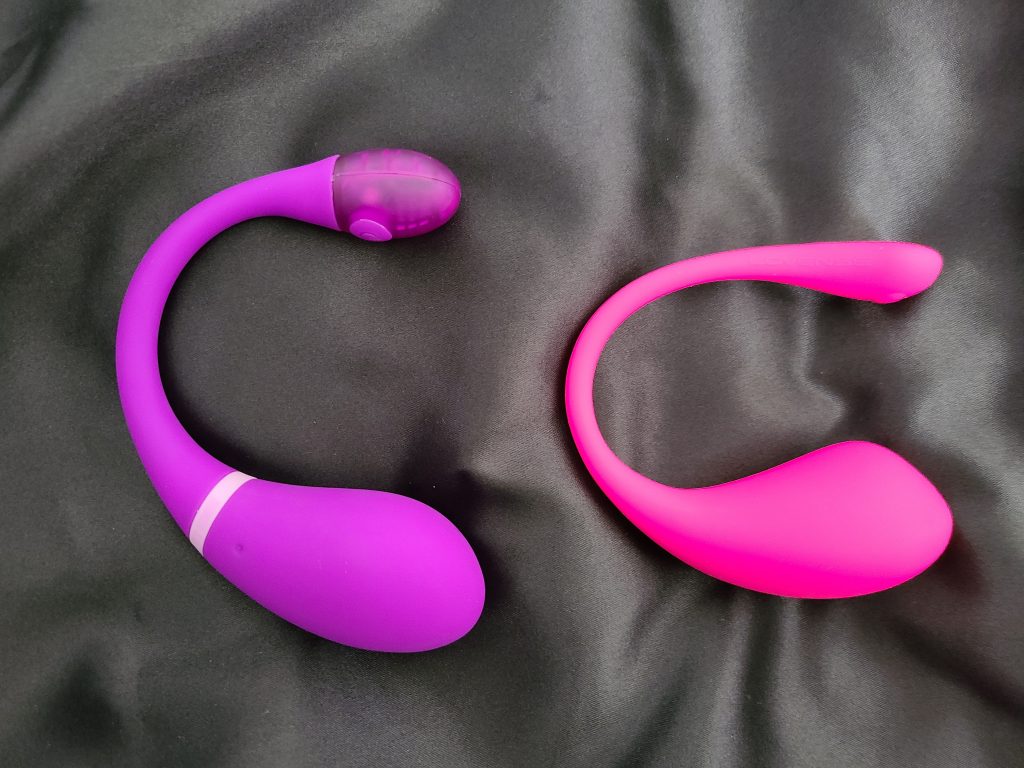 Lush 3 is a better option, compared to Esca 2, if:
If you prefer stronger clitoral vibrations
If you'd like to play in the bath or hot tub
If you intend to use it for longer sessions
If you want more playtime per single charging
We-Vibe Jive
Another good alternative to OhMiBod Esca 2 is the We-Vibe Jive vibrator. Again, they have similar shapes, prices, and functionalities.
Jive has more preset vibration patterns and allows you to create your own patterns and save them for later. These are intense vibes, some of which are also transferred to the antenna so that they can offer minimal clit stimulation.
The We-Connect app allows you to enjoy Jive during remote sessions. Sharing control from anywhere is made easy, just like with Esca. You can connect Jive to other We-Vibe products, and after pairing, the two devices sync their vibrations for a more realistic experience.
An advantage Jive offers is that it is 100% waterproof and submersible, so you can safely enjoy it during water play.
However, I find the We-Connect app harder to connect at first, plus it may get disconnected during a session.
Another drawback of We-Vibe Jive is that it only offers 2 hours of run time per complete charging.
Unlike the alternative products, We-Vibe company covers a 2-year warranty, which is worth considering before deciding.
We-Vibe Jive is a better option, compared to Esca 2 if:
Want to use your vibrator for shower/ bath sessions
Jive has a longer warranty period
Esca 2 Unboxing
I was pleasantly surprised to receive the OhMiBod Esca 2 vibrator. It came in a plain cardboard box. There was a simple sticker with the courier details and another for my name and address. OhMiBod seems reliable in terms of customer privacy.
When I cut the scotch tape securing the box, I found the original Esca 2 box inside, protected by pink plastic strips used for friction reduction during transportation.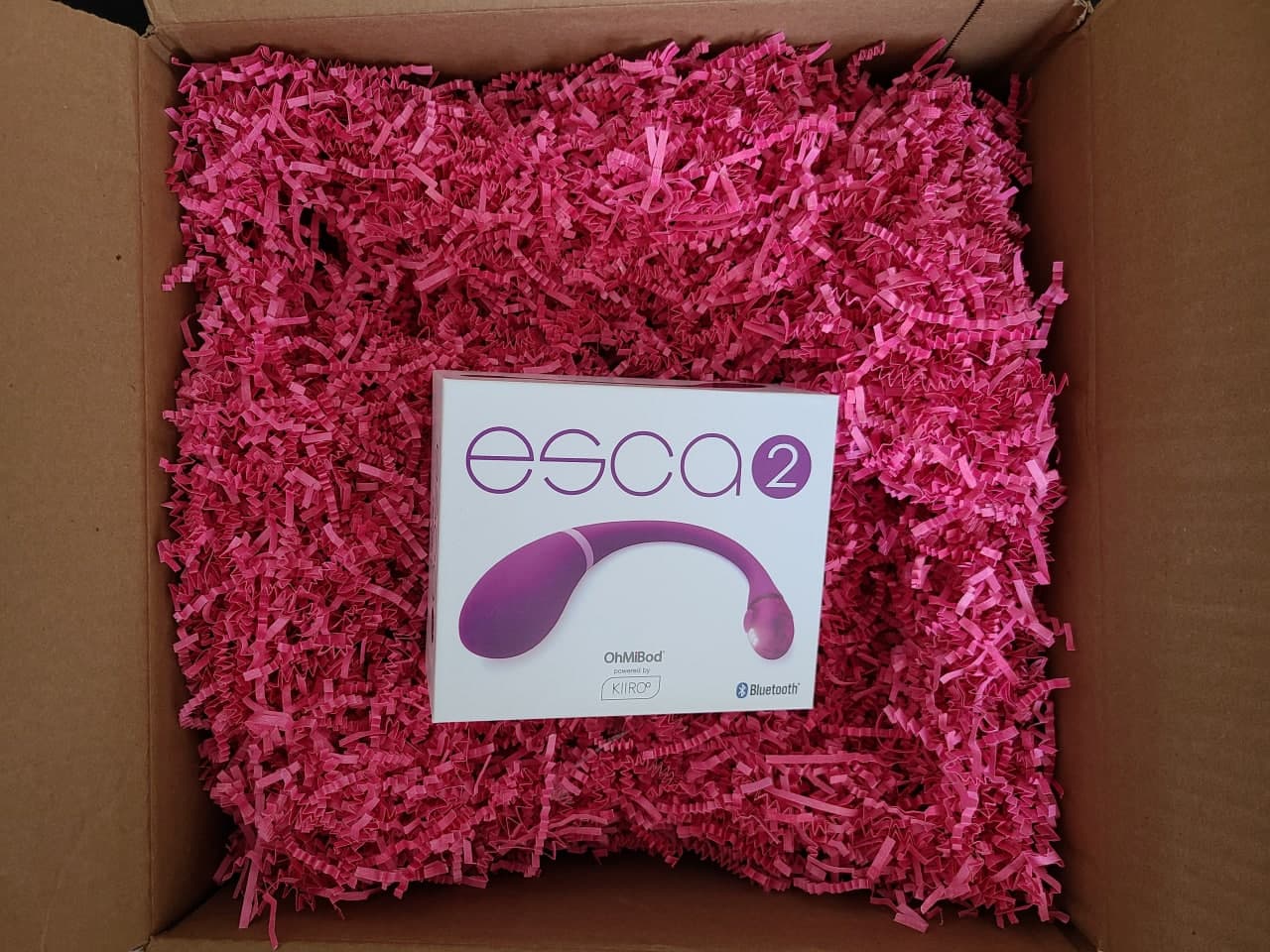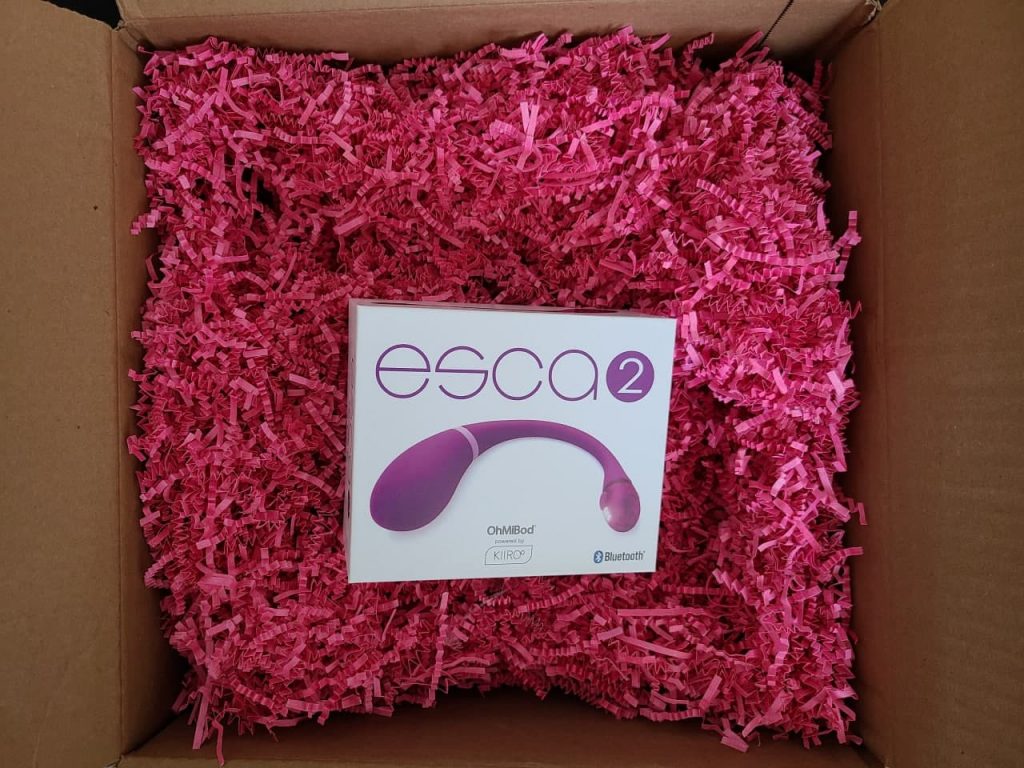 On opening, no plastic or chemical smell came from the box, which I consider a good sign when trying new vibrators.
Conclusion
If you are looking for a smart egg vibrator that you can use in a remote relationship or solo pleasuring, then the OhMiBod Esca 2 is the right option for you.
Esca 2  is easy to use, well designed, and provides multiple features, including controlling the toy using smartphone applications. All these amazing functions distinguish the Esca 2 from all other remotely controlled egg toys. And don't forget the quiet motor that will protect your privacy if you decide to have a sexy outdoor session!
Although the battery life is not excellent, there are no major drawbacks to note with this connected vibrator.
Now that you can see from this review of OhMiBod Esca 2 all the advantages involved, why not add something innovative and stylish to your sex toy collection?
With so many long-distance relationships in the modern era, this vibrator is an ideal way to keep your intimacy intact, no matter how far away you are.
Esca 2 is an excellent quality product that should keep you satisfied for years to come…