To be honest with you girls, I wish I could control my sexual pleasure and orgasms with magical powers. Luckily, there are magic wands to make me feel good. The super-powerful magic wand vibrators have always been a respected addition to my sex toys collection. This vibrator type is now a classic accessory, appreciated by most women.
Lovense has always been better than the competition when it comes to creating powerful and fun remote app-enabled toys. Their inventive and original designs allow lovers to experience any sensation while accessing all the app's features.
I was beyond ecstatic to feel the power of the new and improved Domi 2 as I took it out of its package. The black silicone was flexible and super soft to the touch. Domi 2 is sturdy, elegant and has a non-obtrusive size, unlike most wand vibrators. The deep, rumbly vibrations feel amazing, especially when the final goal is a powerful orgasm.
Domi 2 wand differs from other wand-type vibrators by its smaller (mini) size. This does not make it a less exciting sex toy. On the contrary, the vibrating wand is more powerful and more resistant, compared to most magic wands I have tested.
The design is also one of the positive aspects of this wand. The shape of vibrators of most magic wands makes me think of the General Electric mixers of the 80s. Which is far from being an ergonomic design. Domi 2 is much more convenient for storage and travel – it is compact enough to fit in most handbags.

Lovense accessories have always given me satisfaction – I have started first with the Lush, then with the Nora. So I had high hopes for the Domi 2 from Lovense.
Unchanged: This wand massager managed to meet all my expectations.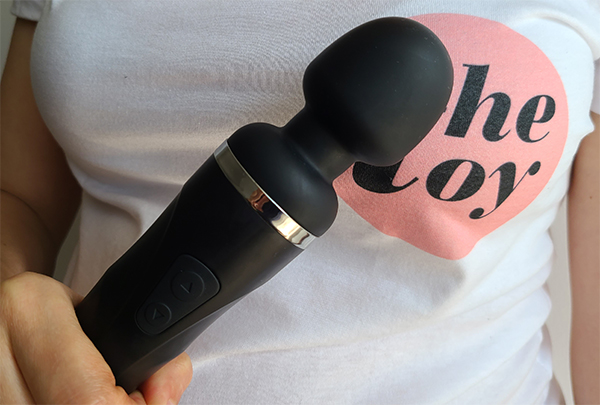 Pros and Cons
Pros
The battery life is almost three times longer than that of the original design.
Smaller in size and with a ribbed handle for a more secure grip.
Neck reinforcement – can be pressed against the skin for a deep massage and improved contact.
Made of body-safe silicone for simple cleaning and use.
For long-distance control and endless vibration patterns, connect to the Lovense App.
Strong and rumbly pulsations that guarantee pleasure and comfort during use.
Cons
Attachments are sold separately
A bit louder than I expected
Splashproof (not likely to be damaged or affected by splashes) not waterproof
How to Use Lovense Domi 2?
When mentioning Lovense, you obviously refer to a remotely controllable accessory. The Domi 2 is no exception to this rule. You can indeed control the wand with the Lovense command application. You just have to install it on your smartphone. The connection between the sex toy and the device is made via Bluetooth. Once the wand is connected to your smartphone, you control it with the Lovense application. Note that the application offers a very precise, yet easy manipulation. You should adjust the speed and intensity of the vibrations according to your preferences.
Lovense continues to offer more and more fun accessories. In particular, you should know that it is possible to synchronize the vibrations of Domi 2 with the music you love. A feature that I do enjoy a lot! I remember synchronizing the vibrating wand with Addicted to Love by Florence, probably my most sensual memory with this wand from Lovense.
Additionally, Domi 2 has a function for sound-activated vibrations that can be easily synchronized to your partner's voice. Your dirty talk is more irresistible than ever!
Your smartphone is not the only mobile device that can control the Domi 2. Ask your partner to install the Lovense application on his phone as well. He will not need to be with you to give you an orgasm with the wand. The wand is the ideal sex toy for long-distance relationships. And, believe me, he will enjoy teasing you from afar.
The Lovense application is of course installed on his smartphone. I often use the Domi 2 for video calls with my partner (when he is on a business trip). I leave it to him to control the speed and intensity of the vibration. He can then watch me enjoy the rhythm of the toy and after I reach my orgasm it feels like we are actually together. All my partner has to do to connect his phone to the Internet for that. I recommend Domi 2 if you want to maintain a strong intimate bond in your long-distance relationship.
This wand vibrator can be connected to all other Bluetooth-connected Lovense sex toys that are also controllable with the application. Through the app, your partner can easily send you a signal that he or she is ready. No need to send a message or make a call. When you are at home, you better keep the sex toy in sight so you don't miss your partner's signal.
My experience with Lovense Domi 2
Don't get demotivated by the small size! Girls, I must warn you that this little rascal is very powerful.
I recommend the lowest setting for the first use, just to get used to the power of this Domi wand. Once this is done, you can then move on to the higher settings. I had taken a whole afternoon to try the Domi 2. I prepared myself, then I lay down on the bed and started with the lowest setting. The result was somewhat surprising. The lowest setting didn't make the Domi 2 better than the rest. The sensations were rather banal, you could get them with a vibrating wand of any kind. That's when I adjusted the intensity of the vibrations a little bit higher.
I wasn't ready for that! It was as if I had been the victim of an explosion of orgasms. I just didn't expect such a level of pleasure.
Every time I increased the intensity, my clitoris and vulva felt new sensations. Like when you listen to music. Every time you turn the volume up as you go along, you get new instrumental arrangements. That makes the song more enjoyable. That's how I describe the sensations I had with the Domi 2.
At the moment, I've never gone all the way with this wand, because it would be too much for me. This vibrating wand is somehow meant for girls in a hurry. It only takes 5 minutes to give me intense orgasms – sometimes, it's even faster. I would also add that Domi 2 is one of my most versatile vibrators.
Specifications
Power
The Lovense Domi 2 Bluetooth wand is surprisingly powerful. Small wands can sometimes be underwhelming, but that was not the case here. In terms of vibration strength, Domi 2 will surprise you in a good way. Or that is what happened when I tried it.
While not quite on the same level as the Doxy Die Cast or the We-Vibe Wand, these are full-blown wands. Domi 2 wand has incredible power for a small wand while having all the benefits of a smaller wand.
The vibrations are deep and rumbling. They penetrate deep into the skin and do not irritate it on the surface. This is exactly the kind of stimulation I (and many others!) need to provoke clitoral orgasms.
I was really amazed at how little vibration reached the handle. It's really hard to find a wand with a handle that does not make your hand numb.
Noise
Unfortunately, this toy makes a lot of noise! Although it is not as loud as a full-grown wand, it is quite audible! If you have roommates or children in the house, wait until they are all out of the house or sound asleep before enjoying the wand.
Design
In terms of design, the Lovense Domi 2 is not really different from the other wand models. The sex toy does indeed offer a rather classic appearance, anything shiny or glossy. As usual, the manufacturer has chosen to concentrate its efforts on an exceptional performance.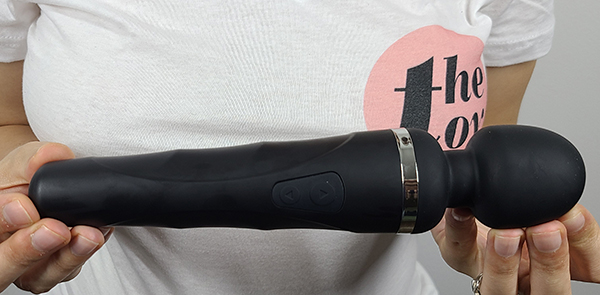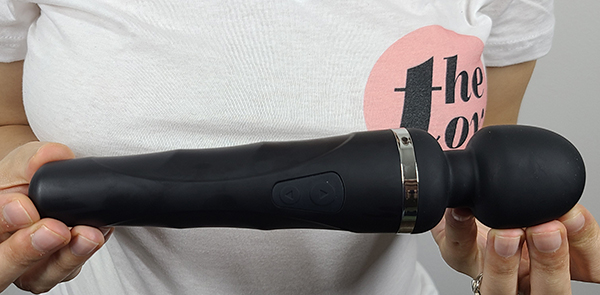 We thus find ourselves with a high-end vibrating wand, without all the redundant elements. This wand is super comfortable to use. Lovense has opted for harmless materials in the design of its sex toy. Moreover, Domi 2 is not a bulky accessory because of its small size. It offers a wireless recharge and has an excellent performance of about three and a half hours.
When you try Domi 2 by Lovense, you may notice that the head of the toy is connected to the shaft thanks to a reinforced neck. This is how you're able to apply pressure however and whenever you want.
Unlike other wands available on the market, this wand from Lovense has a dual-rotating head that helps maintain a consistently high level of power. The manufacturer has opted for a dual internal motor rotation mechanism. A configuration that is more suitable for the vagina. I find that it offers a more authentic simulation.
Size
The Domi 2 is a compact sex toy that is no larger than a deodorant spray. You can see the exact dimensions below:


Material
I mentioned earlier the use of materials that are 100% body-safe. I would now like to point out that all parts of the accessory that come into contact with the skin and the vaginal wall are made of medical-grade silicone. No need to worry about the presence of chemical and harmful substances on this wand toy.
Charging
If you want to charge your Lovense Domi 2 Bluetooth wand, you can do so by inserting the needle end of the charging cable into the hole on the base. Plug it into a USB port on your computer or a USB port on a power adapter to charge it. A full charge takes about 2.6 hours and provides about 5-6 hours of playtime.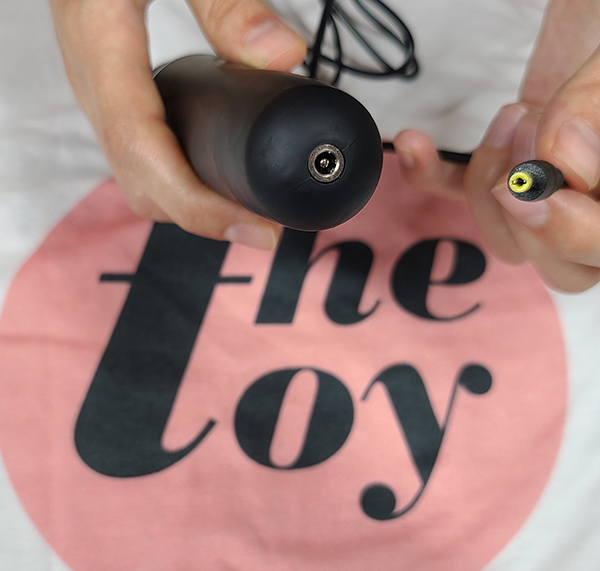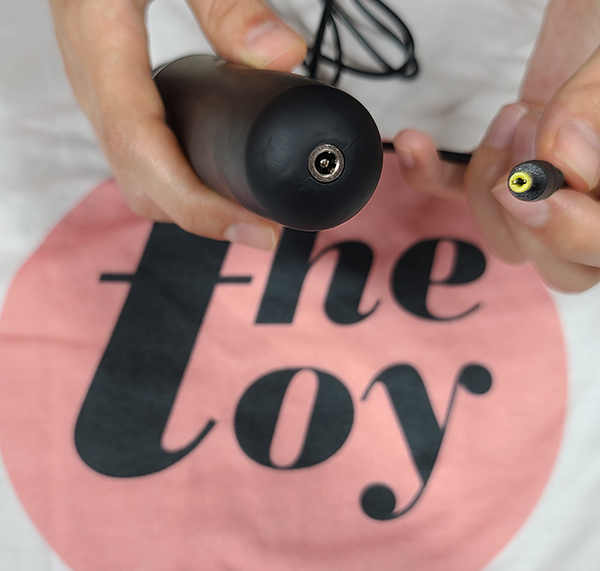 Controls
Controlling Domi 2 manually is simple – there ate 2 push buttons on the front side of the toy ▲ and ▼
To turn it on, hold the ▲ button for 3 seconds. Tap again the ▲ button and start cycling through the preset vibrations. You can choose between 3 steady vibrations (low, medium and high) and 4 patterns. To go back to the previous vibration or pattern, tap ▼.
To turn it off the Domi 2, press and hold the ▼ button for 3 seconds.
Storage
To prolong the battery life of your Domi 2 wand, you need to recharge it once every six months, but I doubt you will not use it for that long.
Cleaning
Cleaning Domi 2 is easy – just rinse it thoroughly in warm, soapy water before and after every use. You can also use a toy cleaner. Dry thoroughly before storing it.
Price
The regular price of Domi 2 is $199 on the Lovense official webpage. I recommend buying from them, as they are the original product manufacturer. Another option is an official reseller, such as Lovehoney, the price is the same.
However, Lovense company usually offers major discounts for their products. For instance, you can buy your Domi 2 with a 50% discount now.
App
Not only is this toy great for solo play, but when paired with the free Lovense app, it can bring you closer to your partner than ever before. In case you are in a long-distance relationship or are not near the person you want to play with, you can give them access to your toy through the app.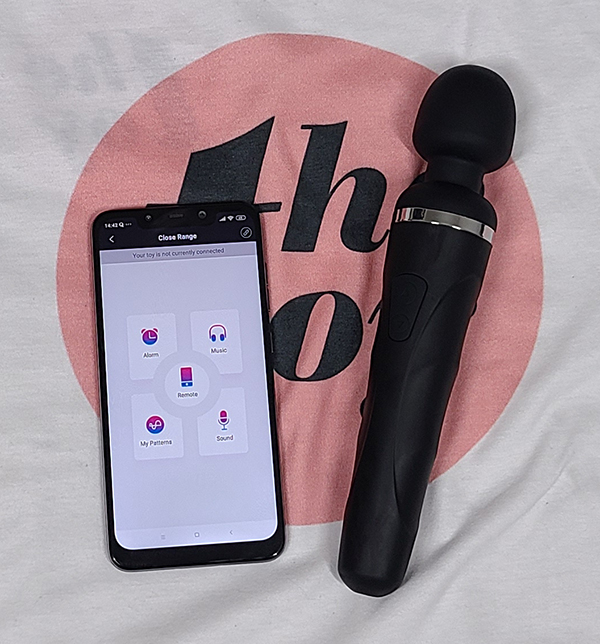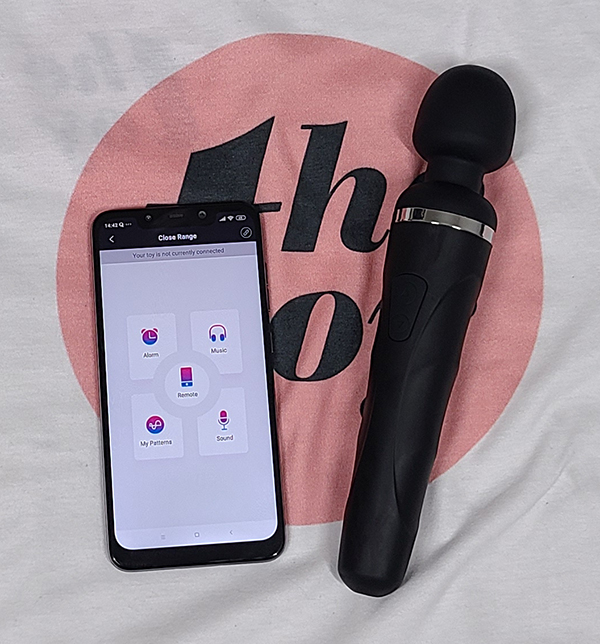 You have the option to control the intensity of the rumbly settings, sync it with your favorite music, and save the patterns they like for future play.
If you're not feeling particularly inspired to design your own patterns, you can browse through other people's patterns and experiment with them, which I really enjoyed.
The chat/video feature allows you to message/see your partner in real-time.
Compared to other companies and Bluetooth products I have tried in the past, this app is incredibly easy to use and makes a strong connection at all times. If you are aroused and do not feel like messing with something complicated that interrupts the connection just as you are about to orgasm, this is the most reliable app I have used so far.
It's an incredible way to deepen your relationship with your partner, no matter how far apart you live.
Learn how to use the Lovense app and everything you need to know about it.
Unboxing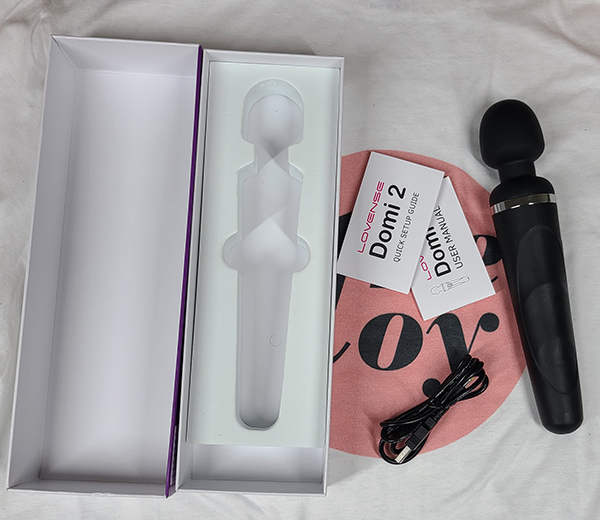 The Lovense Domi 2,
a discreet storage bag,
a USB charger, and
two instruction manuals
will all be included in the box when you purchase it from the official manufacturer or an authorized retailer.
Where did I buy mine?
When buying a sex accessory or device, the best option is to buy directly from the manufacturer. It is the guarantee to buy an authentic, new, and completely functional product. On the other hand, you also benefit from more affordable prices as resellers usually charge more. If you are interested in Domi 2, I recommend the official Lovense online shop to make your purchase.
I also remind you that Lovense is a very well-known brand in the sex toys market. Many retailers offer counterfeit vibrators, replicas of Lovense. Note that these accessories may cost less, but they are still far from the quality of genuine Lovense sex toys. One way to avoid counterfeits is to buy directly from the manufacturer.
What you need to know about the Lovense brand
Lovense is a manufacturer of sex toys that my partner and I appreciate very much. The products are mainly created for couples who are in a long-distance relationship. The brand's accessories make it possible to maintain an intimate relationship despite the other person's absence.
Conclusion
The Lovense Domi 2 is undoubtedly the best in terms of wand type vibrator. This wand is so powerful that it produces the intense sensations the more experienced women will certainly appreciate. It is also configurable according to your own preferences. You can choose from unlimited vibration patterns.
Moreover, the Domi 2 offers some very interesting features – the possibility to synchronize the vibrations with a song or the indicator light to give a sexy signal to your partner. Remember that the sex toy is controlled via the Lovense application. The Domi is also a quite robust accessory. I dropped mine twice, and this had no impact on its functioning.
Where to buy: Lovense