If you are one of those people who think that two orgasms are better than one, then here's something you'll find intriguing! Soraya 2 is the most luxurious rabbit vibrator in the world and will offer you optimized double stimulation for clitoral and G-spot orgasms, at a top-level!
Luxurious design and the familiar elegant shape make the Soraya 2 the perfect combination of power and precision.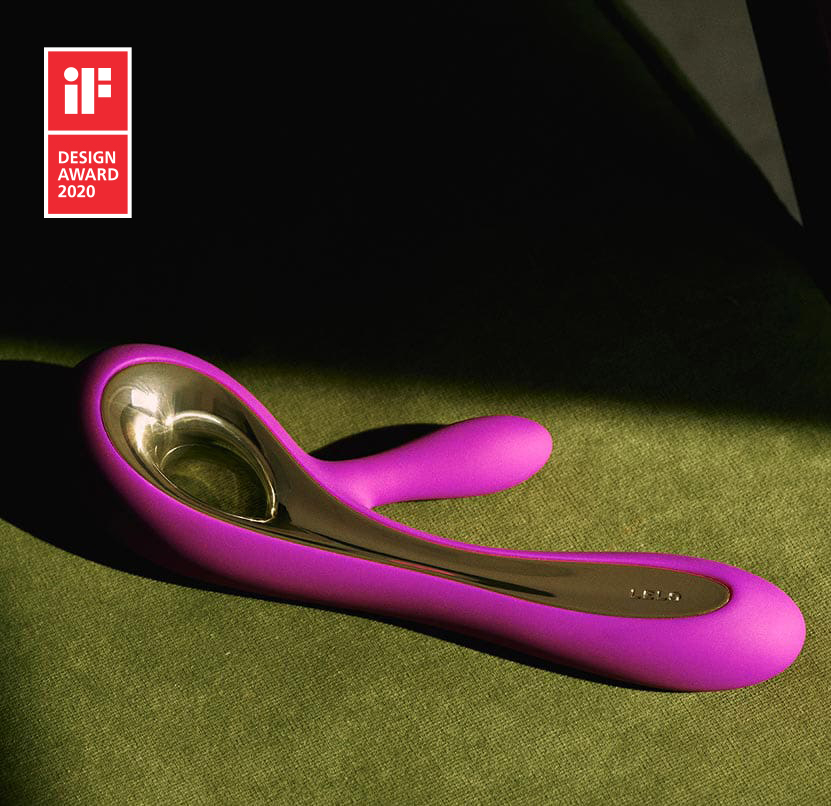 The Bottom Line
Part of the Insignia line of luxury rechargeable vibrators from LELO, Soraya 2 offers a stylized and highly functional alternative to the classic rabbit vibrator. Fully waterproof, and comfortable to hold, it's a great step up for lovers of dual-action vibrators.
Pros
Two powerful motors (one in the shaft one in the stem) can be controlled separately and together.
One of the few fully waterproof dual action vibrators available.
Rechargeable, after the initial charge, can run for four hours on a single charge.
The ergonomic handle and push-button controls make it comfortable to hold alone or with a partner.
Made of silicone and medical-grade plastic, durable, hypoallergenic, and easy to clean.
Comes with a 1-year warranty and a luxury satin pouch.
Cons
The high price makes this not a recommendation for first-time vibrator users.
The shaft may be too long for some, making the clitoral stimulator less effective.
Check Prices Of Soraya 2: LeloLovehoneyLiberator.com
Description
Rechargeable dual-action rabbit vibrator that comes with a charger, linen sex toy bag, matching pin (I'm guessing not for sexual use), instructions, and a one year warranty.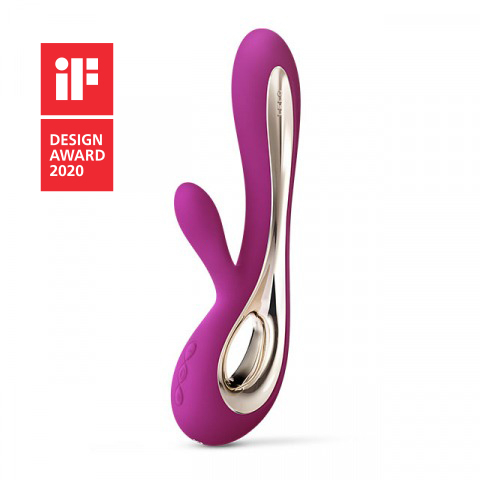 Available in black, aqua, and pink rose (which is not quite Fuschia but closer to it than rose).
Five-speed settings and eight vibration modes. You can choose to have a vibration in the shaft, in the clitoral stimulator, or both.
The vibrator can be put into "locked" mode so it won't turn on in transit or by accident in a drawer.
Can take up to two hours to charge, and will run continuously for four hours, and hold a charge for up to 90 days in standby mode.
Ergonomic design
The team that developed Lelo's latest rabbit model used ultrasound in the engineering process to build an accurate image of the intimate anatomy. Soraya 2 is designed to fit most women and precisely direct the vibration to their G-spot.
Extended top
Sculpted into a wider and denser shape, the Soraya 2 stimulating tip is designed for even more intense experiences when it comes to G-spot stimulation.
Ergonomic external stimulation
Fully flexible external clitoral stimulator, which differs from the previous model in that it is moved from a 37 ° angle to a 27 ° angle so that it adapts perfectly to anybody.
More silicone
The ultra-smooth high-quality silicone, soft as silk, has been increased in quantity – for a softer and more fulfilling experience.
Wide range of vibrations
The updated interface offers 12 vibration modes with improved functionality – from gentle purring to intense powerful stimulation.
Fully rechargeable, longer playtime
More time of autonomous vibration, for more enjoyment.
Extremely quiet performance
Discreet pleasure wherever you want it.
Sculptured for your special pleasure time
The key to clitoral, G-spot, and mixed orgasms.
100% waterproof
Perfect for the bath, shower, and jacuzzi. Clean with sex toy sanitizing spray or with lukewarm water and mild antibacterial soap.
Luxury pleasure
Softer, smoother, more flexible than ever.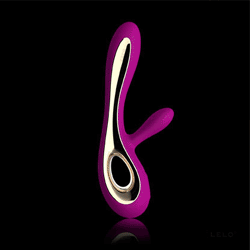 Guide Review – Soraya 2 by LELO
For people who like dual-action stimulation, or rabbit vibrators, Soraya 2 offers uncompromising quality along with a beautiful design and ergonomic shape. Soraya 2 is an intriguing addition to the options for dual action vibe lovers.
Designed for simultaneous clitoral stimulation and vaginal penetration, Soraya 2 is beautifully made, and the finish on the silicone is hard to take your hands off of (smooth and silky, but with a bit of surface texture that makes you want to move it in your hands). The controls are perfectly positioned for solo use or for using with a partner, and the simple three-button controls are intuitive and easy to cycle through.
In some ways, the Rabbit is a toy that doesn't need fixing, and Soraya 2's greatest contribution may not be function but design. Not everyone who wants a dual-action vibrator likes animal representations near their genitals, and Soraya 2 feels more like the pleasure object LELO describes itself as making than a hard-working rabbit that nonetheless delivers.
This is not to say that Soraya 2 disappoints in the power department. The two motors, each offering five speeds of vibration and multiple modes of pulsation and escalation, start gentle enough for beginners, but will be powerful enough for even the most demanding user. The design also makes Soraya 2 fully waterproof, which is a nice bonus. It can be immersed and used in the shower or tub (or outdoors in the rain if you dare to get busted) and it is also much easier to clean.)
The only downside to Soraya 2, aside from the hefty price tag, is the proportional length between the shaft designed for vaginal penetration and the external clitoral stimulator. The insertable length of the shaft if 5″, which is at least a half-inch longer than most dual action vibrators, and in relation to the clitoral stimulator it results in the user having to insert more of the shaft in order to benefit from the clitoral stimulation. This may be perfect or good for some, but it will no doubt be uncomfortable to others, and result in them not getting the full benefit of Soraya 2's features.
Because of the price and particular functionality of Soraya 2, it isn't a toy I'd recommend for first-time vibrator shoppers, and if you're purchasing it having already discovered that you enjoy dual-action vibration, you'll probably have a sense of whether or not the proportions will work. Despite this design conundrum, Soraya 2 is an easy recommendation for anyone who has the budget and knows they like this.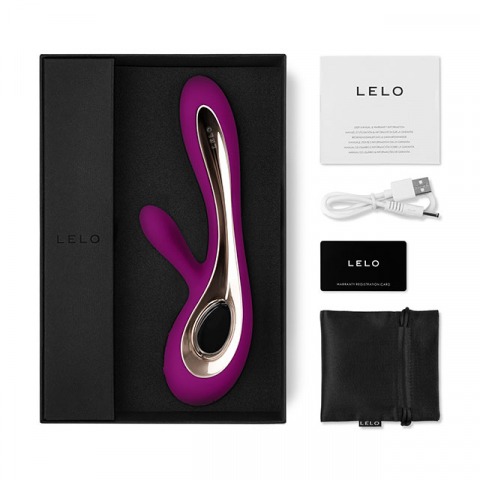 Compare Prices of Soraya 2: LeloLovehoneyLiberator.com
If you want to know more about other types of sex toys check out our articles about wand massagers, bullet toys, clit suckers, male masturbators, anal vibrators, yoga ball dildo and many others!