Update: After a new round of testing, I still recommend Lush 3 as the best remote control vibrator for public G-spot play and Ferri as the best wearable remote-controlled sex toy for clit stimulation. Hush 2 is the top Bluetooth anal plug. Lovense still has the best app in terms of connectivity and features.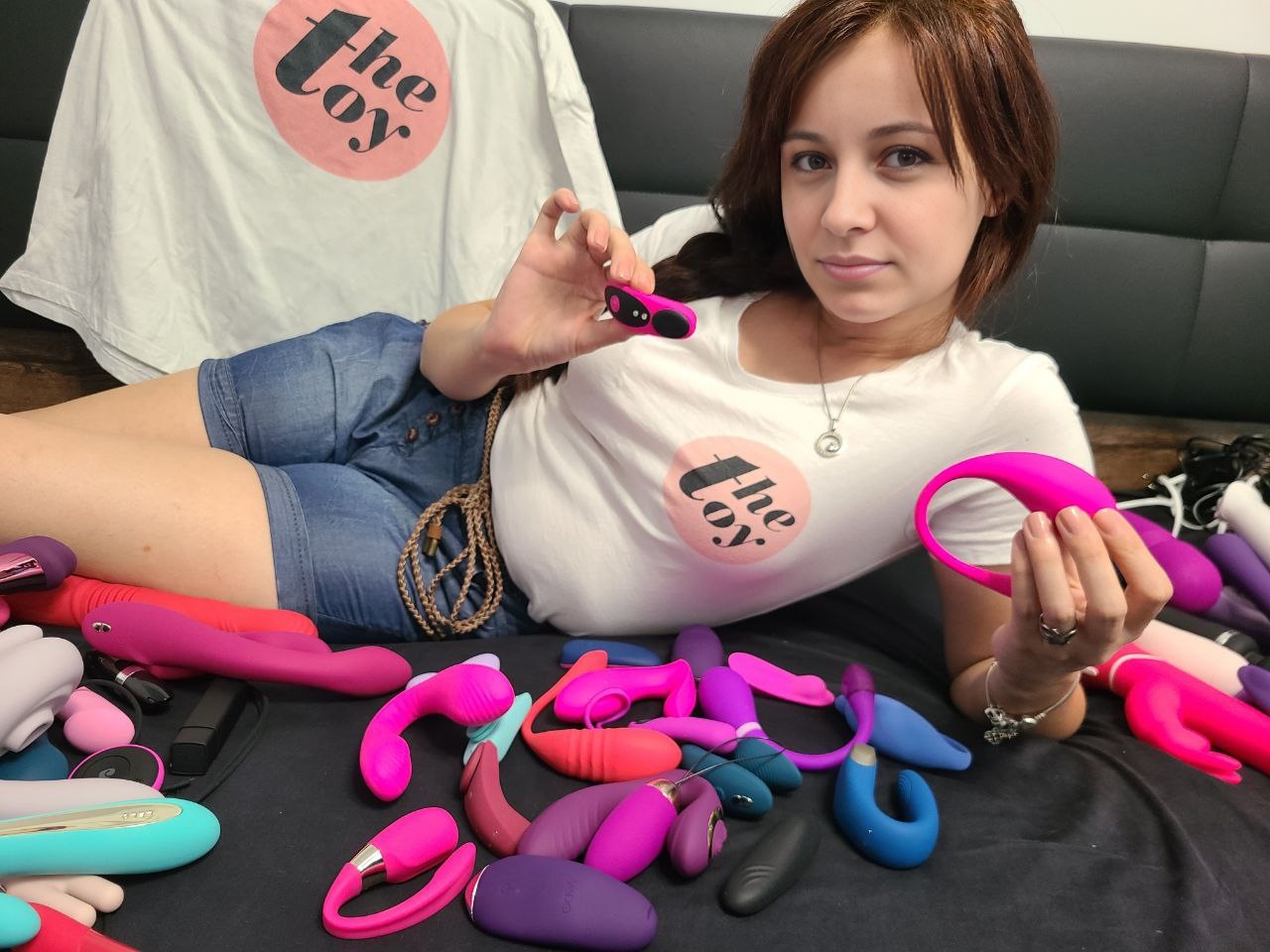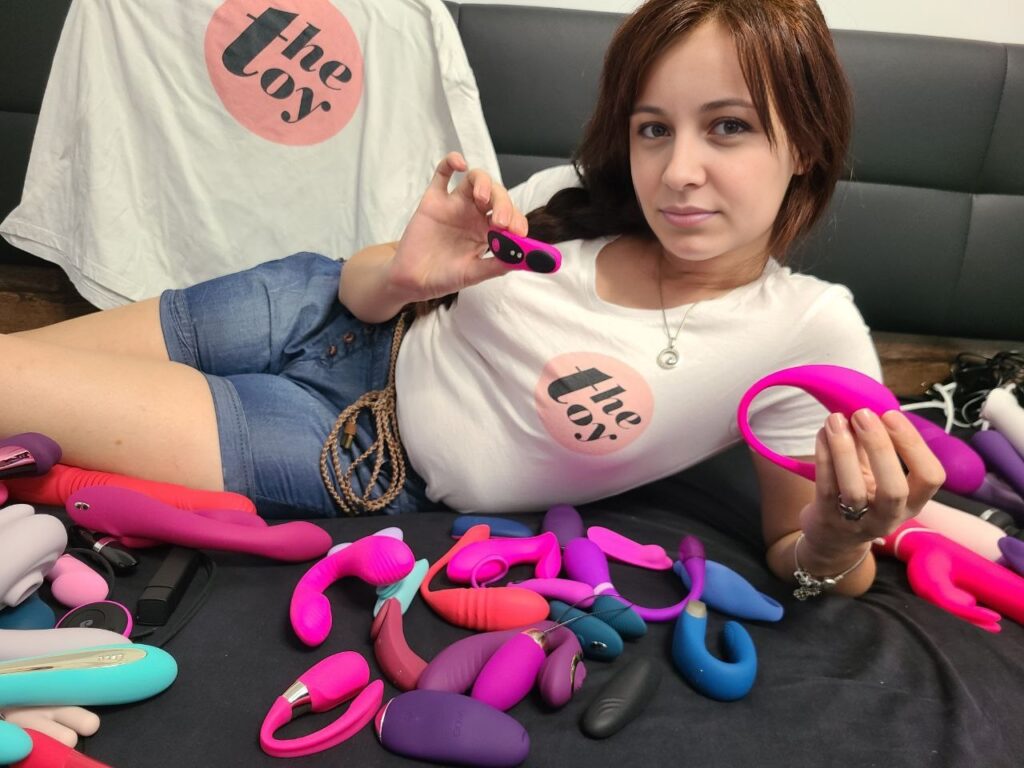 Note: You will see a lot of Lovense remote control vibrators on the list. From my tests, We-Vibe makes the highest quality vibrators in comfort, durability, and vibration feel. However, Lovense remote toys have the best Bluetooth connectivity, the most stable and feature-rich app, strong motors, good battery life, and excellent overall value for the money.
The top remote-controlled vibrators at a glance
Remote control vibrators for public play
These are wearable, comfortable, and discrete vibrators that you can use in public for added adrenaline without anyone noticing.
1. Lovense Lush 3
The best wearable remote control vibrator (for G-spot stimulation)
2. Lovense Ferri
The best wearable remote control panty vibrator (for clitoral stimulation)
3. Lovense Hush 2
The most comfortable remote control anal vibrator
4. Lovense Exomoon
The best app-controlled bullet vibrator
5. We-Vibe Moxie+
The best toy for public play with a physical remote control
Remote control vibrators for bedroom play and long-distance couples
These remote control vibrators are bulkier, not as comfortable to wear, or not as discrete. Or the Bluetooth connection needs to be at close range so it is uninterrupted. These wireless toys still deliver intense orgasms and are a great addition to your long-distance relationship, but I recommend they should be used in private.
1. We-Vibe Rave 2
The best handheld G-spot vibrator with remote and app
2. We-Vibe Sync 2
The ideal remote control vibrator for couples
3. Lovense Dolce
The best dual stimulation (G-spot and Clit) remote control vibrator
4. We-Vibe Nova 2
The perfect remote control rabbit vibrator
5. We-Vibe Melt
The best remote-controlled clit sucker
6. Lovense Domi 2
The best long-distance wand vibrator
7. Lovense Ridge
The best app-controlled anal beads
8. Lovense Gravity
The best app-controlled thrusting dildo
9. We-Vibe Vector+
The best remote prostate massager
10. We-Vibe Pivot
The best remote vibrating cock ring
11. Lovense Max 2
The best remote-controlled automatic male masturbator
A word on the Apps – close-range and long-distance control
Having frequent disconnect while using a pleasure toy can be frustrating, especially if you are on the edge of orgasm and the connection drops or if you are out in a club or a restaurant and you have to go to the bathroom every 2 minutes to reconnect the vibrator to the app.
I consider phone applications and Bluetooth connectivity critical when shopping for a remote control vibrator. While I love the We-Vibe toys, the Lovense app is superior to the We-Vibe app, and the Lovense remote toys keep a better and more stable connection to the app. The Lovense app also has better long-term features like easier and more intuitive partner control, video chat, and take control features.
The Lovense app is the best for close-range and long-distance play, offering unparalleled control and connectivity.
Satisfyer is an excellent, more affordable alternative with many similar features.
The others, like OhMiBod, We-Vibe, Svakom, FeelConnect, and Lelo, have their niches, but I'd recommend weighing their features against your specific needs and preferences.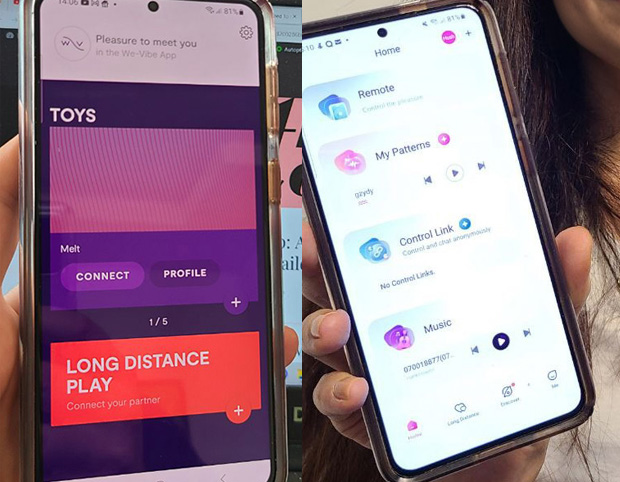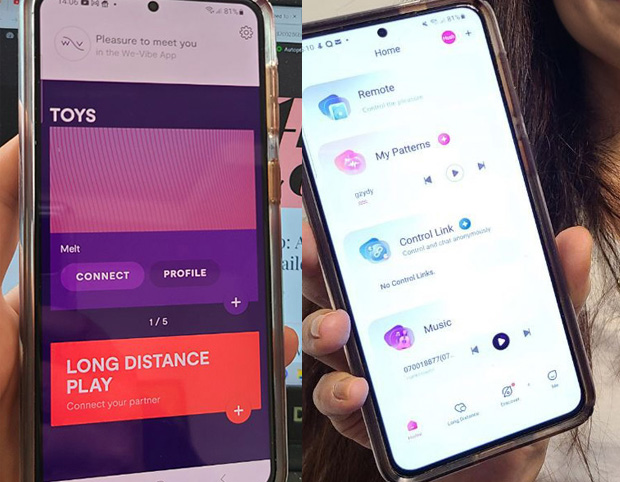 The different types of remote control vibrators
The best wearable remote control egg vibrator for G-spot stimulation
Lovense Lush 3 – the best remote control vibrator overall
Why I picked Lush 3? This remote egg toy has the most powerful vibrations of all the wearable G-spot vibrators I have tried.
They are the perfect blend of rumbly and buzzy. It is one of the most discrete remote control vibrators; when inserted, its noise is only around 35 dB (barely noticeable), and when you control it through the phone app, nobody will suspect what you are doing. Its ergonomic shape is a comfortable fit and can apply pressure to the vagina walls.
The improved antenna makes the Bluetooth connection stable with a good range. This app-controlled egg is excellent for couples' play, no matter if your partner is next to you or if it is controlled through the internet from anywhere in the world.
The best remote control vibrating panties for clitoral stimulation
Lovense Ferri: best panty vibrator with an app and for long-distance
If you prefer clitoral over G-spot stimulation, go for Lovense Ferri. Ferri is my favorite app control clitoral vibrator.
This vibrating panty provides the strongest clit stimulation of any wearable toy I've tested despite it being very tiny and discrete. This remote control vibrator has a strong magnet that secures it comfortably to any panties, and you can adjust its position to have the vibrations hit precisely where you want them.
The battery life is good, the app is stable, and the Bluetooth connection is good. This app control panty vibrator is a bit louder than Lush 3 because it has a powerful motor and is worn outside, but it is still quieter than most vibrating panties.
---
We-Vibe Moxie+: the best with a physical remote control
Moxie+ has somehow improved connectivity to the original Moxie, but it still disconnects frequently. That's why I recommend it if you don't need an app for customization or long-distance play. The physical remote control is reliable and works ok. Other than that, this remote control panty vibrator is very small and discrete.
It is comfortable to wear and stays in place. It provides pleasant rumbly vibrations, but it is weaker than Ferri. However, it is quieter, so if you do not need the strongest vibrations and you prefer a more discrete pantie toy with a remote, Moxie+ is an excellent option.
An ideal remote control anal vibrator for public play
Lovense Hush 2
If you are looking for a comfortable and discreet anal vibrator for public play, I recommend this remote-controlled vibe. It has strong, deep vibrations that provide intense pleasure. This remote control anal vibrator also has all the controls, features, and patterns of the Lovense app and has a decent battery life.
Keep in mind that the connection is not as good as with Lush 3 or Ferri because when the toy is in your butt, the Bluetooth signal is almost completely blocked by your body. If you're using this remote vibrator for close-range solo play or your partner is standing next to you, the connection should work well, but don't plan any long-range control.
This remote control vibrator comes in 4 variations, so if you are starting to explore the anal pleasures or you want to wear it in public – begin with the smallest one.
The top-rated remote control bullet vibrator
Lovense Exomoon
If you need a remote control vibrator with long-distance control options that can fit your purse, Exomoon is a great fit. Despite its discrete design and compact size, the motor delivers strong vibrations that can be felt deeply.
The battery life is good, the Bluetooth connection is good, and the Lovense app is feature-rich. Not for public play per se, but this bullet toy is an excellent remote vibrator to take with you if you travel often or need some excitement on the go.
The best handheld G-spot vibrator with an app
We-Vibe Rave 2
This remote control vibrator is designed to hit the whole G-zone (The G-spot, the A-spot, and the C-spot), and it delivers intense orgasms with its two motors and is great for beginners. The G-spot head has deep rumbly vibrations while the vaginal motor delivers a pleasant buzzy sensation.
This remote control G-spot vibrator is bendable and stays firm at the angle that best pleases your anatomy. The app works okay if the toy is close to the phone. As a bonus, this wireless vibe can double as a clit massager.
An excellent remote control couples vibrator for penetrative sex
We-Vibe Sync 2
If you are looking for a remote vibrator to use while having penetrative sex, this C-shaped toy is for you. The clit arm has a nice texture and delivers strong rumbly vibes, while the vaginal arm has more buzzy vibrations that are on the low end but feel pleasant on the vagina wall and for the penis.
The app is not the best, but it has a remote control that works well for a hands-free vibrator. Sync 2 is almost identical to We-Vibe Chorus but is cheaper, so I think it is a better value for the money.
The best dual stimulation (G-spot and Clit) wearable app-controlled vibrator
Lovense Dolce
This is the C-shaped remote control vibrator I recommend for solo use. Both the clitoral and G-spot arms offer powerful, rumbly vibrations. The G-spot arm is large enough to apply pressure and fill you with the vibes.
The adjustable hinge makes it fit a wider range of body types and stays in place securely and comfortably. The stable app connection can be used for hands-free solo sessions or long-distance couple play. Battery life is decent, and the silicone body of the toy feels nice and is easy to clean.
The best remote control rabbit vibrator
We-Vibe Nova 2
Nova 2 is an unicorn among the remote control rabbit vibrators. Its vibes are not the strongest but deep, rumbly, and pleasant. The squishy silicone outer feels plush and adds to the natural feel of the toy.
The internal arm is adjustable and lets you target your G-spot with the right amount of pressure, and the flexible external arm flexes inwards approximately. 1.5", which means that you can maintain contact with your clit while thrusting the vibrator. The clitoral arm of this remote-controlled rabbit offers the strongest and deepest stimulation of any of the other rabbit toys I have tried.
The best remote-controlled clit suction vibrator
We-Vibe Melt
This remote control clitoral suction toy is the closest thing to oral sex I have experienced from a vibrator. The soft silicone nozzle makes a good seal around the clitoris, and Melt delivers powerful air pulsations that lead to intense clit orgasms.
The air pressure this remote vibe applies does not touch the clit but instead goes deep into the clitoral structure and builds up the pleasant feeling of an explosive orgasm. The best part is that the "clit suction" does not leave you numb, but you are ready for round two soon after.
Its shape and design make it the easiest remote control air-pulse toy to use during penetrative vaginal/anal sex or with a G-spot stimulation toy. The app does disconnect from time to time, but the long-distance features work well over the internet.
The best long-distance wand vibrator and the most powerful remote control vibrator
Lovense Domi 2
Domi 2 is a remote-controlled wand with compact size but rumbly solid vibrations. It is wireless, with a stable Bluetooth connection and all the Lovense app features, like long-distance control, unlimited patterns and intensities, video and text chat, and music/sound syncing.
This remote vibrator has a classically ovoid head that has a nice silicone feel and a reinforced flexible neck, so you or your partner can use it with the most pleasurable angle and pressure for the clit. This remote control vibrator has a good battery life, and almost no vibrations can be felt through the handle, so it can be used for long solo or couple sessions.
The best app-controlled anal vibrating beads
Lovense Ridge
I recommend these rotating remote control beads for anyone who is experienced in anal play or likes deeper penetration. It works for prostate massage, too. The rotation motor is not that strong, but the intensity builds up.
This remote control anal vibrator stays comfortable and can be used completely hands-free. If you sit on it with the right angle and pressure, it brings many pleasant sensations. The Bluetooth connection is good and stable for an anal toy, and it has all the features of the Lovense app. The silicone body feels nice and is a breeze to clean. This remote control vibrator is great for long-distant anal play as well.
The top remote control thrusting dildo
Lovense Gravity
This remote control dildo's body is hard silicone and not very realistic, in my opinion, and it takes a learning curve on the right angle and position. However, once you get experienced with the thrusting pressure, it can bring amazing orgasms.
The girth is filling, and the thrust motor is strong. The base creates strong suction on the wall for solo sessions in the bathroom (IPX7 waterproof). The connection is stable, and the Lovense app has all the features for an easy-to-use control. If you are looking for a remote control thrusting vibrator, there is no better than Gravity.
The top remote control prostate massager
We-Vibe Vector+
I love Vecotr+ because it is very comfortable, wearable, quiet, and still has powerful, deep, rumbly vibrations that bring intense P-spot orgasms.
This prostate massager has a reliable remote control that can be used solo or couples play while in the same room. However, if you are going to need a prostate massager for long-distance play primarily, get the Lovense Edge 2.
The best remote vibrating cock ring
We-Vibe Pivot
Ok, my husband has tried a lot of these app-enabled cock rings, and nothing fits. So be advised, if your penis is over 4.5 inches in girth when erected, do not go for these toys. If you want one of these for partnered sex and clit stimulation is your primary goal, get a C-shaped couples vibrator with remote like Sync 2.
If you are larger and want a hands-free penish massager with long-distance features, check Lovense Gush (review). If you are between 3.6 and 4.5 inches in circumference when erect and you insist on a vibrating cock ring that can be controlled from a phone, get the We-Vibe Pivot.
The best remote-controlled male masturbator
Lovense Max 2
First things first, the suction on this remote masturbator is unreal. It feels real. It works by using air pressure and valves. Vibration is outstanding. The sleeve is easy to clean. You can take it out, rinse it with water, and let it air dry.
But it is pretty loud. If you get Lovense Max 2 and Lovense Nora, they can get connected for partnered long-distance sex. The Bluetooth connection of this wireless stroker with the phone is strong, and it has all the cool features of the Lovense app.

How do you choose the best remote control vibrator? (My criteria)
Discretion and Noise Level: Many seek vibrators that are quiet and discreet, especially for use in public or shared living spaces. Low noise levels are a crucial feature.
Range of Control: The distance the remote or app can control the vibrator is important, particularly for long-distance couples or public play scenarios.
Comfort and fit for the wearable toys: how long can you wear the toy around comfortably?
App Compatibility and Connectivity: For vibrators controlled via an app, reliable connectivity and a user-friendly app interface are essential. Compatibility with different operating systems (iOS, Android) is also important.
Intensity and Pattern Options: Multiple vibration intensities and patterns provide a more personalized experience. People often look for a range of options to explore different sensations.
Battery Life and Charging: Long battery life and ease of charging are practical considerations. USB rechargeable models are often preferred for their convenience.
Material and Build Quality: Safe, body-friendly materials like medical-grade silicone are preferred. Durability and quality of construction also matter to ensure longevity and safety.
Waterproof Design: Many prefer waterproof vibrators for versatility, including in the shower or bath.
Size and Shape: The size and shape should suit personal preferences and comfort levels, with some seeking compact designs for travel and discretion.
Ease of Use: Simple and intuitive controls, both on the vibrator and the remote or app, are sought after for a hassle-free experience.
Customization and Interactive Features: Some high-end models offer customizable settings or interactive features, like syncing with music or interactive erotic content.
Price and Value for Money: Cost is always a consideration, with buyers seeking the best quality and features within their budget.
Customer Reviews and Brand Reputation: Buyers often look at reviews and brand reputation to gauge product effectiveness and reliability.
People also ask
Summary
To find the best remote control vibrator, you should know your needs, desires, and anatomy. I've shared my top picks in each category based on my personal experience. Whether you're into a wearable, hands-free vibe for daring public fun or a hand-held toy for intimate, long-distance pleasure in your private space, the choice is yours.
I aim to provide detailed insights on each of the top remote control vibrators, helping you make a well-informed decision. Got questions? Feel free to drop them in the comments. Remember, the world of teledildonics evolves quickly, with new app-controlled and immersive vibrators emerging frequently.
These come with better Bluetooth connectivity and feature-packed apps. Stay tuned for updates in this article. When fresh remote vibrators from top brands like We-Vibe, Lovense, or LELO hit the market, I'll be on it. I'll test, compare with my collection, and share the scoop with you.