LELO LOKI Wave 2 is the new and improved version of the LELO LOKI Wave, one of my favorite prostate massagers. The new version offers even more intense pressure stimulation than LOKI Wave, the same strong perineum vibrations, and fullness.
The significant improvement is in the insertable arm with the back-and-forth motion; It is more powerful in the LOKI Wave 2. I have a more detailed comparison of LOKI Wave vs. LOKI Wave 2 and if it is worth the upgrade below in the review.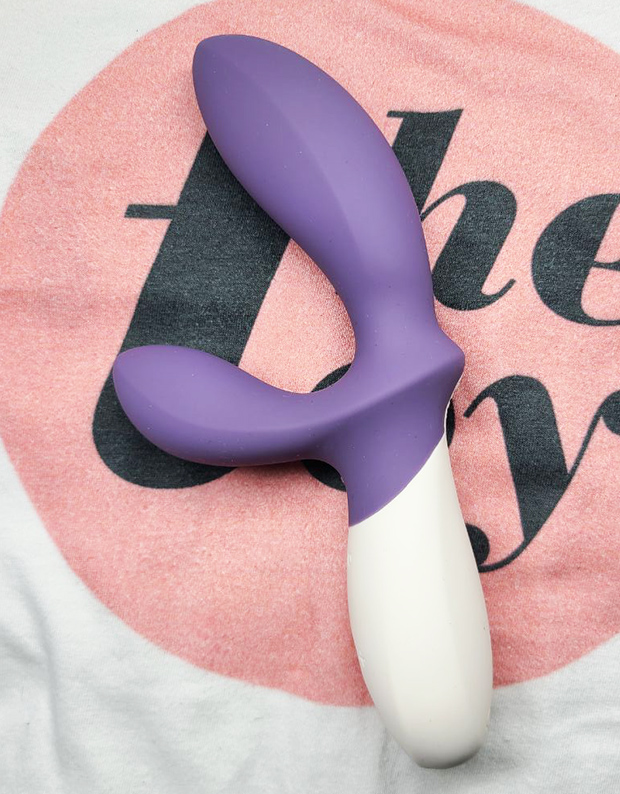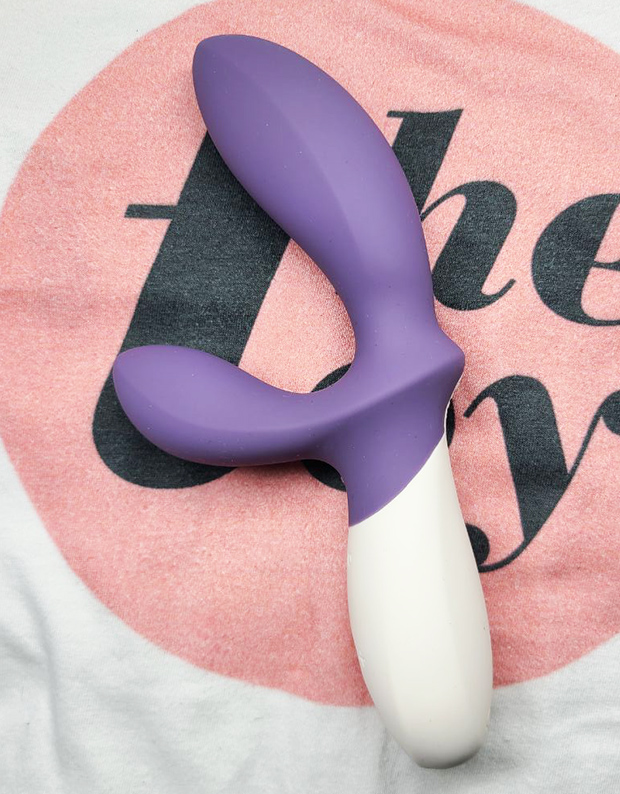 | | |
| --- | --- |
| Design: | (5.0 / 5) |
| Comfort: | (5.0 / 5) |
| Power: | (4.0 / 5) |
| Experience: | (5.0 / 5) |
| Price: | (4.0 / 5) |
LELO LOKI Wave 2 is one of the best prostate vibrators, offering fullness, strong vibrations and automatic prostate pressure
You can buy this prostate massager from:
Review Summary
This LELO LOKI Wave 2 is quite long, so before you get into the details, here is a short list of who I think will benefit the most from this prostate vibrator and who should not buy it.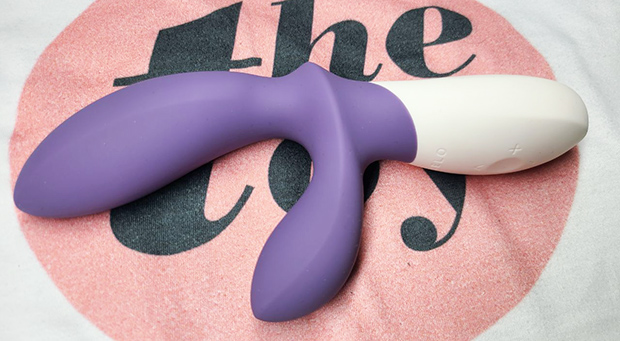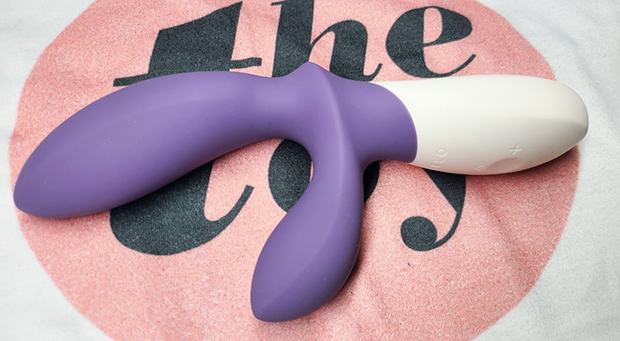 Pros
The "come-hither" wave motion stimulates the prostate automatically.
Combination of strong vibrations and p-spot pressure
The ergonomic handle can be used to adjust the pressure and is ideal for partner play
The tapered tip makes for effortless insertion, and the bulbous head provides a satisfying sensation of fullness
Deep rumbly vibrations
IPX7 Waterproof for easy cleaning and play under the shower
It saves the last-used setting to start right at your favorite pattern
Cons
No remote control
Not hands-free
Head size is not for beginners
Who should buy it
If you are experienced with prostate massage and want a toy that can automatically pressure your p-spot, provide deep rumbly vibrations, and stimulate your perineum.
If you enjoy a feeling of fullness.
If you are looking for a prostate vibrator for couples' play.
Who should pass
Some toys do better if you are looking for the most powerful vibrations OR the strongest pressure.
If you want a completely hands-free prostate massager with a remote control.
If this is your first toy. Go for something smaller.
The above recommendation is based on my experience with 21 other prostate massagers. In the photo, you can see my favorite ones. Below in the LOKI Wave 2 review, I have a more detailed comparison of the alternatives.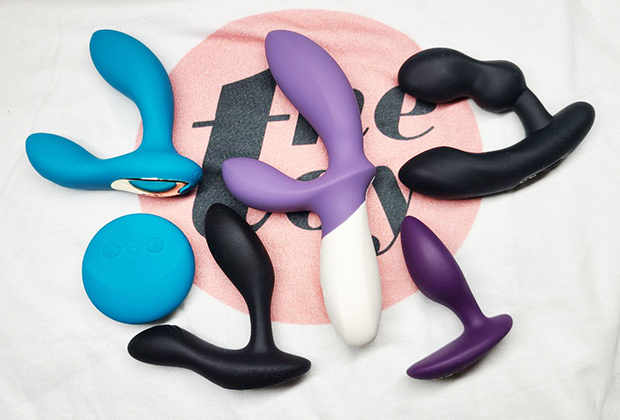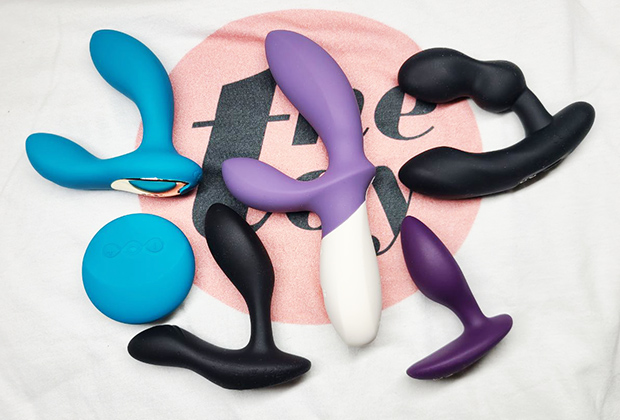 How does it feel
When you take it in hand, the LELO LOKI Wave 2 silicon feels so soft and gentle that you want to pet it. It is the same silky soft sensation when it touches your anus.
The tapered tip feels easy to insert and makes way to the wider bubbly head of the prostate arm. When you insert it all the way in, you can experience the fullness sensation that the massager provides.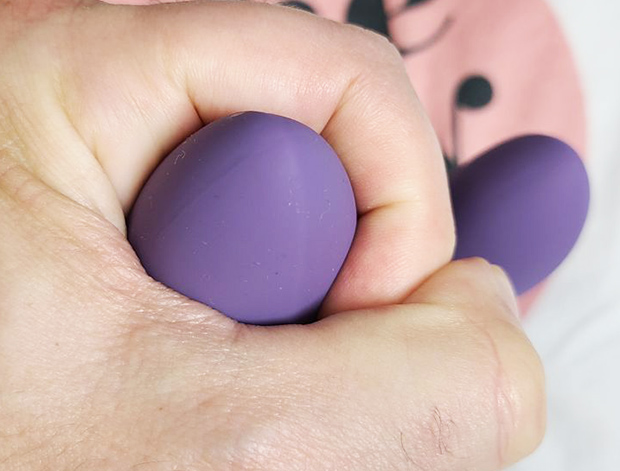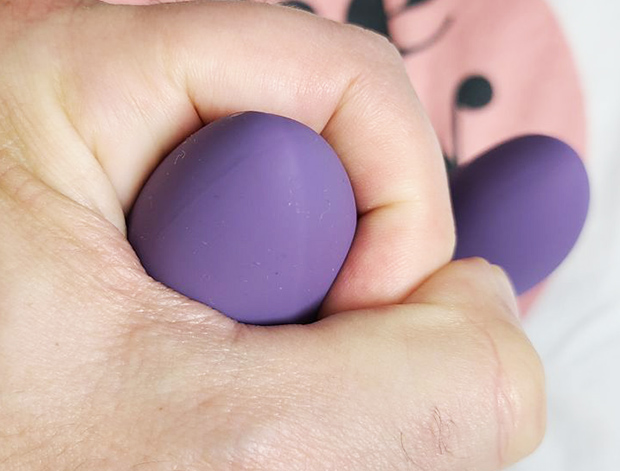 Then when I turned it on, the perineum arm vibrated gently while the "come-hither" motion was like a finger curling up and applying pressure to the prostate. The LOKI Wave 2's arm offers such powerful and intense movement that I can feel it intensely stimulating my p-spot with each thrust.
The vibration is deep and rumbly, and each time the inner arm bends forward, it feels like it's pushing the vibes deeper and deeper into my prostate.
The vibration is not as strong as LELO Hugo or Lovense Edge 2; it feels more intense and fulfilling because of the WaveMotion (as LELO calls this, back-and-forth movement).
Overall the LELO LOKI Wave 2 is the most pleasurable prostate vibrator I own, and I am giving it a 10/10 on feeling.
Design and comfort
Product specification
| Feature | LELO LOKI Wave 2 |
| --- | --- |
| Materials: | insertable part – body-safe silicone, handle -silicon-coated ABS plastic |
| Finish: | Smooth |
| Size: | 91 x 42 x 196 mm / 3.6 x 1.7 x 7.7 in |
| Insertable length: | 100 mm / 3.9 in |
| Diameter: | 35.5 mm / 1.4 in |
| Girth: | 112 mm / 4.4 in |
| Weight: | 196 g / 6.9 oz |
| Battery: | Lithium 850 mAh 3.7 V |
| Charging: | Up to 2 h at 5.0 V 750 mA |
| User time: | Up to 2 h |
| Standby: | Up to 90 days |
| Frequency: | 122 Hz |
| Max. noise level: | < 60 dB |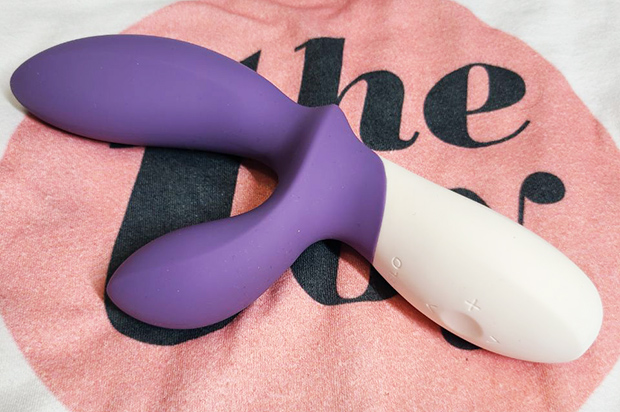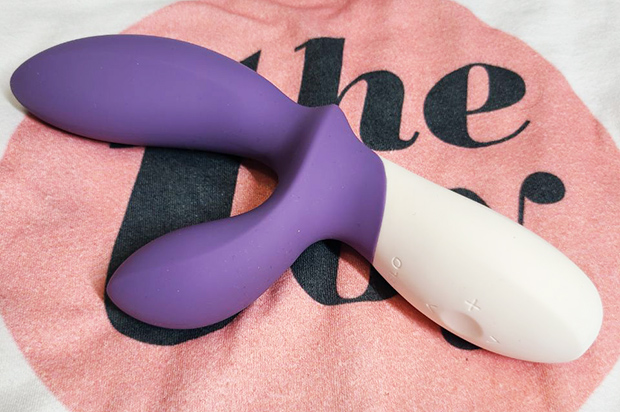 Purpose
LOKI Wave 2 is a prostate vibrator with a perineum arm. Its inner arm vibrates and moves back and forth to automatically stimulate the prostate while the outer arm massages the perineum. The toy is designed to deliver multiple p-spot orgasms. And in my experience, it does the job well.
Material
LOKI Wave 2 is made of LELO's signature silicone that is silky soft to the touch, body-safe, non-toxic, and non-porous.
The handle is ABS plastic and also covered in silicone, so the whole toy feels soft to the touch and fully waterproof. It is also much easier to hold when it is wet.
Size
With an insertable length of 100 mm / 3.9 in and a circumference at the widest part of the prostate arm – 112 mm / 4.4 in, LOKI Wave 2 is the perfect size for a prostate vibrator. But it is for advanced users.
If you are looking for a prostate toy to begin your journey, my advice is to start with something smaller, and when you get a bit more experience, buy the LOKI Wave 2 to get the maximum pleasure of the prostate massage.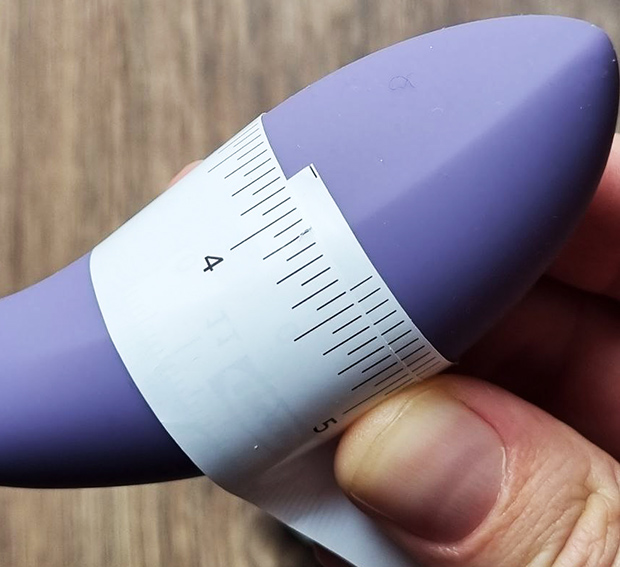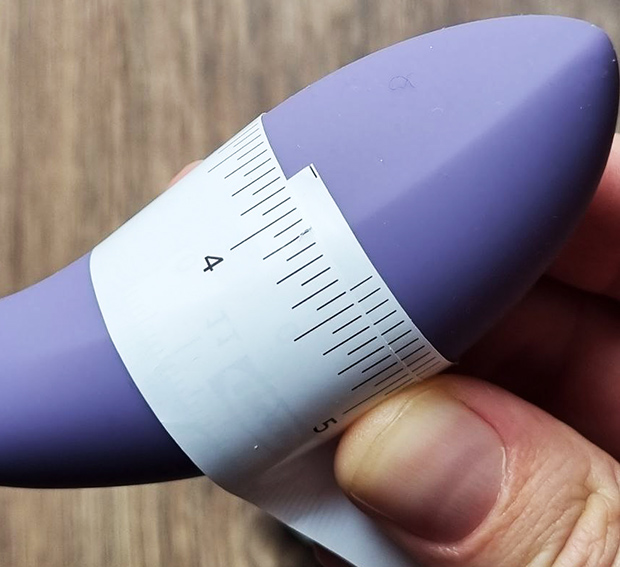 Shape
The LELO LOKI Wave 2's design resembles rabbit vibrators women use because of the two arms. However, the shape of the vibrator is perfectly designed for intense prostate stimulation.
The tapered tip makes it easier for the wiser part to slip in place, and there is a restriction at the end that does not allow you to insert it deeper than it is supposed to.
The prostate arm is wide enough to give you a pleasant sensation of fullness. Its curved shape allows for a better-targeted stimulation of the p-spot.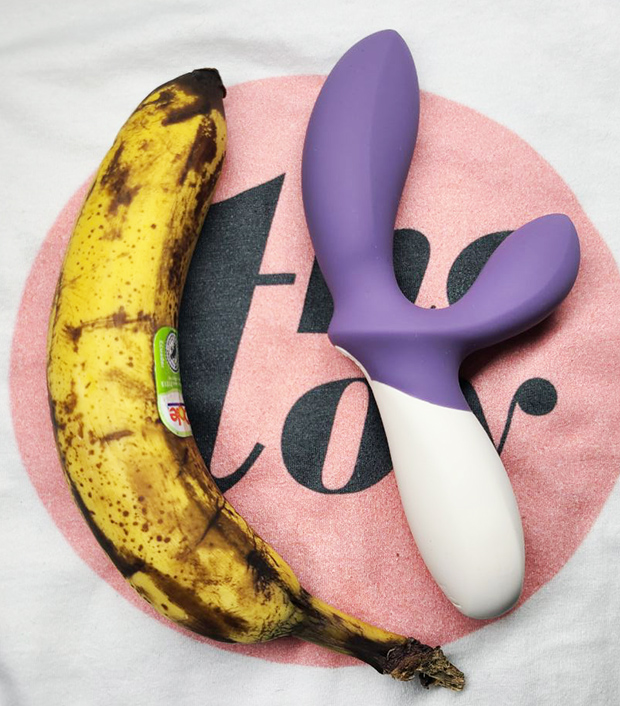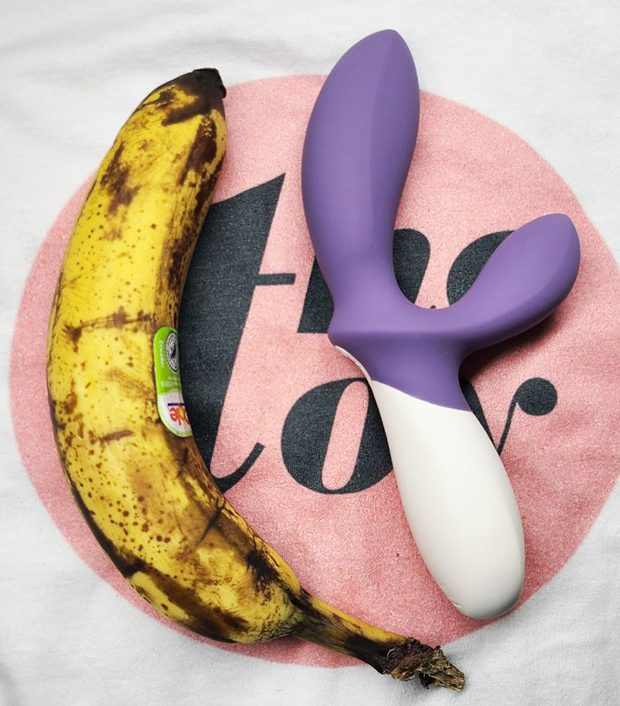 It becomes smaller towards the end on purpose. The idea is for the toy to be easily removed when needed. But this also means you must sit on the vibrator or hold the handle to keep it in place.
The handle always stays outside, so you can adjust the Wave 2 if it moves or point it better to your prostate.
Power source
LELO LOKI Wave 2 is rechargeable and has a 3.7 V Lithium 850 mAh battery. The prostate vibrator is cordless, and you can use it easily for up to 2 hours in your favorite places. It can also be in standby mode for up to 90 days.
Vibration strength
The LELO LOKI Wave stands out in its ability to combine powerful vibrations with stimulating prostate pressure to create a truly unforgettable sensation.
The LOKI Wave's external arm has a motor that delivers powerful vibrations to your perineum while also helping keep the toy in place so you can enjoy semi-hands-free pleasure. I can maintain a secure hold of the LELO LOKI Wave without it rotating by keeping my legs close together.
The LOKI Wave's vibrations are certainly powerful enough for me. Still, I often push the "up" button to increase the intensity, only to realize that it is already at its maximum. Therefore, I use some other toys when I need more vibration power.
Edge 2 and LELO Hugo are more powerful if we consider pure vibration strength.
These prostate massagers are excellent choices if you're looking for intense vibrations. However, if you want to experience the unique sensation of pressure against your prostate, the LOKI Wave 2 is a must-have!
Intensity
I'm a huge fan of the LELO LOKI Wave 2 (and all LELO products), mainly because you can take your time to explore its full range of vibration power. The first setting is subtle and gentle, like a low, soothing rumble.
As I become increasingly aroused and desire more intensity, the LOKI Wave can gradually increase through its various power levels without any sudden jumps.
If I find the toy's power too intense for my comfort level, I can easily adjust it to a lower setting.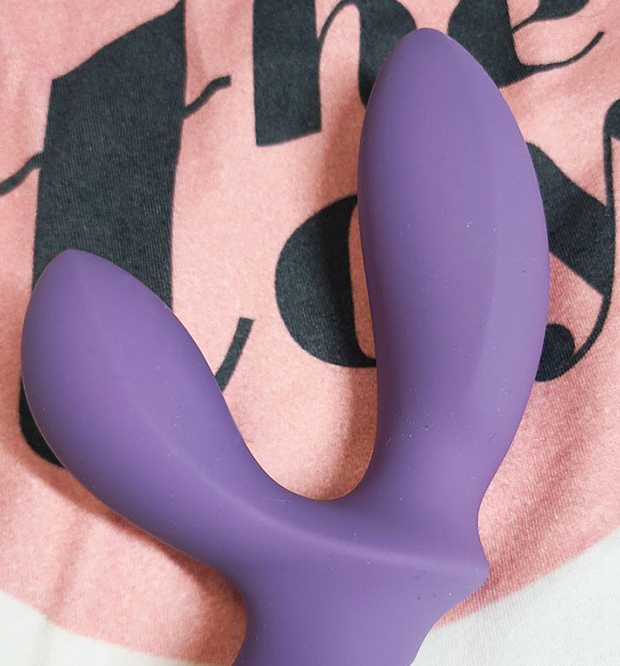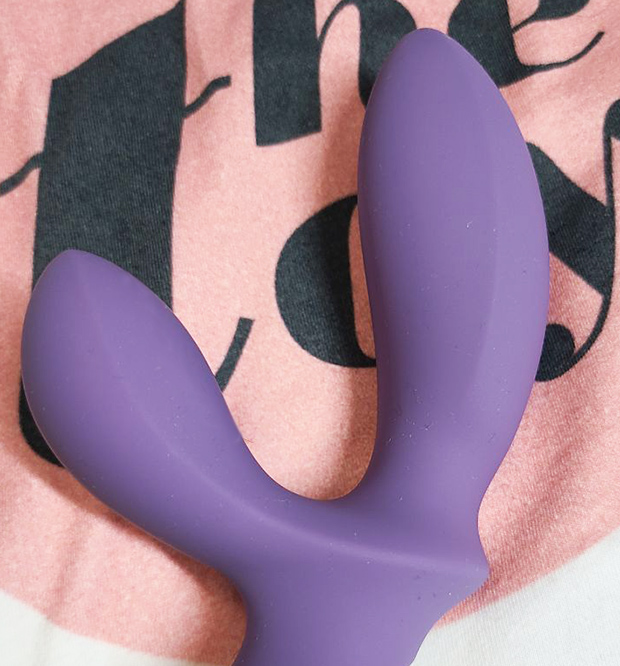 I'm consistently amazed by the number of sex toys with a higher intensity level than is necessary. Even the lower settings on some toys can be overwhelming when I'm not adequately warmed up. Additionally, with some vibrators, you cannot adjust the intensity levels.
If you accidentally set the power too high, you'll have to cycle through every level until you reach the maximum before resetting it to a lower setting.
LELO knows how to do power right. Their toys offer a range of settings starting with the lowest intensity and gradually building up to the highest level possible. Plus, you can easily adjust the levels as you, please.
LELO stands out from the competition due to its attention to small details.
Vibration and motion patterns
LELO put a lot of thought into the vibration patterns for this toy. The insertable vibrator arm provides an intense, rumbling sensation that feels like being drilled – but with the various speed settings, it's more akin to being milked!
It offers 12 different vibration patterns, some allowing you to isolate one or both vibrating arms. You can also turn off the vibrations on the moving arm if desired.
The LOKI Wave 2 has surprised me with its two distinct vibration patterns that alternate between the motors. I was not expecting to be so taken aback by these vibrations, as I initially thought this toy would mainly focus on the moving arm.
But wow – when those pulses hit my body, it's like nothing else! They feel incredible and have quickly become my favorite of all the prostate toys I've tested.
There is a multitude of options for manipulating your LOKI Wave 2.
You can enjoy the pleasure of constant vibration or with various patterns as you move it back and forth. You can combine its vibrating capabilities with multiple movement patterns for further enjoyment.
As a sex blogger and toy reviewer, I'm all about exploring the different vibration patterns that can be experienced. From subtle shifts to more dramatic changes, I love how these variations keep my body on its toes.
The sensation of surprise from random vibrations is unparalleled when it comes to stimulation – ensuring your body never gets too used to the same old thing!
I've had a lot of fun experimenting with the various patterns of the LOKI Wave 2. Some are more rhythmic and consistent, while others feel more random – those are my favorites!
What I also like about this massager is that it remembers the last used pattern. This way, you can find your favorite starting pattern before you insert the vibrator, and when you put it in and start it – voila, it starts from the setting you wanted it to.
Imagine how irritating it would be if you have to scroll every time to your favorite pattern while the massager is already in you.
Noise level
LELO state in their product specifications that the LOKI Wave 2's sound level is lower than 60 dB. I measured it with my phone sound meter app, and at 3 feet / 1 meter with both arms on at the maximum vibration intensity, the sound is at 53 dB. For reference, 50 dB is the noise at a quiet office or street.
With the inner arm's WaveMotion off, the sound is at 44 dB. 40 dB is about the same as a quiet residential area.
That being said, the LOKI Wave 2 is not a toy that is intended for public use. You are most likely to use it at home while you are relaxed in the bedroom or the bathroom.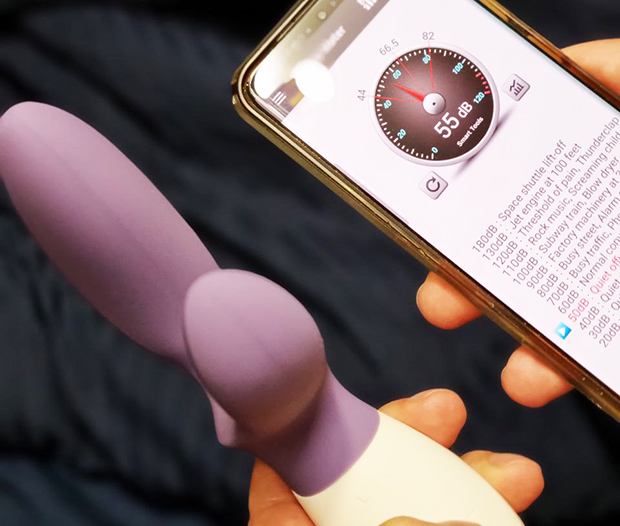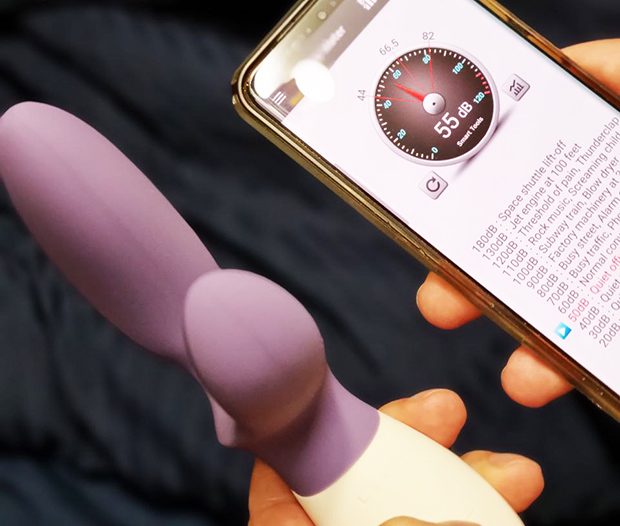 That's why I went to the bathroom, closed the door, and asked my wife on the other side to tell me if she could hear anything.
She said she could hear a slight buzzy noise resembling an electric toothbrush but much lower. She said the sound was three times louder when I brushed my teeth. Then I turned on the shower, and she said she could not hear the buzz anymore but the sound of the water splashing.
LOKI Wave 2 is not the quietest vibrator, especially with the WaveMotion turned on, but it is discrete enough to be used behind a closed door.
Waterproofing
LELO LOKI Wave 2 is IPX7 Waterproof. IPX7 is one of the highest ratings, and ideally, it means that a device is durable enough to survive after being submerged in up to 3 feet of water for 30 minutes.
Being completely waterproof makes it very easy to clean and sanitize. You can also use it safely in the shower (or bath if you fancy it).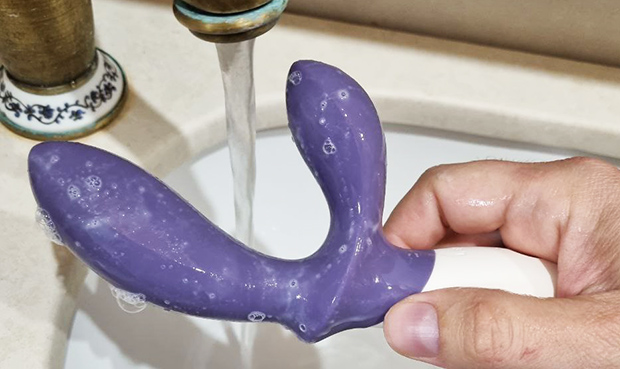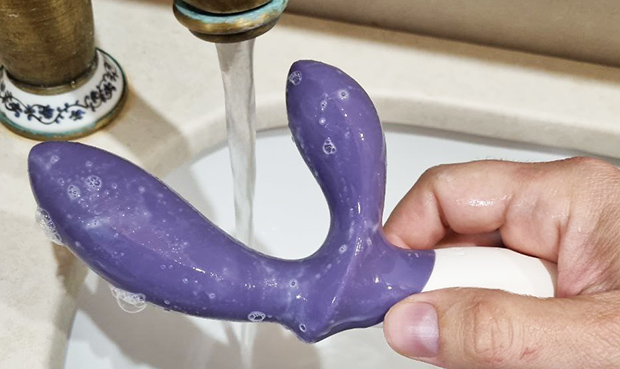 Price
LELO is a brand known for its luxury toys. And the LELO LOKI Wave 2 price tag is luxury as well. It comes at $200+.
Unfortunately, there isn't any prostate vibrator that can beat it in value for the money, except maybe the first LOKI Wave version. Its regular price is $189, but it is an older model now and comes with a great discount and can be found for as 'little' as $115. The problem with the first gen LOKI Wave is that the motor of the inner arm is less powerful and more fragile. Otherwise, the toys are about the same in terms of performance.
Edge 2 and LELO Hugo, also great prostate massagers, are in the $190 price range, so they are a bit cheaper than LOKI Wave 2. They have stronger vibrations but lack the 'come-hitter' motion.
LOKI Wave 2 is a prostate vibrator that you can easily keep on your nightstand if you perform prostate massages regularly. It is more durable than the first generation, so if you can spend the extra $100, go for it.
It is always a good idea to shop for toys around holidays since LELO tends to launch a lot of promos where you can buy the products at a discounted price.
Durability
LOKI Wave 2 is a relatively new toy, and its durability is hard to judge. I'll update this section in a year.
However, its predecessor LOKI Wave was quite durable. Mine is still up and running after six months of semi-regular use.
The only complaints I have read from customer reviews were that the inner arm motor broke after a few months.
Since the motor in LOKI Wave 2 inner arm is quite stronger, I think LELO has reinforced it, and it is more powerful and will last longer too. Time will tell.
But even if your LOKI Wave 2 breaks, LELO have a 1-year replacement warranty, and they go by it.
Even if the vibrator breaks after the first year, it is covered by the 10-year quality guarantee program. If your toy breaks, you can get a 50% discount on LELO for new product purchases, even if you have lost the receipt.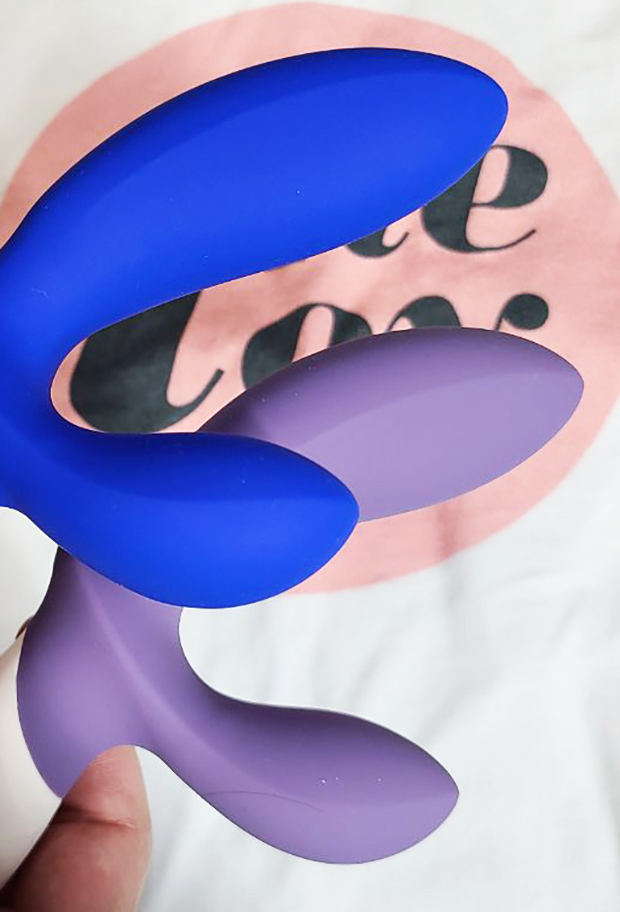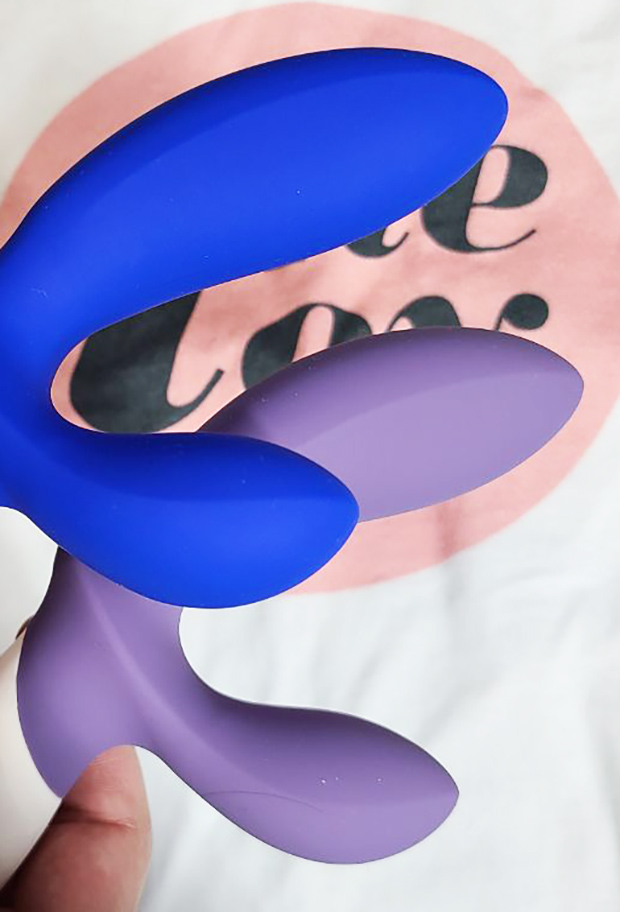 Brand reputation
LELO has been in luxury high-tech toys for more than ten years. They are known for their silky-soft silicone and their packaging that makes you feel like royalty.
Their Wave series is worth the cost because there aren't toys out there that compete in the same echelon with that stroking motion.
However, some of their toys are hit-and-miss. Especially the new toy prototypes that they launch.
This is different with LOKI Wave 2, however. It is the second generation and improves on a vibrator with many positive reviews.
How to use
Using LOKI Wave 2 is quite simple since it is USB-rechargeable and cordless, and this is the one positive side of not having a remote – the controls are simple.
A quality prostate massage requires time and steps, so I'll discuss using LELO LOKI Wave 2 in more detail in a separate article.
Controls
LOKI Wave 2 controls are on the handle. They are coated in silicone for easier grip.
To turn on the prostate vibrator, press once in the middle of the controls.
Then the massager will start, and you can use the up and down arrows to navigate the patterns and the + and – buttons to increase or decrease the intensity of the vibrations.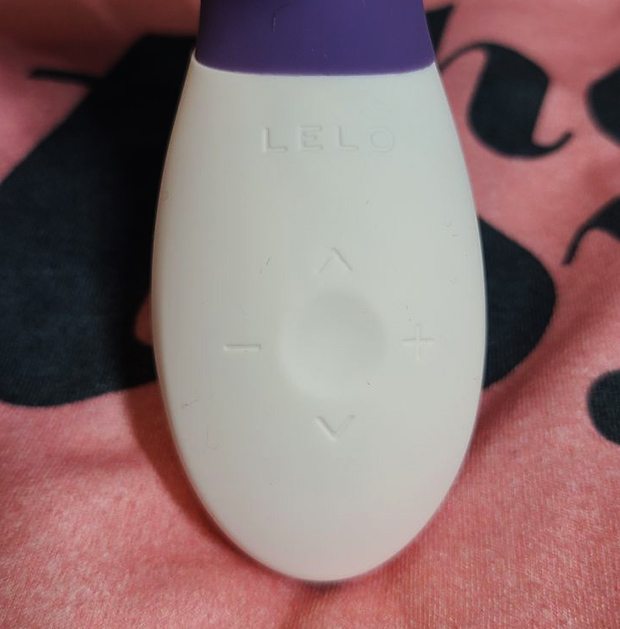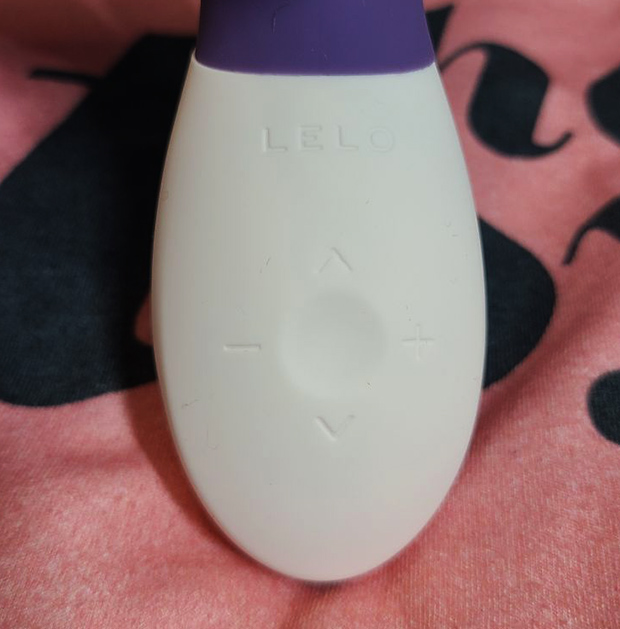 You can lock the device's interface if you hold the + and – for 3 seconds. This is convenient if you travel.
LOKI Wave 2 does not have an app or remote control, which is one of the features I miss in this toy to make it perfect. If I could control both arms separately and pinpoint the vibration intensity, this would be an amazing experience. Hopefully, in the next generation release, we can see that.
Lubricant
LOKI Wave 2 is a silicone prostate massager, so only use water-based lube. And use a LOT both on the toy and your anus.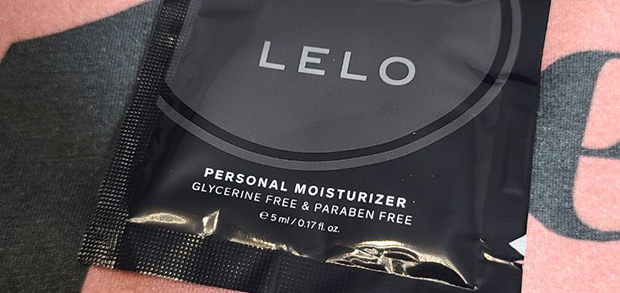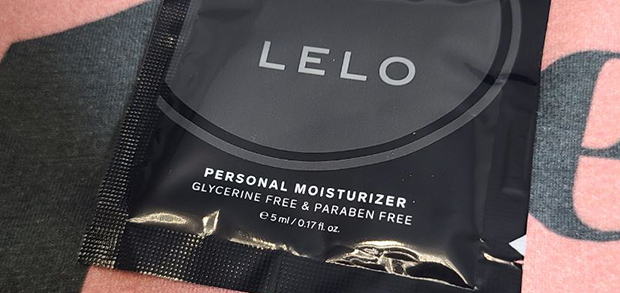 Delivery and unboxing
The delivery was fast and discrete. The LOKI Wave 2 came in a plain box with no branding, as expected from an adult toy brand.
When I opened the package, inside was the luxury packaging. I love their boxes. They make you feel special and are great if you are purchasing the toy as a gift for someone.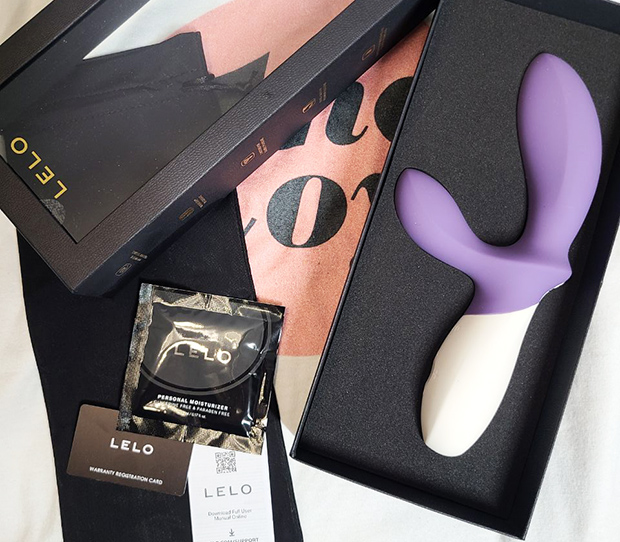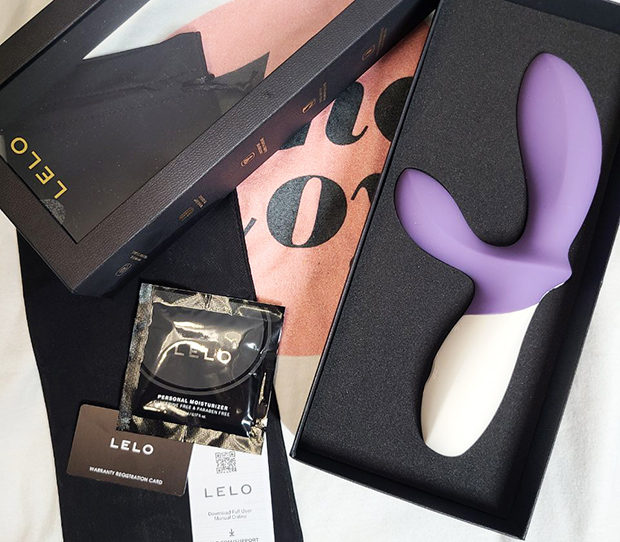 Then when I opened the box, inside I found:
LOKI Wave™ 2 – the prostate vibrator itself
USB-charging cord – this one is a bit shorter than I would like
Satin storage pouch – the material of the storage bag is soft and luxurious as the toy.
Warranty registration card – you have to register your vibrator on LELO's site
Detailed instruction manual
A sample of the LELO Lubricant
As with all other toys, what is missing is an adapter from the USB cable to the wall socket. You must have one already or a USB electricity outlet to charge the toy.
Charging
Insert the DC plug into the DC port at the base of your LOKI Wave 2.
Insert the mains plug into a USB Port. The LED on the interface of your LOKI Wave 2 will pulse to indicate it is charging. When it is fully charged, the LED will emit a steady glow. When the battery runs low, the LED on your LOKI Wave™ 2 will emit a blinking white light.
Cleaning, maintenance, and storage
To keep your LOKI Wave 2 in top condition, cleaning it thoroughly before and after each use is essential. Start by washing the silicone with warm water and mild antibacterial soap, then rinse with clean hot water and pat dry with a lint-free cloth or towel. Avoid using any cleansers that contain alcohol, petrol, or acetone.
If you want to use a toy cleaner, rinse with water and then spray with a LELO Toy Cleaner before giving it one final rinse and letting it air dry.
It's essential to keep your LOKI Wave 2 away from direct sunlight and never let it get too hot. Store it in a clean area, and don't put other materials near it.
Silicone also attracts lint, so it's best to keep it when dry in the pouch that came with the massager.
An important note, using hand creams or silicone-based lubricants with the LOKI Wave 2 may cause the silicone to become permanently sticky, so do not do it.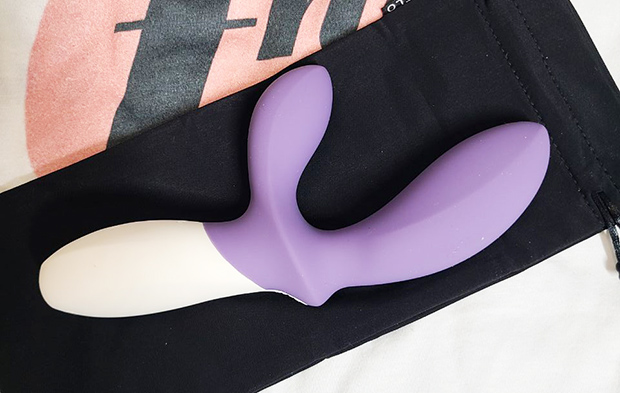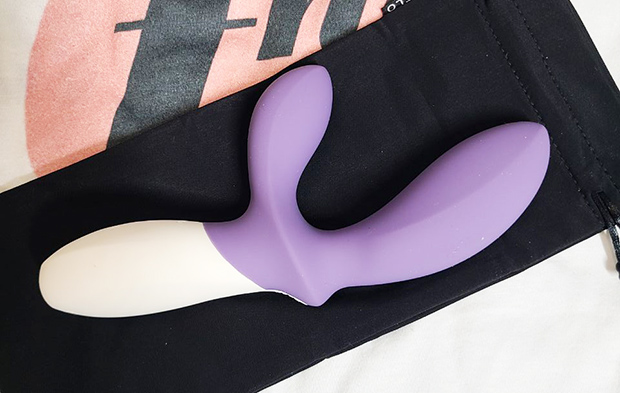 Customer reviews
LELO LOKI Wave 2 is a relatively new product launched in January 2023. Most reviews are positive, but I'll update this section in six months for a more thorough analysis.
Alternatives
No other toy can compare to the LOKI Wave 2, except for the LOKI Wave(first gen), of course.
The LOKI Wave 2 is your best bet if you're searching for a toy that offers intense vibrations, automatic movements to apply pressure, and an ergonomic shape. It's unparalleled in combining these different kinds of stimulation to create a truly pleasurable experience!
LELO LOKI Wave 2 vs. LELO LOKI Wave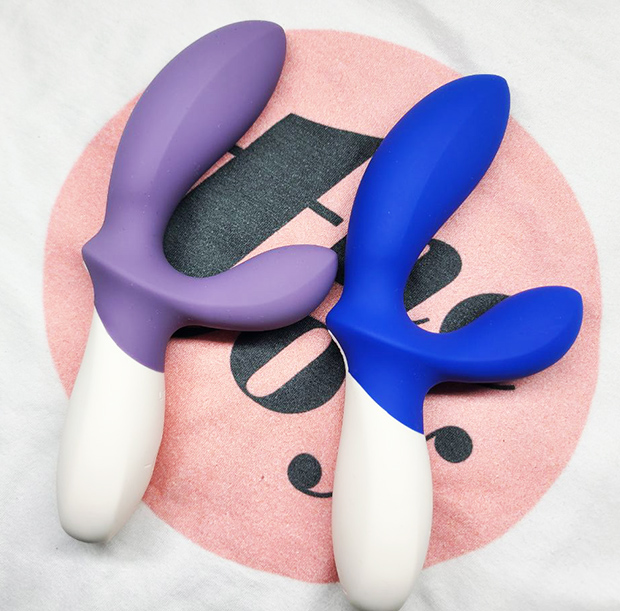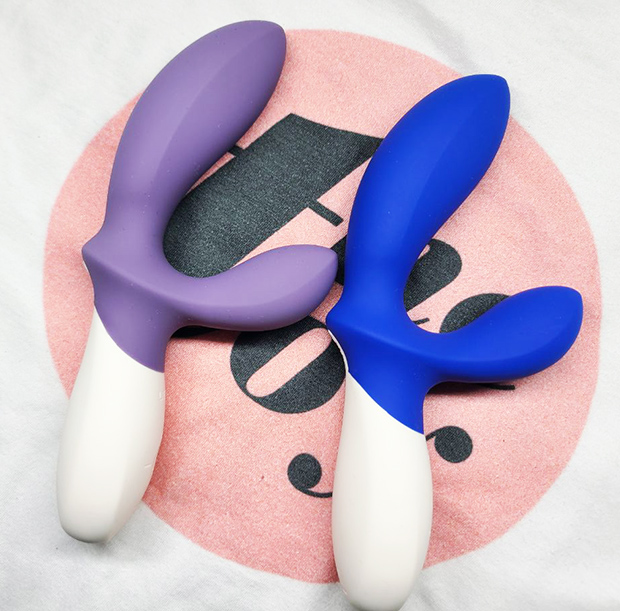 The design and specifications of both are almost identical. They are both prostate vibrators that deliver strong p-spot orgasms. Here is a comparison table with the specs of both massagers.
| Feature | LELO LOKI Wave 2 | LELO LOKI Wave |
| --- | --- | --- |
| Materials: | body-safe silicone | body-safe silicone |
| Finish: | Smooth | Smooth |
| Size: | 91 x 42 x 196 mm / 3.6 x 1.7 x 7.7 in | 91 x 43 x 196 mm / 3.6 x 1.7 x 7.7 in |
| Insertable length: | 100 mm / 3.9 in | 100 mm / 3.9 in |
| Diameter: | 35.5 mm / 1.4 in | 35.5 mm / 1.4 in |
| Girth: | 112 mm / 4.4 in | 112 mm / 4.4 in |
| Weight: | 196 g / 6.9 oz | 198 g / 7 oz |
| Battery: | Lithium 850 mAh 3.7 V | Lithium 850 mAh 3.7 V |
| Charging: | Up to 2 h at 5.0 V 750 mA | 2 h at 5.0 V 750 mA |
| User time: | Up to 2 h | 2 h |
| Standby: | Up to 90 days | 90 days |
| Frequency: | 122 Hz | 100 Hz |
| Max. noise level: | < 60 dB | < 50 dB |
| Perineum arm power: | 3.5/5 | 4/5 |
| Prostate arm power: | 4.8/5 | 4/5 |
In my opinion, the most significant difference is the motor of the inner arm. With the LOKI Wave 2, it is about 20% stronger, and it will be more durable for more users over time.
LOKI Wave is quieter than LOKI Wave 2 due to its weaker motor. The other difference is the vibration frequency. Wave 2 vibrates at 122 Hz while Wave is at 100 Hz. But I don't think I noticed that, so it is just a tech spec, not something that concerns the user.
Wave has only 10 vibration patterns, while Wave 2 has 12, so there are two additional settings to explore.
Other than that, the two massagers are very similar. The material, design, battery, charging, and packaging are the same.
The price of the new version is also almost double if you compare the old one with the discount, so it is a tradeoff. If you want to test the features and see how it fits you, spend less and get the first gen. But if you are looking for a durable toy that lasts and is stronger but you don't mind paying the extra cost, get the new one.
LELO LOKI Wave 2 vs. LELO Hugo and Lovense Edge 2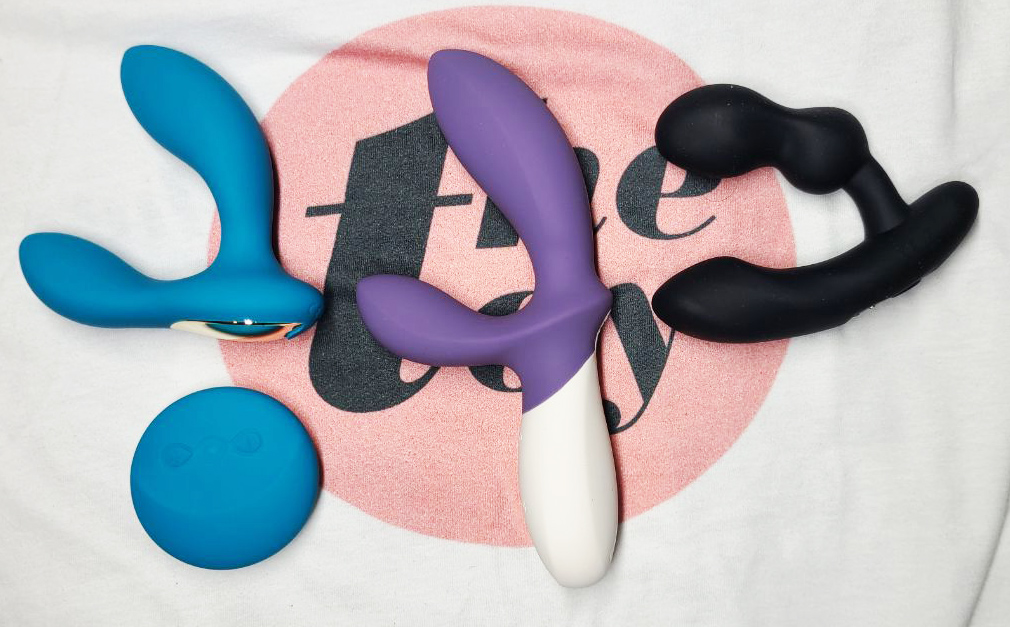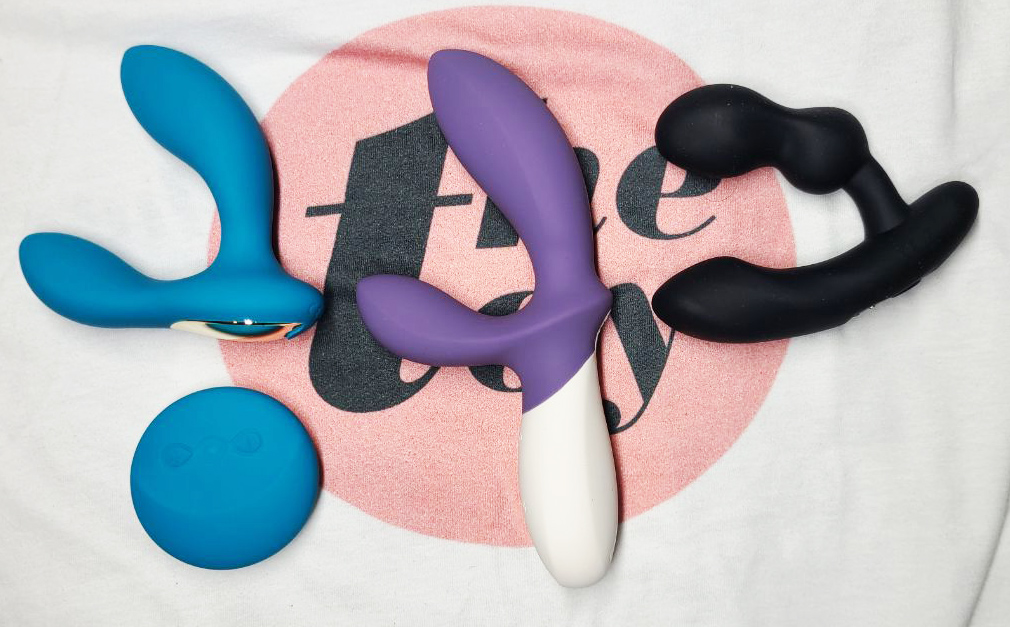 When it comes to powerful prostate vibrations, the Lovense Edge 2 and LELO Hugo are top competitors. These two toys are both prostate plugs.
These massagers are designed to fit snugly, providing hands-free P-spot stimulation with powerful vibrations.
Unlike the LELO LOKI Wave 2, these prostate plugs don't have a handle for maneuverability and pressure application. However, they are curved to stimulate your P-spot naturally once inserted.
The Lovense Edge 2 and LELO Hugo vibrations are powerful and stimulating, making them ideal choices for those who prefer strong vibration over prostate pressure.
The Lovense Edge 2 is an excellent choice for those who want to get creative with their pleasure. With app control, you can customize each motor individually and create unique vibration patterns that fit your body's needs perfectly. Plus, its adjustable design ensures a snug fit no matter what!
The LELO Hugo is equipped with a physical remote rather than an app, so it has fewer vibration patterns to choose from. However, its power surpasses that of the Edge 2. I find the control offered by Edge 2 more stimulating and enjoyable.
Smaller sex toys are a breeze to slip into place, especially the LELO Hugo with its slim and silky tapered shape. Plus, vibrating toys require minimal effort to learn how to use them! These two options are great for those just starting with prostate play.
Go for either of those over LOKI Wave 2:
If you are new to the prostate massage and want to start with a smaller vibrator
If you are all about the vibrations and you are ready to sacrifice the pressure
If you want a prostate vibrator that is completely hands-free and has a remote control
LELO LOKI Wave 2 vs. nJoy Pure Wand
We also have toys that don't vibrate but stimulate with the heaviest pressure imaginable.
The nJoy Pure Wand is the epitome of luxury for those who enjoy intense p-spot stimulation.
This stainless steel prostate massager is incredibly heavy and provides broad, unrelenting pressure to your prostate. The two balls at either end are perfectly round, leaving no doubt that you will feel its weight's full force.
If you enjoy the sensation of prostate pressure more than vibrations, then it might be worth looking at the nJoy Pure Wand.
However, it's all up to you to put in the effort. Mastering this toy requires practice, as you'll be responsible for providing the stimulation yourself.
I'm enamored with how the LOKI Wave's automatic movement applies pressure.
If you're looking for a toy with the most intense pressure but no vibrations, I recommend the nJoy Pure Wand over the LELO LOKI Wave 2. This sex toy, however, has a steeper learning curve, and I recommend it only if you are an advanced prostate massage practitioner and already know what you need from a massager.
Wish list
LELO LOKI Wave 2 is the near-perfect prostate vibrator. LELO has improved WaveMotion to the second generation, making it more durable.
What I wish for the next generation is an app control that I can pinpoint the vibration intensity, control both arms separately and create custom patterns.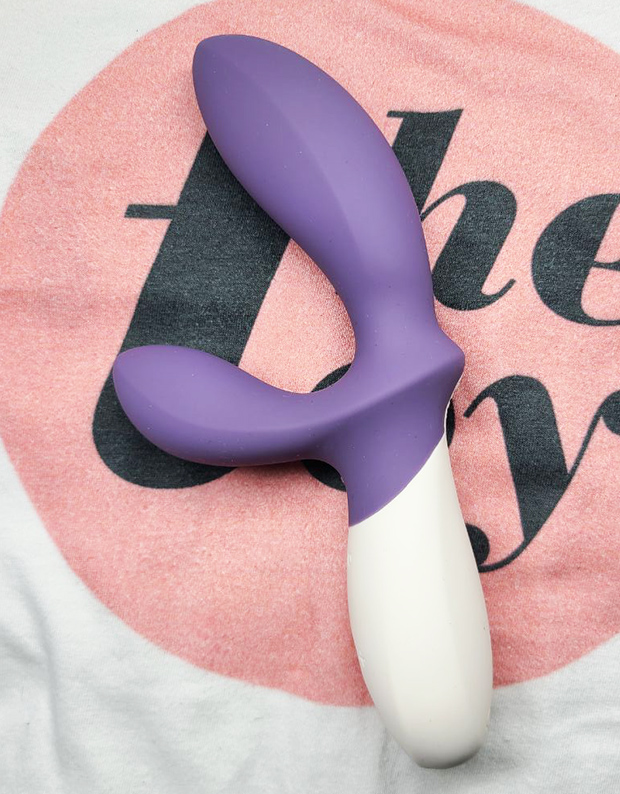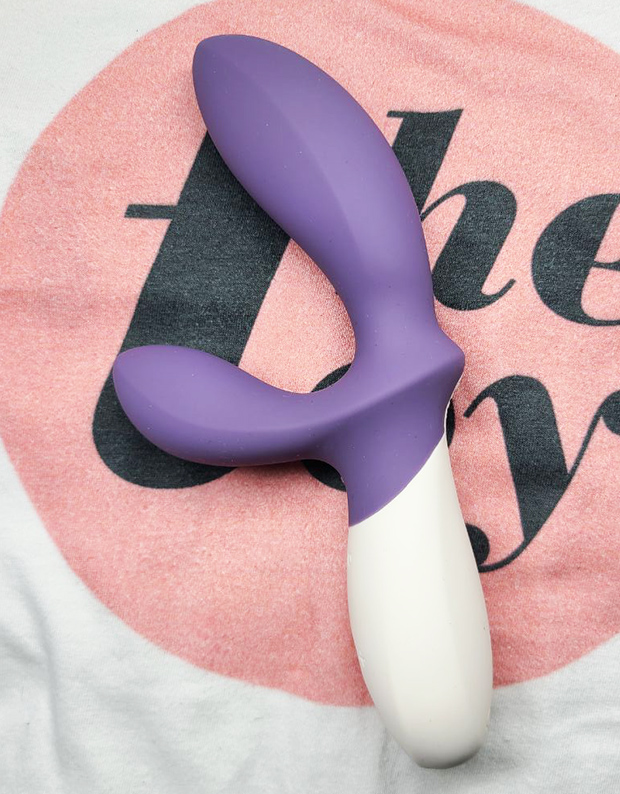 | | |
| --- | --- |
| Design: | (5.0 / 5) |
| Comfort: | (5.0 / 5) |
| Power: | (4.0 / 5) |
| Experience: | (5.0 / 5) |
| Price: | (4.0 / 5) |
LELO LOKI Wave 2 is one of the best prostate vibrators, offering fullness, strong vibrations and automatic prostate pressure
You can buy this prostate massager from:
Conclusion
The LELO LOKI Wave 2 is a masterful concoction of prostate stimulation. It combines the perfect ingredients – vibration, pressure movements, and fullness – to create an experience that delivers pleasure directly to your prostate.
If you want to experience the combined pleasure of prostate vibrations and pressure, the LELO LOKI Wave 2 is one of the best prostate massagers available.
Is it worth the upgrade from the LELO LOKI Wave? If you can afford the extra cost and want the strongest motion and a more durable toy, go for the Wave 2.