Lovense Exomoon is the first of its kind – an app-controlled long-distance bullet vibrator. I love the Lovense toys, so I was excited to give Exomoon a test. In my review, I'll go over how it feels, all its features, who should buy this little high-tech gem, and who should pass, and at the end, I have a little side-by-side comparison with some of the better bullet vibrators in my drawer.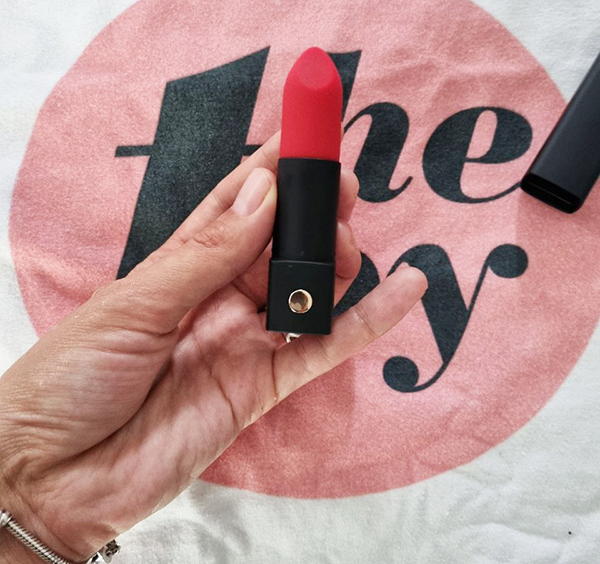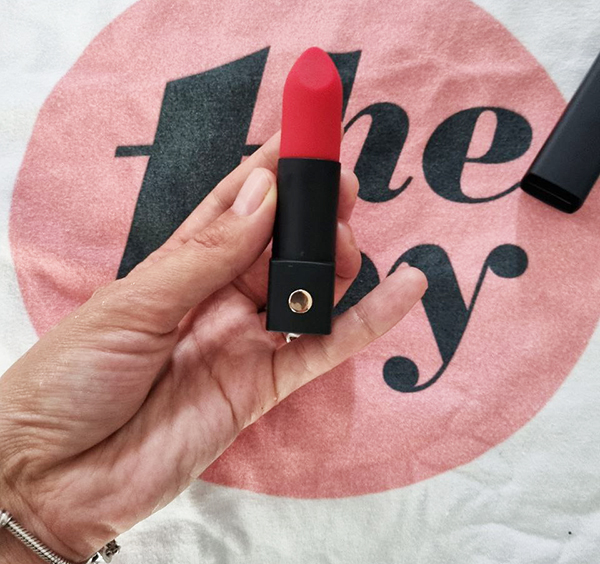 Crafted for those who seek the perfect blend of stealth and strength, Lovense Exomoon promises to be your secret companion, whether you're on the go or in the comfort of your bedroom.
Review Summary
I've tested dozens of toys that promise discretion and power, but few deliver like the Lovense Exomoon. At first glance, it's a sleek, stylish, and discreet lipstick. But beneath its unassuming exterior lies a powerhouse of pleasure. Additionally, the Exomoon is also an app-controlled sex toy, which adds to the amazing features it offers.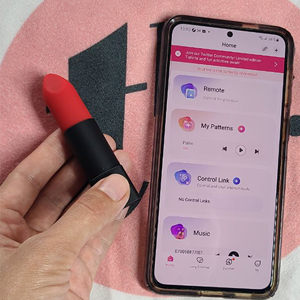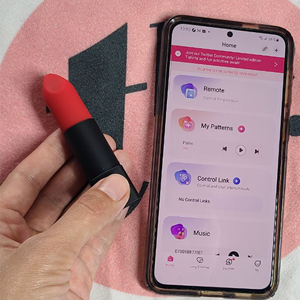 | | |
| --- | --- |
| Design: | (5.0 / 5) |
| Comfort: | (5.0 / 5) |
| Power: | (4.0 / 5) |
| Experience: | (5.0 / 5) |
| App: | (5.0 / 5) |
| Price: | (5.0 / 5) |
With its remote control functions, the Lovense Exomoon unlocks unlimited pleasure possibilities at your fingertips.
You can buy this bullet toy here:
Lovense Exomoon at a glance:
Here is a quick summary of my testing of this discrete toy:
Type: Long-distance bullet vibrator.
Overall Rating: 4.5/5
Intended Use: Clitoral, nipple, and labial stimulation.
Vibration Quality: Strong and rumbly, especially at lower speeds.
Intensity Range: Good, with a noticeable difference between low and high speeds.
Size Comparison: Smaller than most other bullet vibrators, offers more precise stimulation.
Power Rating: 3.3 out of 5 on the bullet vibe power scale. (Tango X is the strongest bullet I have tested at 3.5/5)
Control: Gold button for manual operation. Application for unlimited patterns and intensities.
User Experience: Positive, with a preference for silicone tips and app-created vibration patterns.
Comparison: Stronger and more versatile than We-Vibe Tango X; different feel compared to Pillow Talk Racy.
Discretion: Highly discreet, easy to carry without drawing attention. Can be used for public play.
Included Accessories: Magnetic charging cable, user manual, storage pouch.
How does it feel?
The tip of the Exomoon is super soft and feels nice on the skin. The first time I used it, I was happy to find it had many different vibes. It starts with a strong, deep, rumbly vibration and quickly became my favorite for clitoral fun. The angled tip is really good for hitting the exact spot you want, making sure you feel the vibes where you need them.
The Exomoon is powerful(for a bullet). It may not be the strongest compared to bigger toys(e.g., wands and rabbits), but it's great for focused stimulation. It has a wide vibration intensity range, and I often changed settings to get the rhythm just right.
Pros
Powerful, rumbling vibrations(compared to other bullets)
Discreet design: its lipstick style provides privacy and makes it a perfect travel companion.
App connectivity: the Lovense app expands the toy's functionality and offers more control and customization options.
High-quality craftsmanship: the soft silicone and durable design make it feel like a high-end product.
Battery life: A runtime of 2.5 to 3 hours provides longer playtime without frequent recharging.
Competitive price: great value for the money
Cons
Vibration Distribution: While the Lovense Exomoon is powerful, its strong vibrations travel through the plastic handle, which might be distracting or uncomfortable during prolonged use.
No travel lock
Who should buy it?
If you want a discrete, quiet mini vibrator, Lovense Exomoon is the right choice for you.
If you want a vibrator to keep in your purse
Great for partner play – it is lightweight and can fit between your fingers, so can be used for nipple or clitoral stimulation
The tech-savvy user: If you love integrating technology into your pleasure, you'll be thrilled with the Exomoon's app-enhanced features.
Who should pass
Not for internal use. Get a G-spot vibrator instead.
If you prefer hard plastic over silicone or if you are allergic to silicone.
Design and comfort
The Exomoon looks just like lipstick, which makes it good for keeping it secret. It's great for fun when you're out and about. Its design is so discreet that even if someone saw it in your bag, they wouldn't know what it is. But remember, not everyone might like how it looks.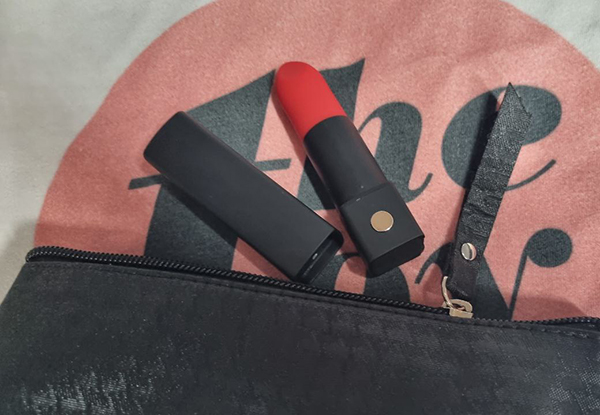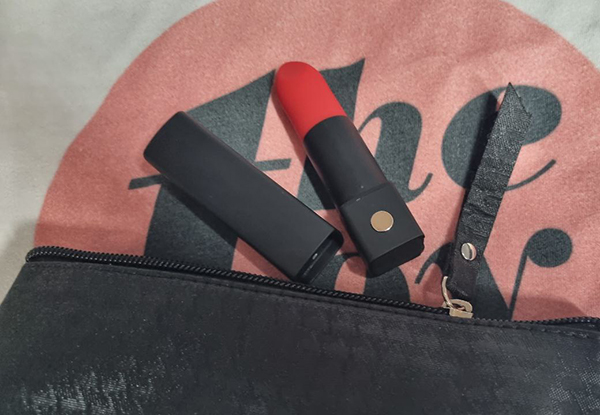 The soft silicone tip of the Lovense Exomoon is made to give you exact pleasure. It feels smooth and gentle on the skin, perfect for those who want to focus on specific spots. You can use its angled tip on the clitoris or other sensitive areas to get the feeling just right.
In my opinion, there is a design flaw with the motor. You feel some vibration in your hand, which gets tiresome if you use it longer.
Lovense Exomoon Specifications
| Specification | Detail |
| --- | --- |
| Type | Lipstick Vibrator |
| Material | ABS Plastic, Silicone |
| Length | 3.46 inches |
| Weight | 40g |
| Diameter | Stimulation tip: 0.7 inches |
| Speeds | Custom options in app + 3 preprogrammed speed levels |
| Patterns | Unlimited in-app + 4 preprogrammed patterns |
| Waterproof | Yes |
| Rechargeable | Yes |
| Battery Life | 180 minutes |
| Charging Time | 125 minutes |
| Remote Control | App control |
| Storage | Storage Bag Included |
| Connectivity | App-enabled |
| Design | Discreet lipstick style |
| Noise Level (Lowest) | 25 dBs |
| Noise Level (Highest) | 45 dBs |
| Additional Features | Sync to sounds or music, Long-distance control |
---
Material
Silicone (the body of the vibrator): The stimulation tip of the Exomoon is made of silicone. Silicone is a premium, body-safe material widely used in the sex toy industry due to its non-porous and hypoallergenic properties. It's soft, flexible, and comfortable against the skin. Silicone is also non-toxic and free from harmful chemicals like phthalates.
ABS Plastic(the handle and cover): This is a common material used in many sex toys. It's hard, durable, and body-safe. ABS plastic is non-porous, meaning it doesn't harbor bacteria when cleaned properly and is non-toxic.
The Lovense Exomoon pocket vibe is body-safe, non-toxic, and non-porous. Proper cleaning and care are essential to maintain its safety and prolong its lifespan. Always ensure you're using a suitable cleaner for silicone toys, and if using lubricants, opt for water-based ones to avoid potential damage to the silicone material.
Size
The Exomoon's size is intended to be discreet and portable, making it suitable for on-the-go pleasure and easy storage. You can easily carry the vibrator in a purse or your pocket, and no one else will know your dirty little secret. Its compact size also allows for targeted and precise stimulation, especially for clitoral use.
Length: Approximately 3.46 inches
Diameter of the Stimulation Tip: Approximately 0.7 inches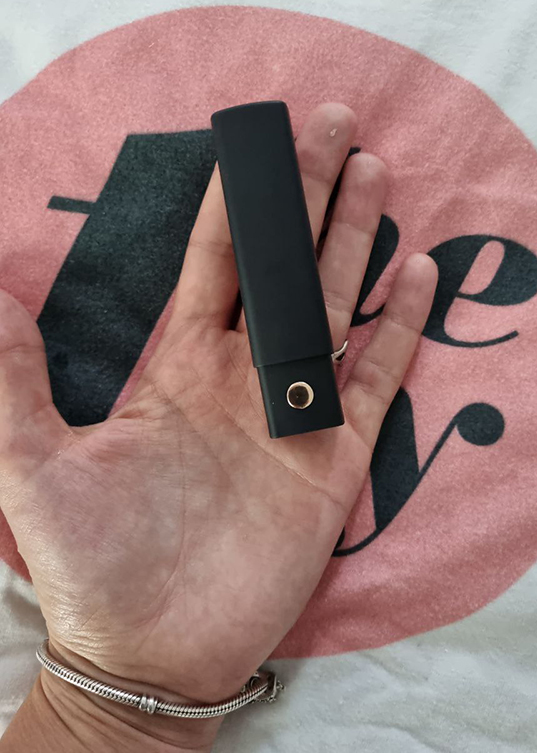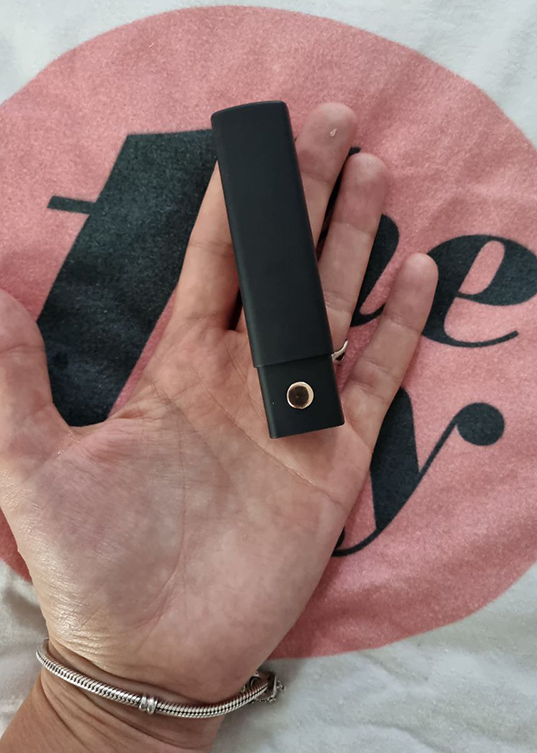 Power source
The Lovense Exomoon is a rechargeable bullet vibrator. It has a built-in battery can be charged using a USB cable, making it convenient for users without needing constant battery replacements. It's not battery-operated in the traditional sense (i.e., it doesn't require disposable batteries), and it doesn't need to be plugged in during use, offering more flexibility and freedom of movement during play.
The rechargeable nature of the Exomoon also makes it more environmentally friendly and cost-effective in the long run.
Vibration Intensity and pulsation patterns
The Exomoon is both powerful and rumbly. On its lowest settings, accessible via the app, the Exomoon offers a gentle rumble suitable for even the most sensitive users. At its highest settings, it can satisfy those who crave intense power. Notably, even at higher levels, the vibrations remain rumbly and not buzzy.
While it's a bullet vibrator designed for focused clitoral stimulation, it doesn't compromise on power. I'd rate it a 4.5 out of 5 on the bullet vibrator power scale.
The real magic happens when you pair the Exomoon with the Lovense app. The tiny vibe itself comes with three preprogrammed steady intensities and four patterns. However, with the app, the possibilities are virtually limitless. You can create your patterns, control the vibration intensity with precision, and even sync it with erotic audio stories for a truly immersive experience. The app's interface is intuitive, and the connectivity is stable, ensuring a seamless playtime.
Noise level
With a maximum noise level of around 43 dB, it's quieter than a whispered conversation.
When I first turned on the Exomoon, its subtle hum was immediately noticeable for how unobtrusive it was. At its peak, the noise level is significantly lower than that of other bullet vibrators that I own.
Behind closed doors, the Exomoon's noise becomes even more inconspicuous. When used in a bedroom with the door shut, its sound is almost entirely masked, especially if there's any ambient noise like a fan or soft music playing.
Is Lovense Exomoon Waterproof?
The Exomoon is fully waterproof and submersible, boasting an IPX7 rating. This means you can confidently take it into the shower or bath for some wet and wild fun. The impermeable nature doesn't just open doors for aquatic adventures and makes cleaning the device a breeze. Run it under warm water and use a mild soap to ensure it's hygienic for your next use.
So, the next time you think of a relaxing bath, consider bringing the Exomoon for a pleasurable experience.
Price and where to buy
The Exomoon bullet toy offers a unique blend of features, especially its long-distance capabilities and powerful vibrations. At the discounted price of $69, it becomes an even more attractive option for those seeking a blend of innovation and performance.
When investing in a product like the Exomoon, I can't stress enough the importance of buying from the right places. From my experience, it's always best to stick to the original manufacturer or trusted retailers. Here's why:
Authenticity: Purchasing directly from the Lovense Official Website ensures you get a genuine product. Peace of mind comes with knowing you have the real deal, especially with intimate products like this.
Warranties & Customer Support: The official manufacturer often provides warranties and top-notch customer support. If there's ever an issue, you want to be sure you're covered and can get the help you need.
Trusted Retailers: If you're venturing outside the official website, make sure you're shopping with reputable and trusted retailers. They often partner with brands like Lovense, ensuring the products they stock are authentic. Plus, they usually have knowledgeable staff, great return policies, and sometimes even exclusive deals.
Durability
The Lovense Exomoon is built with high-quality materials and is designed to be durable and long-lasting. Its waterproof feature further ensures its resilience against potential damage. As always, proper care and maintenance, such as cleaning the toy after each use and storing it in a cool, dry place, will extend its lifespan.
This mini bullet comes with a gracious one-year warranty, a testament to the brand's confidence in its exquisite craftsmanship and enduring quality.
Brand reputation
Lovense has carved a niche for itself in the world of luxury intimate products, emerging as a trusted name synonymous with innovation, quality, and body safety. Since its inception, the brand has been dedicated to pushing the boundaries of what's possible in pleasure products, often integrating cutting-edge technology with ergonomic designs.
One of the hallmarks of Lovense is its commitment to body safety. The brand is known for its meticulous selection of materials, ensuring that every product they release is not only effective but also body-safe. This dedication to quality is evident in their choice to use medical-grade silicone in many of their products, a material renowned for its non-porous, hypoallergenic properties.
Lovense toys are also known for their strong motors and their long-lasting batteries.

Controls
The beauty of the Exomoon lies in its simplicity. I mean, who wants to fumble around with complicated controls when you're, well, a little preoccupied? That's where its minimalist design comes in handy. With just one button, you're in complete control, and trust me, it's as effortless as it sounds.
Power On/Off: So, here's the deal – to get things started (or to wind things down), all you've got to do is press and hold that button. You'll feel this gentle buzz letting you know it's on, and the same goes when turning it off.
Cycling Through Modes: Once you're up and running, tapping the button lets you explore a variety of vibes and rhythms. The transitions are so smooth; it's like having a personal DJ for your senses, ensuring the beat never drops.
Safety Feature: Now, while it doesn't have that typical travel lock thingy, there's a silver lining. You've got to press and hold to get it going, so accidental turn-ons (at least for the Exomoon) are pretty unlikely. It's like its own little security feature, ensuring things don't get awkward in, say, your carry-on.
It also has an alarm setting for wake-up or reminders. Compatible with PCs/laptops for control.
Exomoon has predefined preset patterns (Pulse, Earthquake, Fireworks, Wave). The music sync feature is also available for vibrations. New feature: Vibration sync with erotic audiobooks from AudioDesires.
How to use the Exomoon vibe?
Charge Before Play Before diving into the fun, I always make sure my Exomoon is fully juiced up. Trust me, you don't want it dying halfway through! Just plug it in using the USB charger it came with. And a little tip from me: always use the charger it came with to avoid any potential issues.
Set the Mood I can't stress this enough: find a spot where you feel super comfy and relaxed. Maybe light some candles, play your favorite chill playlist, or even lay down your coziest blanket.
Powering Up: Ready to get started? Just press and hold that single button on the Exomoon. When you feel that gentle buzz, you'll know it's game time.
A Little Slip Goes a Long Way Before getting down to business, I always use a bit of water-based lube. It just makes everything feel so much better. Remember: silicone toys and lube don't mix well, so use water-based lubricant.
Explore and Discover This is where the magic happens. Start slow, feel the different vibes, and see what your body loves. Don't hesitate to switch between the vibration modes to find your sweet spot.
Tech It Up (If You're Into That) Sometimes, I connect my Exomoon to the Lovense app. It's a new world of fun patterns, and if you're in a long-distance thing, your partner can even take control. Just make sure your app settings are on point for some private fun.
Enjoy the Ride. Let yourself go and ride those waves of pleasure. And after? Take a moment. Breathe. Revel in that post-play glow.
My experience
The week had been particularly challenging. Between work stress and the onset of my period, I felt drained, both physically and emotionally. My period often came with its fair share of discomfort, but this month, the cramps seemed more intense than usual. I needed a distraction, a release.
I remembered the Lovense Exomoon I had recently unpacked. Its discreet lipstick design seemed perfect for moments like this. I was hesitant at first, wondering if using it during my period would be messy or uncomfortable. But the allure of potential relief and pleasure was too tempting to resist.
Slipping into our bedroom, I carefully positioned the Exomoon, its tapered tip allowing for precise clitoral stimulation without any internal contact—ideal for that time of the month. The soft silicone felt comforting against my sensitive skin, and as I explored the various vibration patterns, I felt a wave of relaxation wash over me.
Suddenly, my phone buzzed with a message from my husband: "Let me take over 😏." I had forgotten that the Exomoon could be controlled remotely via its app. With a smirk, I granted him access, and the game began.
The patterns changed unpredictably as he played with the controls from the living room. The teasing was maddening yet exhilarating. One moment, the vibrations were soft and gentle, lulling me into a sense of calm, and the next, they intensified, sending waves of pleasure coursing through me.
As he continued experimenting, I felt myself getting closer and closer to the edge. And then, with a perfectly timed crescendo of vibrations, I experienced one of the deepest orgasms I've ever had. The intensity of it surprised me, providing physical relief and a mental and emotional release.
Afterward, as I lay there, basking in the afterglow, my husband walked in a triumphant grin on his face. "How was that?" he asked, already knowing the answer.
The Lovense Exomoon toy was a delightful distraction during a typically uncomfortable time. Its design made it convenient for use during my period, and the added element of surprise from my husband's remote control made the experience even more memorable.
Delivery and unboxing
When you order the Exomoon by Lovense, you can expect a swift and discreet delivery process. The brand ensures that your privacy is maintained by sending the product in a plain, unmarked package. So, whether it's your nosy neighbor or an inquisitive roommate, no one will know about the exciting product you've just received.
As you eagerly open the package, you're greeted with a sleek and modern box that showcases the Exomoon in all its glory. The box's design is minimalistic, with a clear image of the Exomoon, making you even more excited to get your hands on it. The packaging is mostly recyclable, except for the foam insert that holds the device.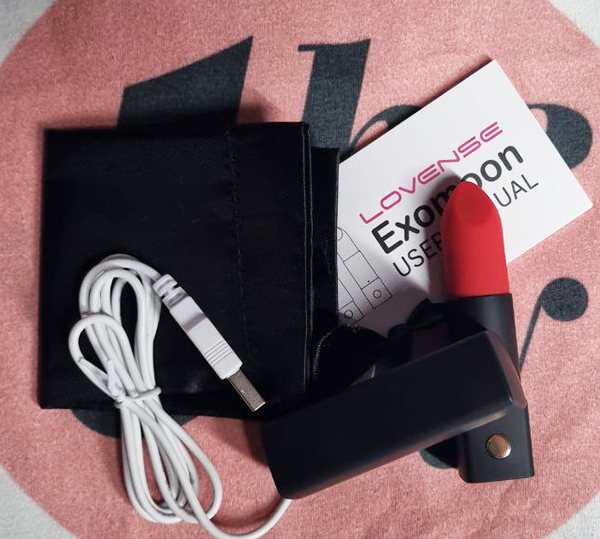 Inside, the Exomoon rests securely, waiting for you to bring it out and explore. Along with the vibrator, the box contains a USB charging cable, a user manual to guide you through its features, a discreet storage bag, and a sample of water-based lube to get you started.
Charging
When it comes to charging the Exomoon, it's a breeze. The Exomoon comes with a magnetic charging cable, ensuring a secure connection whenever you need to power it up. Attach the magnetic end of the cable to the corresponding connectors on the Lovense Exomoon and plug the other end into a USB port. The convenience of USB charging means you can easily charge your Exomoon using a computer, power bank, or wall adapter. Plus, with its waterproof design, you don't have to worry about any charging ports getting wet.
Once plugged in, it offers a decent battery life, providing between 2.5 to 3 hours of continuous use on a single charge. A complete charging takes approximately 2 hours.
Cleaning, maintenance, and storage
Cleaning: Thanks to its impermeable design, cleaning the Exomoon is super easy. Just give it a rinse with warm water and a mild, fragrance-free soap after each session. Since the Lovense Exomoon's "lipstick" end is crafted from silicone, it's crucial to use cleaning products and lubes that are silicone-friendly. Steer clear of silicone-based lubes, which might harm the material over time.
Maintenance: Regular upkeep is key to keeping your Exomoon in tip-top shape. Once you've cleaned it, ensure it's completely dry before tucking it away. This step helps avoid any unwanted mold or bacteria. Occasionally, please give it a once-over for any signs of wear or damage. If you spot any rips, breaks, or other concerns, it's time to consider getting a new one for safety's sake.
Storage: Storing the Exomoon is a cinch with its sleek black pouch. Not only does this pouch keep it pristine, but it also shields it from any dust or debris. With its chic lipstick look, you can slip the Exomoon into a handbag or tote without anyone being the wiser. But, for its best care, it's wise always to use its pouch.
And hey, remember, looking after your intimate gadgets not only makes them last longer but also guarantees a delightful and secure experience each time they come into play.
Customer reviews
I gathered customer reviews from various sources like Google, Amazon, the official site, and Lovehoney to create an approximate customer satisfaction score and address the most negative reviews.
Quotes from Reviews:
"No one else makes a long-distance bullet vibe like this. The app control is fantastic!"

"Really nice for focused clit stimulation, with the slanted & pointed tip."

"The strong vibes traveling through the plastic handle can be a bit much after a while."
Addressing the Negative Feedback: While some users mentioned vibration strength and the lack of travel lock as concerns, it's essential to note that personal preferences play a significant role in how a product is perceived. What might be strong for one person might be just right for another. Additionally, the unique design and features of the Exomoon, such as its discreetness and app control, make it stand out in the market. Future versions might consider user feedback to improve the design further.
Alternatives
Okay, while I've been raving about the Lovense Exomoon (because it's genuinely fab), I've also had some great experiences with other bullet vibrators. The We-Vibe Tango X? Oh, it's a powerhouse in a tiny package. And the LELO Mia 2? It's like the chic, sophisticated cousin in the vibrator family. Each of these has its charm and quirks, and honestly, it's worth checking them out, too. I always say the more, the merrier when it comes to finding the perfect toy for your pleasure toolkit!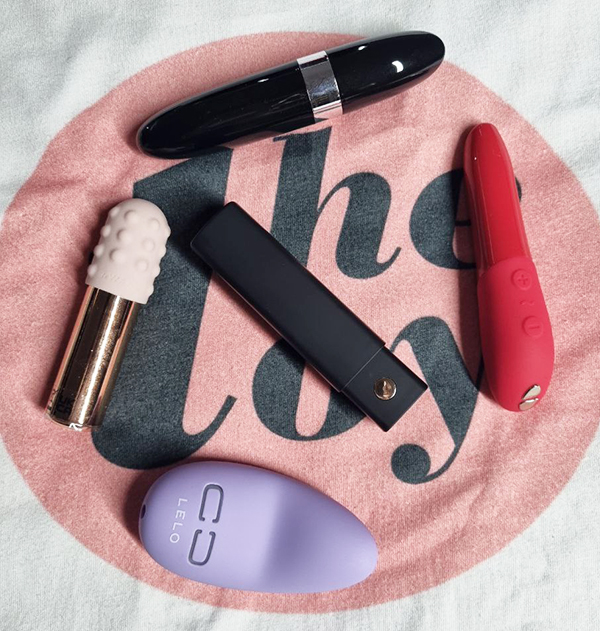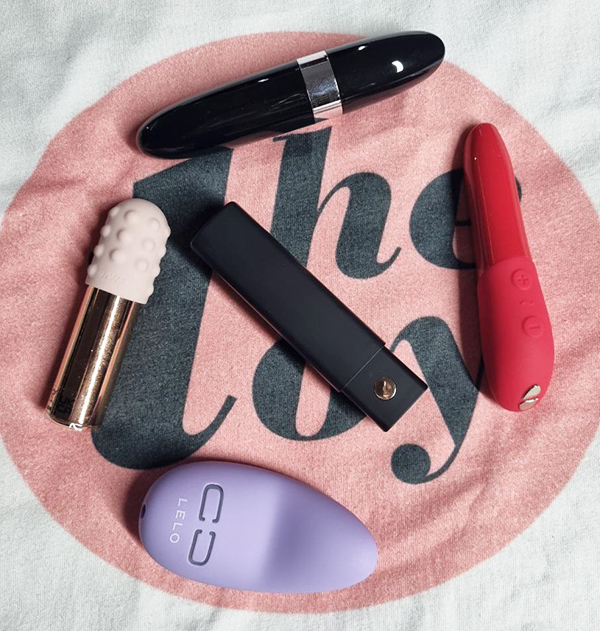 Lovense Exomoon vs. LELO Mia 2 vs. We-Vibe Tango X
If we talk purely of aesthetics, Mia 2 is the winner as it has that luxury polished style. Exomoon gets second because of its lipstick-like design and nice cap. It is the most discrete because it has no branding or signs outside but looks like regular lipstick.
For the strongest vibes, the winner is We-Vibe Tango X, which I rated 3.5/5 on my scale. Exomoon is close behind with 3.3/5, and Mia 2 is much weaker at 2.9/5. Also, Tango and Exomoon have deep, rumbly vibrations, while Mia 2 is more on the buzzy side.
As for the controls and vibration intensity and range, Exomoon is the clear winner because, with the app, you can pick the patterns and power with the exact precision that fits your body best. Mia 2 and Tango X have predefined vibration patterns and levels.
All three are body-safe and waterproof, but Lovense Exomoon's body is silicone and is much softer, and the silicone feel of the vibrations is softer and gentler. Tango X and Mia 2 are ABS hard plastic and feel much firmer on the skin.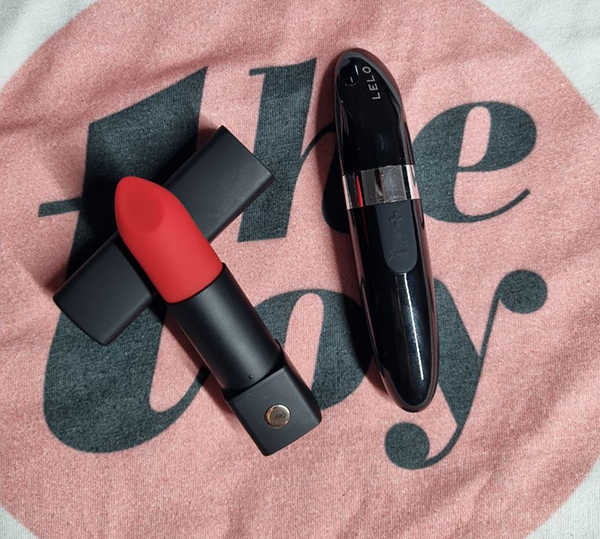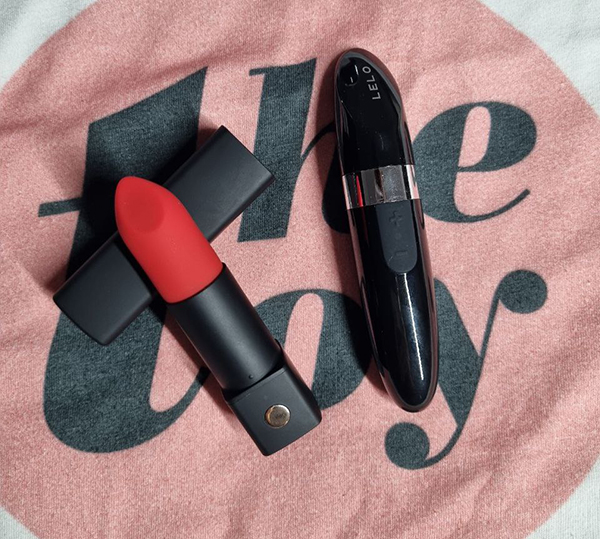 Exomoon vibrations travel through the handle, while Tango X and Mia 2 are better balanced, and the vibration goes where intended, and you can only barely feel it with your fingers. Tango X has a silicone grip that absorbs the vibrations even more.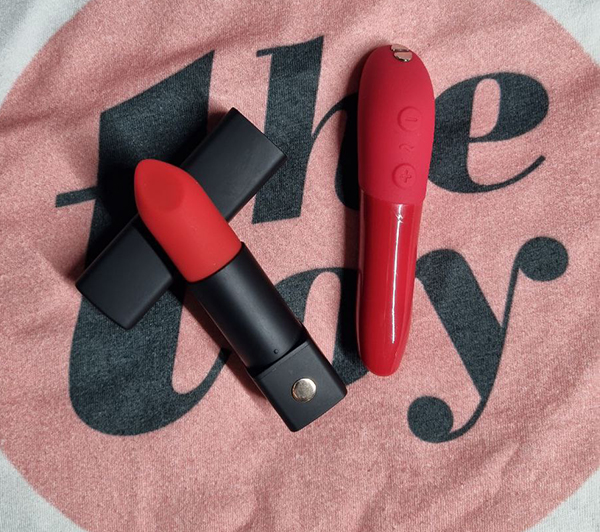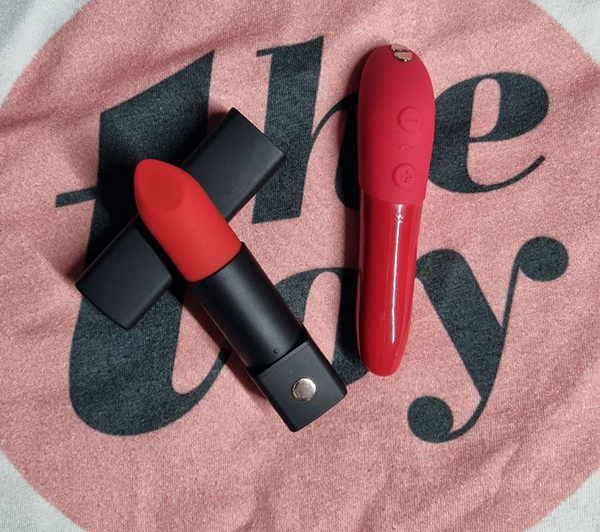 Exomoon is the cheapest when on discount at the Lovense site for $69. Tango X is $79 regular price, and Mia 2 is $100+.
I think Lovense Exomoon is the best value for the money with its quality build, strong motor, app functions, and soft silicone. Maybe I am biased here because I prefer silicone over hard plastic.
However, if you want the strongest mini vibrator and you don't mind the ABS plastic material, get the We-Vibe Tango X. If you are purely after the look of the toy and you want something luxurious with a premium feel, get the Lelo Mia 2.
Wish list
While the Exomoon vibe is a top-tier product with many commendable features, there's always room for innovation and improvement. Here's what I would improve about it:
Fix the vibration in the handle: I've noticed that during longer sessions, the vibrations tend to travel up the handle. Addressing this could make the experience even more comfortable.
Quicker charging: Waiting 2 hours for a full charge can sometimes test my patience. A faster charging mechanism would be a game-changer!
Introduce a travel lock: I'd love a travel lock feature. It would give me peace of mind to toss the Exomoon into my bag, knowing it won't spring to life unexpectedly.
Conclusion
The Exomoon clitoral massager is a game-changer in the world of discreet pleasure. Its lipstick design is not only innovative but genuinely resembles real lipstick, making it the perfect companion for those spontaneous moments. I've tried my fair share of "lipstick" vibrators, and many have left me wanting more, either in terms of power or discretion. But with Exomoon, I was pleasantly surprised. The vibrations, though not the most powerful I've experienced, are rumbly and deep, targeting just the right spots. And the fact that it's so quiet? That's a massive bonus, especially for those who value our privacy.
But what truly sets the Exomoon apart is its app compatibility. While I often use it for quick sessions without the app, the added dimension of remote control, especially for long-distance play, is a delightful bonus. The app is intuitive and stable and offers many ways to customize your experience. The only slight hiccup? The lack of a travel lock. But considering you need to press and hold to turn it on, accidental turn-ons are less likely. All in all, the Exomoon has found a permanent spot in my collection, and I can't wait to see where Lovense takes this concept next.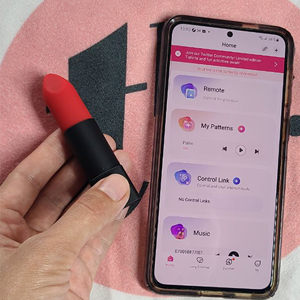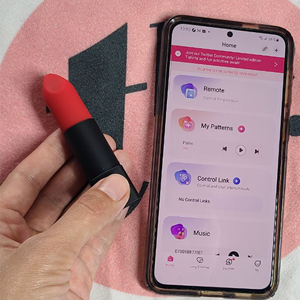 | | |
| --- | --- |
| Design: | (5.0 / 5) |
| Comfort: | (5.0 / 5) |
| Power: | (4.0 / 5) |
| Experience: | (5.0 / 5) |
| App: | (5.0 / 5) |
| Price: | (5.0 / 5) |
With its remote control functions, the Lovense Exomoon unlocks unlimited pleasure possibilities at your fingertips
You can buy this bullet toy here: