We-Vibe recently launched their brand new bullet vibrator Tango X. It combines extra powerful and targeted clitoral stimulation, prolonged battery life, and a super comfortable silicone grip.
In short, Tango X is the result of continuous improvements, an upgrade to the already awesome previous version Tango, offering powerful orgasms since 2014. Tango X has all of the features of the original Tango, plus improved controls, a more relaxed grip, increased strength, and other amazing features you'll fall in love with.
I couldn't wait to receive my new sex toy and start writing my We-Vibe Tango X Review.
Pros and Cons
Pros
8 extra powerful vibration intensities and 7 patterns giving you 56 options for stimulation
Eco friendly and convenient magnetic charger giving you 90 minutes of uninterrupted play
Designed with body-safe materials: ABS plastic body and innovative silicone handle
Waterproof and submersible, easy to clean and enjoy during aquatic sex sessions
Discreet
Easy to hold and extra convenient
Travel lock for preventing accidental activation
Cons
Tango X offers pinpoint stimulation only. Don't expect broad vibrations from it
How Does It Work?
There is a fairly powerful vibration motor in TangoX, I wonder how they're able to cram so much power into this small vibrator. There are 7 patterns to choose from. These involve non-patterned vibrations, constant/ramping pulsations, and lower (teasing) settings can be created.
The new design is made with an extra comfortable silicone base, which is way more convenient, compared to the plain plastic model.
Compare price of Tango X: We VibeLovehoney
The Tango X allows you to customize each mode to have 8 distinct vibration intensities. With We-Vibe Tango X's 8 speeds you can create the perfect pulsation rhythm that suits your mood best.
While masturbating or having sex, it's important to be open to the new places that your imagination will take you, both physically and sexually. Tango X will do the rest.
Just one button operated the vibrations in the original We-Vibe Tango bullet; you needed to press the single button to go through all the patterns and if you pushed the button by accident one more time, respectively missed the one you chose, you had to go through the patterns again before you found it again. According to many users, the original Tango's one-button interface was not that great, as it may sometimes ruin the entire experience.
With the latest three-button interface, you can easily and comfortably switch between the different functions of Tango X:
The + plus button activates the vibrator (press and hold it down for 3 seconds) and increases its power (there are 8 possible strengths for each vibe pattern).
The ~ this wave button toggles between functions: one constant and six vibration patterns.
The – minus button deactivates the vibrator (press and hold it down for 3 seconds) and decreases the power of vibrations.​
To use the travel lock function on your Tango X, hold down the + and – buttons together for a couple of seconds to activate or deactivate it.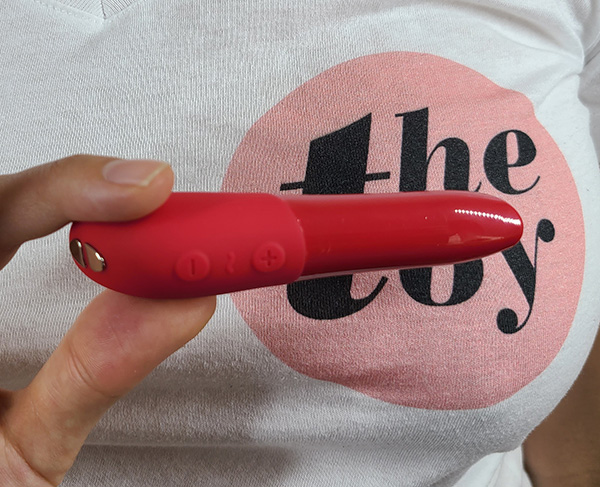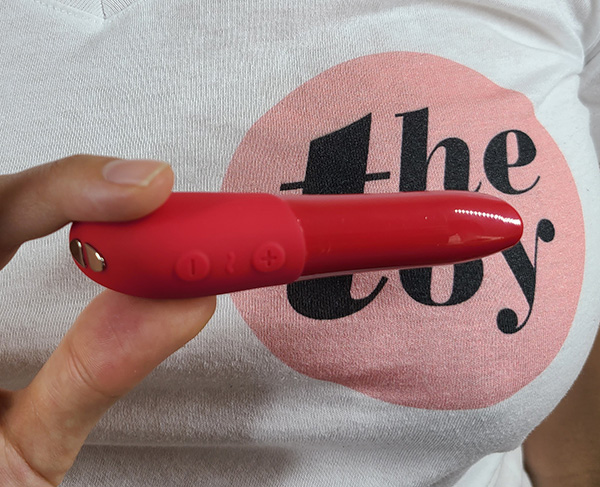 My Experience With We-Vibe Tango X

The first time I charged the Tango X, I intended to use it on myself. I didn't want anyone else involved. For me, it is that time of the month when my hormones are going crazy and I feel super horny all the time.
The vibrator was all prepared, I have already prepared some time for myself so I was ready to test the Tango X.
And I can confirm – We-Vibe are good at providing power!
This mini wonder offers super-targeted rumbly vibration so you have to be careful in case your sweet spot is sensitive. I did the mistake to adjust it on the highest settings and applied it to my clitoris. This happened for no more than 2 seconds but it didn't feel nice.
After a bit of frustration, I started lowering the vibrations, this time the bullet was away from my clit, so that was one of my smartest decisions.
After finding a potentially comfortable pace, I tried applying Tango X to my clit for the second time, and, it felt amazing. Deep, rumbly, hitting the right spot without any effort on my side.
My first orgasm was spectacular and came after no more than a minute.
I'm not sure whether it happened because I skipped masturbating during the last 2 days or because Tango X performed so well. Maybe both, I can't be sure.
Anyway, I wanted to see how much time would be required for my next orgasm, so I needed to get distracted for a while (for me, deeper stimulation or any contact with my clit right after orgasm doesn't feel good).
So, once I felt prepared for round two, the exact same scenario happened. Seconds, I only needed seconds to cum again. And it was just as awesome as it was the first time. Hands down, this little beast is a must-have for every self-respecting woman!
During sexy time with a partner, it depends on the type of orgasms you prefer the most. I personally prefer enjoying my partner's penis – the internal orgasm feels more sensual and intimate for me, therefore Tango X is more like a distraction.
But for those women who can only achieve orgasms following external stimulation, Tango X will easily become a game-changer for you, because it doesn't feel intimidating while having sex nor it will interfere with your love game. Your partner won't be disturbed by the vibes, he or she can only get more aroused while watching you cum.
We-Vibe Tango X Specifics
Main Features
Tango X is a completely waterproof bullet vibrator with a super convenient design and impressively powerful motor. It is intended for external stimulation only. It is not designed for anal use.
We-Vibe Tango is a perfect rumbly vibe for PIV sex or other penetrative playtimes as long as it doesn't get inserted anally or vaginally.
Tango X's base, or the part, covered in layer of silicone, is now easier to hold onto, compared to the previous version. It is half an inch longer and slightly thicker at the base. Tango X's design is easier to hold onto for longer periods of time because its ergonomic shape forces your hand into an angled position which increases pleasure.
The original lipstick-tip shape where the vibes are the strongest, remains the same, offering extra targeted stimulation. The angle easily fits on the clitoris.
You can change the intensity levels of vibrations using the +/- control buttons, you don't need to cycle through the different functions any longer. This is a major improvement that women really appreciate.
Power
Even though Tango used to be the most powerful bullet vibrator for several years, major changes needed to be done in terms of performance. The problem with the previous We-Vibe Tango is that the battery life runs out fast.
Many users have reported, "20 minutes run time on high speed and the battery needs charging".
With the new Tango X the battery issue is left in the past.
It allows more than 2 hours of continuous play (on the higher settings) per charge and about 3 hours if you're using lower steady speed settings.
A typical run-time for a rechargeable li-ion vibrator battery is about two hours, so Tango X performs sufficiently.
Now with the improved battery life this problem is left in the past, and we need to discuss the amazingly powerful and deep vibrations of Tango X.
The intensity is incomparable to any other bullet sex toy, I still don't understand how We-Vibe company managed to create such a powerful motor and insert it into this mini bullet.
Honestly, the higher range of vibrations are way too much for me, but I'm sure they will be highly appreciated by power queens.
Noise Level
Tango X is already very discreet due to its elegant lipstick-syle shape, and it comes with a satin bag in which you can hide this little bullet.
Tango X has a quite discreet performance, so it wouldn't compromise your privacy, whether you have roommates or you are in public. The vibration noise is minimal and the toy can be conveniently hidden in your palm when being used.
Charging
Tango X is a USB rechargeable device. However, there are people who had trouble holding the Tango's charging cord attached to the magnetic clips at times.
This is why We-Vibe company improved the magnetic charger – the newer version can be easily attached to the charging port. You can use any commercially USB power adapter (the adapter is not included in Tango X's box) with an output corresponding to the product rating.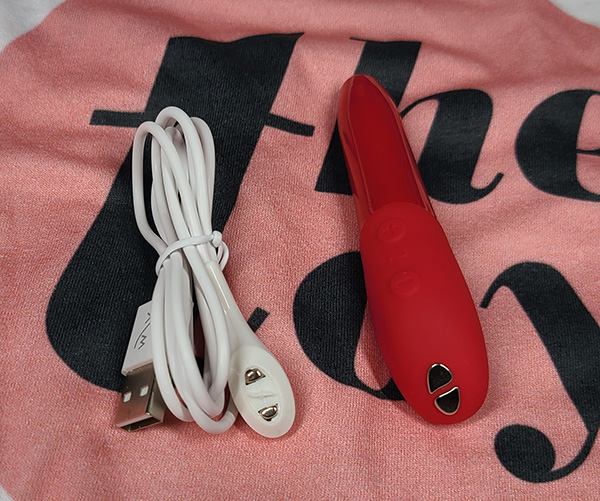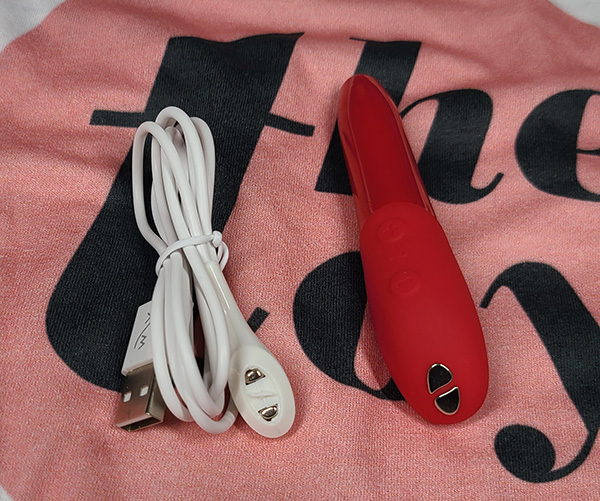 To ensure longer battery life, we recommend charging the Tango X regularly, even if not in use.
Materials, Design, and Size
The materials used for designing Tango X include body-safe ABS plastic for the lipstick head of the bullet, the body is made of body-safe silicone, free from phthalates and BPA, and made without latex.

This mini vibe is available in cherry red and midnight blue color.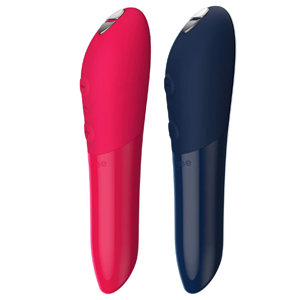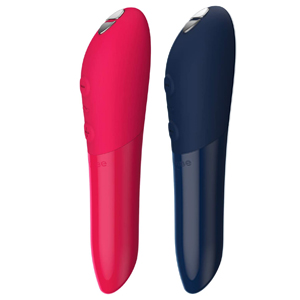 The exact dimensions are as follows:
3,93 in/9,98 cm x 0,9 in/2,29 cm x 1 in/2,43 cm ​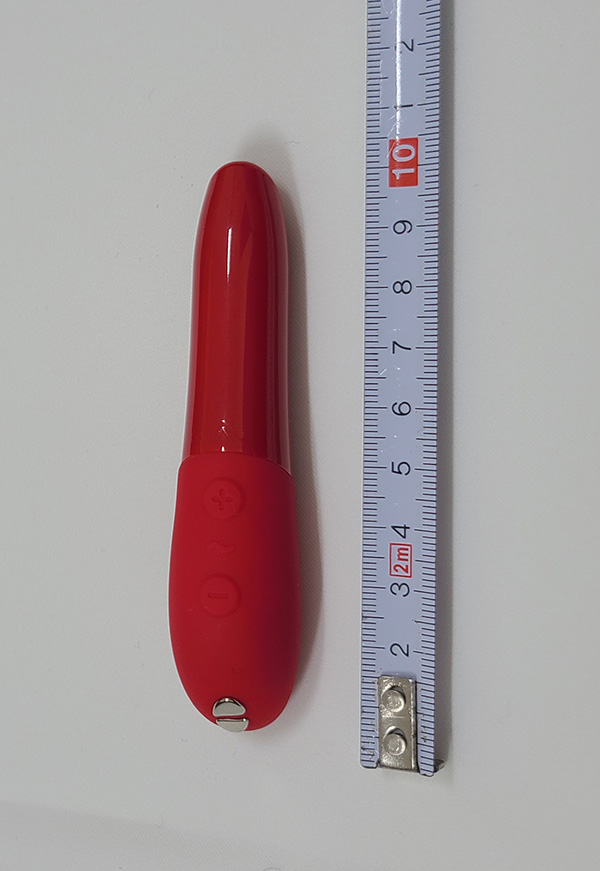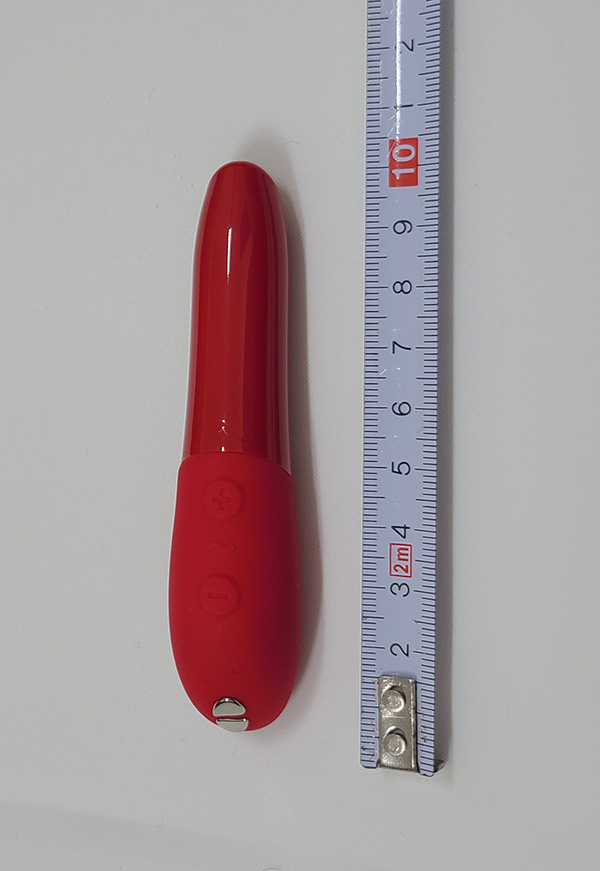 This lightweight lipstick bullet is 38 grams (1.34 ounces) only, which makes it super easy to carry in a pocket or a purse.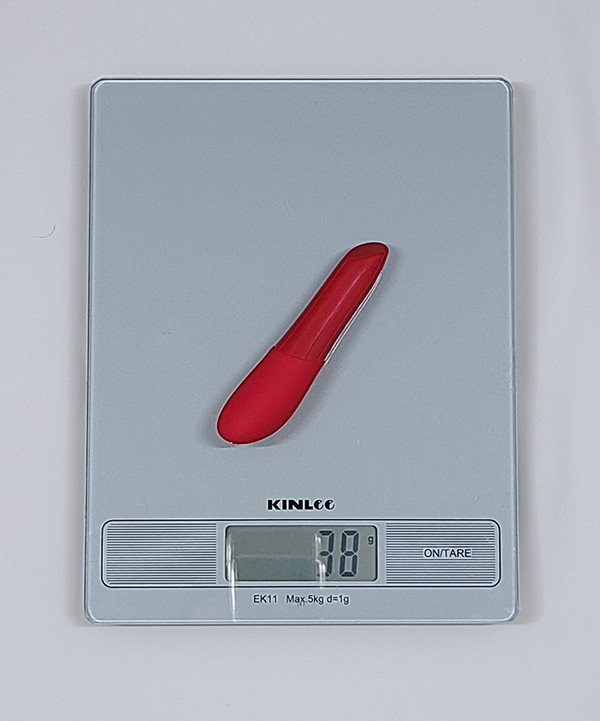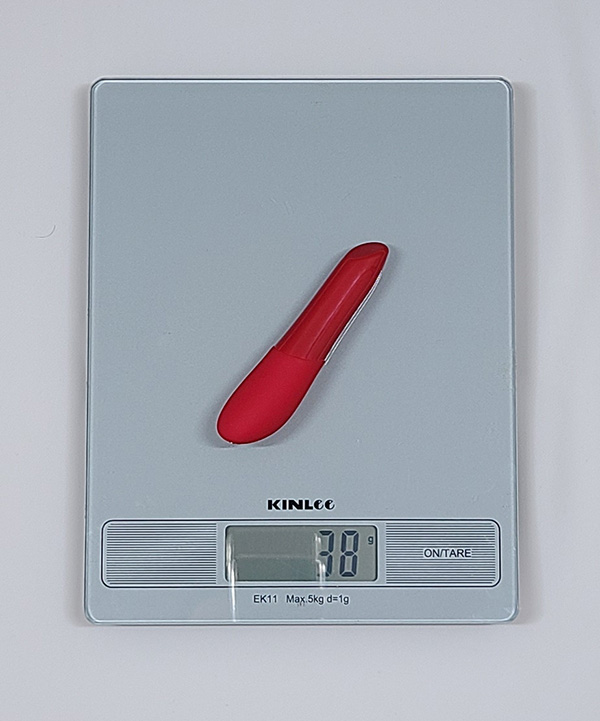 Tango X is completely waterproof and submersible, you can enjoy it during shower or bath tub sex.
Is Tango X worth your money?
The price of Tango X is quite reasonable for this uncompromising quality vibrator. 100% worth considering, just like all other We-Vibe toys.
Plus, the bullet has a 2-year warranty, which is amazing having that most sex toy manufacturers.
In the box of We-Vibe Tango X you'll also find:
Magnetic charging cable, suitable for any USB port or widely available USB power adapter
Quick start manual
Silky satin storage bag to keep your toys protected from dust and curious eyes
2 ml sample​ of We-Vibe water-based lube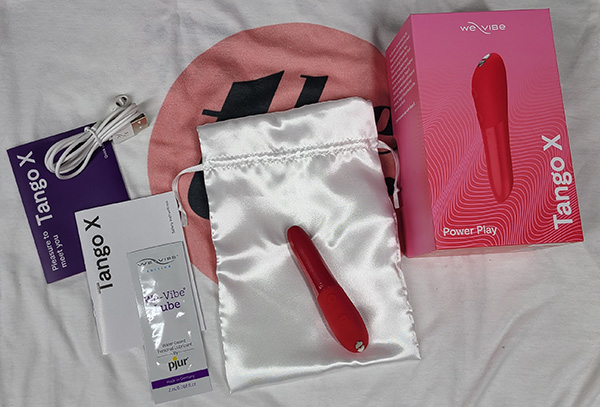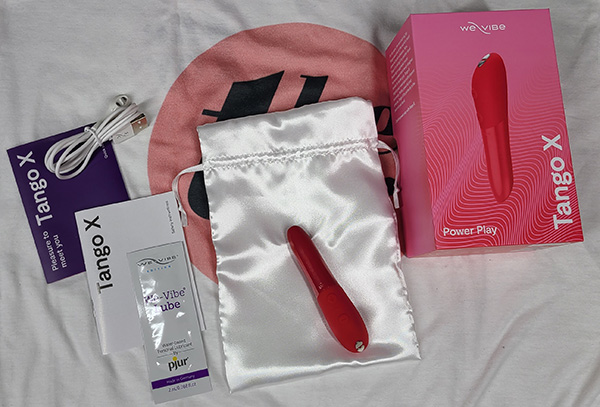 Compare price of Tango X: We VibeLovehoney