While researching the best penis pumps I could get my hands on and test, I came across the Bathmate HydroXtreme. This penis pump is one of the most popular on the market, and thousands of men swear by its effectiveness. So, of course, I had to try it out for myself. In this Bathmate HydroXtreme review, I'll share my honest opinion and tell you whether or not it lives up to the hype.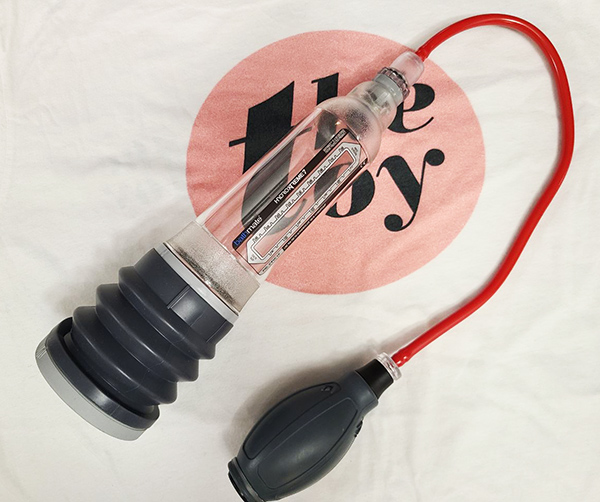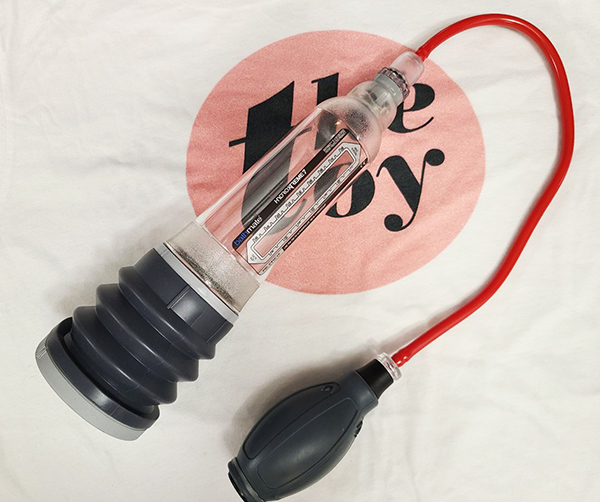 The Bathmate HydroXtreme is a hydro pump. This means it creates a vacuum seal against your pubic area and encloses the penis in the water-filled pump tube. When the water is pumped out, a partial vacuum is created in the pump. This increases blood flow to the penis, resulting in an erection. Pumping again increases the vacuum, thus increasing the size of the erect penis.
Now let us get to the heart of the matter. I have been using HydroXtreme for a few months now, and it is one of the best, if not the best, penis pumps I have ever tried. I'll explain why in detail in this review, but in short, it does what it's supposed to. It provides a quick erection even when you are not in the mood.
It is comfortable and very easy to use with the handball pump. The hand pump makes the experience much more enjoyable because you do not have to press the whole tube against your body. You pump the water out with one hand. And after using it for a while, I feel like I have stronger, more powerful erections during intercourse.
Has my penis grown? In two months, I was able to measure growth of +0.3 inches in length and +0.2 inches in girth. Is this permanent if I stop using the pump? Come back in a few months, and I will post an update.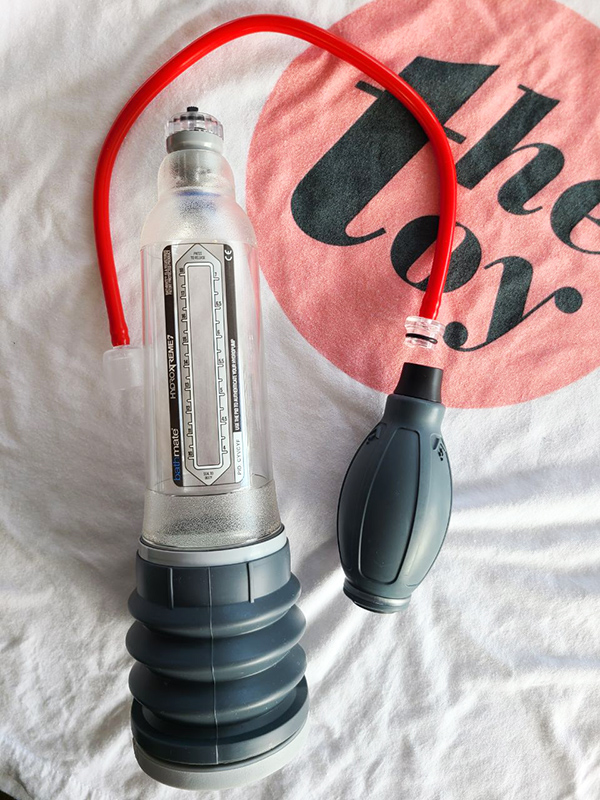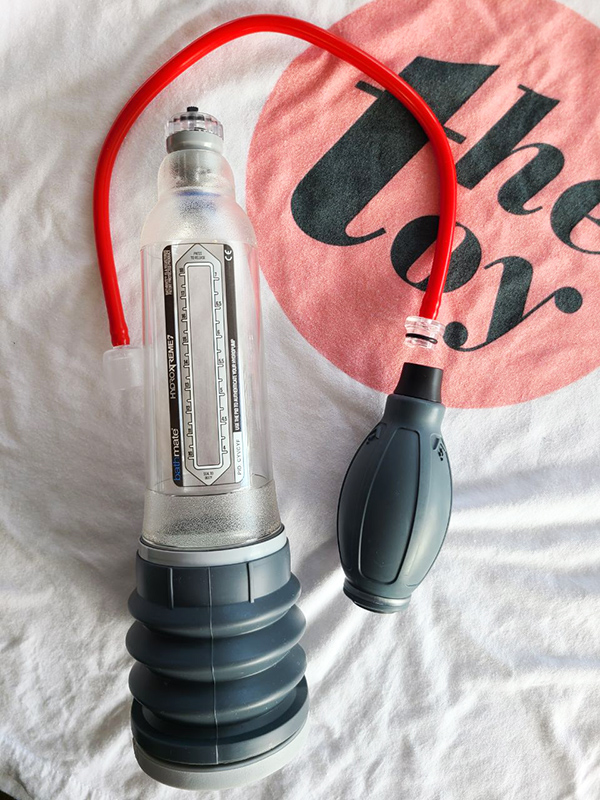 | | |
| --- | --- |
| Suction Power: | (5.0 / 5) |
| Size Gains: | (4.0 / 5) |
| Material and Design: | (5.0 / 5) |
| Experience: | (5.0 / 5) |
Bathmate HydroXtreme is an effective top-of-the-line penis pump with strong suction, handball pump, and body-safe materials.
You can buy this penis pump from:
A word of caution
Penis pumps can be dangerous if used excessively. I am a healthy middle-aged man who has had no problems with my erections. I have only pushed my erections to the point where I felt mild discomfort/slight pain in my pubic area, and no longer than 2-3 minutes per session, and no more than 3 sessions at a time (which is a total of 15 minutes a day).
Be sensible when using penis pumps and stop immediately if you experience severe pain or discomfort. Also, at the end of this article, I include the safety instructions from the Bathmate brochure, which you should read carefully before purchasing a hydro pump.
How to use Bathmate HydroXtreme
I have a full article with pictures and videos on how to use the Bathmate HydroXtreme here. For this review, I want to mention that you need to trim your pubic area before using it (you do not have to be shaved, trimming works, I tested it because I am too lazy to shave). If you have hair, it will not seal and create a vacuum so the hydro pump will not work.
You can use the Bathmate hydro pump in the shower or bathtub. It is a water pump, and that is what it is designed for. However, I have tried in my bed with just air and if you put some lube between the pump and your pubic bone for a better seal, HydroXtreme is so strong that it can work with air.
Advantages and disadvantages
Pros
skin-safe, medical-grade materials; dermatologically tested
one of the strongest penis pumps I have tried
ergonomic design that adapts well to the body
great customer service at Bathmate that answers all questions and puts safety first
the pressure of the HydroXtreme feels very comfortable once you get used to it
handball pump makes the pumping very easy
Cons
the shower strap could be more comfortable
the price tag is not suitable for everyone
Benefits of using Bathmate HydroXtreme in my experience
I have always been happy with my penis size, but after using the HydroXtreme7 for a few months, my erections are much harder, and my penis has gotten about 0.3 inches bigger. My girlfriend is also very pleased with the results as she says my penis feels much bigger. My stamina and sexual performance have also improved, and I can take much longer before I ejaculate.
However, this change did not occur immediately, but gradually and came at the end of the second month of continuous use. The main benefits of HydroXtreme so far are:
improved erection
some size gains
improved erection
a satisfied partner
more confidence in bed
Overall, I am extremely happy with the HydroXtreme and I would recommend it to anyone looking for a quality penis pump.
Pump style – what makes the difference
HydroXtreme is my favorite of the Bathmate hydropumps series because of the hand pump that is included. The handball pump can be used directly on the hydro pump when you are in the bath, and it has a connecting hose that is very handy in the shower.
With Hydro and Hydromax, you have to press the silicone gaiters against your body to pump out the water, which can be uncomfortable and puts a lot of pressure on your pubic area. With HydroXtreme, you place the pump on your flaccid penis and pump out the water with the handball pump, which is much easier and more comfortable.
All Bathmate hydro pumps are designed to reach the maximum safe pressure required in the EU and the US. However, do not go directly to the maximum pressure. Go one pump at a time until you feel discomfort or pain.
Some people never reach the maximum pressure (12hg for this water pump). I did not reach it until after a month of continuous use, and not until the third short pumping session. I did not reach it on the first two.
Design
The HydroXtreme is the top-of-the-line Bathmate pump. The hydro pump is made of medical-grade, body-safe materials that are dermatologically tested.
The set includes a hydro pump, a hose, and a hand pump.
The body looks similar to the other Bathmate pumps – Hydro and Hydromax.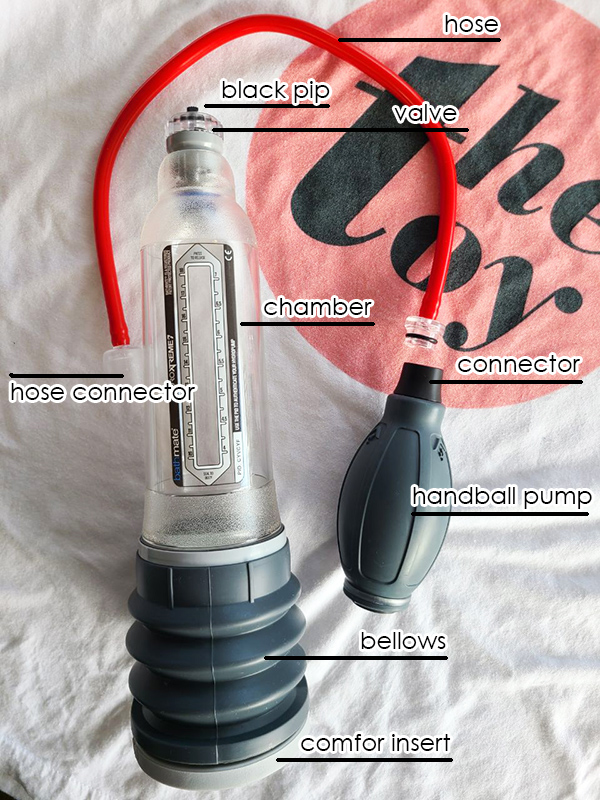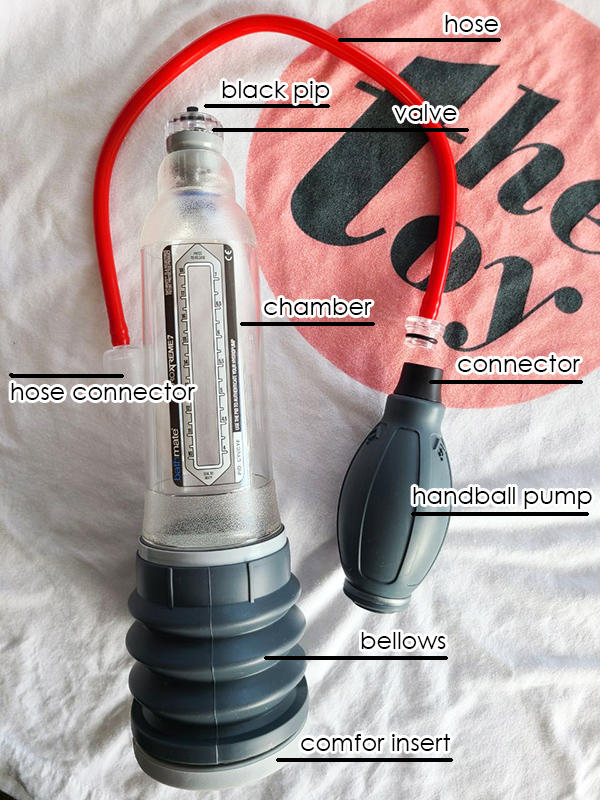 It has a silicone comfort pad that is inserted into the bellows. The bellows are soft and easy to compress and attached to a transparent hard plastic chamber.
On top, the HydroXtreme has a quick-release valve mechanism that allows you to quickly release the vacuum and take your penis out of the pump when you finish your session or feel uncomfortable.
At the very top of this Bathmate hydro pump is a black pip that controls the flow of water. When tilted, the pump is closed, and the water does not flow. This is handy when you fill the pump with water. When the pip is in a straight position, the water flows through the pump.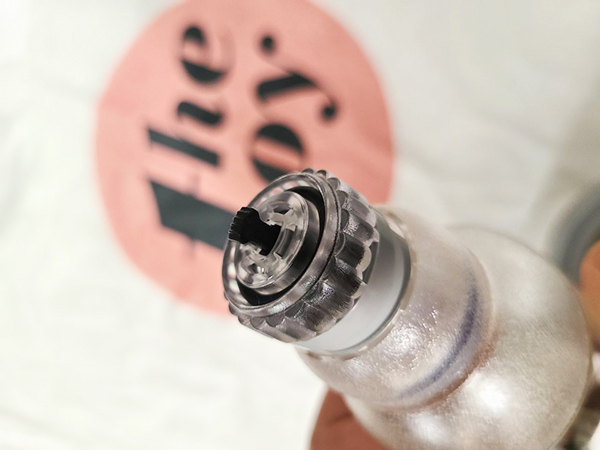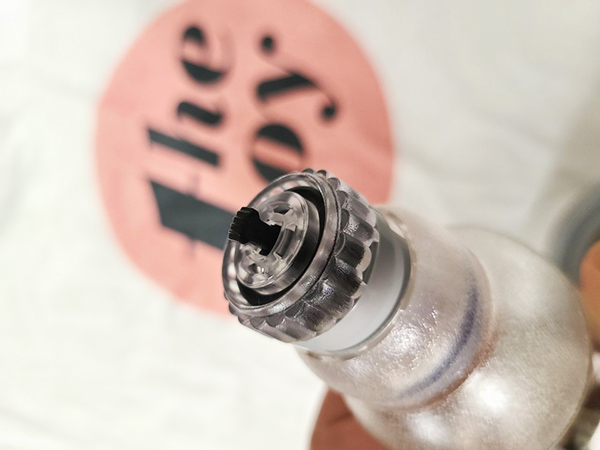 Which Bathmate HydroXtreme should you buy for your penis size?
The good news is that Bathmate offers several sizes of the HydroXtreme model to fit most people. For this review, I tested the HydroXtreme7. The other sizes are the same hydropump, just modified to fit the different sizes.
Here are the basics and you can see where you fit to buy the right model:
HydroXtreme3 – erect girth – up to 6 inches / 15.5 cm; erected length – up to 3 inches / 7.5 cm
HydroXtreme5 – erect girth – up to 6 inches / 15.5 cm; erect length – 3 to 5 inches / 7.5 to 12.5 cm
HydroXtreme7 – erect girth – up to 6.5 inches / 16.5 cm; erect length – 5 to 7 inches / 12.5 to 15.5 cm
HydroXtreme7 wide – erect girth – up to 7.5 inches / 19 cm; erect length – 5 to 7 inches / 12.5 to 15.5 cm
HydroXtreme9 – erect girth – up to 7.5 inches / 19 cm; erect length – 7 to 9 inches / 17.5 to 23 cm
HydroXtreme11 – erect girth – up to 8.5 inches / 21.5 cm; erect length – 9 to 11 inches / 23 to 28 cm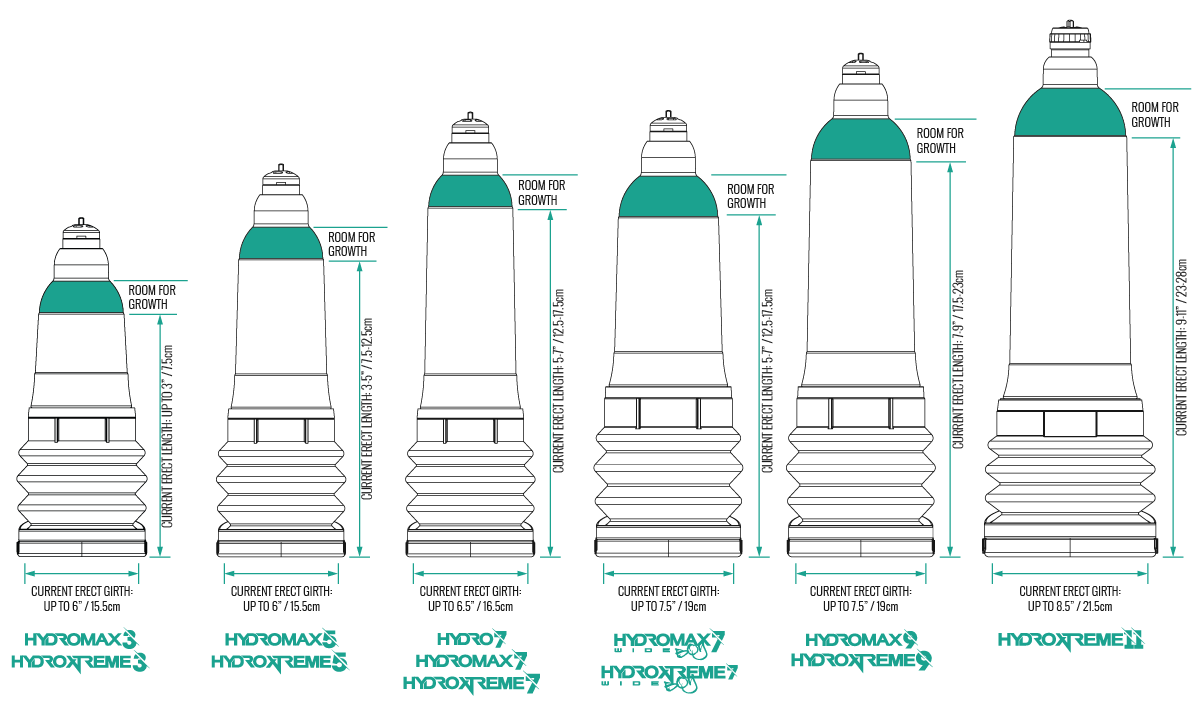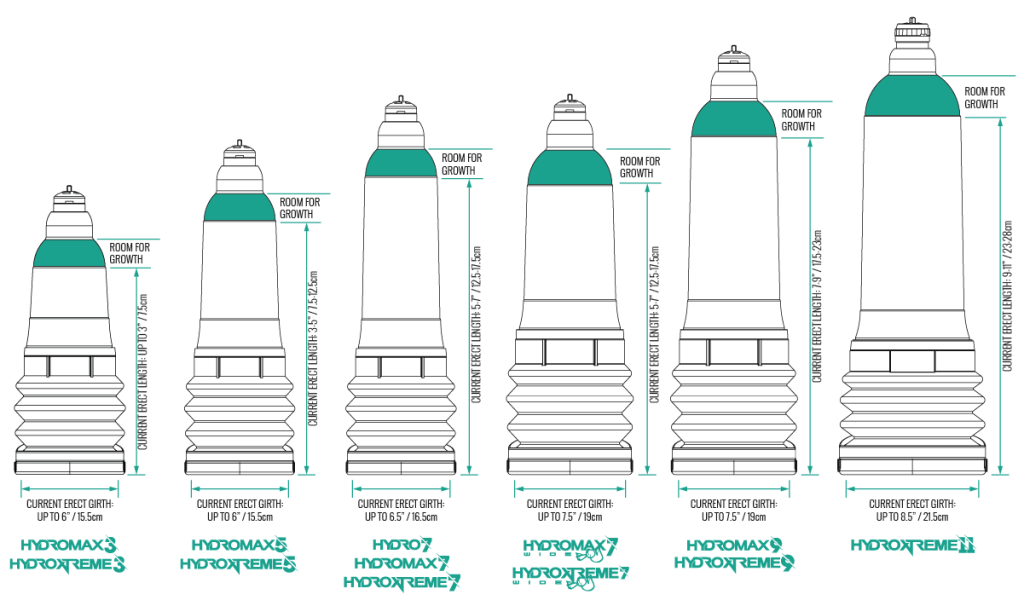 Accessories in the set
HydroXtreme comes with a lot of accessories. When I first opened the package, my girlfriend was there and said, "Wow, that looks fancy". Indeed, all the parts of the kit were in a black zippered hard case, where you can later store the hydro pump and all its utensils. So what's included:
the carrying case – a high-quality hard case for discreet storage of your pump. The carry case has no branding or logo, so no one will guess what's is inside. It has a double main zipper with a hard ring on the side, so you can use the numbered padlock (also included) to lock the bag.
Bathmate shower strap – it is very convenient if you want to use the penis pump in the shower. When the hydro pump is filled with water, it becomes heavy and you need to use it for several sessions of 15 minutes in total. The strap has a ruler on one side that allows you to measure the length and girth of your erection and track your progress. One thing that could be improved is some buffer that can be placed behind the neck to make it feel softer. Because all the weight falls on the neck and it can be uncomfortable after a long time.
hand towel – a nice white towel with the Bathmate logo, which can always be useful, especially because you will spend most of the time with the hydro pump in the shower or in the bath.
cleaning accessories – this is a must because you need to clean the HydroXtreme after each use to avoid leaving bacteria that can cause infection. This can be a very unpleasant experience and also get you in trouble with your partner. So the cleaning sponge is a necessity.
12 ml of toy cleaner to clean the pump, but since I mostly use it in the shower anyway, I prefer to clean it with warm soapy water.
comfort pad insert – this is a silicone pad inserted into the pump to make contact with your pubic area more comfortable. HydroXtreme's comfort pad is made of hard silicone, so it can be cleaned and used multiple times without hesitation. It creates a good seal with the skin so the pump can work better. I have tried using it without the comfort pad, it still works but can get uncomfortable.
the Handball Pump – it is exclusive to HydroXtreme and is the main feature that makes a big difference from the other Bathmate pumps (Hydro and HydroMax). The handball pump fits directly over the valve or connects to the included hose, which also fits perfectly. But it's a game changer because, as I mentioned above, it changes the pump style and can give you a much more enjoyable experience. You do not have to push the pump against your body, just squeeze the ball, which pushes the water out and creates the vacuum. Especially if you do it consistently for a long period to see results, a small change like that can go a long way and it is worth it the extra price if you can afford it.
Shipping Process
The shipping was very quick and discreet. All I got were these blank white boxes with no marks or branding. This is an important feature if you have other family members who may get the package or noisy neighbors.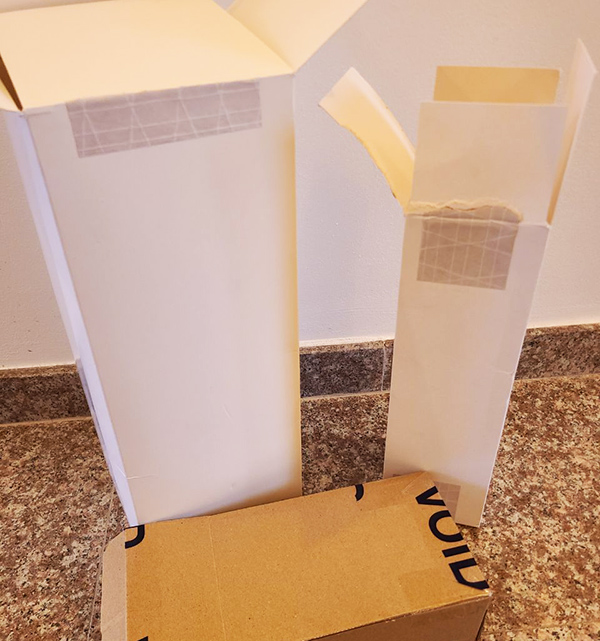 How do I clean the Bathmate HydroXtreme?
Cleaning the pump is relatively easy and takes about 5 minutes. It consists of 4 separate parts that need to be cleaned after each use so you do not get an infection. Here is a separate article I wrote about the steps you should take to clean the Bathmate HydroXtreme, with pictures and video. Make sure you have a private room where you can let the Bathmate pump dry.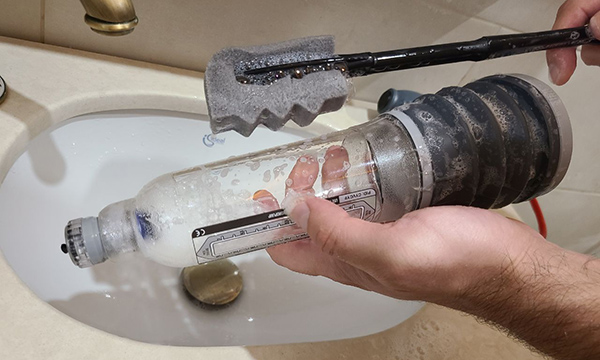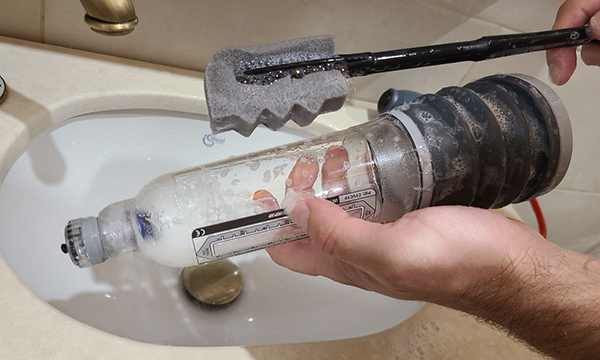 For better size growth – create a routine
If you are using the Bathmate HydroXtreme primarily for size gain or to build your endurance, you will need to use it daily. Remember, you need to spend at least 20 minutes total in the shower/tub, so make sure you have that time in your schedule every day. The HydroXterme is powerful and with the included hand pump, you can use it in bed and create a vacuum by pumping air. This is convenient if you feel too tired or want to skip a day of bathing, but safety rules still apply and should be avoided. After all, the hydro pump is designed for use with water.
Important safety instructions
I have taken these tips directly from the Bathmate HydroXtreme user manual. I think it is worth reading them before purchasing a hydro pump.
Consult your doctor before using this device if you suffer from any of the following: Symptoms of erectile dysfunction, diabetes, multiple sclerosis, cirrhosis of the liver, chronic kidney failure, alcoholism, increased heart or respiratory rate, heart or lung disease, high blood pressure, stroke, epilepsy, urinary tract disease (e.g., kidney, bladder or genital problems) or leukemia.
Do not use this device if: You have sickle cell disease.; You have a history of prolonged erections.; You have a bleeding disorder or are currently taking blood thinning medications such as aspirin.
The hydro pump is intended for use by a single user.
Bathmate hydro pumps are intended for use in water. Therefore, the use of lubricants with this device is not recommended.
You must have full use of your hands and the strength to operate the vacuum release mechanism. Decreased hand strength may make it difficult to remove the device safely.
You must be in control of the device at all times. Avoid falling asleep while using the hydro pump.
Do not use the device if you are under the influence of alcohol or drugs, as this may impair your judgment and increase the risk of injury to your penis.
Do not use the device if you have a decreased sensation of pain in the penile area, as this may impair your ability to detect a possible injury from the device.
Using a vacuum pump can bruise or tear blood vessels in the penis or scrotum, which can lead to petechiae, bleeding, or the formation of a hematoma.
The use of a vacuum pump may aggravate preexisting conditions such as Peyronie's disease, priapism, and urethral stricture.
Incorrect use of this device may result in injury to the penis.
If severe pain or discomfort occurs, discontinue use immediately and consult your physician.
Conclusion
I hope I have given you enough information in this Bathmate HydroXtreme review to know if this hydro pump is the right choice for you. I would say that if money is not your main concern, but rather value, this is the penis pump you should buy.
It is very well-designed, creates a strong vacuum, and is easy to maintain and use. And the handball pump makes the Bathmate routine much easier than the other pumps in the Bathmate series. It also comes with great accessories like a carrying bag, cleaning sponge, and shower strap, all you need to have a pleasant time pumping.
The HydroXtreme is far more comfortable than the Hydro and HydroMax, and I had better size gains. If you have the budget for it – it is worth it. If I had to choose and buy only one penis pump, it would be the Bathmate HydroXtreme.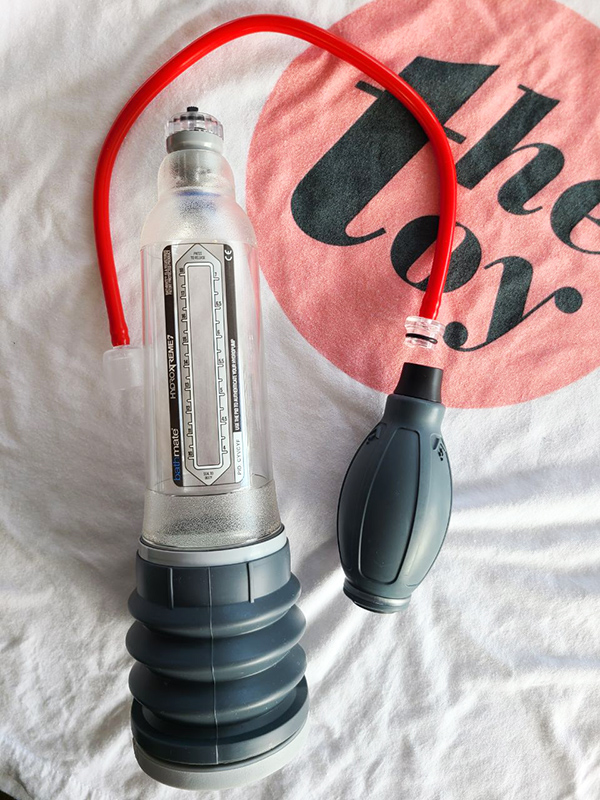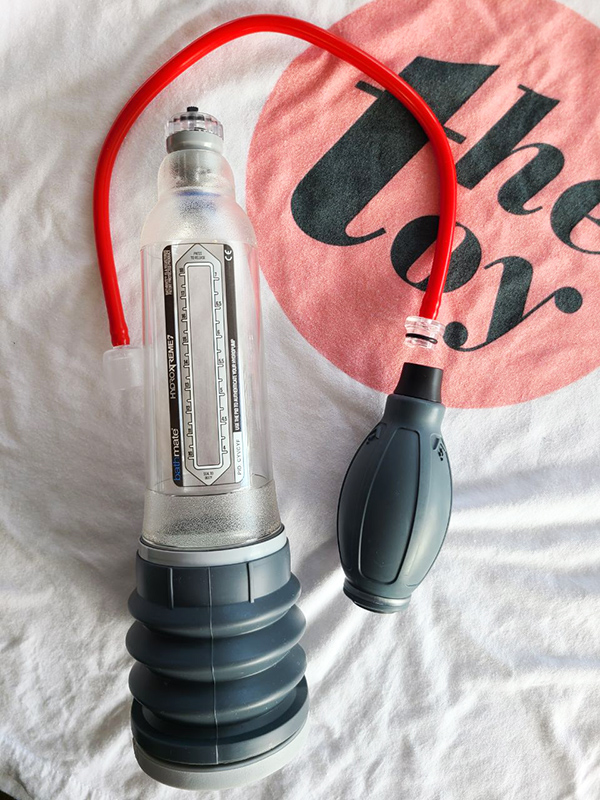 | | |
| --- | --- |
| Suction Power: | (5.0 / 5) |
| Size Gains: | (4.0 / 5) |
| Material and Design: | (5.0 / 5) |
| Experience: | (5.0 / 5) |
Bathmate HydroXtreme is an effective top-of-the-line penis pump with strong suction, handball pump, and body-safe materials.
You can buy this penis pump from: