The Lelo Sona 2 Cruise is a revolutionary vibrator from the world-famous Lelo brand. This innovative product is designed to stimulate the most sensitive erogenous zones with a unique combination of sonic waves and gentle pulsations.
The innovative Cruise Control technology gives you exactly what you need, when you need it. It turns on extra power when you press the vibrator harder against your body, while the ergonomic design ensures a comfortable and pleasurable experience. With its whisper-quiet motor, the Lelo Sona 2 Cruise will take your intimate moments to a new level of pleasure and satisfaction.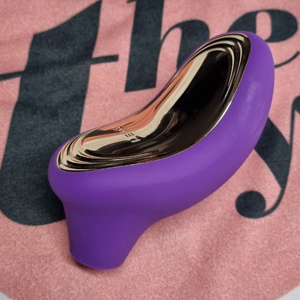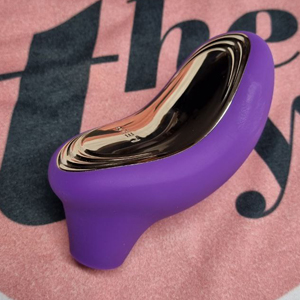 | | |
| --- | --- |
| Power: | (5.0 / 5) |
| Noise: | (4.0 / 5) |
| Material: | (4.0 / 5) |
| Price: | (3.5 / 5) |
| Ease Of Use: | (5.0 / 5) |
Intense clit sucker with tapping effect for fast and intense orgasms. Provides precise stimulation
You can buy this product from:
Pros and Cons
Pros
Provides intense sonic pulses (more powerful compared to most clitoral stimulators on the market)
The Sona 2 Cruise is made of high-quality materials that make it safe and durable to use.
It is rechargeable, waterproof and comes with a one-year warranty.
Sona Cruise 2 has 12 different vibration patterns and various intensity settings that allow you to customize your pleasure.
Even the lowest setting can bring people with more sensitive clits to climax
The Sona 2 Cruise is designed to provide a more intense experience than traditional vibrators, making it an even more effective pleasure toy.
It has a silent motor that makes it discreet and quiet.
Cons
The Sona 2 Cruise is quite expensive.
Some users have reported that the Sona 2 Cruise can be uncomfortable after prolonged use.
The Sona 2 Cruise is not compatible with all lubricants, so users must be careful to choose the right ones.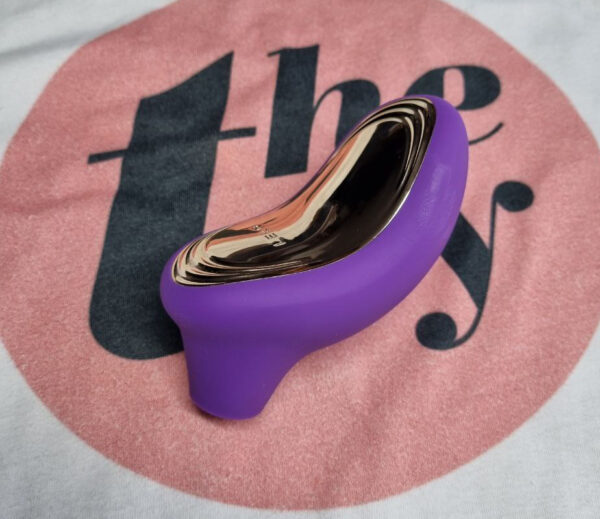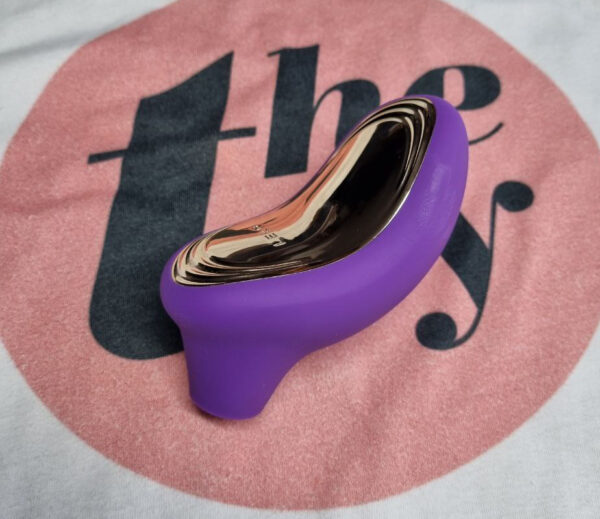 How to use LELO Sona 2 Cruise?
The LELO Sona 2 Cruise is a luxurious clitoral massager that provides targeted pleasure and satisfaction. To use this device, you need to charge it with the included USB cable.
Once it is charged, you can turn it on by pressing and holding the power button for about 3-4 seconds. Then you can adjust the intensity of the vibrations using the plus and minus buttons.
To explore the 12 vibration patterns, you need to press the () button. You can choose from the following:
Steady Sucking (Low, medium, and high intensity)
Pulsating
Fast pulse
Faster pulse
Revving up
Waves
Slow waves
Fast waves
Once you find the right setting, you can place the silicone mouth on your clitoris and enjoy the sensations it provides. To turn the device off, simply press and hold the power button for a few seconds. Thanks to its intuitive design, you can easily find the perfect settings for your pleasure.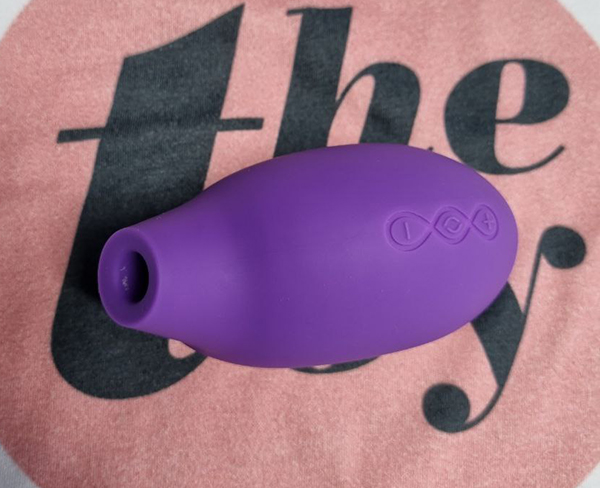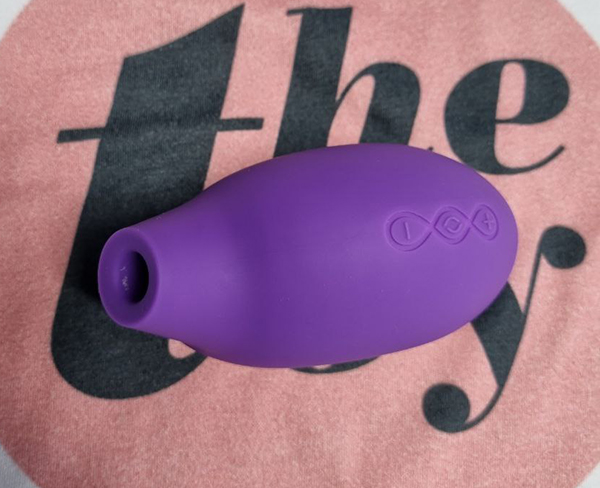 How to position Sona 2 Cruise during use?
The LELO Sona 2 Cruise is designed for ease and convenience of use. To get the most out of your experience, there are a few steps you should take to ensure a successful session.
Position the LELO Sona 2 Cruise on your clitoris and make sure the sound wave is aimed at it. Adjust the intensity of the vibrations to your liking by pressing the (+) and (-) buttons (which point towards you). Experiment with different movements and positions to explore different sensations.
Cruise Technology
The Cruise Control is the sole distinction between the Cruise version and the classic Sona 2, and it's a great feature. It senses any decrease in motor speed due to pressure (for example, if you push the toy too hard against your body before orgasm) and automatically increases the intensity of the motor. Whoever invented the cruise function must have experienced the disappointment of a vibrator that can not keep up, and I congratulate LELO for this smart and efficient solution.
My experience
LELO Sona 2 Cruise is designed specifically for women who prefer intense and targeted clitoral stimulation.
Even on the lowest setting, the sensation is intense enough to trigger an orgasm for me, even if it's a very different orgasm than the one I am used to from other clitoral blowers.
Unlike the Sila Cruise, which builds to climax quietly and deliberately, the Sona 2 propels the body to a peak of pleasure in seconds.
The Sona 2 Cruise is fantastic for women who enjoy a little more intense clit stimulation, but also for women who have a lower and less intense sex drive. The amazing intensity that the Sona 2 gives me comes from the fact that it stimulates not only the tip of the clitoris but also the shaft and hood of the clitoris, which is deep inside me.For me, the best results came when I used the Sona 2 Cruise at the lowest intensity possible. The results came so quickly that I did not even have time to process what was happening.
Although getting an orgasm is a breeze, I feel that Sona 2 is not able to give me a profound experience.
In fact, since the orgasms induced by LELO Sona 2 Cruise are quite strong, I am usually not able to have another session immediately after the previous climax.
Before I can use it again, I need some time to wait and collect my thoughts.
Specifications
Power
The LELO Sona 2 Cruise is an incredibly powerful and innovative pleasure device. It features unique sound wave technology that offers 12 sonic vibrations and pulsation modes, allowing users to customize their experience to their own preferences. It uses Cruise Control technology, which allows it to maintain vibrations even when pressed harder against the body for a more intense and pleasurable experience. The motor also has 12 powerful vibration levels and a range of vibration intensities that allow you to customize your pleasure.
If you enjoy more gentle vibrations, however, LELO recently launched their Sila Cruise clit-blower. Less intense, beginner-friendly, and provides a gradual orgasmic experience. You can read about it in my Lelo Sona 2 Cruise vs. Lelo Sila Cruise comparison review
Noise
The LELO Sona 2 Cruise is a truly silent vibrator. It features a whisper-quiet motor that produces deep, rumbling vibrations that can be felt throughout the body. Instead of a loud, high-pitched buzz, the Sona 2 Cruise produces deep, barely audible vibrations. This makes it the ideal choice for anyone who wants to enjoy the pleasure of a vibrator without worrying about noise.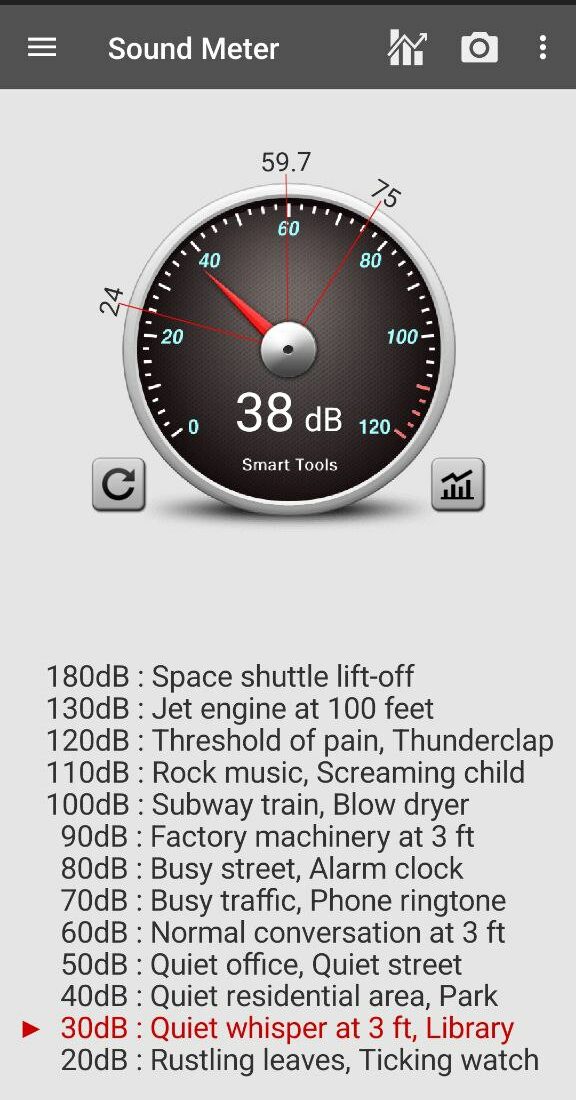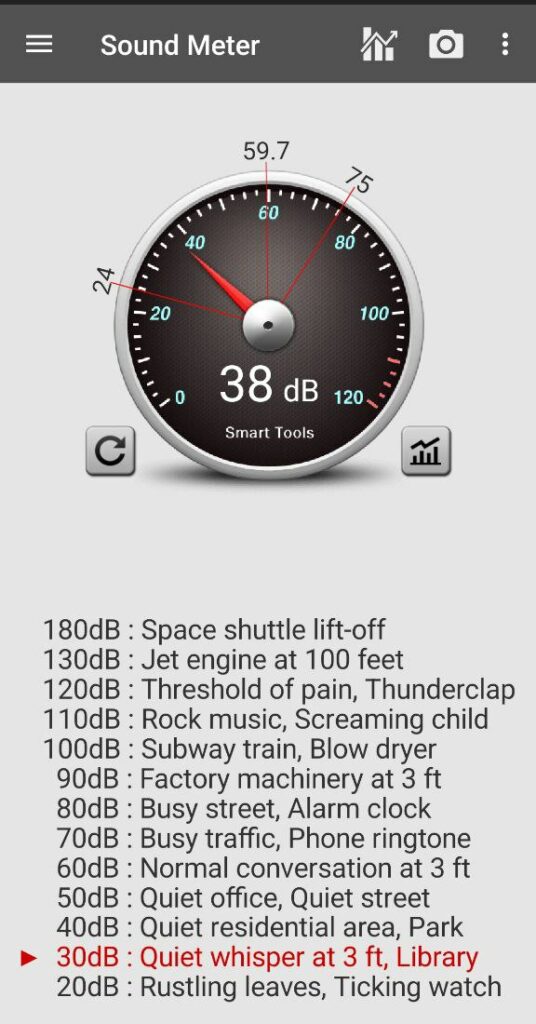 Material
The LELO Sona 2 Cruise is an incredibly luxurious vibrator made from the highest quality materials. The part of the vibrator that comes in contact with the skin is made of body-safe silicone, which is hypoallergenic and completely free of phthalates and other harsh chemicals. The exterior of the vibrator has a matte finish that is both aesthetically pleasing and soft to the touch.
The gold-colored part on the back of the toy is also completely body-friendly and is made of ABS plastic, but does not come into contact with the body.
Design
The LELO Sona 2 Cruise is a sleek and stylish design that combines power and pleasure. Its curved shape hugs your body perfectly, and its soft silicone body makes it comfortable and hygienic. The Sona 2 Cruise is also 100% waterproof, making it a great choice for the bath or shower.
Available in 3 colors: cerise, purple and black matte.
Size
The exact size of LELO Sona 2 Cruise is 99 x 87 x 56 mm / 3.9 x 3.4 x 2.2 in.
You can see Sona 2 Cruise compared to the size of my palm: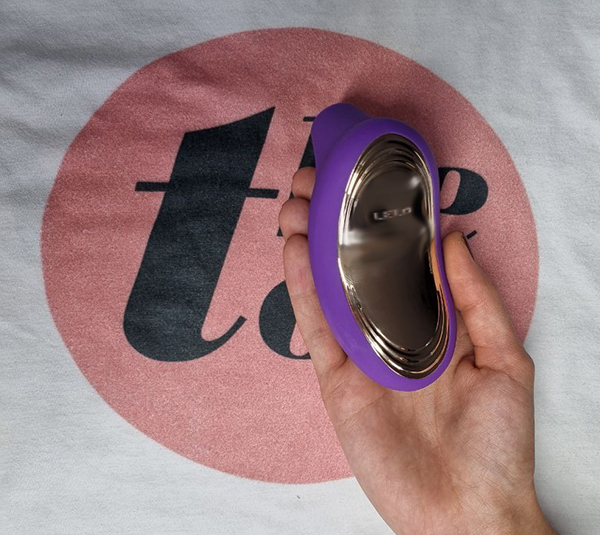 Charging
Charging the LELO Sona Cruise 2 is as simple as can be. All you have to do is plug the USB cable into the charging port on the back of the Sona 2 and the other end into any USB port. When the Sona 2 is charging, the LED light on the back of the toy will light up. It takes two hours to fully charge the Sona 2, and it will provide up to two hours of pleasure.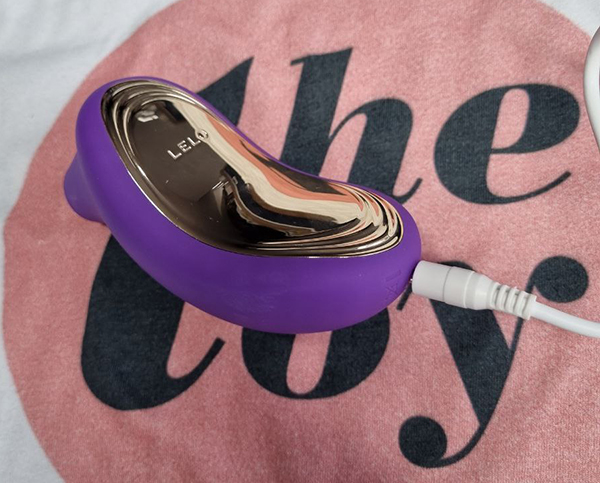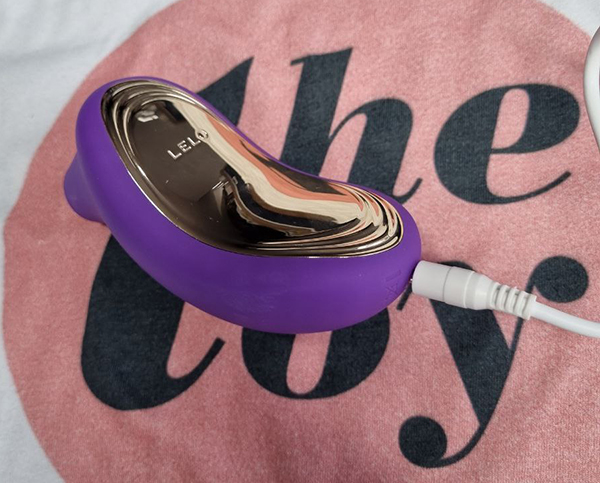 Controls
There are three convex buttons that are simple to differentiate from one another.
To begin utilizing the LELO Sona Cruise 2, you need to press and maintain pressure on the middle button for around five seconds.
The clitoral blower produces a significant amount of airflow, therefore I suggest testing the toy on your palm first.
By hitting the "−" button, you will be able to go to the lowest intensity level until you discover the speed that is just right for you.
Simply hitting the "+" button will make the tempo faster.
Cleaning
LELO Sona 2 Cruise can be easily cleaned with soap and warm water or with a sex toy cleaner then pat it dry with a lint-free cloth or towel.
Be sure to clean the toy before and after each use, and always let it dry completely before putting it away.
Since Sona 2 is completely waterproof, you don't have to worry about water getting into the charging port.
Price
The LELO Sona 2 Cruise is a top-of-the-line clitoral stimulator that retails for around $150. This makes it slightly more expensive than some of its competitors, such as the Womanizer Pro40, which retails for $99. Still, the LELO Sona 2 Cruise is a good value for the money. It has a powerful motor with 12 intensity levels and the patented Cruise Control technology that automatically increases the intensity when it detects that you are about to orgasm. It also has a rechargeable battery with a runtime of up to 2 hours and is 100% waterproof.
Conclusion
Overall, the LELO Sona 2 Cruise is a great product that offers a lot of features for its price. It is more expensive than some of its competitors, but its added features are worth the extra cost.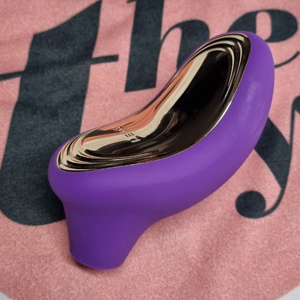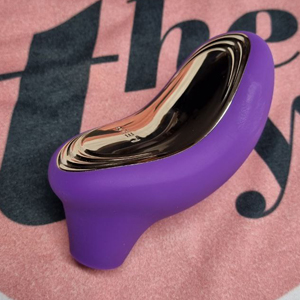 | | |
| --- | --- |
| Power: | (5.0 / 5) |
| Noise: | (4.0 / 5) |
| Material: | (4.0 / 5) |
| Price: | (3.5 / 5) |
| Ease Of Use: | (5.0 / 5) |
Intense clit sucker with tapping effect for fast and intense orgasms. Provides precise stimulation
You can buy this product from:
Unboxing
The LELO Sona 2 Cruise unboxing experience is one that is sure to be remembered. When you first open the package, you get a first glimpse of the sleek and stylish design of Sona 2 Cruise.
Inside the box, you will also find a soft velvet pouch, along with an instruction manual, a small lube sample, and a USB charging cable.