Smart vibrators are created for smart people only. Control the vibration by connecting your toy to your smartphone and let the small plaything do the rest. The free app gives you or your partner complete control over Lush 2 or Jive, whether you're in the same room or at a great distance.
Similar features
Lovense Lush 2 and  We-Vibe Jive are both remote control sex toys, intended for internal stimulation with a similar design and features. Both products target the G-spot and both have antennas allowing you to manually control the device.
Lush 2 and Jive can be controlled by their mobile applications, respectively the Lovense Remote app for Lush 2 and the We-Connect app for Jive.
The applications allow you to connect your device with other sex toys of the same brand and enjoy interactive sex in real-time.
You also have some preset modes and patterns of vibration you can choose from, plus the option to create your own patterns. The intensity of vibrations is also adjustable and can be controlled by the Lovense Remote app and the We-Connect app.
Adjusting the duration of the session is another option you can benefit from. And if you'd like to experience the same pleasure again in the future, you can just save the pattern chosen, this refers to both products.
Compare Lovense Lush 2 price: LovenseLovehoney
Compare We-Vibe Jive price: LovehoneyWe-Vibe
Lush 2 vs Jive
Design
Jive resembles Lush 2 but with Lush 2, the stem is way more flexible and can be simultaneously used for clit stimulation, if you are a fan of the teasing murmur transferred from the intense vibrations. Additionally, Lush 2 feels way more fulfilling because the head part is bigger.
Lush 2 is also made of the highest-quality material – 100% body-safe silicone. Again, it is non-porous and hypoallergenic, has no side odor, and can be easily cleaned using soap or a sex toy cleaner. Lush 2 is pink in color.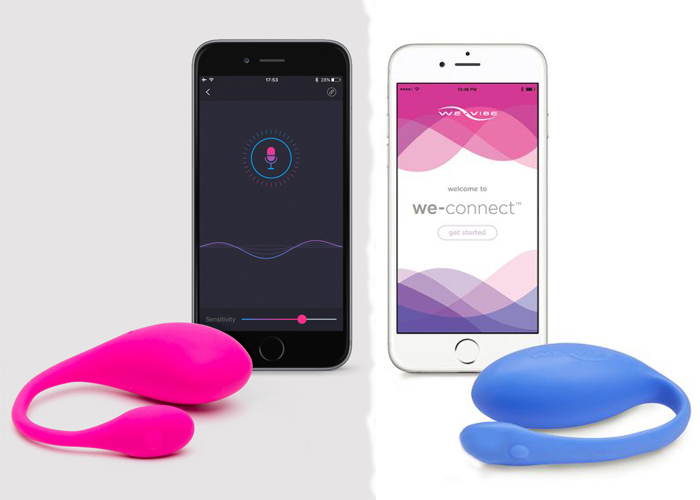 Jive has a unique design, suitable for long-term wear. The thin part that remains on the outside is flexible, which allows it to easily adhere to your body to provide you with maximum comfort and discretion.
Jive is made of high-quality medical-grade silicone that does not contain latex, phthalates, and BPA. The material is completely harmless to health. It is non-porous and hypoallergenic, has no side odor, and is easy to clean. Jive has a white-blue color.
Power
In terms of vibration strength, both remote-control toys are impressively powerful for their sizes. You can see for yourselves:
However, Lush 2 is the indisputable winner, it is actually the most powerful remote-controlled vibrator you currently available on the market. Lush 2 is recommended for the more experienced women, as the intensity of stimulation can be overwhelming for women seeking for more gentle stimulation.
With Jive, you have programmable vibration strength and the option to solo create your own combination for maximum pleasure.
Discretion
Both Jive and Lush 2 perform at max 45 db, which is absolutely acceptable, allowing you to go in public without being noticed even if you're not surrounded by lots of people.
Ride Rolo
Both toys can perform well if your main target is masturbation, in other words, self-satisfaction. Both Lush 2 and Jive can be adjusted using the single button, located at the end of the external part of the vibrators.
Remember to start with lower intensity settings and gradually increase your pace, as the capacity of those vibrators is really intense when at maximum intensity.
After adjusting your toy, your hands are free to explore, tease, and caress other erogenous zones, such as nipples, clit, anus, etc.
Or, the other option is to use the antenna of your wearable vibe to massage the clitoris.
Play in public
Public play is the ultimate purpose of wearable remote-control vibrators. Just insert your egg toy and enjoy the rhythm you have chosen. Or let your partner control your toy – from my personal experience, I can tell you that this is way more fun. And, way more intense, for sure.
Now, as for Lush 2 and Jive, there's nothing to worry about when in public. As long as you can hold your moans!
Since both toys are comfortable and discreet, you can wear yours anytime and anywhere – only you (and your partner) will know about your dirty little secret, pulsating inside you.
Size
Lush 2 dimensions:
The bulbous part is 1.4 in / 35.5 mm thick and 3.14 in / 80 mm long. The antenna is about 4.8 in /122 mm in length.
Jive dimensions:
Jive overall length is 3.6 in/ 92 mm, it's antenna is 2.5/ 64.3 mm and the bulbous part is long 1.4 in/ 35.75 mm thick
Warranty
With Lovense Lush 2, you have a one-year warranty period. With Jive, the warranty is 2 years. The warranty covers manufacturing defects only and this refers to both manufacturers. If the condition is met, you can ask the company to replace your product with the same or a similar product.
Price
Here we can talk about fair competition – the prices of Lush 2 and Jive are absolutely identical.
Both companies offer discounts (on a regular basis) on their official websites and I highly recommend choosing the official manufacturers or distributors in order to avoid counterfeit products!
What's in the box of Lovense Lush 2
Lovense Lush 2 vibrator
User manual
USB charger
What's in the box of We-Vibe Jive
We-vibe Jive vibrator
USB cable
Quick-Start user guide
We-Vibe Lube™ — made by Pjur® (2ml sample)
Convenient storage pouch
Lush 2 or Jive, according to camgirls
Camming is the act of performing certain activities, often sexual, in front of a webcam for paying clients. Often, using remote-control sex toys.
In the camming world, the indisputable winner is, again, Lush 2. In fact, more than 80% of camgirls swear by Lush 2 and use it during performances because of the convenient shape of the vibrator and the unlimited number of patterns viewers can choose.
Very few of the performers have chosen Jive but I guess this is due to the major popularity of Lush 2 + the simple fact that Lovense targets this exact niche from quite some time.
Lush 2 or Jive, according to other reviews
Below, you can check a discussion, regarding We-vibe Jive and Lovense Lush on Reddit:
Conclusion
Modern technology is amazing! Whether you're playing solo or with a partner, you can easily enjoy orgasmic stimulation with in a push of a button or a tap on your screen.
There are not many things making Jive and Lush different from one another but I'll try to summarize the most important below:
If you're looking for an impressively powerful performance, Lush 2 should meet your expectations
In terms of discretion, don't you worry, both toys are nearly silent so no one could notice
If the app settings are super important for your long-distance play, you should choose Jive and its' super convenient app
If you really insist on having a pouch where you can store your toy, well, only Jive offers this option
If you intend to use your remote toy for camming, well, camgirls prefer Lush 2 for sure
If you have preferences, regarding the color of your toy, remember that Lush 2 is pink, while Jive is white-blue. But I'm a hater, so I dislike both options.
Compare Lovense Lush 2 price: LovenseLovehoney