Update: there is a new version of the iconic Lovense egg vibrator – Lush 3. It has better connectivity, an improved antenna, a stronger motor, and better battery life. The firmware also works better with the Lovense app. So, if you are looking for the Lush 2, get the newer version – Lovense Lush 3, it is a much better value for the money.
Lush 2 is the name of an awesome remote control vibrator manufactured by Lovense. Lush 2 is a second-generation wearable egg vibrator after its predecessor, Lush, was a smash hit.
The newer version comes with a redesigned antenna for better, uninterrupted connectivity. Lush 2 has a bigger motor to ramp up the power without reducing battery life.
What is Lovense Lush 2?
Lovense company created the 1st internet-controlled sex toy, released in 2010. In 2016, Lovense released the initial version of Lush 2, which was controllable via an Apple Watch.
Lush 2 is the big brother of Lush 1 of the same brand; it's more intuitive and sophisticated!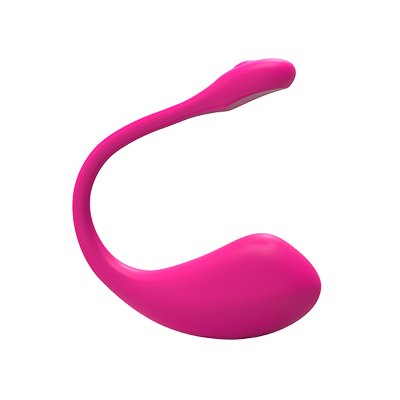 More sophisticated, it has managed to keep the features we liked and take into account the customers' opinions to come back more powerful, elegant, and discreet.
Although designed for solo play, it is during sexual intercourse that Lush 2 reveals its full potential.
Indeed, this remote-controlled vibrator is the perfect accessory to add a little (or a lot!) spice to your sex life.
Where to buy: Lovense
Lovense Lush 2 Review Summary
Product: Lovense Lush 2 wearable egg vibrator.
Rating: 4.5 out of 5 stars.
Material: Made of premium silky silicone.
Size:

Insertable part (bulbous part): 1.4 in / 35.5 mm thick, 3.14 in / 80 mm long.
Antenna part: 4.8 in / 122 mm in length.

Color: Hot pink.
Noise Level:

It's around 50 dB, similar to a quiet living room.
Sounds loud in the open air but is muffled when inserted.
Suitable for environments with ambient sounds.
Not advisable for quiet settings.

Vibration Strength:

4 times more powerful than most love eggs(at the time of the release – 2016).
Offers 7 vibration modes.
Powerful motor considered strong for its size.
Offers a balance of rumbly and buzzy vibrations.
Strong vibrations, suitable for public play due to its discreetness.
Built-in vibration patterns and options to create unlimited custom patterns.

Waterproof: 100% waterproof.
Battery Life:

Improved compared to Lush 1.
1.5 hours to fully charge.
Approximately 2 hours of continuous playtime.
Stand-by mode can last up to 120 hours on a full charge.

Charging:

Concerns about the charger port's location affect the waterproof feature and overall durability.
There are some reports of Lovense Lush 2 no longer charging after limited use.

Design:

Generally acceptable size for users.
Wearable egg vibrator.
Insertable with an extended antenna for Bluetooth transmission and removal.
Made of smooth body-safe silicone.
It has a waterproof design, though some users doubt its effectiveness due to the charger port location.

Comfortability:

Comfortable for walking, dancing, standing, or laying.
May require adjustment when sitting.
The external antenna is stiffer and might need positioning under clothes.
A single button on the tail for control.

App-Control Function: Lovense app for various controls, including voice and music beat control.
Connectivity:

Bluetooth connection and improved range compared to Lush 1.
Strong Bluetooth connectivity in both close-range and long-distance modes.
Less frequent disconnections compared to competitors.
The app offers features like creating new patterns, saving, and syncing with music.
Some users experienced frequent disconnections and the need to associate Lush 2 with the app repeatedly.

Additional Features:

Ability to connect to Spotify for music-based vibration patterns.
Option for an alarm clock feature, though reliability is questioned due to Bluetooth connectivity issues.
Requirement of a separate USB dongle for PC connection (costing approximately $10-$15).
The Lovense app allows complete control and customization of vibrations.
Options to video chat, give one-time control and create/save vibration patterns.
The learning curve to master all features.

Packaging and Delivery:

The product was ordered on March 21 and received on March 26. Took 5 days for the delivery.
Packaging: Simple cardboard box with pictures and information, including the Lush 2 egg vibrator, instruction manuals, and charging cord.
Lacks a storage bag, which is expected at its luxury price point.

Contents in Box:

Lovense Lush 2 vibrator with a 1-year warranty.
USB charging cable.
User manual.
Quick set-up guide.

Cleaning and Care: Fully waterproof, easy to clean with soapy, warm water or sex toy cleaner. Store in a zip-lock bag for sanitation.
Lubricant Compatibility: Water-based lubricant is recommended.
User Experience:

Reviews vary significantly, with ratings ranging from 1 to 5 stars.
Positive aspects include the variety of settings and discreetness in public use.
Negative aspects include issues with the app, connectivity, and the product's physical design.
It is ideal for G-spot stimulation, public play, and long-distance couple play.
Suitable for users who enjoy internal stimulation.
Not suitable for those who prefer clitoral stimulation or a simple app.
Some users appreciated the long-distance control feature, especially for long-distance relationships.
Users with the Lush 1 mention it is worth upgrading to the Lush 2.
The Lovense Lush 2's power button location is more convenient than the first version.
A user mentions that the Lush might be too powerful for a first-time toy user
Some users recommend it for foreplay to enhance arousal before other activities.
Requires pressure for clitoral stimulation.
Insertion is relatively easy with lubricant.
The tail can be used as a handle for adjustment.
It is best used with an additional clitoral vibrator for enhanced experience.
Suitable for long-term wear, stays in place well.
It is best enjoyed while sitting due to increased pressure and stimulation.
Brand Background:

Lovense, established in 2009 in Hong Kong, focuses on teledildonics and wireless control.
Known for their close relationship with the online sex work community, especially cam performers.
Provides a downloadable program for integration with major cam sites, featuring tip-based vibrations and other interactive features.

Alternatives:

Esca 2 and We-Vibe Jive: More comfortable and quieter, but with less power and connectivity. Some users prefer the OhMiBod Esca 2 and Jive over the Lush 2 due to its rumblier vibrations.
Lovense Ferri: Clitoral vibrator, suitable for public play.
We-Vibe Chorus and We-Vibe Sync 2: Offers both clitoral and G-spot stimulation, wearable during sex but a bit louder.
The Lovense Lush 2 is appreciated for its effective G-spot stimulation and strong connectivity, making it suitable for remote partner play and discreet public use. However, for users who prefer clitoral stimulation, alternative products like the vibrating panties Lovense Ferri or We-Vibe Moxie+ are recommended. The Lush 2 may be powerful for first-time users, and alternatives are suggested for a gentler vibrator introduction.
How does it work?
The Lush 2 is a connected vibrating bullet toy: this means it can be connected to a device such as a computer or a smartphone and activated remotely by your partner.
Alone or together, at home or in public, this toy offers many possibilities, whatever your style.
Compatible with Bluetooth for short-distance control (up to 13 meters ) or WiFi, thanks to the Lovense Remote application available on iOS and Android, the Lush 2 can even be used with an Apple Watch.
Lush 2 – Features and Performance
Although most of its features are linked to the fact that it is a connected toy, it is possible to use it without any other device with the 7 built-in vibration modes, controlled with the on/off button: soft, medium, strong, pulse, waves, fireworks, and earthquake.
All these are surprisingly different modes, and you can see a video demonstration at the bottom of this article.
Of course, there is no substitute for a face-to-face test, but it will help you understand the device's capabilities in terms of the power of the vibrations.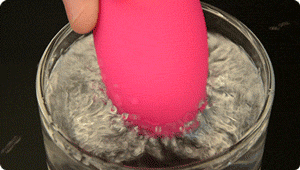 Want to relax alone to the rhythm of your favorite music? It's possible, thanks to the music synchronization option!
Would you prefer to leave the reins to your partner on the other side?
Then, you'll be interested in the Internet control option, with the in-app option to send photos or even start a video chat.
It's discreet and efficient, with infinitely customizable vibration patterns and a powerful yet quiet motor with a maximum noise level of 45.5 dB. It has a long range even when connected to Bluetooth.
The vibrator even has a sound activation function, triggering vibrations when the device linked detects sounds.
Lush 2 – Pairing options
Its redesign makes the Bluetooth chip more accessible, increasing the control distance (up to 13 meters) and allowing 360° control.
In addition, it is now possible to turn this app-controlled vibrator on or off while wearing it.
Using the application, it is also possible to control several toys separately, ideal for having fun with multiple partners simultaneously!
Two smartphones can also control the Lush 2 via the app.
In addition, two sex toys can be synchronized to enjoy the same vibration pattern at the same time.
Supplied with its user manual, quick start guide, and USB charger, the Lush 2 only needs 90 minutes of charging time to be ready for 3 hours of non-stop play!
Lush 2 for camming – all you need to know
As it turns out, Lush 2 is the most preferred sex toy for camming. Camgirls love it because of the unlimited features provided + its good connectivity. Here's how to adjust your Lush 2 and make some good profit:
Choose your Lush settings. You must already connect your sex toy to your phone via the "Body Chat" application.
Don't forget to click the 'save' button at the bottom to save your settings.
Go to Cam4 or your cam site.
Fill in your usual Cam4 broadcast fields and click on broadcast and "Live touch" to inform that you have the Lovense Lush 2 connected!
Activate the extension and click on "Scan this site for tips."
Fill in the tariff fields as follows
1: Click on "One toy," then choose your sex toys and fill all the fields below according to your desires (you can also add levels 5,6,7, etc of course)
2: Do not forget to click on save
3: Check "Send these levels into chat automatically" and enter 3 or 5 for the minutes. (the tip menu will be refreshed every 3 or 5 minutes).
If you have several Lovense sex toys, for example, lush+hush, you can repeat the operation for each of your sex toys! Thanks to this, you can use the function "multiple toys" and save them.
"Warning: next step is optional, go to step 9 if you want to use a single-sex toy."
Use 2 or 3 Lovense sex toys with the Multiple toys function.
1: Go back to step 1 to connect your second sex toy by Bluetooth to your body chat application.
2:Refresh as below to display your secondary toy.
3:Select Cam4
4: Click on "Multiple Toys."
5: Fill in the fields below and select "ALL TOYS" in the levels.
6:And don't forget to save, of course, by clicking on save!
Here is how you can choose between broadcasting with a single or multiple toys: you have to switch between One toy and Multiple Toys. Both parameters will remain saved!
Don't forget to thank and display the best tippers
And don't forget to click on the "save" button!
Where to buy: Lovense
How To Use Lovense Remote App to Control Lush 2?
Once the vibrator is fully charged (indicated by a light), you can turn it on to pair it with a portable device (phone, tablet, etc.) on which you have previously installed the Lovense Remote application.
After a few seconds, the toy will be paired with it, and you can enjoy the remote control options via WiFi.
For a computer, plug the USB adapter into a USB port and click the pairing icon.
For Bluetooth control, search for a device with your device's Bluetooth application.
When the toy is paired with a device, it will automatically connect to it the next time it is turned on, so there is no need to repeat the process.
To connect your device with a partner, enter their name in the "long-distance" tab and send an invitation.
Once this invitation has been accepted, the chat option will be available with all the features listed in the previous paragraph.
For each partner, it is possible to change the settings and preferences.
How to clean and take care of Lovense Lush 2
Before and after each use, it is necessary to thoroughly clean the sex toy (like all your other intimate toys!) to have fun safely and enjoy maximum comfort.
Use lukewarm water and mild soap, or better yet, a cleaner specially designed for this type of toy, clean it thoroughly, then let it dry well before storing it.
Additional tips about Lush 2
In this section of my Lovense Lush 3 review, I would like to share a few tips on using this egg vibrator better. Due to its shape (specially designed to stimulate the G-spot), this toy is not suitable for internal anal use.
For anal use, Lovense offers you the Hush model, which has very similar characteristics to the Lush 2 and can be synchronized with it using the application.
Lush 2 is not suitable for extreme temperatures. It is also not recommended to boil Lush 2 instead of cleaning it.
If you do not use your Lush 2, recharge it at least once every six months to keep the optimal 'health' of the motor inside it. But let's be honest… you won't leave it for that long.
The Lush 2 insert measures 8 and 3.5 centimeters in diameter.
After inserting it, you can go wherever you want if you can hold your moans. And don't hesitate to use lubricant!
Note that oil or silicone-based lubricants are incompatible with the Lush 2: use only a water-based lubricant.
The sensations provided
With Lush 2, you can enjoy the adrenaline of sex in public without any risks of being spotted.
Small and quiet, you can turn it off without removing it, leaving you in control when needed.
With its motor 4 times more powerful than any other toy in its range and its specially designed curve for optimal stimulation of the G spot, this toy will bring you to orgasm like no other egg toy.
The external part also vibrates, adding light but very pleasant stimulation to the external part of the clitoris.
Of course, it is possible not to insert the toy and use it as an external vibrator only – this way, the vibrations will be quite intense, so you'll probably choose the least intensive pattern.
As it can be controlled by the application or by choosing a vibration mode with the on/off button, you can set it up and no longer touch it, allowing your hands to take care of those areas of your body that are usually neglected during solo pleasures, such as the breasts.
Ever wanted to become one with your favorite music?
Music synchronization of Lush 2 makes it possible! Lovense's egg toy will make you vibrate to the rhythm of your favorite music.
It is also possible to control several toys simultaneously and for a single toy to be controlled by two smartphones.
In addition, the application proposes to synchronize the vibrations of two toys with a pattern selected or created personally by one of the users just for the occasion.
Want to try something different?
For example, it is possible to synchronize your Lush 2 with the Hush toy (the anal plug, also created by Lovense) through the application, the process is the same as synchronizing two Lush devices and offers you the same chat function and control options.
Lush 2 Pros
Released 3 years after the Lush 1, the Lush 2 combines its qualities (both powerful and silent) with improvements requested by users, such as a more stable application, better Bluetooth connectivity, and the easily accessible on/off button while the sex toy is inserted in the vagina.
Equipped with a more powerful engine, the autonomy of the toy is not impacted, allowing you to enjoy these sensations continuously for 3 hours.
The idea of controlling several toys and connecting them opens doors that few connected sex toys had even dared to approach, especially for same-sex relationships, but also for non-monogamous or polyamorous relationships, with the potential to connect more than two partners at the same time, regardless of their sex.
Although small, it is powerful and has an ideal curve for G-spot stimulation. According to many users, Lush 2 is perfect to get you in the mood before PIV sex.
Its discretion and ease of use both on the toy (without superfluous buttons) and on the application, with its sleek design and intuitive handling, are important points that greatly impact the comfort of use in the long term.
It is 100% waterproof and can be used in the shower, bath, or jacuzzi… Let your imagination run wild!
Made of phthalate-free waterproof silicone, which is 100% safe for your body and the environment, it is solid and easy to clean, and you can use it for an unlimited time if you provide it with proper care.
Lush 2 Cons
The Lush 2 is a battery-operated toy: you have to charge it to use it, and it is impossible to use it while it is charging; even at home, you will be "limited" by the device's battery.
This is a minor disadvantage, however, because this operation is not too restrictive, with a battery life of three hours and a charging time of just over an hour. It is a much better choice than a battery-operated toy.
There are complaints regarding the connectivity of the toy, including the application that tends to disconnect the paired toy(s). Still, the development team is working tirelessly on new updates to stabilize the system.
On our side, there is nothing to report; it's much better than the Lush 1.
Remember to uncheck the network deactivation when the device enters standby mode to avoid spontaneous disconnections.
Price is the most frequently mentioned downside. However, its many features and durability make it a very profitable investment.
You get a one-year warranty, so you can return it if you are unsatisfied with your purchase. Don't forget to keep the invoice!
My experience with Lush 2
Enough about the characteristics and details. Now, I'd like to share my thoughts about Lush 2.
I bought it at a local sex shop. I didn't get it for free to review the toy's excellent design and -performance.
No, it didn't impress me at first – yes, it was nice to the touch, but that's all. But I wanted to know what the fuss about it was. After all, everybody kept saying how spectacular it is.
After disinfecting the toy, I didn't prepare myself or put some lube on (even though I got one sample from where I got the Lush toy). I guess I chose to be brave, but things didn't go well; I couldn't even insert it. So, I ended up applying lube, which was a smart thing.
I hadn't turned the device on yet, but I felt fulfilled, not because of the toy size but because I was tight. This is one of the reasons I chose to buy Lush 2 and not a regular vibe.
I wasn't sure how to use it at first. I thought the application was the only way to control the toy, but it turned out that I could use the single button at the end of the antenna and adjust the vibration rhythm. I enjoyed it. I have already installed the app on my phone but have no idea how to pair my toy with it yet.
I am one of the lucky girls who can reach orgasm during vaginal penetration, often multiple times. I can easily cum when my partner inserts two fingers into my vagina and starts massaging a certain area. I need less than a minute to reach my O.
Well, Lush 2 hits this exact spot.
After experimenting a lot, I concluded that I can't cum using the lowest settings, and I can only use them to tease myself. It's the more intense patterns that can provoke my orgasm, which is surprising to me since I never understood the functioning of the G-spot.
I can't use Lush 2 during PIV sex – nothing else can penetrate my vagina when the toy is already inserted.
Also, wearing Lush 2 in public is not my cup of tea, and that's for sure. The thing is that every time I reach an orgasm, my entire body convuls, and… well, I don't want other people to see me in such a condition.
But if I have to evaluate the overall performance of Lush 2, I'd give it a 10. Yes, I only use it for solo play. No, I don't do the kinky-dinner-date-with-a-vibrator-inserted thing.
I use it for pleasure and consider it an awesome investment.
The alternatives to Lush 2
There are alternatives to Lush 2 that are considered almost as awesome.
The first one is designed by the OhMiBod company and is also a 2nd generation product. Esca 2 –  it has a similar design, similar features, and a similar price. OhMiBod Esca 2 vs Lovense Lush 2 – you can check which remote-control toy performs better, according to camgirls and other consumers.
We-Vibe, another leading sex toy manufacturer, has created a second similar option. Jive is just as discreet and fancy but not as powerful as Lush 2. Lush 2 vs. Jive is the comparison article we created for you to get useful insights before choosing a wearable app-controlled vibrator.
Final Thoughts
In conclusion, the Lush 2 is a really exciting gadget: simple to use, knows how to adapt to all situations, and combines versatile features…
Both playful and effective, it fulfills its role perfectly and has quickly become one of the favorite toys of all those who have had the opportunity to test it.
With an application that can be used on most devices, using your phone or PC, Lush 2 is THE toy to enjoy alone or with your partner!
Unsurprisingly, most users left extremely positive feedback about its performance. But now, the upgraded Lush 3 is the best remote control vibrator on the market. I hope you liked my Lovense Lush 2 review, and I helped you decide whether to buy it or opt for the new, improved version. If you have any questions, please leave them in the comments.
Where to buy: Lovense