Embark on a delightful adventure with the Lovense Ridge, a gentle ally in your quest to uncover what truly entices you.
In the current Lovense Ridge review, I am sharing my honest opinion, its ergonomic design and effortless app control make navigating through new exhilarating sensations a piece of cake, alone or with a companion. The discreet motor and tailor-made vibrations of this anal vibrator are your gateway to an individualized escapade, marking it as a distinguished pick in today's app-controlled playful domain.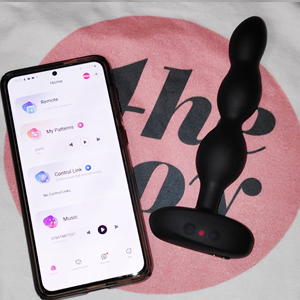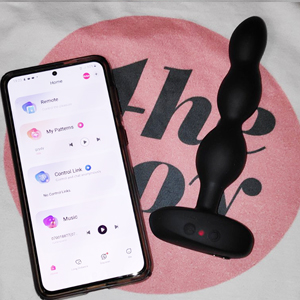 | | |
| --- | --- |
| Design: | (4.5 / 5) |
| Comfort: | (4.5 / 5) |
| Power: | (4.0 / 5) |
| Experience: | (5.0 / 5) |
| App: | (5.0 / 5) |
| Price: | (4.0 / 5) |
Lovense Ridge combines rotating and vibrating sensations with app-controlled customization in a body-safe design for all anal play levels.
You can buy these vibrating anal beads:
Review Summary
In my in-depth review of the Lovense Ridge, I share its ups, downs, and my personal experiences using it. Unlike other anal beads, the Ridge spins, vibrates to your liking and lets your partner join in on the fun from anywhere. Stick around as we go through all the exciting details and see how it compares to other sex toys in the market.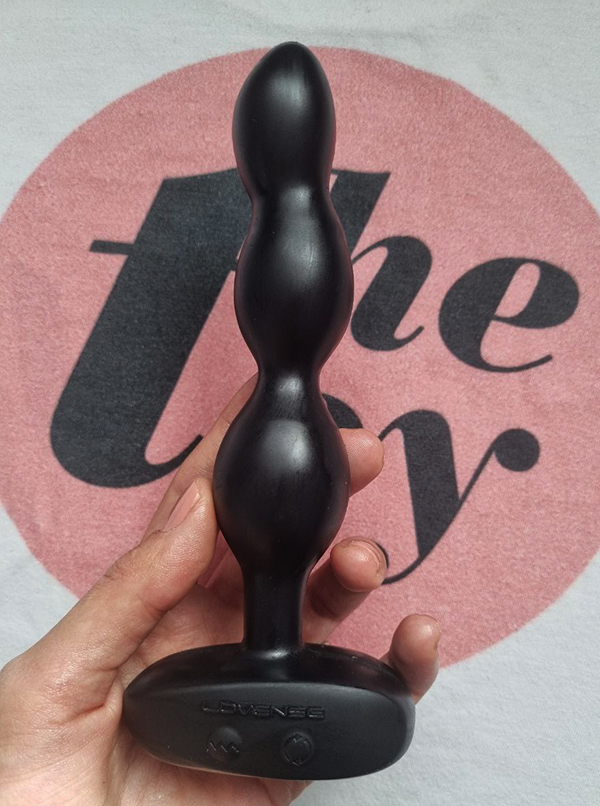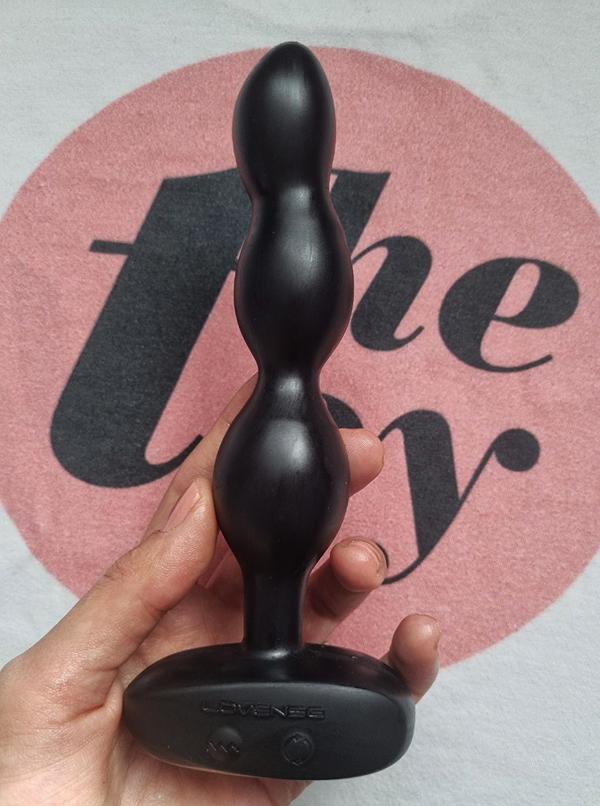 How does it feel?
The Lovense Ridge is designed for both male and female users aiming to explore anal play.
For males, it offers prostate stimulation through its vibrating and rotating features, potentially leading to full-body orgasms. For females, the Ridge can provide heightened climax when pulled out at the brink of orgasm.
The product's diverse vibration patterns and rotations, controllable via an app, allow for a tailored experience, whether during solo or partner play. The Ridge's design facilitates easy insertion and retrieval, while its strong yet quiet vibrations cater to discreet play, making it a versatile choice for individuals and couples alike.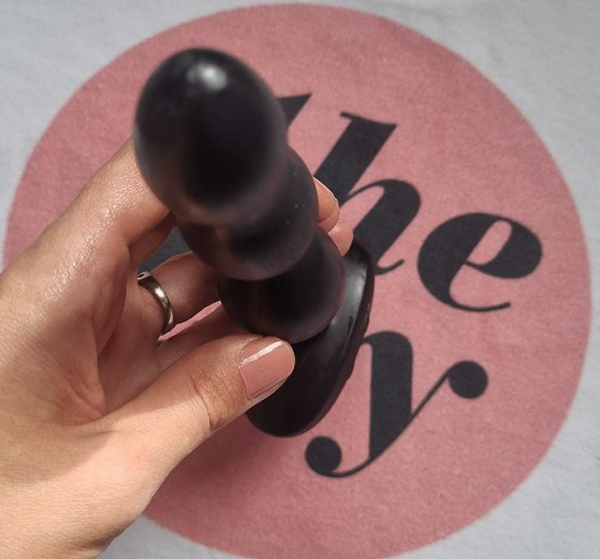 Pros
Dynamic Stimulation: Offers strong vibrations and up to 116 rotations/min for a varied sensation.
Progressive Bead Size: Eases insertion and enhances pleasure as comfort level increases.
Dual Gender Pleasure: Provides prostate stimulation for males and heightened climax for females.
Sleek Rotating Tip: Enables a two-way 360° rotational massage.
Quiet Yet Powerful Vibration: Ensures discreet play without compromising on intensity.
Safe and Ergonomic Base: Facilitates easy handling and prevents over-insertion.
Flexible Bottom Joint: Adapts to various positions and play styles.
Waterproof and Easy to Clean: With an IPX7 rating, ensures safe and hassle-free maintenance.
App-Enabled Controls: Extends anal play possibilities with close-range and long-distance control via the Lovense Remote app.
Cons
High Price Point
Smartphone Required for Full Functionality
Not Suitable for Beginners in Anal Play
Requires Adequate Water-Based Lube for Comfortable Use
Limited Working Hours on a Single Charge
May Require Some Time to Get Accustomed to Controls
Who should buy the Lovense Ridge?
Experienced Anal Play Enthusiasts: Those with prior experience will appreciate the rotating and vibrating features of Lovense Ridge, venturing into new sensations.
Long-Distance Couples: The app-controlled feature allows for intimate connections over distance, bridging physical gaps with interactive play.
Tech-Savvy Users: Individuals comfortable with using smartphone apps can unlock the full range of features Lovense Ridge offers for a personalized experience.
Adventurous Individuals: If seeking to explore a myriad of vibration and rotation patterns, this device provides a playground of erotic possibilities.
People Valuing Discretion: Its quiet motor ensures discreet play, catering to those needing privacy.
Who should skip the Lovense Ridge?
Newcomers to Anal Play: The advanced nature of Lovense Ridge might be too much for those just starting.
Cost-Conscious Shoppers: Its higher price tag may not appeal to those on a tighter budget.
Technologically Averse Individuals: The app-controlled features could pose a challenge for those not tech-savvy.
People with Limited Patience for Charging: If you prefer toys with quicker charge and longer battery life, the charging time and battery life of Lovense Ridge might be a drawback.
Traditional Control Enthusiasts: Those who favor physical over digital controls may want to skip this toy.
Design and Comfort
The new Lovense Ridge design is a blend of aesthetic appeal and ergonomic brilliance, making it a delight to the eyes and the body. Its body-safe silicone material is soft to the touch yet firm, providing a comfortable yet stimulating experience. The contouring of the device is evidently crafted with the male anatomy in mind, ensuring it fits snugly while minimizing discomfort. Furthermore, the app-controlled feature allows for a hands-free experience, enhancing comfort. Overall, the vibrating anal beads's design doesn't just stop at visual appeal; it extends to ensuring a comfortable, pleasurable experience.
Lovense Ridge Specifications
| Specification | Detail |
| --- | --- |
| Type | Vibrating Rotating Anal Beads |
| Material | Body-Safe Silicone |
| Length | Varies |
| Diameter | Varies |
| Vibration Speeds | Custom options in the app + preprogrammed |
| Vibration Patterns | Unlimited in-app + preprogrammed |
| Waterproof | Yes |
| Rechargeable | Yes |
| Battery Life | Up to 5 hours |
| Charging Time | 90 minutes |
| Remote Control | App control |
| Connectivity | Bluetooth and Long-Distance App Control |
| Design | Ergonomic, Sleek |
| Noise Level (Lowest) | Below 50dB |
| Additional Features | Sync to music, Long-distance control, Sound Activation |
Purpose
The Lovense Ridge vibrating anal beads is primarily engineered for anal stimulation, catering to individuals and couples looking to explore or enhance anal pleasure. Its rotational and vibrational capacities offer a unique sensual journey that transcends the conventional vibratory experience, delving into various pleasurable rhythms.
With app-controlled technology, it's hailed as one of the best hands-free vibrators, especially for long-distance relationships or those who fancy a hands-free escapade, facilitating shared control and interactive enjoyment.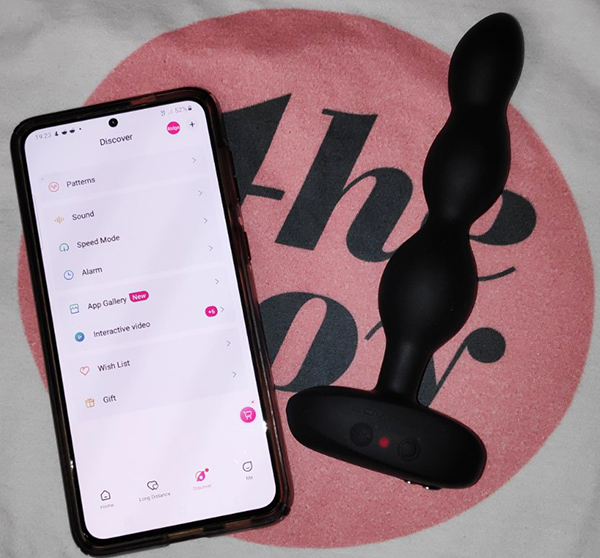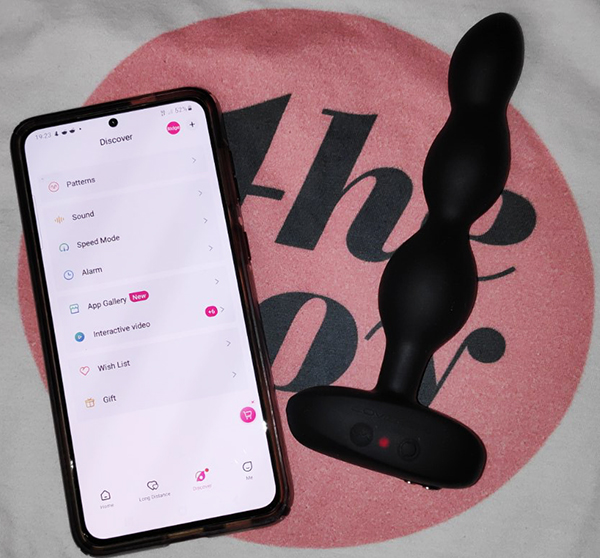 The Ridge is more than just a personal pleasure device; it's a conduit for intimate connectivity, overcoming geographical separations with a touch of technological finesse. Its adaptability for solo or partnered use opens the door to a tailored erotic exploration, with adjustable settings that cater to a diverse range of desires and inclinations.
Material
The Lovense Ridge is crafted from body-safe silicone, which is renowned for its safety and comfort during use. Silicone is a non-toxic and non-porous material, making it a hygienic choice as it doesn't harbor bacteria, ensuring a safe and clean experience every time. The non-porous nature also makes cleaning a breeze, which is crucial for maintaining hygiene with anal toys. The material feels soft against the skin while being firm enough to provide the desired stimulation, striking a balance between comfort and functionality.
Size
The Lovense Ridge measures 172 millimeters in height, which is roughly 6.8 inches. The beads increase in size as you move down the toy: the first bead is 25 millimeters, the next one is 30 millimeters, and the base bead is 34 millimeters, while the neck of the toy narrows down to 15 millimeters. From a female perspective, initially, it might pose a challenge due to its dimensions, especially if you are relatively new to anal play. The progression in bead size allows for gradual stretching and adapting, which could, over time, provide a comfortable and enjoyable experience.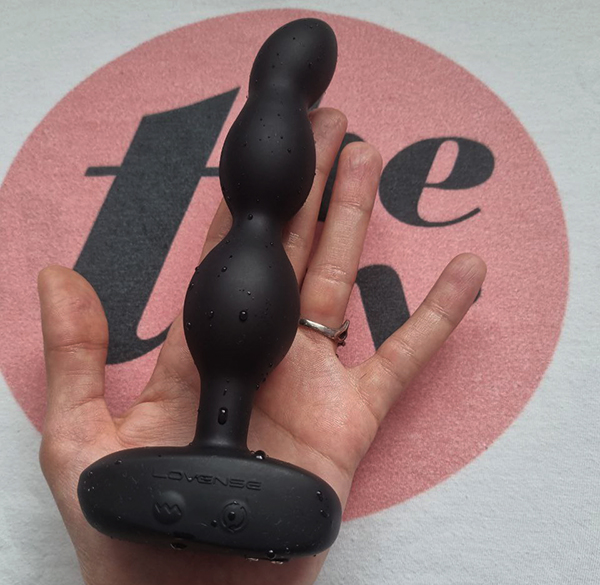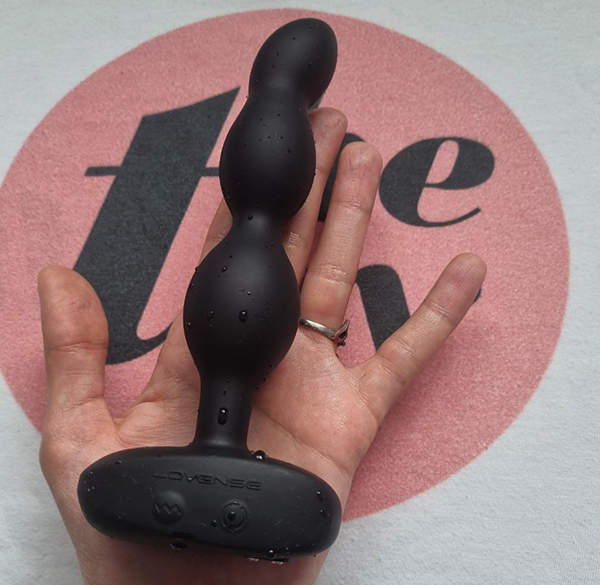 The Lovense Ridge sets itself apart from other anal beads with its unique tech features like app-controlled customization and a rotational function, catering to tech-savvy or adventurous users. While its material quality and comfort align with other high-end anal beads, the Ridge's progressive bead sizing, higher price point due to advanced features, and opportunities for long-distance play through app connectivity make it a more versatile yet complex choice in anal pleasure.
Shape
Ridge offers a progression of three beads that increase in size from top to bottom. This kind of shape is intended to provide a gradual stretch, making the experience more comfortable and enjoyable as one gets accustomed to the size. However, for someone new to anal play or with less experience, the shape might initially appear intimidating due to the increasing size of the beads.
Power Source
The Lovense Ridge is powered by a rechargeable battery, making it a convenient and eco-friendly option compared to battery-operated vibrators. The rechargeable feature ensures that you don't have to worry about buying batteries regularly, and it contributes to a lesser environmental impact.
Intensity and vibration patterns
The Lovense Ridge comes with 10 inbuilt vibration patterns, providing a decent range for users to explore. However, when paired with the accompanying app, it unlocks a realm of possibilities with unlimited options to customize the vibration patterns and intensity.
Noise Level
The Lovense Ridge has a noise level below 50dB, making it quiet enough to ensure privacy, even in shared spaces. Behind closed doors, even the most powerful settings will emit a barely audible humming noise.
Is Lovense Ridge waterproof?
The Lovense Ridge is waterproof with an IPX7 rating, indicating it can be submerged in water up to 1 meter for up to 30 minutes. This makes it suitable for use in the shower or bath, providing versatility in where and how it can be enjoyed. The waterproof feature also simplifies cleaning and maintenance, ensuring a hygienic experience.
Price
The Lovense Ridge, at its current discounted price of $119.00 from the original $239.00, presents a compelling value considering its rich feature set. The app-controlled vibrating and rotating anal beads, coupled with its waterproof design and strong yet quiet vibration, offer a blend of functionality and pleasure that stands out in the market. This price point, given the innovative features, can be seen as a solid investment for those looking to enhance their sexual experiences, whether solo or with a partner.
Durability
The Lovense Ridge comes with a 1-year warranty, indicating a level of confidence from the manufacturer in its durability. However, the actual longevity may vary based on usage and care. Like many electronic and delicate devices, treating it with care, cleaning it properly, and following the manufacturer's guidelines could significantly extend its lifespan.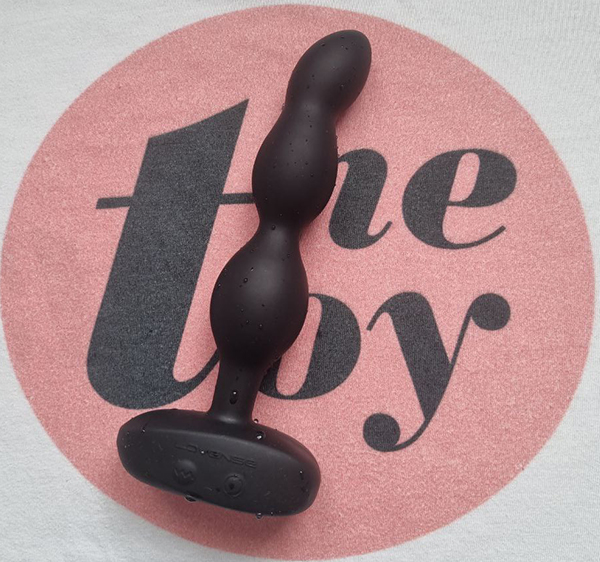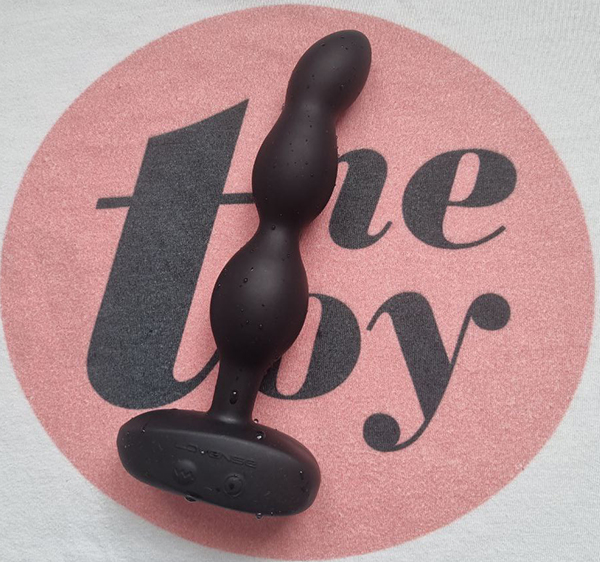 Lovense's reputation
Lovense has built a strong reputation for producing high-quality, body-safe sex toys. Their products are known for their innovative features, such as app-controlled capabilities and high standards of material safety. The brand's commitment to creating satisfying and safe sexual wellness products has contributed to its positive standing in the industry.
Controls
The Lovense Ridge features two push buttons at its base of the toy for easy control. The first button, when held for three seconds, turns the toy on/off, and, with a single tap, cycles through the preset vibrations. The second button allows users to cycle through the rotational settings with a single tap, and reverse the rotation direction by holding it down for three seconds. This intuitive control scheme facilitates straightforward operation, letting users easily toggle between different vibration and rotation settings to find what suits them best.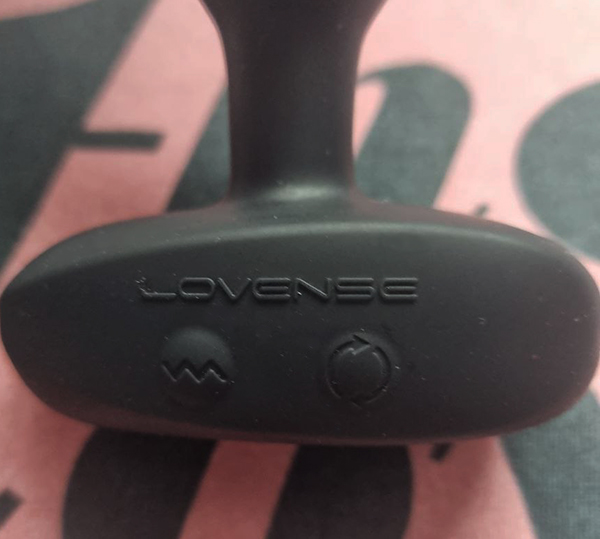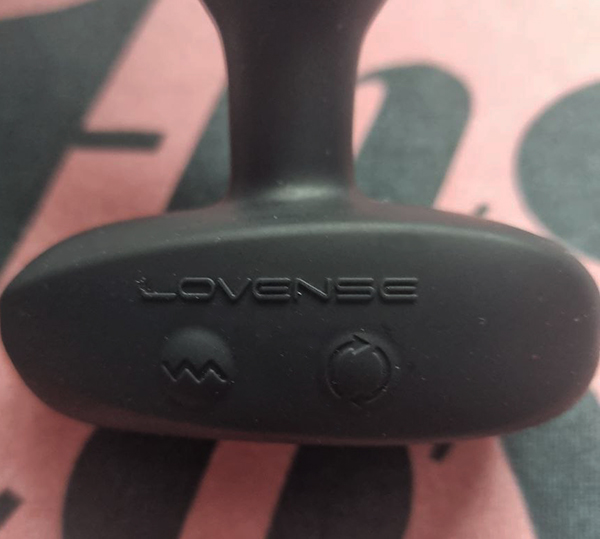 Controlling the Lovense Ridge through the Lovense Remote app significantly enhances the user experience by offering a wide range of control options. The app allows users to adjust vibration and rotation intensities, create custom patterns, and even sync the toy to music. For those in long-distance relationships, the app provides a means of remote control over any distance, adding an interactive element to the experience. The app's user-friendly interface makes it easy to explore and find the perfect settings for personalized pleasure, whether during solo play or with a partner.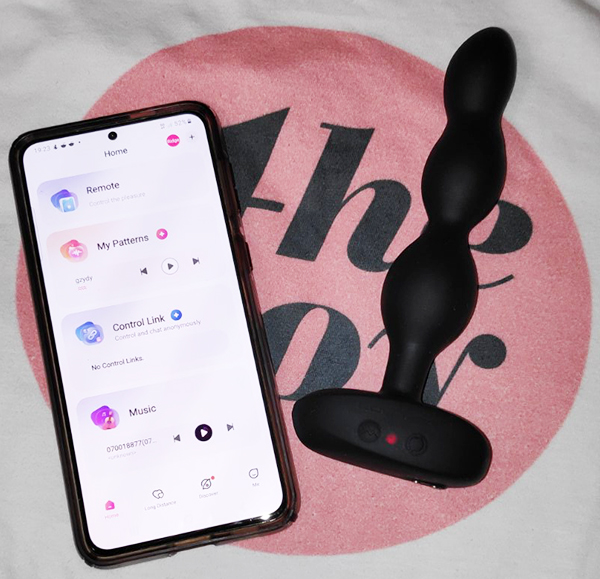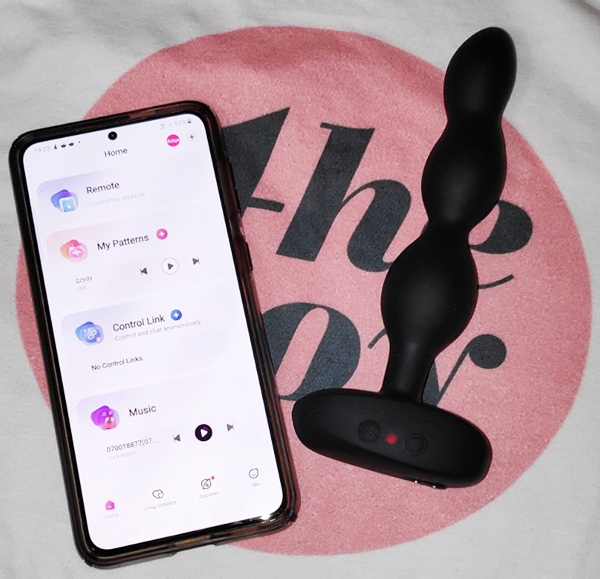 How to use Ridge by Lovense
Charge Fully: Ensure the Lovense Ridge is fully charged before use.
Clean: Clean the toy thoroughly with body-safe, fragrance-free soap and water.
Lubricate: Apply a generous amount of water-based lubricant to the toy and your body; It's important to note that, unlike other areas of the body, the anus does not produce its own natural lubrication.
Insert: Gently insert the remote controlled vibrator, starting with the smaller beads and progressing at your own comfort level.
Control: Use the buttons on the toy or the Lovense Remote app to explore different vibration and rotation settings.
Explore: Experiment with different settings to find what feels best for you.
Clean: After use, clean the toy again.
Store Safely: Store in a clean, dry place away from other silicone products to maintain its quality.
Safety Considerations:
Always use water-based lubricant to prevent damage to the silicone material.
Start slowly, especially if you're new to anal play, and never force the toy.
Stop use if you experience any discomfort.
Keep the toy clean and follow the manufacturer's instructions for use and cleaning.
Don't share the toy with others to maintain personal hygiene.
My Experience with the Ridge
Venturing into the realm of anal stimulation was initially a challenge, given my extensive history with clitoral and vaginal stimulation toys. The unfamiliar sensation required some getting used to.
I was hesitant at first, the unfamiliar territory of anal play was daunting, but I was also curious. The Lovense Ridge seemed like a gentle introduction, with its sleek design and promise of controlled rotations and vibrations. As my partner eased it in, a new world of sensations started unfolding. It was a bit uncomfortable initially, but as we found our rhythm, discomfort gave way to waves of pleasure, especially when he entered me. The combination of the Ridge's rotations and his movements propelled me into a convulsing orgasm that was nothing short of celestial. The satisfaction that enveloped me afterward was a feeling of complete fulfillment, a gentle reminder of the unexplored depths of pleasure awaiting us.
Delivery and unboxing
The moment the Lovense Ridge arrived, the discreet packaging eased any concerns of prying eyes. As I eagerly unboxed it, I was greeted with a sleek, elegant packaging that housed
the Ridge Anal vibrator,
a USB charging cable,
a user manual, and
a storage bag.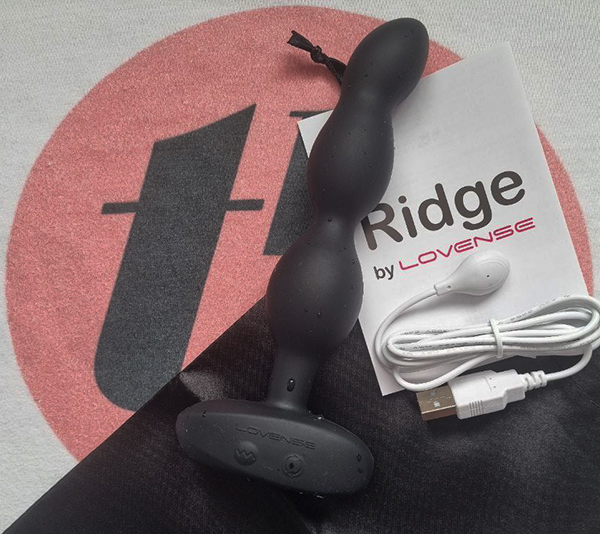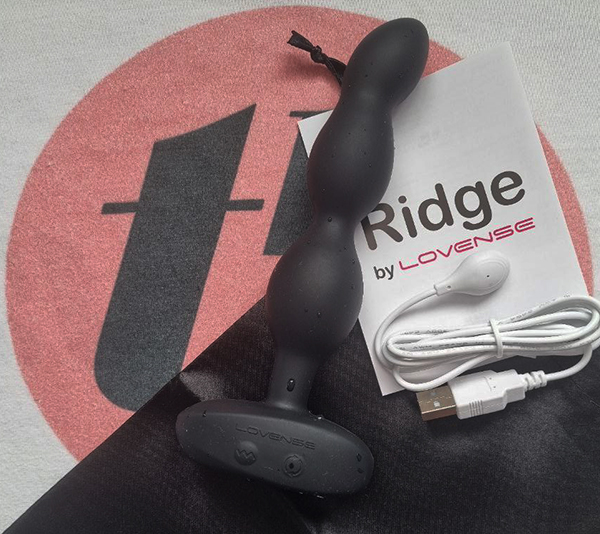 The presentation had a premium feel, hinting at the quality of the adventure awaiting inside. The Ridge's smooth silicone texture felt inviting to the touch, and as I held it, the anticipation for the experiences it would bring started building up.
Charging
Charging the Lovense Ridge is straightforward. Connect the provided USB charging cable to the toy and plug the other end into a USB port or adapter. It takes around 1.15 hours to achieve a full charge. Once charged, the Ridge offers up to 2.42 hours of playtime, allowing for extended pleasure sessions. The ease of charging and the decent battery life make the Ridge user-friendly and ready for spontaneous use.
The Lovense Ridge features a magnetic charger, which effortlessly snaps into place on the charging ports of the toy. This magnetic connection ensures a secure and stable charging experience, making the charging process hassle-free and efficient. It's a definite plus as it simplifies the charging process, reducing the likelihood of any charging disruptions, which is essential for maintaining the longevity and performance of the toy.
Cleaning, maintenance and storage
Cleaning the Lovense Ridge is easy due to its waterproof design. Simply wash it with warm water and mild soap before and after each use.
For maintenance, ensure it's fully dry before storing it in the provided storage bag to keep it dust-free. It's advisable to charge the Ridge before storing it to ensure it's ready for use next time. Keeping it in a cool, dry place will help maintain its quality and longevity. Following these simple steps will ensure your Ridge remains in top condition, ready for your next exploration.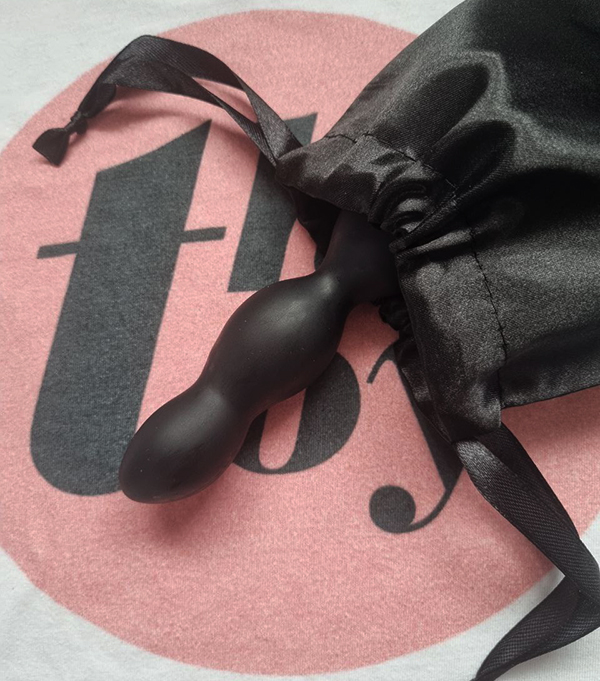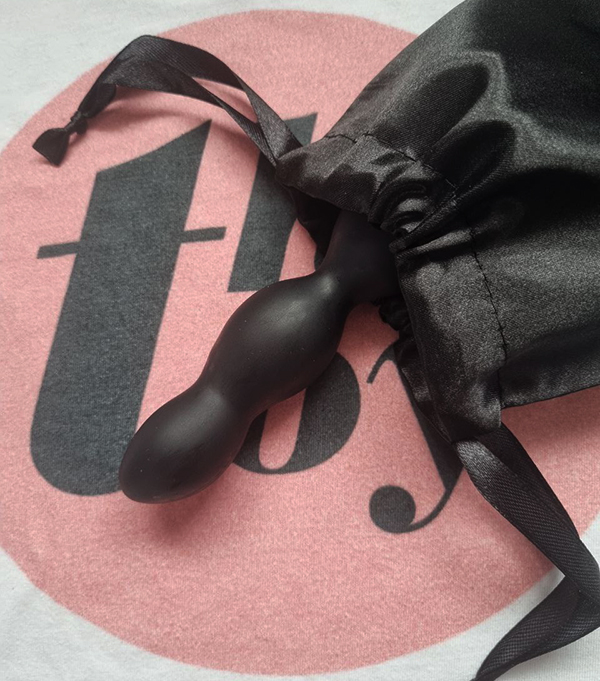 Reviews
The Lovense Ridge received mixed reviews on Amazon, with some praising its depth and prostate stimulation, while others found the rotation feature lacking or noisy.
Works great as a thin, deep reaching vibe dildo for all your needs but the rotation feature honestly feels like an afterthought added in just to sell more of them because only the very tip rotates and once its inside you can't tell that its rotating at all half the time unless its on absolute max power.
One user had an initial charging issue due to a misunderstanding with the controls but rectified the issue.
Another user appreciated its comfortable wear for extended periods, especially due to the incremental sizing of the beads.
Overall, while the rotation feature received some criticism, the product was largely appreciated for its other features and comfort.
Lovense Ridge Alternatives
Lovense Ridge vs Lovense Edge 2
Both Lovense toys are distinct in their designs, catering to different preferences and uses. The Ridge is designed for anal play with a sleek rotating tip that provides a two-way 360° rotational massage, and small beads that gradually increase in size for easy insertion and removal, especially for those new to anal play. The ergonomic flared base is tailored for easy hold and safe use, preventing the toy from fully entering the body. On the other hand, the Lovense Edge 2 prostate massager, is designed for male use primarily, but can also be used by females. Its design is aimed at providing targeted prostate and perineum stimulation, although detailed design features were not obtained from the available sources.
In terms of performance, the Lovense Ridge offers both vibrational and rotational stimulation with up to 116 rotations per minute, and its capabilities are further extended by the Lovense app which allows for close-range and long-distance control, alongside unlimited vibration patterns. Conversely, the Lovense Edge 2 is praised for its adjustable head that ensures precise prostate stimulation, and like the Ridge, it is also app-controlled, providing a myriad of vibration settings for personalized pleasure. The Lovense app enhances the usability of Edge 2 for a wider range of users, offering unique interactive features, especially appealing for long-distance couples.
Pricing reflects the multifunctionality and app-connectivity features of these toys. The Lovense Ridge is priced at $119.00 on a discount from its original price of $239.00 on the official Lovense website, showcasing its multifunctional features like vibration, rotation, and app connectivity. On the other hand, the Lovense Edge 2 is priced at $99, discounted from its original price of $199. This pricing strategy showcases the premium nature of these products, attributed to their high-tech features, app connectivity, and quality build. Both toys are priced to reflect their value in enhancing the user experience either solo or with a partner, providing a range of options for personalized pleasure. The discounted prices make these premium toys more accessible to a broader range of users while maintaining the high-quality experience associated with the Lovense brand.
Lovense Ridge vs We-Vibe Ditto Plus
The Lovense Ridge and We-Vibe Ditto Plus both prioritize user comfort in their designs. The Ridge's sleek rotating tip and flexible joint adapt to various positions and play styles, with small beads aiding in gradual insertion. On the other hand, Ditto Plus, with its tapered design, soft silicone, and flexible neck, is gentle for beginners and comfortable for extended use.
Performance-wise, the Ridge offers an engaging experience with its rotational and vibrational functions, enhanced by the Lovense app's control over patterns. Ditto Plus, however, relies on its 10+ vibration modes and the We-Connect app for personalized play. Both toys cater to different preferences, with Ridge providing a more dynamic stimulation through rotation and Ditto Plus focusing on vibration variety.
Price is a distinguishing factor; the Ridge, priced at $119 (discounted from $239), is a higher-end option reflecting its multifunctional features. In contrast, Ditto Plus, priced at €129, offers a simpler yet effective design for users prioritizing budget without compromising on quality. Both prices reflect their respective features, with Ridge offering more interactive functionalities at a higher price point, and Ditto Plus providing essential features at a more accessible price.
Wish List – What could be improved With the Ridge
Here are some aspects of the Ridge that didn't quite meet my expectations, and I remain hopeful that they may be addressed in subsequent iterations:
Improved Rotation: Enhancing the rotation feature to cover more area, not just the tip, for more noticeable sensations.
Size Variations: Offering different sizes to cater to various user preferences and experience levels.
Improved Instructions: Providing clearer instructions regarding the controls and charging to avoid any confusion.
Additional Textures: Introducing models with varying textures for diversified stimulation.
Pricing: Offering more competitive pricing or bundled options with other Lovense products for better value.
Price and where to buy
The Lovense Ridge is priced at $119.00, discounted from its original price of $239.00, offering a good value considering its multifunctional features like app connectivity, vibration, and rotation. When compared to similar products, it falls within a moderate to high price range, reflecting its premium features. You can purchase the Lovense Ridge from the official Lovense website or other online retailers like Amazon.
Conclusion
The Lovense Ridge presents a unique blend of design and functionality that makes it a noteworthy product in the realm of anal toys. Its rotational feature, coupled with app-controlled capabilities, provides a personalized experience that caters to both beginners and seasoned users. Although it commands a higher price point, the range of features it offers justifies the investment, making it a competitive choice in the market. The few downsides noted could be areas of improvement for future models, but they don't significantly deter from the overall appeal and performance of the Lovense Ridge.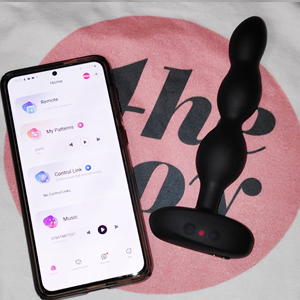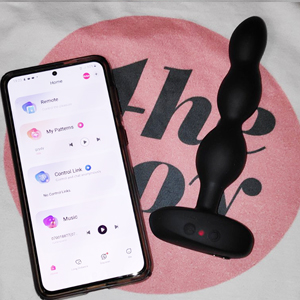 | | |
| --- | --- |
| Design: | (4.5 / 5) |
| Comfort: | (4.5 / 5) |
| Power: | (4.0 / 5) |
| Experience: | (5.0 / 5) |
| App: | (5.0 / 5) |
| Price: | (4.0 / 5) |
Lovense Ridge combines rotating and vibrating sensations with app-controlled customization in a body-safe design for all anal play levels.
You can buy these anal beads: