Anal vibrators are a popular way to experiment in the bedroom and can be an incredibly satisfying addition to your intimate life.
So, I wanted to create a list of the best anal vibrators currently available on the market. I bought 10 popular anal sex toys and started testing them. However, it would have been my own (male) point of view.
This is why I asked my girlfriend to do the same but with butt vibrators for women.
It took a few months before we were ready with our lists. Meanwhile, we spoke to sex bloggers and sex shop owners to get a clearer picture about the most wanted anal vibrators, so here's a spoiler to this entire article:
Everybody thinks Lovense brand created the best anal vibrators so far. Because they are powerful, app-connected and extra comfortable! My favorite is the Edge prostate massager and my girlfriend thinks the best anal toy is the Hush, an unisex butt plud, also created by Lovense.
Whether you are a beginner or have already experimented with anal pleasures, the selection of the best anal vibrators below will meet even the most elaborate expectations.
Best anal vibrators for men
Lovense Edge 2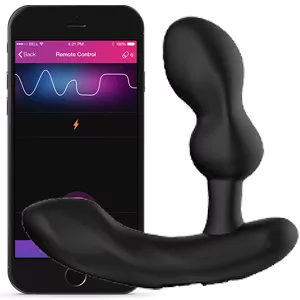 | | |
| --- | --- |
| Power: | (5.0 / 5) |
| Noise: | (5.0 / 5) |
| Material: | (5.0 / 5) |
| Price: | (4.5 / 5) |
| App: | (5.0 / 5) |
App-connected prostate massager to deliver exceptional, long-lasting orgasms
You can buy this product from:
Amazing pleasure at a distance thanks to Edge 2, the Connected Prostatic Stimulator created by Lovense, for a double stimulation designed to satisfy your wildest fantasies!
This is the newer, upgraded version of the previous model, Edge. There are various improvements that Lovense provided, all of which promoting an exceptionally fulfilling and orgasmic experience.
First, they created an adjustable arm design to offer more powerful and accurate P-spot stimulation, a feature no anal vibrator provides.
Lovense also increased the size of the insertable bulb so that you shouldn't worry about the stability of your toy. The size of the bulb provokes muscle retention, which will add even more passion to your orgasmic game.
The newer version of Edge has a more durable battery for prolonged and intense stimulation, while the magnetic port makes the process of charging easier and shorter.
Of course, the connectivity of Edge 2 is also improved, so that you can enjoy uninterrupted stimulation even if you are long distance away from your lover.
When connected to the Lovense Remote application on an iOS or Android device, you can enjoy unparalleled control over your sex toy through your smartphone. In Bluetooth mode, you can stimulate your partner up to 6 meters when he is standing, worn under clothes, for discreet games in public … But above all, thanks to the option to control your toy via the internet, whether you are next to him or thousands of miles away you can trigger his pleasure!
Equipped with 2 extremely powerful motors, Edge 2 will allow you to experience new sensations. Its ergonomic design makes it fit perfectly to your body for hands-free stimulation and an unimaginable pleasure. An optimized neck, an adjustable head that will allow you to perfectly target and stimulate your P-spot (prostate) and your perineum with 3 vibration intensities (low, medium, and high).

The first adjustable and flexible head of the Edge 2 prostate massager allows, once inserted, to be perfectly positioned to intensely stimulate your prostate by delivering intense vibrations and its neck ensures stability for hands-free use, the second head will offer you stimulation of your perineum, 2 simultaneous sensations with a single sex toy!
The Prostatic Edge 2 Stimulator has an outstanding intelligent technology that will allow you to discover vibrations in harmony with different patterns and intensity modes.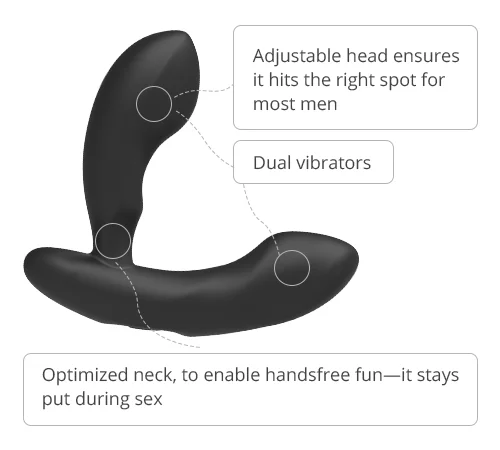 With the Lovense Remote application you will be able to vary the vibrations according to your desires:
Synchronize the stimulation to the rhythm of music
Make your partner vibrate to the sound of voices and noises around you.
Download or create your own vibration patterns
Ideal for more experienced and beginners in prostate stimulation. According to men who already tried Edge, the orgasm delivered is the most powerful and longest-lasting orgasm a man can reach.
Dimensions:
Total length: 4.5 in/11.4 cm
Insertable length 3.1 in/ 8 cm
Diameter (at widest): 1.4 in/ 3.6 cm
Your Edge 2 is made of 100% hypoallergenic silicone. It is 100% Waterproof, so you can use it in the shower as well as in the bath. Edge 2 is rechargeable via USB (integrated USB charger is available in the box you'll receive) with an autonomy of 2 hours. The warranty, provided by Lovense company, is 1-year.
The Lovense Remote application is available for free on the App Store and the Google Play Store.
Additional information: Before using it for the first time, fully recharge your bum toy for better performance afterward!
Lovense has some other awesome vibes and you can get for up to 50% cheaper price, especially if you get a bundle. They have those deals on their store page often, so make sure to check regularly if there is no deal at the moment.
Where to buy: LovenseLoveHoney
We-Vibe Vector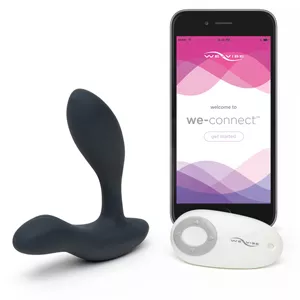 The We-Vibe Vector Connected Protastic Stimulator will make you discover a unique and intense anal pleasure. Gentlemen, once tested, you will never be able to do without it!
The Prostatic Vector Stimulator has been designed to suit beginners who want to discover new horizons as well as those who are adept at this practice. With its adjustable head and flexible base, you can adapt the stimulator according to your desires and reach all the essential places for a powerful orgasm!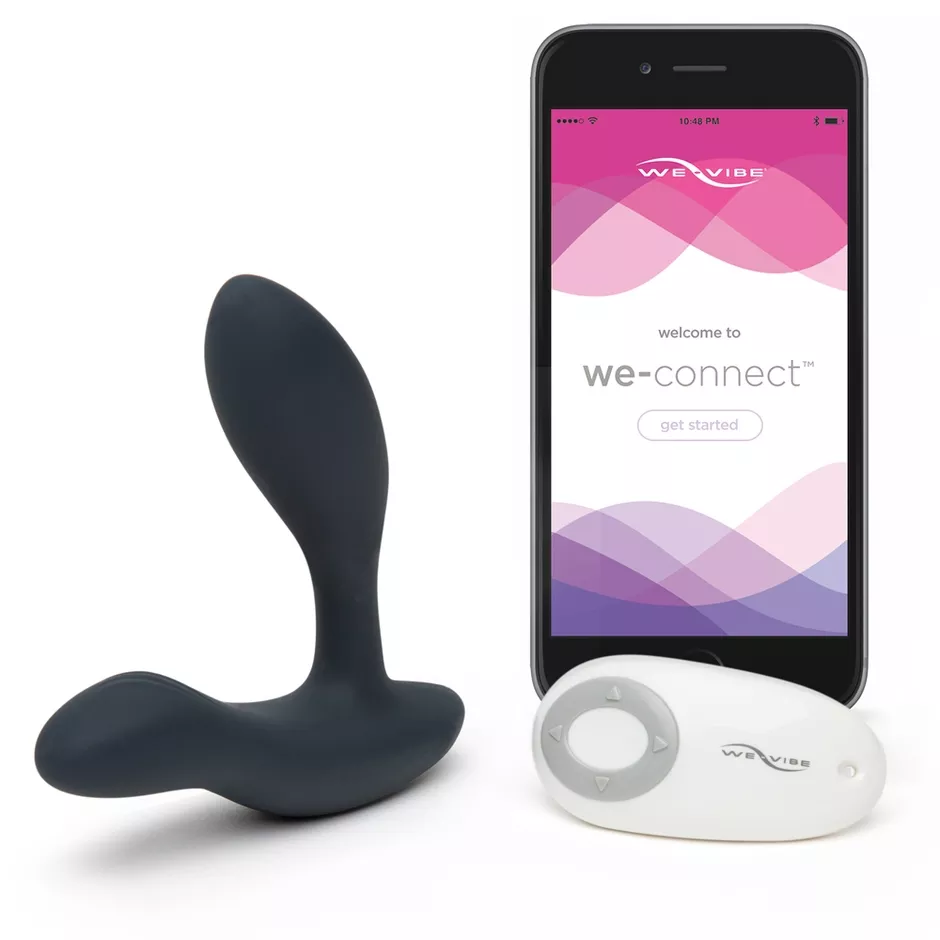 Thanks to its powerful vibrations, which will target your prostate as well as your perineum, Vector will make you discover sensations that you have never felt before. Between pleasure and innovation, it will quickly become an essential part of your naughty games! Its ergonomic shape allows you a good grip while avoiding all risks of stucking your toy into the anal passage.
We-Vibe Vector is made of smooth and silky silicone that will make the insertion soft and comfortable. Equipped with 2 powerful but totally silent motors, you have 10 vibration modes to titillate both your prostate and your perineum for an enjoyable stimulation! The wireless remote control allows you to manually and easily control the vibrations of your anal stimulator. Vector is equipped with a low-battery warning system to keep you informed about the condition of your toy. And there will be no risk of being interrupted during your lovemaking!
The Vector stimulator is also a connected sex toy! It connects to IOS and Android devices via the We-Connect application. So you can control your pleasure by simply activating Bluetooth, wherever you are. Create and record a multitude of vibration modes for a totally personalized pleasure! With the application, your partner will be able to choose the vibrations to make you tremble with pleasure from a distance. It can be used as a tip-controlled vibrator as well. Spice up your naughty games with this connected stimulator!
How do I use We-Vibe's Vector with my smartphone? :
Download the We-Connect application on the App Store or on Google Play Store.
Connect your Vector in Bluetooth to your smartphone.
And now, it's your turn to play!
Your Vector Connected Prostate Stimulator is made of 100% hypoallergenic, medical-grade silicone that is ultra-soft to the touch. Without phthalates, latex or BPA, Vector ensures your optimal skin health, even the for the most sensitive types. 100% Waterproof, it can be easily cleaned with water or with a sextoy cleaner.
Dimensions :
Total Length: 4.3 in/ 10.9 cm
Insertable length: 3.5 in/ 9 cm
Total Width: 3.9 in/ 10.0 cm
Insertable diameter: 1.2 in/ 3 cm
Rechargeable (magnetic USB charger included). Charging time – 90 minutes. Uninterrupted play – 120 minutes.
Sold with a discreet storage bag to take it with you everywhere. Sold with USB charger, a sample of We-Vibe Lube Water Lubricant, and user manual. You will also get a 2-year We-Vibe warranty.
Where to buy: LoveHoneyWe-Vibe
LELO Hugo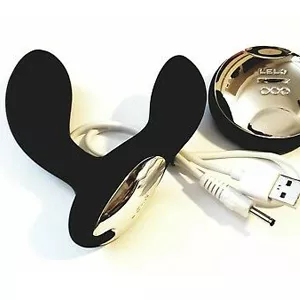 Hugo, or the top-of-the-range prostatic massager with two LELO motors. It will precisely stimulate the perineum and prostate. Hugo has been designed to provide maximum pleasure and comfort for men. It is great for solo stimulation and remote use.
With its ergonomic design, the Hugo prostatic stimulator adapts perfectly to the male morphology in order to stimulate the prostate, perineum, and anus in the best possible way. A real jewel, offering you the greatest pleasure.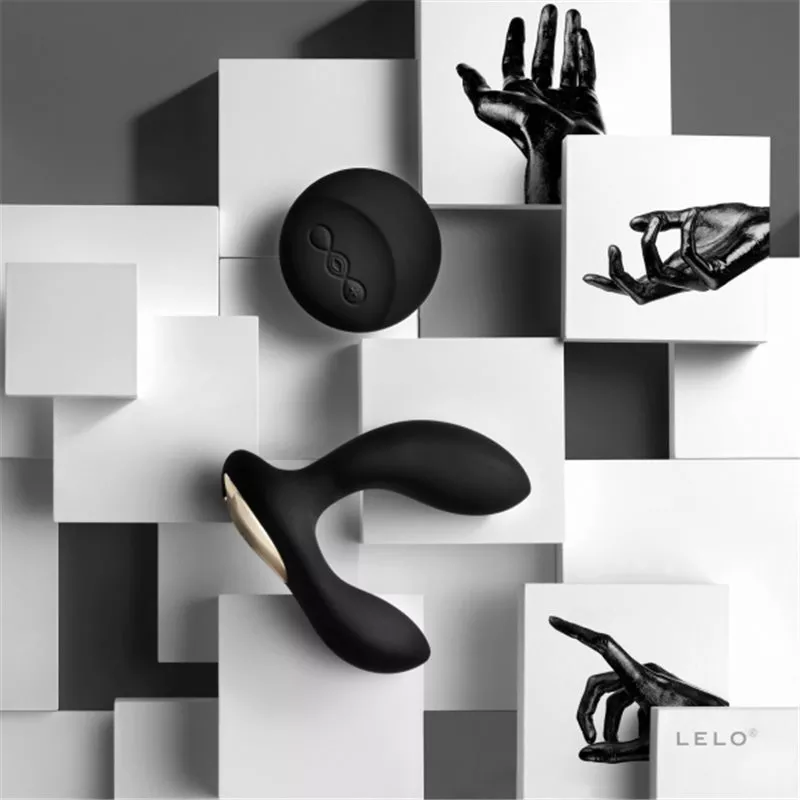 Designed with two powerful motors, the first in its extremity the second in the base of Hugo, you will feel deep vibrations targeted on each of your erogenous zones. You will also be able to choose between the 8 intensities of vibrations of Hugo.
Thanks to the innovative SenseMotion technology and its wireless remote control with motion sensors with a range of up to 12 meters, Hugo offers strong vibrations controlled by simple hand movements. You will be able to control your partner's pleasure with precision.
You can use Hugo with or without the remote control.
This prostate stimulator will make your partner's erogenous zones shiver, while your partner can use the remote control, which also has a motor to feel the vibrations Hugo transmits to your partner in the palm of his hand.
Hugo has 8 vibration modes that you can adjust using the intuitive interface on the wireless remote control. Choose between the 2 SenseMotion modes and the 6 standard modes for ever more intense sensations.
In addition to its beauty, Hugo will give you the opportunity to spice up your sex life as a couple. While you control your partner's pleasure by making tilting, sweeping and shaking movements with your wrist, your partner is on the way to orgasm.
How do I use the SenseMotion vibration modes?
SenseMotion mode 1: Tilt the wireless remote control to change the intensity of the vibrations. When the remote control is in the horizontal position, the vibration intensity is at a minimum. The more you turn it to the vertical position, the more the vibration intensity increases.
SenseMotion 2 mode: Shake or rotate the wireless remote control to change the vibration intensity. Circular movements also increase the intensity and the more varied and rapid your movements are, the more your sex toy will respond.
The other "standard" stimulation modes are used with the (+) and (-) buttons.
The Hugo by Lelo Prostatic Stimulator is rechargeable, just leave it to charge for 2 hours. The remote control works with 2 AAA batteries (not included).
Sold in its superb box with its satin storage pouch, its charger, and the user manual. Your Hugo Prostate Stimulator is made of ultra-soft medical-grade silicone that is 100% hypoallergenic. It is totally waterproof for use in the shower or bath!
You also get a 1-year LELO warranty. The device is completely rechargeable (USB charger included).
Additional info: Before its first use, it is necessary to fully recharge your sex toy to ensure its' optimal performance!
B-vibe Triplet Remote Control Vibrating Anal Beads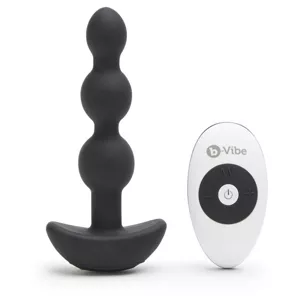 | | |
| --- | --- |
| Power: | (4.0 / 5) |
| Noise: | (4.0 / 5) |
| Material: | (5.0 / 5) |
| Price: | (5.0 / 5) |
| Ease of use: | (4.0 / 5) |
Oval-shaped vibrating anal beads that will impress you with deep, yet comfortable penetration
You can buy this product from:
The b-Vibe Vibrating Remote Controlled Anal Plug Triplet is a luxurious sex toy for both men and women who are interested in discovering anal pleasure a little deeper for sensations out of the ordinary!
The b-Vibe has a very progressive oval shape for smooth penetration. The deeper you go, the greater the pleasure. To vary the pleasures and sensations you have 9 vibration modes and 8 intensities thanks to 3 very powerful but silent motors. Its motors are more powerful than most other models thanks to their integrated Lithium-Ion battery. Finally, the vibrating parts are located at the end, in the middle and at the base of the plug to transmit the vibrations throughout the penetration. Its curves and vibrations will massage every inch of your anus to ensure intense orgasms in an instant!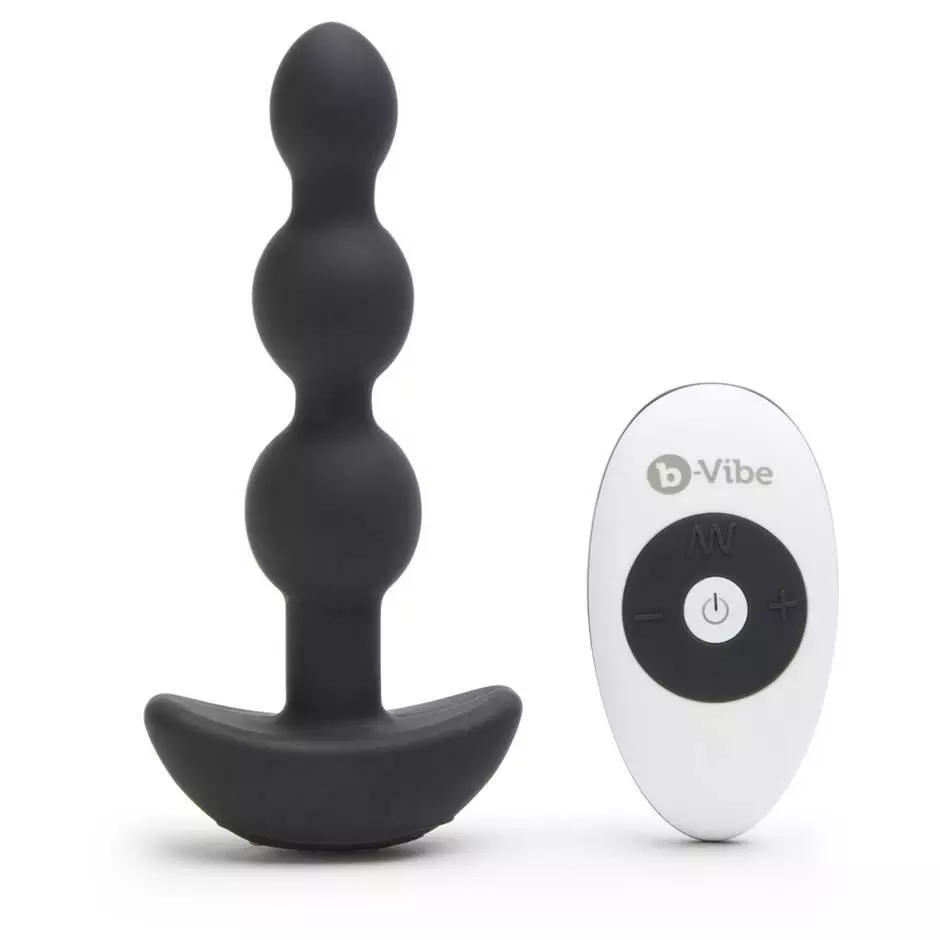 Moreover, Triplet has a wireless remote control to activate the different vibration modes with a range of up to 9 meters! Ideal for use in pairs where your partner will be in charge of navigating through the modes to make you shiver of pleasure! You will also be able to control these vibrations directly via the buttons located on the butt plug.
The insertion length is 4.3 in/ 11 cm with a maximum diameter of 1.3 in/ 3.2 cm for the Triplet Medium version. There are also Novice (Very Small), Rimming Petite (Small) and Rimming (Large) for beginners and advanced users.
Your Anal Plug comes with a small, and elegant storage box, very practical to take with you on your travels.
Your b-Vibe Vibrating Anal Plug is made from 100% hypoallergenic, phthalate-free silicone. Splashproof, this b-Vibe Vibrating Anal Plug can accompany you in the shower!
Rechargeable via USB (charger included). Autonomy – 60 minutes.
Where to buy: LoveHoneyLiberator.com
Lelo Loki Luxury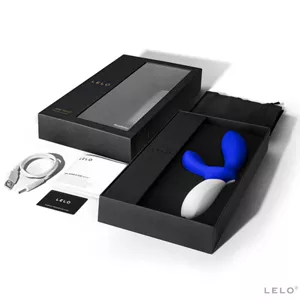 | | |
| --- | --- |
| Power: | (5.0 / 5) |
| Noise: | (4.0 / 5) |
| Material: | (5.0 / 5) |
| Price: | (3.0 / 5) |
| Ease of use: | (4.0 / 5) |
Arched design to provide incredible sensations and smooth penetration
You can buy this product from:
Discover Loki, the ultra-powerful and very quiet prostate stimulator from LELO which will meet all your requirements thanks to its outstanding features, its quality, its sensations, and its simply divine ergonomics! It will target your prostate with the same precision as a snake would (just kidding)!
Its progressive ergonomic arched design perfectly fits male shapes and allows it to penetrate the anus so that it sticks to the prostate for sensations never experienced before! Loki is equipped with a safety ring at its base to prevent any insertion too deep, its' surface also allows to simulate the entry of the anus and the perineum.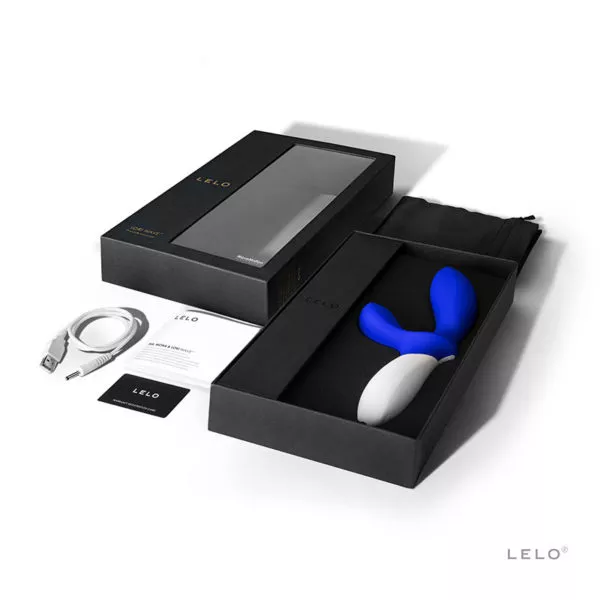 Loki's incredibly soft texture will bring you unprecedented comfort. It will easily reach the male P-spot for incredible pleasure! The prostate is a point not often stimulated by men in general but the sensations it provides during penetration can be extremely orgasmic and Loki has been specially designed for that!
Its powerful and silent motor has 6 vibration intensities that you can adjust using the intuitive buttons on your anal vibe. Choose the intensity of vibration according to your desires for stronger and more intense sensations. The Prostatic Stimulator Loki by Lelo is rechargeable, just let it charge for 2 hours. The indicator on the charger even shows you how much time your toy is still available for play!
Sold in its beautiful case with its satin storage pouch, charger, and user manual. If you wish to carry it, no risk that it will be accidentally turned on thanks to its transport lock to guarantee your safe travel.
Your Loki Prostate Stimulator is made of silicone and ultra-soft 100% hypoallergenic ABS. It is completely waterproof to a depth of 1 meter for use in the shower or bath! It comes with a 1-year LELO warranty.
The device is rechargeable (USB charger included).
Additional info: Before its first use, it is necessary to fully recharge your toy for better performance afterward.
Where to buy: LeloLiberator.com
Paloqueth Male Vibrating Prostate Massager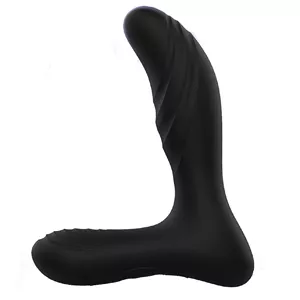 | | |
| --- | --- |
| Power: | (4.0 / 5) |
| Noise: | (3.0 / 5) |
| Material: | (5.0 / 5) |
| Price: | (5.0 / 5) |
| Ease: | (0.0 / 5) |
| of: | (0.0 / 5) |
| use: | (5.0 / 5) |
Extra-powerful anal plug with 10 different vibration modes and intensities. With 2 motors that can be controlled independantly
You can buy this product from:
Paloqueth is a vibrating anal plug, with 7 powerful rotations and 10 intense vibration modes, to increase your pleasure in an instant.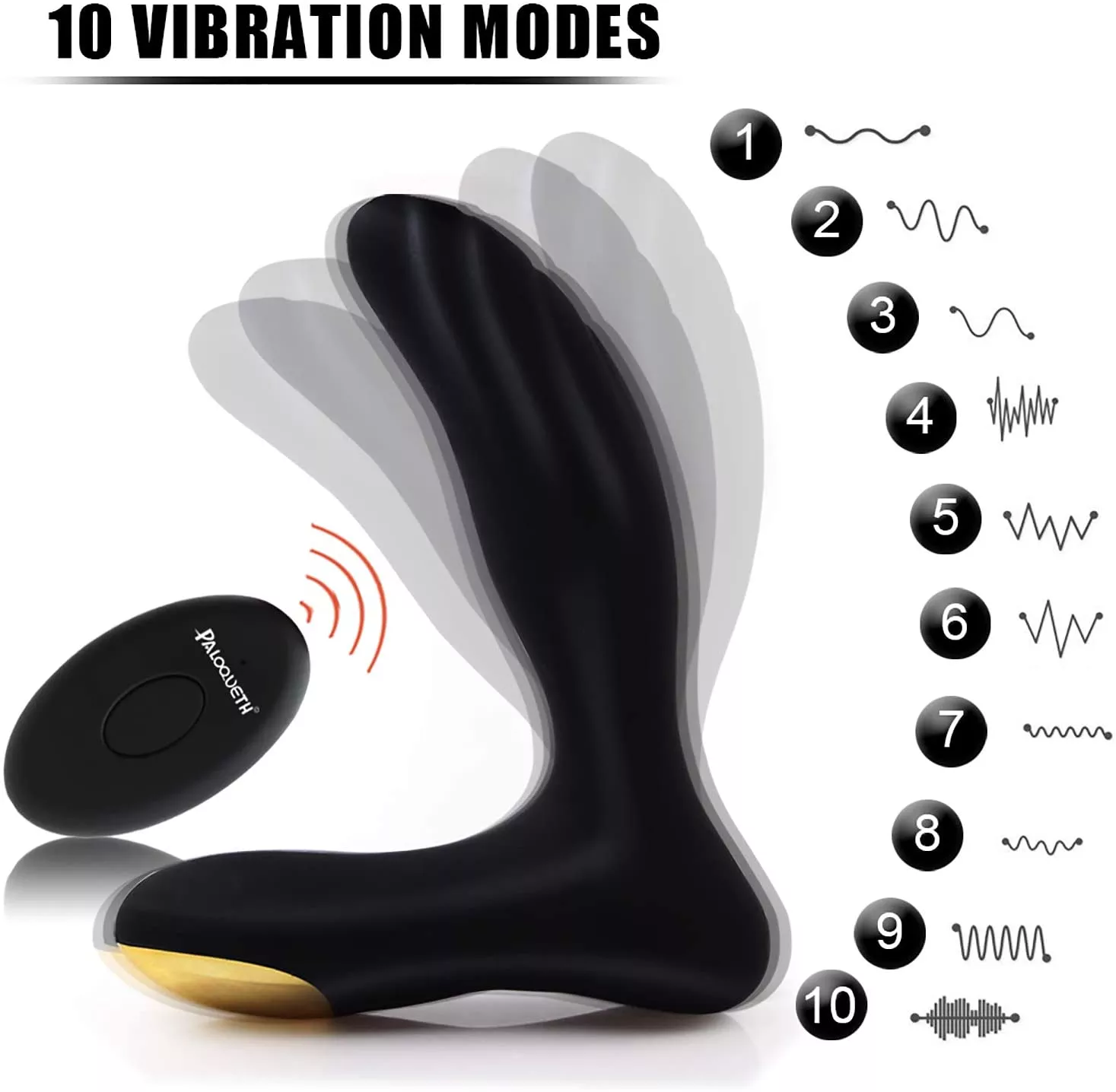 The authentic design mimics the effect of anal beads, with multiple circumferences, designed to make you vibrate with insane amounts of stimulation, with a T-bar at the base to ensure the vibrator stays inserted while playing.
Paloqueth vibrating anal plug is completely waterproof, so you can use it while showering or lounging in the bathtub. Its waterproof design makes the vibrator easy to clean and maintain for long-lasting pleasure.
The two motors can be controlled independently of each other. This allows you to personalize the sensations. They are quieter than the standard motor, giving you the privacy you need to fully enjoy your new anal toy.
Paloqueth is made of high-quality silicone, hypoallergenic, and latex-free, allowing you to play safely while maintaining its resistance to penetration and preserving your health.
Although this toy is designed for anal play, you can also use it for vaginal stimulation once you have carefully cleaned the toy. You and your partner will enjoy using Paloqueth in many different ways. The fun for both multifunctional vibrators can be used equally for men and women. Really great as a complement to the usual dildos and vibrators. When Paloqueth anal plug is completely inserted, it's extremely comfortable and will stay in place until you decide to take it out.
The Paloqueth anal vibrator comes with a USB-cable, a luxury storage pouch, and a very straight-forward user manual that will help you enjoy your anal vibe to the maximum.
Where to buy: Paloqueth
Best anal vibrators for women
Lovense Hush
The Hush, created by Lovense is the first teledildonic anal plug that ever existed on the market.
Lovense Hush is controlled remotely via a smartphone app offered for free download along with the toy. This allows couples to enjoy the pleasure of unexpected changes in operating modes and intensity of vibration. The remote-control function is appreciated by couples, separated by distance. Thanks to the awesome connectivity of Hush, you can connect with your partner whether you are together in the bedroom or located in different continents.
If you don't want to entrust control of the toy in someone else's hands, the application will allow you to change the modes of impact while the vibrator is in place and you control it using your phone.
What sets Hush apart from all other vibrating toys is its power. This is one of the strongest, probably the most powerful anal vibrator worldwide.

The device is completely waterproof, which facilitates cleaning and allows you to use it in the bath or shower. The spiral relief under the head helps to retain the lubricant for easier removal of the plug after use.
Compatible with:
iPhone / iPad Air / iPad Mini / iPod Touch iOS 9.0
Android 4.3 (with Bluetooth 4.0 enabled)
Mac (with Bluetooth 4.0 enabled)
Windows PC (requires Lovense USB Bluetooth adapter to connect)
Where to buy: LovenseLoveHoney
Fun Factory b balls
| | |
| --- | --- |
| Power: | (4.0 / 5) |
| Noise: | (4.0 / 5) |
| Material: | (5.0 / 5) |
| Price: | (5.0 / 5) |
| Ease of use: | (4.0 / 5) |
Connected anal balls to deliver instant ograsmic stimulation. Easily insertable and safely removable
You can buy this product from:
The Anal Plug B Balls Duo from Fun Factory is a sex toy that reacts to your movements. Halfway between the anal plug and the anal rosary. Fun Factory offers you a unique product with 2 balls located inside that make a regular rotating movement that allows stimulation with every movement of yours!
The Balls are made up of two balls of different sizes connected to each other by a stable but flexible connection. They have a narrow base at the end for safe use and do not hide any erogenous zones. This technology makes B Balls unique, without motor and completely silent.
In addition, their conical shape makes them easy to insert. The B Balls Anal Plug Anal Balls is suitable for beginners as well as advanced users and will give you a feeling of total fullness.
B Balls are suitable for both men and women with multiple uses.
For her:
Double penetration possible with the partner or a sex toy.
Intensified rotations during sexual intercourse
During vaginal penetration, the partner feels his tightness and the oscillations caused by B Balls
For him:
Indirect prostate stimulation
Intense stimulation with every sudden movement during sexual intercourse with a partner
Your Anal B Balls Plug is made with a 100% hypoallergenic silicone that is incomparably soft. Moreover, it is totally waterproof.
Length: 12.6 cm Diameter: 3.6 cm
Where to buy: LoveHoney
B-Vibe anal training kit and education set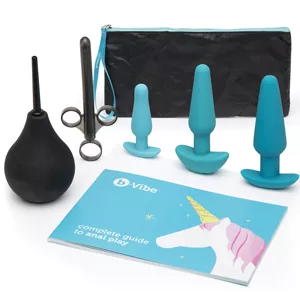 | | |
| --- | --- |
| Power: | (3 / 5) |
| Noise: | (4 / 5) |
| Material: | (5 / 5) |
| Price: | (4 / 5) |
| Ease of use: | (4 / 5) |
Anal training kit with a small, medium and large butt plug and other useful attachments to ensure safe and comfortable experience
You can buy this product from:
Taking it up the ass doesn't take courage. It's actually an absolutely normal, natural way to experience intense orgasms, the only thing you need to do is educate yourself first. This way, you'll avoid unpleasant surprises of all kinds and have real chances to feel perfectly comfortable even if it's your first time.
B-vibe training kit has this exact purpose – to educate you about all aspects of anal sex and penetration. B-vibe training kit includes 3 anal plugs with different sizes, starting from a very small one – so you can avoid potential discomfort.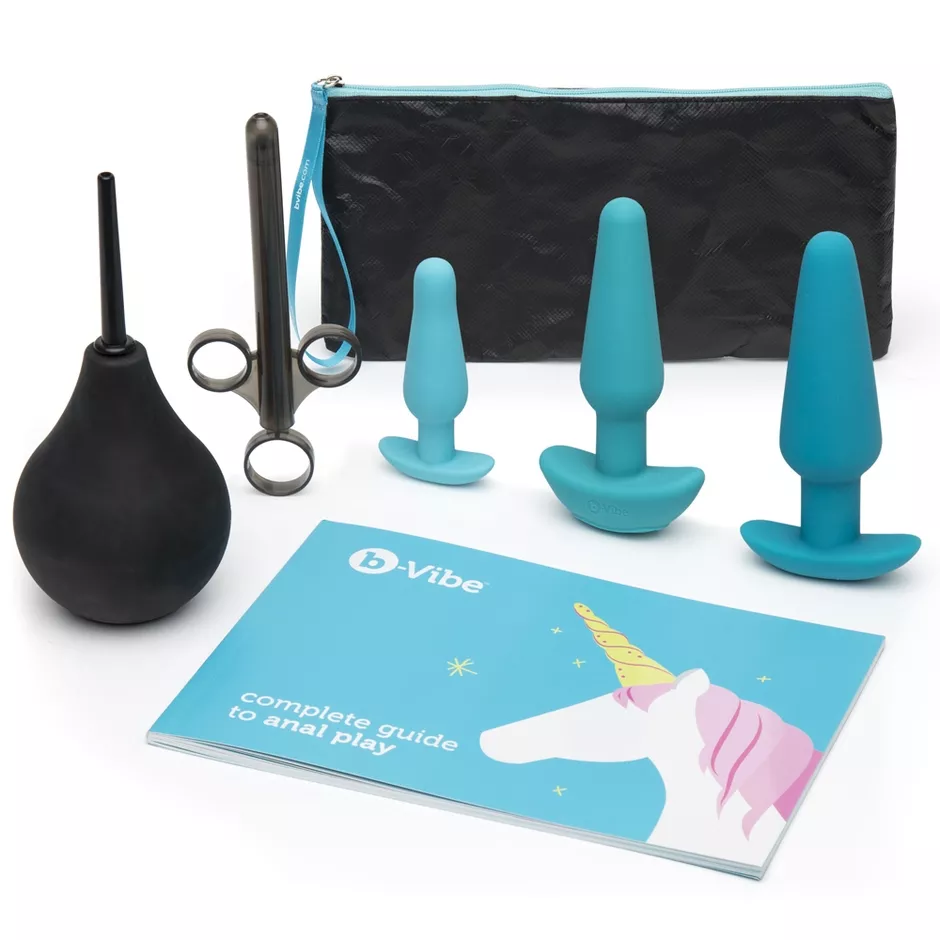 And since the anus is basically a muscle, you can easily train it to widen, using the larger anal plugs.
With B-vibe training kit, you have a new world of possibilities for imagination and entertainment!
Along with B-vibe education set. you'll also get a discreet toiletry bag, a USB cable and a user manual where you can find all the information about your new sex toys.
As expected, each item is made of hypoallergenic, latex-free silicone, so you shouldn't worry about the optimal cleaning of your toys.
Where to buy: LoveHoneyLiberator.com
Njoy Pure Plug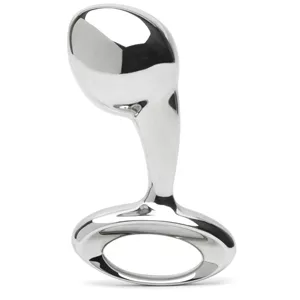 | | |
| --- | --- |
| Power: | (3.0 / 5) |
| Noise: | (4.0 / 5) |
| Material: | (3.5 / 5) |
| Price: | (3.5 / 5) |
| Ease of use: | (4.0 / 5) |
Stainless steel anal plug with classy design and curved shape
You can buy this product from:
Njoy makes jewel-like sex toys with a sublime shape for the pleasure of the eyes and ergonomic design, intended for pleasuring the senses. It's the favorite brand of lovers who would appreciate rare and precious objects.
Pure Plug Medium is suitable for both women and men. Its slightly curved head allows easy insertion. Equipped with an ergonomic handle, its removal and insertion are done smoothly and safely.
Its polished stainless steel and chrome-plated material is very sensitive to temperature, so you can enjoy a rather hot or rather cold stimulation according to your desires. Simply place it under a source of hot water or in the refrigerator for a few moments for even more intense sensations.
The Pure Plug Anal Plug Medium is perfectly suited for beginners or for those who want a more intense anal pleasure. Its weight of 200 g will give you an uncommon and sensational intimate presence.
Sold in its superb wooden and satin box with its user manual.
Your Pure Plug Anal Plug Medium is made of the highest quality medical grade 316 stainless steel before being hand polished to a mirror-like shine and infinite softness. It is completely waterproof.
For optimal use of your sex toy, EspacePlaisir recommends that you use a water-based lubricant. Make sure to clean your sextoy before and after each use.
Overall Length: 8.5 cm
Diameter: 3.2 cm
Where to buy: LoveHoneyLiberator.com
Other anal toys worth mentioning
What are anal vibrators?
Anal vibrators are specially created anal toys that give you the opportunity to indulge in pleasures that you probably have not allowed yourself so far.
For many people, stimulating the anus is still a taboo, and even if they practice it, they do not talk about it, which is a completely wrong concept. There are a huge number of nerve endings in the anus, which, properly stimulated, are able to deliver indescribable pleasure not only to women but also to men. Today, sexual experiments are something quite normal, and sodomy is just another way to get an ultimately satisfying experience.
Anal vibrators are just like any other kind of vibrator, but their main purpose is to stimulate the anus. The pulsating effect in the rectum can deliver orgasmic sensations in as little as a few seconds. According to most people who perform anal play, this type of orgasm is stronger compared to the clitoral or vaginal one.
Anal vibrators have rotating, vibrating, or pulsating functions that can be adjusted to one's personal preferences.
Main types and features?
First and foremost you need to know about anal play – if there is no broad base, it is not intended for your butt! Or at least it's not good to use it, because it can go on a deep journey if you know what I mean. All anal toys are designed to sit in the rectum while moving or during foreplay, so if you want something to give you more active pleasure, you can rely on anal vibrators. But whatever the anal toy it is – remember what I told you about the base!
There are three main types of anal vibrators, offering different features
Vibrating anal probes are devices, intended for anal insertion to stimulate anal sphincter. They are smaller, compared to common anal vibrators and this feature is appreciated by those who recently discovered the joy of anal stimulation.
Vibrating butt plugs are visibly larger, compared to anal probes. Their function is to stay inside the anus and create fullness and vibrating stimulation at the same time. You can use your vibrating anal plug for solo play, or with a partner. Some vibrators can be controlled via mobile phone from anywhere around the world.
Vibrating anal beads and balls
Anal balls, also known as anal beads, are sex toys for anal penetration and ultra arousing stimulation. They are a great way to explore anal sex, especially for beginners.  When a vibrating effect is added to this kind of toy, the following sensations are more intense so you can reach your orgasm more rapidly.
How to choose the best anal sex vibrator?
The use of anal toys is one of the most modern, effective and most importantly, aesthetic ways to qualitatively diversify the intimate life. To get the maximum mutual pleasure from sexual play and not to experience disappointments, you need to know which expander to buy, taking into account individual requirements.
On our site there is a huge variety of anal toys of different types, different from each other in shape, material, size, nature of application and design. And so, of course, the question arises how to choose the right one from the variety presented.
Curiously, the anal dilator first appeared as an additional sexual attribute in antiquity, as evidenced by the numerous mentions in the literary works of antiquity.
From very small for beginners – to larger for the lovers of extreme anal sex. Generally, anal vibrators are mostly and smooth and made of harder materials so that bacteria cannot penetrate inside your toy.  The preference for size, material and features is yours.
How to choose the right material for an anal toy?
Most anal plugs today are made of hygienic and anatomically safe materials: glass, metal, and silicone, which differ in density, elasticity, thermal conductivity, and durability. So, we will look at each category of anal toys separately.
Metal dilators are equally suitable for those who will practice anal sex for the first time and for those who wear the accessory for a long time (maximum 5 hours in a row). The smooth, cool surface reduces the risk of discomfort during penetration and long-term wear. In this sense, glass anal plugs replicate the characteristics of the metal.
Among other things, both materials make caring for accessories easy and hassle-free: all you need to clean them is soap and water. However, do not forget about the need for more thorough cleaning with the help of special disinfectants and detergents, which you will find in our online sex shop.
Silicone anal vibrators are also comfortable and absolutely safe to use. Silicone is an ultramodern polymeric material, often used both in everyday life and in medicine, often in cosmetology and plastic surgery, which clearly shows the anatomical compatibility with the microflora of the human body. By the way, silicone butt plugs, anal beads, and vibrators are preferable for a long stay in the body – up to 10 hours of continuous wear. Silicone is a non-porous material, so bacteria can't penetrate it. When speaking of anal vibrators, the lack of seams and roughness is a must. What might not be a problem for vaginal penetration is especially important when penetrating the anus.
How to choose the right shape for an anal toy?
In order to achieve maximum satisfaction from the use of anal sex toys, it is necessary to choose the appropriate shape of the stimulator. Conventionally, all forms of anal plugs can be divided into two categories: anatomical and aesthetic.
Anatomical anal dilators have a drop-like or conical shape, which is logically explained by the simplicity and painlessness of the penetration of anal toys. The conical shape is equally suitable for men and women, but the latter is still preferable. The fact is that girls prefer butt plugs in the shape of a drop or cone, as they are primarily responsible for achieving two main goals: the first is to fill in the space, to give the man  a feeling of a narrow womb during sex; and the second – to provide additional stimulation and the sensation of double penetration.
For men, the grooved anal butt plugs are the more preferable shape – with an extended or curved end, thanks to which the male P-zone (in other words, the prostate) is stimulated.
There is no strict division of the shapes of anal dilators into exclusively male or female: they are in fact universal and correspond to their main tasks.
What size of anal toy should you choose?
When choosing the first anal toy, special attention should be paid to its size.
The small ones include anal plugs up to 7 cm long and 2-3 cm in diameter of the insertable part. Small anal dilators are for beginners: such models are non-traumatic and are ideal for gradual and gentle dilation of the sphincter. Once you've mastered the "small shapes", it's time to move on to medium sizes. Devices with a length of 7 to 10 cm with a diameter of not more than 4 cm (usually 3-5 cm) can be considered medium-sized anal plugs.
If women appreciate the small size and anatomical shape of the small butt plugs, then the medium size, which provides stimulation to the most sensitive areas, is more suitable for men.
Large anal vibrators and plugs are practically the "master" level of the anal stimulation technique. A large plug can have a shaft of 10-12 (sometimes up to 15) cm long with a diameter of 5 to 11 cm (or even more).
Choose the size of the toy according to whether you are a beginner or advanced in anal entertainment! If you intend to buy a toy because you feel brave today, you might end up disappointed because anal sex requires experience. And sufficient lubrication!
Anal toys with additional functions
There are anal stimulators with vibration, with the possibility of expansion inside the body by means of a pump, as well as the gradual mechanical opening of the dilator during sex to achieve the effect of maximum fulfilling sensation and expansion.
Anal toys with additional vibration stimulation are especially popular among both men and women: the level of vibration in such models is controlled manually or remotely – using a special remote control or your smartphone with a mobile application installed for the purpose.
How to safely use the vibrating anal toys?
After use, it is mandatory to use a special cleaner, not ordinary soap and water in order to eliminate all bacteria. You can also use your anal toy in a combination with a condom if this doesn't bother you.
And the lubricants? Don't even think about trying without them. Choose a suitable one, depending on the material of your toy.