Tenga never ceases to amaze me with its innovative and captivating products, and as a fan of the brand, I can attest that its Geo line is no exception.
In this review, I'll discuss the Tenga Geo Coral, one of the first elastomer strokers I've tried. I adore the soft and supple material; rather than attempting to mimic a mouth or vagina, it stands out with its unique sphere design.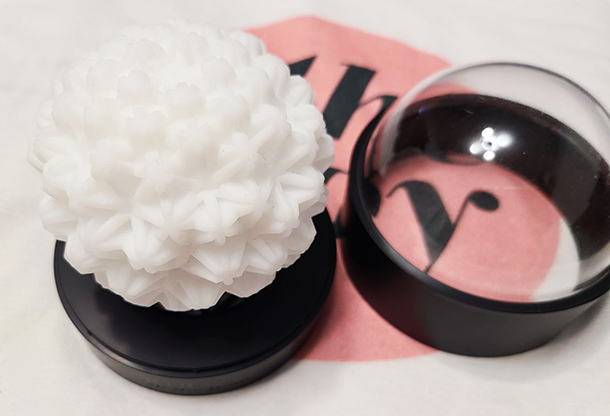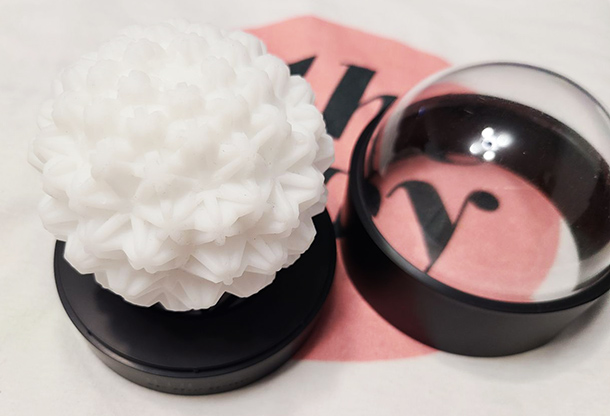 Tenga Geo review summary
I'll begin by sharing my thoughts on how the masturbator feels, its pros and cons, as well as who should consider buying it and who should pass. Be sure to read this summary, as it contains all the information you need to determine if the Tenga Geo series is right for you, and if so, which model to choose.
Afterward, I'll delve into the design of the Tenga Geo Coral, my personal experience with it, usage tips, durability, cleaning and care instructions, and my overall verdict.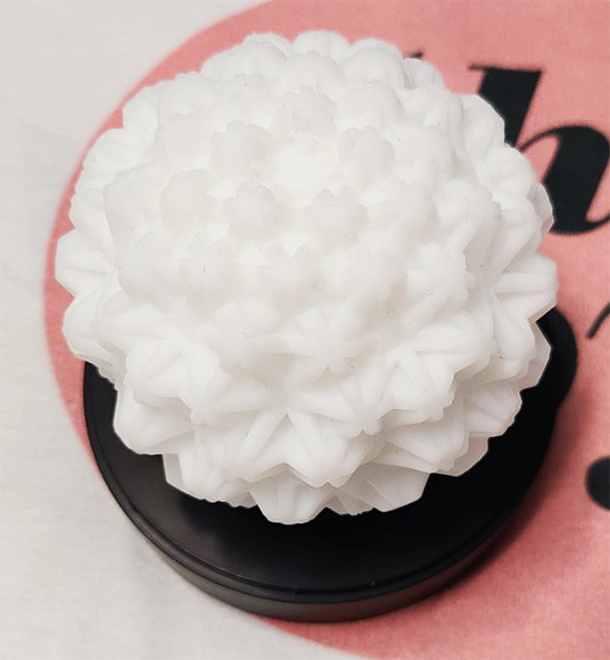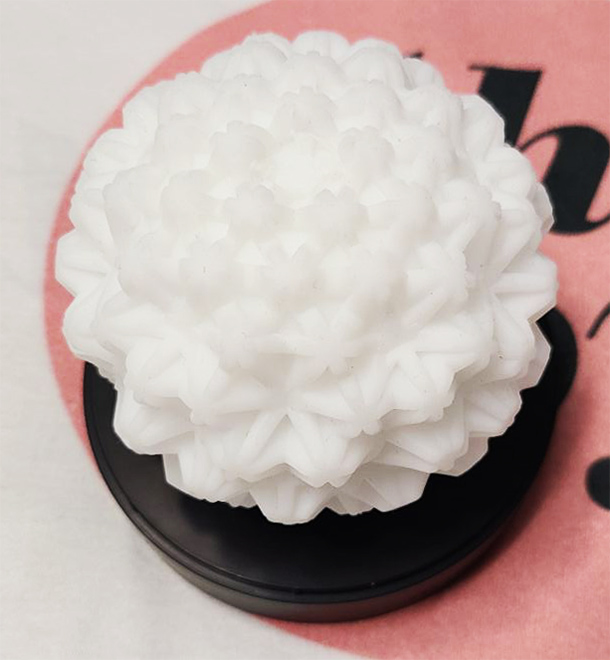 | | |
| --- | --- |
| Feel: | (5.0 / 5) |
| Price: | (5.0 / 5) |
| Material and Design: | (4.5 / 5) |
| Durability: | (3.0 / 5) |
The Tenga Geo Coral is an elegant, soft, and easy-to-clean manual masturbator that feels fantastic.
You can buy this stroker from:
How does it feel
The Tenga Geo Coral is one of the few strokers I've used (and I've tried many) that surpasses my own hand when it comes to pleasuring myself. I'd say it's a delightful extension of my hand.
As a relatively sensitive guy with a penis length and girth of around 6 inches, I found the elastomer incredibly soft and flexible. Coupled with lubricant on the inside of the toy, it gently enveloped my shaft. While stroking, I could feel my hand on the outside, adjusting the pressure to my liking, and the internal triangle shapes felt incredible. It's a vast improvement over using my hand, but it doesn't quite replicate the real thing.
Notably, after climaxing, my penis didn't feel abused or slightly painful (as with some more intense masturbators I've tried), and I was eager for another round with my partner.
Who should buy it
If you're a fan of Tenga eggs and want something reusable that feels even better, the Tenga Geo sleeves are for you. I believe this stroker is perfect for guys with average or above-average sensitivity who enjoy masturbating with their hands. The Geo enhances the experience with its texture and feel.
The Tenga Geo is ideal for those with a smaller girth, as the opening is tight and can be squeezed with your hand for an even snugger fit and better stimulation.
I recommend the Geo series for those who masturbate regularly, as it offers the best value for your money. Although the sleeve's material is soft, stretchable, and pleasing to the touch, it is porous. Despite thorough cleaning and drying, it will eventually break down and emit an unpleasant odor over time.
Who should pass
If you're less sensitive, don't masturbate often, or desire a more durable toy, consider the Tenga Orb or Flip Zero series instead.
For those with a penis longer than 6 inches who want a masturbator that accommodates their full length, the Geo may not be the best choice, as it could break with extended use.
Finally, if your girth exceeds 6.6 inches, the opening may not withstand the pressure, so it's best to look elsewhere.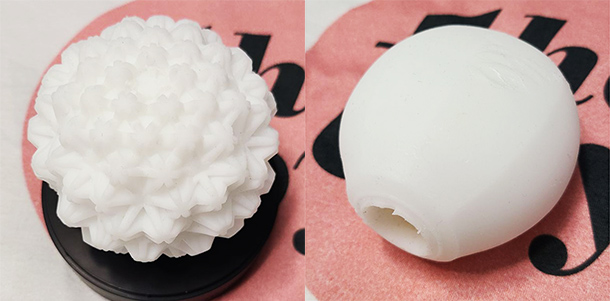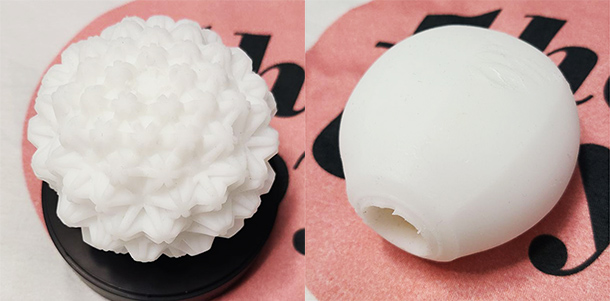 Pros
Feels great
Easy to clean and use
Simple yet well-thought design
Fully waterproof
Reusable
Flexible and stretchy sleeve with some nice suction
It does not look like a sex toy
The drying stand and storage case included
The sleeve is made of body-safe materials
Cons
Not very durable, last only a few months
The sleeve material is porous, and the geometric forms require thorough cleaning(for the Coral and Glacier only)
The opening stretches to 2 inches max, so not for gifted guys with a girth over 6.6 inches.
Tenga Geo Coral design and specifications
The Tenga Geo is a Reddot winner of 2021 Best of the Best product, designed with intricate details inspired by mathematics and nature and looks like a snow globe. The Geo Coral model boasts a complex peaks design that provides elegant, enveloping pleasure.
The Geo's unique design doesn't stop there. When you turn the Geo inside-out, the geometric shapes transform into densely packed internal structures that give you a fantastic sensation. The Geo thick and soft custom material will make you enjoy the feeling of the intricate details. The outside feels good too.
The Tenga Geo range offers three distinct options, each with a unique structure. The Aqua has wavy ridges, the Coral is decorated with star shapes, and the Glacier features geometric triangles. This design works perfectly – turn the ball inside-out for an incredibly sensual experience! On the outside, it's soft and smooth; on the inside, you'll find all sorts of textured thrills.
Another positive aspect is that Tenga Geo's design is very discreet. It does not look like a masturbator but rather like a ball for decoration. You can leave it on the drying stand in plain sight without anyone suspecting what it is.
What I also like is that when you come inside, and you take your penis out, all the cum and lube get trapped in and do not leak everywhere, creating a mess.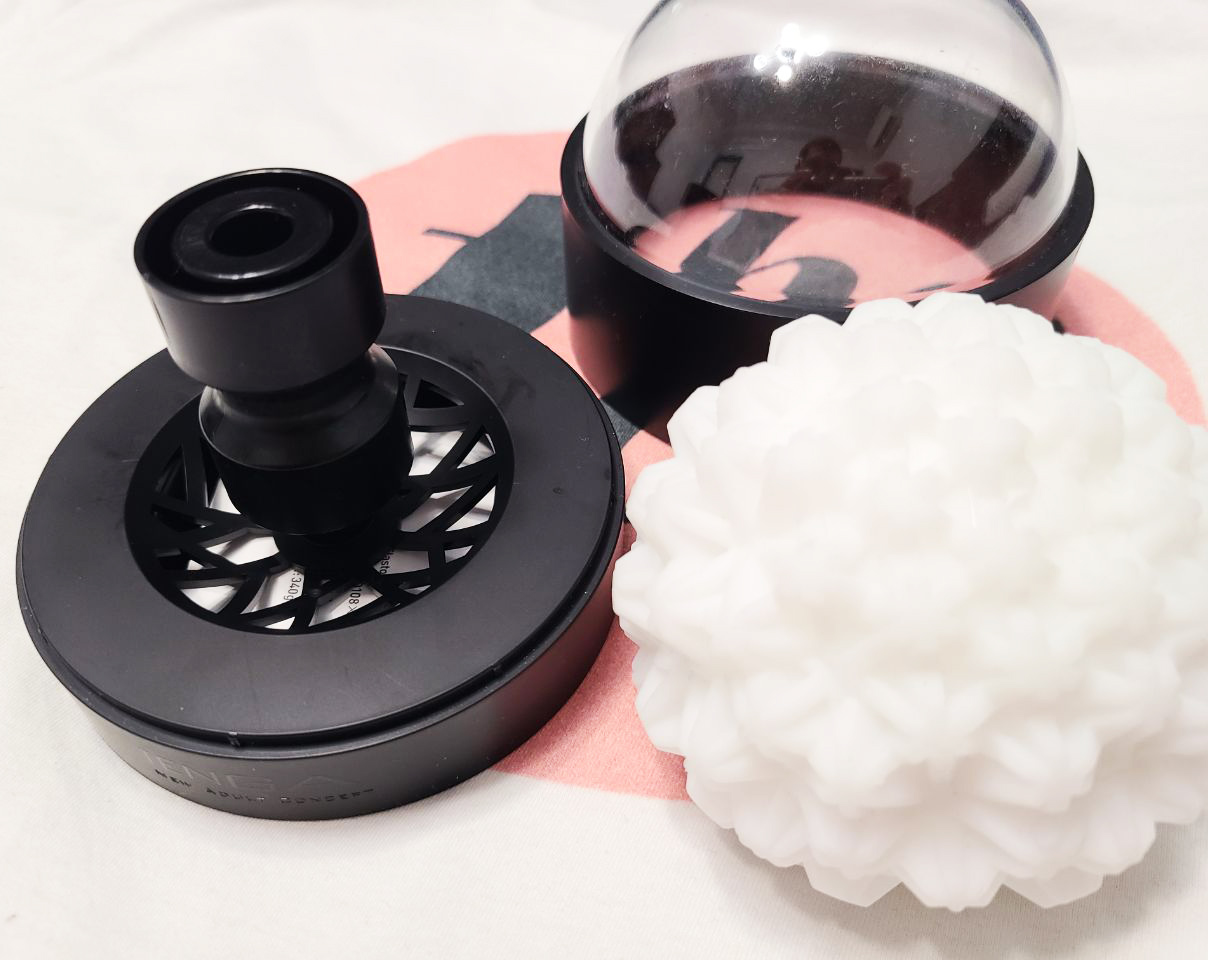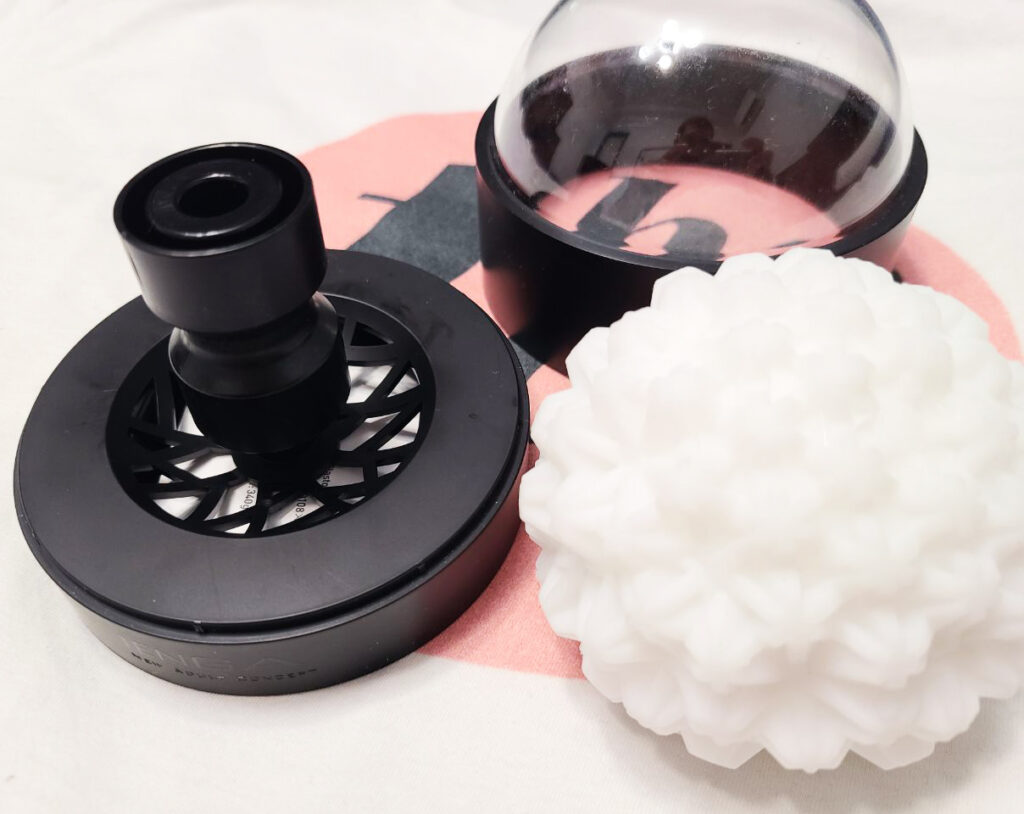 The storage case is very convenient when you travel. Tenga Geo is only 0.46 lbs and does not look like a male masturbation toy, so you can take it on your travels without attracting attention.
The only flaw in the design is that the opening and the top of the Tenga Geo are too fragile, and you should be careful when using it not to tear it. I think Tenga should reinforce the top where the head of the cock pushes and the opening so the stroker lasts longer.
Specifications
Size (D × W × H): 3.43 inches × 3.43 inches × 3.39 inches
Insertion Length: Stretches to approx. 6.69 inches
Insertion Width: Stretches to approx. 1.97 inches
Weight: 0.46 lbs
Product material: Elastomer
Casing material: ABS, Plastic
Tenga Geo Styles
In this part of my Tenga Geo review, I would like to explain the difference between the three Geo styles.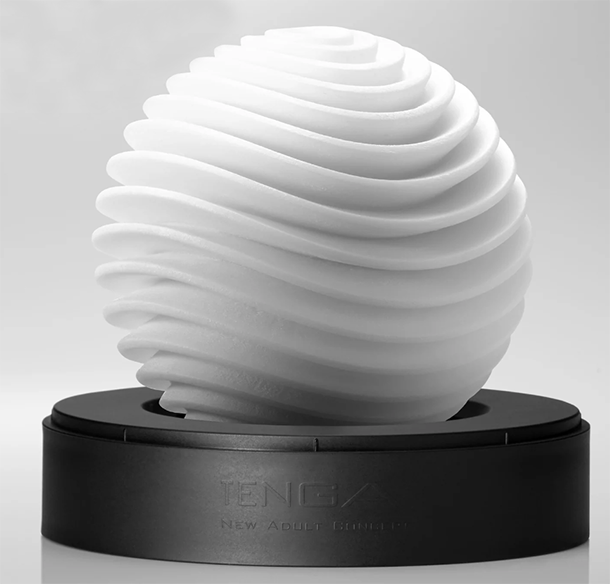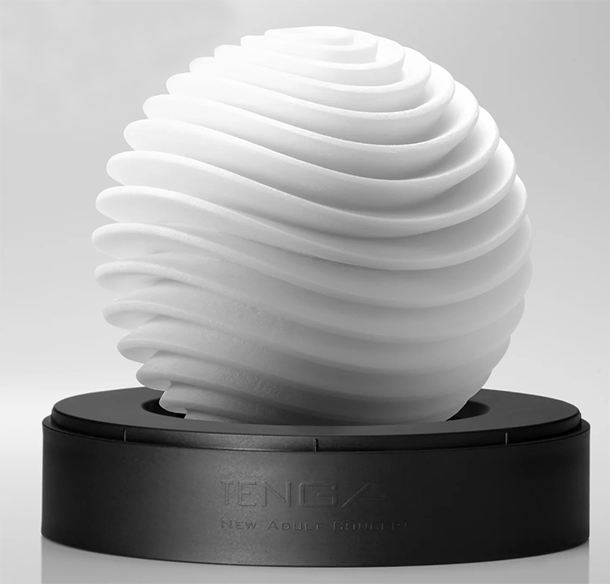 Geo Aqua is the plainest stroker out of the three. Its texture features waves, and this one targets the guys with the most sensitive penises. When you flip it inside-out, the waves in the Geo Aqua do not get smaller but wrinkle in on themselves. The fluid ridges come as close to the feel of the real thing.
Once you get into a groove, diving in and out and swirling around, you'll discover an almost endless journey of pleasure that you won't want to end.
However, if your phallus is smaller, you might feel a lack of tightness from the Geo Aqua, so you should look in the direction of the other two shapes.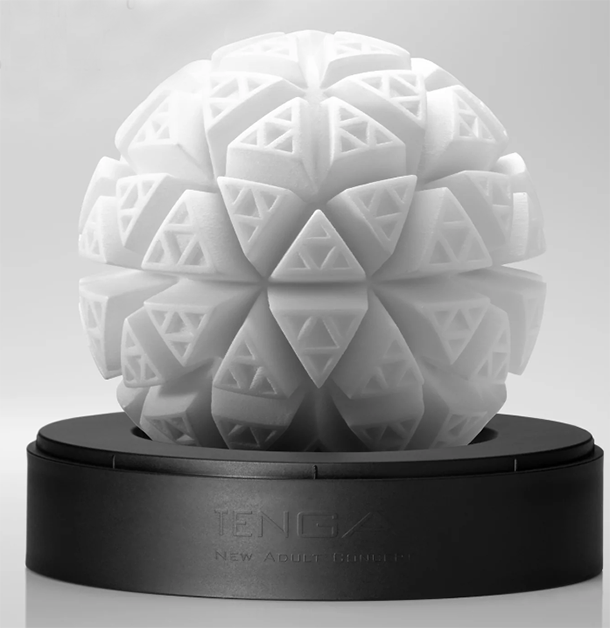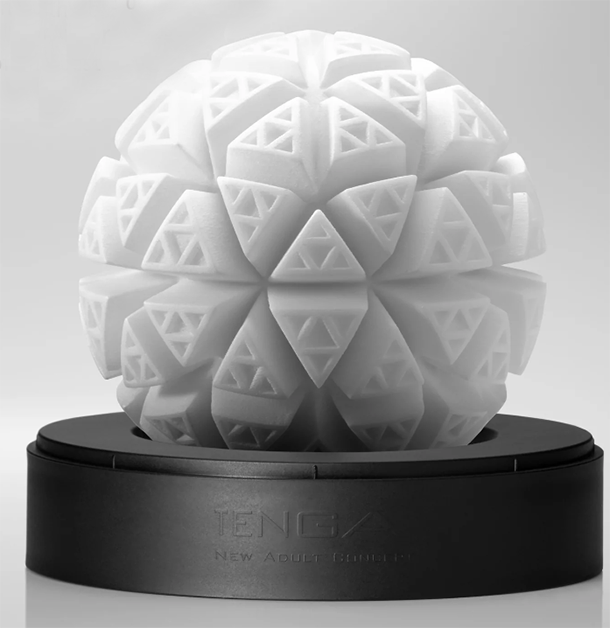 The Geo Glacier features angular prisms. It is like small triangles inside big triangles. Glacier is somewhat rougher than the Coral. The texture grants a unique feeling, and the finish achieved using the Geo Glacier is intense and lingering. However, the Glacier is a bit too intense for me, and those holes between the shapes were harder to clean.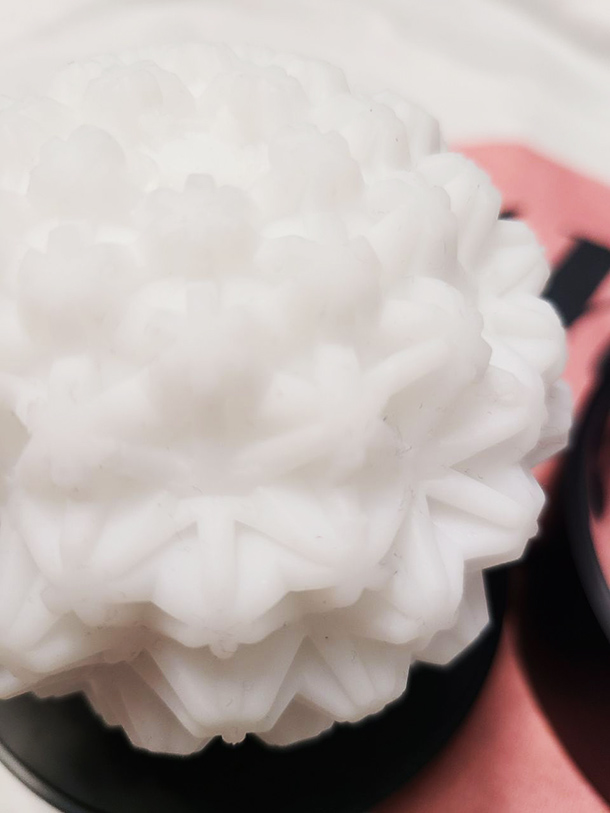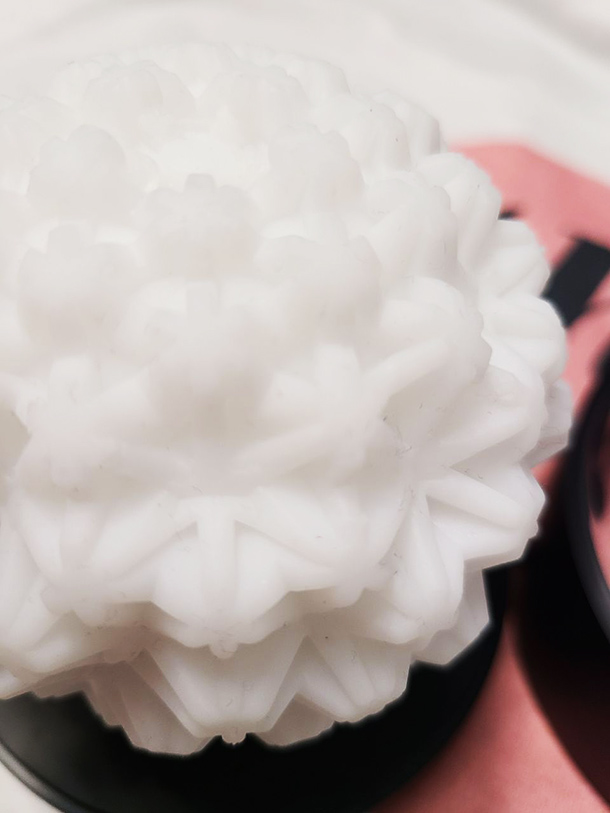 The Geo Coral is my personal favorite. Its texture is complex peaks of nubs that form little mountains. All the little nubs caress you so delicately. The deeper you go, the more intense it feels; the feeling is explosive when the head pops into the end. The intense stimulation on the head of my penis and the resulting pleasure upon orgasm is incredible.
Tenga Geo durability
As I mentioned earlier in the review, the elastomer Tegna Geo is very soft and supple, which is excellent on your penis. Still, the material can easily break if you overstretch it.
It will show on the other side towards the top of the Geo, and you can almost see-through the material. That's why you must be careful when you push your penis to the tip of the stroker. At this point, you have to stop and stroke back. If you go further, you will tear the masturbator.
If you follow this advice, you will enjoy your Tenga Geo for at least a few months with good hygiene.
The Tenga Geo is made of a porous material, and its texture with the little triangles needs to be cleaned in-depth. That's why even with the most thorough cleaning, it will change its color and smell after a few months of frequent use. This is when you should dispose of it and get a new one.
Tenga Geo series feel great and are reusable, but they are only made to last for a while. Keep that in mind when purchasing to have the right mindset.
How to use the Tenga Geo
It's pretty simple to use the Geo – it's probably the simplest male masturbator out there – but I'm going to include some basic techniques in my Tenga Geo review, just in case. You'll first want to flip it inside out, making sure that the textured part is on the inside and the smooth one is on the outside.
Once you've done that, it's time to get lubed up. Squirt some lotion directly into the opening and put some around it, too – that'll ensure things are nice and smooth. Now all you have to do is put the Geo over your penis and let the fun begin! The first use is always memorable.
The Tenga Geo stretches quite a bit, and you could technically pull it down to the base if you wanted. But when I tried that out for myself, I wouldn't say I liked how it felt, so I mainly focused on my shaft and tip instead. But if you decide to do that, be careful not to tear the masturbator from the top of your penis head starts showing from the other side. It's time to pull back.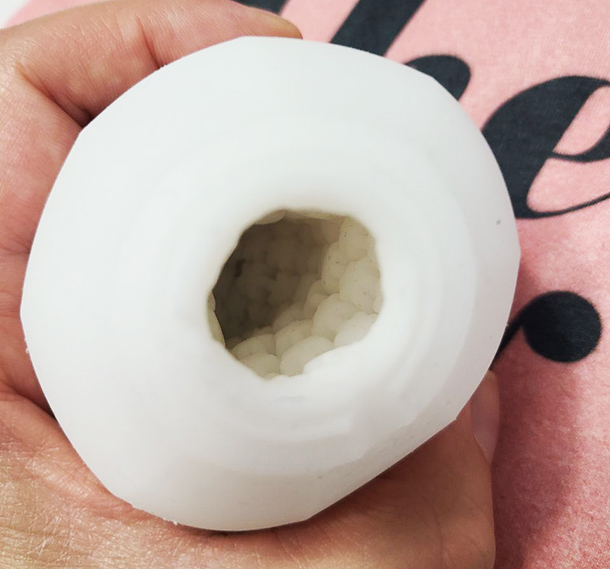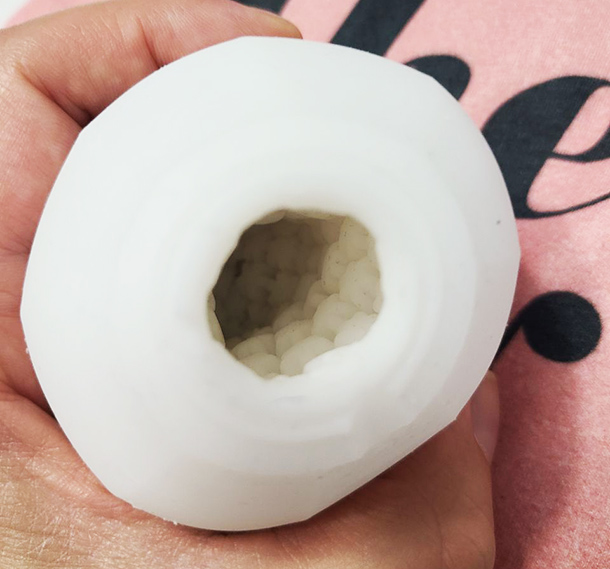 Start working the Geo around however you like – squish it, twist it, spin it. Don't worry if it takes a bit of time to get used to – keep exploring, and you'll be an expert soon!
Once you've finished, flip the Geo back to the textured side and head over to the sink. I was worried that all the lube and cum would come spilling out when I flipped it, but thankfully the ridges and textures inside kept everything contained.
The packaging
The Tenga Geo came in a plain brown box with no branding. When I opened it, everything inside was neatly packed. There was the masturbation toy that was so discrete that it looked like some decoration. The Geos plastic cover was on top, and at the bottom, there was a hidden compartment with the manual and a sample of the Tenga Hole lotion lubricant.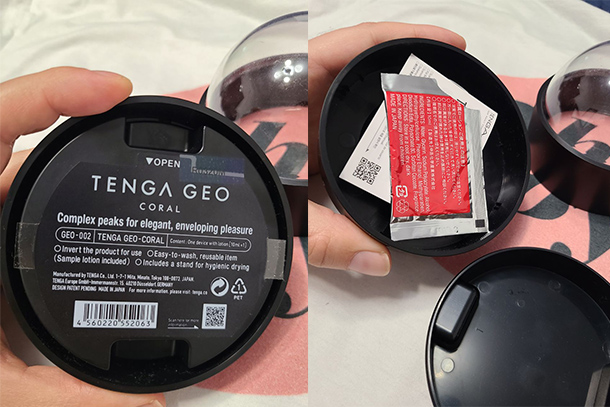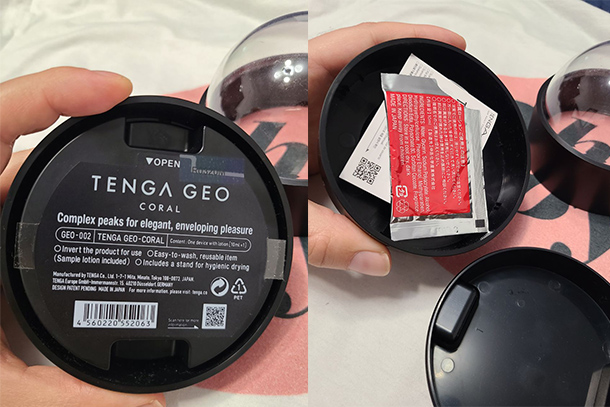 Alternatives
Tenga Flex – is also a great reusable masturbator that I would suggest for guys with more insensitive cocks. The flex has a more dense texture on the inside and is more stimulating. The material is also one bit harder.
Tenga Orb and Tenga Flip Zero EV – if you're looking for something more durable, your penis is larger and more insensitive, those two are great options. I prefer the Orb's sensation, but you can get more details on both by reading my reviews.
Fleshlights – The fleshlight material is similar to sensation, but I like the Tenga products better because they are much easier to clean and maintain. They dry more easily and thus are less likely to contain mold and bacteria, which makes them more durable.
How to clean and care for Tenga Geo
If you want your Tenga Geo to stay in tip-top shape (which, believe me, you do if you don't want a bacterial infection), it's important to take care of it. So let's talk about maintenance – and the good news is that it's super simple!
As I said, the initial step is to remove the Geo from your penis and get rid of all that cum and lube. Since it is 100% waterproof, clean it with warm tap water in the sink.
Grab some mild or natural soap and give it a good scrub! Make sure to get into all the nooks and crannies – use your fingers to ensure you've gotten rid of every last drop. Then rinse it.
Now that the toy's all cleaned up, you can leave it to air dry on the stand that Tenga sent. You're good to go. Just pop the toy over the rod. You want to wait to close the case because if it is wet, it can attract mold. I'd let is dry 100% – it should be quick with the shallow ridges and textures. A couple of hours should do it.
I do not use toy cleaner since it makes the elastomer toys break faster.
Conclusion
At the end of my Tenga Geo review, I can say that this masturbator feels great. Its material and texture can drive me to multiple orgasms. I love that I have 100% control over the strokes and pressure.
It is super easy to use, clean, and store. And it is lightweight, so I can take it with me while traveling.
It is not very durable but offers excellent value for the pleasure it delivers. I am sure I will buy another one when my Geo Coral is done, so I definitely recommend it.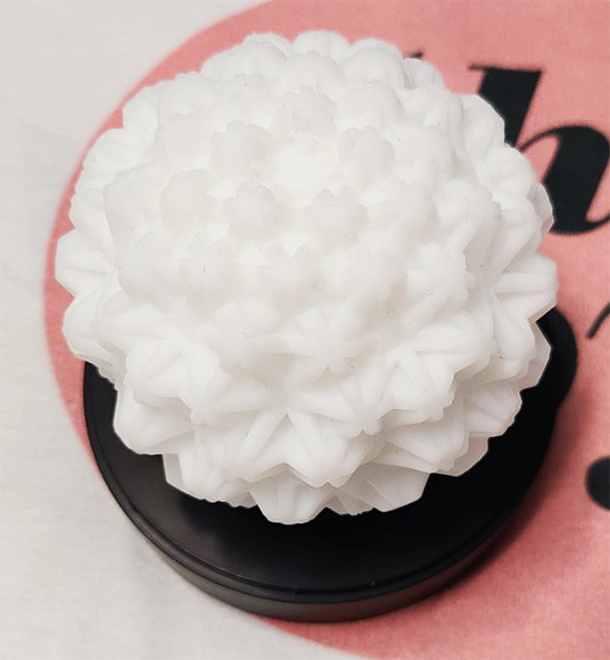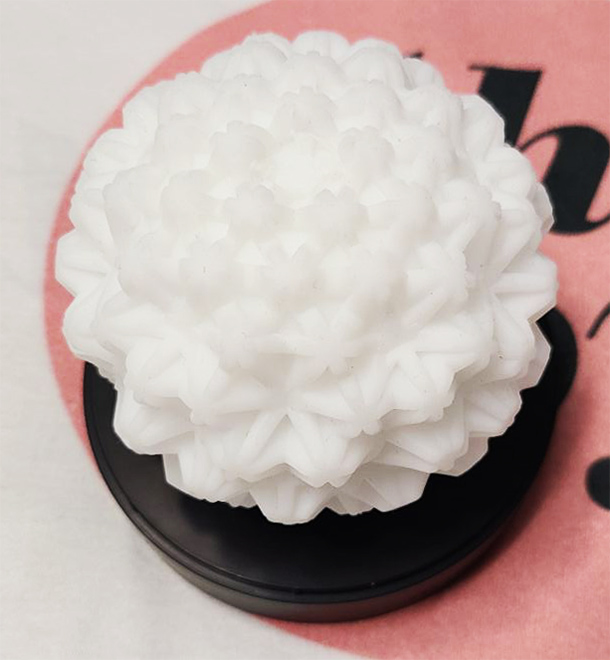 | | |
| --- | --- |
| Feel: | (5.0 / 5) |
| Price: | (5.0 / 5) |
| Material and Design: | (4.5 / 5) |
| Durability: | (3.0 / 5) |
Tenga Geo Coral is an elegant, soft, and easy-to-clean manual masturbator that feels great.
You can buy this stroker from: