In this Lovense Vulse review, I'm looking at a groundbreaking love egg that's the first to offer both thrusting and vibration. My experience with the Vulse showed it's not just compact and powerful, but also a high-quality, app-controlled toy that fits discreetly under clothing.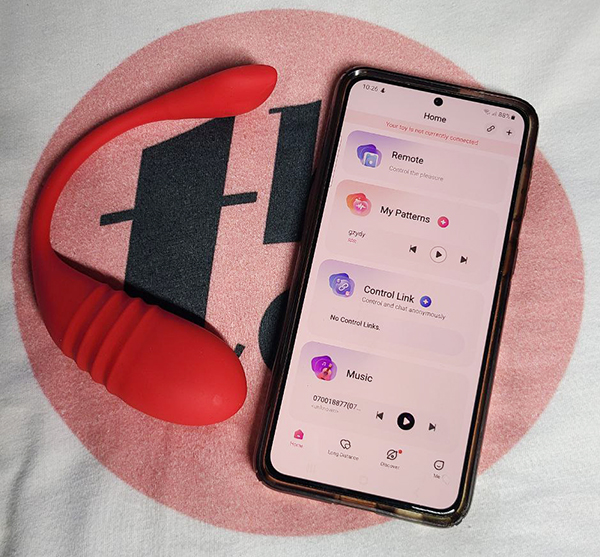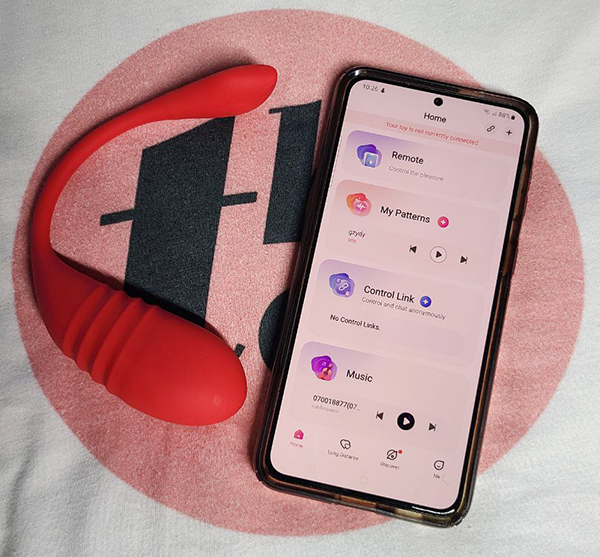 Review Summary
In my Lovense Vulse review, I'll thoroughly examine the pros and cons of this novel remote-controlled vibrator, alongside sharing my personal experience with it. My analysis covers its dual action of thrusting and vibrating, the quality and power of the device, its app-based controls, discreetness for wearing under clothes, and its appeal to various pleasure preferences.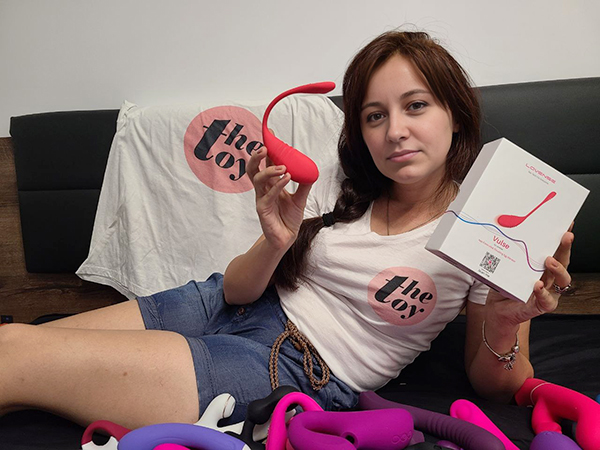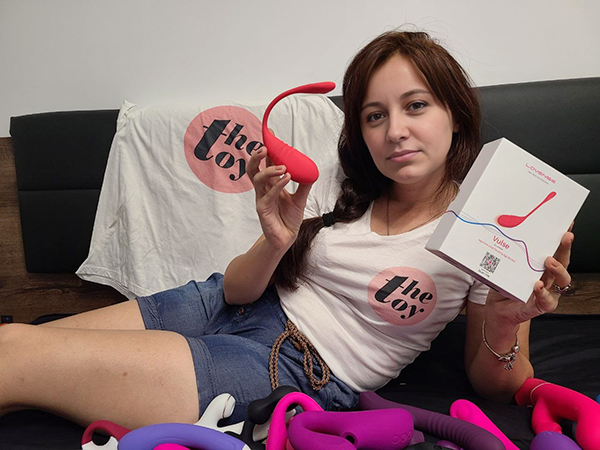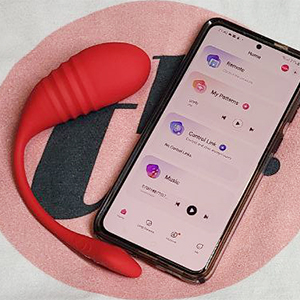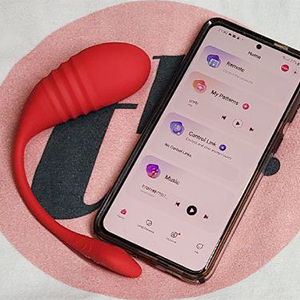 | | |
| --- | --- |
| Design: | (4.0 / 5) |
| Comfort: | (4.5 / 5) |
| Power: | (4.0 / 5) |
| Experience: | (5.0 / 5) |
| App: | (5.0 / 5) |
| Price: | (4.0 / 5) |
Lovense Vulse combines thrusting and vibrating features with app-controlled customization in a body-safe design for G-spot stimulation.
You can buy the Vulse Love Egg from:
How does it feel?
I consider the new Lovense Vulse as an attempt to create a hybrid device, assimilating the notable features of the Lush 3 and the Gravity, both created by Lovense, aiming to offer a comprehensive experience by incorporating thrusts and vibration mechanisms. For me, it felt fulfilling yet soft but was not as powerful as Lush 3 or as intense as Gravity. Also, it tends to shift position during use on the highest settings, as it lacks a mechanism to secure it in place.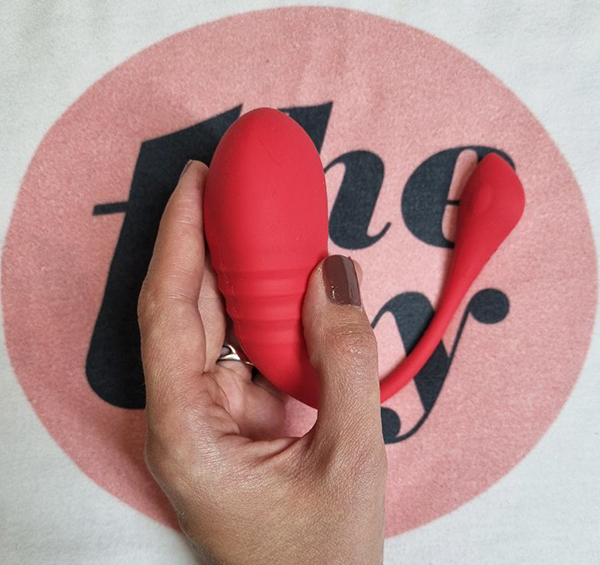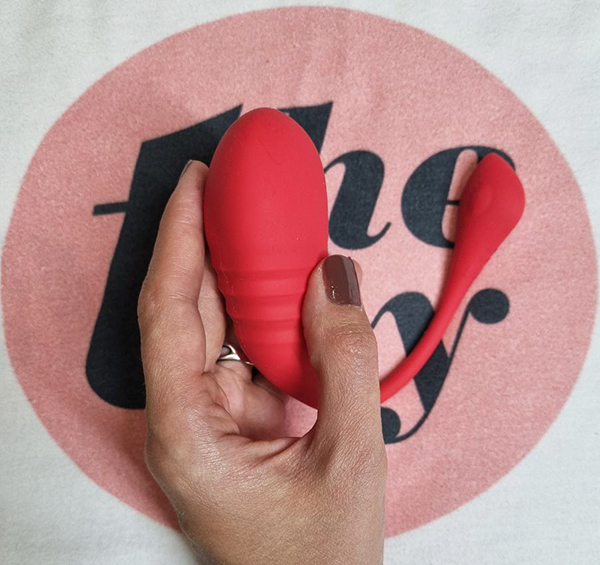 Pros or Who Should Consider Buying the Vulse
Versatile Stimulation: Delivers vibrational and thrusting stimulation, catering to various sensory preferences.
Connectivity and App Control: Features seamless connectivity with Lovense apps for personalized control, making it suitable for tech-savvy users and long-distance couples.
Body-Safe Material: Manufactured with hypoallergenic and non-porous silicone, ensuring a safe and hygienic experience.
Waterproof Design: Enables aquatic adventures and simplifies cleaning, expanding the scope of usage.
Long Battery Life and Quick Charging: Ensures extended playtime and minimal downtime, ideal for spontaneous sessions.
Adaptability to Various Play Styles: Adaptable for solo, partner, or long-distance play, providing a versatile play experience.
Cons or Who Should Consider Skipping the Vulse
Pulsation Intensity: The vibration power may not meet the expectations of individuals accustomed to stronger vibes from other devices.
Retention and Positioning: The device may struggle to stay in place during use, affecting the intended internal stimulation.
G-Spot Stimulation: May not effectively target everyone's Grafenberg spot due to its tendency to move outwards.
Design Limitations: Absence of a "backstopping" feature that could help in keeping the device in place for a hands-free experience.
Individual Anatomy Variance: The effectiveness and satisfaction derived from the Vulse might significantly vary based on individual anatomy.
Preference Towards Thrusting: Those seeking a more pronounced hurling sensation might find the Vulse lacking in this aspect.
Design and Comfort
The Lovense Love Egg boasts a modern design in line with the current trend of smart, app-controlled pleasure devices. Its body-safe material offers a gentle and hypoallergenic touch for a comfortable experience.
Yet, its design may present some challenges.
Without something to keep it in place, it's like it's got a mind of its own, trying to escape every chance it gets, which can be a bit of a mood killer when you're aiming for that just-right G-spot hit. Depending on your body's layout, it can be hit or miss—some folks might find it a dream, others not so much. So, you might need to get creative, like wearing tight undies to keep it from going rogue on you.
Product Specifications
| Specification | Detail |
| --- | --- |
| Type | Thrusting Egg Sex Toy |
| Material | Body-Safe Silicon |
| Vibration Speeds | Custom options in app + Whisper, Pulse, Rumble, Tsunami​ |
| Noise Level | 48dB to 54dB (most intense settings) |
| Waterproof | Yes​ |
| Rechargeable | Yes (details on battery life and charging time are not specified)​ |
| Remote Control | App control​ |
| Connectivity | App-enabled​ |
| Design | Modern, discreet design |
| Length | 4.74 in/118 mm​ |
| Insertable Length | 3.35 in/85 mm​ |
| Insertable Width | 1.42 in/36 mm​ |
| Storage | Satin Storage Pouch |
Purpose
The Lovense Lush Vulse is versatile. Its curved design is purposefully crafted to target the G-spot for maximum pleasure.
Vaginal penetration? Check. The Vulse's smooth body slides in comfortably, making it a fantastic choice for some solo exploration or paired passion.
Material
The Lovense vibrating and hurling egg is crafted from premium silicone material. The Vulse is made from body-safe, non-toxic silicone, offering a hygienic and easy-to-clean option for intimate use.
Size
The Lovense Vulse comes in a compact yet adventurous size. With an insertable length of 3.35 in/85 mm and a width of 1.42 in/36mm, it's designed to provide a fulfilling experience without overwhelming. It nestles within sweetly, hitting the G-spot in a comfy yet fulfilling way.
Its dimensions are a thoughtful balance—long enough for a satisfying internal exploration yet modest in girth to ensure comfort. It's a size that welcomes both the seasoned and the curious.
Below, you can compare its' size to my hand: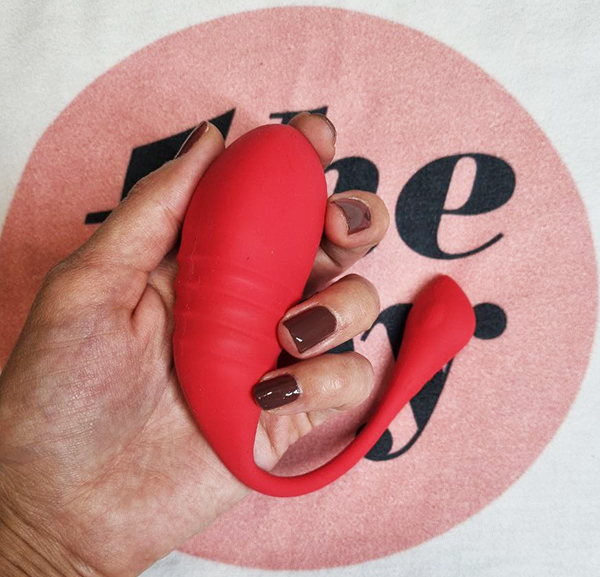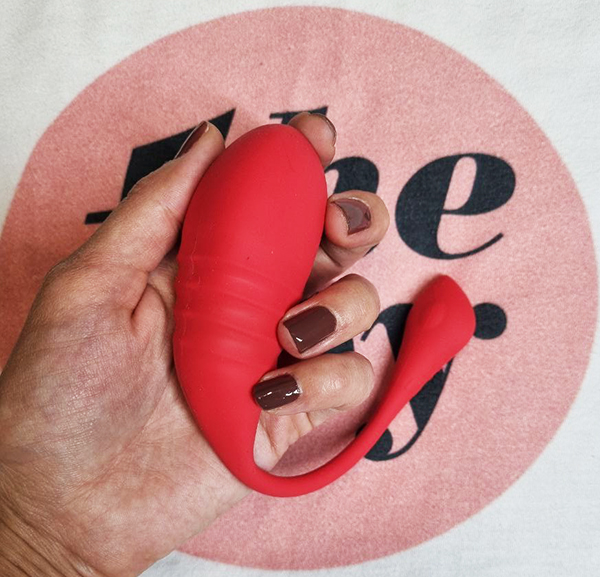 Shape
The Vulse is thoughtfully crafted for straightforward insertion, with a smooth tip that makes the experience comfortable. As someone who appreciates the intricacies of these devices, I can attest to its dual functionality.
It's not just any vibrator; it's a dynamic 'super' egg, capable of delivering an intense 120 strokes per minute alongside strong pulsations.
Power Source
The Lovense Thrustig Egg Vibrator is powered by a robust Li-polymer battery, making it a rechargeable delight.
Forget the days of fumbling for batteries or being tethered to a wall socket. Charge it once, and you're all set for uninterrupted fun. I've found it lets you lose yourself in the experience without worrying about losing power at the wrong moment.
Intensity and vibration patterns
The Vulse comes with an impressive range of settings. It's fully customizable, so I can adjust the vibrations and thrusts to match exactly what I'm in the mood for. The device can go up to 120 strokes per minute, offering a broad spectrum of intensities from gentle to very strong.
Noise Level
I gave the Lovense Vulse a try, and here's the straightforward scoop — it's very quiet. The noise level is between 48 to 54dB, even at its highest setting.
It's the perfect vibrator for when you need to keep things silent. Wear it under your clothes, and you won't even know it's there. If keeping your play on the down-low is your thing, the Vulse has got you covered.
Is the Vulse waterproof?
Yes, the Vulse is all set for some wet and wild action. It's got an IPX7 rating, which means shower time just got a lot more interesting. It's designed to function fully submerged in water. If you enjoy adding water into your play, the Vulse is equipped for that.
Price
Let's talk about the cost. The Vulse typically sells for $229.00, but it's currently available for $119.00.
That's a significant price reduction, making this advanced vibrator a bargain. It offers all the high-tech features without the high price. This price point is ideal if you're looking for quality pleasure without spending a lot.
Durability
Regarding durability, Lovense products are reliable, and the Vulse is no different. It's made to withstand regular use — exactly how long it lasts will vary based on how frequently you use it. Plus, it comes with a 1-year warranty, safeguarding your investment. It represents a long-term addition to your pleasure collection, ensuring you feel secure while enjoying it.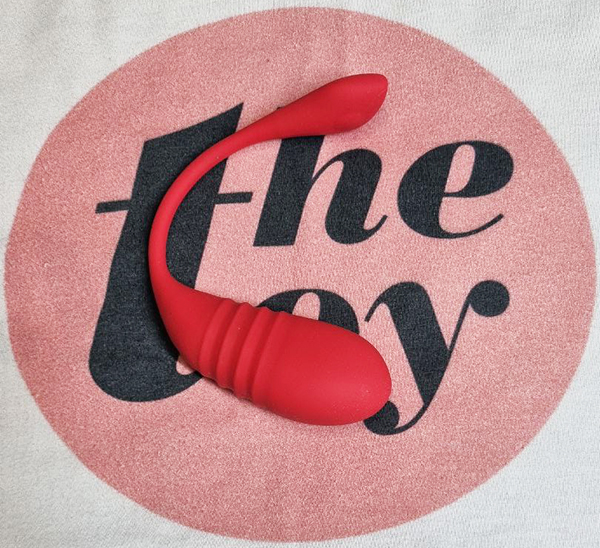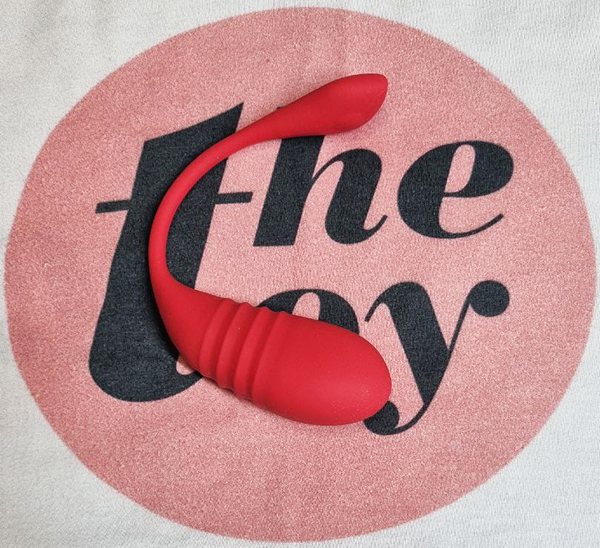 Brand Reputation
In my experience, Lovense stands out in the high-end sex toy market for their innovative and quality products that prioritize body safety. They often use medical-grade silicone which is safe for the skin.
Their app-controlled toys have set a new standard, offering personalized experiences and long-distance connection options. It's this combination of cutting-edge technology and reliable quality that has built them a dedicated following, with many positive testimonials from both users and industry experts.

Controls
The Lovense Vulse has a manual control button for those moments when you prefer a more hands-on approach. This button allows you to cycle through its range of impulses and hurling settings directly on the device. It's a straightforward way to switch up the strength or pattern to match your mood. So, whether you're tech-savvy and prefer app control or appreciate the simplicity of a manual button, the Vulse has got you covered.
How to use the Lovense Vulse Egg
Charge Up: Ensure your Vulse is fully charged before use.
Clean: Wash the Vulse with warm water and mild soap.
Lube Up: Apply a generous amount of water-based lubricant for a smooth experience.
Insertion: Gently insert the Vulse, with its controls facing outwards for easy access.
Explore Settings: Use the manual button or app to explore various pulsations and hurling settings.
Play Safe: Start slow and listen to your body. Never use it for anal play to avoid any risk.
Clean Up: After each use, clean the Vulse thoroughly.
Store Safely: Keep it in a cool, dry place away from direct sunlight and other silicone-coated products.
My experience with the Vulse Love Egg
Combining different features in the Lovense Vulse has led to some problems that I noticed (and other users as well). A big issue is that the device doesn't stay in place well during use. It's supposed to stimulate the G-spot but tends to move outwards over time (it lipped out twice the first time I tried it), making the thrusting feature less effective. This problem might be because there's nothing to securely hold the device in place.
Also, regarding vibration strength, the Vulse doesn't match up to the Lovense Lush 3, as mentioned by a user, and I completely share this opinion.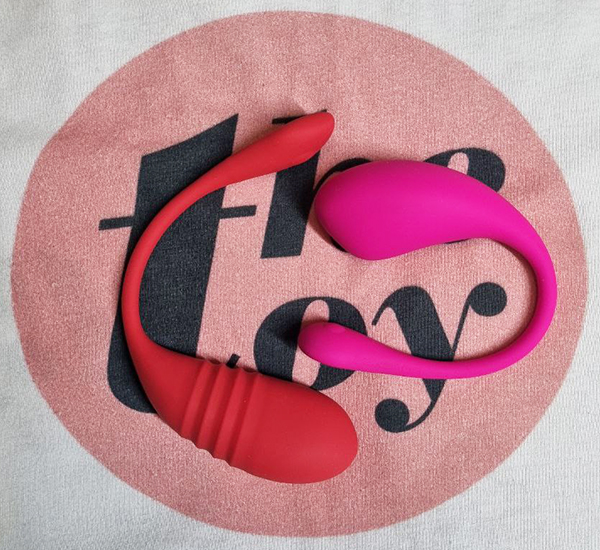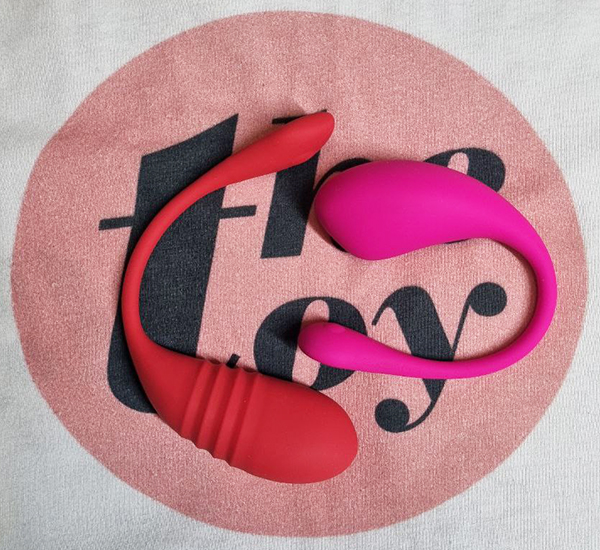 Its thrusting feature is comparable to Gravity Thrusting Dildo, also by Lovense but, again, not as intense. These issues show the difficulty in including multiple features in one device while keeping each working flawlessly, affecting the Lovense Vulse's ability to meet different users' needs.
Customer Reviews
Lovense Vulse is a new product launched in September 2023. I'll update this section in six months for a thorough and authentic analysis.
The current reviews show a mixed bag of reactions towards the Vulse thrusting egg, shedding light on its potential and limitations.
One user expressed disappointment with the vibration's power, finding it weaker than the Lovense Lush 3 and Ferri panty toy. This sentiment points towards the Vulse possibly lacking in providing a robust vibratory feeling, which some users might be seeking:
the vibrations are much weaker and buzzier than their other wearables like the Lush 3 or Ferri
There is a significant concern regarding the device's ability to stay in place. There's a mention the Vulse tends to wiggle out, failing to provide desired G-area stimulation as it expands backwards.
I can't secure the Vulse in position, it keeps slipping out of me.
Another user echoes this concern, suggesting a lack of a "backstopping" feature that could keep the Vulse from thrusting out rather than in. The suggestion that tight clothing might help keep it in place reveals a design shortcoming that impacts the hands-free experience it promises.
One more buyer hints at a possible preference for the Lovense Gravity device due to its thrusting appeal over the Vulse's vibrational focus. This exchange underscores that personal preferences play a significant role in the satisfaction derived from the Vulse, and the device may cater better to those preferring vibrational stimulation over thrusting.
Delivery and unboxing
Unboxing the Vulse felt like the beginning of many pleasurable journeys, with its discreet packaging and the promise of rhythmic exploration inside.
In the box, I found the following items:
Vulse x1
USB charging cable x1
User manual x1
Storage bag x1

Charging
The Vulse charges quickly in about an hour, providing over an hour of use and stands by for up to 120 hours, ensuring it's ready for play with minimal wait.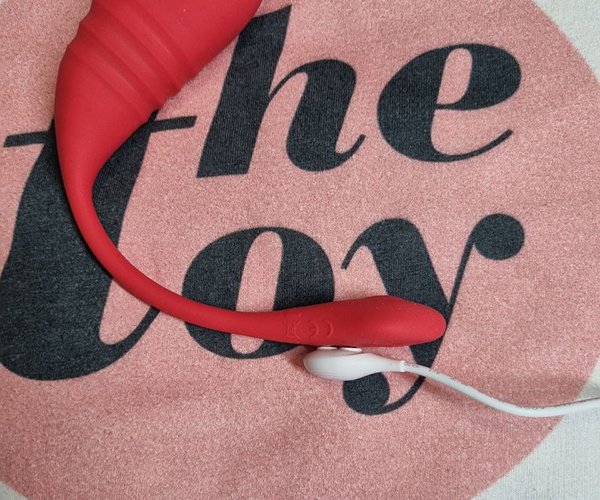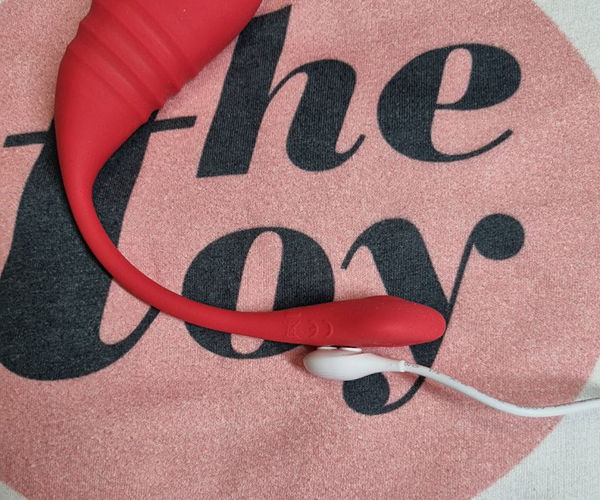 Cleaning, maintenance and Storage
For cleaning, maintenance, and storage of Lovense Vulse:
Cleaning:
Wash the Vulse with warm water and mild, unscented soap before and after each use.
You can also use a sex toy cleaner for thorough cleaning.
Maintenance:
Ensure the Vulse is dry before storing it.
Charge it fully before storage to keep the battery healthy.
Storage:
Store the Vulse in a cool, dry place away from direct sunlight.
Use the provided storage bag to keep it free from dust and other contaminants.
Regular cleaning and proper storage will help maintain the functionality and longevity of your Vulse, ensuring it's ready for use anytime you desire.
Wish List – What could be improved about Vulse Egg toy
Battery Life: A longer battery life extends the pleasure experience.
Manual Controls: More intuitive manual controls for those not app-inclined.
Noise Level: Further reducing the noise for even more discreet play.
Price: A more accessible price point without compromising quality.
Shape Variation: Offering varied shapes to cater to different anatomical needs.
Charging Time: Reducing the charging time for quicker readiness.
Final Thoughts
In my review, the Lovense Vulse stands out for trying to offer both thrusting and vibrating functions. Despite aiming to combine the best of the Lush 3 and Gravity, it struggles with staying put during use and delivering strong vibrations, highlighting the complexities of integrating multiple features in one sex toy.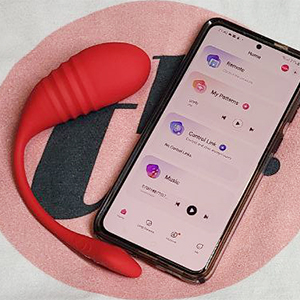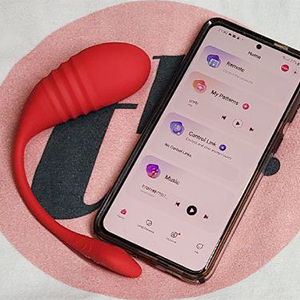 | | |
| --- | --- |
| Design: | (4.0 / 5) |
| Comfort: | (4.5 / 5) |
| Power: | (4.0 / 5) |
| Experience: | (5.0 / 5) |
| App: | (5.0 / 5) |
| Price: | (4.0 / 5) |
Lovense Vulse combines thrusting and vibrating features with app-controlled customization in a body-safe design for G-spot stimulation.
You can buy the Vulse Love Egg from: