If I had to choose one particular sex toy for a quickie, it would be a wand massager. Wands are powerful and comfortable, and their sole purpose is to enrich our lives.
Now that I have a chance to try out the Mantric rechargeable wand, I'll tell you why I see it as a decent addition to my sex toy collection.
With a head circumference of 5.4 inches and a length of only 9.5 inches, the Mantric wand is shorter, compared to most wand massagers.
Each of its seven vibrational modes, or patterns, can operate at one of five different speeds.
The Mantric toy has a traditional wand head and a slightly curved grip to maximize comfort during use.
The handle has an LED light panel on one side that changes color depending on the setting, and the entire vibrator is composed of black matte silicone.
It is USB rechargeable, completely waterproof, comes with a travel lock, and comes in a plain brown cardboard box with the Mantric logo on the front. (Seriously, the logo is genius, I really had a good laugh!)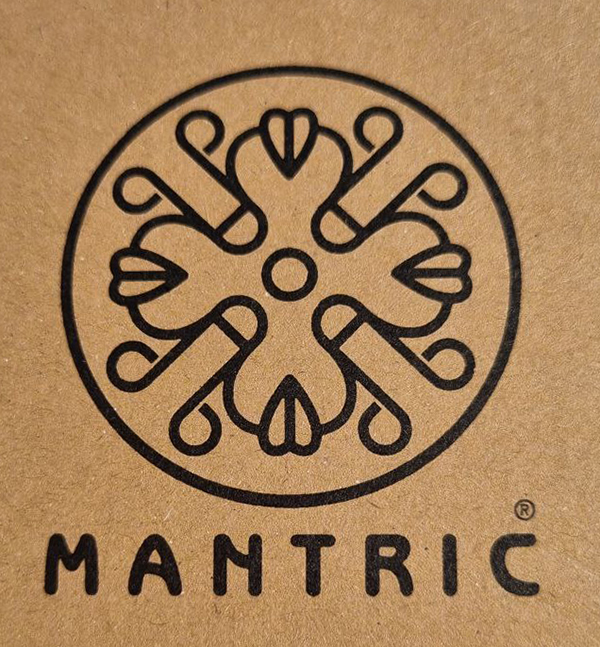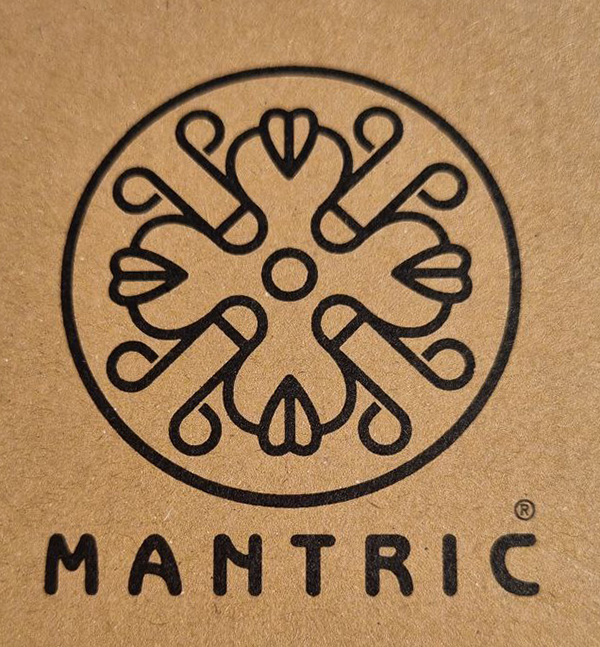 Pros and Cons
Pros
Lightweight and comfortable to hold
Completely rechargeable and cordless
Simplified, yet not cheap-looking
Offers powerful vibrations, comparable to the strongest wand massagers on the market
100% waterproof
Easy to clean and maintain
More discreet than most magic wands
Quite versatile: can be used for clitoral, anal, and perineum stimulation, and for a nice body massage as well
Cons
Not an app-controlled vibrator; cannot be controlled remotely
Doesn't come with a pouch
Doesn't come charged (at first, I thought mine is broken)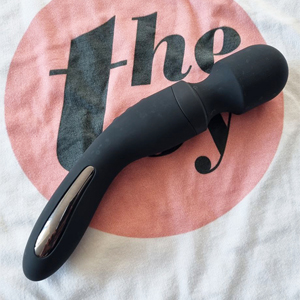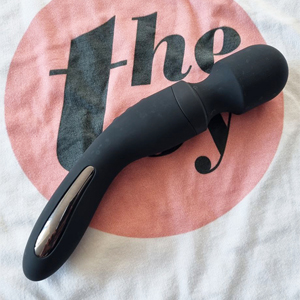 | | |
| --- | --- |
| Power: | (4.0 / 5) |
| Noise: | (4.0 / 5) |
| Material: | (4.0 / 5) |
| Price: | (5.0 / 5) |
| Ease of Use: | (5.0 / 5) |
Reliable, efficient and affordable wand massager with various features
You can buy this product from:
How does the Mantric Rechargeable wand work?
The fact that the Mantric massager doesn't come with a phone application or a remote has, in fact, one positive side. It is that the Mantric is easier to control, compared to most magic wands I own.
The USB charging cable must be plugged into the Mantric for two hours for the wand to be fully charged.
After it is fully charged, you should clean your brand new toy with some soap and water or your favorite sex toy cleaner. If you wish, you could use water-based, and not silicone-based lubricants while masturbating.
Once you have reached a comfortable position, press and hold the center button for a few seconds until the toy emits a short beep.
When you hear this beep, it means that the wand is activated and ready to be used and appreciated.
To start with the easiest configuration, simply press the plus button. When you feel more comfortable, you can increase the intensity, again with the plus (+) button.
You may need some time to get used to the shape of the vibrator and its' functionalities, for me, it took no more than 5 minutes to check all the options.
Just click the center button to cycle through all seven available settings.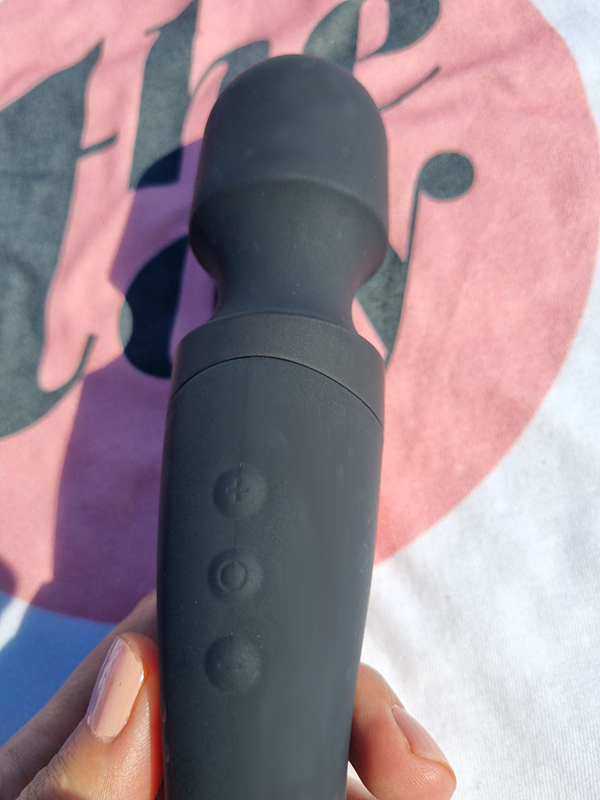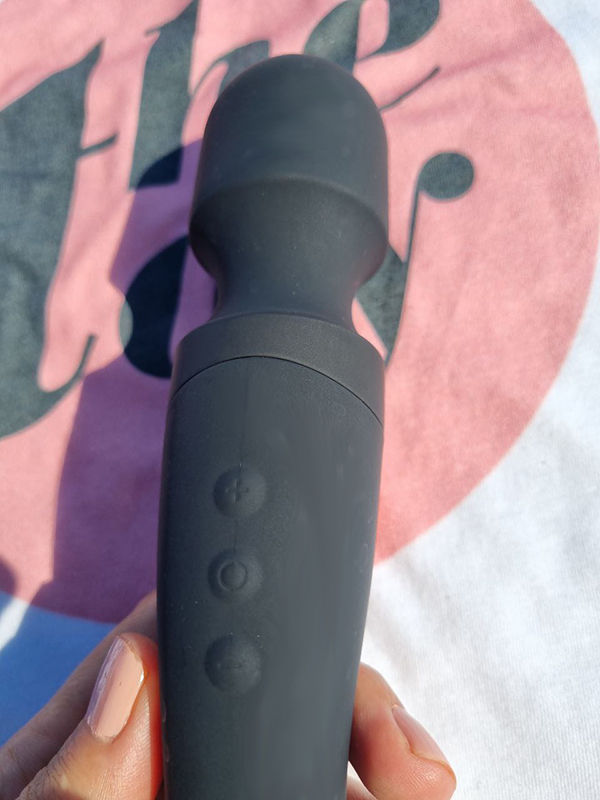 After you find your perfect position and let the Mantric do its' magic, you can turn off the vibrator by holding down the middle button for three seconds.
My Experience
Once I got my Mantric wand I couldn't wait to feel the vibes at least in my palm. But I was unpleasantly surprised to learn that that is not an option, at least for now.
I was worried that something is wrong with my toy, as usually, my vibrators come with (at least some) charging.
Anyway, after I plugged the cable into the power socket, it took around 2.5 hours for it to charge. A bit longer than I expected but, hey, I got a new sex toy, there's nothing more exciting for me to try.
After charging was complete, I tried the pulsations on my palm first because I had no idea what to expect from such a small wand.
I tried the various patterns and decided to choose the classic steady vibrations. These are my favorite anyway. I noticed that most patterns include interrupted vibrations, which are not my thing.
I also enjoyed the short and long wave patterns – indeed interesting to investigate.
I won't write pamphlets about my experience with the Manntric wand, I'll keep it short.
What I liked is that it does the job, just as nicely as the super expensive, giant wand toys.
What I disliked were the types of vibrations the Mantric emits. These are buzzy vibrations that are more superficial and I personally prefer the rumbly vibrations that go deep into the body.
Overall, I am quite satisfied with my Mantric wand vibrator experience, although I would change some minor aspects about that toy.
Specifications
Power
Since the Mantric wand has five different speeds and seven different settings, it can provide virtually any form of vibration you may want. The maximum power level provides decent stimulation, even if you are a power queen, you would appreciate this toy.
It is not as powerful as the Lovense Domi 2 or the We-Vibe Wand, but the stimulation is perfectly enough to bring most clitoris-owners to orgasm.
It is a bit weaker, compared to bigger-sized wand toys, and the stimulation is a bit buzzier but the smaller size and comfortable grip pay off.
Also, the simple fact that this is a rechargeable sex toy means it can't offer the intensity of a corded wand massager, such as Lovehoney Classic wand vibrator.
Noise
I consider it more discreet, compared to most wands I own. I measured the vibrations emitted (at maximum intensity) at 50dB, which is the equivalent of a quiet office place.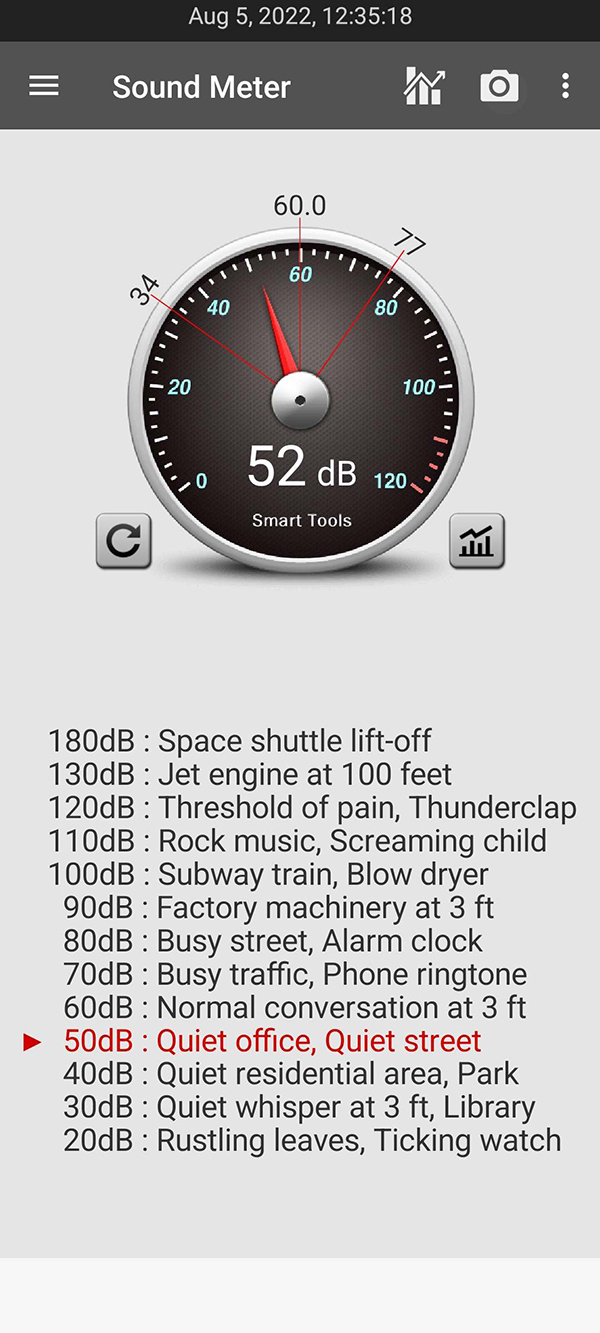 Material
Mantric Rechargeable Wand Vibrator is almost entirely composed of silicone (apart from the light panel and a slim band where the body joins the bulbous head).
Because of this, it is non-porous and absolutely safe for use on the body (externally).
Design
The compact, luxurious and sleek design is what I like most about the Mantric magic wand vibrator. It looks quite expensive and I really enjoy the light panel with switching colors. The curved body of the vibrator offers comfortable grip, unlike most wands I have used so far. Also, the flexible neck of the Mantric vibrator makes it possible for you to achieve the ideal angle without putting unnecessary strain on your wrists.
Size
The Mantric wand is 9.5 inches long and with a head circumference of 5.4 inches. This makes it way smaller, compared to similar wand sex toys. It makes a perfect travel companion.
Oh, and let's not forget the travel lock feature, which is very appreciated, especially during flights. This feature prevents the accidental switching on when not in use.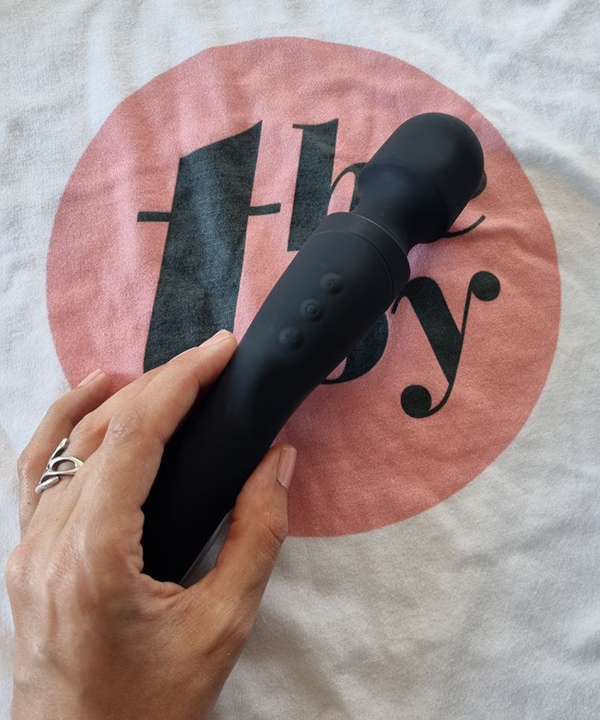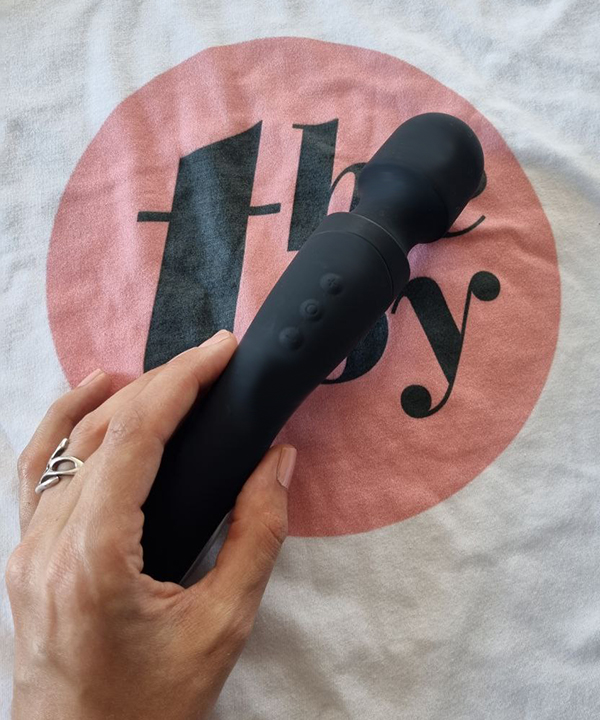 To activate the travel lock function on the vibrator, press and hold the button on the toy for 3 seconds 6 flashes of the light panel indicate that the function is On. To deactivate it, repeat the previous procedure and wait until the light panel flashes 3 times.
Charging
It takes around 150 minutes to fully charge your Mantric wand vibe, which gives you around 90 minutes of playtime on a medium-intensity level. Just plug the USB cable (you'll get one for free) into a USB charging port.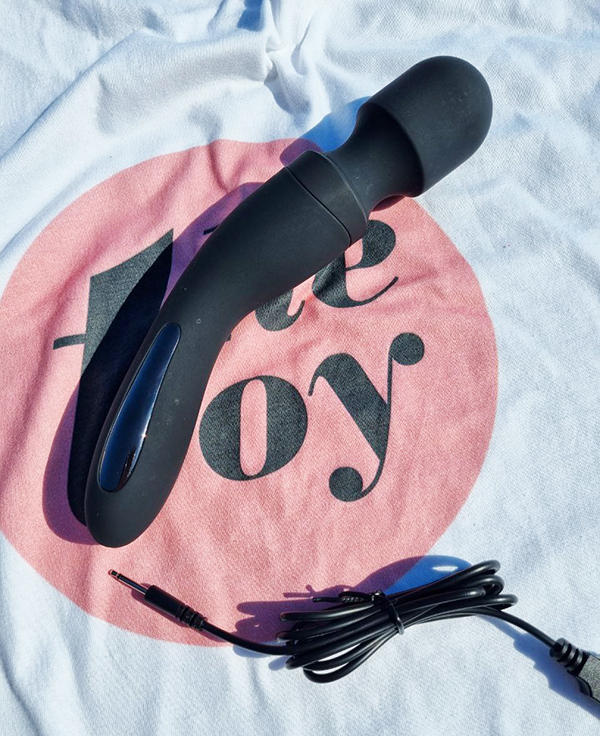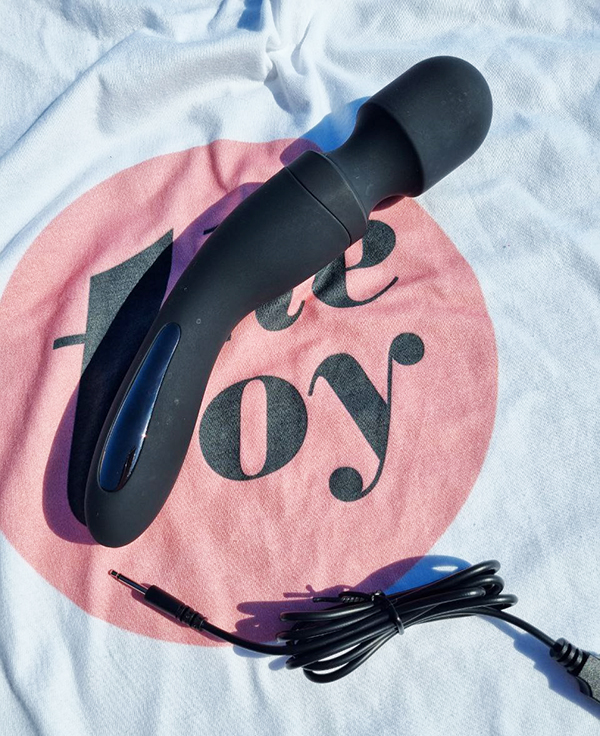 Controls
To begin with the most basic configuration, simply press the plus button.
Your starting point will be at this low level; when you begin to feel more at ease, you can press the plus sign (plus) more often to increase the level of difficulty.
Feel the buzz that comes from placing the head of the Mantric softly on your clitoral area.
It is possible that you will need to engage in some trial and error before arriving at the correct location; nevertheless, the flexible head will assist you in navigating.
Simply click the middle button to cycle through all seven of the available settings.
Mode 1 – Red – Steady Vibrations
Mode 2 – Blue – Slow Pulse
Mode 3 – Green – Medium Pulse
Mode 4 – Purple – Fast Pulse
Mode 5 – Cyan – Twin Pulse
Mode 6 – Yellow – Short Wave
Mode 7 – Violet -Long Wave
Mode 8 – Standby
Storage
You can store your Mantric vibe wherever you please as long as it is not in direct contact with other sex toys or batteries.
Note that this wand does not come with a storage pouch, which I dislike.
Cleaning
Because the Mantric wand is impervious to water, it can be thoroughly washed under warm running water without any risk of damage.
Price
Almost twice as cheaper compared to its main competitor, Lovense Domi 2. Larger-sized magic wand massages of similar quality cost, even more, this is why the price aspect is the most awesome feature of the Mantric Rechargeable Wand.
Unboxing
Mantric was delivered to me in a plain, minimalistic brown cardboard box. When I got the box, I thought there is a mandala drawn on top. However, the mandala turned out to be penises and vaginas, which I consider a brilliant marketing idea.
The Mantric vibrator and its charging cable were in the box, waiting to be enjoyed by me.
You'll also get a user manual describing the functionalities of the toy.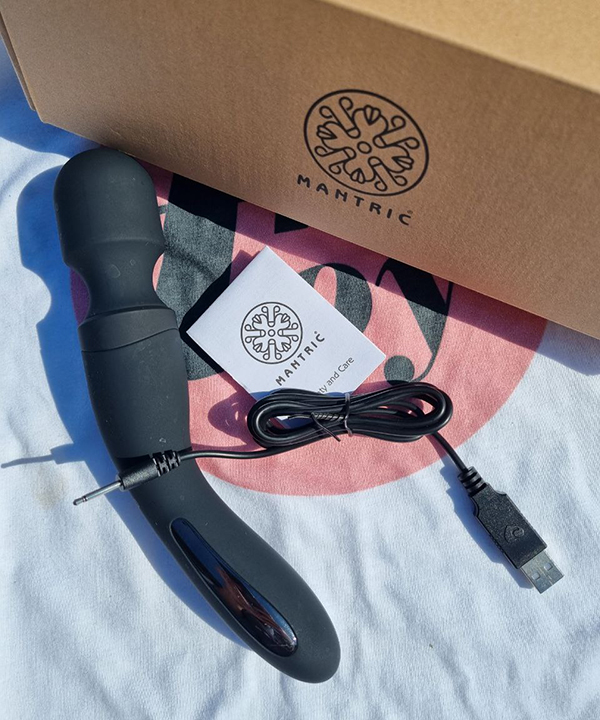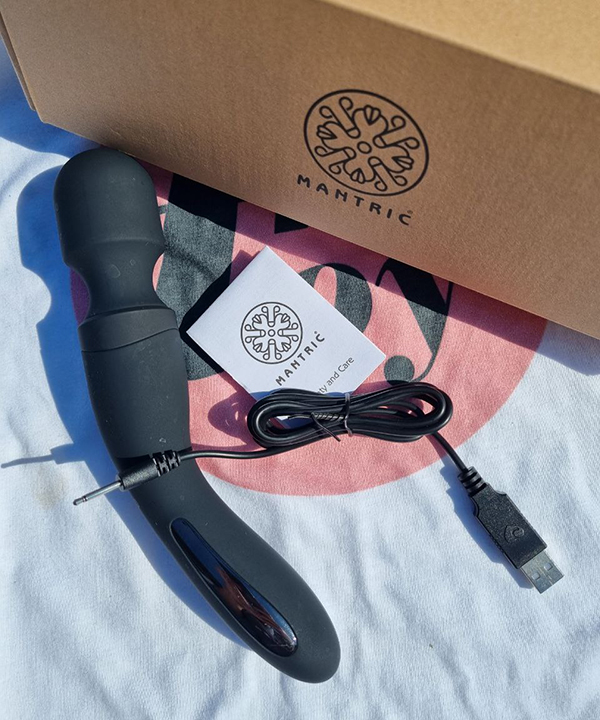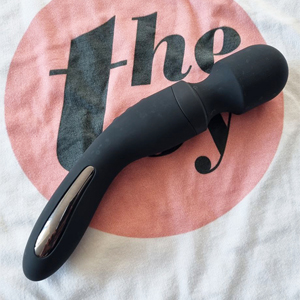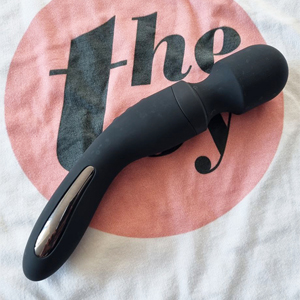 | | |
| --- | --- |
| Power: | (4.0 / 5) |
| Noise: | (4.0 / 5) |
| Material: | (4.0 / 5) |
| Price: | (5.0 / 5) |
| Ease of Use: | (5.0 / 5) |
Reliable, efficient and affordable wand massager with various features
You can buy this product from:
Mantric Wand vs Lovense Domi 2
Each product's creators sought to maximize stimulation without sacrificing comfort. Both vibrators are constructed of soft, firm silicone that doesn't flex or move and both have flexible necks.
Mantric and Domi 2 are waterproof wand vibrators. Both may be submerged for 30 minutes at 3 feet. Both sex toys provide strong vibrations, but the Domi 2 is considerably more powerful than the Mantric wand. Additionally, the Mantric offers buzzy vibes, while the Domi 2 provides deeper, rumbly vibes.
While Mantric can be manually controlled only, Domi 2 has a remote phone app that you can operate from anywhere as long as there's an Internet connection, which makes it one of the few remote-control vibrators among the wands.
Mantric Wand and Lovense Domi 2 have pre-programmed vibrating patterns and settings and are comparatively easy to use. The Mantric is more simplified and has fewer features, so I consider it more convenient for non-tech-savvy people.
The Mantric takes about 2 hours to fully charge while with Domi 2 you'll need around 2.5 hours, allowing 5-6 hours of continuous use. With the Mantric toy, you can play for approximately 90 minutes.
The Mantric wand is considerably more affordable compared to Lovense's wand.