Interested in wand vibrators? Here you can learn more about their characteristics, should they be wired or wireless, which are the most powerful ones, what are the positive and negative aspects of owning a magic wand vibrator and everything else that may enhance your experience. And most importantly you'll find out which one is the best wand vibrator money can buy!
What is a Magic Wand Vibrator and What is it Used for?
If you are familiar with sex toys, you probably own one of these at home. If not, you are probably wondering what's the purpose and how can this 'magic wand' help to improve your sex life.
Let's start with the fact that wand vibrators are among the most popular adult toys you can buy from a sex shop. Their shape resembles a microphone, designed with a handle and rounded vibrating ball attached to it, where the vibrations are focused (the handle does not vibrate, unlike other devices, which makes it easy to manipulate with). The two parts are usually connected with a flexible coupling, which makes it easier to bend and flex with your body movements.
Just like other vibrators, these magic wands can be mains or battery powered and depending on the device you are using the intensity of the vibration can vary. We at TheToy recommend rechargeable devices, as they can be used wherever you like, they are more convenient, yet powerful, you won't need to struggle with tangled cords etc. The non-rechargeable battery-powered wand vibrators are usually less powerful and you'll need to have additional expenses as the batteries go down fast.
You will be surprised to learn that this particular type of vibrators can be also used for a deep body massage – the impressively strong power will provide a relaxing effect if you suffer neck ache, back pain or leg soreness.
Most wand vibrators are intended for external stimulation only – you can apply the rounded ball to the clitoris, nipples, penis or perineum. There are also devices that you can use for internal stimulation (they require the purchase of additional accessories).
Which is the best want vibrator of 2020?

The Hitachi Magic Wand
The best wand vibrator on our list – the Hitachi Magic Wand is probably the only sex toy with so much information about it. The reason is Hitachi's wand is one of the first adult toys ever created for the market. This 'magic wand' first appeared in 1968 and was originally intended to be a massage device. And it was very well accepted by the critical mass but people quickly created other uses for it.
Performance
Hitachi Magic Wand has an immaculate performance, considering the fact that hundreds of women shared their experience with the device, claiming to be indeed satisfied with their purchase. According to one of the most popular Online retail stores, this is America's #1 choice for a personal massager, as it provides deep, intensive stimulation. Its consistent design and durability made it one of the best-selling pleasure toys worldwide. You can start by adjusting the Hitachi Wand to the lowest setting and then progress to the explosive vibrations if this is what you prefer.
Vibration strength
Intense vibrations, suitable for external clitoral, nipple, perineum and penis stimulation.
Materials
Plastic handle, which is even in consistency and may be easily cleaned after use; Rubberized head
Design
The design of Hitachi Magic Wand is not one of the discreet ones, you won't be able to carry it in your handbag. However, having that this wand vibrator can be used as a normal body massager, its' size should not disturb you.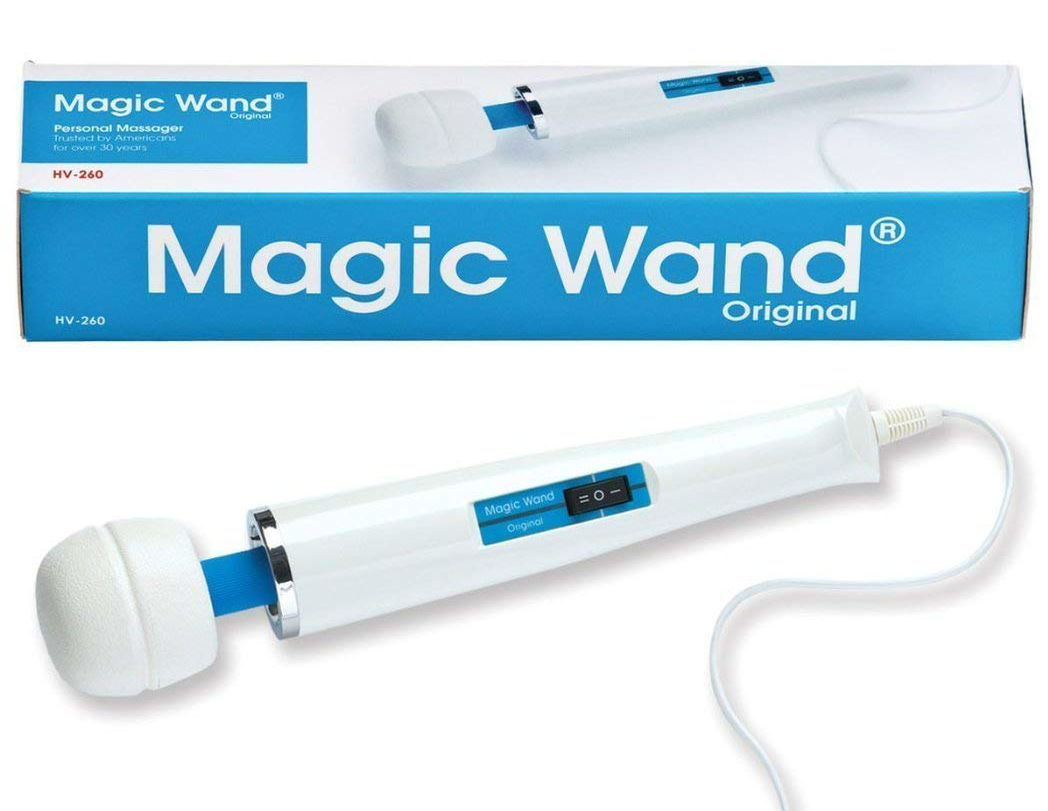 Ease of use
The device is very easy to manipulate with – you can adjust the speed of vibrations, according to your personal preferences the 3 settings available.
Power
The device is electricity-powered, requiring 110 Volts. The vibrating head, when applied to the clitoris, provides intense stimulation, which will easily make you experience immediate body reactions, leading to pleasurable orgasms.
Is it waterproof?
The Hitachi Magic Wand is not waterproof or water-resistant
Discretion
As the Hitachi Magic Wand uses strong and intense vibrations, while is intended for external stimulation only, this is not the most discreet sex toy you can have. According to women who have tried it, this magic wand is actually noisy, so you should keep that in mind in case you are looking for something quieter.
Speed settings and modes
You can switch between two vibration rates—5,000 and 6,000 rpm; note that it overheats when used for more than 25 minutes
Size
The total size of the device is 30 cm (12 in); the head is 6.4 cm (2.5 in) and the cord attached to it is 1.8 m (6 ft).
What other people think
Depending on where people bought their Hitachi Magic Wand you can see controversial reviews regarding the performance of the product. However, those who purchased the original product, manufactured by Vibratex, shared extremely positive comments:
Here's what someone who bought the Hitachi Wand for his female partner shares:
after about 5-10 minutes of "massaging" she was so relaxed that she kept convulsing into what could only be described as "relaxation pulses"
A lady decided to reorder the massager after her previous one stopped working:
I've owned a magic wand for years and despite it's size and it's not so sexy look, this is by far my favorite toy.
And there's the review of another guy who wanted to heat up the relationship with his partner:
She calls it "the Beast", and it has raised sexual desire in our lives to new heights. After some foreplay and teasing, five minutes with this gives her almost as many orgasms, the last two or three in rapid fire succession.

Hitachi's Magic Wand massager is the first and still the best wand vibrator in the world.
---
Alessandro Yarosi Cordless Wand Massager
Alessandro Yarosi Wand Massager is without doubt another of the best wand vibrator products. It became impressively popular during the past few years. This wireless 'massager' grabbed women's attention with its' sexy design, affordable price and the lack of a cord, which are all aspects, aiming to improve your overall experience with the toy. The powerful vibrations, different features, safety lock, and waterproof design are just some of the great features you can enjoy wherever you go!
The device can be used for both deep penetrating (whole body) massager and clitoral stimulator for the best therapeutic and relaxing experience you can ever imagine.
Performance
The device is one of the most preferred options when it comes to intimate 'massagers'.  It provides multiple speeds and different patterns you can adjust, according to your personal preferences. There is a power, vibration rate, and pattern button, which will help you stimulate the most sensitive areas just the way you like it the most. An additional benefit is that a single charge provides more than 3 hours pleasuring sensations and the discretion of this cordless 'magic wand' will surely surprise you-you can enjoy the quiet performance of this mini vibrator everywhere you'd like!
Vibration strength
As mentioned earlier, this little guy can surely impress you with the explosive vibrations it provides.
Materials
100% Body-safe silicone, silky soft to the touch
Design
Very simplified, yet elegant design; The size of the device allows you to easily and discretely carry it in your handbag. It is available in red, black, green, blue, rose and velvet color.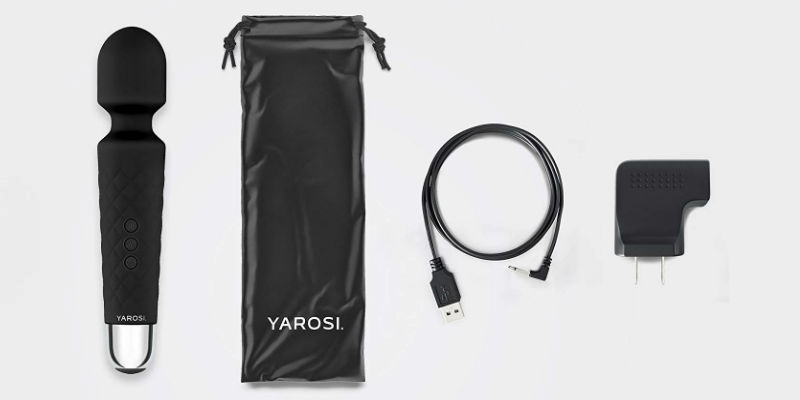 Ease of use
You have 3 push buttons (a power, vibration rate, and pattern button), helping you to adjust the speed and pattern, while you can also lock it in case you are bringing it on an airplane.
Price
Alessandro Yarosi Cordless Wand vibrator is considerably cheaper, compared to similar devices, which is another positive aspect people appreciate. You can get yours for around $30-40.
Power
If you stayed away from rechargeable devices in fear of losing quality you simply don't have to worry about it anymore. This massager will impress you with its' intense performance! The vibration strength can be easily adjusted, according to your needs and desires. The device is USB chargeable (cable is included in the package) and a single charge of the rechargeable lithium-ion battery will last up to 3 hours. Note that the massager is only operable when unplugged! It can be charged from 100 – 240v.
Is Alessandro Yarosi Wand Waterproof?
Yes, the device is 100% waterproof, which allows you to enjoy its' vibes while in the shower
Is it discreet?
Unlike most other 'magic wands' sold on the market, this one is very quiet – the motor provides slight teasing murmur for amazing pinpoint stimulation. Here you should also consider the portable size (8 inches long; 4 inches round on end) of this Alessandro Yarosi Cordless Wand vibrator, which is considerably smaller, compared to similar devices
Speed settings and modes
You can choose between 8-speed settings, starting from slight teasing to exploding vibrations, and 20 different patterns you can change during your relaxing session.
People share…
Most comments written by people who tried the massager are very promising.
A couple who shared photos of their toy is surprised by the high quality and vibration strength provided. They like using their Alessandro Yarosi Wand while in the pool:
The material isn't slippery when submerged in water and that was a concern of mine. Works perfectly. Happy wife, happy life.
Someone else who is also delighted by the effect of the wand vibrator shares:
This exceeded my expectations! I am more than satisfied! It was a lot smaller than I thought but in the best way.
Here's another comment which got our attention (as expected, the reviewer decided to stay anonymous):
My legs were literally shaking.. This thing is STRONG. It made me orgasm in under a minute! I was also able to cum more than 5 times which is something that never happens… The packaging was discreet as well- I don't live alone so I was worried…
---
Lelo Smart Wand
Lelo Smart Wand is the luxurious sex toy with a deserved place on our best wand vibrator list. Providing a strongly concentrated power you can enjoy for a really long time. If you are familiar with the world of sex toys, you probably know that Lelo is the best-selling company, offering high-quality toys made of body-safe materials only. The Lelo Smart Wand is not an exception – even though the price of this impressively designed pleasure toy is a bit higher, compared to other similar options on the market, you'll get precise, super satisfying performance in return. The groundbreaking technology toy allows you to gradually increase the intensity until you can no longer hold your breath…
The vibrations start to build the moment the wand comes in contact with your skin and it stops when you move it away. You won't experience the initial discomfort most similar devices provoke as a consequence of the higher pitch of intensity. Just start with the teasing murmur until it gets you in the mood and then feel free to experience explosive orgasms for as long as you wish.
A quiet, cordless and elegant pleasure tool to make you sense the ultimate rapture – this is the shortest way to describe the purpose of this Lelo Smart Wand! Just enjoy what your body is capable of!
Lelo Smart Wand Performance
Let's skip the trivialities and start talking about the essence – you can give yourself a priceless gift you deserve – fully rechargeable, 100% waterproof, certified body-safe, with 1-year warranty coverage. With the Smart Wand, you'll also get
USB charging cord
Satin Storage Pouch
Warranty Registration Card
Detailed Instruction Manual
What more can you ask for?
You can enjoy your Lelo Wand anytime you need some sexy time with or without a partner.
Strength
The strength of this wand vibrator can be easily adjusted, starting from the lowest setting (slight murmur) to the highest one (intense, explosive vibrations). Also, the tactile response function is something that you will surely enjoy.
Is it body-safe?
Yes, the device is made of 100% body-safe, certified FDA-approved silicone and the handle is made of  ABS Plastic, which is also proven to be safe when it comes into contact with the body.
Lelo Smart Wand Design
Lelo is a Swedish brand, offering classy-designed products. Your Smart Wand comes in a luxury satin storage pouch and the wand itself is available in purple and black. The dimensions are 304 x 80 x 60mm / 12.0 x 3.2 x 2.4in, weighing 395g / 13.9oz.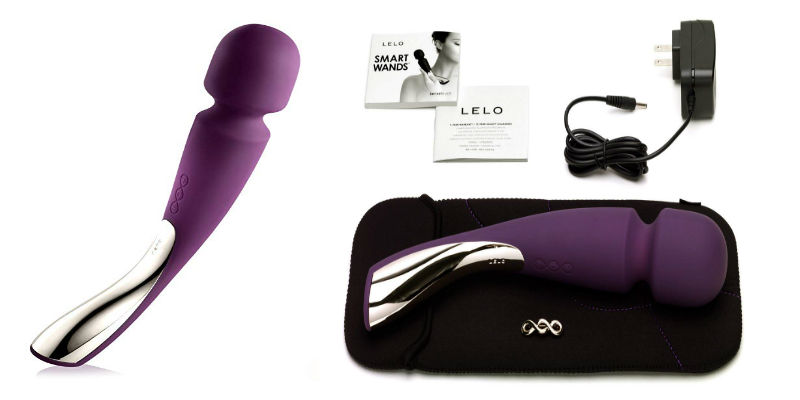 Is it easy to manipulate?
You can easily control the vibration strength with the 3-button interface and enjoy the 8 vibration patterns available. The device will start working when you apply it to the area desired and will stop in case you move it away
Is it cheap?
No, this is not one of the cheaper options. Lelo Smart Want costs around $180-190 and you also get a 1-year full warranty coverage.
Is Lelo Smart Wand waterproof?
Yes, the device is 100% waterproof and designed to be completely submerged.
Is it too noisy?
The noise level is 60dB, which makes this Wand massager a quite discreet option. If you are able to hold your moans, of course…
Are there different speed settings and patterns?
You can increase or decrease the intensity of the pulsations by pressing the +/- buttons and enjoy the 8 different patterns available. Just stop what you are doing and take a couple of minutes for yourself or enjoy prolonged teasing sensations for as long as 2 hours!
Do other people like the massager?
The massager – yes, indeed. But the price aspect – not so much.
A lady decided to find a replacement for her previous wand vibrator and is quite satisfied with Lelo's performance:
Got this to replace a Hitachi, and boy am I glad I did! This thing is amazing
Another one who bought it for herself and her boyfriend shares:
Good for foreplay and not too big to use during action. I am very happy that this is the want I chose.
---
1. Petite and Travel-Sized for Convenience
When you first heard about wand vibrators, you probably thought that these devices are supposed to be huge and you do have a point – most of them are not intended to fit in a handbag. However, there are smaller, portable versions (most of these are also rechargeable) and you can bring yours wherever you like.
2. Multipurpose Wand Vibrators for Versatile Self-Pleasure
The primary purpose of the wand massagers was to provide soothing, sensual and intense massage for relieving sore muscle aches in the neck, shoulders hands & feet. After a session with your wand massager, you can easily reduce tension headaches in the scalp and these devices are highly recommended for post gym workout sports therapy, as they are the best in preventing muscle soreness!
3. Rechargeable vs. Cord-Powered vs. Cordless
It is up to you to decide which option will better meet your expectations – the corded version provides unlimited vibration, this option is considered the more intensive one as the power source provides the same vibration strength during your entire session. Cordless devices, however, are considerably more convenient. They usually have a smaller size and a single charging can last up to 2-3 hours!
4. Extra Features for Better Sexual Satisfaction
If you still need additional stimulation, we have great news for you – most of the devices available on the market allow you to use additional attachments in order to obtain both internal and external stimulation. You can choose between multiple options, varying in sizes and shapes.
More Magical Naughty Fun: Magic Wand Attachments
For reaching more hard-to-get intimate spots, additional attachments to some wand toys are available. Such include G-spot stimulators, p-spot stimulators, vaginal attachments,A clitoral sucking devices, attachments for double penetration, rabbit tips and others. Their prices are very acceptable, so if you already own a magic wand massager and would like to additionally intensify your experience, just add an attachment of your choice if your wand toy provides such options.
Wand Vibrators FAQs
How to use magic wand vibrator?
As you already know, these massagers are a preferred option, as they provide the most powerful, intensive stimulation among all sex toys available. They are intended for external stimulation only unless you'd like to purchase additional attachments. The bending and flexing heads allow you to stimulate all those sensitive areas of your body you never did before. Whether you are playing solo and would like to tease yourself by applying the device to your nipples or clitoris or increase the sexual drive by stimulating your partner's penis or perineum, you can be certain you will enjoy every single second of your sexperience.
How to lessen the vibrations of a wand vibrator?
Usually, the vibration strength of wand toys can be easily adjusted and the settings start from very weak vibrations to the super intense, explosive stimulation. Most wand vibrators operate with push buttons, one of which defines the vibration strength. It is recommended to start with the lowest setting until you warm up (foreplay is always important!), and then adjust the device to some stronger vibrational power.
What type of batteries does magic wand vibrator take?
When it comes to batteries, you can choose between 2 options – the old-school alkaline batteries which should be replaced when they run down, and the lithium-ion rechargeable batteries, which require 1-2 hours of charging after they are used.
Which brand is the original magic wand vibrator?
Hitachi distributed by Vibratex. The massager was originally intended for target the soothe sore muscles and relieve stress, however, not long after Magic Wand was presented to the public, those who bought it found a more sensual purpose of the device.
How does magic wand differ from a vibrator?
The ordinary vibrators are intended for internal (vaginal and G-spot) stimulation, while wand massagers are not intended to penetrate into your body unless there are additional attachments to them. Another important difference is that wand massagers are usually stronger than the usual vibrators – their power is situated in the head, which is a positive aspect, having that you won't be facing any troubles holding the device.
How to use wand vibrator on a woman?
Start with gently teasing the erogenous zones and do not apply the massager to a single spot for too long. Move without pressing it to the skin and after a couple of minutes pinpoint the powerful vibrations directly to the clitoris. Use some pressure but remain as gentle as possible, you'll know what to do next…
How long can a vibrator wand last?
After our thorough research, based on different product characteristics and multiple reviewers' experiences, the average-priced, nice quality wand vibrator usually lasts around 2 years. The cheaper versions (some wand toys for less than $20) often come defective or stop working within weeks, so they are not an option we would recommend.
It may surprise you but the most expensive vibrators do not last forever either! Even the most luxurious, high-quality toys stop working after 2-3 years of use, so keep in mind that these sex toys are not lifetime investments!