LELO Dot is a pinpoint clitoral stimulator that impressed me with its beautiful design and functionality. The Dot has a comfortable grip and a soft, elongated end that vibrates at a very high frequency (133 Hz). This is part of the toy that can target specific nerve groups where you point it (e.g., the clitoris) for new and interesting sensations.
This clit vibrator is high-quality and quite durable, after 2 years of use, it is still working as expected, and the battery holds charge well.
The vibration, however, is not the strongest, they are in the mid-range. I would rate it at 3.5/5. If you can spare the extra money, you want a beautiful toy with a silky soft touch and quality build, and LELO Dot is for you.
If you want a vibrator with the same targeted pinpoint stimulation but much stronger and at a lower price (and you don't mind its simpler design), you should check my Lovense Hyphy review. And if you are looking for a more compact clit massager, look at my bullet vibratos guide.
Pros and Cons
Pros
Comfortable grip
Great for edging
Non-numbing oscillations
Quiet
Ideal for those who prefer fast and intense orgasms
Extremely targeted stimulation
Can be used on all external erogenous zones
Completely waterproof (IPX7)
Beautiful packaging that is ideal for gift-giving
Silky soft silicone
1-year warranty and a 10-year guarantee
Cons
Not for power seekers
Limited pressure
Might feel too pinpointed or ticklish for some users
Expensive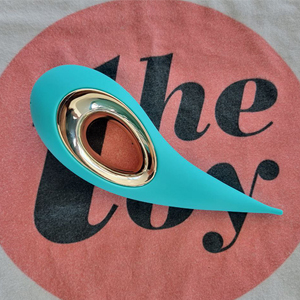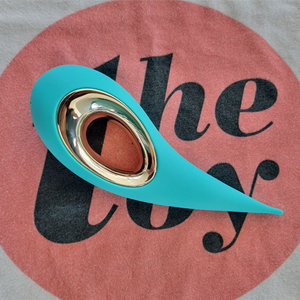 | | |
| --- | --- |
| Material: | (5.0 / 5) |
| Price: | (3.0 / 5) |
| Ease Of Use: | (5.0 / 5) |
| Noise: | (4.0 / 5) |
| Power: | (3.5 / 5) |
A quiet luxury clitoral vibrator with elliptical movement for pinpoint stimulation
You can buy this product from:
How to use
The three easy-to-use buttons are identical to those of the LELO Soraya 2 rabbit toy. The massager can be turned on and off by pressing the center button firmly for three seconds. By pressing the button again quickly, you can choose between the 8 vibration levels of the vibrator. The speed and tempo are controlled with the two buttons on the side.
There are ten different vibration modes available. These are quite varied and easy to distinguish from each other, which is not the case with some cheaper versions. Some of these settings are insanely intense, especially those offering distinct pulsations. In the higher settings, the vibrations get stronger but not as strong as the most powerful clit vibrators I have tried.
My experience
First of all, I would like to say that I usually go for broader stimulation rather than targeted.
After charging the LELO Dot, I decided to use it on my nipples first because I wanted to know how it felt. To my surprise, it turned out that my nipples were more sensitive and receptive to vibrations than I thought – the tickling stimulation made them hard in seconds. So I slowly went deeper and deeper, but I did not feel ready to reach my clit yet – even the least intense settings were too much.
This toy truly reignited my appreciation for clitoral orgasms. It's a well-known fact that every person's body reacts differently, but for many, including myself, clitoral orgasms are generally more attainable compared to vaginal ones. They also offer the ease of controlling intensity during intimate moments. The unique elliptical movement of this toy, with its swift left, right, up, and down motions, excels in gradually building sensations. It skillfully ensures that the numerous nerve endings in the clitoris – said to be around 10000+ – receive thorough and delightful stimulation.
Usage Experience: Easy to use, versatile; ideal for edging and orgasm control
Sensory Experience: Slow build-up to climax, avoiding numbness common with some vibrators
Effectiveness for Multiple Orgasms: Capable of facilitating multiple orgasms without causing numbness
Versatility: Suitable for stimulating various areas, not just the clitoris; effective for clitoral orgasms and allows different sensations
Target Audience: Suitable for both beginners and seasoned sex-toy users
Specifications
LELO Dot is a high-end, luxury clitoral vibrator with unique capabilities, especially for achieving multiple orgasms, quiet operation, and targeted stimulation. Ideal for those who value design, quality, and specific stimulation preferences. Dimensions: Length 6.5″, Width 2.4″, Weight: 3.5 oz;
Power
This vibrator is intended for a direct clitoral stimulator, unlike the air pulse clitoral suction vibrators.
With its 8 intensity levels(including continuous vibration, short pulses, long pulses, and a wave pattern). The LELO Dot takes a top spot when it comes to clitoral stimulation. It is not as strong as the most popular wand vibrators, but its purpose differs. Don't get me wrong – it won't numb your happy button – quite the opposite – it'll be ready for a series of consecutive orgasms.
The Infinite Loop technology provides stimulation with precise accuracy over the clitoris and any external erogenous zone due to its distinctive elliptical motion and soft, flexible tip.
While traditional vibrators pulse in circles, which can prevent you from having many orgasms due to saturation, LELO Dot moves in a figure-eight pattern. This way, you can enjoy multiple orgasms in a row.
Noise
I measured a maximum sound level of 64 dB, and the lowest setting is around 42 dB (while the toy is not in direct contact with the skin), which is quite unobtrusive.
When the vibrator is used on the clitoris, the noise is minimal, as the vibrations are immediately absorbed. It is whisper-quiet, quieter than an electric toothbrush, ranging from 20 dB on lower settings to 30 dB on the highest setting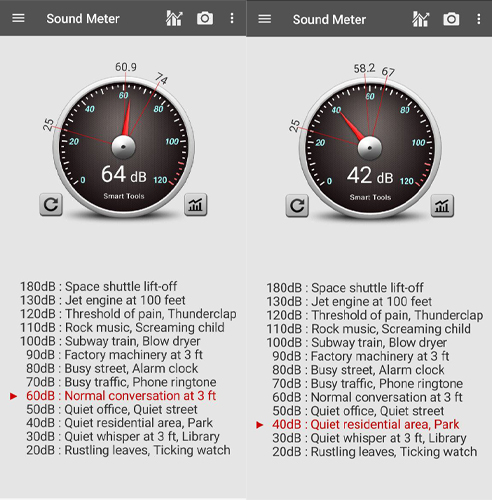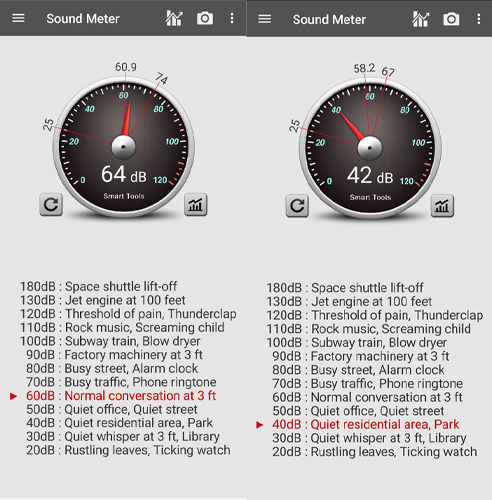 Material
The vibrator's tip is coated with luxurious, silky, soft, and body-friendly silicone. Since the silicone coating contains no phthalates and has a soft texture, the experience is gentle and wonderful.
The rigid handle is made of shiny golden ABS plastic.
Design
LELO Dot is a clitoral pinpoint vibrator, and it is not designed for insertion.
LELO's development of the Dot was influenced by a research study, the company conducted focusing on orgasms. This study revealed that for women and individuals with vulvas, being in a relaxed state (34%) is the key factor for achieving orgasm during sexual activities or masturbation. This is closely followed by the importance of foreplay (33%), stimulation of other body parts (25%), and the use of sex toys (24%). The DOT is designed to cater to these needs, providing unparalleled accuracy in achieving orgasms.
LELO Dot resembles a teardrop with a bulbous base and a thin, curved point, resembling a peacock's beak. It is available in pink, aqua, and lilac, including pastel variations. As you can see from the photos, I got the aqua version here for my review.
It features a soft, bendable, very fine tip for precision. The special hole in the middle of the larger portion provides an easier grip.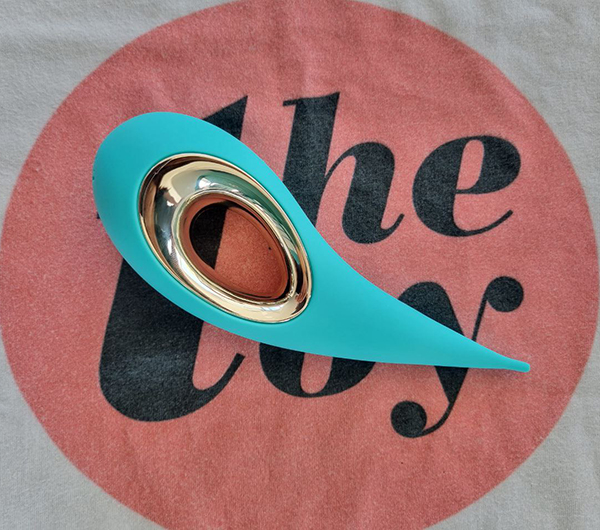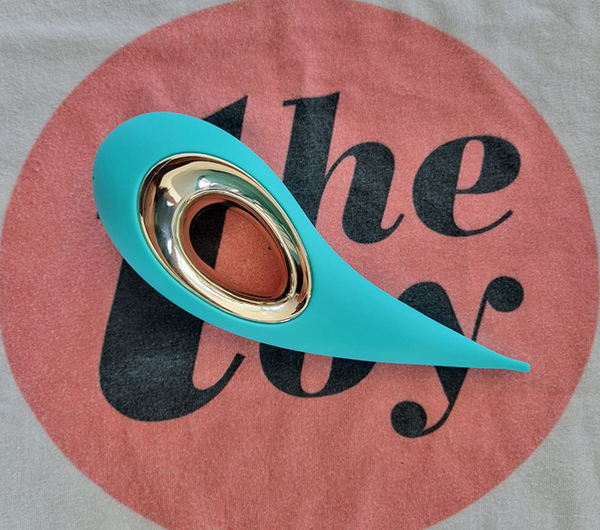 Here, I would like to praise LELO for the super classy packaging of the vibrator. It's made of black cardboard, but I am impressed with its crocodile skin texture. It would make a very luxurious gift for anyone who appreciates sophisticated design.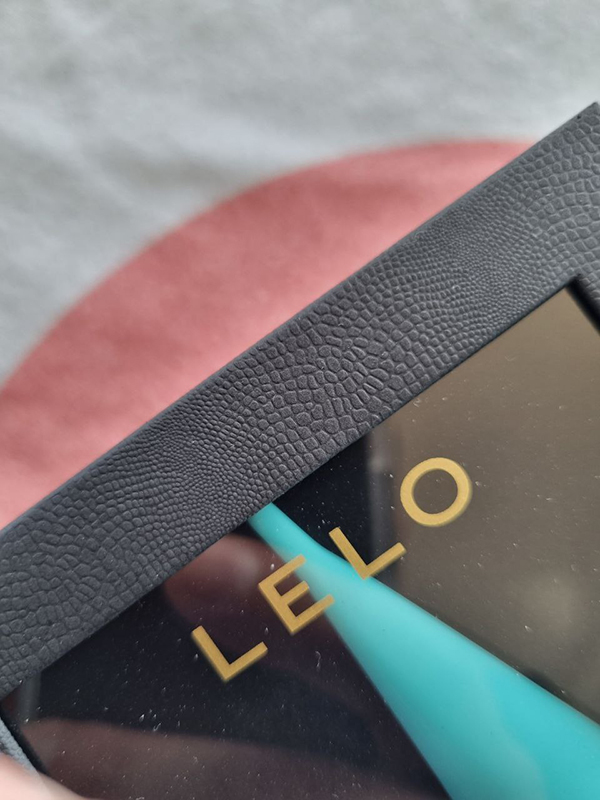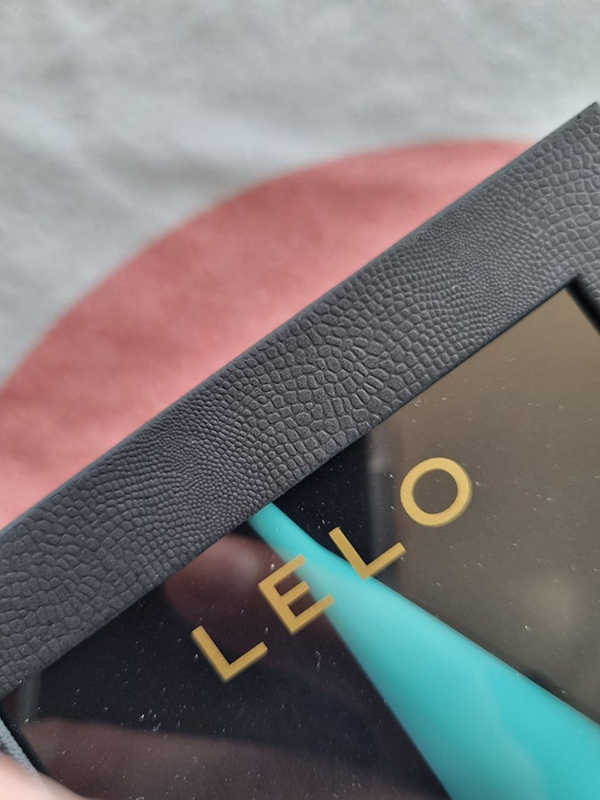 Size
The exact dimensions of the LELO Dot sex toy are the following:
60 x 46 x 165 mm / 2.4 x 1.8 x 6.5 in
The vibrator only weighs 98 g / 3.5 oz, adding to a more comfortable and non-intrusive experience.
You can see the size of the LELO Dot compared to the palm of my hand: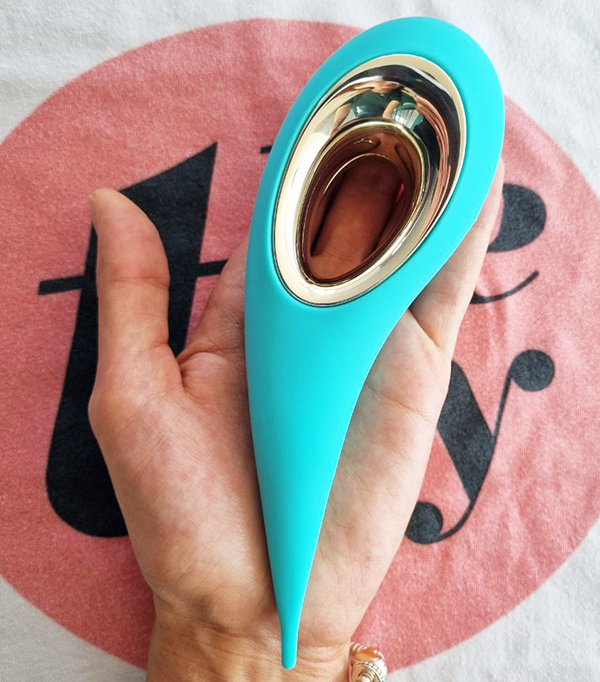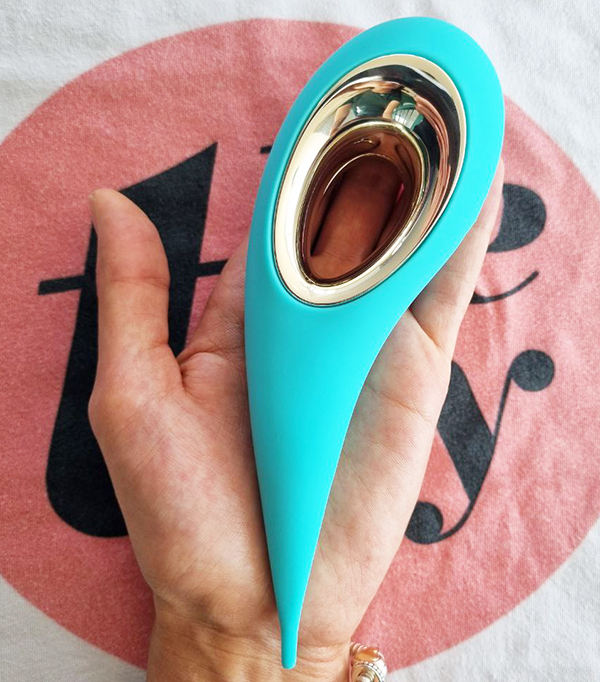 Charging
Since Dot is a rechargeable vibrator, there is no need to worry about wires getting in the way or purchasing excessive batteries before purchasing. The package includes the USB cable and a full charge on the device may be achieved in two hours (120 minutes). Charging time: 2 hours
Depending on your settings, a fully charged battery will provide around two hours (120 minutes) of playtime. Use on full charge: 2 hours

Controls

The LELO Dot can be turned on by pressing the button in the middle, similar to the symbol (). In addition, it circles through the 8 functions, which are as follows: 1 steady and 7 pulsating or looping patterns.
Pressing and holding the plus button (+) also activates the toy and increases the stimulation's intensity.
You need to press the down (-) button to calm down your sexy toy.
Storage
You can store your LELO Dot toy in the classy satin storage pouch with the vibrator. Always dry it well before you put it in the pouch so it does not trap moisture and get moldy over time. Always keep it in the pouch when not in use because while silicone is great for maintenance and feel, it attracts lint. Keep the LELO Dot out of extreme temperatures because they can harm the Li-ion battery and damage the toy.
Cleaning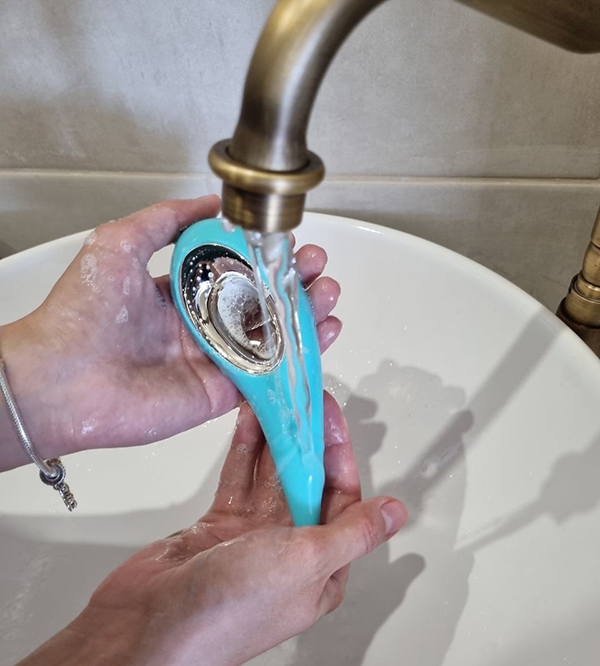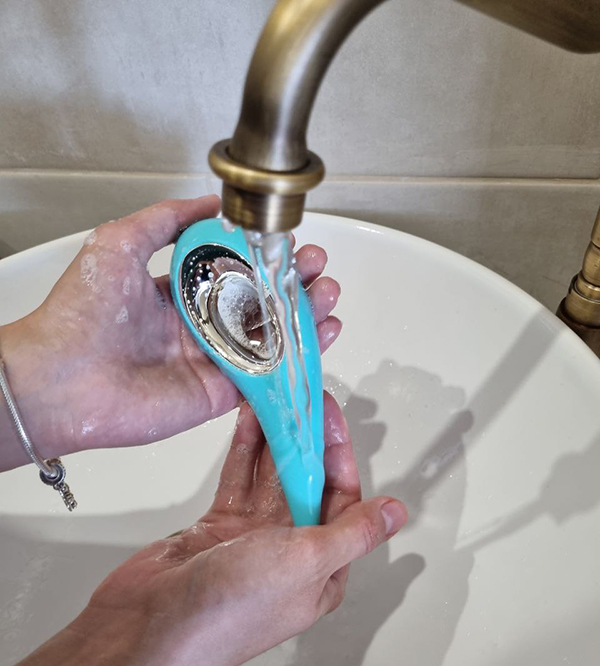 Since the LELO Dot is 100% waterproof, you can easily wash it with antibacterial soap and water before and after each use. You can also enjoy it while having a shower or a bath. Just tilt it towards the tip and keep the charging port out of the water. If moisture gets there, you might have problems charging the vibrator.
Price
As expected, such a high-end sex toy has a higher price. It costs around $179 BUT. For this price, you get high-quality materials and unlimited orgasms.
I would recommend buying the LELO Dot (or any other LELO sex toy) only from the official LELO store.
This way, you can be sure you are getting a genuine LELO product at the lowest possible price. They usually have discounts there, and I got mine for $143.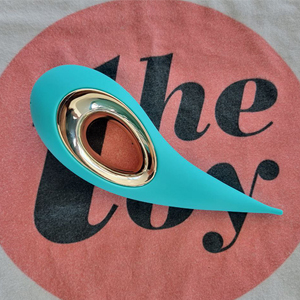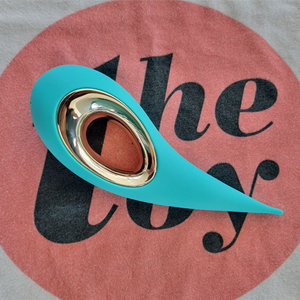 | | |
| --- | --- |
| Material: | (5.0 / 5) |
| Price: | (4.0 / 5) |
| Ease Of Use: | (5.0 / 5) |
| Noise: | (4.0 / 5) |
A discreet luxury silicone clitoral vibrator with elliptical movement for multiple orgasms in a row
You can buy this product from:
Unboxing
Upon unboxing, you will find a matte black box with a clear front window and discreet black foam background, which contains:
The LELO Dot Elliptical Clitoral Vibrator
USB charging cable
Satin storage bag
Instructional guide
Warranty registration card(LELO provides 1 year warranty on the products)
Conclusion
The Dot is a high-end, luxury sex toy with unique capabilities, especially for achieving multiple orgasms, quiet operation, and precise clitoral stimulation. Ideal for those who value design, quality, and specific stimulation preferences. Not the most powerful or compact vibrator of its class, but it is stylish and durable.
Overall, value for the money is an OK investment. I hope my LELO Dot review has helped you to find out if this is the right clitoral vibrator for you, and you won't be disappointed with your purchase. If you have any questions, I'll be happy to answer in the comments.