Lovense just launched its first double-sided vibrator, Hyphy, and I am excited to share my thoughts on it.
Hyphy is designed specifically for women's pleasure. Double the pleasure thanks to the G-spot part and the clitoris part that can be controlled separately.
Like all other Lovense sex toys, Hyphy is completely waterproof and can be operated manually (via the two control buttons) or remotely (via the Lovense app). You can choose between super gentle, teasing stimulation and very intense vibrations, depending on how you like it best.
Oh, and you can choose from unlimited vibration patterns, create your own patterns, sync Hyphy to your lover's voice or your favorite music.
When I first saw Hyphy, I was a little confused because I could not understand why Lovense would create a two-sided sex toy meant for clitoral and G-spot stimulation. Especially after they launched Lovense Dolce – the insertable U-shaped vibrator for simultaneous G-spot and clitoral pleasure. But after trying Hyphy, it all became clear to me – unlike Dolce and most other toys for broad clitoral stimulation, Hyphy offers impressively precise clitoral tickling that can bring me to climax in seconds.
As for the G-spot part – it certainly works great, but I can not say it's anything very innovative. It's just a regular G-spot vibrator for when I need an internal orgasm. Or two.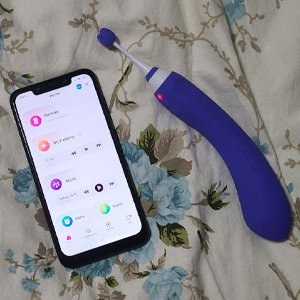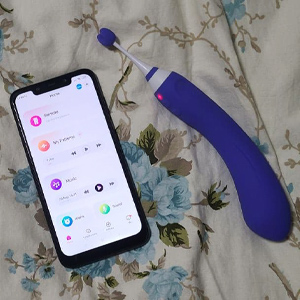 | | |
| --- | --- |
| Power: | (5.0 / 5) |
| Noise: | (4.0 / 5) |
| Material: | (5.0 / 5) |
| Design/Size: | (5.0 / 5) |
| Experience: | (5.0 / 5) |
| Price: | (4.0 / 5) |
| Controls: | (5.0 / 5) |
| App: | (5.0 / 5) |
| Average: | (4.8 / 5) |
Ultra-powerful remote-controlled dual-end vibrator with versatile functions and customizable patterns.
You can buy this vibe from:
Pros and Cons
Pros
Precise and pinpoint stimulation of the clitoral side
Fulfilling and ergonomically designed G-spot side
Wide range of power settings – from very low to extremely high
A reliable app that provides uninterrupted control from anywhere
Fully waterproof, submersible, and easy to clean
Comes with a discreet storage case that doubles as a charging station
The clitoral portion provides more powerful stimulation than most powerful massage wands on the market
Has a travel-friendly and discreet design reminiscent of an oral irrigator or perhaps a strange toothbrush
Is NOT pink! Hyphy is available ina beautiful purple color
Cons
Does not provide simultaneous G-spot and clitoral stimulation.
Not everyone is willing to spend $99 on a vibrator, even if it is a top-of-the-line vibrator
How does it work?
If you already own a Lovense sex toy, you'll be familiar with the intuitive controls and remote app options. If not, you'll shortly appreciate how easy the Hyphy is to use.
For clitoral use, you have 3 different attachments that you'll find in the storage box. Each of these attachments can be easily attached to the thin clitoral side of the vibrator. You have a choice between a ball-shaped attachment, an attachment that resembles a mini tongue, and another that is U-shaped to 'hug' the clitoris.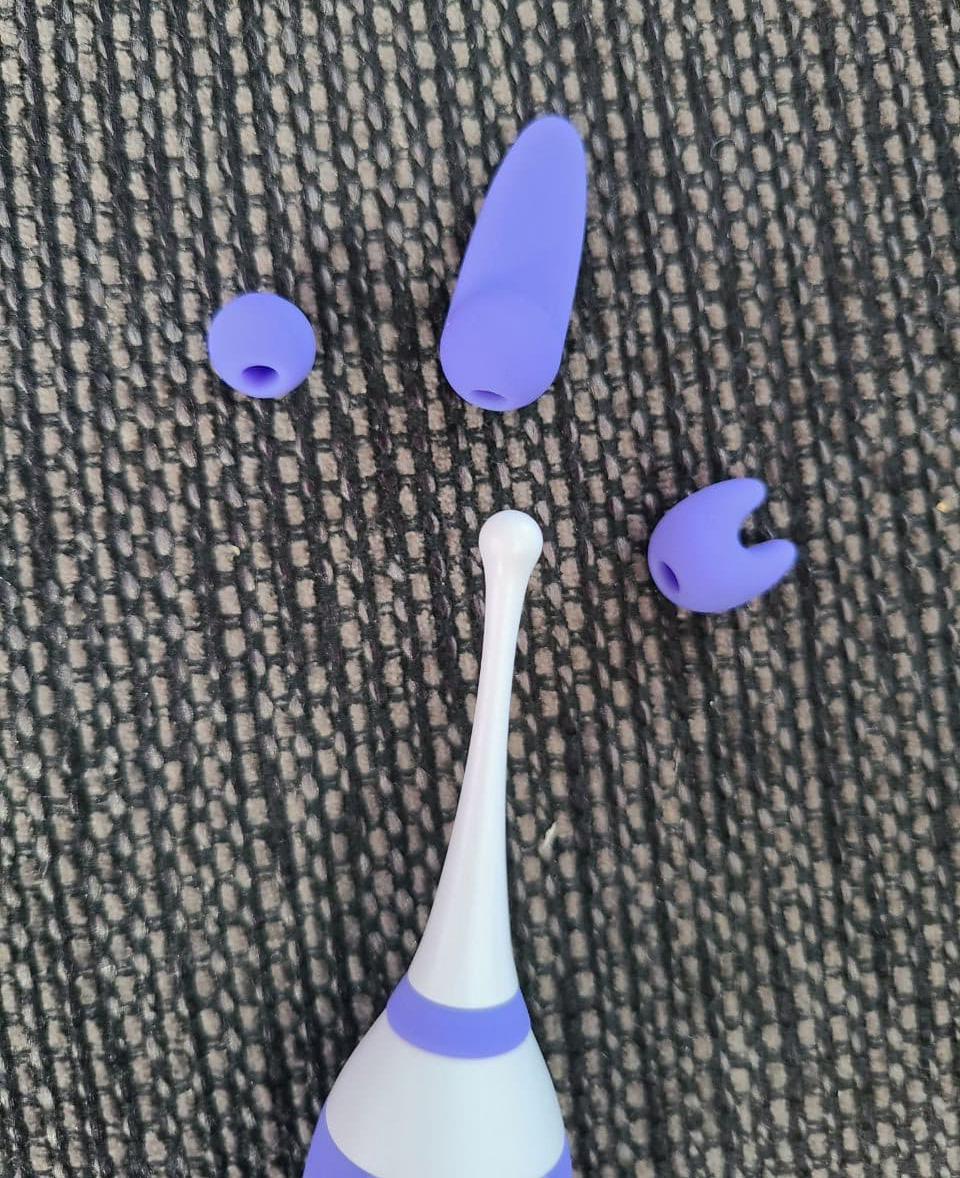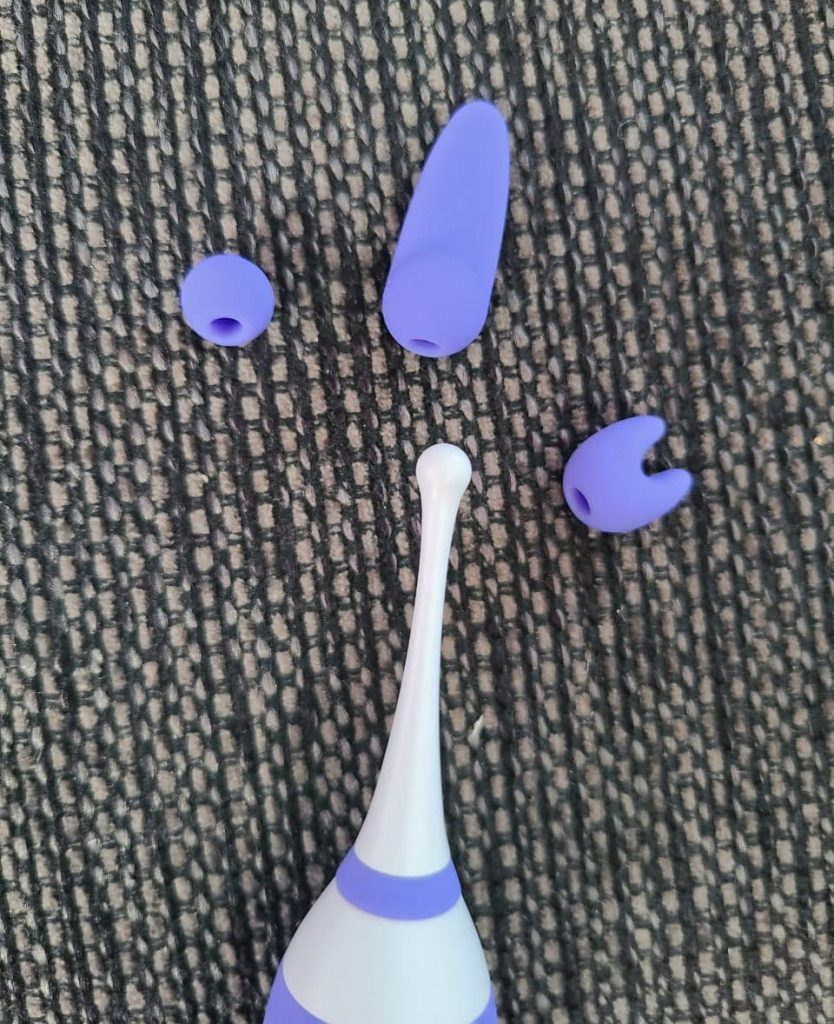 All of these attachments are remarkable and if you are into external stimulation, these little satisfiers will give you sensational orgasms in seconds. I have never seen anything even remotely precise when it comes to clitoral fun.
Turn the Lovense Hyphy over to explore the G-spot silicone part, which can be used for deep internal penetration. It offers rumbling, throbbing vibrations that may catch you off guard if you are not used to applying pressure directly to your G-spot.
All functions (both sides of this multi-purpose sex toy) can be controlled separately, so you can customize them to perfection. Hyphy uses 2 separate motors for each end of the toy to ensure extremely powerful performance.
Specifics
Power
Lovense Hyphy offers adjustable intensity, ranging from gentle, caressing vibrations to extremely intense, stimulating patterns that will satisfy even the most demanding power queens.
Noise
In terms of noise, Hyphy is a comparatively discreet vibrator. At the very least, the clitoral end of the toy offers quiet pulsations that can not be heard from across the room. The G-spot end is much louder, which is due to the more intense vibrations.
The noise coming from the G-spot arm should not be a problem, though, as the vibrations are immediately absorbed by the body, so you can use it discreetly and without worry.
Material
Hypoallergenic, latex-free, and soft silicone is used for the exterior of Hyphy. Since the coating on the G-spot side and clitoral attachments is extremely smooth, there are no bumps or edges to worry about when you use it.
Like every other sex toy from Lovense, Hyphy is completely waterproof and has an IPX7 rating, which means it can be submerged in water up to 1 meter for 30 minutes.
Before and after each use, you can effortlessly clean your pleasure toy with soap and water (or with a sex toy cleaner).
Design
Hyphy's design combines convenience and discretion. Convenience because you can stimulate either the clitoris or the G-spot, depending on your mood and personal preferences. Discretion, because the vibrator does not look like a sex toy at all and you can safely take it wherever you want.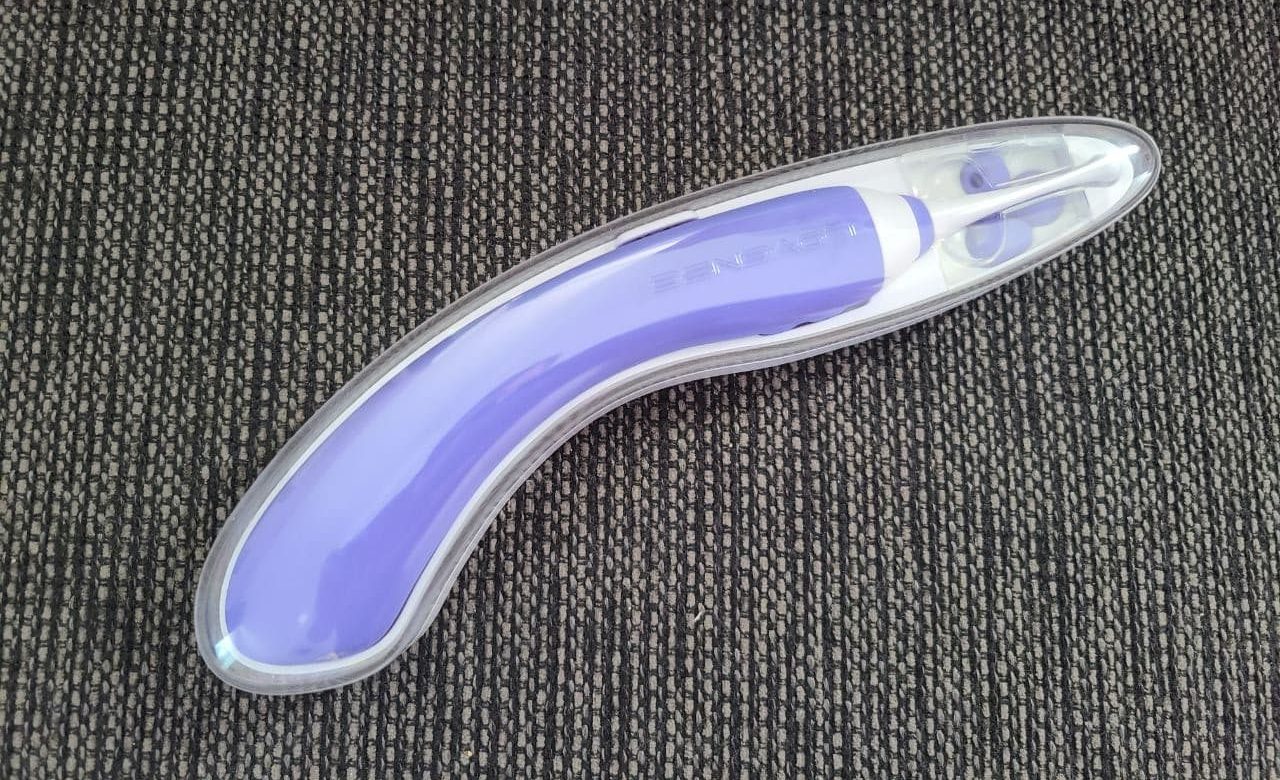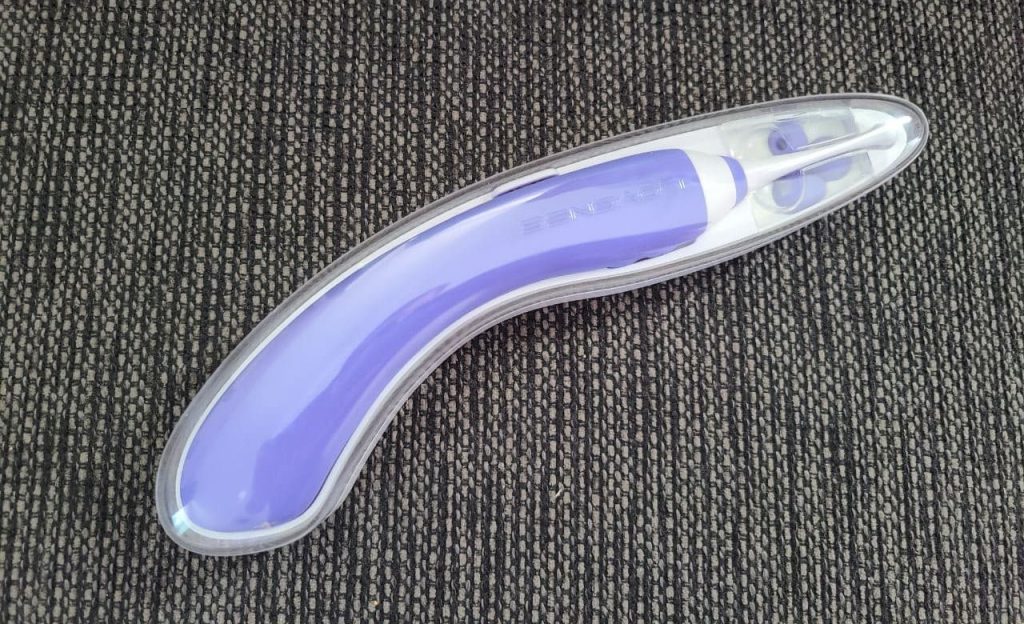 Also, if you are not a fan of pink sex toys, the Lovense company has made a big change this time with Hyphy. It comes in purple, which I personally appreciate.
Size
You can see the exact product dimensions below: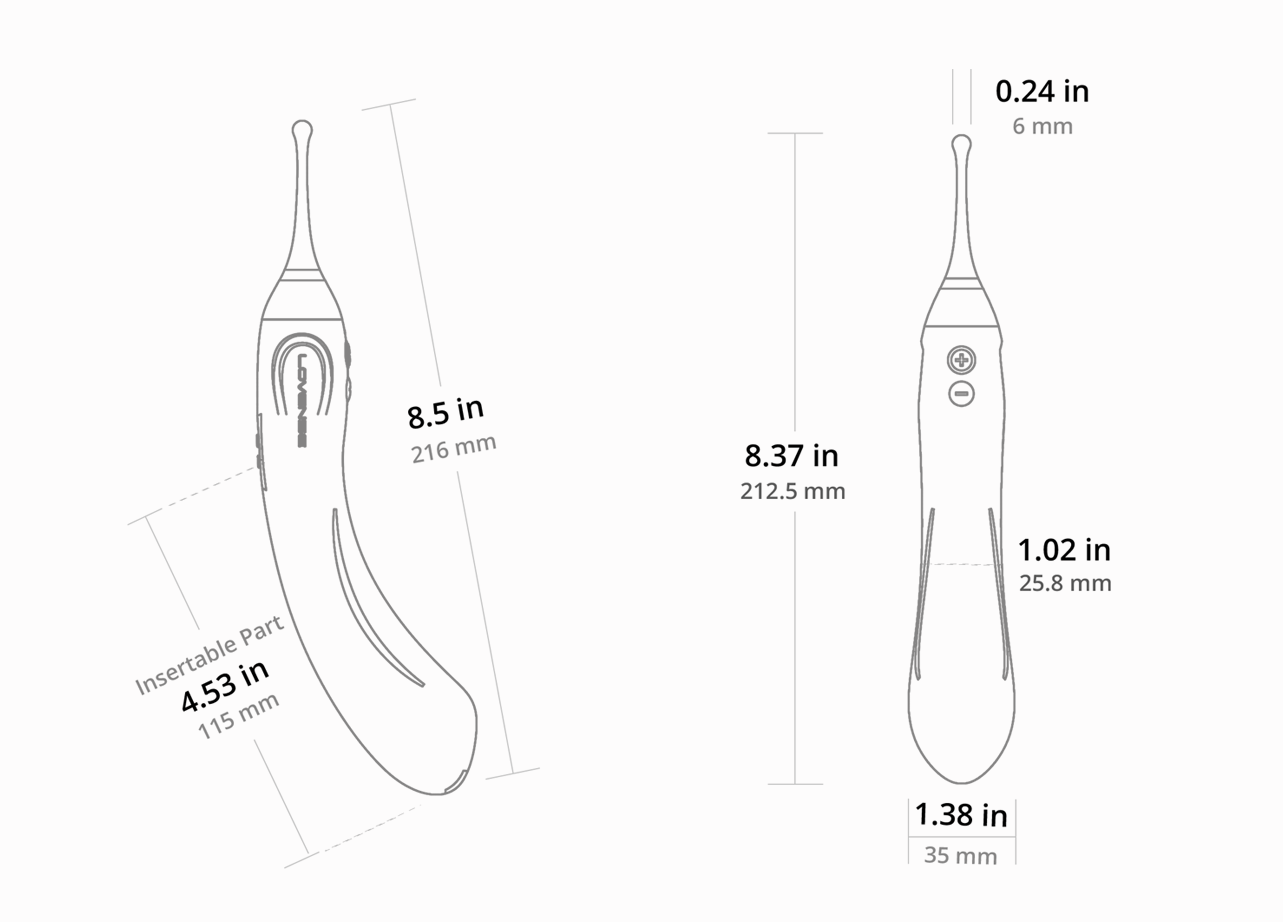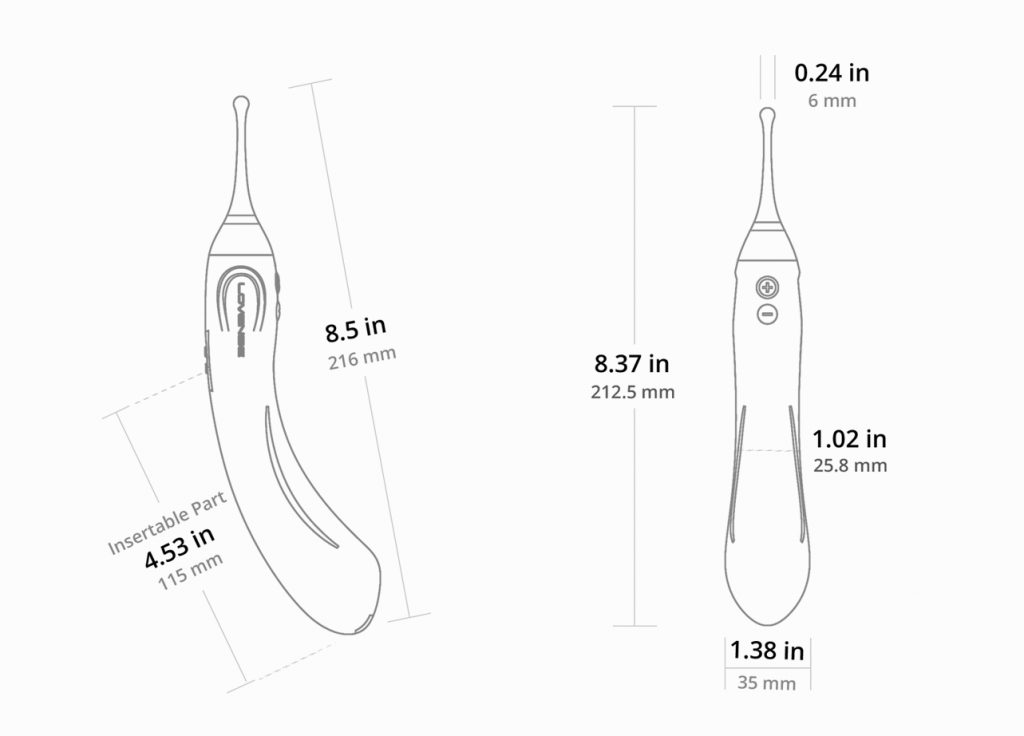 Charging
Before charging, make sure Lovense Hyphy is turned off. To begin charging, simply plug the cable into any USB port or USB/AC power adapter. It takes approximately 75 minutes for the device to fully charge.
With a fully charged battery, you can use the vibrator continuously for about 5 hours. With most modern vibrators, you can enjoy up to 3 hours of continuous vibration, another benefit to consider.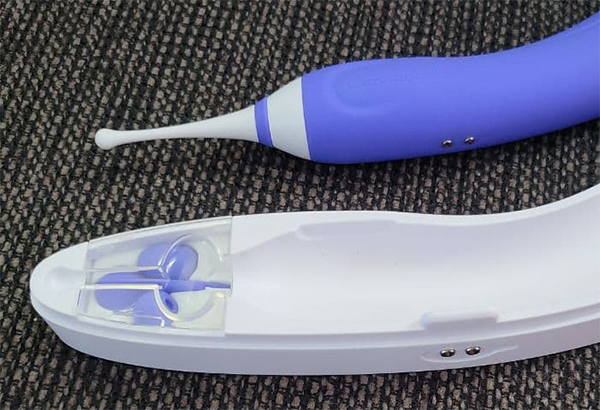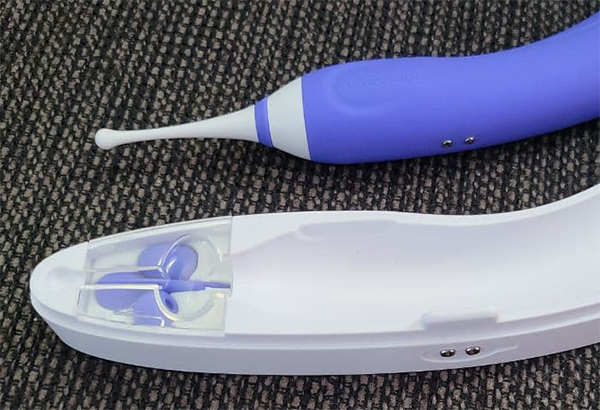 While charging, the indicator light will be on. The steady red light turns off when it is fully charged. You can check the battery life in the app if you are not sure if it is fully charged.
Another great advantage of Hyphy is the magnetic charger. It offers a better and faster charging experience, but it only works if it's positioned correctly. Rotate the cable 180 degrees if you do not see a solid red light.
Manual Control
Lovense Hyphy is extremely user-friendly, ideal for those who want to make things as easy as possible.
If you do not have enough time or just do not feel like connecting to the internet and using the Lovense app, you can use the quick start option instead.
Note that you can not use the remote control app functions if you are controlling Hyphy manually.
Hyphy's two-button functionality makes it very easy to operate in manual mode.
To turn on Hyphy's high-frequency end vibration, press and hold the '+' button for 3 seconds until the red light flashes – this indicates that the vibrator is ready to begin your orgasmic session. Tapping the '+' button will cycle through the 7 preset vibration patterns.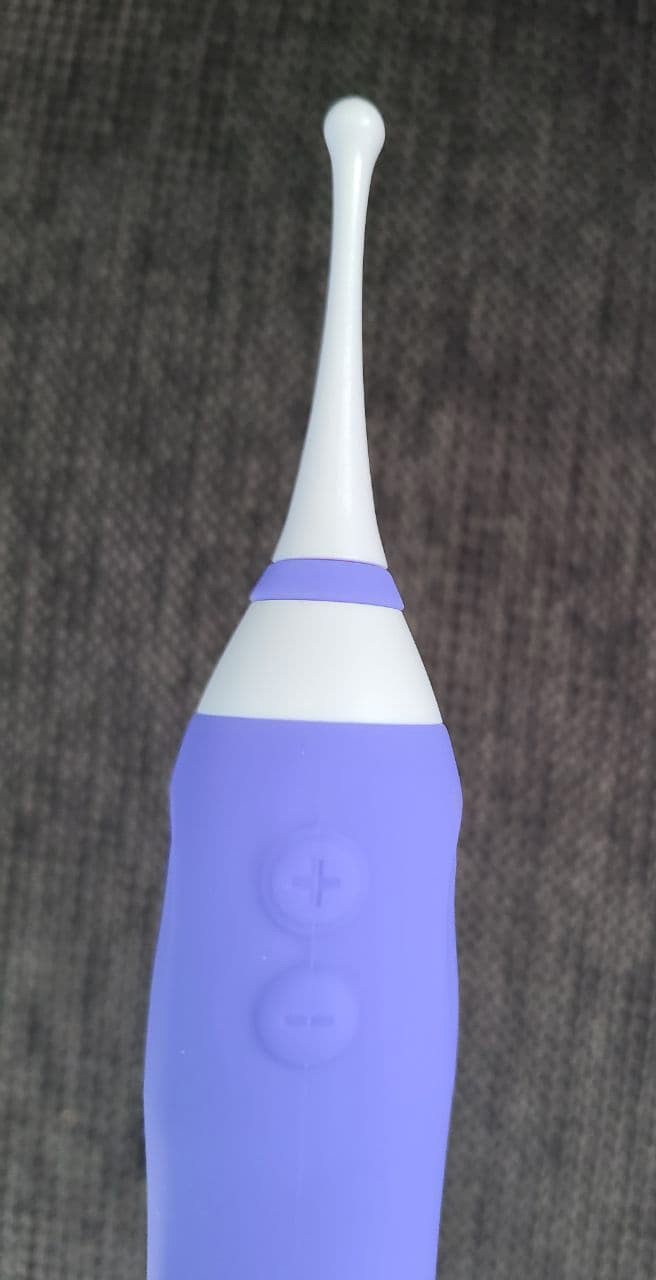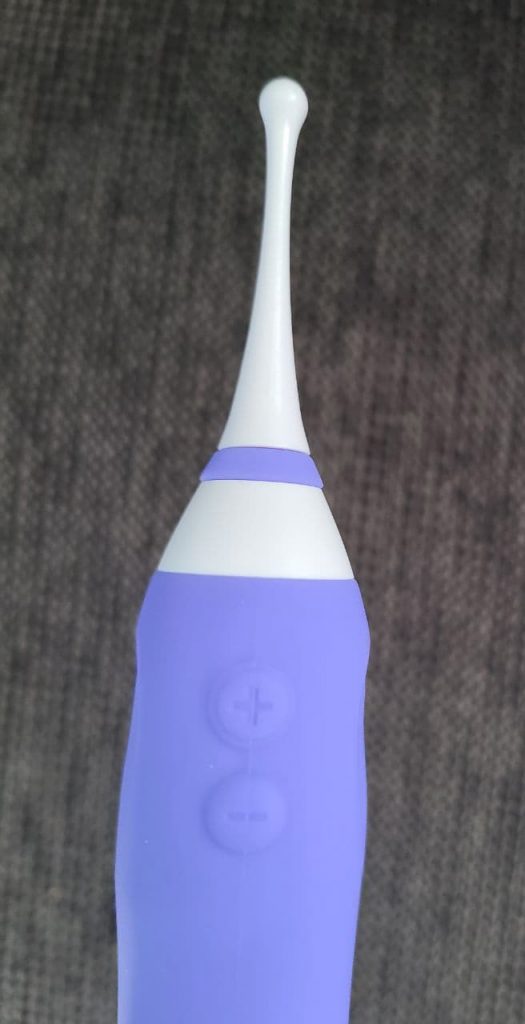 To switch from high-frequency end vibration to G-spot end vibration, hold down the '-' key for 3 seconds and then tap '-' again to cycle through the preset patterns for G-spot stimulation.
App Control
If you (or your lover) prefer to control Hyphy via Bluetooth, you can do so from an unlimited distance as long as the device you are using is connected to the internet, which is the case with most smartphones and tablets these days.
Make sure you have downloaded and installed the Lovense app on your device. It is available for free from the App Store or the Google Play Store.
If you already own other Lovense toys, you know that the app is the most attractive feature you can use. Just connect your toy to the Lovense app and you are ready to go.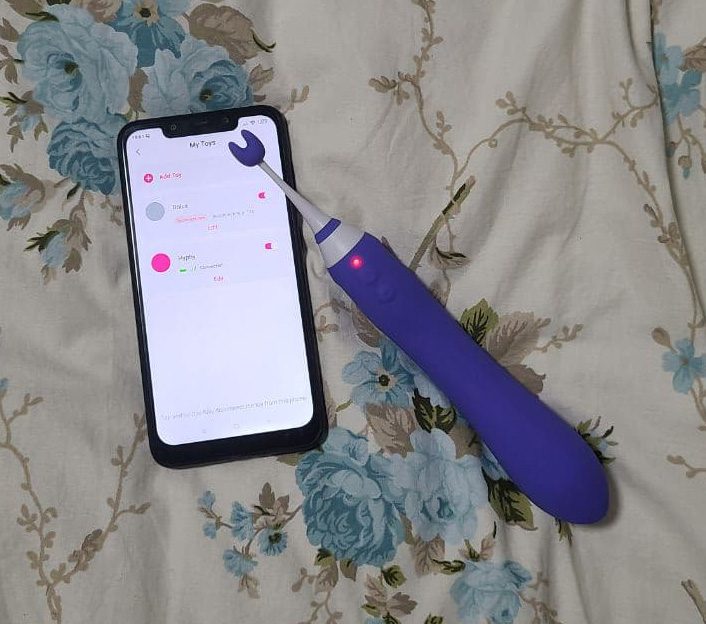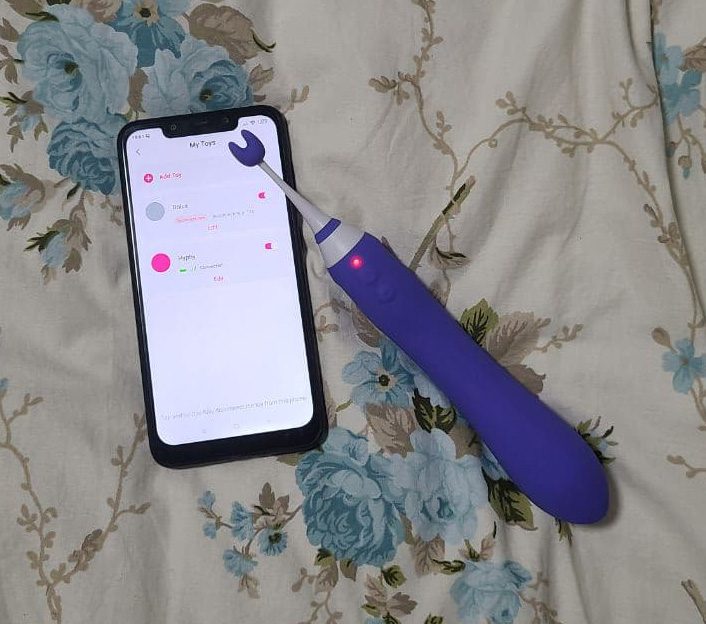 The Lovense app, which is fully customizable, is the most advanced sex toy app available today. It provides a reliable, uninterrupted connection regardless of the distance between the sex toy and the device that is controlling it.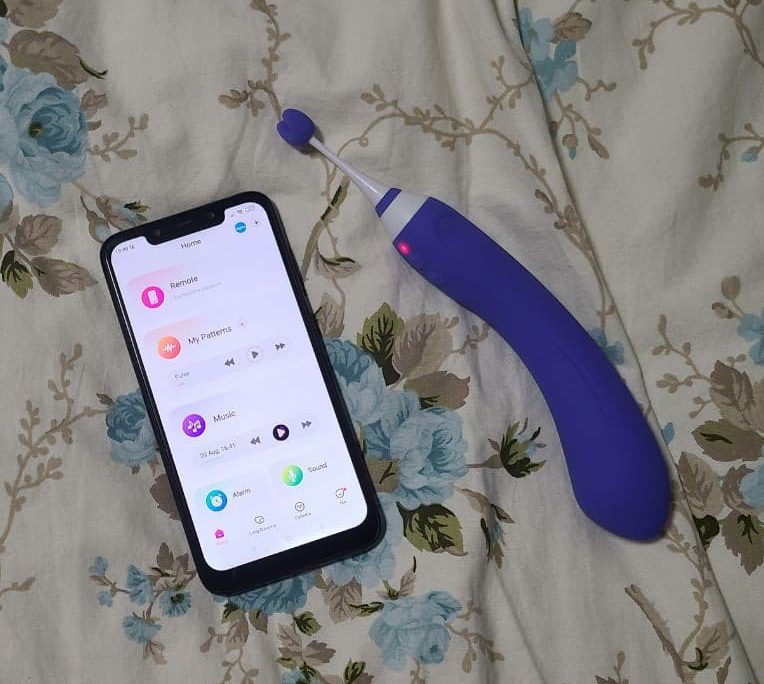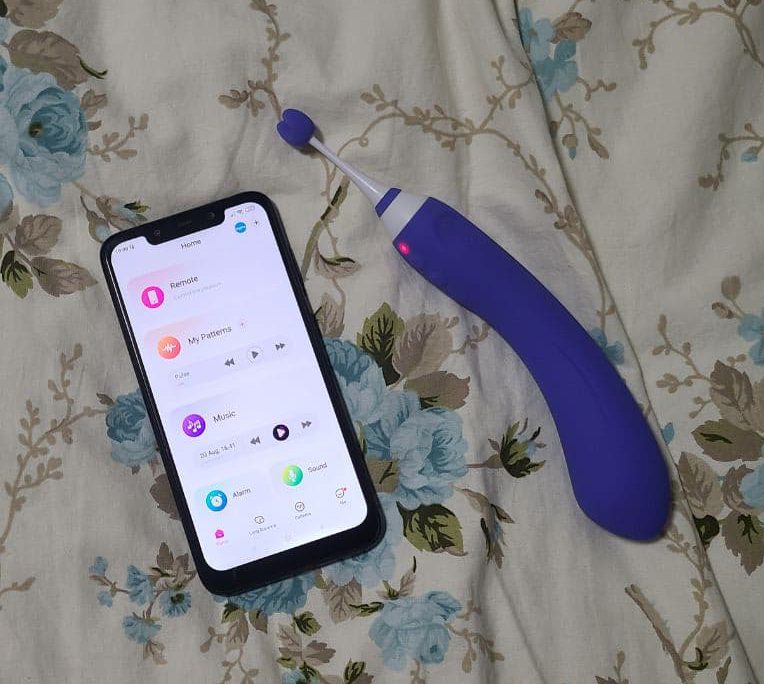 Thanks to this great feature, you and your lover can maintain a constant connection no matter how far apart you are geographically.
Lovense remote control vibrators offer an almost limitless number of ways to invent, mix and match patterns, as well as increase or decrease the intensity of the vibes.
The software makes it easy to connect your toy to almost any other Lovense sex toy, so they all sync up at the same time. The vibrations from the connected devices pulse at the same intensity and frequency, creating a very realistic experience for both partners.
Learn more about the Lovense app and how to use it.
Versatility
With Hyphy, you can enjoy different types of pleasure, both alone and with a partner.
The clitoral part of Hyphy allows you to enjoy 3 different types of clitoral orgasms, thanks to the wide, the tongue, and the 'hugging' attachment


And the climax can follow within seconds if you want. If you want to use the high-frequency end vibration for teasing yourself, just use the lower settings available in the app.
If you prefer to use the powerful G-spot portion of the vibrator at the other end, you can do so alone or with a partner. Again, you can benefit from the unlimited possibilities.
Cleaning and care
Warm water and gentle soap are all you need to clean your Hyphy before and after each use (or sex toy cleaner). Hyphy is completely waterproof and can be fully submerged in up to one meter of water for up to 30 minutes without damage.
Therefore, it is also suitable for water play (you can use it in the shower or hot tub).
Not recommended: boil the Lovense Hyphy, as the battery could explode due to the high temperature or water could enter the toy, both of which would cause irreparable damage to the device.
Before storing the vibrator, make sure it is completely dry.
Also, charge your toy at least once every six months, but I doubt you can go without using it for that long.
Price
Hyphy is a sex toy that offers great versatility as well as the ability to make adjustments, all at an extremely affordable price! It's also a smart financial decision if you are a cam model.
If you want to buy the original Hyphy vibrator, the standard price is $199, but Lovense has offered a special discount on their website so you can get it for just $99, and that's a pretty good deal considering that high-end sex toys often cost hundreds of dollars.
Remember that it's always best to buy sex toys from the manufacturer's official website or from an established and reliable reseller, otherwise you run the risk of getting a fake product!
Check the price of Lovense Hyphy: Lovense
My Experience With Hyphy
I was a little confused when I first saw Lovense Hyphy.
Just for the record: I test and review vibrators, and have done so for the past few years, but I have never seen anything like the Hyphy before.
Double-ended vibrators tend to resemble wand massagers, and the handle of the massager can be inserted vaginally. So far, so good – Hyphy is also meant for internal vaginal and external clitoral stimulation.
But what makes Hyphy special is that the clitoral part of the vibrator is super precise. With the 3 mini attachments, there's no way you'll miss your sweet spot, which is the main problem with broad clitoral stimulation.
When I charged up my Hyphy vibrator, I tested it differently than I usually do with sex toys. I turned it on, connected it to the Lovense app, and gave the vibrator to my partner.
I did not try it alone first because I wanted to test my own reactions.
My partner decided to start with the high-frequency end of the toy by teasing my clitoris. He chose the circle attachment, picked a low-intensity pattern, and started moving it over my labia.
It was sensational because every time the vibrating attachment came near my clit, my lover knew exactly what he was doing. He teased me for a few minutes and when he decided to make me come, it happened within seconds.
And the orgasm was worth the wait – it washed over me like a wave. The next thing I knew, his phone rang and I thought, "I need to feel it again". And so I was my turn to play with the clitoral end of Hyphy.
I then tried the G-spot end too. I found a pattern and speed that I was comfortable with. I played with the G-spot end for several minutes and yes, it is really powerful and fulfilling, but it does not compare to the Lovense Osci 2.
The Osci 2 is specifically designed for G-spot stimulation and has an oscillating feature that provides exceptional G-spot orgasms. And the thing is, after you try something as impressive as the Osci 2, everything else is in its shadow. It's not that Hyphy's G-spot feature is bad or inadequate. It's just that it's not the Osci 2.
What's in the box?
I received my brand new Lovense Hyphy in basic cardboard packaging that gave no indication that it contained anything sex-related.
I discovered the following items inside the original Hyphy box:
A Hyphy remote-controlled dual-end vibrator
A charging base of Hyphy, which is also its' storage case
A user's guide
A quick setup guide for getting started
A magnetic USB charging cable
3 different clitoral attachments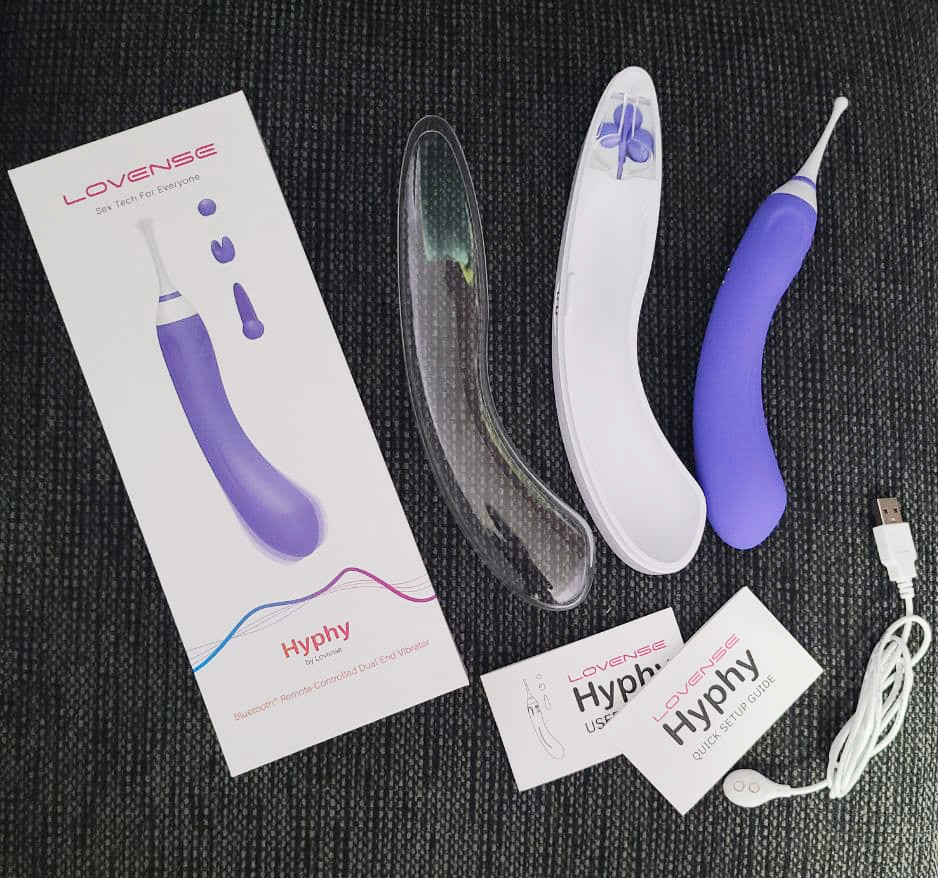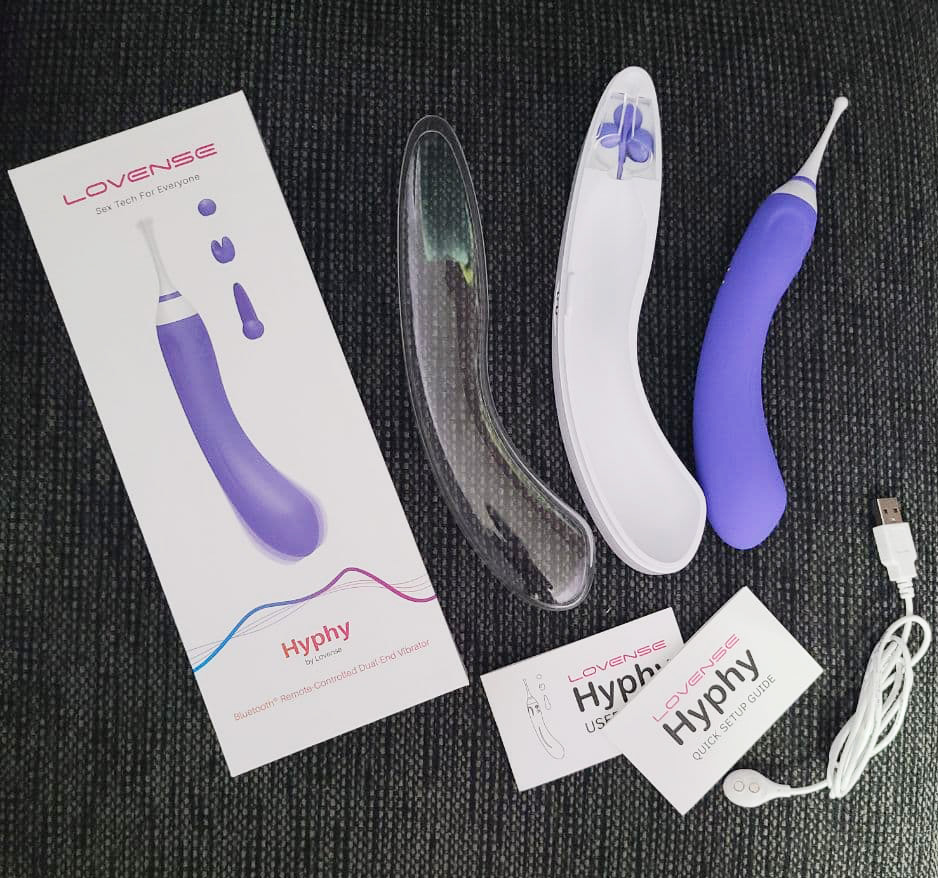 Check the price of Lovense Hyphy: Lovense
Disclosure: I got Lovense Hyphy for free in exchange for an honest review. If you buy your toy from the links in this article, I might get a commission.
Are you interested in other Lovense sex toys? Click here to see their website!