Lelo Tiani 3 is a 3rd generation wearable couples' vibe that marks the revolution in wireless pleasuring. The sleek design of the massager provides both clitoral and G-spot stimulation, it is similar to the previous version, Tiani 2, but it has improved vibration intensity and wireless connection.
Tiani 3 uses the innovative SenseMotion technology lets you switch through the 8 remote control vibration modes and intensities with a flick of the wrist. Yes, to adjust the power of the vibrations all you need is to flip your wrist.
The smooth silicone design helps to provide ultimate pleasure and comfort and stimulation for both partners. Tiani 3 is rechargeable, water-resistant, and easy to clean.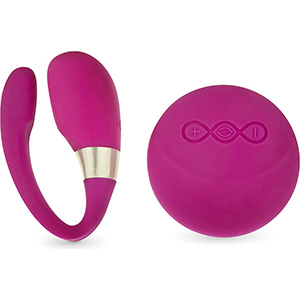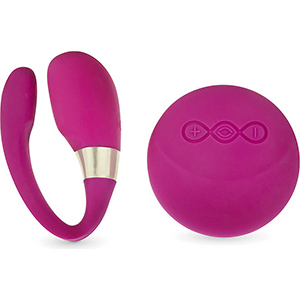 | | |
| --- | --- |
| Power: | (4.0 / 5) |
| Noise: | (4.0 / 5) |
| Material: | (5.0 / 5) |
| Design/Size: | (5.0 / 5) |
| Experience: | (5.0 / 5) |
| Price: | (4.5 / 5) |
| Controls: | (5.0 / 5) |
| Average: | (4.6 / 5) |
Simultaneous G-spot and clit stimulation; perfect addition to a more sensual intercourse
You can buy this vibe from:
Pros and Cons
Pros
Made of 100% silicone
Great shape and smooth texture
Easy fit, comfortable wear, suitable for most body types
Easy to use controls with responsive buttons
It is usable in the shower and bath, and easy to clean
The remote offers a reliable connection
The vibrator responds immediately to remote commands
Gorgeous packaging makes a perfect luxury gift
Cons
No app and no long-distance play.
The instruction manual is a bit vague (but I have an article with more details).
The remote is not rechargeable.
Not the strongest vibe, although I've enjoyed it.
Both the internal and external arm of Tiani 3 are made of high-quality silicone, that is body-safe, non-toxic, and won't provoke allergic reactions. The elegant golden ring is made of ABS plastic, which is also safe.
The design of this wearable toy is created to fit comfortably, without interrupting your lovemaking. The matte silicone coating leaves an awesome sensation during contact.
Tiani 3 is created to fit most body shapes and types, including larger ones.
You don't need to be tech-savvy, nor you need to read long user manuals before using the Tiani 3 – the controls are easy to get used to, this refers to the buttons on the vibrator and the remote.
The materials Tiani 3 is made of, as well as the design of this wearable toy make it easy to clean using soap and water. Tiani 3 can be used for sexy water play in the shower/bath/jakuzzi.
Using the remote, you or your partner can control the vibrator from 39 feet (12 meters) away. It connects even if you are separated by walls/doors.
The remote offers reliable control over the Tiani 3 and the commands can be felt right away, whether the toy is inserted vaginally or you're holding it in your hand.
Lelo offers high-end sex accessories, that's why Tiani 3 will be very appreciated by your intimate lover.
Unlike most hi-tech sex toys, Tiani 3 can't be controlled via a mobile application.
The user manual is unclear, this is why I recommend reading this article instead. Good news is that using Tiani 3 is not difficult to understand by yourself.
The remote uses 2AAA batteries that will need to be replaced at some point.
Compared to similar couple vibrators, Tiani 3 has a bit weaker vibrations, the type that are not intrusive during penetrative sex but, still, weaker
Getting started with Tiani 3
First things first, when you unpack the vibrator you need to charge it and put the batteries in the remote control. This can be a bit tricky, so I've made a video on how I did it. I also made a full guide on how to use the Lelo Tiani 3 here and a separate guide on how to charge Tiani 3 here.
In the video below you can see how you should first disassemble the vibrator. The charging port is right in the middle. Then you have to plug in the charger and insert the USB end in a computer or a power socket.

And in this video, I will show you how to open the remote control of Tiani 3 and insert or change the batteries.
First, you will need a coin. Insert it in the middle and push to the side with the coin while you are holding the base hard. The lid should open. Insert the batteries, close the lid and then use the coin to push it back in the position where you have started.

Our experience with Lelo Tiani 3
I personally prefer clitoral vibrators but Tiani 3 offers way more than that. Simultaneous clit and G-spot pleasuring, plus more intense stimulation while my partner is penetrating my vagina.
For him, Tiani 3 made my vagina tighter. He was also able to experience each and every vibration and he appeared more excited than usual. And came faster.
The moment I received the Lelo Tiani 3, me and my SO decided that it will be nice if we used it during the time of intercourse. After all, we wanted to make an honest review and not just describe the functionalities of a couple's vibrator.
During the time of foreplay, I took some lube and spread it on my labia and vagina. He also used some for his penis, then we had some fun time touching and caressing.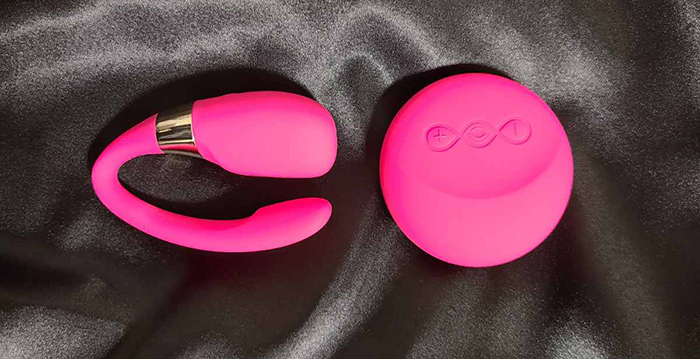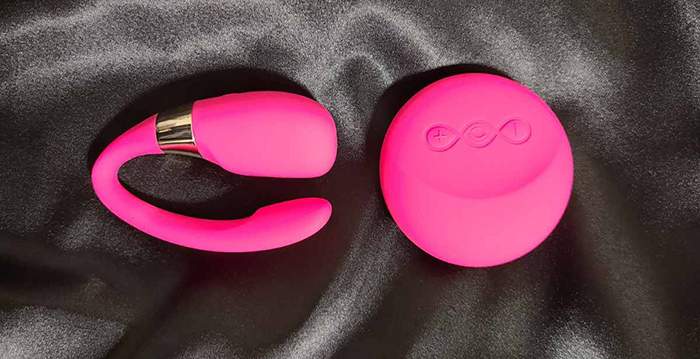 However, after charging it and getting to know the controls and modes of vibration, it took a bit of time to find sexual positions we both feel comfortable with. Not that it was hard to put the toy into position, it was him who felt my vagina super tight and wasn't sure whether penetration would cause me pain.
Also, at first, he was not sure how to adjust the vibes, so he just used the strongest vibration possible, which was too overwhelming for me.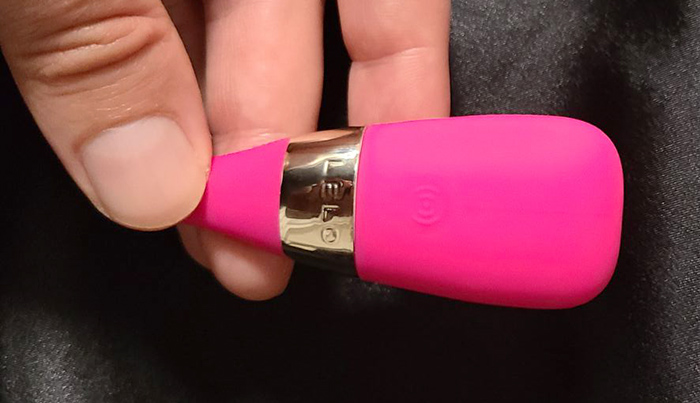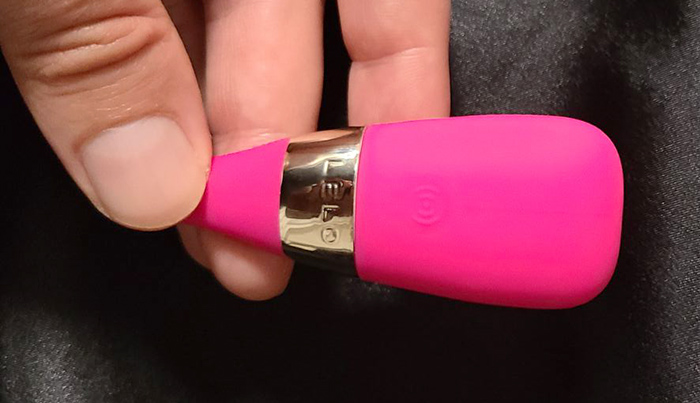 After choosing less intense vibrations, we were finally able to both enjoy some pleasure time. We started slowly, it was super fulfilling for me, I felt a thrill each time he entered me. We chose the missionary position, as we thought it would be most comfortable. Then we switched to doggy style and it was his turn to enjoy quality time. He told me he rarely feels such an urge to cum. And, frankly, he did, within the first 10 minutes, which is a fail for him but it was all due to the impeccable performance of Tiani.
Lelo Tiani 3's specs
Power
Lelo's Remote-Controlled Tiani 3 is not the most powerful hands-free vibrator out there, but the intensity of the vibrations is sufficient to bring sweet orgasms to both partners, without being intrusive. Imagine having something as powerful as the Hitachi Magic Wand inside you – it would be too overwhelming.

Noise
The insertable vibrator is quite discreet – it can be safely worn while in public, even if you are in a quiet restaurant. This is due to the fact that even the strong vibrations are absorbed by the vagina. The maximum noise level is <50dB (the noise of a quiet street), which, compared to other wearable vibrators is sufficient to protect your privacy.
As for the remote control, I believe that things can easily get out of control, even if your partner carries the remote in his pocket. The fact that the remote articulates the same intensity of strong vibrations as the wearable vibrator can be a bit disturbing.
Material
Both the vibrator and its' remote are made of body-safe silicone. Avoid using silicone-based or oil based lubricants with the Tiani 3, as it may permanently damage the silky silicone coating. You should use a water-based lube.
The metallic band connecting the bulbous internal part to the vibrator and its' clitoral arm is made of ABS-plastic, also safe for your body and health. The front part of the remote control is not metal as well; it's also made of body-safe ABS plastic.
Design and size
Tiani 3 luxury sex toy for couples has an immaculate design, super sexy and elegant. It is available in black, cerise, and deep rose color (this refers to the silicone). The metallic band and the front of the remote are both gold color.
The remote has 3 push buttons – two for increasing and decreasing the tempo and a center button to switch through the vibration settings.
It vibrates the same way the wearable vibe does. This way, the remote allows transferring the excitement into the palm of your partner if you use this remote-controlled vibrator for public play.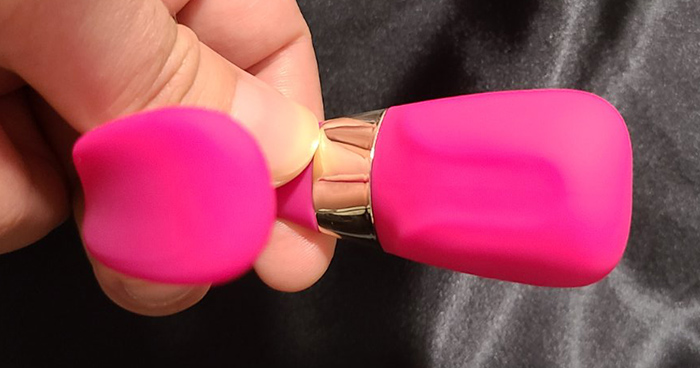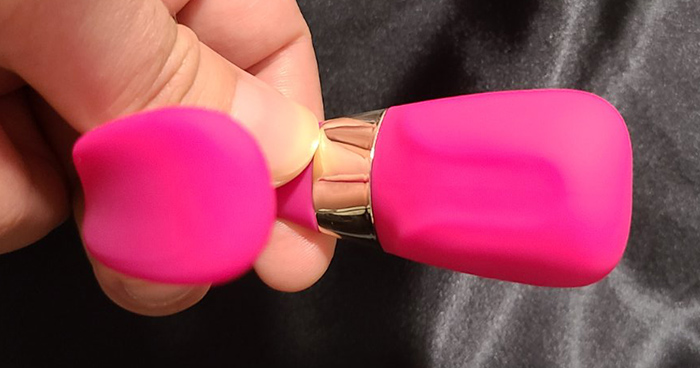 The exact dimensions of this rechargeable vibrator are 3.31 in (84mm) X 1.65 in (42mm) X 1.10 in (28mm). The insertable length of this wearable toy is 3.07 in (78mm).
Cleaning
After you've secured the Tiani 3′ bulbous attachment firmly after charging, it becomes completely waterproof. You can enjoy it during sexy shower or bath sessions. This awesome feature makes it super easy to clean – just use mild soap and warm water and you're good to go.
Avoid getting water into the DC socket. Don't use cleansing products containing alcohol, petrol or acetone.
Make sure you don't skip the cleaning step before and after each use.
According to the manufacturer, the remote of Lelo Tiani 3 is also waterproof as long as it is fastened shut.
Is Tiani 3 worth it?
Tiani 3 is a well-priced couples vibrator with multiple awesome features, justifying the price. The design, the classy packaging, and the sensual experience Tiani3 has to offer are very well received by women and their male partners. Let's not forget about the vibration strength – this small wearable toy is capable of bringing delightful orgasms once you engaged in a hands-on experience.
There are quite a few couples who have added the Lelo Tiani 3 vibe into their sex life and left quite promising comments.
Unboxing experience
I'd like to start by saying that Lelo company is indeed thoughtful when it comes to your privacy. I received the Tiani 3 in a plain cardboard box, safely closed with yellow scotch tape.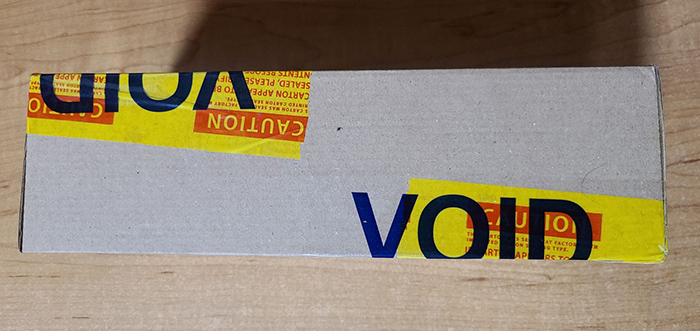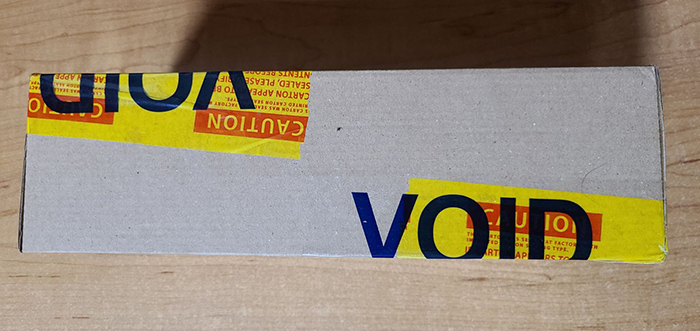 After cutting the tape, this is when the magic happened – I knew that Lelo and luxury are basically the same word but, still, I was speechless when I first saw the black Lelo box with a golden label on it.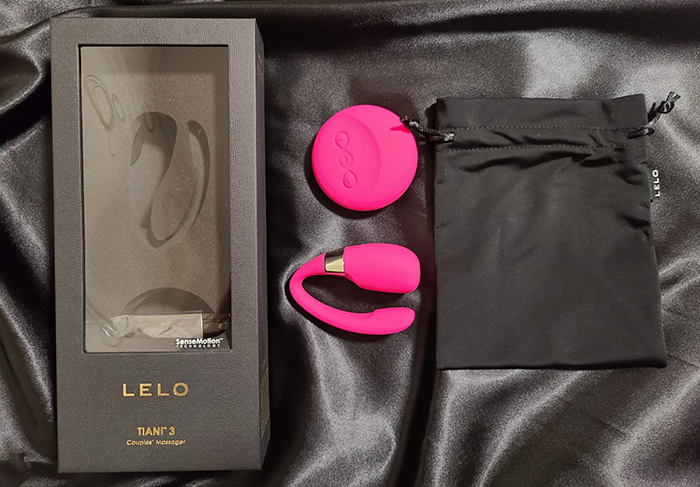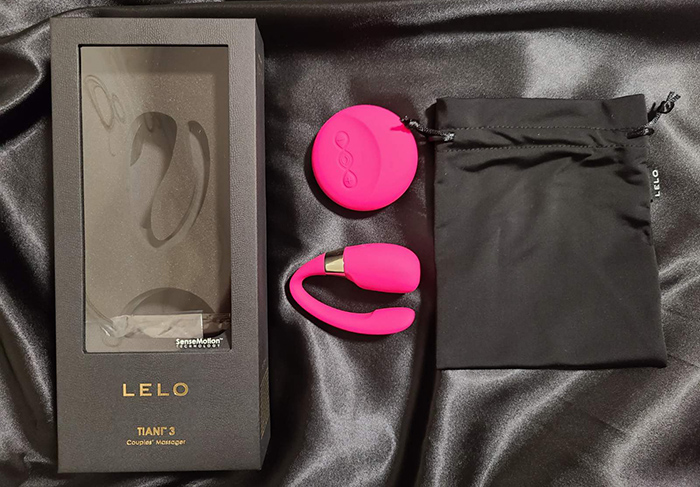 Upon opening the box, I touched the silicone surface of the Lelo Tiani 3 and I immediately told myself "This will feel so nice and soft"…
In the box of Tiani 3 I found:
The wearable silicone vibrator
Its' circular-shaped remote
A USB-cable
2 AAA batteries
A 5 ml sample of Lelo Personal Moisturizer
A black glossy satin storage pouch
A plastic key for opening/closing the battery's slot
You can buy this vibe from: