OhMiBod blueMotion Nex 1 is the panty vibrator created for women who enjoy discreet public stimulation, wherever their partner is located. One can use this app-controlled wearable vibe for solo sessions as well. It is powerful enough to deliver intense orgasms fast while it discretely vibrates in your underwear. In this review, you can read my experience with this panty vibe, its features, and its pros & cons. You can also see videos of how blueMotion Nex 1 is inserted in the panties and its vibration strength.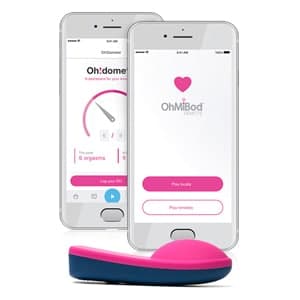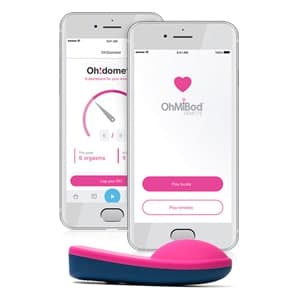 | | |
| --- | --- |
| Power: | (4.5 / 5) |
| Noise: | (4.5 / 5) |
| Material: | (4.0 / 5) |
| Design/Size: | (5.0 / 5) |
| Experience: | (5.0 / 5) |
| Price: | (4.0 / 5) |
| Controls: | (5.0 / 5) |
| App: | (5.0 / 5) |
| Average: | (4.6 / 5) |
Comfy wearable panty vibrator for pleasurable clitoral stimulation with remote-control options.
You can buy this vibe from:
Pros and Cons
Pros
Extra comfortable, specially contoured to add maximum pressure to the clitoris
Offers decent power
One can easily control it by OhMiBod mobile application, available on the App Store and Google Play store for free.
Made of 100% body-safe materials
Petite and lightweight
Offers various stimulation options
Cons
Splashproof only
You can't wear it with all types of undies
You can wear blueMotion Nex 1 comfortably whether you are walking, sitting, or lying in bed. The rased part is intended for clit stimulation, while the rest of the sex toy emits vibrations targeting the entire labia.
The powerful vibrations are sufficient to deliver intense clitoral orgasms, as long as the vibrator is placed correctly and the vibration pattern feels right, according to your personal preferences.
The OhMiBod Remote app is your toy's remote control. As with all other app-controlled OhMiBod vibrators, blueMotion Nex 1 responds instantly to the commands from the app.
The app allows various preset vibration patterns and unlimited options to create and save new ones. Plus, there are additional options, such as vibrations to a musical rhythm.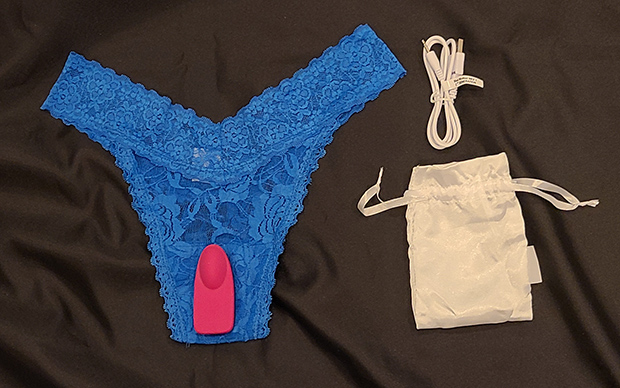 The raised part applied to the clitoris/labia is made of body-safe silicone, while the back of the toy is made of ABS plastic.
You should not submerge blueMotion Nex 1 into water. This panty vibe is not suitable for shower or bath sessions.
The vibrator fits and stays securely in most panty types but is not suitable for specific models, especially if they are looser.
Where to buy BlueMotion Nex 1: OhMiBod
Features
blueMotion Nex 1 by OhMiBod is a fun way to enrich your love life, whether your partner controls the vibrator from the other room or while sitting at a dinner table at a fancy restaurant. It is a well-designed panty vibrator that women can wear during long-distance sessions, foreplay, or to add some more excitement into the daily routine.
Vibration Quality
OhMiBod's panty vibrator delivers buzzy vibrations. Buzzy are those vibrations that are more superficial. They mostly tickle the area of pulsations offering more pinpoint stimulation.
Vibration strength
blueMotion Nex 1 delivers various types and intensities of vibrations, starting from teasing murmur to explosive stimulation, depending on the purpose of usage. The vibrations begin from very gentle and can escalate to the point, leading you to an intense orgasm.
Compared to similar panty devices, the vibrations of blueMotion Nex 1 are vigorous, offering super-targeted pinpoint stimulation.
Noise
In terms of noise, blueMotion Nex 1 is quite discreet, even if worn in a comparatively quiet public environment.
In a room
My bedroom was the first location where I used blueMotion Nex 1. My partner controlled it from the kitchen (two rooms away), and it didn't lose connection during the entire session. He indicated no noise coming from the bedroom, but I could hear the vibrations before getting fully dressed. If your roommate is in the next room, your privacy will be safe.
In the park
A park is always a great place to experiment with wearable vibrators. It is where I and my SO went immediately after trying the blueMotion panty at home. The only problem I faced was that I could barely stick in the right direction, as I was too distracted with my sensation. It was getting harder to breathe because I was close to climax multiple times, but my partner managed to decrease the intensity just when I was about to orgasm. He finally decided to let me enjoy a good orgasm after we got away from the crowded alleys.
In a quiet restaurant
I wasn't sure how I was supposed to react in front of a stranger taking my order, but I didn't feel comfortable feeling the vibrations in my panties while talking to a stranger. It might have seemed a lot of fun for my partner but, for me, it felt awkward at first. So, we decided to postpone for later. And by later, I mean, after drinking some wine.
By the time it was time for the main dishes, I was all wet down there, and I could feel my entire face burning. In short, this was a dinner date to remember. I enjoyed two consecutive orgasms and one more when I least expected to be able to.
In a bar
A bar is a perfect location to test sex toys at their maximum capacity – loud music, noisy people, and a good mood. All you can ask for is good clitoral stimulation and someone polite enough to be willing to deliver it for you. My only fear was that the panty toy may slip away because I wore a skirt, and even if I wasn't dancing in the complete sense of the word, I still followed a certain rhythm. That evening, I was wearing the lace thong I got along with the blueMotion panty vibe to make sure my panties will maximally secure it. I didn't have any problems with it during the entire evening, even though I was standing upright and dancing all night.
Charging
Charging the blueMotion Nex 1 requires approximately 3 hours (if the battery is completely discharged).
Just take the cable provided in the vibrator's box, plug the corresponding end of the cable into a computer USB port or a USB wall charger adapter. You should insert the other end of the cable into the power socket at the base of the vibrator(on the picture below).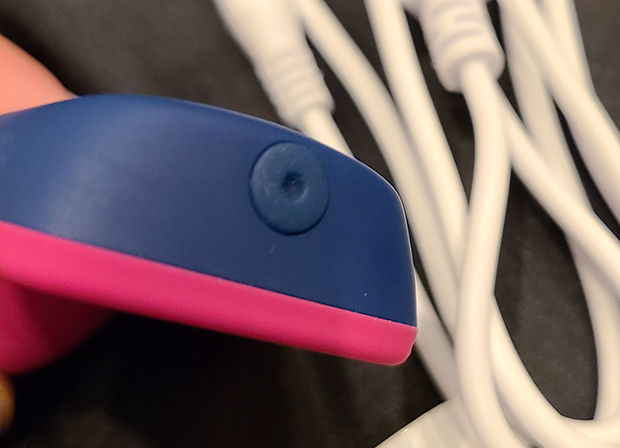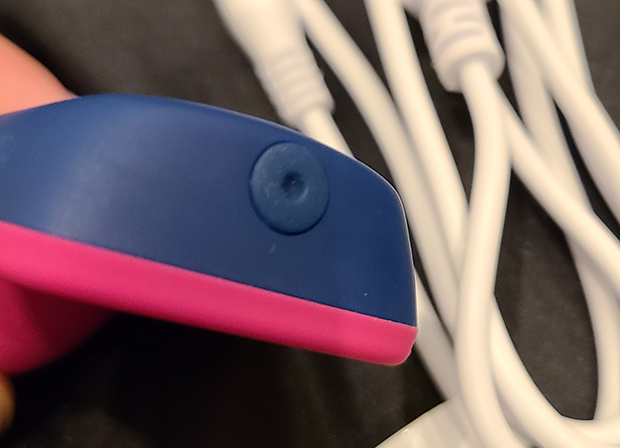 The blue LED will start blinking as an indication that the device is currently charging. Once it stops and the light emits a steady glow, it is time to unplug the vibrator from the cable.
If you still have the remaining battery left in your device, the time required for charging will be less.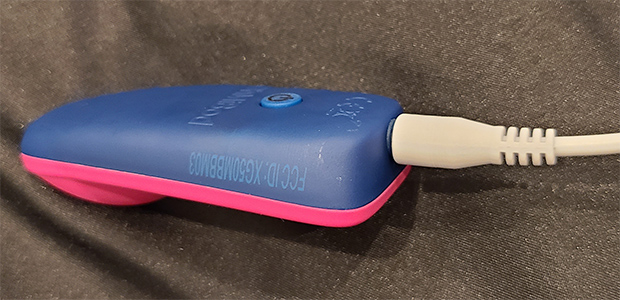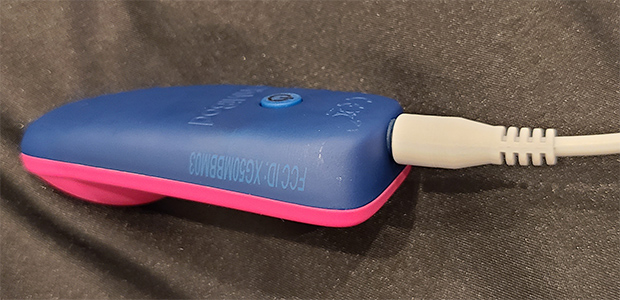 Materials
The pink side of the vibrator (which should contact the clitoris) is made of 100% body-safe silicone. The blue side (at the back of the toy) is made of ABS plastic.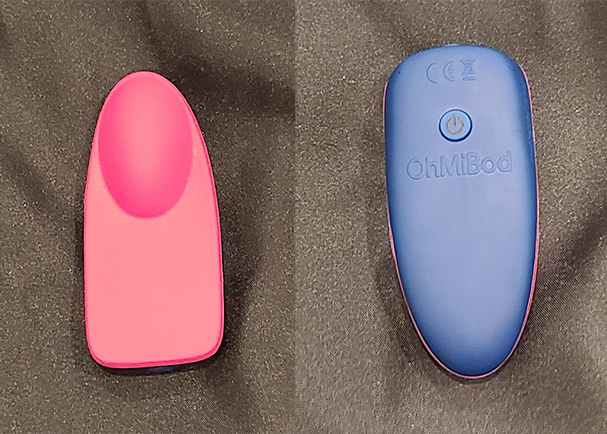 Design/Comfort
The design of this panty vibrator is both convenient and discreet.
It fits comfortably during use, whatever the position of your body. You can safely walk, sit or lay down with the vibrator without worrying it may slip down your panties. It comfortably fits along your curves, whether you're using yours over or under a panty.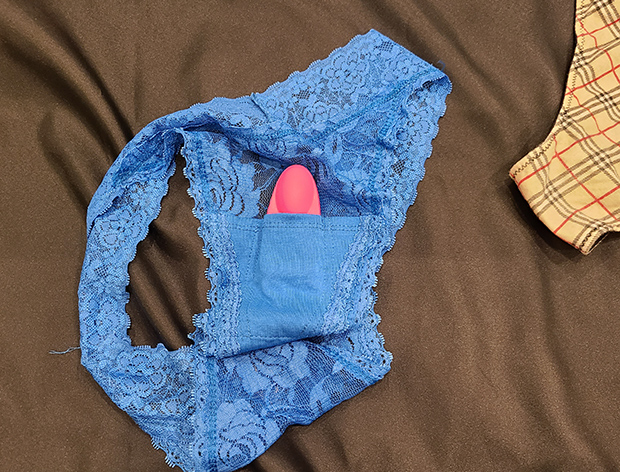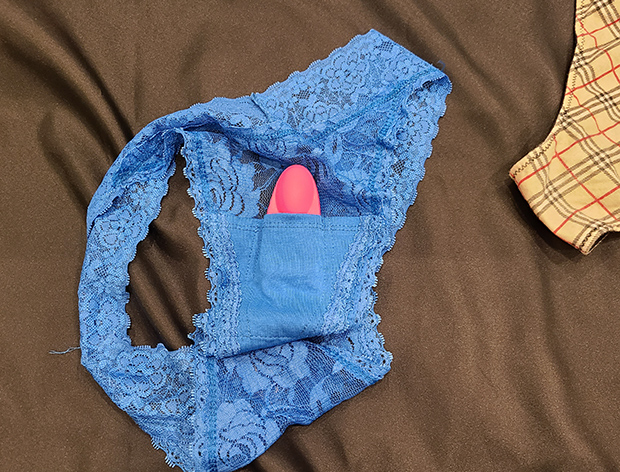 I prefer the direct contact between my clit and the curved part of the vibe. I only insert the flatter side of the toy, letting the curved one tickle my clit.
Note that not all kinds of panties are a good fit for the blueMotion Nex 1. If the parties you're about to wear have a wider pocket at the bottom, the vibrator won't be secured well enough. I recommend choosing a panty model with a tighter pocket(it best fits in thongs, in my experience).
Size
The measurement of blueMotion Nex 1:
3 in overall length (76 mm)
1 3/8 in overall width (35 mm)
0.5-inch depth (14 mm)
0.8-inch depth of the part where most of the vibrations are located (20 mm)
This mini toy is also extra lightweight – only 1.0 oz (29 g)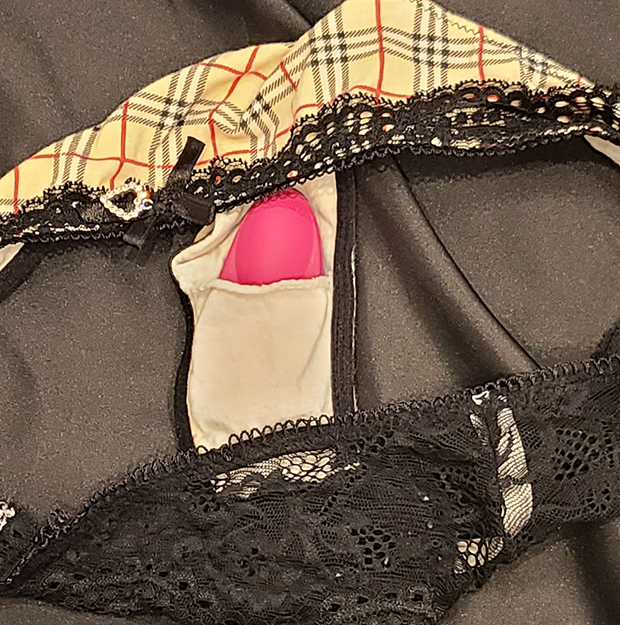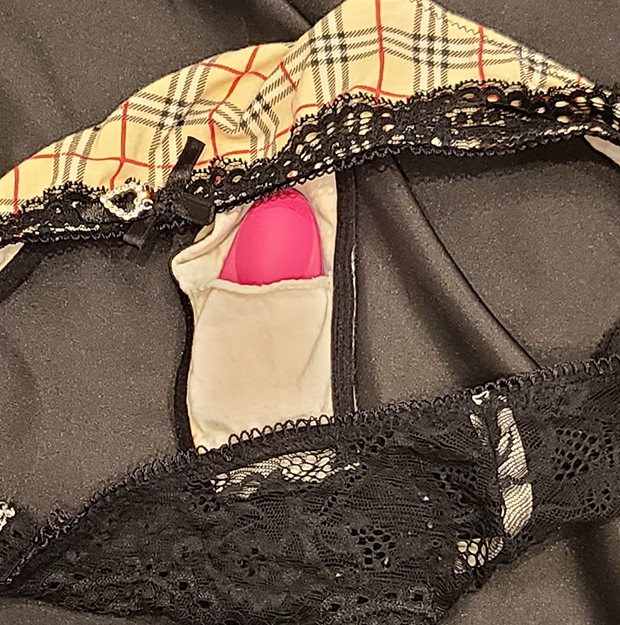 Versatility
Even though most may think panty vibrators can't be versatile, blueMotion Nex 1 can also stimulate the nipples and other erogenous zones on the body. You can use it like a bullet vibrator. However, it is not as versatile as a wand massager or rabbit vibrator.
Battery life
When fully charged, this panty vibe provides more than 1 hour of continuous stimulation.
Controls
There's only one button (the power button) located on the blue side of the vibrator. This button is used to control the vibrator manually.
To turn on the device, you need to press it for about 3 seconds, and then you'll feel a quick pulsation indicating it is ready for play. With the next press of this same button, you'll be able to feel the continuous vibe of the first preset setting. There are three more settings you can cycle through using the power button on the back of the blueMotion Nex 1.
If you want to turn off the device, press the power button again for 3 seconds. You should feel it vibrate three times, indicating it is turned off.
App Quality and Connectivity
Bluetooth mode
Download OhMiBod Remote from App Store or Google play store
Make sure the power button on your blueMotion device is ON
Pair your mobile phone with your panty toy – make sure the Bluetooth function on your phone is ON, and open the OhMiBod Remote app. The devices will connect automatically
Use the volume controls on your phone to increase/decrease the intensity of stimulation. Initially, you should set the volume on your phone to at least 50% or higher
Using the app (see the pink circle, bottom right of the image below), you can check your toy status, battery level, and other useful functions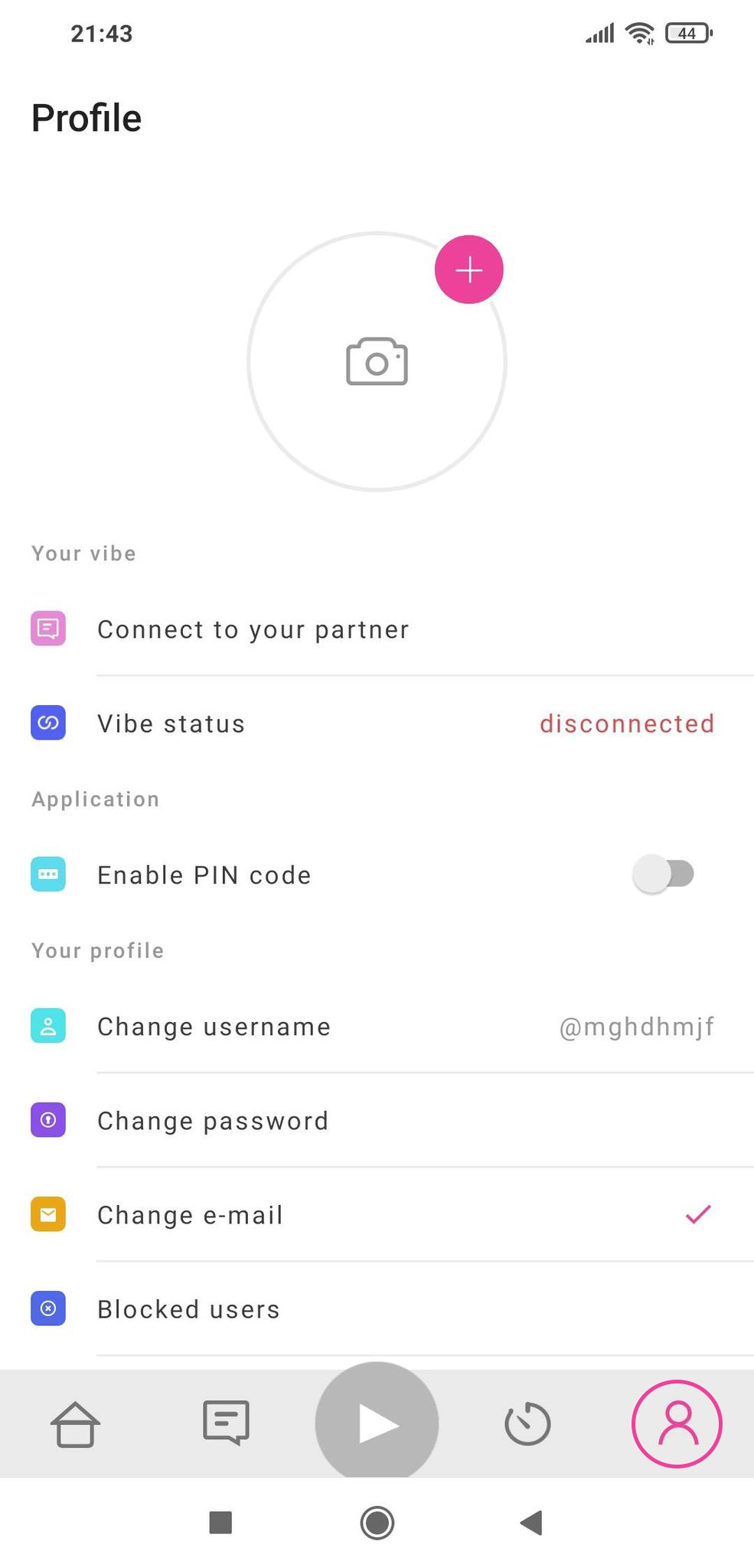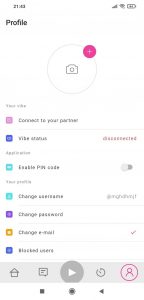 Local play via App
Download OhMiBod Remote from App Store or Google play store
Make sure the panty vibe is paired to your mobile (the power button will emit solid blue light)
Start trying the vibrations. You can choose between 6 preset rhythms of vibration, use the tap-control function, touch control function, or sync it to music vibes or voice.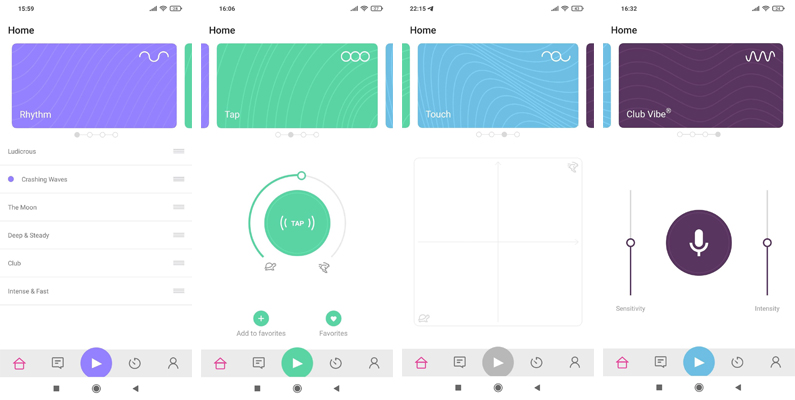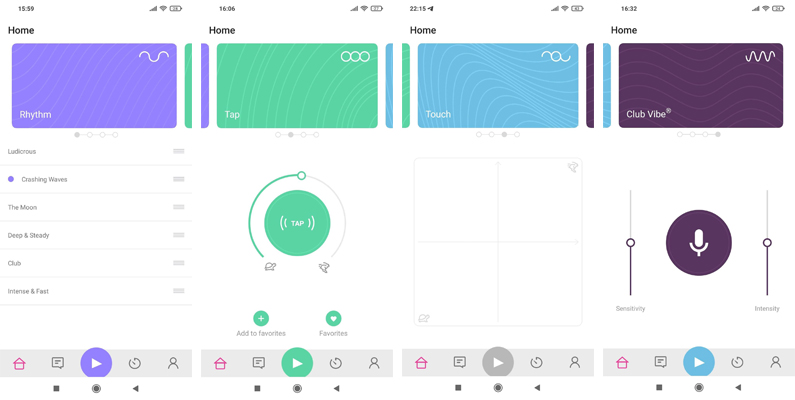 Use the volume controls on your phone to increase/decrease the intensity of stimulation.
This function is possible when blueMotion Nex 1 is within 26 ft (8m) away from your mobile device.
Remote play via App
Download OhMiBod Remote from App Store or Google play store
Make sure the panty vibe is paired to your mobile (the power button will emit solid blue light)
Both you and your partner should have an uninterrupted internet connection from your mobile devices.
Each of you should have a registered account (click on Register a new account if you haven't created one yet, or choose login to your account if you already have one)
Please enter your partner's username, or choose it from the existing connections.
Request to control their device, or invite them to control yours
Note that you can change your username and password anytime, block users, log out or delete your account anytime you like.
Cleaning and care
To clean the blueMotion Nex 1, use mild soap and water or sex toy cleaner and avoid submerging the vibrator in water. Be careful and protect the charging socket – if any water gets in there, the device may get damaged.
You can store the vibrating panty toy in the white satin privacy pouch until next use. This way, you can protect the vibrator from bacteria and dust.
Price & Where to buy
blueMotion Nex 1 is not the most affordable panty toy you can find but think of all the fantastic features this mini vibe offers. Four preset patterns, touch control, tap and record option, motion control, and audio control, plus the vibrator have excellent remote control options so you can always rely on uninterrupted connection.
Where to buy BlueMotion Nex 1: OhMiBod
Evolution
The previous model, OhMiBod blueMotion, has a more curved design. The shape resembles an ellipse.
The most crucial improvement OhMiBod made was to change the material this panty toy was made of. The raised part, the one that tickles the clitoris, used to be of ABS plastic, and they decided to make it silicone, which is appreciated by everyone who knows that silicone is much better for the production of sex toys.
The old model came with a black storage pouch and a black USB cable. With the newer version, these are white. It was app-connected, just like the more recent version, but the application is now improved, offering more features. The older version required 2 hours of charging, allowing up to 1-hour of playtime.
Unfortunately, both versions are water-resistant only.
Unboxing
The unboxing process of blueMotion Nex 1 is something that got me overly excited right away. When I opened the discreet box that I received from the courier, I immediately noticed the small luxury box of the panty toy. Inside, I found:
The blueMotion Nex 1 vibrator
USB-cable
White satin storage pouch
A pair of blue lace thong with a special pocket where the vibrator fits perfectly (one size)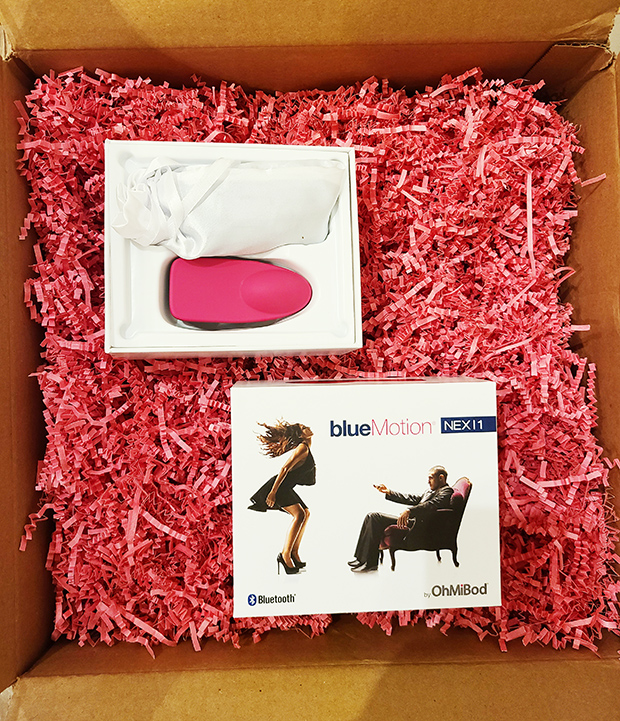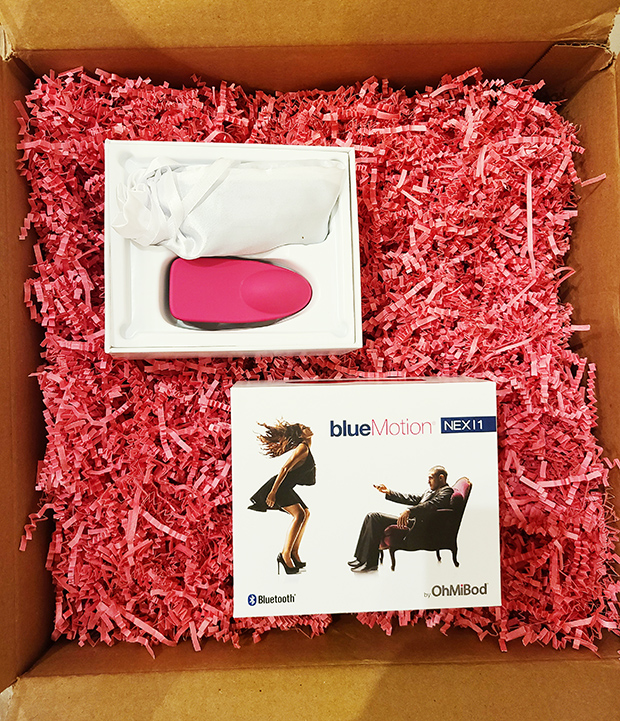 Conclusion
If your target is to find a panty-type vibrator with excellent remote control options, blueMotion Nex 1 is a great option.
The vibrations are completely adjustable – the lowest settings are suitable for beginners, while the most intense will meet the expectations of women seeking extra powerful stimulation. The variety of functionalities makes it a preferred option before conventional panty toys are often manually operated or have a remote control with short-distance coverage.
There are no limitations while using blueMotion Nex 1 – wherever your long-distance partner is, it is both an easy and fun way to keep the sparkle alive as long as you both are connected to the internet.
blueMotion Nex 1 makes the perfect gift for your long-distance lover, whether using or controlling the vibrator.
Where to buy BlueMotion Nex 1: OhMiBod