Update: After a new round of testing, I still recommend Lovense Ferri as my top choice, and I also recommend the We-Vibe Moxie+ for its rumbly vibes.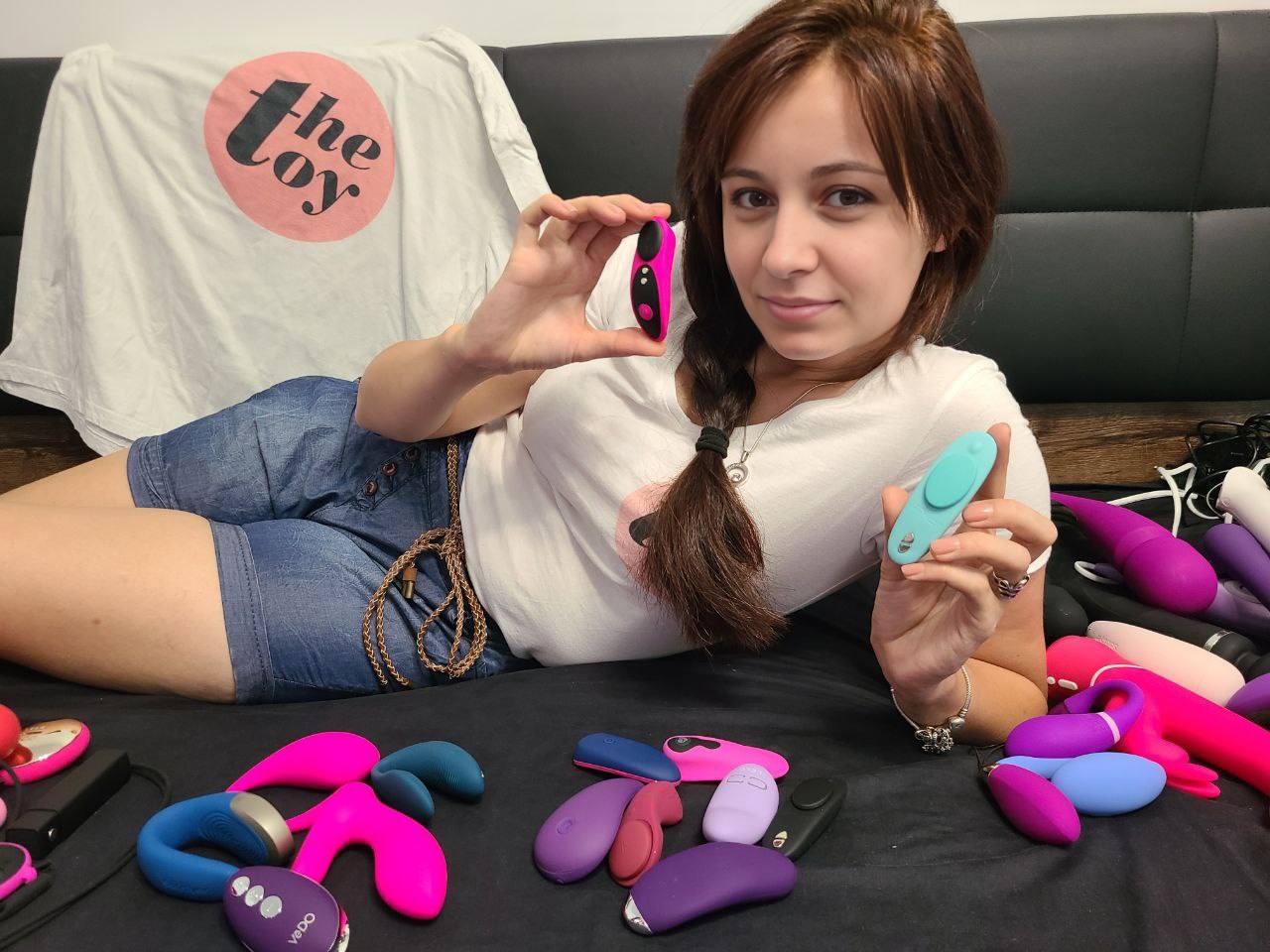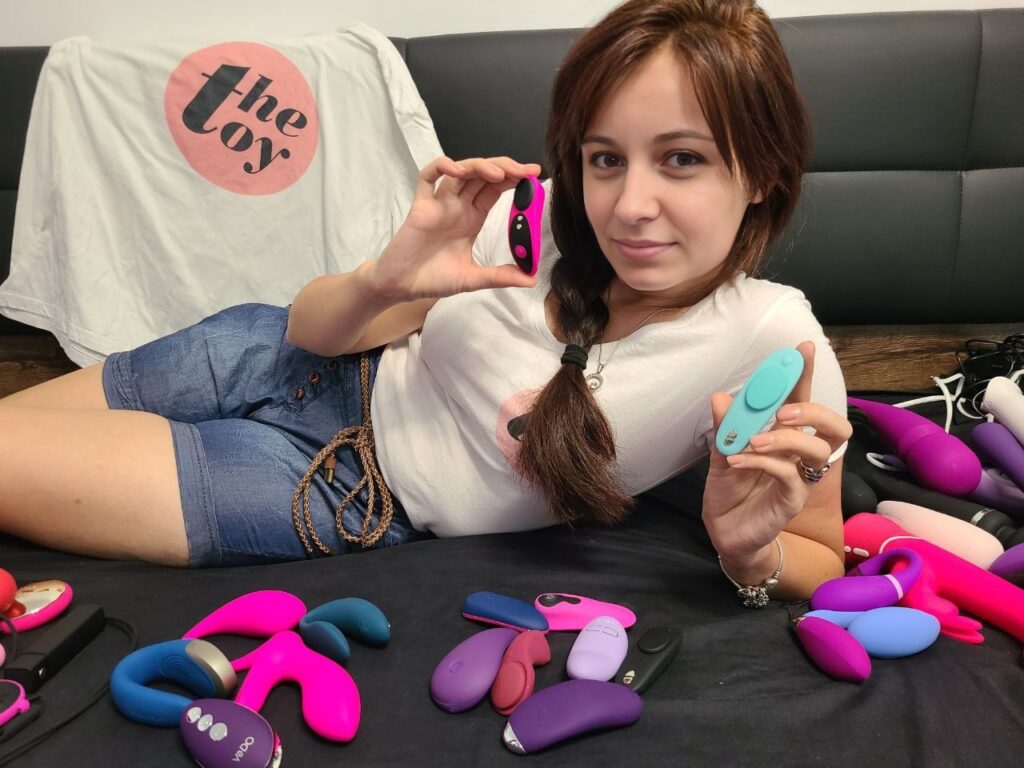 Vibrating panties are good news for those who enjoy more clitoral stimulation. Panty vibrators are also great for those who get a thrill out of wearing a sex toy in public. With the latest technology, your partner can control them remotely in a restaurant or nightclub.
I've spent the last six months testing out different vibrating underwear. I read 33 articles from other sex bloggers and sex educators and created a list of 34 vibrating panty models. Then, using my criteria as a sex toy critic, I ignored many of them and selected and purchased 17 panty vibrators.
Of these, there are just a few models worth mentioning because of the design, materials, performance, sound, and app. And there are two exceptional models that beat all others – Ferri by Lovense and We-Vibe Moxie. Read below for more details on why I nominated these two devices for the best remote-controlled vibrating panties.
17 Vibrating panties tested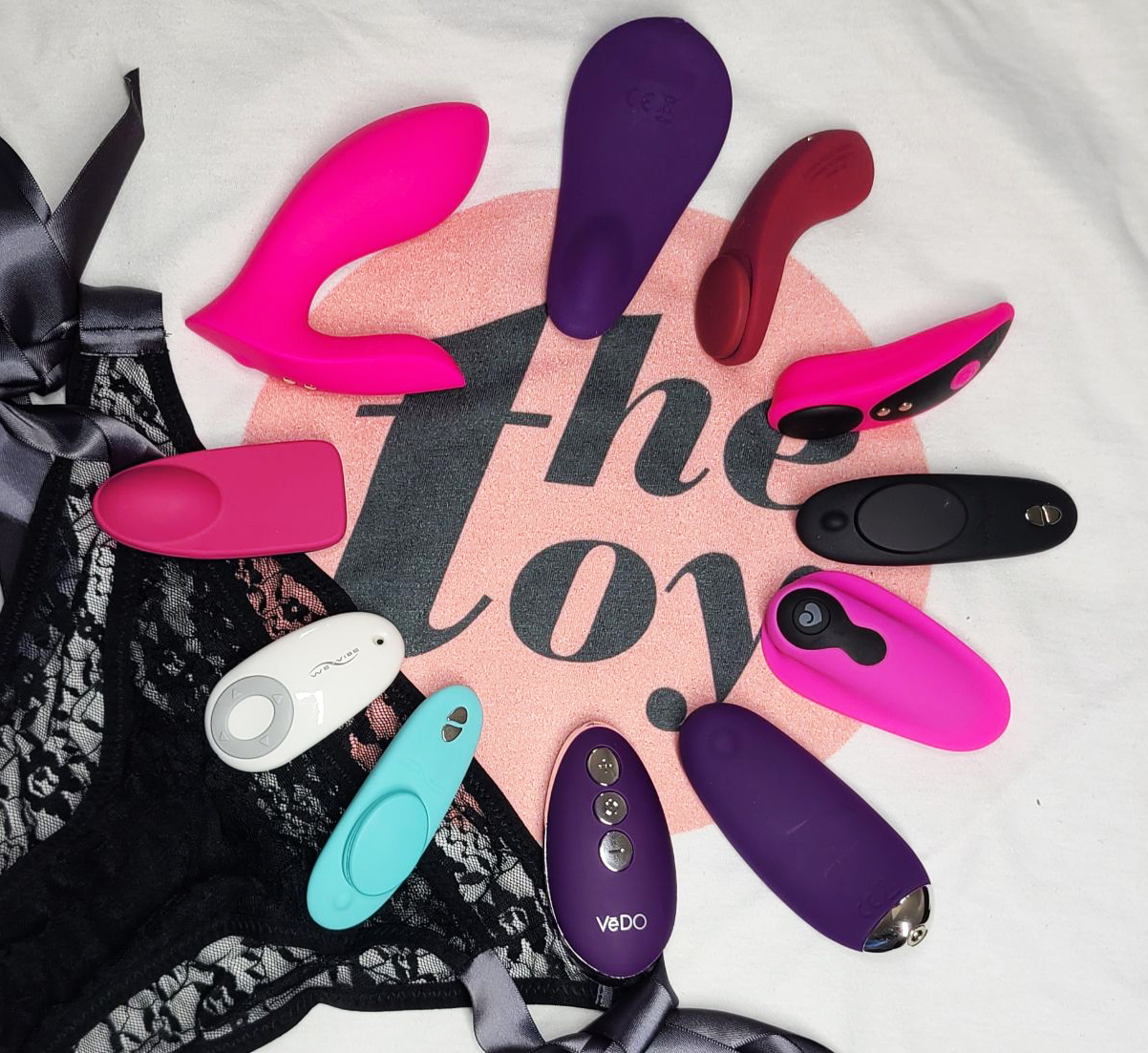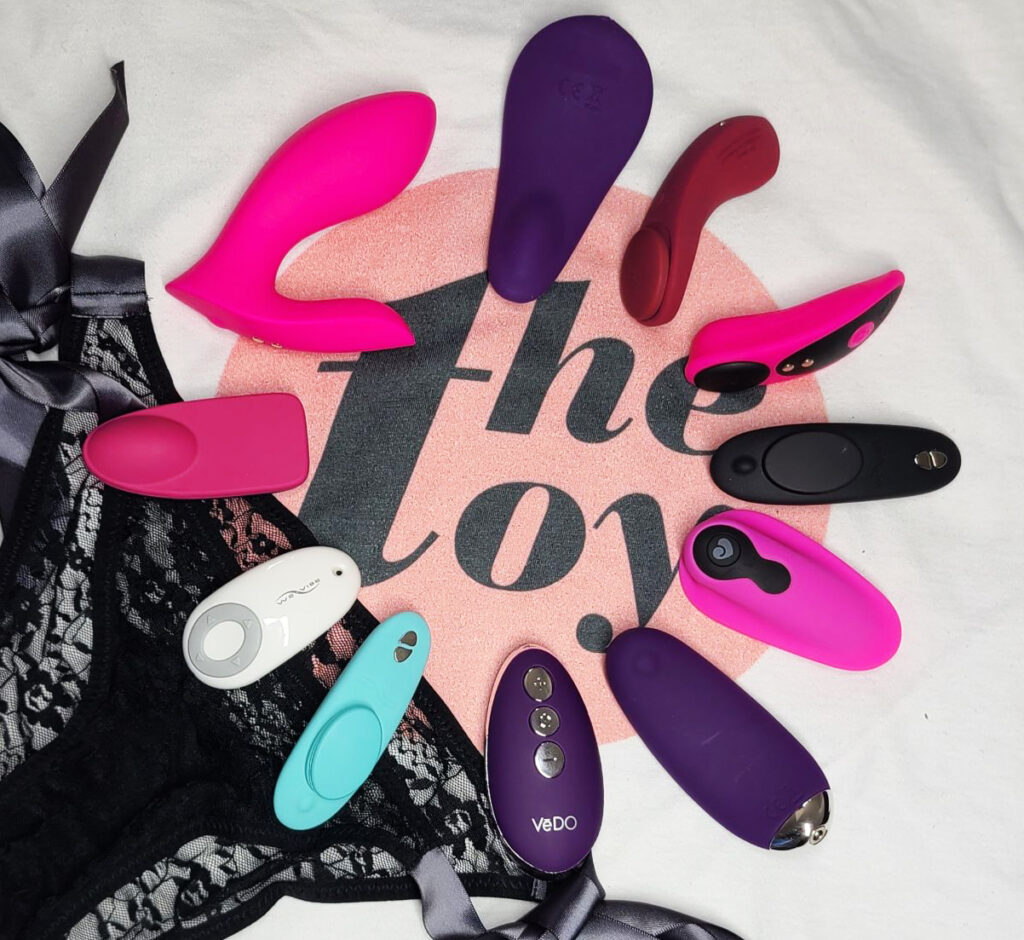 54 panty vibrators considered
6+ months of testing and 17 vibrating underwear reviewed
Online-bought devices; no cherry-picked units
Easily comparable results
Unbiased reviews based on performance, design, and pleasure
No ads; supported only by you when you purchase through our affiliate links
The top panty vibrators – at a glance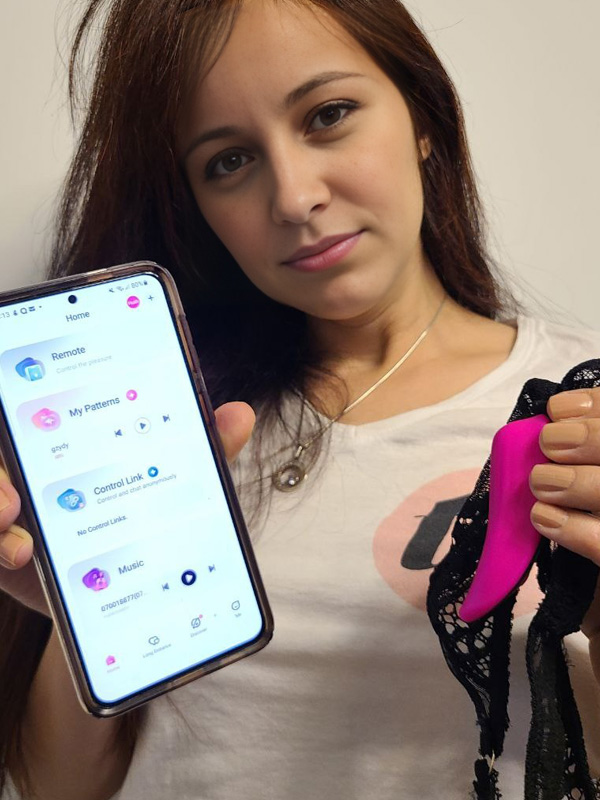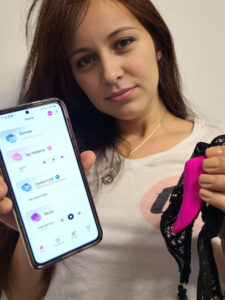 Lovense Ferri

(5 / 5)
Ferri by Lovense is currently the best vibrating panty. It has knocked We-Vibe Moxie off its throne. Ferri has a similar design with a strong magnetic clip that keeps it in place all the time in your underwear. However, it's a bit stronger, gives more targeted pressure to the clitoris, has a better app, and is a bit cheaper.
You can buy Ferri on: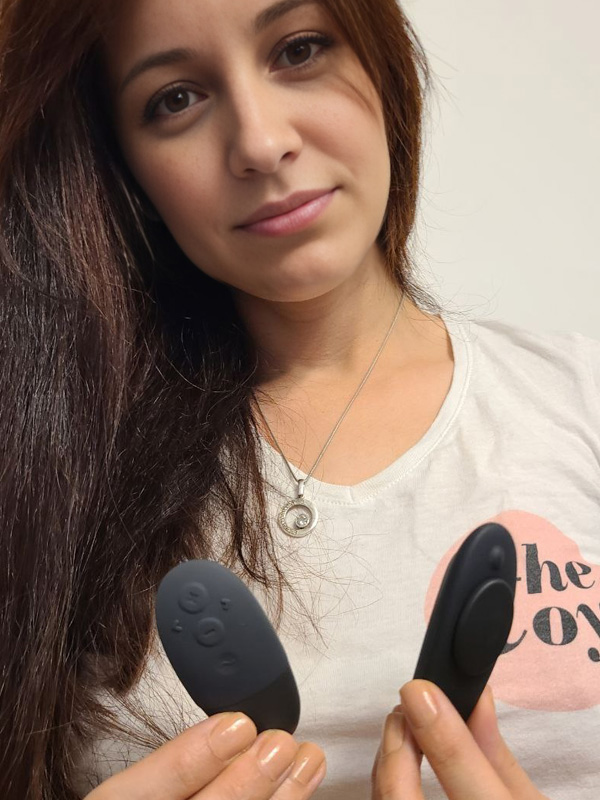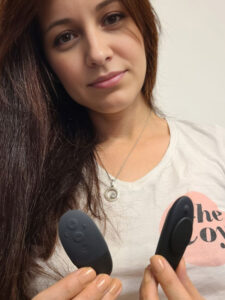 We-Vibe Moxie+

(4.8 / 5)
We-Vibe Moxie was my favorite panty vibrator until Ferri came along. It has a soft texture, hits the clitoris in the right place, and has a strong magnetic clip to attach it firmly to the panties. However, it is a bit weaker and more expensive than Ferri.
You can buy We-Vibe Moxie+ on:
Reviews Of The Best Vibrating Panties
1. Lovense Ferri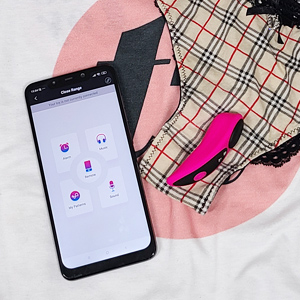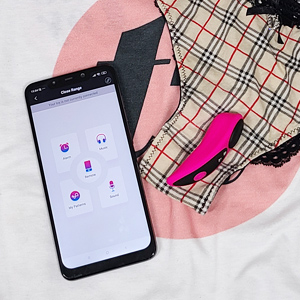 Lovense has released its latest remote control panty vibrator – Ferri, designed for discreet fun in public. Ferri is the kind of vibrating panty that stays in place thanks to its secure magnetic cap. Whether you're sitting, dancing or lying down, your panty vibrator from Lovense will stay right where you put it.
You can adjust the vibrations to suit your mood – set the vibrating underwear to tease your clitoris, or increase the speed and intensity to achieve mind-blowing orgasms. The choice is yours.
Or you can put Ferri in your panties and enjoy it if you need more arousal. When it's off, you won't feel it because it's ergonomically designed to work when you feel like playing.
More about Lovense Ferri
The shape of Ferri makes it extra comfortable to wear and discreet. Yet, the vibes of this powerful vibrator make it unnoticeable, even if you're working at a quiet office. The highest sound level is 43dB (40 dB equals soft library sounds)at the highest intensity level.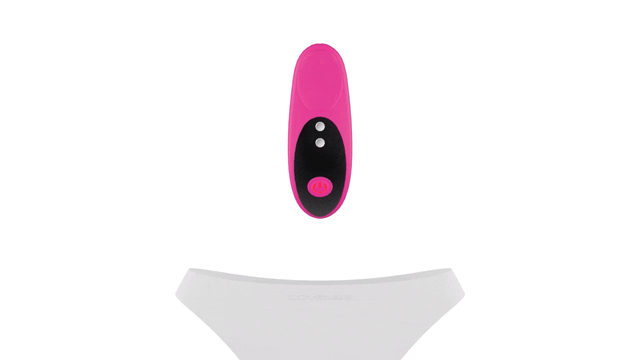 Ferri is pretty tiny, it is the most petite sex toy created by Lovense so far, and you can use it with any panty. It is not as powerful as Lovense Lush 3 but is much more discrete.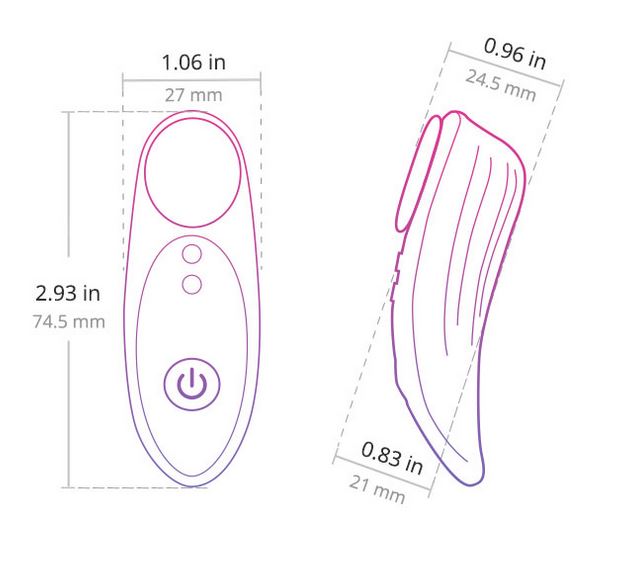 You can have fun with your remote control panties everywhere precisely because Ferri is a remote control vibrating panty! You can use it for sexy public play. You can enjoy it while walking in the park or for your hot at-home sessions.
If you're brave enough, you can let your partner control your vibrator, and since it is phone-controlled, he or she can easily manage your pleasure toy's settings (vibration levels and patterns). From all around the world, as long as there's an internet connection.
You can discreetly wear it while it is attached to your panties, or you can easily carry it in your purse – it is lightweight and compact! It is so discrete it can be used as a vibrating thong.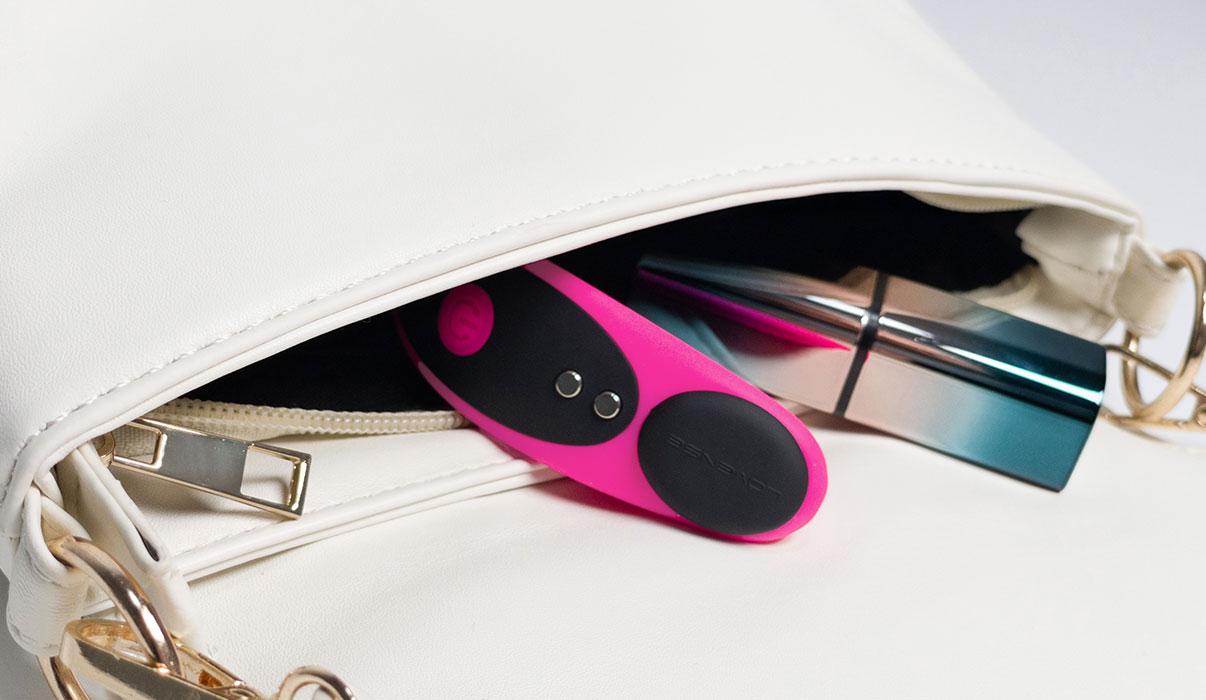 The Ferri panty vibe is created with the latest Bluetooth technology, providing the best control ranges for all wearable toys! And has perfect battery life.
The impressive technology is supported by most Apple and Android devices, plus Mac and Windows PC, and you can get the application on Google Play Store or App Store for free!
Check price of Lovense Ferri: LovenseLovehoney
Check out our full review of Lovense Ferri.
2. We-Vibe Moxie+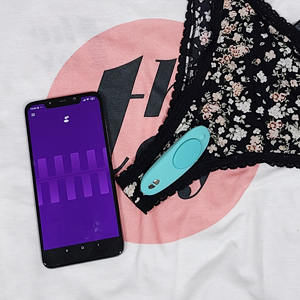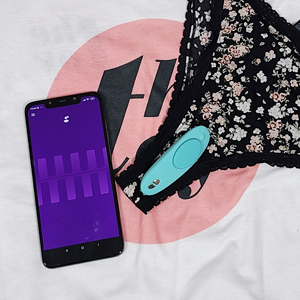 | | |
| --- | --- |
| Power: | (5.0 / 5) |
| Noise: | (5.0 / 5) |
| Material: | (5.0 / 5) |
| Price: | (5.0 / 5) |
| App: | (4.0 / 5) |
Share control of Moxie+ from anywhere, create custom vibes, and play together  anytime
You can buy this product from:
Public orgasms are not taboo. You can enjoy multiple of those if you have the right attitude and, of course, the right wearable clitoral vibrator.
We-Vibe Moxie will help if you're up to some teasing stimulation while at a dinner date or a bar. Oh, and Moxie is app-compatible, allowing your partner to control the pulsations from anywhere!
We-Vibe Moxie has a slim design, a perfectly contoured shape, and powerful rumbly vibrations. This wearable toy can transform even the most boring pair of underwear into the best panties (but can fit a sexy thong just as well). Moxie has a slip-proof magnet to keep it in place and not let it slip and destroy your sexual pleasure.
More about We-Vibe Moxie
Great news for those who need more prolonged stimulation! You can use your Moxie for up to 2 hours of continuous play. Moxie also has an extended sleep mode after 30 minutes of inactivity, preserving the battery for later and excellent battery life.
After downloading the We-Connect app, you can play anywhere. You can create custom vibration patterns and vibration modes. And you can let your partner choose how to tease you from across the room or around the world.
As with all other We-Vibe sex toys, this wearable panty vibrator is made of 100% body-safe silicone so that you can enjoy safe orgasms.
Moxie is whisper quiet, designed to keep your privacy, but we don't guarantee you that you'll be able to mute your moans.
If you're up to some teasing temptations, We-Vibe Moxie will do the trick using the low setting. But each time you increase the intensity level, you'll get closer to the ultimate pleasure sensation. The highest setting is the fast lane for reaching the best climax if you're done with the overture. Additionally, you can choose between the below (extra stimulating) preset vibration patterns:

Also, Moxie is 100% waterproof. This allows you to enjoy it while taking a bath or in the pool if you like experimenting.
For a wearable clitoral vibrator of such a class, Moxie has a reasonable price. Compared to similar panty vibrators, it may be considered a bit on the expensive side. Still, unlike the usual cheap replicas, Moxie is something that will guarantee you quality time.
Check out our full review of We-Vibe Moxie here!
Compare Moxie's price:  We-VibeLovehoneyLiberator.com
3. Lovehoney Juno Knicker Vibrator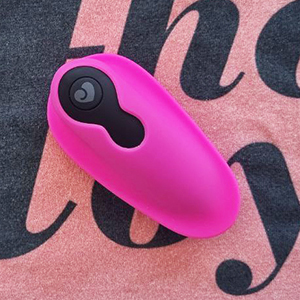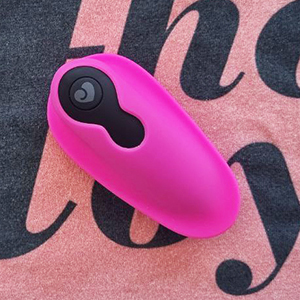 | | |
| --- | --- |
| Power: | (4.0 / 5) |
| Noise: | (4.0 / 5) |
| Material: | (4.0 / 5) |
| Price: | (5.0 / 5) |
| Ease of Use: | (5.0 / 5) |
Music-activated, super affordable panty toy with multiple features
You can buy this product from:
This little vibe is made to fit into your pants and buzzes along to your favorite music to stimulate your clitoris.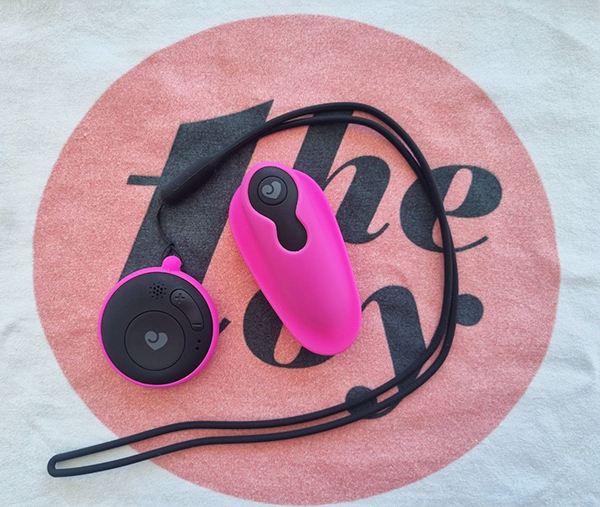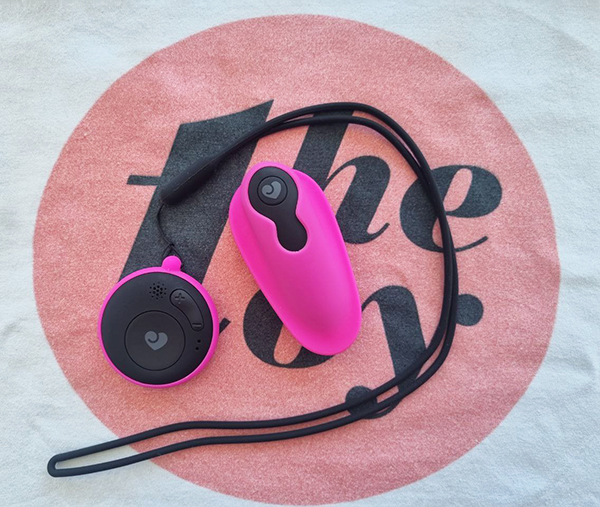 The Lovense Juno knicker vibrator lets you directly feel the rhythm of the music. The Juno panty can be used without Bluetooth or a Wi-Fi connection. The sex toy will start picking up on the beat and activating itself as soon as you place your Juno remote next to a music source (like your phone or a portable speaker, for instance).
Alternatively, you can allow your music to take control, resulting in a range of feelings, or you can operate the toy yourself (like a typical panty toy).
Although Juno is not the most powerful panty toy available, it offers respectable stimulation. It was enough to get me to the edge but not to orgasm, in my case.
This toy is on the quieter side in terms of discretion, producing 60 dB at its loudest.
100% body-safe silicone makes up the sleeve that should be placed near your clit (or other erogenous zones). High-quality ABS plastic makes both the remote and the toy bullet. Both materials are waterproof and submersible.
The design of this Juno sex toy is rather clever because it is so adaptable.
You can operate it manually by pressing the toy's single button, or your partner can use the remote to operate it from a distance.
Juno can be used as a panty vibe or a bullet to stimulate a targeted area, or broadly, it is up to you. For direct stimulation, the elevated portion of the panty toy should face your clitoris.
With a circumference of 1.5 inches and an overall length of 3.5 inches, this knicker toy is a bit wider compared to similar products. For instance, Lovense Ferri and We-Vibe Moxie are narrower.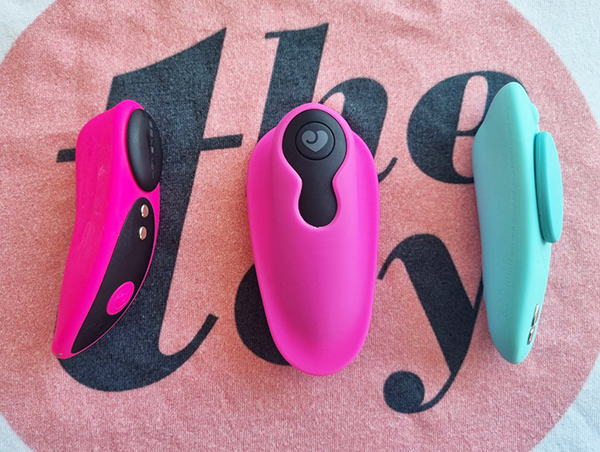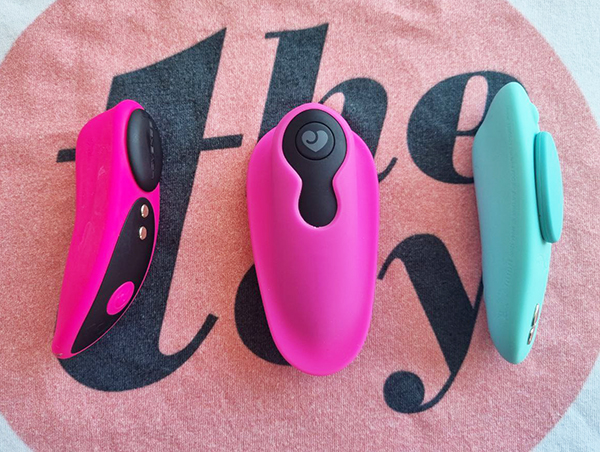 You'll receive a USB cord with two electrical connectors, which you should put into the toy's base and the remote. While charging, the remote emits blue and white light; after fully charged, it emits a solid light.
You get roughly 40 minutes of gameplay after 60 minutes of charging for both the Juno toy and the remote.
One item worth highlighting is the storage pouch you'll receive in your Juno box of underwear. The stylish, solid-black housing protects the vibrator from pollutants, sunlight, and dust.
You can get the Lovehoney Juno knicker sex toy for less than $70, which is motivating. Most competing items cost much more yet have similar features.
Where to buy Lovehoney Juno Knicker sex toy:  Lovehoney
Check out our full review of the Juno Knicker Vibrator.
4. OhMiBod BlueMotion Nex 1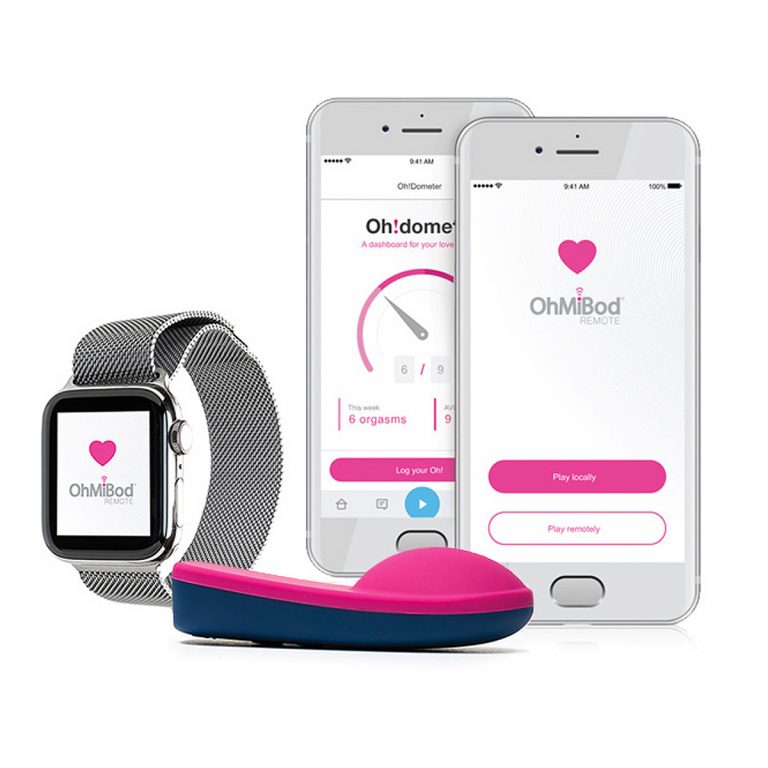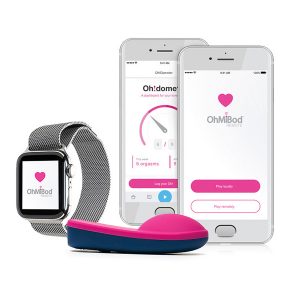 | | |
| --- | --- |
| Power: | (3.5 / 5) |
| Noise: | (4.0 / 5) |
| Material: | (5.0 / 5) |
| Price: | (5.0 / 5) |
| App: | (4.0 / 5) |
Whether your partner controls your titillating pleasure or you're enjoying solo, Blue Motion Nex 1 guarantees 100% satisfaction every time
You can buy this product from:
OhMiBod created their BlueMotion panty vibrator back in 2014, but the small sexy thing is still quite an impressive remote control toy to this day. Instead of using a wireless remote like most panty vibes, BlueMotion operates via an application free to download on your iPhone or Android. The app uses Bluetooth to adjust the clit vibrations and try multiple orgasmic patterns and intensity levels.
If you connect your toy to wi-fi, you can easily let your partner control the pulsations of your vibrating underwear from anywhere.
Super cute, 100% wearable, lightweight, slimline design that curves in the right place – this is the simple description of this fantastic vibe. The remote control panties will stay exactly where you placed them and stimulate your clitoris at home, the office, or a party.
More about BlueMotion Nex 1
BlueMotion by OhMiBod will let you enjoy potent vibrations for up to 2 hours per single charge.
This panty vibe is compatible with iPhone and Android devices. The only thing you need to do is download the free app. Then, you can choose between multiple patterns and vibe modes, create custom pulsations and music rhythm, and, wait, that's worth a new paragraph.
Your lover's voice can control the toy! Yes, the tone of his or her voice can define the vibrations of your panty vibe!
So, besides the accelerometer and touch screen, you can control the application and operate the toy with the volume controls on your mobile device.
The BlueMotion Nex 1 is quite a discreet wearable vibrator. No one will ever notice when in the street, surrounded by constant buzz. Walking in the park with a vibrating panty stimulating your clit will make your usual way more exciting and pleasurable, and, again, no one will be able to hear your vibrator. But if you are in a quiet room where there are no background sounds, you might want to focus on keeping your moans – they may be the ones to betray you.
Contrary to expectations, this small vibrator is stronger than most remote underwear toys, and a single charge allows you to play with your toy for up to 2 hours! The power of the motor inserted in the small device may surprise you in a good way because who would have thought something as small as a tulip petal would be so intense?
If you connect your toy to wi-fi, you can easily let your partner control the pulsations of your vibrating underwear from anywhere.
For a wireless vibrating panty of such category and capacity, the price of the BlueMotion by OhMiBod is pretty reasonable. You can get yours for about $120, and you'll also get it with a 1-year warranty!
Where to buy BlueMotion Nex 1:  OhMiBod
Check out our full review of OhMiBod blueMotion Nex 1.
5. Bluetooth Remote Control Panties by Vibease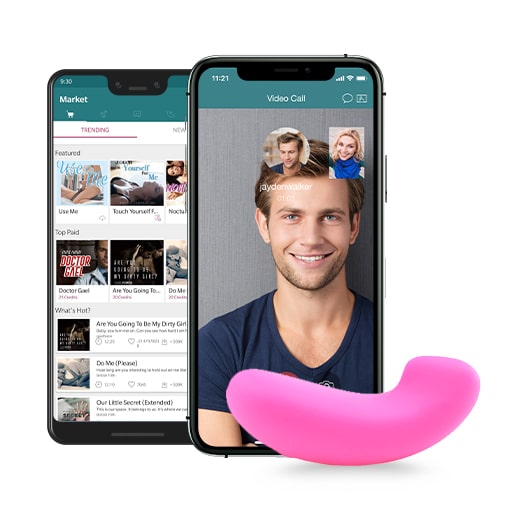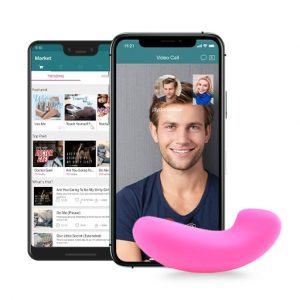 Edging is the sexual play giving you or your partner complete control over your orgasms. With the panty vibrator by Vibease, you can achieve the same results but without numbing your fingers or getting bored at some point. And this is a fantastic gift option for couples out of reach.
The vibrating underwear will take care of your pleasurable experience very discreetly, whether you are using it in public or in your bedroom. Like most of the top wearable vibrators, it is wireless and remotely controllable because a wire attached to your intimate parts will undoubtedly look suspicious.
More about Viebase remote panty
Unlike most vibrating panty toys, this one is created to completely satisfy and eliminate the three main concerns of vibrating panties.
1. Will the underwear vibrator be strong enough to get me where I want to be
2. Wouldn't it be too loud
3. Will it stay in place
These are no longer reasons to worry about because the Vibease Panties allow you complete control over the intensity of the stimulation, whether you're a solo player or your partner has joined the game.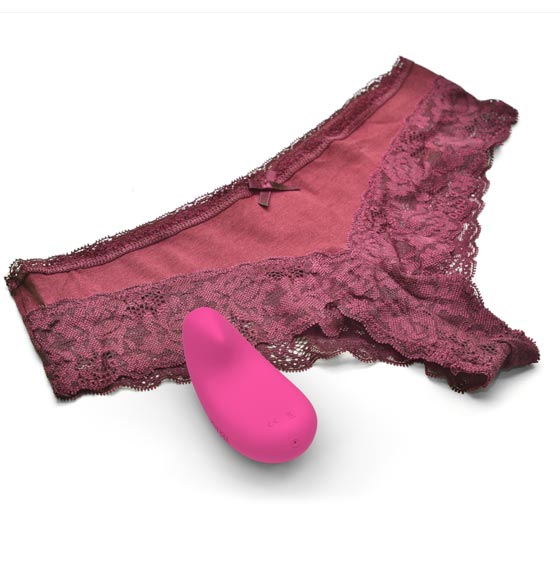 The Vibease remote panty vibrator you slip down the front of your panties is pretty discreet. Its shape is a bit thicker than similar massagers, but this makes contact between the clitoris and the toy even better. It stays against your vulva beneath your underwear and vibrates, thus stimulating the clit. Most pulsations are concentrated in this exact area.
To completely charge your Vibease panty massager, you'll need approximately 2 hours (except for the first charge, which requires no longer than 3 hours). If you're constantly using your pair of vibrating underwear on the highest settings, it will need to recharge it after about an hour and a half.
Vibease vibrating underwear is Wireless, App-Compatible, Book-Responsive, AND Sync-able.
The Vibease app will let you explore different patterns of solid vibrations, create patterns, and even feel your partner's actions during playtime. It also has different vibration modes. The app controls your erotic panty vibrator from all around the world.
Additionally, you can use their secure platform to share your private texts, pictures, and voice messages, which will remain encrypted. Of course, suppose you are still suspicious or are used to communicating with your partner via different social platforms. In that case, you can add your third-party video chat (Skype, Viber, or another) and feel free to enjoy your long-distance relationship in a way you've never experienced.
It may seem weird initially, but you can use this knicker vibrator with your favorite erotic audiobooks. And can feel what's happening because your panty vibrator will start with delicate mode and reach more intense vibes while reading your erotic book. All these vibes correspond to the narrator's speech, letting you feel every tempting and teasing moment in the story.
Your panty vibe can be synchronized with your partner's toy or app so you can feel his or her movements in real-time. The latest updates allow you to have long-distance sex in three ways. Your toy can command your partner's toy. Your partner's toy can control your toy. Both sex toys sync and interact, just like your body and your partner's body would if you were closer to each other. By the way, synced sex toys are a relatively new technological advancement, and very few adult toys offer the option of synchronized interaction between 2 devices.
This comfortable vibrator is made of a soft blend of platinum cure silicone. Phthalate and latex-free; non-toxic, non-porous, and hypoallergenic – to ensure you are completely safe while playing!
As for the level of discretion, don't worry. That this is not an internal vibrator; it performs very quietly. You can recognize the highest settings if you are close to the vibrations, but the other modes and settings are excellent in public.
Just like any other adult toy created by Vibease, this one is 100% waterproof and submersible so that you can enjoy a more sensual bath.
Vibease Panties are not the most affordable option on the sex toy market, but you get a luxurious, high-quality clitoral massager for around $200.
6. Club Vibe 3.OH by OhMiBod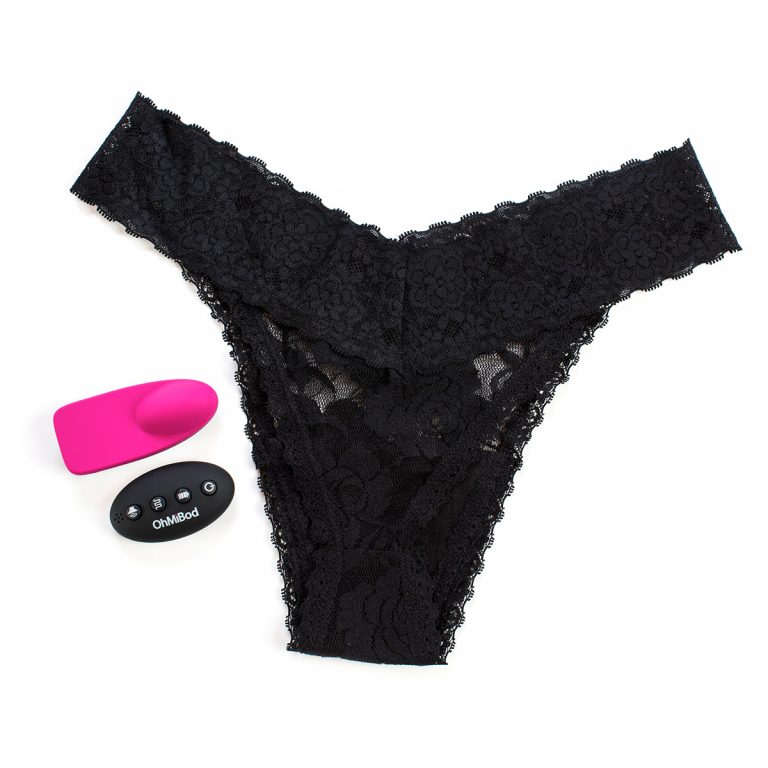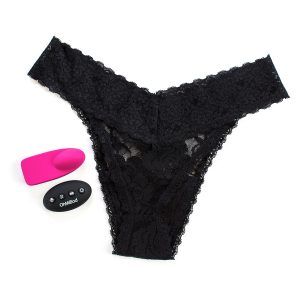 | | |
| --- | --- |
| Power: | (4.0 / 5) |
| Noise: | (4.0 / 5) |
| Material: | (5.0 / 5) |
| Price: | (5.0 / 5) |
| Ease of use: | (5.0 / 5) |
Discreet, comfortable, and easily adjustable vibrator panties with a sexy thong. Groove to your favorite music and party until you cum
You can buy this product from:
N
ot knowing what to expect next has never been that exciting! If you are up to something kinky and super sexy that will also help you release the tension, OhMiBod created a wearable vibrator, Club Vibe 3, that lets you play with your partner from a 5-6 meter (20 feet) distance.
The previous version, OhMiBod Club Vibe 2, has almost the same characteristics but provides a bit lower intensity.
More about Club Vibe 3
Going to a club, a restaurant, or any other destination can become exciting and fun now that your partner can freely control your every sensation and drive you to orgasm.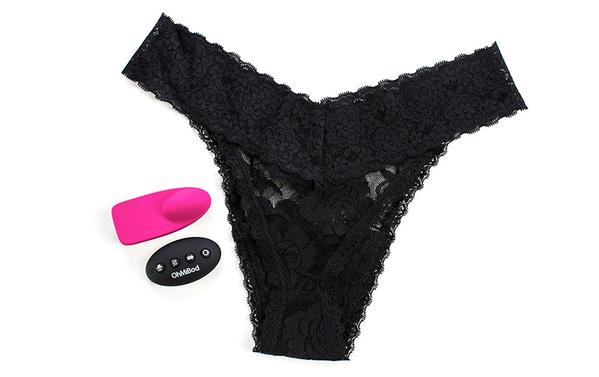 The design of these vibrating undies has nothing in common with the usual vibrators you'd find. It resembles padding, tucked away in the black thong you'll get with your massager. Super slim and lightweight, it will stay fixed exactly where you placed it.
Your remote control vibrator comes with a USB charging cable. A cool thing about Club Vibe 3 is that you no longer have to buy batteries – both the appliance and the remote control are 100% rechargeable, which will be enough for up to 1.5 hours of uninterrupted play!
These fantastic vibrating panties are designed of 100% body-safe materials and, of course, phthalate-free because your safety is the primary aspect the OhMiBod company took into consideration.  Additionally, Club Vibe 3 has a velvety finish, which you'll enjoy.
When it comes to discretion, OhMiBod got you covered because you (and, probably, your partner) will be the only ones to know what's going on in your panties.
With Club Vibe 3, you can choose between 3 different vibration modes at three intensity levels, and if you dare to use the highest setting, prepare for climaxing while surrounded by people. The modes you can choose from offer specific pulsations to make your sexy play even more memorable, and, yes, it's powerful enough to get you there unless you have selected the teasing mode, which is supposed to get you in the mood but not make you reach the best Orgasm.
Club Vibe 3 guarantees 1.5 hours of constant stimulation and a standby time of up to 90 days.
These vibrating panties are averagely priced. The personal panty toy costs around $120 and comes with its custom black lace thong.
Check price of Club Vibe 3:  OhMiBod
Final thoughts
If you want to add some spice to your love life, you should seriously consider investing in a pair of remote-controlled panties to stimulate your clitoris to the maximum. Such toys will fill you with pleasure and satisfaction in more ways than one. Your partner will be thrilled to watch your every sensation at the touch of a button. Bluetooth panty vibrators can spice up any long-distance relationship. And let's not forget they offer hands-free orgasms, another bonus!
However, if you seek more intense clitoral stimulation, a clit sucking sex toy might be a better choice. Or, if you want pinpoint stimulation and complete control over your toy, you can buy a bullet vibrator – small, discreet, and highly appreciated by women of all ages. The most powerful sex toys designed for clitoral masturbation are magic wand massagers, but this option is for the more experienced ladies willing to try intense clit stimulation.