If you have a clitoris, the likelihood that you will enjoy clitoral stimulation more than any other type of stimulation is immense. And what can be more pleasurable than non-contact clitoral stimulation? How about internal G-spot vibrations?
The Womanizer Duo 2 is one of those sex toys that will surprise you with features you probably never thought existed. Unlike regular rabbit vibrators that have a wand on one end, the Womanizer Duo 2 has a clitoral suction cup. The other end is designed for stimulation of the G-spot.
Duo 2 is the latest, upgraded version of its predecessor. It's clear that the creators have listened to user feedback and have fine-tuned the design, making it not just a successor but a significant improvement over the original. Whether it's the sleeker design, more intuitive controls, or enhanced functionality, the Womanizer Duo 2 is all about delivering a more sophisticated and satisfying experience. It's a perfect example of how a good product can become great with thoughtful refinements and a commitment to excellence.
Pros and Cons
Pros
Simultaneous G-spot and clitoral stimulation
Powerful air pulsations and rumbly G-spot vibrations
Flexible design to fit most body shapes and sizes
Two suction head sizes
Smart silence function
Cute free keychain
5-year warranty
Cons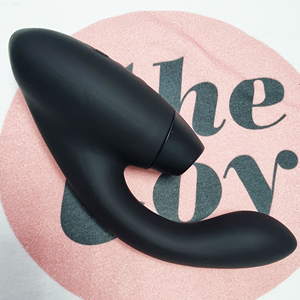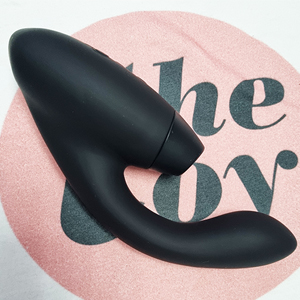 How to use the Womanizer Duo 2?
The Womanizer DUO 2 is a rabbit-type vibrator that combines air pressure and vibration to stimulate the G-spot and clitoris simultaneously. It combines a long, curved, vibrating shaft that slides into the vagina to stimulate the G-spot with a clitoral arm that uses blasts of air to mimic simultaneous licking and sucking.
You can find the ideal angle and position because the shaft is supple and very flexible.
The vibrator stimulates the internal nerve endings of the clitoris, while the air pressure acts on the clitoris, pressing on the G-spot and stimulating blood flow throughout the vulva.
Remember to apply some lubricant (of your choice) before using the Womanizer Duo 2's G-spot arm. Avoid scented or alcohol-based lubricants and massage oils while enjoying your Womanizer Duo. Avoid silicone-based lubricants as they may damage the silicone coating of the sex toy.
My Experience With Womanizer Duo 2
When I first saw the Womanizer Duo 2, I thought it reminded me of Tracy's Dog OG. By that, I mean both the design and the feel. But with the Womanizer Duo 2, everything is easier, more adjustable, and stronger.
For me, the Womanizer Duo 2 is only suitable for solo play. Not because my SO can't practically play along, but because once I set the vibrations the way I like them best, I just like to watch my belly and thighs contract. I like to count how long it takes to come, how strong it'll be, and so on.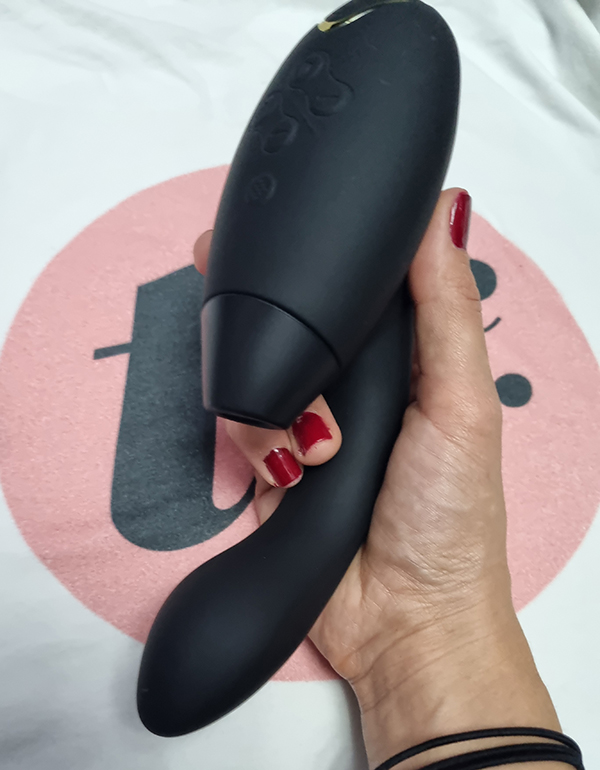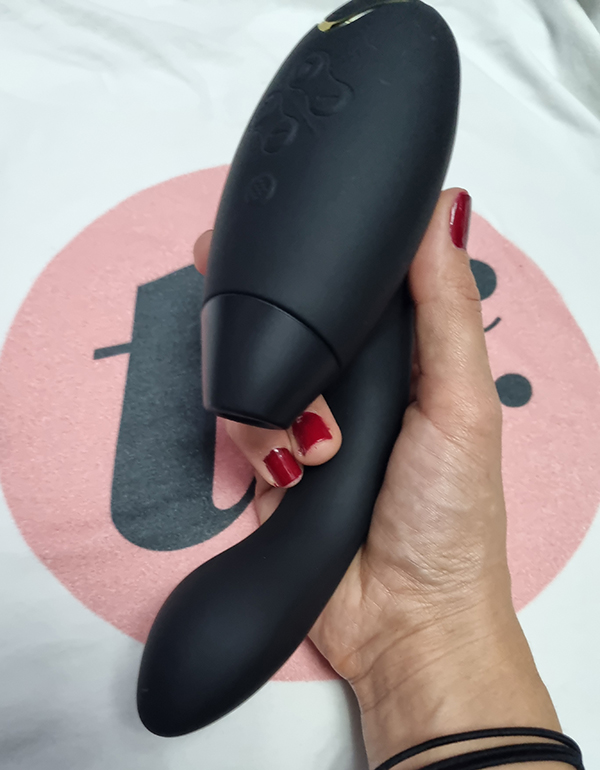 What I like about rabbit vibrators with a G-spot arm on the one end and a clitoral sucker on the other: once my vagina is penetrated, the external part of my clit not only engorges but pops out. I am one of the lucky owners of a super-sensitive clitoris, so I appreciate any kind of pleasurable stimulation.
With the Womanizer Duo 2, this type of play escalates quickly, brings explosive orgasms, and can leave you exhausted if you are not prepared for a power play.
The day I tried the Duo 2 for the first time, I did not pick the right time, but I really needed to know how it felt. It was late (around 11pm) and I was already tired, but I decided to turn it on anyway.
I applied lube to the entire inner G-spot arm first, but intentionally left the clitoral arm dry. The reason is that if I had lubed it or my labia, the contact between the air suction and my clitoris would have been too intense to begin with.
So I turned on my Womanizer Duo 2, hoping to explore and enjoy all the power levels. Unfortunately, I had to stop somewhere in the middle range because I could not stand the intensity of the clitoral arm.
At this point, the G-spot attachment was set to the same steady vibration. I could feel it filling me and pulsating inside me, but the most important thing was the clitoral stimulation. Indescribable pleasure, that's all I can say about it. The first orgasm is inevitable after playing with yourself for a few minutes. And it comes like a huge, heart-pounding wave that quickly overwhelms the whole body.
Womanizer probably designed this sex toy for those stressful days when you need a serotonin boost before bed. Or two spurts, depending on your needs.
The best thing about the Duo 2 rabbit toy, though, is that I can not overdo it with the orgasms because the suction cup is not in direct contact with my clit, so it does not numb it, and I can keep going until I convince myself that enough is enough.
And usually 15 minutes later I hold the Duo 2 for "one last time", which has never been just a single orgasm.
Specifications
Power
This vibrator is robust. If you are a newbie to clitoral suction vibrators, you can start with the lowest settings, but keep in mind that it can get wild pretty quickly. If you want medium to strong stimulation, this toy has unimaginable levels of intensity (thanks to the 12 different intensity levels).
In the double digits, it's one of the most intense vibrators I have ever used, but honestly, the highest settings are not my cup of tea.
But this rabbit vibrator takes double the pleasure to a whole new level. When combined with G-spot stimulation, the clitoral suction is twice as strong as when used alone.
Noise
I believe this vibrator is the quietest I own, which is saying a lot for a dual motor device given its power. Additionally equipped with a Smart Silence feature, the Womanizer's clitoral suction function only activates when pressed against the body. That means it's not audible to neighbors or onlookers unless it's against your skin when you turn the device on and adjust the settings.
When the device isn't against your skin, the noise level ranges from 33 dB (at the lowest setting) to 55 dB (at the highest setting).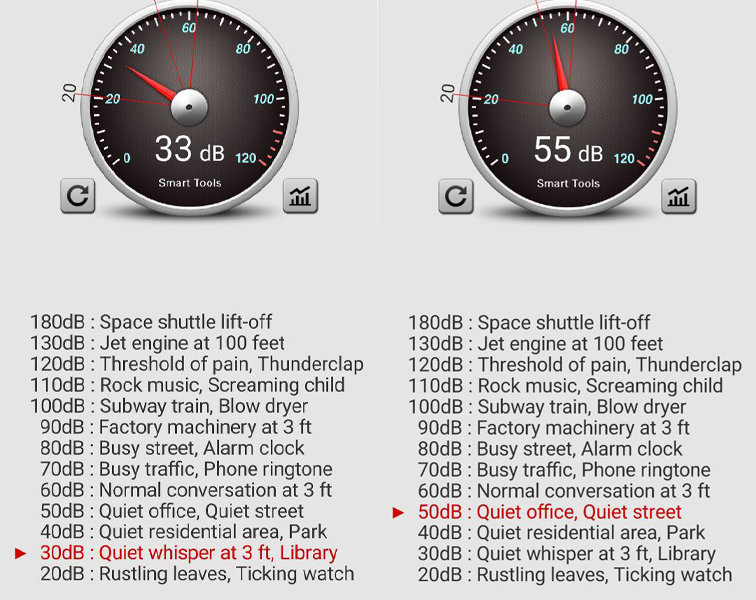 Material
The Womanizer Duo 2 is covered with soft, silky silicone. It looks like the golden band around the base is made of ABS plastic. The head of the vibrator is also made of silicone.
The Duo 2 is as wonderful as it can be in the section of safe sex toys thanks to these materials, which are non-porous, non-toxic and absolutely safe for the body.
Design
Duo 2 has dual stimulation on the inside and outside, like other rabbit vibrators, but it's much better. On one end you get a clitoral suction vibrator instead of a wand. The air suction arm is very similar to Womanizer Pro40, which is one of my favorite sex toys so far.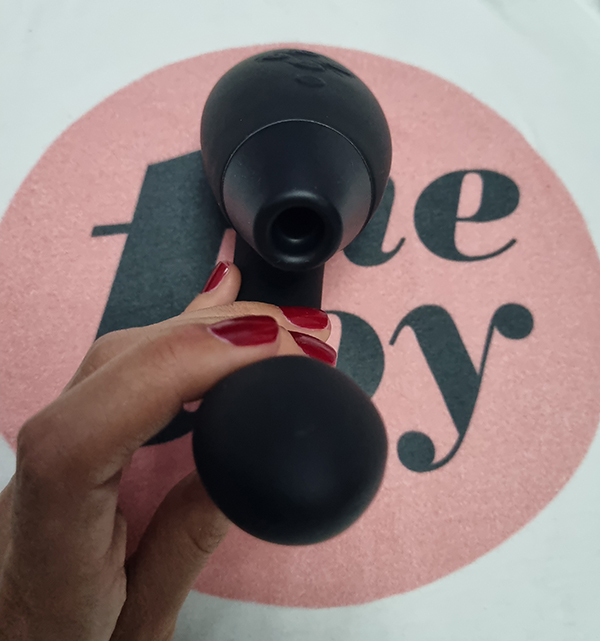 You will receive two sizes of suction heads, which means that Duo 2 will meet your needs regardless of the size of your clitoris. This toy comes with heads in two sizes, so you can experiment and choose which one suits you best.
Size
The exact measures of Womanizer Duo 2 are as follows:
Total Length: 8 inches/ 20.3 cm
Insertable length: 3 inches/ 7.6 cm
Width: 4.7 inches/ 11.9 cm
Insertable width: 1.3 inches/ 3.3 cm
Below you can see the size of the Womanizer Duo 2 compared to the palm of my hand.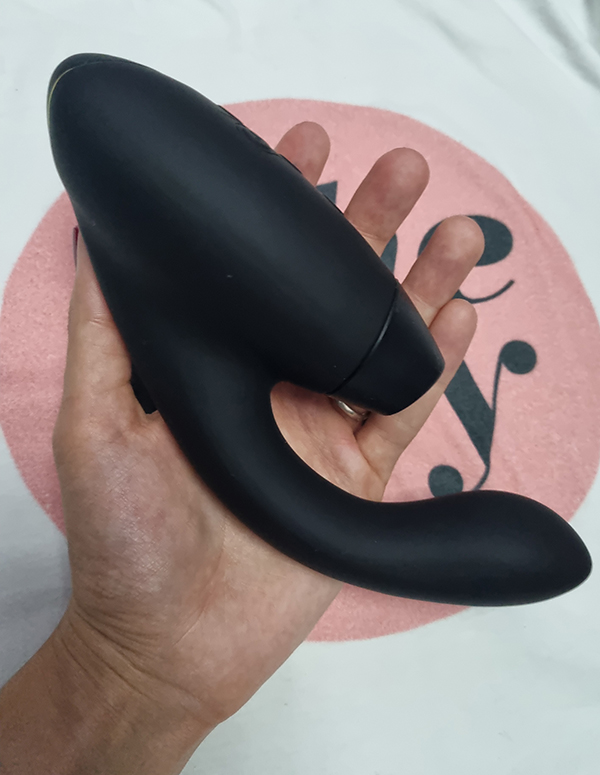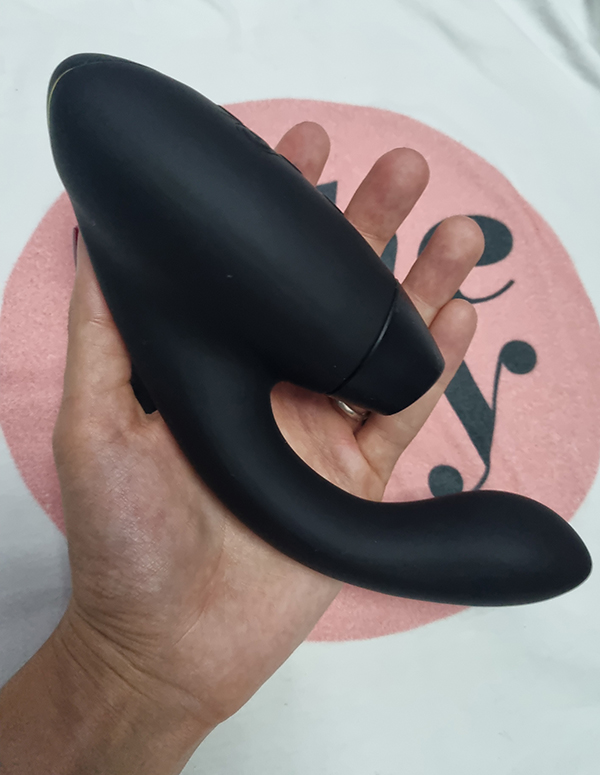 Charging
It takes about 2 hours to fully charge the Womanizer Duo 2. After that, you can enjoy it for the same amount of time.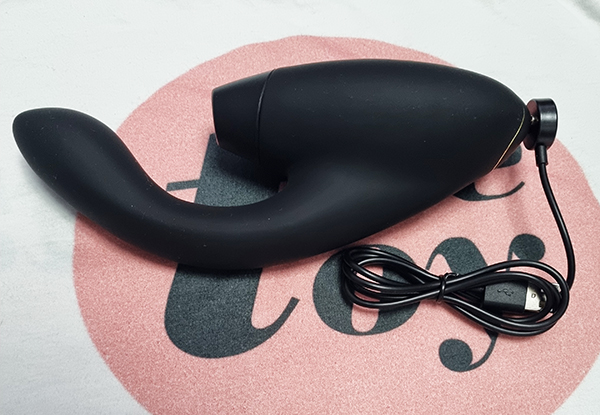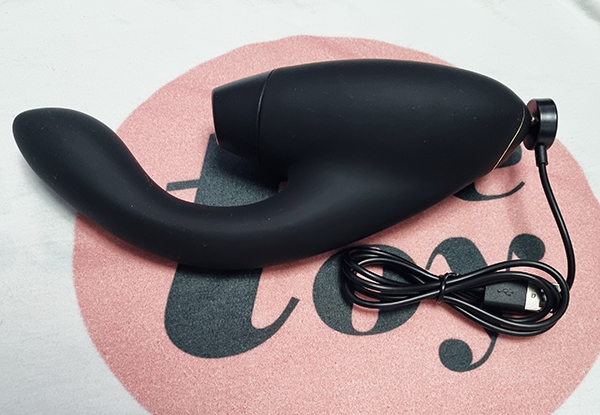 The LED (under the air pressure stimulator) indicates the charging process.
Controls
The Womanizer Duo 2 features a Smart Silence mode. By default, it prevents stimulation unless it is near your skin. The device will not emit pressure waves or vibrations even when it is turned on if it cannot detect a surface near its head. You can turn this mode off if you do not like it by clicking the + and – buttons in suction mode (together, for about 2 seconds).
Press the On/OFF button, located on the back side of the vibrator.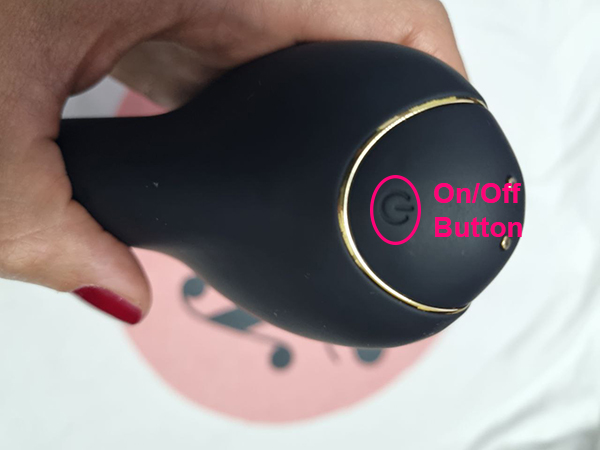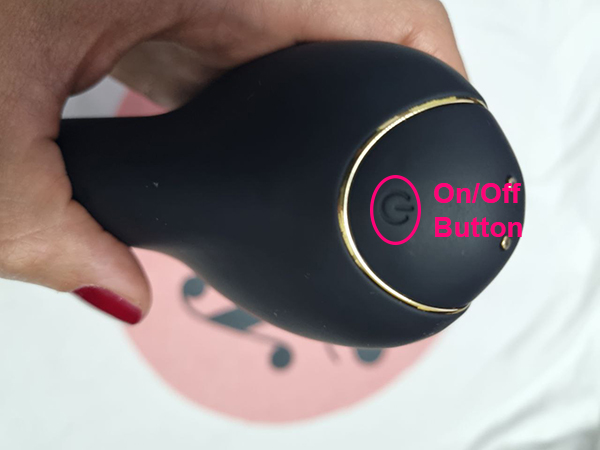 The vibrations start as soon as the suction head of the toy is in direct contact with your clitoris. To avoid surprises, place the suction head to your palm to test the process.
When you are ready to play, insert the G-spot end into your vagina and then spread your labia to expose your clit. Cover it with the suction head. There are 2 suction heads in the box of the Womanizer Duo 2, one is smaller, the other is wider. Try them both and see which one fits your anatomy best.
You can easily increase or decrease the intensity of the stimulation by pressing the C+ and C- buttons.
You can also control the G-spot arm separately. This is done by pressing the D+ (to increase the vibrations) and D- (to decrease the vibrations) buttons.
The SmartSilence mode on your Womanizer Duo 2 is set to ON by default. You can deactivate it by pressing C+ and C- simultaneously for 2 seconds.
The E button on the bottom controls the patterned vibration modes with 12 intensities.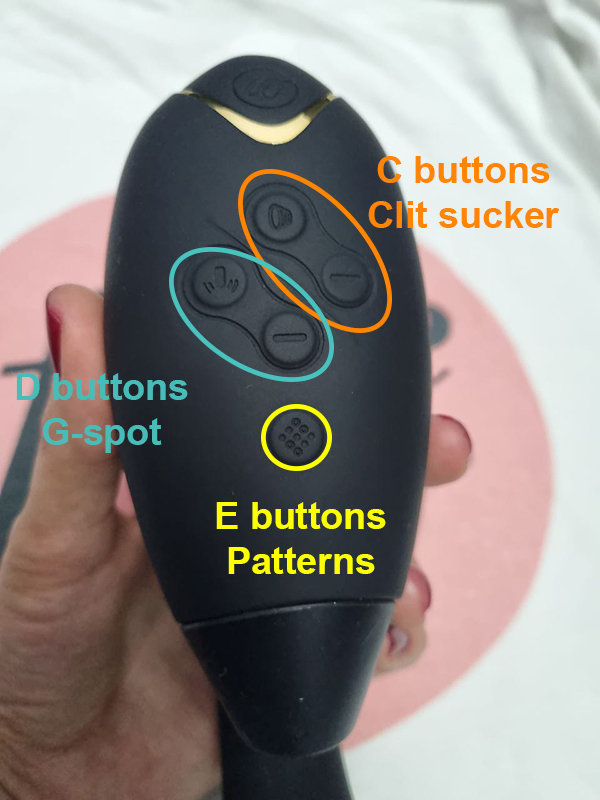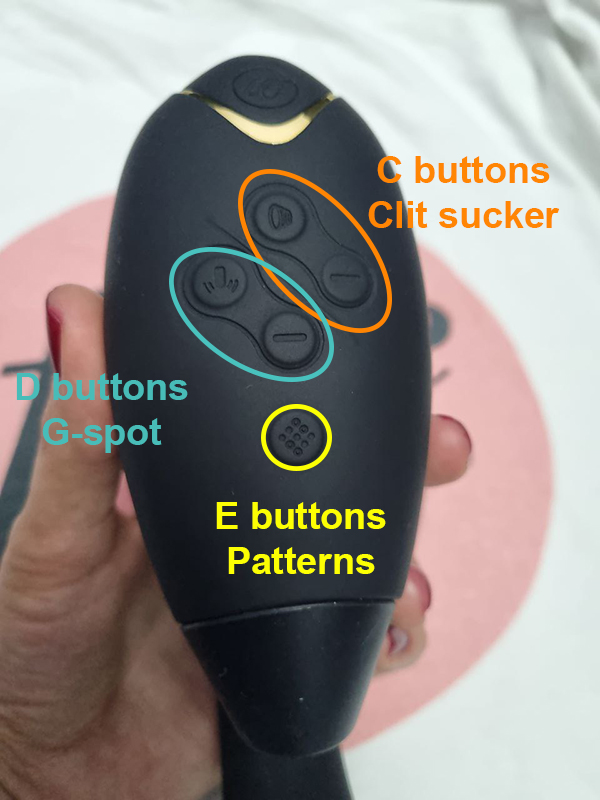 Many comments on the internet say that women are frustrated by the many buttons, but I personally find it super easy and convenient to adjust the settings of this vibrator even during use.
Storage
Womanizer Duo 2 comes with a handy drawstring bag (with a special message) made of fabric with a removable small tassel, in which you can store your Duo rabbit toy from dust, dirt and contamination.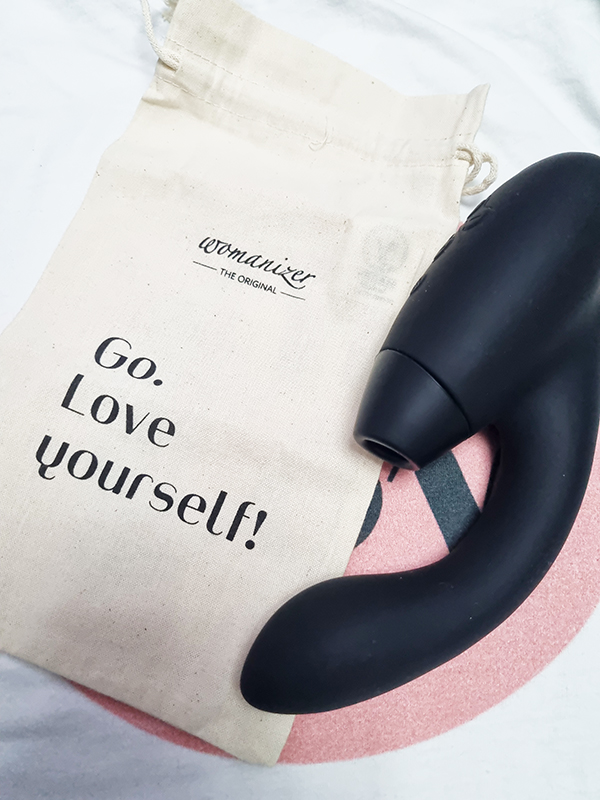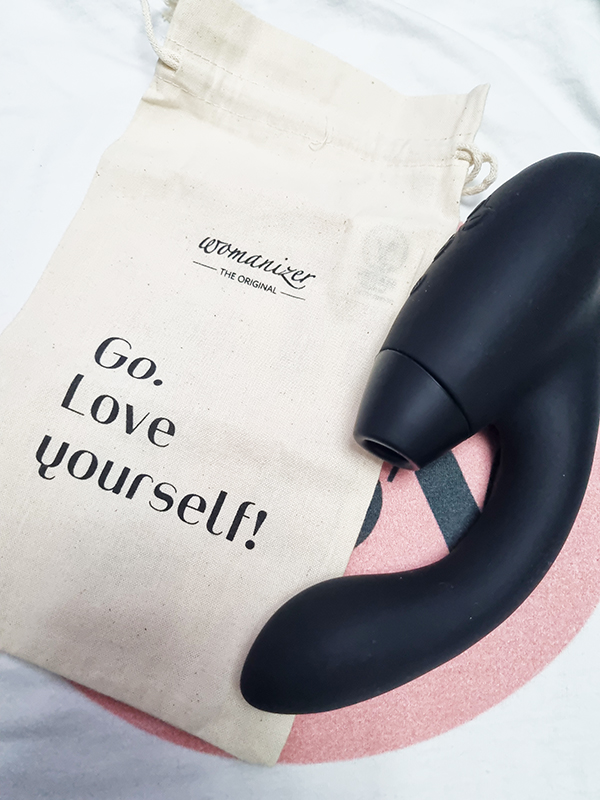 Cleaning
Since Duo 2 is 100% waterproof, it is a much easier to clean than most sex toys. Without worrying about water damage, it can be thoroughly cleaned with soap and water or a sex toy cleaner before and after each use.
You can also use it in the shower or bathtub and it can be immersed in water up to one meter.
Price
Womanizer Duo 2 is a luxurious toy made of high-quality materials that last longer and feel much better on the skin. Its powerful motors and well-designed technology will lead you to countless orgasms. However, it also has a higher price tag. If you can afford it, the price should not stop you, since it offers great satisfaction for the money.
Unboxing
I received my Womanizer Duo 2 in a typical cardboard box with a neutral return address containing only "WOW Tech Europe GmbH" and not the word "Womanizer".
Inside, there was the original Womanizer' box where I found:
The Womanizer Duo 2 vibrator with a 5-year warranty included
A convenient storage bag
Magnetic USB charging cable
Spare silicone head (in a smaller size)
A multilanguage user manual
Cute clitoris-inspired keychain