The Lovense company has just released their brand new glans massager. It's called Gush, and it's specifically designed to make you gush like you never have before. Use it as a stroker or enjoy hands-free orgasms – it's up to you. Just try not to cum all over your pants.
Lovense Gush does not stimulate the entire penis but uses vibration motors that mainly stimulate the glans.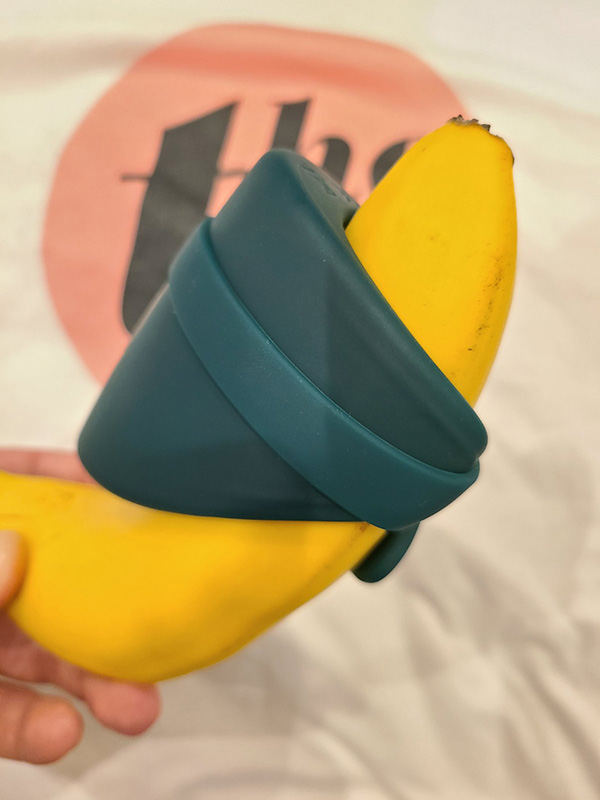 As far as connectivity goes, Lovense sex toys are still unbeatable. You can control Gush from anywhere in the world and sync with all Lovense toys that are connected to an app.
The innovative design makes it possible to control the sex toy via Bluetooth, the feature that Lovense sex toys are best known for. Unlike all other Lovense sex toys, Gush is available in navy blue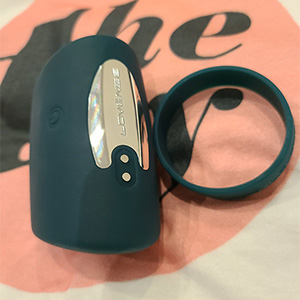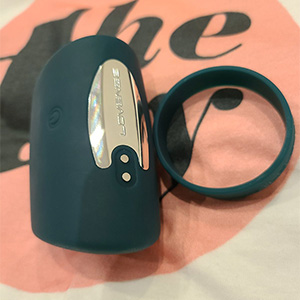 | | |
| --- | --- |
| Power: | (5.0 / 5) |
| Noise: | (5.0 / 5) |
| Material: | (5.0 / 5) |
| Design/Size: | (4.5 / 5) |
| Experience: | (4.0 / 5) |
| Price: | (5.0 / 5) |
| Controls: | (5.0 / 5) |
| App: | (5.0 / 5) |
| Average: | (4.8 / 5) |
Premium glans massager for stroking and/or hands-free stimulation. Fully adjustable, programmable, with remote-control options
You can buy this vibe from:
Pros & Cons
Pros
Provides rumbling pulsations and has nice grooves on the inside for more feel
Performs massage in the best possible places that are on the tip of the penis
Effective for training the glans (increases stamina and endurance)
Lets you experience knee-shaking orgasms without hands
Works with various interactive features and integrations with different multimedia content
Can be used safely in the shower or hot tub
Helps increase sensation and prolong erections
Helps people with ED or the elderly who could use a little help
No need for batteries, cords, or adapters – Gush is fully rechargeable
Comes with a strap that increases intensity, tightness, and targeted stimulation
Cons
Did not work on my flaccid penis
Not recommended for persons with reduced sensitivity
My Experience
I received Lovense Gush in a neat and discreet cardboard box. It contained the glans massager, a magnetic charger, the strap to hold the vibrator in place (for a hands-free experience, in the box where the magnetic charger is), the instructions for use, and a silky pouch.
My first impression of Lovense Gush was that it looks luxurious and stylish. It feels soft and gentle and has an elegant design that gently hugs the penis. Lovense Gush was designed with comfort and practicality in mind. It feels solid and well made. Medical-grade silicone is ALWAYS the best choice for personal items like this and this is what Gush is made of.
I was very excited to try it out and got right to it. The good news is that it came already charged, so I did not have to charge it first. I just washed it off with warm water and soap since it is 100% waterproof.
I then applied some lube, placed the massager around my penis while it was still flaccid, and pressed the button. It started to vibrate, but it did not do much. Then I realized it was a glans massager. I looked at the instruction manual and realized that I needed to get hard first.
Once I fixed my mistake, everything felt better. I started holding the device with one hand first and then stroking up and down a half-inch on the tip of my penis. It felt good, but it was a little too low for me.
Then I decided to go hands-free and use the Lovense app since you can increase the vibrations from there. I turned on my Lovense remote app, but put the strap around the penis massager and started experimenting with the patterns. Now I could feel the power of the motor of this Lovense toy through the app. And they did not disappoint me again. The sensations, especially when changing settings, are wonderful and deep. As I moved the toy from the base to the middle and finally to just below the glans, those sensations intensified. I also tried it above the glans to see how that felt. When I stimulated the glans, my arousal was at its highest and at some point, I had to remove it to avoid going too far. So that should tell you enough.
By the end, I did not even want to stop rubbing. As my orgasm overtook me, I grabbed the toy that was wrapped around me and held it in place. I may have shot my load into the toy – but hey, it's waterproof. It can take a load and be cleaned up afterward.
The fit with the band is great! I used it in the shower later, even with soap, and it stayed on and did its job.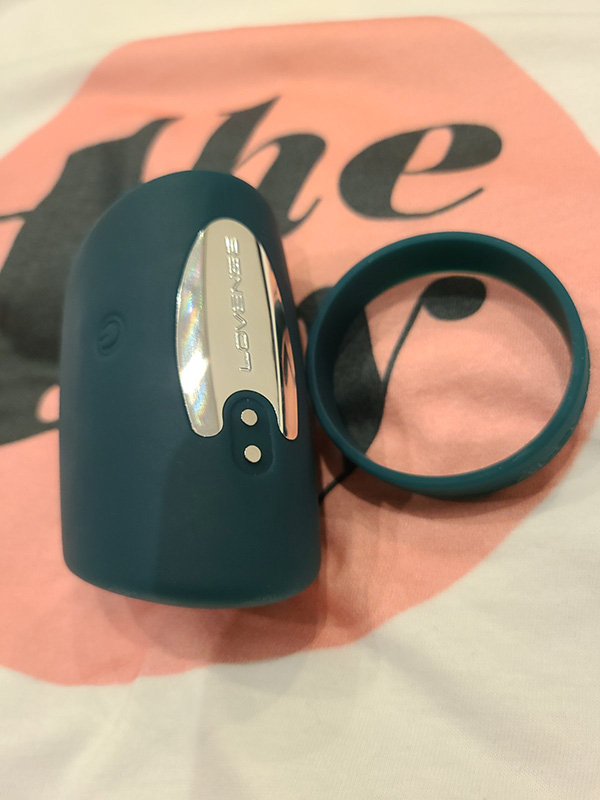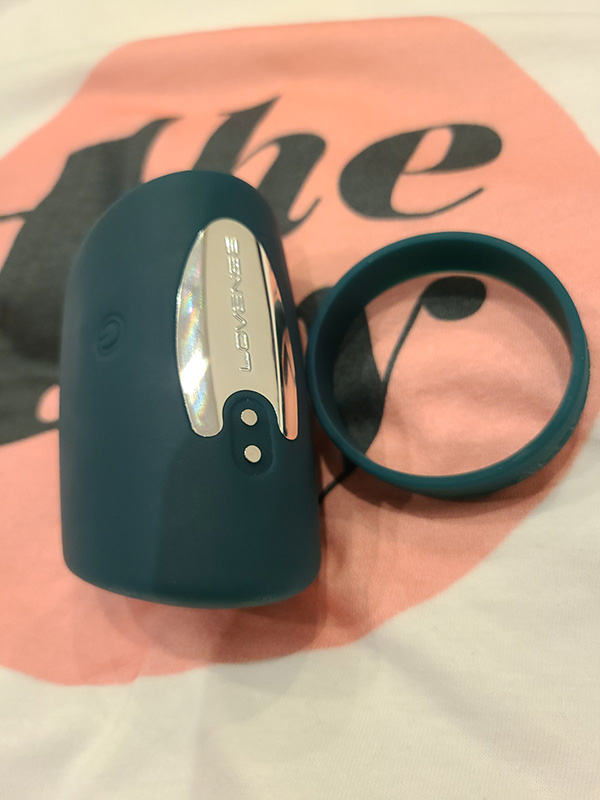 I experimented and used Gush while stroking my penis and found that even massaging the base of my penis felt good.
Now it's time to say that I am not circumcised and my penis is quite sensitive. And I enjoyed Gush the most on the highest setting on the app. But it really depends on if you jerk off frequently and have decreased sensitivity. If that's the case, it will probably be a challenge to orgasm, or you'll keep using it until your penis goes numb. Lovense Gush is for men with at least some sensitivity and if you are very sensitive, you will love this toy.
Specifications
Power
All Lovense sex toys are impressively powerful, and the Gush glans massager is no exception.
In fact, the powerful motor is the heart of any decent vibrator. Not only does it provide a high level of sensation, but it also provides a variety of patterns. You may need steady stimulation, but you also need variety so you do not get overstimulated. The Gush glans massager is small, but it has a powerful motor with unlimited vibration settings, each with a different intensity and pattern!
The first three preset levels provide a constant stream of vibrations that gradually intensify. The remaining preset patterns range from fast pulses to slower, long-lasting pulses that range in intensity from high to low, and everything in between. To select or create your own patterns, simply connect your Gush to the Lovense app and get creative!
However, if intense vibrations are not your thing, you can always choose the lower settings and even light touches can provide an exceptional experience.
Noise
Gush is an extremely discreet vibrator, and even the most intense vibrations are quickly absorbed by the body when used correctly
Material
The Gush vibrator is made of a combination of a high-quality silicone coating that feels silky soft and ABS plastic (where the Lovense logo is located). The Gush stroker, like any other from Lovense, is completely waterproof and has an IPX7 rating, which means it can be submerged in water up to 1 meter deep for up to 30 minutes without losing its functionality.
Design
Gush not only has a neat design, but it is also very flexible to fit a variety of penis shapes and sizes. The inside that wraps around the penis and has special ridges to increase the sensation.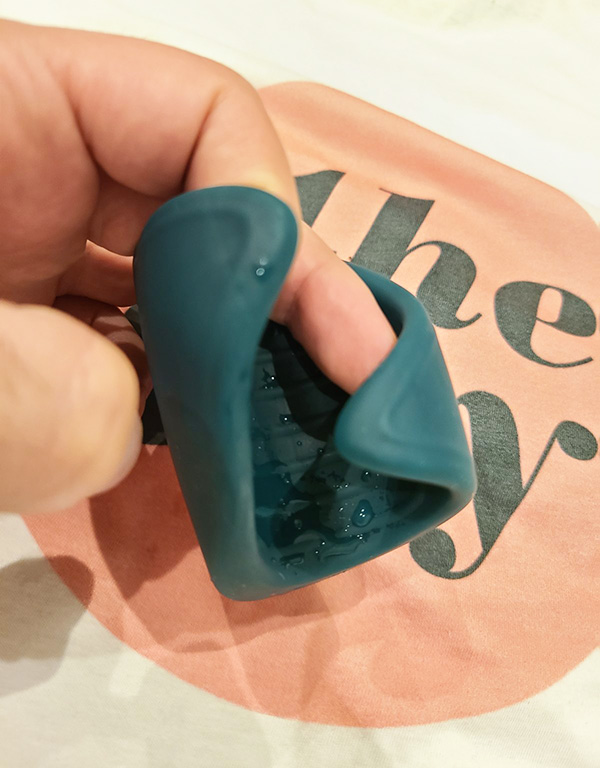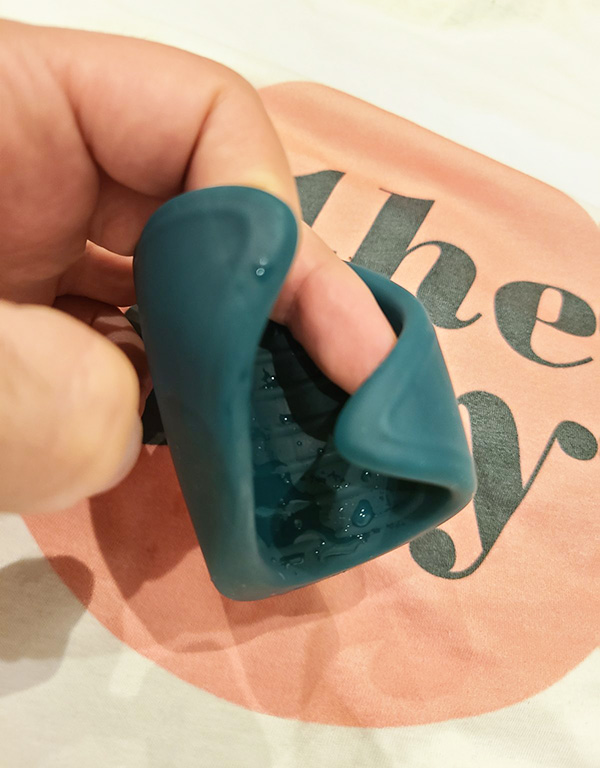 Size
Compact and unintrusive, you can see the exact dimensions of Lovense Gush below: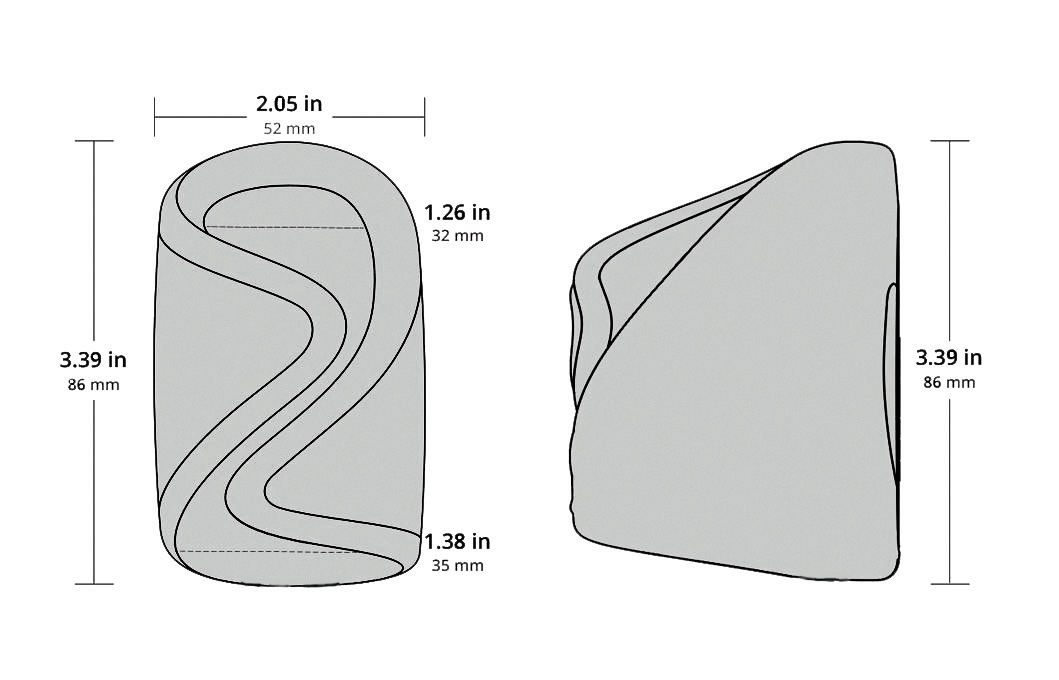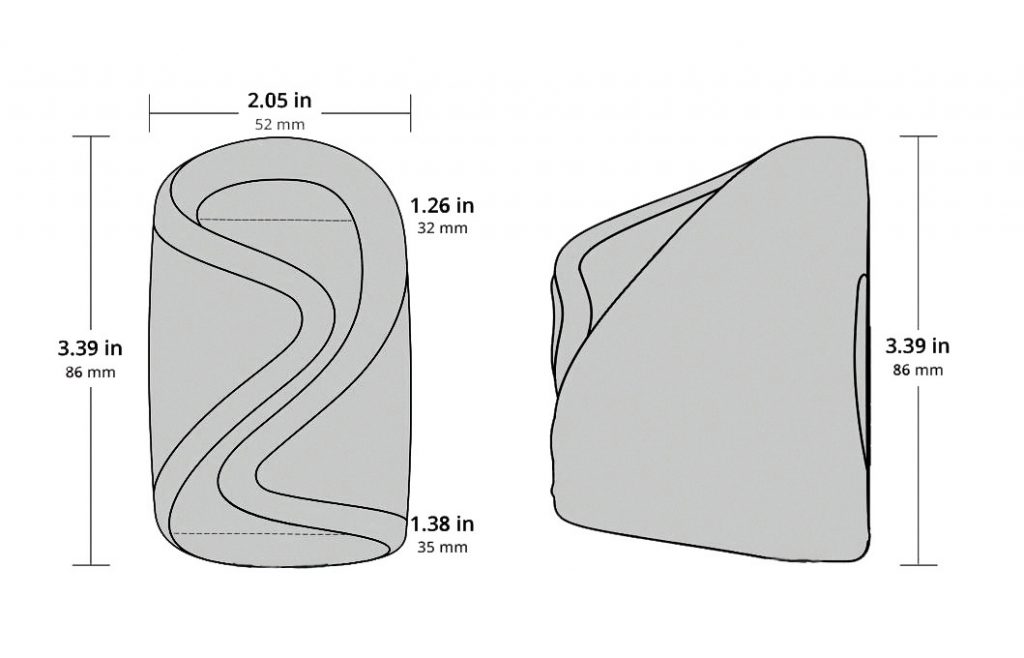 Charging
To charge the Gush masturbator, simply plug the USB cable into any USB port or USB/Ac adapter. It will take around 65 minutes to completely charge your Gush. When charged completely, the solid red light will turn off letting you enjoy the powerful vibrations for around 1.5 – 2 hours, depending on the intensity of stimulation. The idea of magnetic charging is certainly a welcome one, as that makes the overall cleanup process very nice and carefree.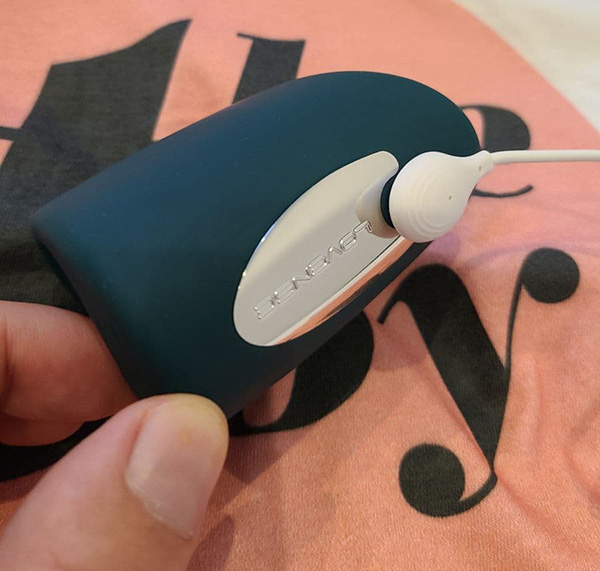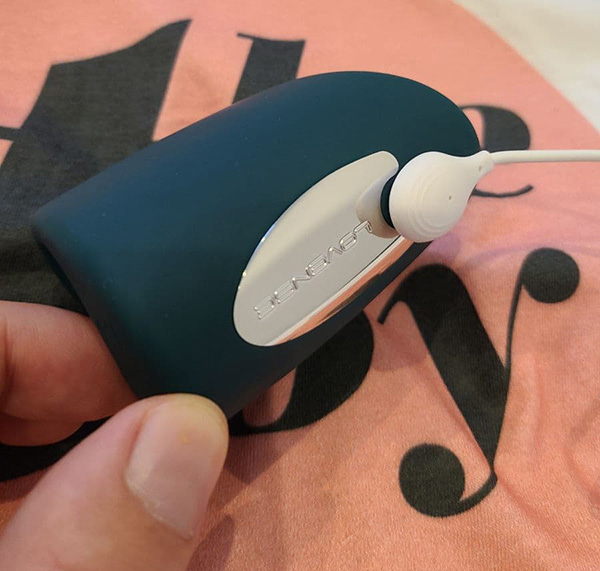 Controls
If you want to manually control your Lovense Gush, press the power button for about 3 seconds to turn it on. Then press again to cycle through the 7 preset patterns. If you press and hold the power button again for 3 seconds, the device will turn off.
Cleaning
clean the Gush penis massager, all you need to do is wash it with warm, never hot, water and antibacterial soap, then dry it thoroughly with a lint-free towel to remove any water residue.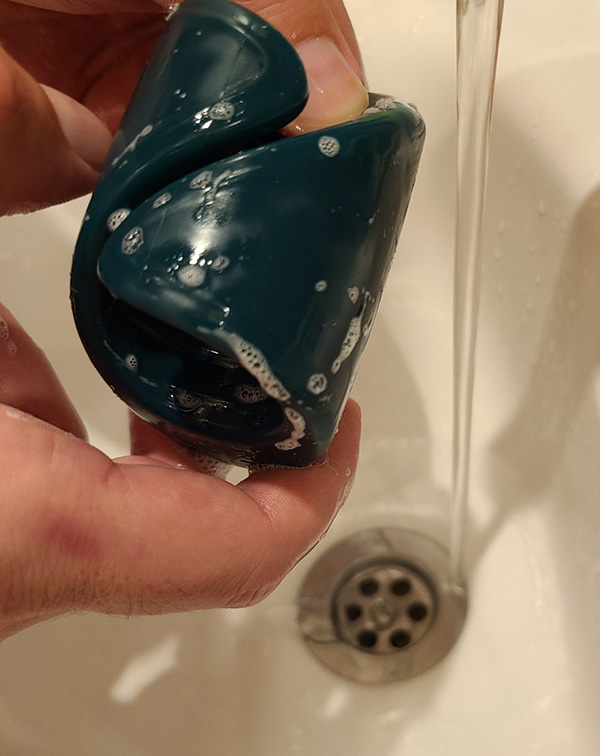 You definitely want to wash after each use, but the premium silicone makes that very easy as that's what silicone does, water basically rolls off it.
Price
I personally consider Gush well worth the money but $120 is $120. However, if you are looking for a premium quality glans massager, Gush will probably exceed your expectations, especially if you intend to use yours for long-distance sex. The good news is that you can get your Gush for 20% less now with Lovense's special discount.
You can buy Lovense Gush here: Lovense
App
Lovense is one of the few sex toy companies pushing the future of sex technology. Their sex technology integration app is a fantastic example of this.
With the Lovense Remote app for Apple or Android devices, you can fine-tune Gush's vibrations, develop or share your own patterns, have the device respond to music or ambient sounds, and take or grant remote control for long-distance interactive sexual adventures.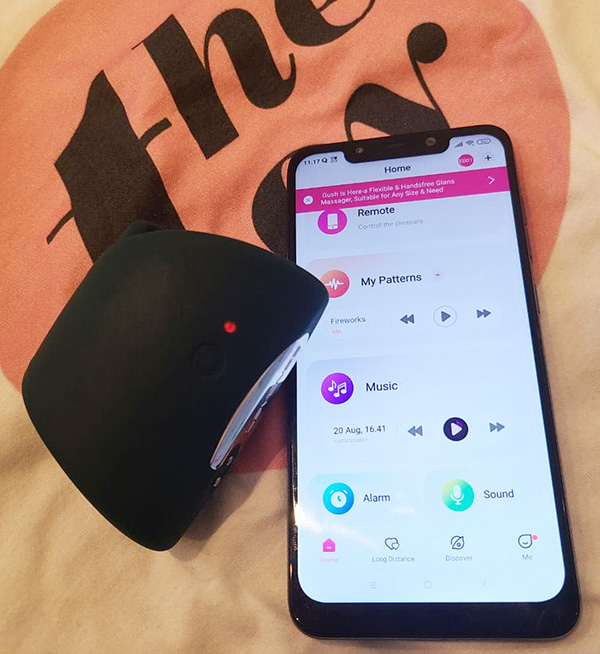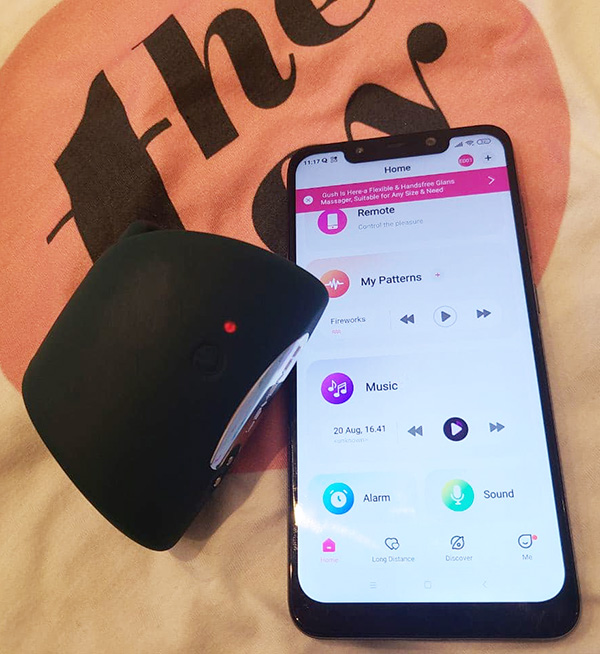 Lovense Gush easily connects with other Lovense sex toys like Hush, Edge 2, Max 2, Hyphy and Lush 2.
If you do not have a smartphone and your PC or Mac is Bluetooth enabled, you can use the desktop version.
A simple press of a button on Gush is all it takes to connect the Lovense Remote app to your device.
With the Lovense app, you can experiment with the different vibration patterns and speeds.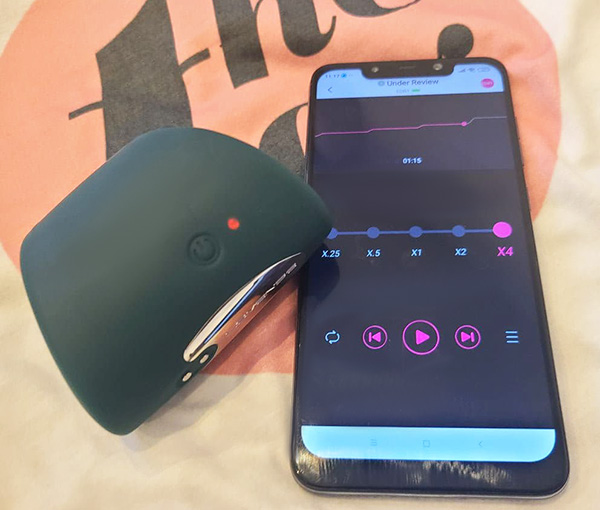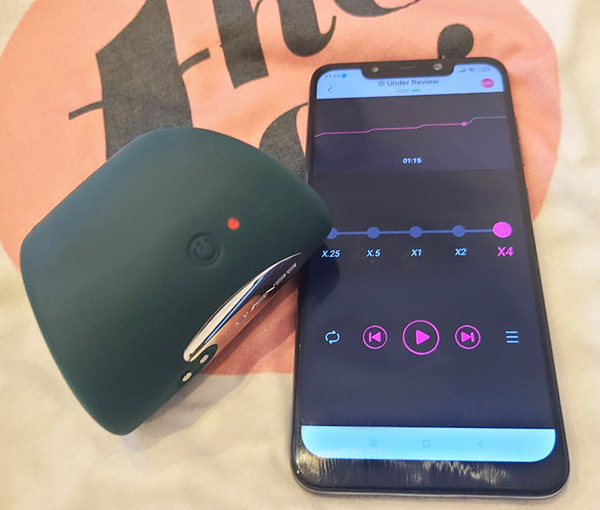 If you (or your partner) prefer to control Gush via Bluetooth, you can do so from anywhere as long as the device you are using is connected to the internet, which is the case with most smartphones and tablets these days.
Make sure you have downloaded and installed the Lovense app on your smartphone. You can download it for free from the App Store or the Google Play Store.
If you already own other Lovense toys, you already know that the app is the most attractive feature. The remote-controlled vibrators by Lovense offer almost endless possibilities to create, mix and match patterns and adjust the intensity of the vibrations.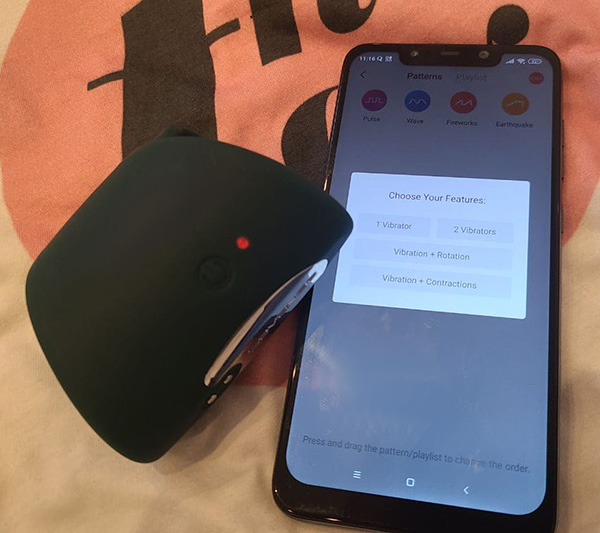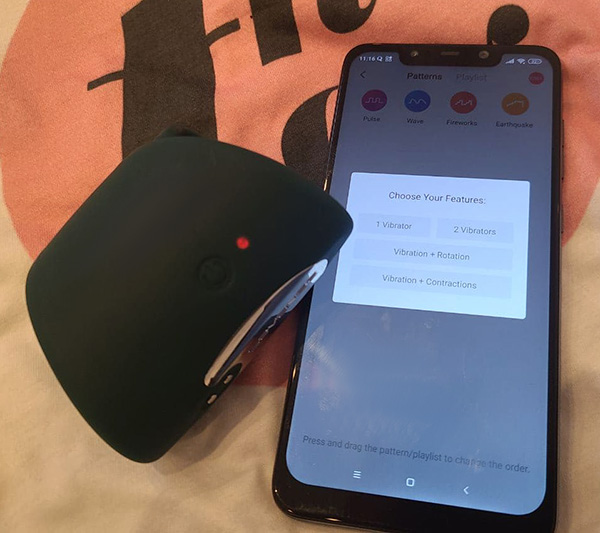 The software allows you to connect your toy to virtually any other Lovense sex toy at the same time. The vibrations from the connected devices pulse at the same intensity and frequency, giving both parties a very realistic experience.
Learn everything there is to know about the Lovense app, including how to use it.
Check the price of Lovense Gush: Lovense
Disclosure: I got Lovense Gush for free in exchange for an honest review. If you buy your toy from the links in this article, I might get a commission.
Interested in other Lovense toys? Click here to see their website!