OhMiBod Lovelife Snuggle is a dual-stimulation rabbit vibrator with simplified yet fantastic features. It offers simultaneous vaginal and clitoral stimulation, and the convenient handle provides a comfortable grip without numbing your hand.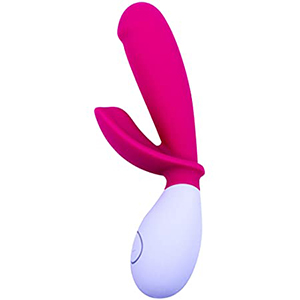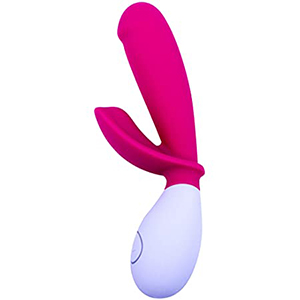 | | |
| --- | --- |
| Power: | (3.5 / 5) |
| Noise: | (4.0 / 5) |
| Material: | (4.5 / 5) |
| Design/Size: | (5.0 / 5) |
| Experience: | (4.5 / 5) |
| Price: | (5.0 / 5) |
| Controls: | (4.0 / 5) |
| Ease of Use: | (5.0 / 5) |
| Average: | (4.4 / 5) |
An affordable and ergonomic rabbit vibe for simultaneous clitoral and G-spot stimulation
You can buy this vibe from:
Pros and Cons
Pros
Convenient design
Easy to use controls
Completely rechargeable
Beginner-friendly when used on the lower settings
Lightweight
Relatively painless to clean
Quite affordable
Cons
Not completely waterproof or submersible
Not powerful enough, according to many users
One can't control it via phone app
Compared to conventional rabbit vibrators, Snuggle is slightly smaller and compact. The design is travel-friendly.
Snuggle is very easy to operate. There are 3 push buttons: one to turn on/off the toy and choose the vibration patterns, and two for increasing/decreasing the intensity of stimulation.
You don't need to buy and change batteries – the Snuggle is completely rechargeable.
The lower settings great if you are new to the rabbit vibrators or have sensitive genitals.
This lightweight rabbit vibe is excellent for those whose hands get easily tired. This feature also helps to avoid numbing of the hand following prolonged use.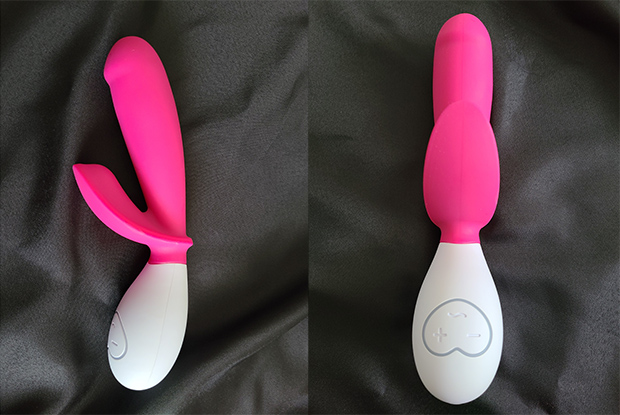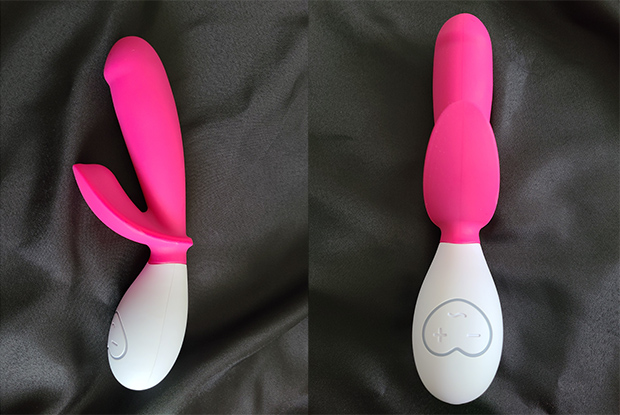 You can easily wash the Snuggle vibe with soap and water.
This rabbit is a budget-friendly option for a vibrator of its' class.
Since Snuggle is water-resistant only, you can wash it after each use as long as you don't submerge it or get water into the charging socket.
The vibrations are less powerful compared to competitive rabbit vibrators.
The Snuggle rabbit toy is not compatible with mobile applications, which makes it unsuitable for long-distance play.
Features
The overall performance of OhMiBod Lovelife Snuggle is good enough to get it positioned among the best rabbit vibrators. Sure, it might not be the most powerful option (but not everyone is into extra intense stimulation), and other awesome features are making Snuggle a great rabbit vibe.
Vibration Quality
Both the insertable shaft and the clitoral arm of Snuggle offer deep rumbly vibrations that you can easily adjust, thanks to the control buttons at the base of the vibrator.
Vibration strength
For each of the vibration patterns, 6 intensity levels can be adjusted using the + and – buttons.

Noise
Snuggle outperforms most rabbit toys in terms of discretion.
I tried the vibrator (on maximum intensity) while lying on my bed. My partner was next room and reported no sound could be distinguished when the door was closed. However, after opening the door, he could hear a buzzy noise from my room.
I also noticed that Snuggle gets quieter when inserted, as the vibes get absorbed by the body.
Charging
First, you need to make sure the rabbit massager is completely dry before inserting the cable into the circular charging socket at the base of Snuggle. You should insert the other end of the charging cable (the USB plug) into a laptop or a USB wall charger.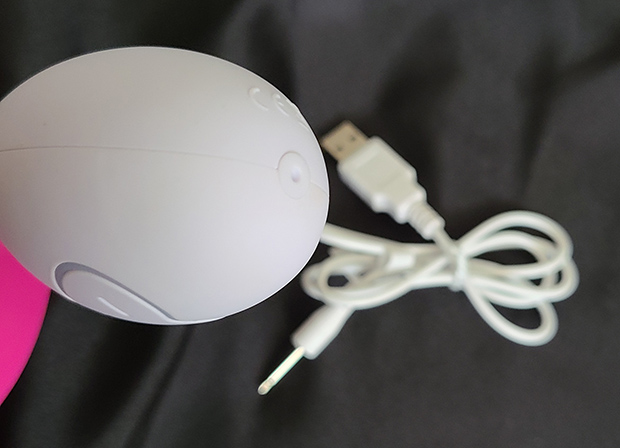 The heart-shaped LED will start blinking (along with the 3 buttons) once the vibrator is connected to a power source. When fully charged, the Snuggle rabbit emits a steady glow, and this is an indication that you should unplug it from the power source,
Complete charging takes about 2.5 hours, giving you up to 1.5 hours of continuous play. The standby mode is up to 90 days, but we recommend recharging your vibrator more often to ensure optimal battery life.

Materials
Both the insertable shaft and the clitoral arm are made of body-safe silicone. The base where the controls are located is made of PU coated ABS, ensuring a comfortable grip. When it comes to adult toys, these are the best materials that manufacturers can use.
Design and Comfort
With Snuggle, you get the classy rabbit-type vibrator design, contoured to "snuggle" into the body. The external arm completely covers the clitoris while the shaft that is inserted vaginally curves into the body.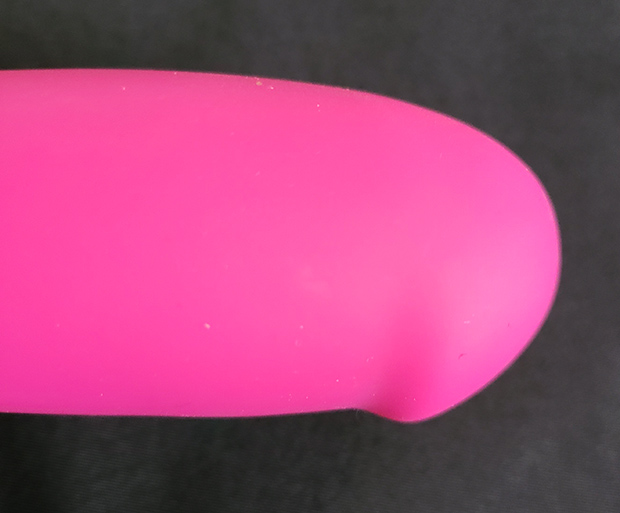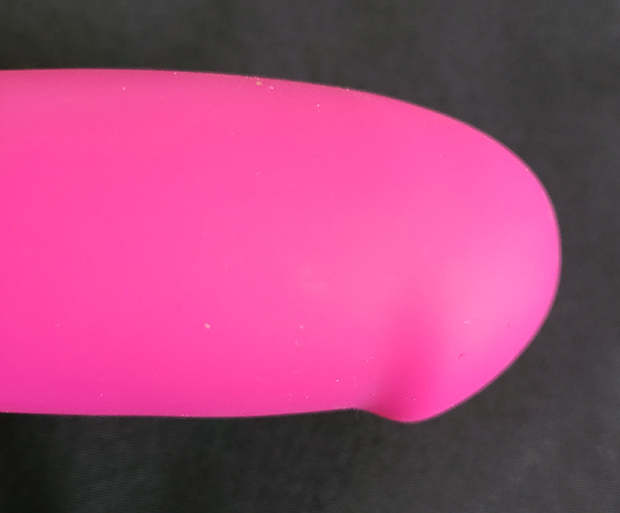 In terms of flexibility, the shaft of this rabbit toy is rigid, while the clit arm can be adjusted according to the pressure you'd like to apply to your labia.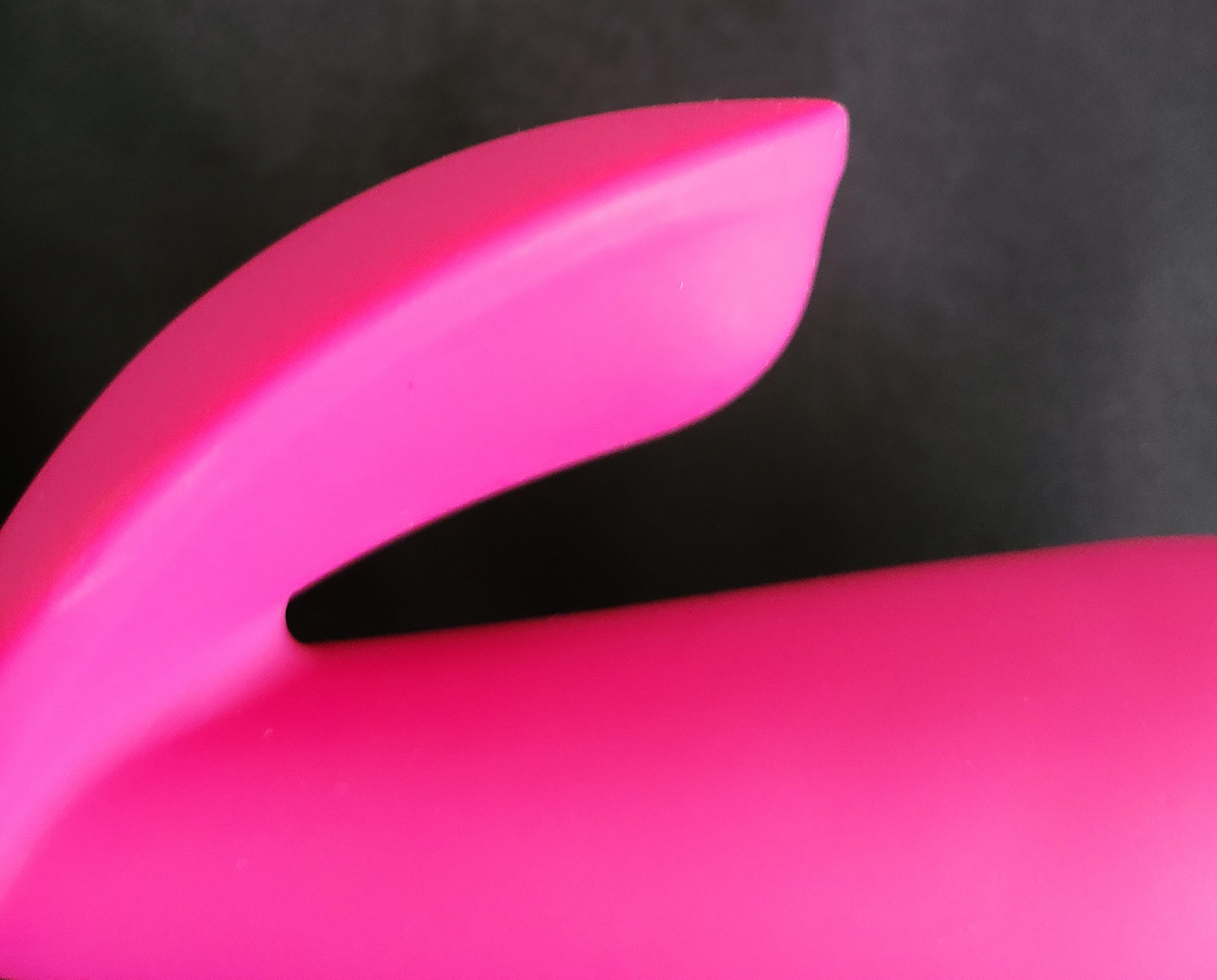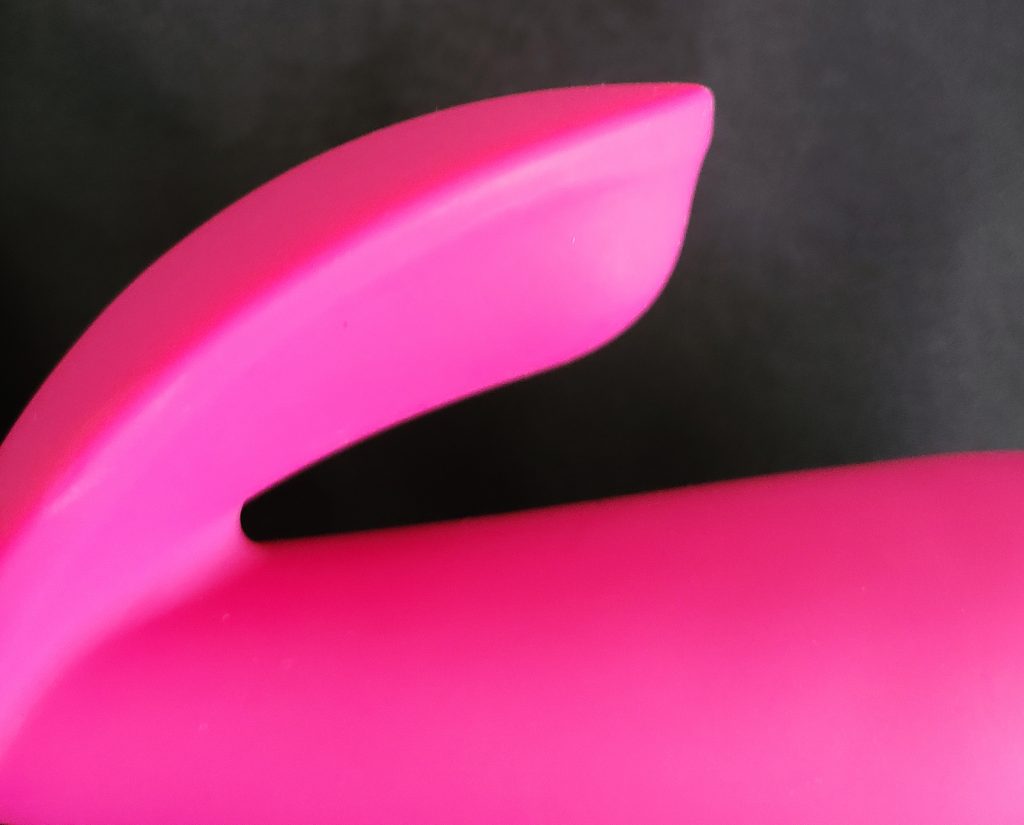 Size
The exact dimensions of OhMiBod Snuggle are as follows:
8.1 in overall length (206 mm)
1.3 in diameter of the G-spot arm (34 mm)
2.4 in for the clitoral arm (60 mm)
Snuggle only weighs 5.6 oz (159 g), making it one of the most convenient rabbit toys for holding and carrying around.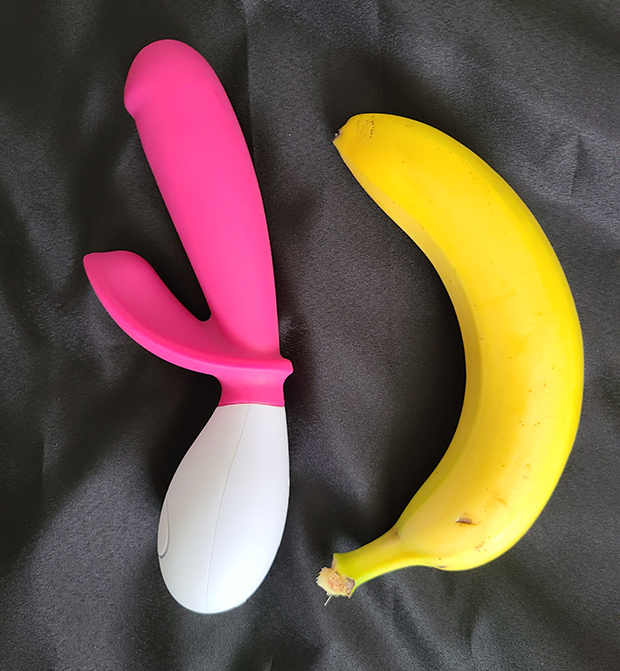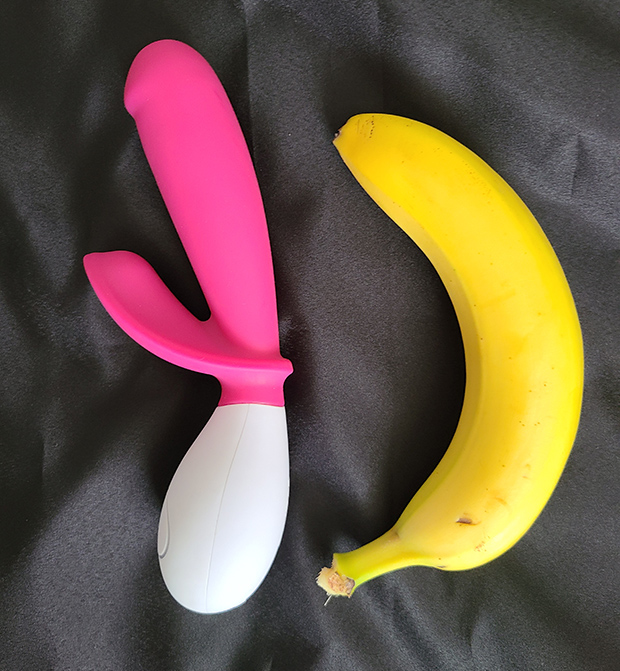 Versatility
As with any other bunny vibrator, this one is quite versatile, providing dual simultaneous stimulation for both the clitoris and the G-spot.
Battery life
You can constantly use your Snuggle rabbit for up to 90 minutes per charge. However, if you use yours for quickies, you might be surprised to learn that this rabbit vibe can hold its battery for more than a month after daily use.
Controls
There are only 3 control options to get used to when using the Snuggly bunny.
With the ~ button, you can activate the vibrator after holding it for about 3 seconds. The same applies to deactivating the sex toy.
For switching the vibration patterns, press the ~ button and move to the next pattern.
+ and – buttons are used for increasing or decreasing the intensity of stimulation.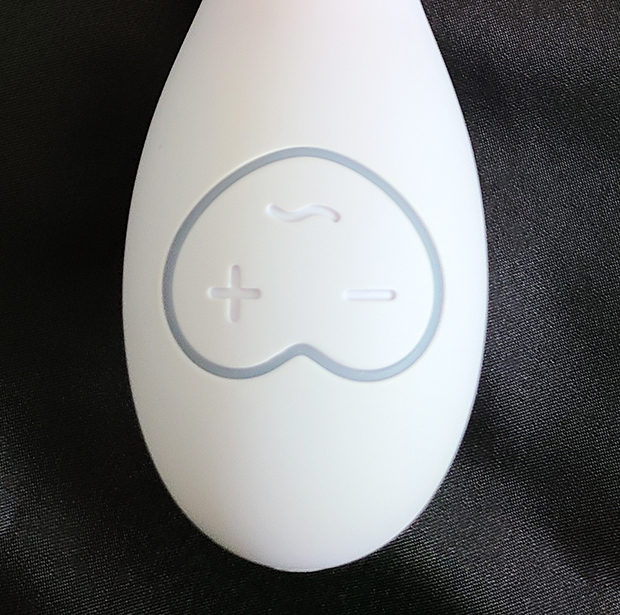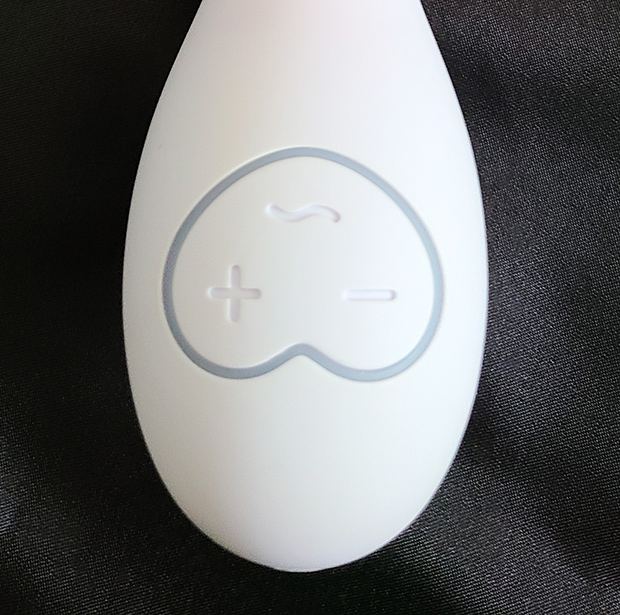 Lubricant
If necessary, apply a water-based lubricant before inserting the shaft of Snuggle into your vagina. You can also apply some on your labia for better contact and no friction between the external arm and your clitoris. Water-based lubricants are natural moisturizing gels that attach to the vaginal wall to lubricate, moisturize and protect the vaginal wall. Use hypoallergenic and hormone-free formulas. Avoid lubes that contain hazardous chemicals or substances that can irritate.
Avoid silicone-based lubricants, as such, may damage the texture of Snuggle, and there might be a change in the toy's structure.
Cleaning and care
Cleaning this bunny vibrator is easy, as long as you are careful enough and don't let water get into the charging socket. You can use mild soap while washing the shaft and the external arm or use a sex toy cleaner.
Ensure the vibrator is completely dry before placing it in the storage pouch, so it is spotless and dust-free before your next sensual session.
Price & Where to buy
The price of OhMiBod Lovelife Snuggle is reasonable for the quality, design, and features of the vibrator. It is more affordable compared to competitive products. You can get yours for around $80-$100, depending on where you buy it.
I recommend purchasing your sex toys directly from the official manufacturer's page or an authorized dealer. This is the only way to make sure you won't receive a counterfeit product of questionable quality. Plus, OhMiBod Lovelife toys come with a 1-year warranty, which is important when investing in pleasure.
Where to buy OhMiBod Lovelife Snuggle: OhMiBod
My Experience
I'm not into 'extra powerful and super intense vibrators, simply because I'm not a power queen. I can get super excited by gentle, non-intrusive stimulation, and I need just a bit more to reach a climax. This refers to my clit and my G-spot, which might be the main reason I enjoyed my experience with the Snuggle rabbit vibe. Multiple times.
I tend to start off using the lower intensity settings and then gradually increase the power of vibration until I'm able to climax.
During my first solo session, I needed some extra time to get used to the controls, so the vibrator wasn't inside me the entire time. After some adjusting and choosing the right pattern, I reached my sweet O quite easily. It didn't require much time, plus the external arm, along with the raised part that targets the clitoris, offers complete coverage, not allowing it to 'escape' the stimulation.
This is why, for me, it required just a couple of minutes to get used to the vibrator and its' functionalities and enjoy it to the max. I personally prefer the steady vibration setting because I get somewhat distracted while playing with the 'individual' pulsations or the ones that make some repetitive rhythms.
What if OhMiBod Snuggle doesn't start?
Once you connected Snuggle to the charging cable, you should see the LED light blinking. If it doesn't, this indicates that the battery is fully drained, so it may take a few minutes before you start seeing the LED blinking.
If you can't turn off your Snuggle massager even after multiple attempts, this indicates the battery is near the end of its charge. Plug the vibrator into the charging cable (connected to a USB plug), and it will immediately turn off and start recharging.
Important Safeguards
Do not use on areas that are swollen, inflamed, or have skin lacerations.
Stop using the massager if you experience pain or discomfort.
Do not submerge in water.
Please do not use it while bathing or in the shower.
Alternative products to consider
Since rabbit-type vibrators are among the most preferred sex toys for women, there are hundreds of similar products, but just a few are worth considering.
Lovense Nora
Lovense Nora
The Nora rabbit is among the most wanted sex toys for women due to the extra powerful motors located on the clitoral arm and the insertable shaft of the vibrator. It is twice as powerful compared to the OhMiBod Snuggle. Lovense created their bunny vibrator with a moving head, and this is quite an innovative feature for this type of sex toy. The bad news related to the more intense vibrations is the more noise coming from the vibrator – not the most discreet rabbit you can find.
Also, Nora's vibrations can be controlled separately, meaning that you can only use the internal shaft without the clitoral arm or use the external arm and insert the shaft manually if you please.
Nora is also a remote control vibrator with an app that can be controlled by a smartphone and interacts with other Lovense sex toys. The Snuggle bunny vibe doesn't have interactive features, nor can it be connected to an application.
Lovense Nora is also bigger. It doesn't have the convenient design of Snuggle, making it more travel-friendly. And their weight differs quite a lot – Nora weighs 13.4 oz (380 g), while the Snuggle weighs more than twice as less, making the second more comfortable holding it during use. And while Nora will numb your hand comparatively fast, the Snuggle protects your comfort even during longer sessions.
I personally find OhMiBod's vibrator comfier due to the smaller size, but there might be those who prefer a more fulfilling kind of stimulation.
The price of the Nora vibrator is higher, as expected, due to the various functionalities of the toy, the immaculate app it connects with, and the impressively powerful stimulation it offers. However, if you are looking for a budget-friendly option that will still do the work, I recommend choosing Snuggle.
Lelo Soraya 2
Lelo Soraya 2
The Soraya 2 rabbit vibrator is among the most popular creations of the Lelo company. It offers 12 vibration intensities, twice as much as Snuggle and the clitoral arm is way more flexible than the one of Snuggle.
Both devices offer discreet and deep stimulation.
In terms of design, I personally prefer OhMiBod Lovelife's rabbit, as most Lelo toys have that the gold detailing along the mid-section of their rabbit toys made of ABS plastic, and I found a couple of reviewers complaining that it starts to peel off after prolonged use.
Another major difference between these two rabbits is the price aspect. While Lelo designs vibrators advertised as luxurious, OhMiBod Lovelife's toys are unpretentious, and this is quite obvious after checking Soraya's price tag, which is 3 times as higher.
Unboxing
The unboxing part is an important ritual for me. It's a blend of expectation, excitement, and a certain surprise every time I open a new sex toy box.
OhMiBod company is super discreet when it comes to protecting your privacy, and this is an aspect I really appreciate. The courier gave me a plain cardboard box with no label to indicate what is in the box.
After cutting the tape and opening the box, I found the elegant box of the Snuggle rabbit, surrounded by small plastic strips used to protect the product during transportation.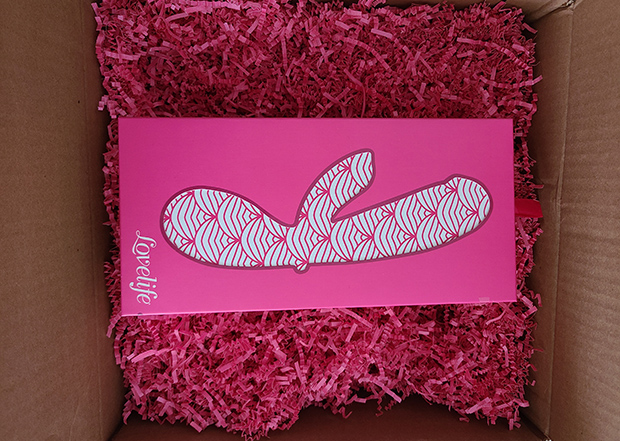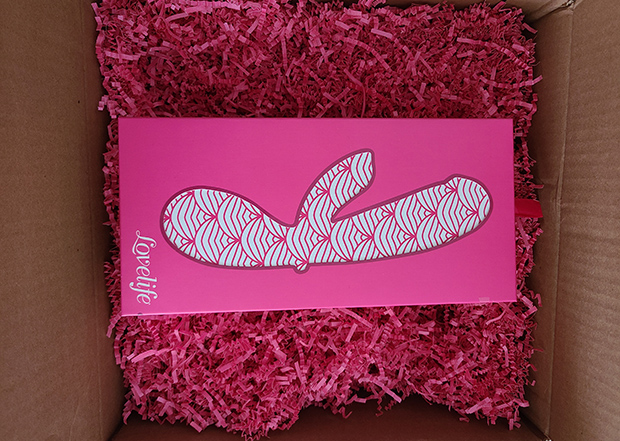 What's in Snuggle's box
Opening the original Snuggle rabbit box was a really satisfying procedure. I enjoy holding classy products that represent high quality in such an unintrusive way.
The contents of the Snuggle box include:
The Snuggle rabbit vibe
A classy and super cute multilanguage user manual
USB-charging cable
White satin storage pouch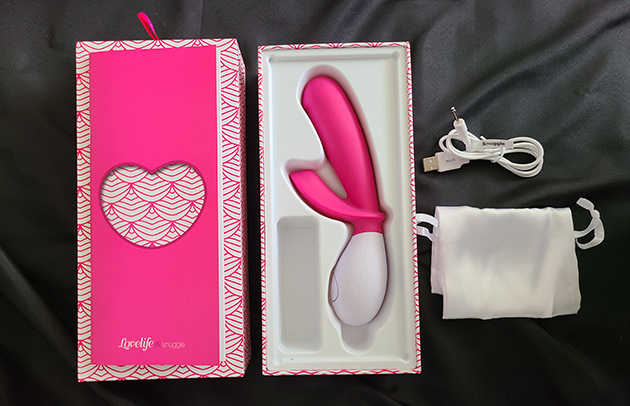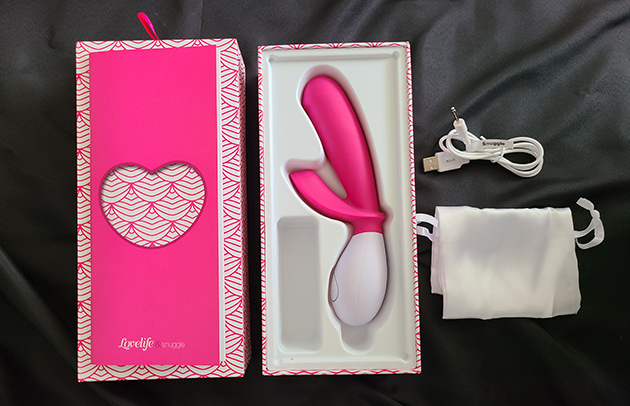 Conclusion
The OhMiBod Lovelife Snuggle is a classic dual-stimulation rabbit vibrator with convenient size and discreet performance. Travel and budget-friendly option for everyone who wants to enjoy the awesome features of a bunny toy but is not willing to spend a fortune for buying one. This unpretentious vibrator will meet your expectations if you are into medium strength of stimulation.
Where to buy OhMiBod Lovelife Snuggle: OhMiBod