Lovense Nora is an exceptional rabbit vibrator. This interactive, app-controlled bunny stimulates both your G-spot and clitoris for an orgasmic experience every time you feel naughty.
Lovense Nora is perfect for your solo sessions – thanks to the unlimited vibration patterns, this sexy toy will satisfy you in the most unique way, thanks to the rotating head and vibrating arm that can be adjusted separately.
Or you can let your partner choose the pace for you. Either when you're together or in another continent – long-distance sex has never been so good!
Nora can be paired with other Lovense sex toys, such as Max, the male masturbator, or another Nora rabbit vibe. When synchronized, the devices simulate real sex and the vibrations are simultaneously transferred to give you surreal sensations.
Where to buy: LovenseLovehoney
What is Nora by Lovense?
Nora is in fact one of the best rabbit vibrators worldwide because of the versatile options it provides. As mentioned, it is created by Lovense company, the current leader in long-distance sex toy manufacturing.
Nora is among the most powerful G-spot massagers with a clitoral attachment, controlled remotely via Bluetooth connection to a smartphone. The toy is specially designed for couples who want to enjoy their intimate moments together even from a long distance. To enjoy some quality experience with this sex toy you only need the app installed on your iOS or Android device. After that, the game can begin, no matter how far apart you are from your intimate partner.
Dare to entrust him to control of your own pleasure.
Nora is a new generation vibrator. Its special design covers all female erogenous zones. The curve of the penetrating part aims to stimulate the G-spot, and the flexible thin tip is suitable for simultaneous clitoral stimulation.
Nora is designed with stimulating reliefs, perfect for dense penetration, and/or for intensive stimulation of the G-spot. It's a 3rd generation product and each improvement was made, according to user requirements and suggestions.
Product specification
Materials: Body-Safe Silicone (shaft and flexible arm) and ABS plastic (handle)
Total length: 9.6 in/24.4 cm
Insertable length: 4.9 in/12.4 cm
Insertable diameter: 1.1 to 1.5 in/2.7 to 3.8 cm
External appendage length: 2.6 in/6.5 cm
External appendage diameter:1 in/ 2.5 cm
Weight: 0.6 lb/285 g
Power: Rechargeable battery (magnetic USB cable included)
Battery life: 2 to 4 hours
Charging time: 2.5 hours
Colour: Pink (insertable part and flexible arm) and white (handle)
The immaculate performance of Nora
If you're looking for something allowing you to play solo or with a partner, Nora is a perfect choice. You can manually control your Nora bunny vibe or control it through your mobile device, you can let your partner adjust the orgasmic rhythm or allow a complete stranger to choose the settings for you.
The choice is yours – and you'll only need a few taps before reaching the sweet teasing sensation that precedes cumming. Keep the same pace or increase the vibration strength and there you are, enjoying a trembling orgasm with your entire body…
Here is the right place to mention that Lovense Nora app-controlled vibrator is the female counterpart to the Max 2 masturbator. While you're enjoying the sensual rhythm of your Nora bunny, a similar stimulation is transferred to Max male toy. Time to see who's gonna cum first!
Or, if your long-distance lover is also female, you can connect your toy to another Nora device or any other Lovense toy. Sharing pleasure has never been easier!
Nora for G-spot stimulation
It is easy to see that the shaft of Nora is a bit shorter compared to regular vibrators. Why is that?
Because of the simple fact that Nora is designed to stimulate your G-spot, thanks to both vibrations and gyrations of the head. Most vibrations focus on your G-spot, pressing against it to stimulate the nerve endings and, thus, provoke spectacular orgasms. The gyrating head, on the other hand, is intended to increase the pleasurable sensations during masturbation or long-distance sex. You can increase or decrease the speed of the gyrations, according to your liking.
Nora for clitoral stimulation
Your Nora rabbit offers both internal and external stimulation. While the head of the vibe and the optimized shaft stimulate your vagina, the flexible arm of the vibrator titillates your clit. And there's a separate motor for the external part, suitable for women of all sizes and shapes.
Again, you can choose one of the preset patterns of vibration and the speed that feels the most pleasurable on your clitoris. There are 3-speed levels you can choose from – low, medium, and high. The preset patterns of pulsation include pulse, wave, fireworks, and earthquake, respectively, with increasing intensity.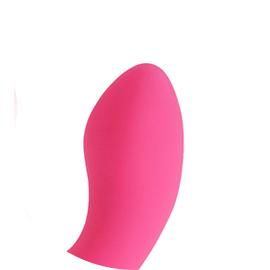 Great for manual thrusting
The idea behind creating Nora vibe is to give you the most realistic sexual experience possible. This is why the insertable part of your toy resembles a penis but is made to provide additional benefits. For instance, you can use your Nora for manual thrusting, as the vibrator has smooth bumps along the surface of the shaft. This will give you add even more pleasure to your experience and make you appreciate the innovative design of your sex toy.
Nora for helluva virtual sex
Nora is definitely the best interactive vibrator that will help you recreate the sensations of real sex. You have separate settings for the shaft and tickler that can be adjusted the way you like them the most – from gentle to super intense. 7 preset settings you can choose from and unlimited patterns you can create
Also, Nora not only vibrates, but it rotates and the rotations can also be adjusted, according to your personal preferences.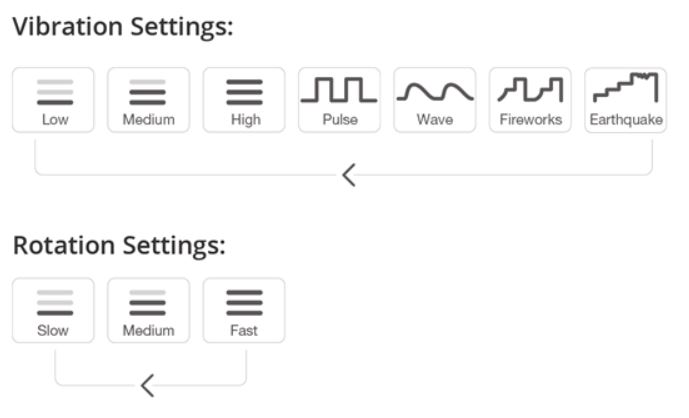 Creating vibration patterns, increasing or decreasing the intensity of stimulation, or controlling the rotations of your toy – all that can be done, thanks to the incredible application, provided by Lovense company. The app is free for iOS and Android users, and super easy to use, even if you and your partner are non-tech savvy.
You can use the app for chatting, sharing videos, or both. In real-time. What is more, your privacy is absolutely safe – the information you're sharing is encrypted and only you and your partner will know about it.
Allowing your partner to see your reactions through the video chat allows him/her to get an idea what you like and how exactly do you prefer it – faster or slower, intensely or gently, rotating or not… all these and many other functions adjusted in a click of a button. What a time to be alive!
Adjust the settings desired, choose your pace, and enjoy a perfect hands-free sexperience! Sync Nora remote-control vibe to your favorite music, if you wish – the vibes of your rabbit toy will perform to the rhythm of the song chosen.
And if you are interested in other interactive sex toys that can be controlled from anywhere, you should consider reading the Lovense Lush 2 review – the most powerful bullet vibrator created so far.
Lovense Nora Pros and Cons
Pros
Optimized design for dual stimulation
Gives you an unlimited choice of titillating vibrations and patterns
Can be used for masturbation, couple's play, long-distance, and even virtual sex
The insertable part and the arm of the toy are made of 100% body-safe silicone
You can choose separate settings for internal and external stimulation and adjust them, according to your preferences
The head of the vibrator not only vibrates, but it also gyrates, grinding against our clit
Cons
A storage pouch is not provided
Easy cleanup and care
Cleaning your sex toy before and after each use is a must! With Nora, the process is simplified – just apply some soap or sex toy cleaner and wash it off using water. The vibrator is completely waterproof, so you don't have to worry about anything!
Carefully dry the vibrator before storing it and recharge the device at least once every six months in order to protect the battery!
Recharge and enjoy high-quality sex
When completely charged, your Nora toy allows you up to 4 hours of continuous, uninterrupted play. Unless you use the most intense settings – if you do, you'll be able to enjoy Nora for about 3 hours. Complete charging takes about 2.5 hours, and during that time, you shouldn't use your toy.
The warranty you get
In case something goes wrong with your Nora vibrator, you can return it or replace it with a new device within 1 year, following your purchase. Note that this option rarely exists in the world of sex toys (for obvious reasons) therefore we should consider Lovense's offer.
Women sharing their experience
Almost all of those who had the opportunity to try the Lovense Nora vibrator are extremely satisfied with their purchase. Below you can see several independent reviews found on various websites:
From WeCamgirls:
I'm using Nora by Lovense for almost a year and I'm happy with this cutie. Perfect sizing, lovely design (even mentioning I don't realy like pink color), great opportunities. Almost everything about this toy is good. Also, it's the only one toy I can squirt with. I use it for Jasmin, MFC and Chaturbate, but I also can give a control link to an exact member I have in my pvt, in that case Nora can be used on any site.
I ordered Lush couple days ago, so gonna test it soon:-)
From SurviveLDR:
ou forgot to mention that the Nora is LOUD when the head rotation is turned on. It's quite the instant mood killer! I checked with Lovense and they said the noise was to be expected, much to my disappointment.

The company might as well not have that function for Nora, because it ruins it completely for us. I regret this purchase given the premium price.

I do not recommend Nora to prospective buyers due to the noise.
From Reddit:
The below comment (posted by u/biswitchdisaster) recommends Lovense Nora and Max for long-distance sex:
My bf and I have the Nora and Max 2 from lovense. They are great for being able to control through app, but our favorite feature is that they can sync up and mimic having sex because the toys react in real time to each other while you play. It's the closest thing we can get to it right now but it has been a tremendous help for us both. Best purchase I've made for us so far.
Here's a discussion on Reddit about using Nora while partner penetrates anally:
From Amazon:
Easy Bluetooth toy that feels so good! Honestly this is the best feeling toy I have ever owned and it's so fun to let others control it. Makes it way more fun !!! I have had no problems using this toy despite other reviews that stayed that there were some problems connecting to Bluetooth. So far it's amazing and I can't wait to use it more!!
Lovense Nora, according to camgirls
Nora is one of the most preferred vibrators for camming. Camgirls choose Nora because of the reliable connectivity it offers and the intense stimulation no other remote rabbit toy may offer. Manipulating the toy is very straightforward, your video chat still remains private, unless you prefer sharing it. Below, you can see some comments, written by women, performing with the Nora: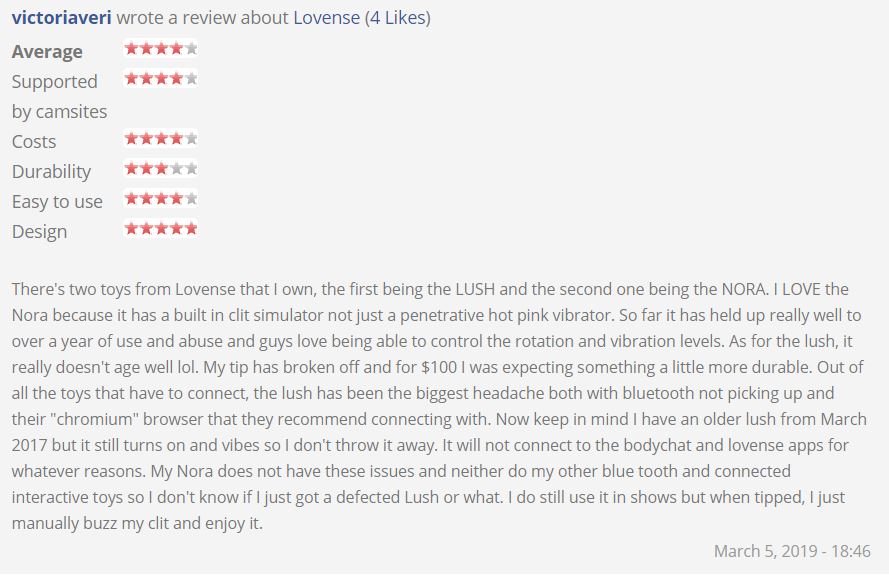 Where to buy: LovenseLovehoney