Lovense Lush and OhMiBod Esca are wearable remote control vibrators that combine all the awesome features of regular vibrators plus the option to be controlled from anywhere around the world. Lush and Esca have their upgraded versions "2" that are worth reviewing.
These app-connected vibrators give you (or your lover) complete control over your intimate experience and, as long as the toy is connected to the internet, you can enjoy it to the max.
In this article, I'll share my experience with both toys and I'll share what I liked and what I would rather change about each of these toys.
Similar features
When it comes to G-spot vibrators, there's one simple rule no one can argue with – vibrations should be precisely where needed and just the right amount.
The bendable, ergonomic shapes of Lush and Esca are specially designed to hit this exact spot, not allowing the toy to slip or relocate during use. Your vibrator will stay exactly where your sensations can be maximally teased until they bring you to sweet convulsions.
And if you are a fan of clitoral stimulation, I'm bringing some good news – the bendable antenna (both Ohmibod Esca and 2 Lovense Lush 2 and have it) can be inserted directly on the clitoris. The vibrations from the internal part of the toy that are transferred through the antenna and you can use it for clit play.
The annoying part is that you'll need to use your hand to keep the external part in place but it adds additional stimulation, that's for sure.
Walking in the park, shopping, and working from an office can become truly exciting activities once your egg toy joins the party!
Here I have to mention that Lush 2 is a bit more discreet, compared to Esca 2, so if you intend to use your toy where the background is quiet, I believe Lush will best keep your dirty little secret.
As for the strength of the vibrations, Esca 2 is the more intense option here. The vibrations are indeed strong and I don't recommend Esca 2 for novices but if intense stimulation is what you are looking for, then go for it. Lush 2 is just as powerful but maybe more gentle, compared to the Esca.
However, I didn't find a major difference between the two vibrators when it comes to power – they will surely take you where you want to be, it just depends on how you like it – more intense or more merciful.
Both Esca 2 and Lush 2 are considered very powerful bullet vibrators that can also be used as vibrating panties.
The next thing I'd like to mention is the amount of time you can continuously enjoy your toy before it needs a recharge. This aspect is important to me because I like to wear my toy while working. I work from home, so it gives me additional excitement and motivation and yes, you are free to call me a nymphomaniac but that's just my way to be more productive.
So, Lush 2 offers about 2 hours of continuous play, whatever the mode and pattern chosen. This means that Esca 2 wins this round having that it can satisfy you non-stop within the next 3 hours! And I do appreciate the impressive potential of such small gadgets because such capacity was virtually impossible 10 years ago!
How to use Lush 2?
You should completely charge you Lush 2 vibrator before the first time you use it. It will take about an hour and a half.
After your vibrator is completely charged, you can use it for about 2 hours on the highest setting, and for no more than three hours on the lowest setting.
The preset vibe patterns are 7 and you can download and create your own patterns, thanks to the free Lovense Remote application.
Lush 2 offers wireless connectivity options thanks to its antenna, connected to the bulb (head) of the toy through a flexible stem. The head of the toy is inserted vaginally and the design of the toy targets the G-spot, while the stem end remains outside the vagina and can be used for mild clit stimulation
Where to buy Lush 2: Lovense
How to use Esca 2?
Since the design of Lush 2 and Esca 2 is quite similar, both toys have a curved C-shaped appearance with an insertable and external part. Just like with Lush 2, Esca 2 should be vaginally inserted to stimulate the G-spot and the antenna stays out and can be used for clit stimulation.
Again, there is a Bluetooth connectivity option for short distance control. For long-distance play, you can use the Wi-fi connectivity of Esca 2. Installing the free OhMiBod app on your Android or Mac allows you to choose and combine exciting patterns of vibration.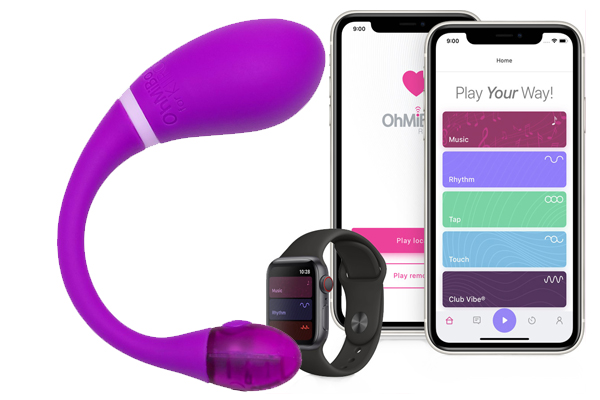 Unlike Lush 2, Esca 2 is designed with a special LED light that reacts to the vibrations of your toy. This way, during video chat, your partner will know exactly what happens while changing the intensity of the pulsations.
The stem of Esca 2, where the LED light is located, can be also used for clitoral massage – while your toy is inserted and vibrates, you can position the stem on your clit for additional pleasure.
Check out our article about the top OhMiBod products!
Where to buy Esca 2: Kiiroo
Lush 2 vs Esca 2
Design
Lush 2 and Esca 2 look almost identical, the only difference is that Lush 2 is pink and the Esca 2 is purple. You can use each of the remote toys for solo pleasuring – just a quick adjusting of the vibrations will let you enjoy a sweet orgasm within the next few minutes.
But the really exciting part is that both Lush and Esca are 100% wearable, which allows you to wear your wireless egg toy while in public! Just imagine the unlimited options you can choose from!
Power
Lush 2 is so far the most powerful remote control vibrator you can find on the market. Contrary to most users' expectations, the small plaything offers a wide range of vibration modes, starting from a very gentle teasing murmur to super intense pulsations and, above all, you have the unlimited choice of patterns. You can choose from the preset vibration modes or can create your own rhythm. Lush 2 is suitable for more experienced women or for those looking for a more exciting and fulfilling experience.
However, Esca 2 is not to be neglected in terms of power. It does provide a wide range of preset vibration modes that can surely compete with Lush 2 – maybe a bit less powerful but, still, just as exciting!
Discretion
In terms of noise level, the winner is, again, the Lush 2. The slight difference of about 5-10 db cannot be distinguished when in public but if you are looking for a super discreet vibrator, Lush 2 is the more appropriate option, performing at max 45 db.
Solo play
Both toys can perform well if your main target is masturbation, in other words, self-satisfaction. Both Lush 2 and Esca 2 can be adjusted using the single button, located at the end of the external part of the vibrators.
Remember to start with lower intensity settings and gradually increase your pace, as the capacity of those vibrators is really intense when at maximum intensity.
After adjusting your toy, your hands are free to explore, tease, and caress other erogenous zones, such as nipples, clit, anus etc.
Or, the other option is to use the antenna of your wearable vibe to massage the clitoris.
Public play
If you intend to play with your toy, while surrounded by people. the better option is Esca. It appears that Lush 2 has some connectivity issues. Multiple reviews report problems with Lush's long-distance control – sometimes, the device gets disconnected, sometimes, it can't be adequately paired using the Lovense app.
With Esca, on the other hand, there is no information about problems with the device's connectivity. Most users are indeed impressed by the reliable connection between paired devices or when using the Bluetooth mode of Esca. According to users, long-distance play is uninterrupted and, in the long run, that's indeed important if you are in a long-distance relationship or would like to use your toy as a tip controlled vibrator for camming.
Size
Lush 2 dimensions:
The bulbous part is 1.4 in / 35.5 mm thick and 3.14 in / 80 mm long. The antenna is about 4.8 in /122 mm in length.
Esca dimensions:
The head is 1.3 inches/33.2 mm thick and 2.8/71.1 inches long. The external part is about 4.5/114.3 inches in length
Warranty
Most sex toys come with no warranty due to 'hygiene measures'. This is always bad for the person who paid for the toy – the device may either malfunction or may not be the right for you, and that's normal.
Luckily, with Esca 2 and Lush 2 you shouldn't worry about the quality of the toy received. Firstly, because both toys are premium quality, therefore, chances that you would want to return the item are low. Secondly, because even if for some reason you are not completely satisfied with your order, you can easily return the item and get your money back. Both Lush 2 and Esca 2 have 1-year warranty.
Price
If the price is the main factor that will make you choose whether you want to have Lush or Esca, I might have bad news for you. They have the exact same price of $119.
Lovense and OhMiBod offer regular discounts, so if you are patient enough, you can find your new remote-control vibe for less than $100!
Important note!
To make sure you'll receive the original products and not some counterfeit or a defective device with no warranty, order your sex toys from the original manufacturers or authorized dealers only! 
Where to buy Lush 2: Lovense
Where to buy Esca 2: Kiiroo
Lovense Lush 2: What's in the box?
The Original Lovense Lush 2 vibrator
User manual
USB charger
OhMibod Esca 2: What's in the Box?
The original OhMibod Esca 2 vibrator
Satin storage pouch
User manual
USB charger
Lush 2 or Esca 2, according to camgirls
After doing a research on the best paying cam sites in the US, it turned out that camgirls' all-time favorite is the Lush. Even though there are connectivity issues, reported by users, Lush. in particular, Lush 2 remains the top choice of cam performers.
On Chaturbate, one of the most popular sites for camming, camgirls using Lovense Lush 2 for their performances are 4x more, compared to those using Esca.
Streamate is another platform, specialized for camming, where you can find almost 400 girls, performing with Lush 2. The number of those who prefer Esca 2 is also impressive. And, apparently, there are many performers who chose both vibrators for their Livestream shows, which requires to be a real pro.
For Cam4, where people can have sex live on their webcams, I can't find the exact number of females, performing with Lush or Esca but it is obvious that most videos are made with an insertable remote-control toy, which is pink. Obviously, Lush 2.
The platform Royalcams is another web platform where you can get ideas about the performance of remote-controlled toys, you can even find videos where Esca and Lush are used for anal play.
Live cam girls on Flirt4Free also tend to prefer the Lush 2. Almost 200 of them use it  for broadcasting, while only 2 have chosen Esca.
I found 26 videos of camgirls playing with Lush on Camsoda, and no videos starring the purple vibrating egg.
Lovense fans on Stripchat are dozens, maybe hundreds and most have chosen their Lush 2. This time, the number of performers, using OhMiBod toys is just as high. They have chosen either Esca 2 or Fuse for long-distance play.
In conclusion, more than 70% of cam performers have chosen Lovense for interactive sex. And that's not my opinion, it's the actual scatistics report you can also check for yourselves.
My experience with Lovense Lush 2
You can read how I felt using Lush 2 for the first time.
My experience with Esca 2
And here's my opinion on the performance of OhMiBod Esca 2.
Final thoughts
In short, with Lush and Esca, the choice depends on your personal preferences and expectations. Yes, Lush 2 is more powerful and discreet but Esca 2 provides better connectivity, according to consumers. Lush 2 is a way more successful toy to masturbate with or use it for long-distance play.
Esca is the alternative choice if you need a reliable, uninterrupted long-distance control. And if you prefer the purple color.
Where to buy Lush 2: Lovense
Where to buy Esca 2: Kiiroo