If you are in a long-distance relationship or just want to make things a little hotter in your bedroom, the OhMiBod Esca is a vibrator worth considering.
This portable vibrator is much more than just a sex toy.
First of all, it is 100% connected. Thanks to its Bluetooth and WiFi connectivity, it is interactive and remotely controllable, which means that your partner can participate even if he is not with you, controlling your orgasms from the other side of the world.
With its stylish design, amazing features and stunning vibrations, it's easy to see why the OhMiBod Esca becomes more and more popular every single day!
You've probably heard about the Lovense Lush 2, haven't you? Well, Esca 2 is the perfect alternative to it if you're looking for a remote-controlled G-spot vibrator for a more affordable price! This is why it is one of the best remote control vibrators.
In this review of the OhMiBod Esca, I'll tell you everything you need to know about it before you decide which option will be more suitable for you.
What is the OhMiBod Esca 2?
Aimed at couples in long-distance relationships as well as singles, who would enjoy some good orgasmic sensations, the OhMiBod Esca was created to maintain a certain intimacy in any situation, making distance and solitude a little easier to manage.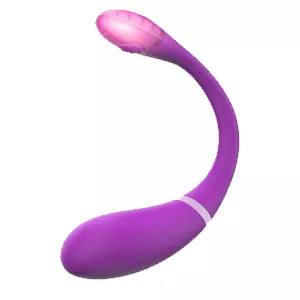 It is in fact a portable vibrator, designed to be worn by women and controlled remotely by their intimate partners, whether in the same room or in a completely different city or country!
After releasing the Fuse, OhMiBod and Kiiroo have teamed up again to design and launch the new Esca 2!
This purple portable vibrator with light and harmonious design can be used solo or in couple, and I must admit that it has a really cool design, that is sexy, soft, and comfortable.
The icing on the cake is an excellent application (OhMiBod Remote) which is compatible with this stylish toy, which we will discuss in more detail later.
In short, Esca is not a vibrator like most others. This is a sex toy that serves a particular purpose: to satisfy you in any situation. And for your information, it's mission successful every time I use it!
Where to buy: KIIROO® Official WebsiteLovehoney
How does the OhMiBod Esca 2 work?
As mentioned, the OhMiBod Esca is a Bluetooth portable vibrator that works via the WiFi of your smartphone.
This basically means that it is inserted into the vagina and then controlled via your own (or your partner's) smartphone application (OhMiBod Remote) from anywhere in the world as long as you are connected.
Maybe your partner is currently in another country?
You can always get closer thanks to Skype or call time with the OhMiBod Esca, which should help keep the magic intact between you.
Your lover just has to slide their fingers across the screen to send you pleasant vibrations.
Plus, if your partner has a Kiiroo device (Onyx 2, Pearl 2, OhMiBod Fuse or Fleshlight Launch), you can download the FeelConnect application to be connected in real-time to the vibrations of your partner's toy and enjoy a truly interactive and immersive experience!
Learn more about the best OhMiBod vibrators for men and women!
As far as design is concerned, the vibrating egg shape is designed to give you the maximum pleasure possible hitting your hottest spot.
The toy perfectly stimulates your G spot and you will enjoy the "tail" of the Esca that will tickle and stimulate your clitoris at the same time.
Furthermore, Esca is made of hypoallergenic, non-toxic materials. It is completely free of latex and phthalates. It is made of silicone and is therefore completely safe.
Another exceptional feature is its ease of wearing. It is both comfortable and light, weighing only 56 grams.
It is the smallest vibrator that Kiiroo and Ohmibod have ever designed and it is still very affordable!
The fact that the OhMiBod brand always designs incredible and innovative sex toys. And this is once again proven after the release of Esca remote-controlled vibrator.
Esca presents a brand new perspective for long-distance relationships and cam shows – it provides intense and fulfilling stimulation bringing you exactly where you wanted to be.
If you want something new and different from the old vibrating panties, you will probably be interested in this fun and sexy toy!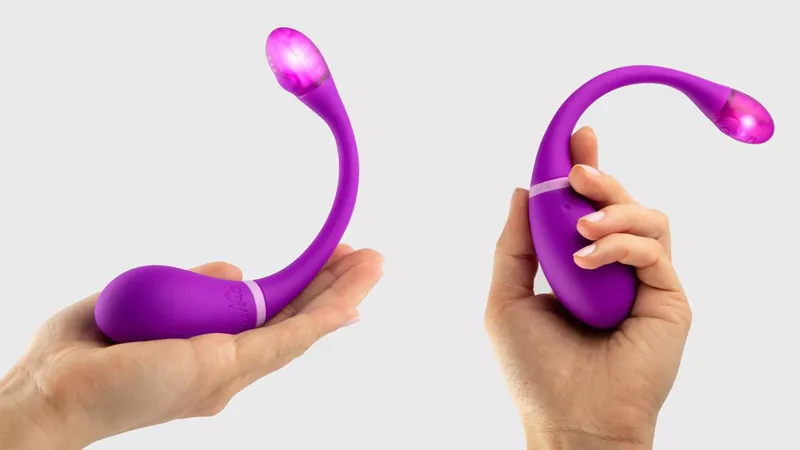 What's in the Esca's box?
You can order your OhMiBod Esca from the official Kiiroo store (recommended) and you will receive a USB charging cable, the instruction manual, and a storage pouch in the Esca box.
The OhMiBod Remote and FeelConnect applications are available for download to your smartphone via the App Store (iOS or Android) and it's a great bonus that makes the toy so much better. By the way, you get the FeelConnect App absolutely for free!
Nothing else is required to use the OhMiBod Esca to its full potential, although a little water-based lubricant is recommended before insertion to improve comfort.
Benefits of the Ohmibod Esca 2
While most adult toys are specially designed for a specific gender, the OhMiBod Esca can be appreciated by both partners and especially for those in a long-distance relationship. Why not make a Skype call with your significant other while wearing your Esca? He or she can control the toy via the application.
Even better, he or she can observe how you react to the vibrations thanks to the LEDs that are synchronized at the power level. Sex is really important in a healthy relationship and OhMiBod can help you keep it that way, even if you can't be physically together all the time.
The OhMiBod Esca is very popular as can be seen from all the positive comments from satisfied customers all over the world (including mine!). Each brand will obviously say good things about its own products, but when real customers give honest and objective feedback, this is something you have to take into account.
Esca is an attractive sex toy that provides balanced clitoral and G-spot stimulation, which is ideal for all women.
It is made of soft silicone and is absolutely safe for the body. It is free of latex or any other material that can cause allergic reactions.
The OhMiBod Esca offers different settings and vibration modes, which means you can enjoy vibrations as soft or intense as you like. If your lover has full control, however, you will not have the word!
It's a compact vibrator, which makes it easy to carry around and is also completely waterproof so it can be enjoyed in the bath or shower if you want to try something different. It's also very quiet, which means you can enjoy the OhMiBod Esca discreetly at any time. Even in public…
Esca is also perfect for people who are separated by short distances. I'm trying to convince you that the office routine can become way more exciting if you (instead of randomly flirting with your favorite colleague) let him control the rhythm of your egg toy. Thanks to Bluetooth technology, which is so easy to use, your lover can control your pleasure in the most discreet way possible.
Just use the Bluetooth connection to increase your pleasure tenfold if your partner is next door or use the WiFi connectivity of Esca if he is elsewhere!
Or you'd rather have fun together? Download the FeelConnect application, connect to your partner's Kiiroo device and sync your sex toys!
You can even track your orgasms over time with the OH! DOMETER feature! Do you want to set weekly "pleasure goals"? You can do it! And don't forget to send a predefined or personalized message to your partner when you reach orgasm.
If you're playing solo, sync the Esca to the OhMiBod application (available on iOS and Android) and control the vibrations from your phone with a simple press of a button! The application is secure and free.
You can also chat and send photos via the application, no need to switch between the application and text messaging. The OhMiBod application does not collect your chats, photos, or private data. For privacy reasons, this data is only stored on the mobile phone you are using. If you provide your email address when you register, it will be registered, but it is completely optional.
As for the non-tech savvy among us, don't you worry! Esca comes with a detailed instruction manual in case you need help understanding how it works.
Need more help? Check out the online manuals on the OhMiBod website!
OhMiBod is shipped within two days following your purchase. Your Esca will be delivered in discreet packaging in a standard brown box.
Disadvantages of Ohmibod Esca
The OhMiBod Esca is more expensive than other G-spot stimulators on the market, but when you take into account all its interactive features, it's a product that's really worth its price.
The battery life is not as long as other vibrators, so you need to make sure that the OhMiBod Esca is fully charged before each use or you could end up getting quite frustrated! The battery rarely lasts more than 45 minutes. For hours of uninterrupted play without recharging, you should consider buying another egg vibrator.
My experience with Esca 2
On opening, I thought Esca 2 looks bigger than I expected. A bulbous shape (head) on the one side and a flexible antenna on the other. When I touched it, it felt silky soft and quite nice, in my opinion.
I didn't like the design but that was expected since I'm not a fan of bright colors anyway.
The insertable side where the head of the vibrator is located is where the vibrations are stronger. The external part, or the antenna, is for connectivity purposes and is designed with LED lights at the end of the antenna. These LEDs react to the vibrations of the toy, allowing your paired partner to control the rhythm and intensity of the pulsations.
I can describe my first experience with Esca 2 as unexpected. Unexpected because I would never imagine something as small as ping pong ball to be that powerful.
Esca 2 impressed me with the intense pulsation patterns it and the pleasurable overall performance.
To be honest, the lowest vibe settings couldn't make me reach my orgasm, but the more intensive ones work like a charm – hitting the exact spot, the exact way I wanted.
At first, I only used my Esca for solo pleasuring. I didn't even intend to use it with my intimate partner because I didn't know he would be into using sex toys.
Well, I was wrong. It turned out that controlling me using the app on his smartphone was a genius idea.
I'd like to mention that the application is free to download and super easy to operate with. After pairing my Esca with the application on his phone, he started experimenting. And he enjoyed observing my reactions every time he changed the pattern or the intensity of the vibrations. It's interesting how an intimate toy changes your sex life – not that we had problems with being intimate but now it's somehow more exciting for both of us.
And one more thing about the antenna! According to multiple reviews, the antenna can be used for clit stimulation but, unfortunately, it doesn't work for me. I can only feel a slight tingling sensation but that's about it.
The alternative of Esca 2
If the characteristics of Esca 2 don't seem satisfying enough, I have some good news for you. Esca's big brother, Lush 2 has a similar shape, features, and even price tag. We have a side by side comparison on Esca 2 vs Lush 2 here. What is more, about 70% of camgirls prefer Lush 2 for live streaming.
Lush 2 remote vibe is appreciated by most consumers for its impressively powerful performance and reliable remote connection.
Conclusion
If you are looking for a smart vibrator that you can use in remote relationship or for solo pleasuring, then the OhMiBod Esca is the right option for you.
Esca is easy to use, well designed, provides multiple features, including the ability to control the toy using smartphone applications. All these distinguish the Esca from all other remotely controlled egg toys.
Although the battery life is not excellent, there are no major drawbacks to note with this connected vibrator.
Now that you can see from this review of OhMiBod Esca all the advantages involved, why not add something innovative and stylish to your sex toy collection?
With so many long-distance relationships in the modern era, this vibrator is an ideal way to keep your intimacy intact, no matter how far away you are physically.
In short, Esca is an excellent quality product that should keep you satisfied for years to come…
Where to buy: KIIROO® Official WebsiteLovehoney