The We-Vibe Sync 2 is a revolutionary remote-control vibrator for couples, boosting the mutual pleasure experienced during penetration. More ergonomic, more powerful, and more silent compared to the previous model, Sync 2 is an exceptional pleasure toy.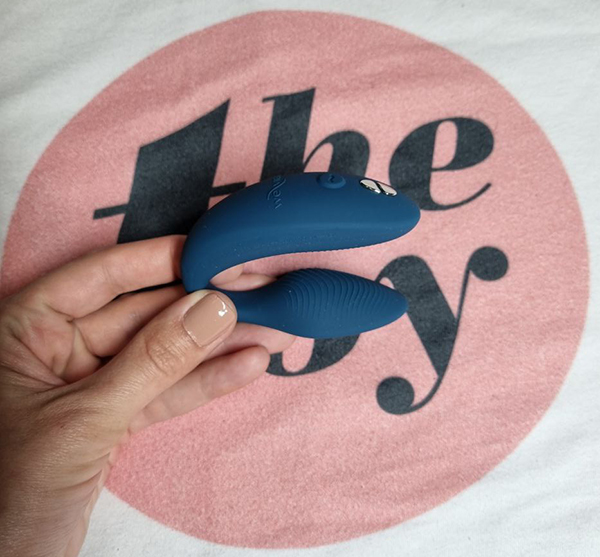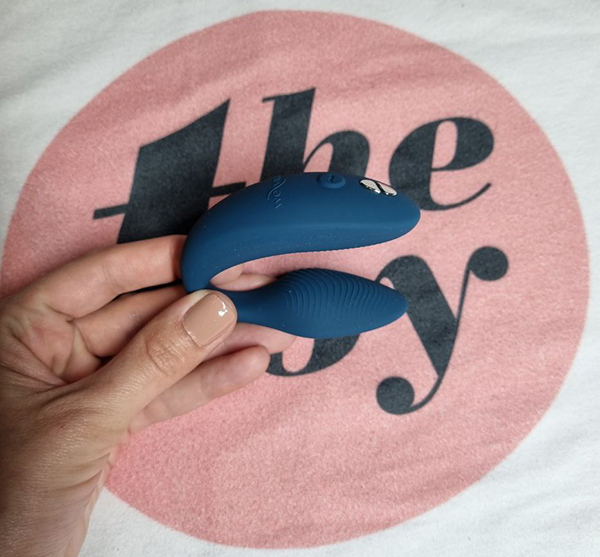 I tried it with my partner, wrote this detailed review about it, and compared it to many similar sex toys and will share why I found it worth it and what I would change about it.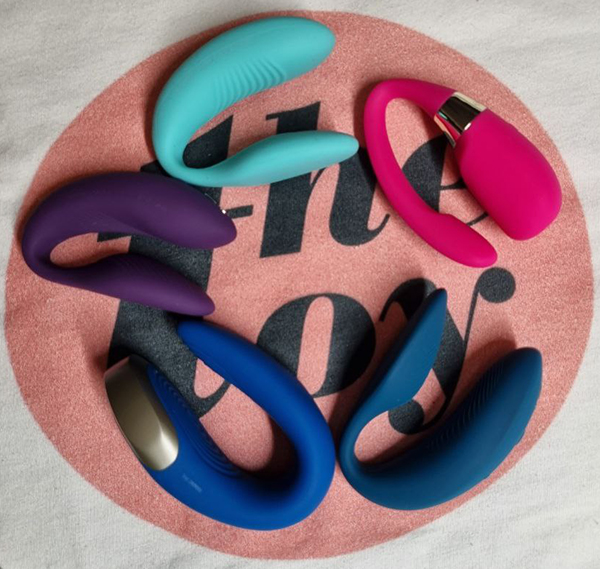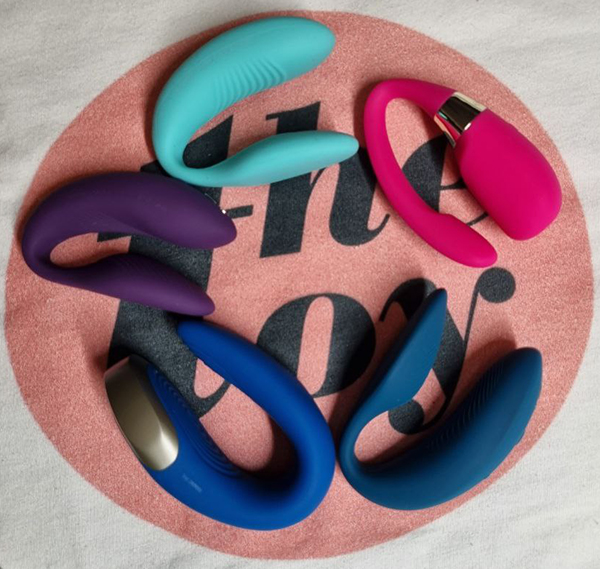 The We-Vibe Sync 2 is an incredibly adjustable app-controlled vibrator that can be used for solo masturbation as well. It is 100% waterproof and made of gentle silicone, making it easy to clean and maintain. This device's classy design and inspiring vibration patterns make it stand out from similar sex toys.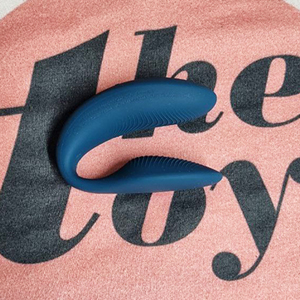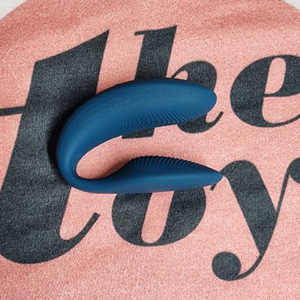 | | |
| --- | --- |
| Design: | (5.0 / 5) |
| Comfort: | (5.0 / 5) |
| Power: | (5.0 / 5) |
| Experience: | (5.0 / 5) |
| App: | (5.0 / 5) |
| Price: | (4.0 / 5) |
We-Vibe Sync 2 is worn during intercourse for a more intense and pleasurable experience. Discreet, non-intrusive, and app-controlled!
You can buy this couple's vibrator:
If you want to know more about this product, read my review of the We-Vibe Sync 2 to find out everything you need to know.
We-Vibe Sync 2 Review Summary
This review includes a detailed description and analysis of the Sync 2 wearable vibrator. I will share my experience with this U-shaped vibrator since I have used it solo and for penetrative sex. Read on to find out its pros and cons, my results using it, how it compares to other similar vibrators, and if it is worth your money.
How does it feel?
The We-Vibe Sync 2 remote vibrator was designed to be worn by a woman during PIV sex but can also be used as an independent device for personal pleasure.
The thinner arm of the vibrator is designed to be inserted into your vagina, while the wider and more textured one is meant to be placed against the clitoris. You can adjust each arm's vibration intensity separately through the We-Vibe app on your smartphone. When both arms are correctly positioned, the vibrator will fit snugly against your intimate parts without slipping or falling out.
The We-Vibe Sync 2 has two points that make it easy to adapt the shape of the vibrator to your body. One is close to the base of the arm and designed to stimulate the clitoris, while the other targets the G-spot. You can bend either one inward or outward by up to 70°, so it should be suitable for most people's bodies. The vibrator will stay in position without being overly tight or too loose. This adjustable feature is not common with other wearable vibrators.
Sync 2 lets both partners experience simultaneous, close contact stimulation.
The male partner will find the stimulation from the vibrator coming from the smooth internal arm. During penetration, the penetrating partner can feel the vibrations coming from the inner arm and more friction due to the limited space within the vagina.
My partner says he enjoyed how tight it felt. I noticed the first few times using it, he reached orgasms much faster than usual, and I hope this will change with some practice. Overall, the vibrations felt divine for both of us.
With the We-Vibe Sync 2 vibrator, users can adjust it to fit their bodies perfectly. It is small enough to be comfortably worn in public without anyone noticing, even while sitting, crossing legs, or walking – all with no noise coming from it.
The We-Vibe Sync provides a powerful, exciting, and stimulating vibration. I'll explain more about this later.
Pros
Made of premium body-safe materials
Customizable to a comfortable fit
Deep rumbly vibrations that both partners can feel
Manual (button) control,
Remote control that can control the toy from 3 m away
Improved long-distance control from anywhere around the world with the We-Vibe phone app ( including independent motor control, beat mode, real-time touch, and five bonus modes with the app)
Works well when used as a standalone vibrator
Positive customer experience
Cons
More expensive, compared to competitive products
No charging dock (like the one users get with the previous model)
Who should buy it
Anyone looking to add a bit of excitement and adventure to their sex life should consider buying the We-Vibe Sync 2. This couple's vibrator is designed to be worn during intercourse, providing both partners with intense stimulation. A remote or a smartphone app can control it so couples can switch up the intensity and patterns for a unique experience each time.
It is perfect for those looking for a more intense experience with their partner, whether for a special occasion or just for fun. The Sync can also be used for solo play as well.
Who should pass
People not comfortable using wearable sex toys should avoid buying the We-Vibe Sync 2. Additionally, people who are not comfortable using new technology or those who are not comfortable with the idea of a sex toy controlled remotely should also avoid buying this toy.
Sync 2 might not be a good option if the male partner has an excessively large penis or the female partner has a tight vagina.
Design and comfort
The design of the Sync 2 was without fault – it fit my body perfectly, and both arms were comfortable when used solo or with a partner. The external arm applied just enough pressure to my clit, so I didn't need to adjust it during use.
The toy's arms can be adjusted greatly and retains the shape you chose.
While the previous model was available in 2 color variations, aqua and purple, the newer version is available in dark purple, pink, and green velvet.
Product specification
| Feature | We-Vibe Sync 2 |
| --- | --- |
| Materials: | Body-safe silicone – produced without phthalates, BPA, and latex |
| Finish: | Smooth |
| Size: | 1.6 in x 2.9 in/41.7mm x 74.8mm |
| Insertable length: | 3 in /76 mm |
| Weight: | 61 g |
| Battery: | 1 Lithium-Ion battery |
| Charging: | Up to 2 h |
| User time: | Up to 2 h |
| Standby: | Up to 90 days |
| Max. noise level: | 43dB |

Purpose
The smaller end — the G-spot arm — is scientifically designed to target the G-spot during intercourse. The larger end — the clitoral arm— includes the control button, so it should always be kept outside the body.
It comfortably fits most sex positions adding pleasurable pulsations for you and your male partner.
Material
Sync 2 is completely covered in silicone, which is ultra-sanitary and gentle on the skin. The product is 100% body-safe, non-toxic, and non-porous. BPA- and latex-free. The charging contacts on Sync 2 are made of nickel-plated iron (it does not come in contact with the skin).
Size
The vibrator is 1.6 in/41.7mm (width) x 2.9 in/74.8mm (length)
You can see Sync 2's size, compared to my hand, in the image below: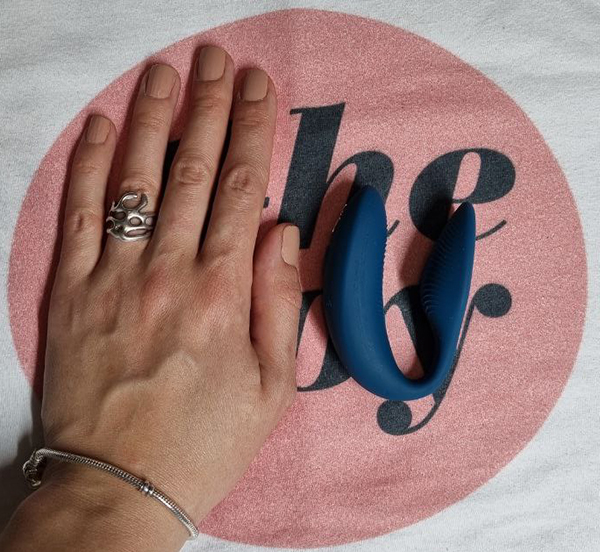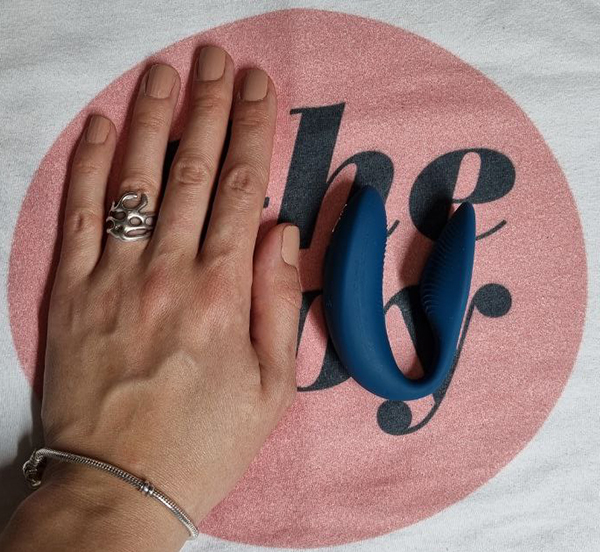 Sync 2 was designed to fit comfortably against the inner anterior wall of the vagina, leaving space for your partner's penis. Its slim mid-section ensures that your partner can still enter without compromising any of the heightened sensations provided by the G-spot stimulator.
Shape
The U-shape of Sync 2 allows for a comfortable fit and wear even in public. Users can wear the Sync 2 around as a panty vibrator because it can be adjusted to stay in place while they move.
The inner sides of both arms are ridged for additional sensation.
Both arms provide broad stimulation that penetrates deep, thus targeting more erogenous zones simultaneously.
Power source
Sync 2 is a USB rechargeable vibrator with a lithium-ion battery, providing up to 120 minutes of playtime per single charge.
Intensity and Vibration Patterns
We at TheToy measured the vibration intensity at 3.1. For comparison, the previous model, We-Vibe Sync, is 3.4, and a similar couples vibrator, We-Vibe Chorus, at 3.2.
This toy may be small, but the vibrations it produces are powerful. Ten different preset vibration modes can be controlled through the toy, the remote, or the We-Vibe's We-Vibe App.
This app also lets you alter each pattern's intensity, sync the vibration to music, and your touch, or create patterns.
The preset patterns of the vibrations are:
A low, steady vibration;
a medium, steady vibration;
a high, steady vibration;
a super powerful steady vibration;
pulses; a wave of low to high low vibrations;
an echo alternating between the clitoral and inner G-spot motor;
a tide which is a combination of wave and echo;
crest where one arm has a steady vibration;
surf with one arm having a steady vibration and the other pulsing.
The clitoral arm of this toy offers a deep, rumbly vibration that can reach an intense level on the highest settings. On the g-spot arm, however, the vibrations are slightly less powerful and range from pleasant to very stimulating.
Thanks to the We-Vibe app, you can enjoy different patterns and create your own.
For those who prefer gentler vibrations, it is best to use the lower settings.
Noise level
The We-Vibe Sync 2 is a U-shaped vibrator that gives off very little noise since the vibrations are absorbed by contact with your body. The only sound present is from the clitoral arm, however, it's muffled and barely audible when in contact with the skin. You can stop the external arm from vibrating entirely and use the We-Vibe app.
The Sync 2 can be discreetly used in public without worrying someone will notice (worn like a panty vibrator).
You shouldn't worry about your roommates either, as Sync 2 is not audible behind closed doors, even at its' maximum intensity level.
However, if you intend to use the Sync 2 under a blanket and expect privacy, you should go for the lowest settings, as the higher ones are easily noticeable if someone else is in the same room.
I measured the maximum noise level (while the toy was not inserted) at 43 dB.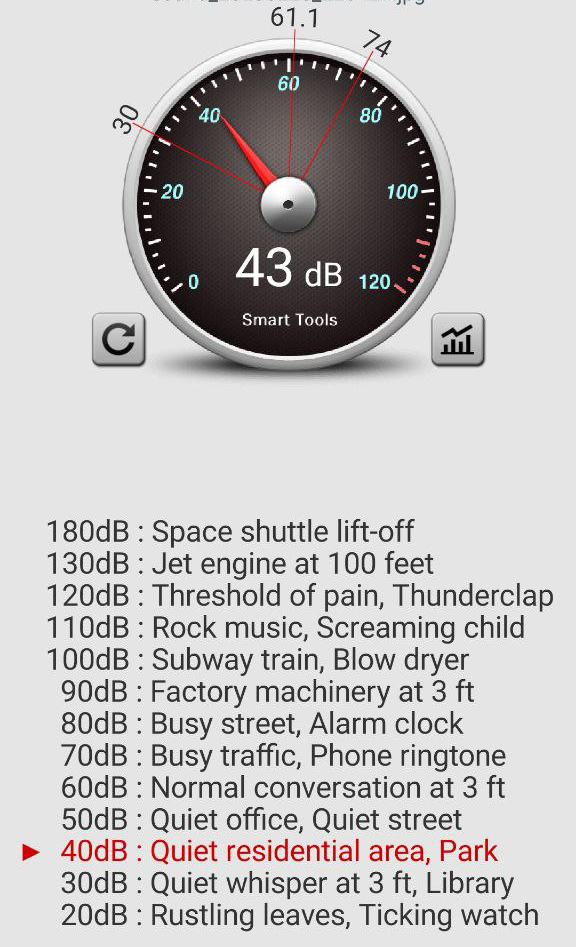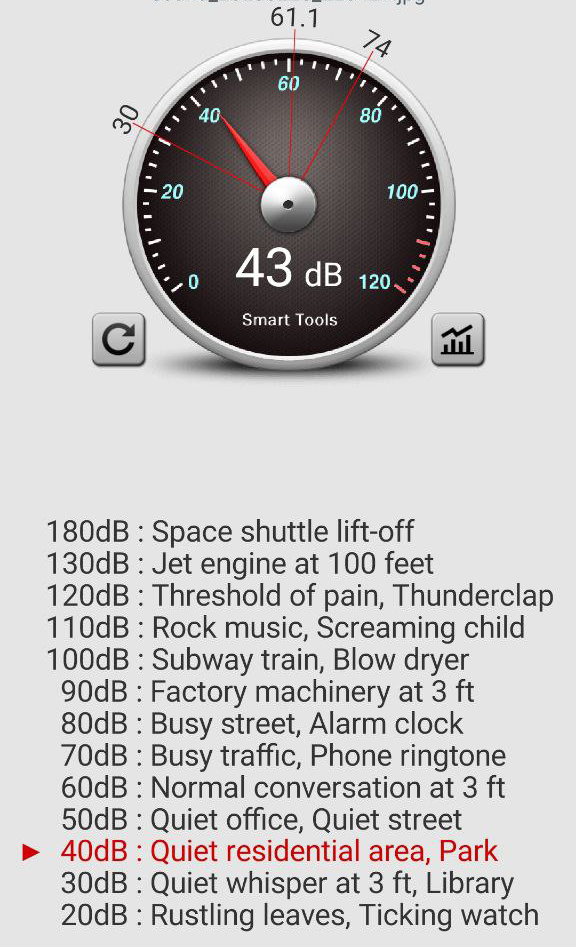 Is Sync 2 waterproof?
This sex toy is completely waterproof. It can be enjoyed in the bath or shower and submerged up to 1 meter in water for 30 minutes, as it has IPX7 waterproof rating.
Price
The We-Vibe Sync 2 is a high-end sex toy that gives couples a more pleasurable and intimate experience. As the flagship model of the We-Vibe line, it is a top-of-the-line product with a hefty price tag. At $150, the We-Vibe Sync is one of the more expensive sex toys.
Despite the high price, the We-Vibe Sync 2 is worth the money. It is a high-quality product designed with comfort and pleasure in mind. The Sync is made of body-safe silicone, has adjustable arms to fit most body types, and can be controlled via a remote or smartphone app. It also has a variety of vibration modes and intensity levels that allow couples to explore different sensations.
Overall, the We-Vibe Sync 2 is an excellent product worth the money. It is an incredibly versatile toy that can enhance couples' pleasure and intimacy.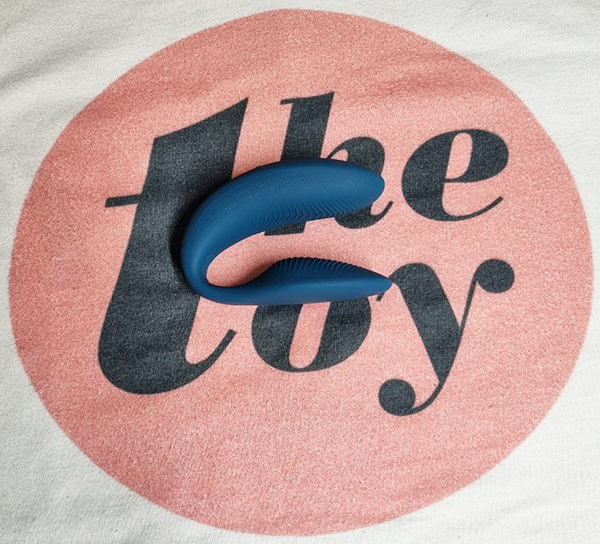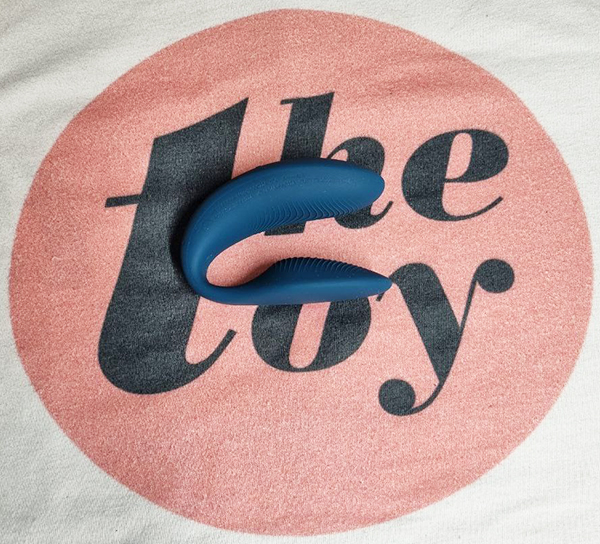 Durability:
Since Sync 2 is the newer, updated version just released, there is no way to guarantee how long it will last. But I have had the original We-Vibe Sync for 2.5 years, and it still works like a charm, with or without the app. This is why I believe the Sync 2 will be even more durable, having that the materials and connectivity are improved.
We-Vibe brand attests to their product's top-notch quality with a 2-year warranty, which is uncommon for most sex toys.
According to the company's website
Unlike many products that burn out after a few months, all We-Vibe products are designed to last for hundreds of charges and many years of enjoyment. They feature high-quality rechargeable batteries and custom-designed, high-power vibrating motors with special bearings and gold-plated contacts.
We-Vibe reputation
After reading tons of reviews on the internet with both positive and negative experiences with We-Vibe products, I can conclude that the company's overall reputation is excellent.
We-Vibe has recently made significant improvements to its app. Now it has become very reliable; I have not had any connection problems at all. Other users share the same opinion; the newer app is rated 'excellent" in 14,000 reviews, which is an impressive score.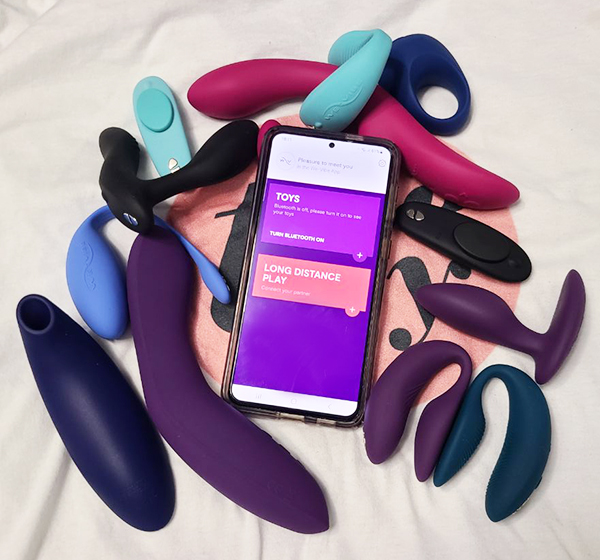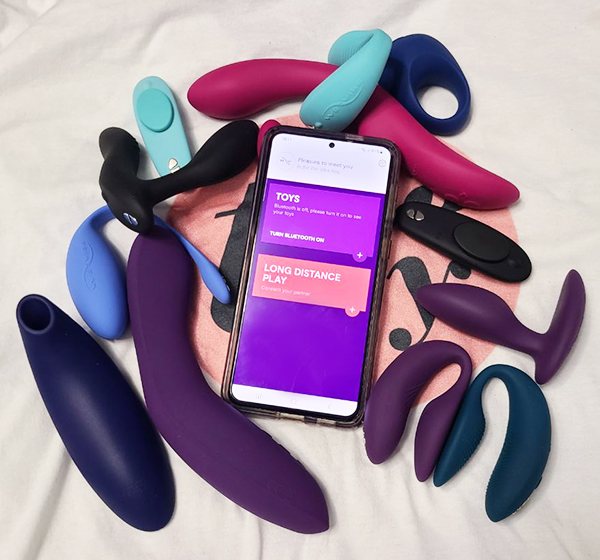 These improvements show that We-Vibe is a company that strives for ultimate customer satisfaction, not only in terms of service but also in terms of top-quality products.
I appreciate that all We-Vibe toys are rechargeable and made from body safe materials of excellent quality.
How to use We-Vibe Sync 2
Manual control
If you don't want to use the remote control that comes with the We-Vibe Sync, you can still enjoy its ten different vibes.
Just click the power button to select your desired mode and insert the thinner end of the device into your vagina before having intercourse. Note that manual (button) control does not let you control the G-spot and clitoral arm separately.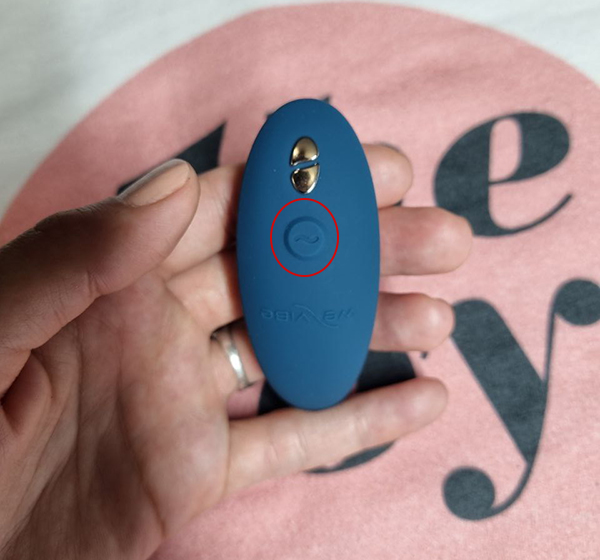 By pressing it once again in the same way, the vibration pattern is altered. After choosing the ideal pattern, place the vibrator's wider arm on your labia and the thinner arm on your vagina. By quickly pressing the button on the top of the vibrator, you may easily change the patterns.
Your Sync will switch off if you press the power button for a few seconds again.
Remote Control
First, to pair your Sync with the remote, ensure it is not already connected to your smartphone through the We-Vibe App if you own other We-Vibe sex toys. If it is, go to 'Settings' in the app and select "Unpair We-Vibe." Once disconnected from the app, press and hold the control button on the Sync for 5 seconds until it pulses twice.
The Sync remote features five buttons for operating the vibrator and has a modern, slightly curved shape. It is half as big as the Sync 2 and has a 3-meter range for toy control.
The Sync vibrator's remote can be found in the box with the vibrator.
The remote control includes a built-in battery with a long lifespan, which is one of the reasons it doesn't require charging. If, however, the battery needs to be replaced, you should pull off the bottom cap and lift out the battery,
You can quickly replace your remote's battery if it loses power by using any non-rechargeable CR2032-style button cell readily accessible in stores.
How Do I Operate The Remote?
Press and hold the ~ button (We-vibe button) on the remote for 5 seconds to initiate the first connection between the remote and the Sync 2 vibrator.
Once the connection is established, you can control your Sync 2 using the remote.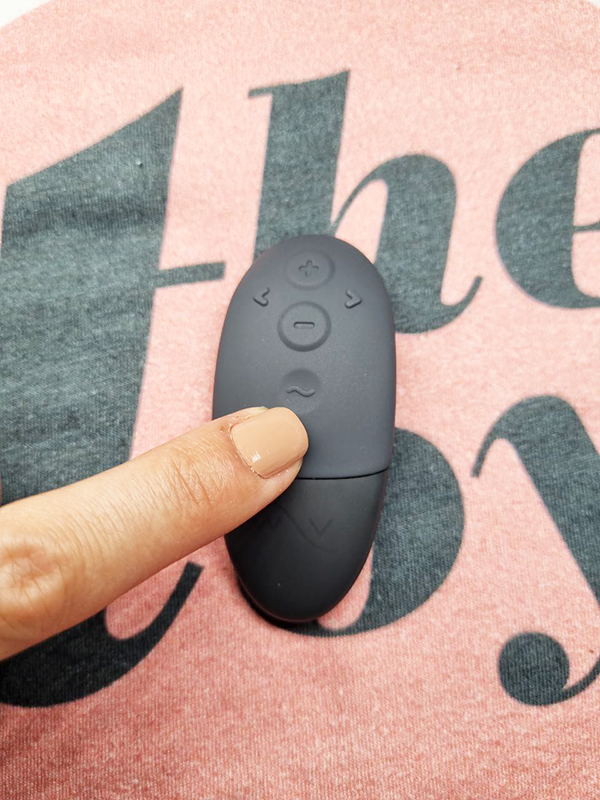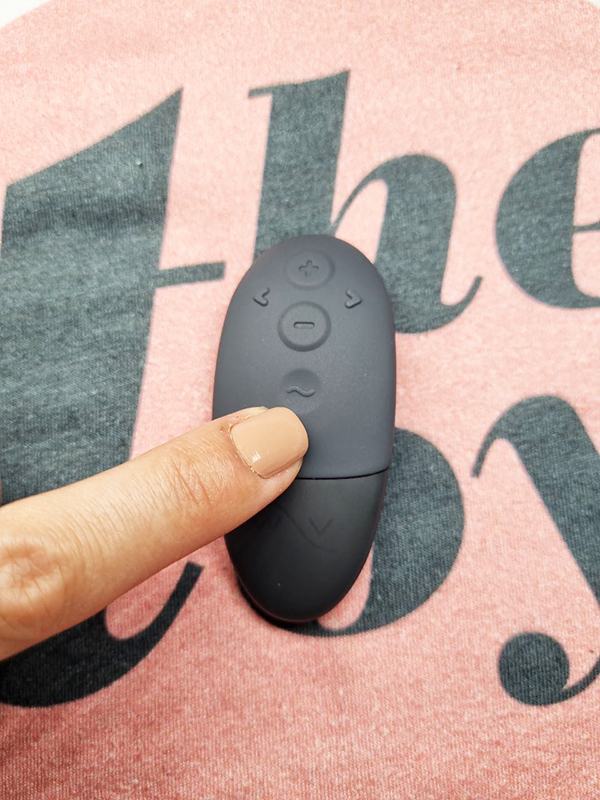 The four clickable buttons on the front of the Sync vibrator's remote control can be used to operate the gadget.
To turn on your Sync vibrator, push the + button once.
The Sync will vibrate once to let you know when it's ready.
The strength of stimulation can also be increased using the same button.
The ten preset vibrations can be cycled by using the two side buttons.
Boost/Decline Tempo
You can turn down the vibration's intensity by clicking the button below for two to three seconds before it switches off the vibrator.
How Should I do if the remote gets wet?
The remote control could get wet inside if you try to use it underwater or drop it in water unintentionally.
Drain any remaining water in the gadget before opening it and removing the battery.
Once the remote and its batteries are dry, make any necessary adjustments, lock the case, and resume using it.
You can contact the We-Vibe company and purchase a new remote if your old one stops working.
App Control
Please read my step-by-step guide on how to use the We-Vibe App.
Which lubricants to use along with the toy
You can use a high-quality water-based lube when enjoying Sync 2, particularly on the G-spot stimulator (the smaller end). However, it is not essential if you are already aroused.
My experience with Sync 2
The first thing I noticed was that the toy fits more tightly than the previous model, which feels a bit lose now that I can see the difference.
I first tested the Sync 2 by myself because I wanted to explore the settings and choose a comfortable pace.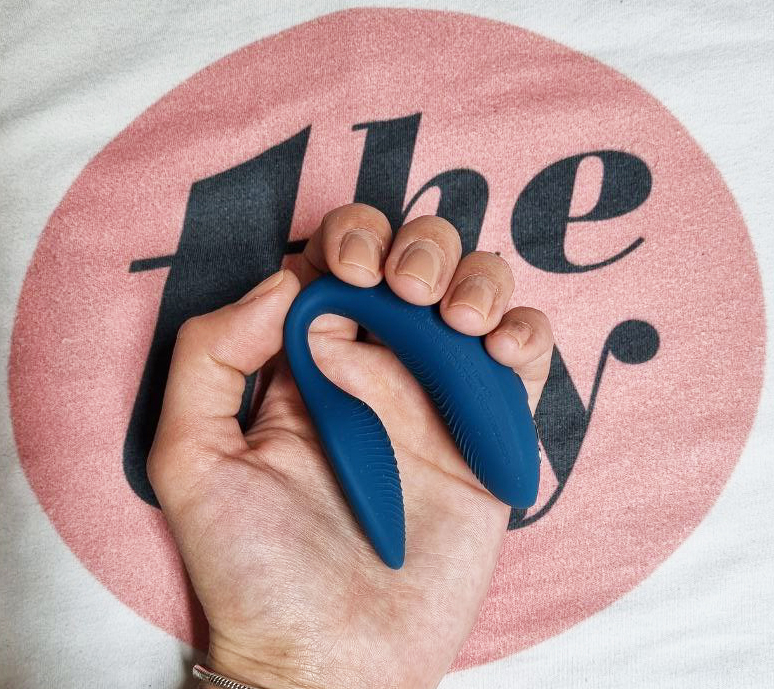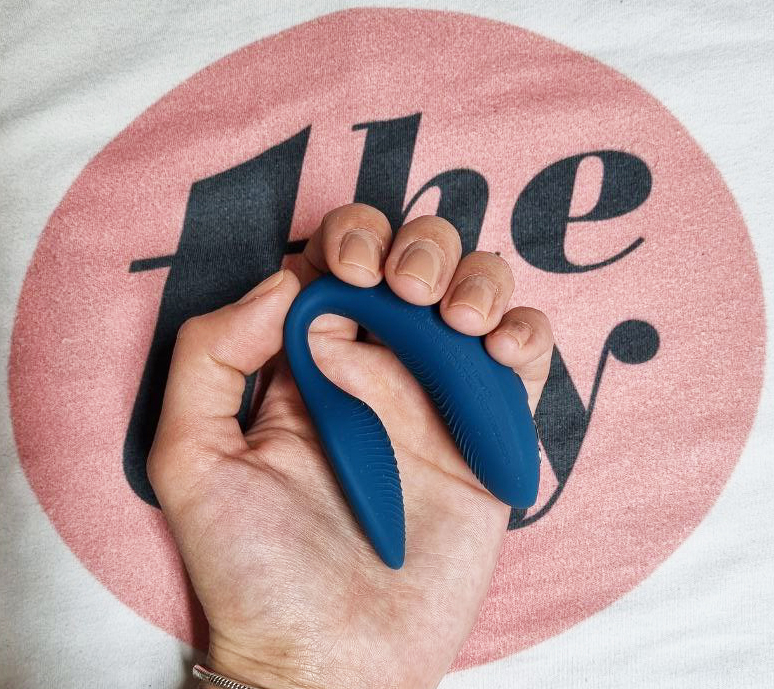 My experience with the We-Vibe Sync has been nothing short of amazing. The Sync is easy to use and very comfortable to wear. I find it easier to adjust than the first Sync toy. It fits more comfortably and feels more secure. The remote was a great bonus as it allowed us to control the intensity of the vibrations from the comfort of our bed.
The Sync is quite powerful, and the vibrations are strong and intense.
My partner and I could try different positions with ease, and the Sync always stayed in place no matter what was happening. I especially enjoyed it for doggy style.
We haven't yet tried the remote app for outdoor play, but I will update this article as soon as we schedule a sexy rendezvous.
The We-Vibe Sync is a great couples toy, and I would recommend it to anyone looking for something comfortable, powerful, and reliable. The Sync gave us a great experience, and we are sure it will continue to do so. If you are looking for a great couples' toy, the We-Vibe Sync is worth considering.
Delivery and unboxing
We-Vibe takes the privacy of their customers seriously, as my We-Vibe Sync 2 arrived packaged in a plain cardboard box with only a single sticker bearing details about the courier company.
After I cut open the box, there was wrapping paper inside, which had been used to reduce potential friction and protect against any damage that may have occurred during transportation.
I had my eyes set on the We-Vibe Sync 2 couples vibrator, and it didn't disappoint – a small magnetic closure box suggesting something luxurious inside. It came in green velvet color and all left to do was charge up this little miracle so I could try it out with my partner later that day!
I also found a USB cable, user manual (with pictures showing the primary features of We-Vibe Sync 2), wireless remote, and 20ml sample of pjur lubricant inside the box.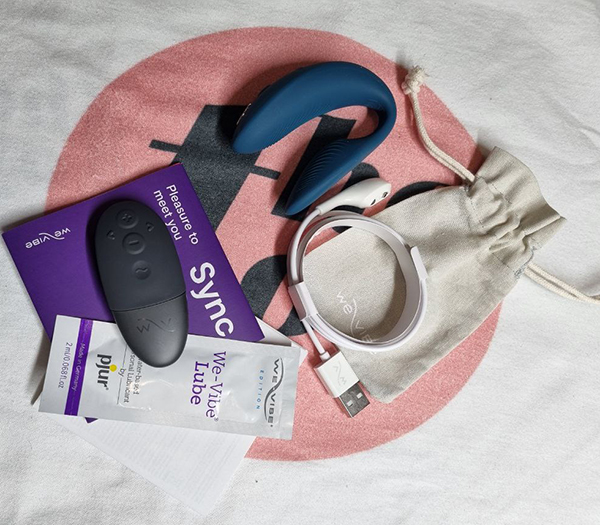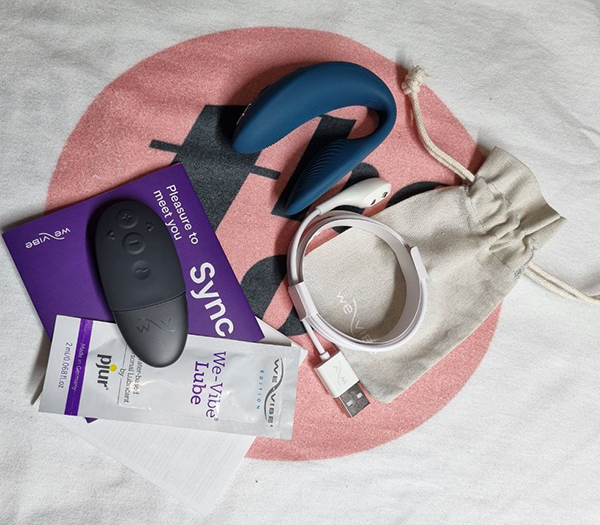 Charging
You won't have to purchase or replace batteries for this U-shaped vibrator because it is rechargeable.
To charge the toy, you must plug one end of the USB into a port and attach the other to the magnetic plates on the toy. You don't need to worry about it slipping off, as these plates are strong and secure. When charging, there will be a light that flashes until the battery is full, taking around 90 minutes. This should then provide two hours of playtime. Additionally, when the battery begins to run low, the light will flash again to let you know.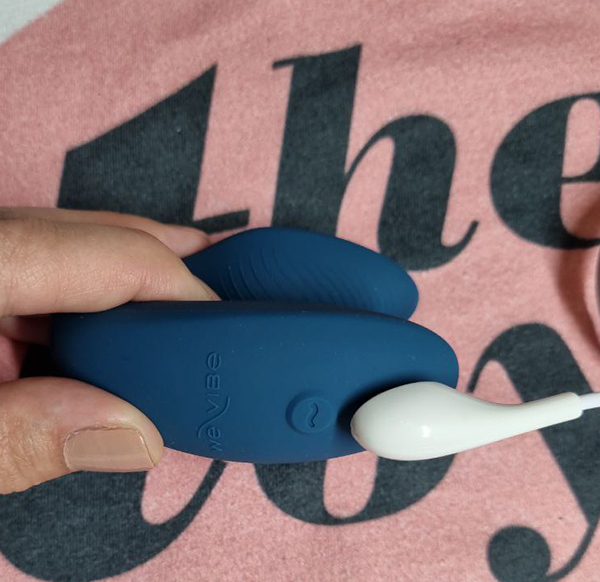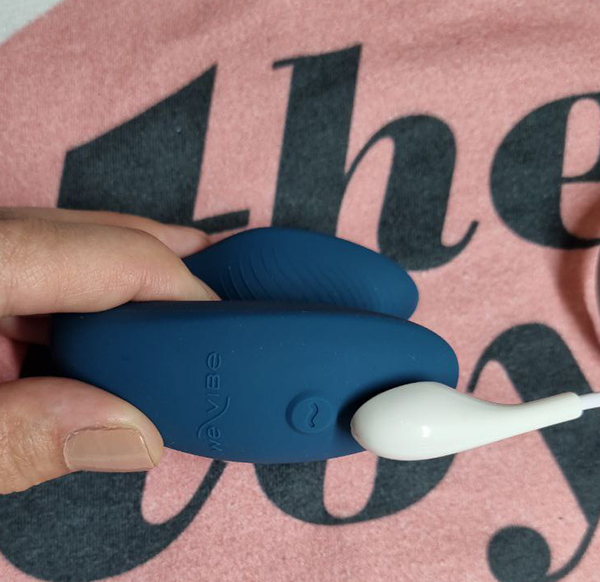 Cleaning, maintenance, and storage
Here you can learn how to clean, care and store the We-Vibe Sync 2 vibrator.
Customer reviews
We-Vive Sync 2 is a relatively new product launched in January 2023. Most reviews are positive, but I'll update this section in six months for a more thorough analysis.
Alternatives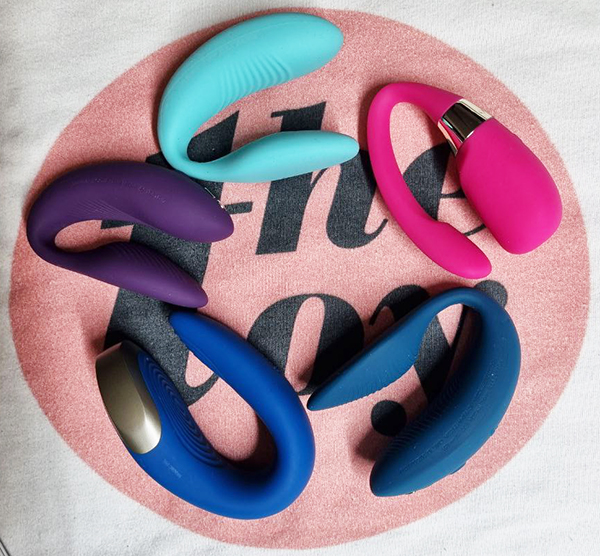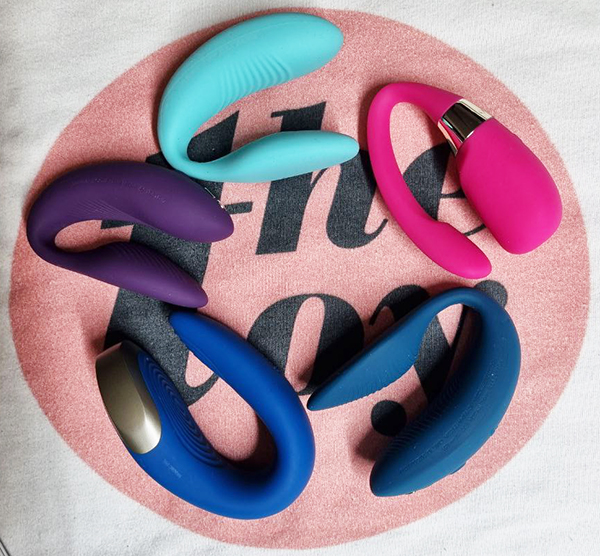 We–Vibe Sync is a famous couples toy, but there are many alternatives for couples looking to explore their pleasure. I selected four similar products that are compatible with Sync 2 in terms of quality and performance.
We-Vibe Sync 2 vs. LELO Tiani 3
When comparing the LELO Tiani 3 and the We-Vibe Sync 2, the LELO Tiani 3 is an excellent choice for users who want a great shape, smooth texture, easy fit, comfortable wear, and easy-to-use controls with responsive buttons. Its waterproof design and easy-to-clean silicone material make it perfect for use in the shower and bath. The remote offers a reliable connection, and the vibrator responds immediately to remote commands. However, it does not have a long-distance play or phone app, and the remote is not rechargeable.
The We-Vibe Sync 2 is a great choice for users who want customizable fit, deep rumbly vibrations, manual (button) control, remote control, and the ability to control the toy from 3 m away. It also has a phone app allowing long-distance and independent motor control. However, the We-Vibe Sync 2 is more expensive than competitive products, and some users report connectivity issues when using the app. Also, the remote control is not rechargeable, and there is no charging dock like the one users get with the previous model.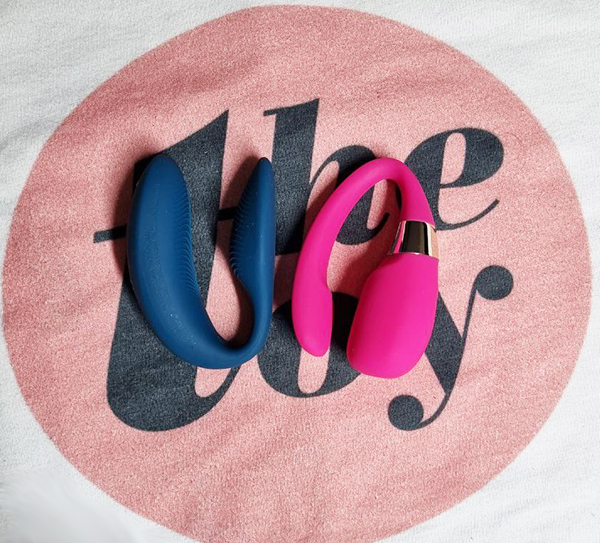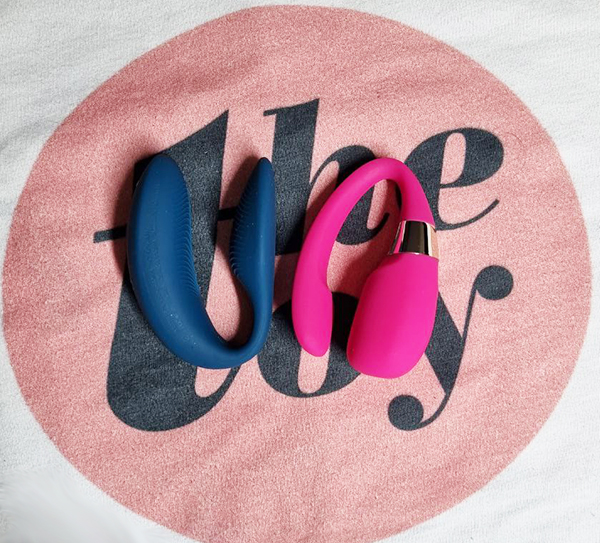 We-Vibe Sync 2 vs. Satisfyer Double Love
Overall, the We–Vibe Sync 2 offers much more features and performance.
The Satisfyer Double Love does not offer long-distance play or the ability to control with an app, and the vibrations are not as powerful or enjoyable as the Sync 2. Additionally, the Sync 2 is made of premium body-safe materials and is customizable for a comfortable fit, making it an excellent choice for couples.
The Sync 2 also offers a better customer experience, as there have been fewer reports of connectivity issues. While the Sync 2 is more expensive than the Double Love, it is worth the investment and offers more features and higher quality.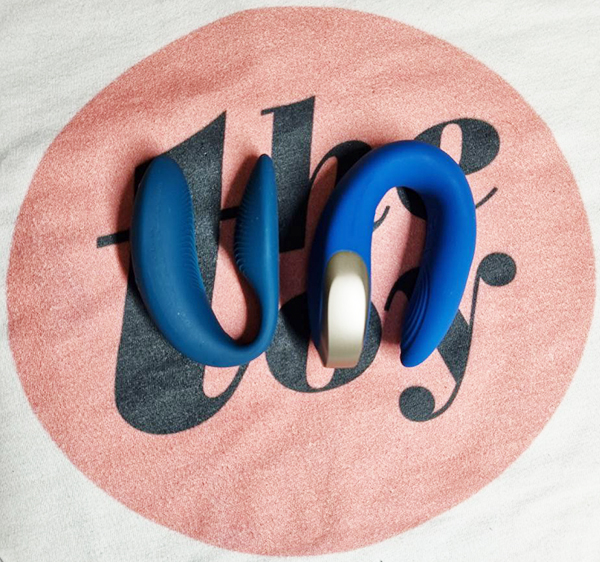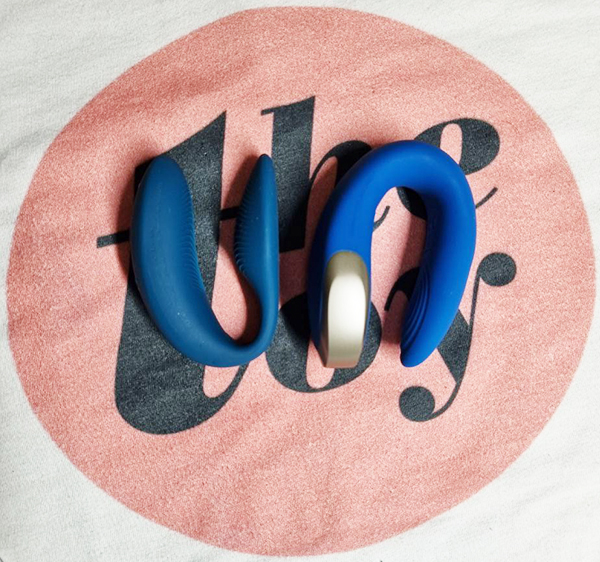 We-Vibe Sync 2 vs. We-Vibe Chorus
The We-Vibe Chorus and We-Vibe Sync 2 are couple vibrators designed to provide clit and G-spot stimulation during sex completely hands-free.
The We-Vibe Chorus provides stronger stimulation than the Sync 2, making it the better choice for people who need more power to orgasm during sex. It also has two adjustable hinges that allow you to customize its fit to your body, making it more comfortable and secure to wear than the Sync 2. The Chorus also offers both an app and remote control, so you can choose whichever you find more convenient. But, I found Sync 2 easier to connect with the We-Vibe app.
In addition, Chorus has unique features like a squeeze remote and Touch-Sense modes and good connectivity with the app and remote. It is also very quiet and has a fancy charging and storage case.
The We-Vibe Sync 2 is slightly less stimulating than the Chorus but is also $50 cheaper. It also provides remote and app control, and its rumbly vibes are tranquil. However, it has a shorter battery life than other wearables, and it's remote can become unresponsive after prolonged inactivity. Additionally, its fit is dependent on your anatomy, and We-Vibe's app isn't as feature-rich as other app-controlled brands.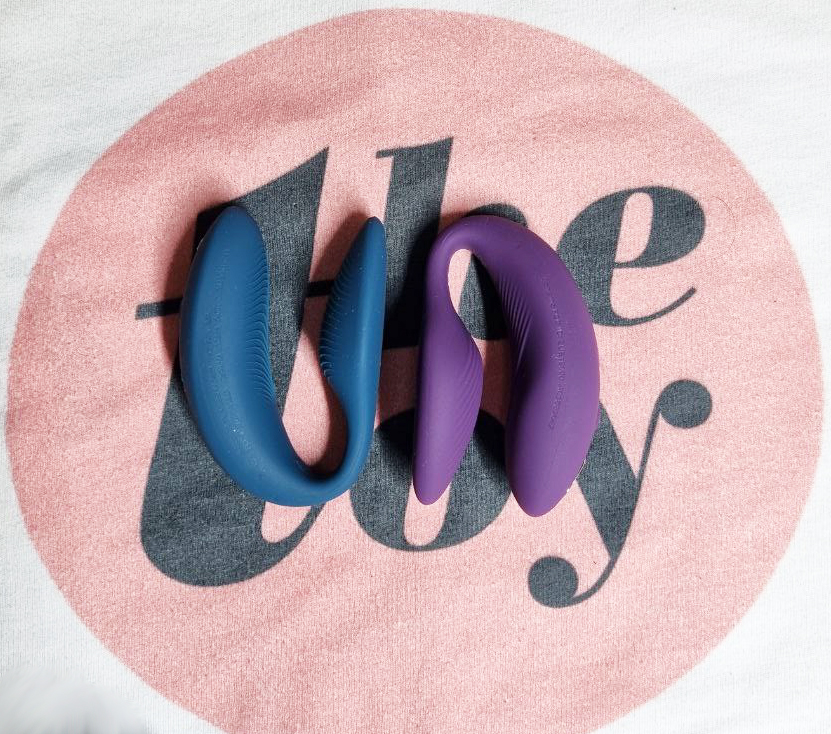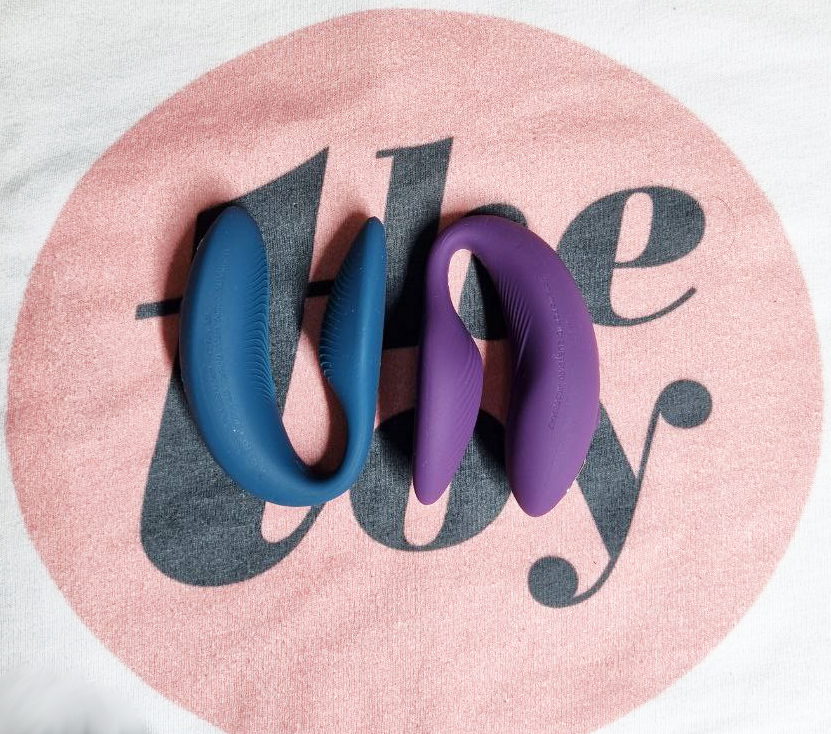 We-Vibe Sync 2 vs. We-Vibe Sync
The previous model, We-Vibe Sync, comes with a fancy charging base that looks like a household item, which is not included with the We–Vibe Sync 2.
However, it is a bit less powerful compared to Sync 2. The newer version of the couples vibrator has an improved app with better and more reliable connectivity.
The Sync 2 is more expensive, but I prefer its' design. It also has two adjustable hinges for a customized fit and quiet, rumbly vibes. The Sync 2 also has a new remote for easier control (with an additional button that immediately connects the toy and the phone app). I prefer the newer remote not only because of the additional button but also because of the classy black color.
However, the remote can become unresponsive after a long period of inactivity. Unfortunately, the Sync 2 does not have a charging dock.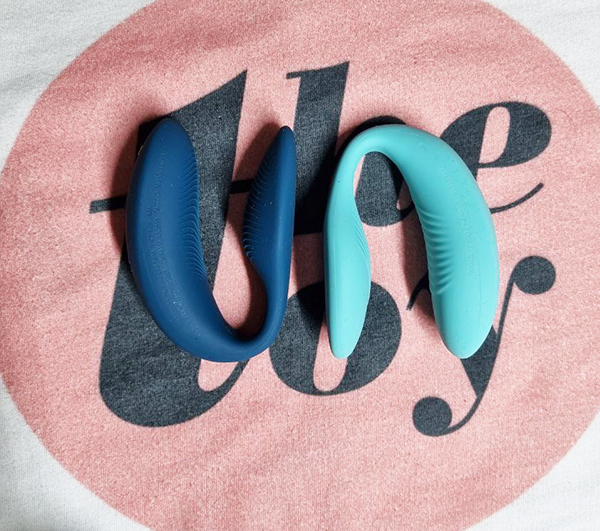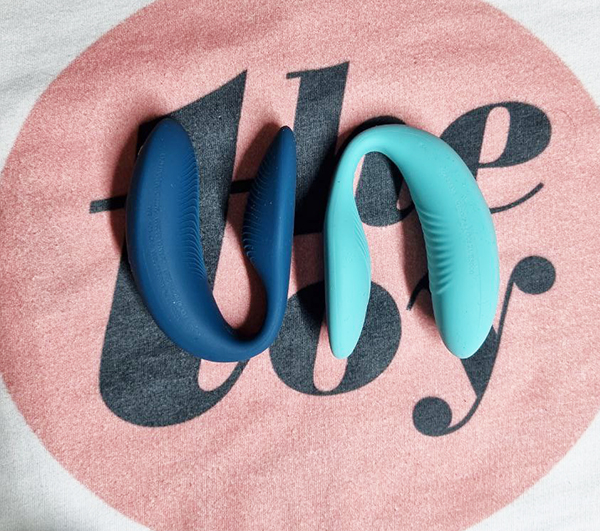 What could be improved with Sync 2?
One of the most significant improvements of the We-Vibe Sync 2 would be to increase the remote control range. Currently, the control range is only up to 3m, making it difficult to use in public situations. If the remote control range were increased to 10m, it would be much easier to enjoy the product in various settings, such as outdoor spaces or public events. This would open up a new range of possibilities for users to explore.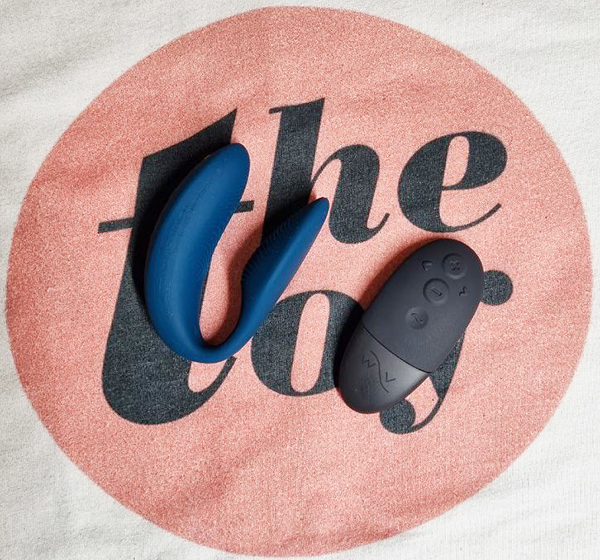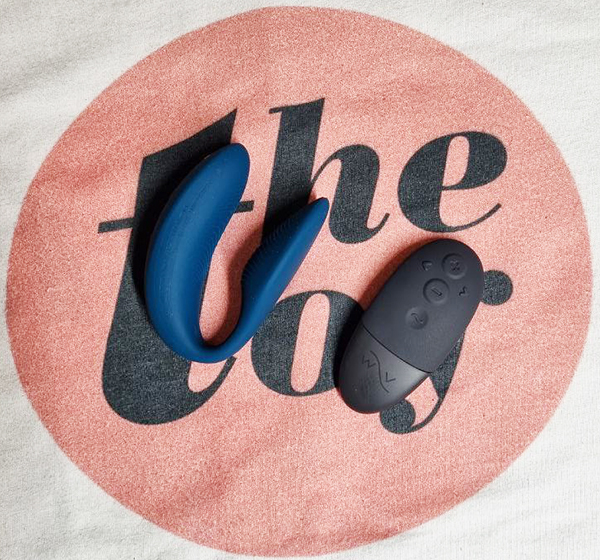 Another improvement to the We-Vibe Sync 2 would be to increase the battery life of the vibrator. The battery life is relatively short now, only lasting up to 2 hours. This can be limiting when it comes to playing time, especially in public. If the battery life were increased to at least 3 hours, it would give users more time to explore the toy for longer outdoor experiences. I.e., watching a movie can be much more fun with uninterrupted panty vibrations.
The user-friendly aspect of the We-Vibe App could also be improved. The app, while intuitive, could use some refinement to make it easier to use. Additionally, connecting the vibrator to the app could be made more reliable, as there have been some issues with connectivity in the past. Improving the app and connectivity would make using the product much smoother and give users a better experience.
Finally, making the product more affordable would be a welcome improvement. The We-Vibe Sync 2 is expensive and out of reach for many people. If the price were lowered, it would open up the product to a broader market and allow many more people to experience the joy of exploring mutual pleasure.
Where to buy We-Vibe Sync 2
If you intend to buy We-Vibe Sync 2, you should visit the official website of We-Vibe or Lovehoney, as this guarantees you that you will receive the original product.
Both websites offer it in all colors. Both offer a variety of payment options, including credit cards and PayPal. Lovehoney offers many helpful product reviews and buying guides. Both websites offer fast and reliable shipping and customer service.
Conclusion
The We-Vibe Sync 2 is an excellent choice for couples looking for a reliable remote-controlled vibrator that can be comfortably used during intercourse. Sync 2 is powerful; it has various patterns and intensity levels to enrich intimate moments. It is also waterproof, making it perfect for use in the shower or bath.
The remote control gives you complete control over the vibrator, but the best feature of Sync 2 is the phone app that can control the toy from an unlimited distance.
We-Vibe Sync 2 was provided to me free of charge in exchange for an unbiased review. This complies with FTC guidelines.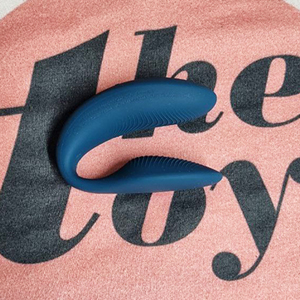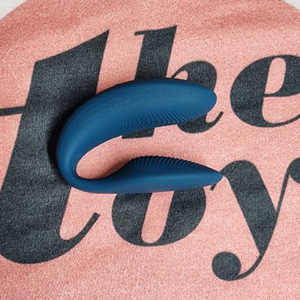 | | |
| --- | --- |
| Design: | (5.0 / 5) |
| Comfort: | (5.0 / 5) |
| Power: | (5.0 / 5) |
| Experience: | (5.0 / 5) |
| App: | (5.0 / 5) |
| Price: | (4.0 / 5) |
We-Vibe Sync 2 is worn during intercourse for more intense and pleasurable experience. Discreet, non-intrusive and app-controlled!
You can buy this couples' vibrator: