Update: There is a new version of Sync with improved app connectivity and a slightly better design. If you are considering the Sync, read my review on the improved version – We-Vibe Sync 2.
We-Vibe Sync is an innovative couples vibrator intensifies your mutual pleasure during penetrative sex.
This app-controlled vibrator is also suitable for solo masturbation and is easily adjustable, 100% waterproof with a classy design and inspiring patterns of vibration. We-Vibe Sync is entirely made of silicone, which is super gentle to the touch and very easy to clean and maintain. If you are already interested, read my We-Vibe Sync review and learn everything about this exceptional vibe.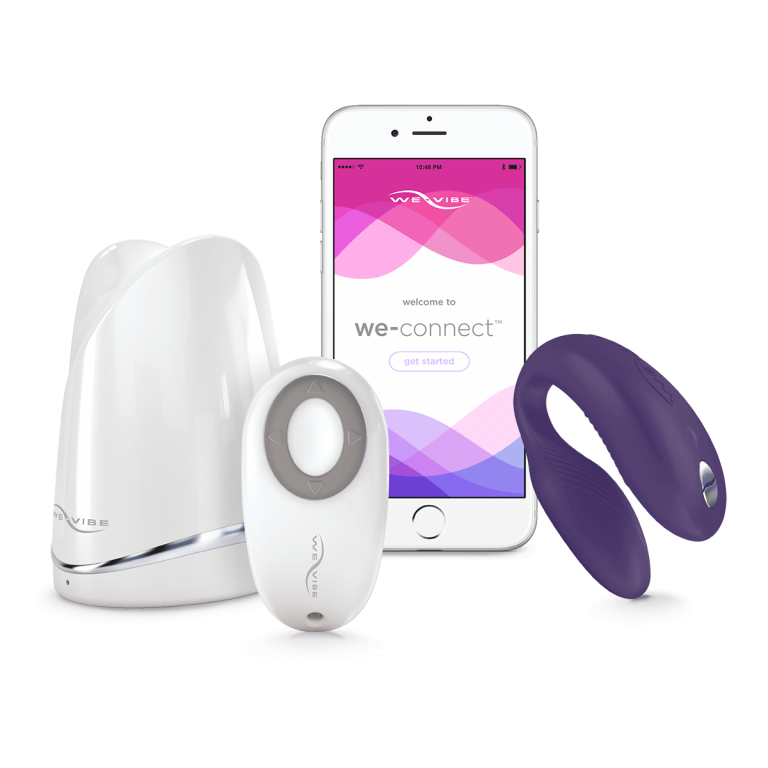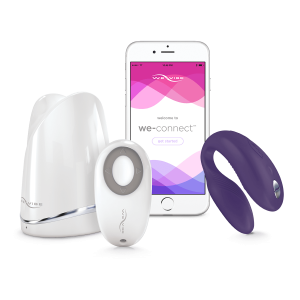 | | |
| --- | --- |
| Power: | (5.0 / 5) |
| Noise: | (5.0 / 5) |
| Material: | (5.0 / 5) |
| Design/Size: | (5.0 / 5) |
| Experience: | (5.0 / 5) |
| Price: | (4.5 / 5) |
| Controls: | (5.0 / 5) |
| App: | (4.0 / 5) |
| Average: | (4.8 / 5) |
Simultaneous G-spot and clitoral stimulation; perfect addition to a more sensual intercourse
You can buy this vibe from:
Pros and Cons
Pros
Made of 100% silicone
Great shape and design
Easy fit, comfortable wear, and powerful vibrations
Suitable to fit a wide range of body types, including larger bodies
Both Bluetooth long-distance control and internet app control function work well
Smart storage container that is also a handy charging base
Positive customer feedback
The smooth and matte-textured silicone is hypoallergic, it doesn't have any smell or taste and can be easily cleaned with soap and water or a sex toy cleaner. Silicone is considered the best material for the production of sex toys.
This U-shaped design aims to stimulate both the G-spot and the clitoris of the female partner, while the male partner can enjoy the internal vibes while penetrating the vagina.
We-Vibe Sync couples vibrator is created to comfortably fit most body shapes while delivering additional stimulation to solo sessions or PIV sex.
The new, more convenient design allows women with all body shapes and sizes to get maximum stimulation from the vibrator.
We-Vibe Sync offers reliable, uninterrupted long and short-distance control options that are highly appreciated by everyone who knows how frustrating bad connectivity reflects long-distance sex.
The unique charging base/container is We-Vibe's trademark. No other company offers such an intelligent dual-purpose resolution.
The comments (I checked all over the Internet) are very promising – most female users are very pleased with purchasing the Syns vibrator. There's also positive feedback from men who tried the toy and report a better, more satisfying sexual experience.
The We-Connect application is hard to connect with the vibrator at first. Multiple attempts may be needed.
Note that there is a newer version, We-Vibe Sync 2. Sync 2 has better connectivity and is more powerful, compared to the3 previous model. Please, check out my detailed review of We-Vibe Sync 2.
How Does It Work?
The idea behind We-Vibe Sync remote vibrator is to be worn by a woman during PIV (penis in vagina) intercourse but it can also be used as a standalone vibrator for solo play.
The slightly slimmer arm is intended for vaginal stimulation and the wider, more textured arm is placed against the clitoris. Both arms vibrate and the vibrations can be adjusted separately for each, according to your preferences. The separate control of the vibration patterns of each arm can only be done through the We-Connect app on your phone. After adjusting both arms to their correct positions, you'll feel the vibrator wrapping securely against your genitals, there's no way it may slip or fall out.
We-Vibe Sync has 2 bending points to make the adjusting process even easier – the first bending point is located near the base of the clitoral arm, and the second one is near the base of the G-spot arm. Both arms can bend inwards or outwards, you can bend them at about 70º, which is enough to fit most body types. We-Vibe Sync is not loose nor snug, it stays in the position you've created. This awesome feature can be rarely seen in wearable vibrators.
This allows simultaneous body-hugging dual stimulation for the female partner.
As for the male partner, the stimulation comes from the smooth surface of the internal arm. So, while he's penetrating your vagina, he'll also get the vibration. Plus, there's way more friction between his penis and the vibrator since there's less space for him inside you.
You can use the extra flexibility of We-Vibe Sync vibrator so that you customize it to fit your own body shape and curves. You can even wear it in public, instead of a panty vibrator. If you wear jeans on top, there will be no noise from it at all. You can also sit down with it on, cross your legs, and walk around while wearing it. You won't hear any noise, neither will the people around you.
As for the vibrations – We-Vibe Sync offers the rumbly kind of vibes, deep and thrilling but I'll share more about that later…
Here is a full guide on how to use the We-Vibe Sync.
Check We-Vibe Sync' price: We-Vibe
We-Vibe Sync Features
Main Specifics
We-Vibe Sync is a completely waterproof vibrator intended for couples' play or solo stimulation. The two bendable arms offer a comfortable fit and customizable vibrations, starting from teasing murmur to powerful stimulation, targeting both the clitoris and the G-spot.
We-Vibe Sync vibrator can be operated in 3 ways. The first is the single power button on the top of the device, which alternates through all of its intensities and patterns. The second way is via the remote (from up to three meters distance) that lets you choose between 10 preset patterns.
Using We-Vibe Sync vibe via the We-Vibe Connect app lets you choose between unlimited patterns of stimulation and lets you control the internal motor and external arm of We-Vibe Sync separately. Additionally, you have video and chat functions that you can use in case you are a long-distance away from your partner. You can read my complete guide on how to use the We-Vibe Sync here.
This vibrator can be synced to your favorite music rhythm to let you enjoy it in a brand new way.
Vibration Quality
We-Vibe Sync vibrator delivers rumbly vibrations that can be felt deep into the body. Unlike the buzzy vibes that only tickle on the surface and often lead to numbing, the rumbly pulsations let users experience a more fulfilling stimulation.
Vibration Strenght
We-Vibe Sync is indeed powerful – the kind of powerful that does its' job but won't disturb you while having sex. Rumbly, yet not overwhelming, for me, sometimes the medium intensity levels are enough to bring me a climax.
Noise Level
The We-Vibe Sync by We-Vibe is not loud at all and that's due to the simple fact that all U-shaped vibrators are in constant contact with the body. The vibrations are absorbed and the only noise comes from the clitoral arm but it is muffled and barely noticeable while in contact with the clitoris. You can entirely stop the external arm from vibrating using the We-Connect app.
Charging
This U-shaped vibrator is rechargeable, so there's no need to worry about buying and changing batteries.
The discreet storage box you'll get with the We-Vibe Sync couples vibrator is also an impressively smart charging base for the vibrator (once it is connected to a USB cable and a power source). Its' remote should also be stored there.
When in its' storage box, the We-Vibe Sync looks like a household item, such as an air freshener. All you need to know about charging the We-Vibe Sync is here.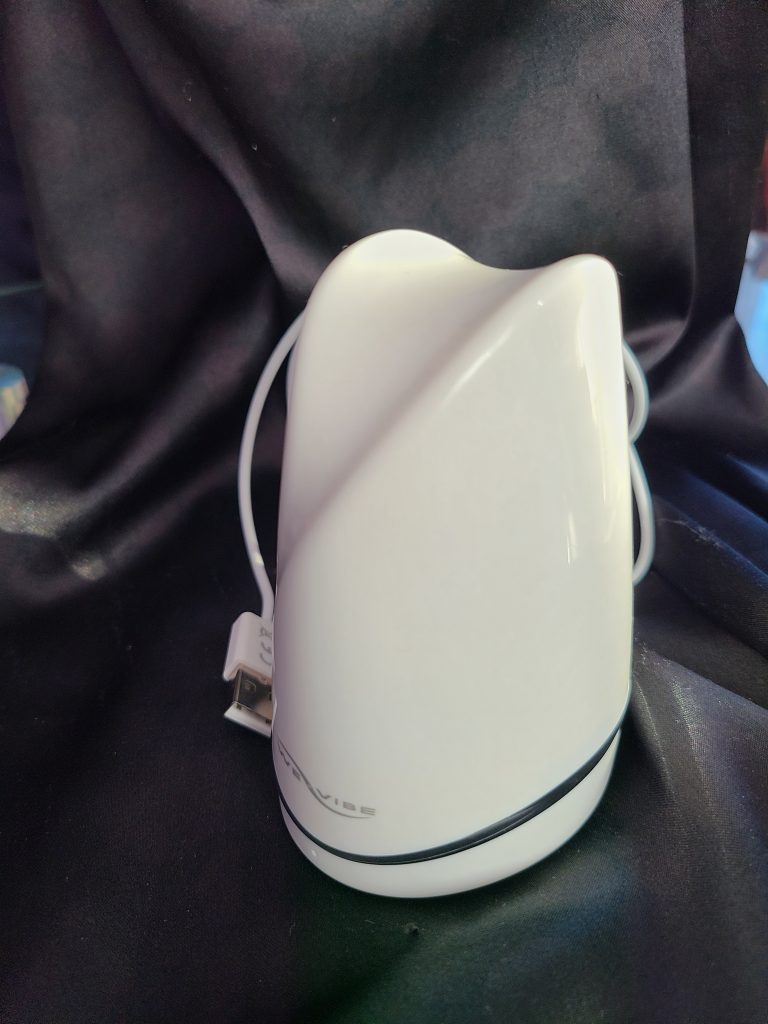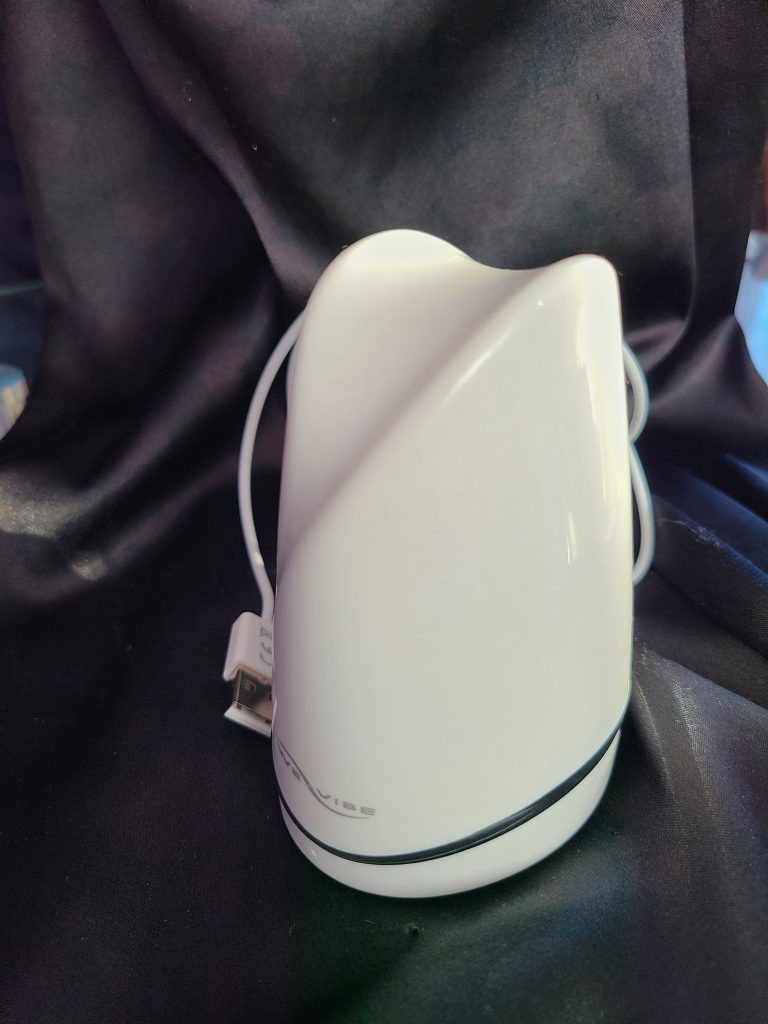 Materials
Not only We-Vibe Sync but all We-Vibe sex toys are made of premium quality materials that are absolutely safe for you. For instance, the We-Vibe Sync is made of 100% silicone that is non-porous, phthalate-free, and non-toxic.
Size
We-Vibe Sync feels super nice to the touch and while inserted, it offers a super comfortable, non-intrusive sensation – it won't disturb you or your partner while having sex.
Design
As you can see in the photo below, both the clit and G-spot attachments have convex strips for additional stimulation.
You can wash it with water and soap or apply some antibacterial sex toy cleaner.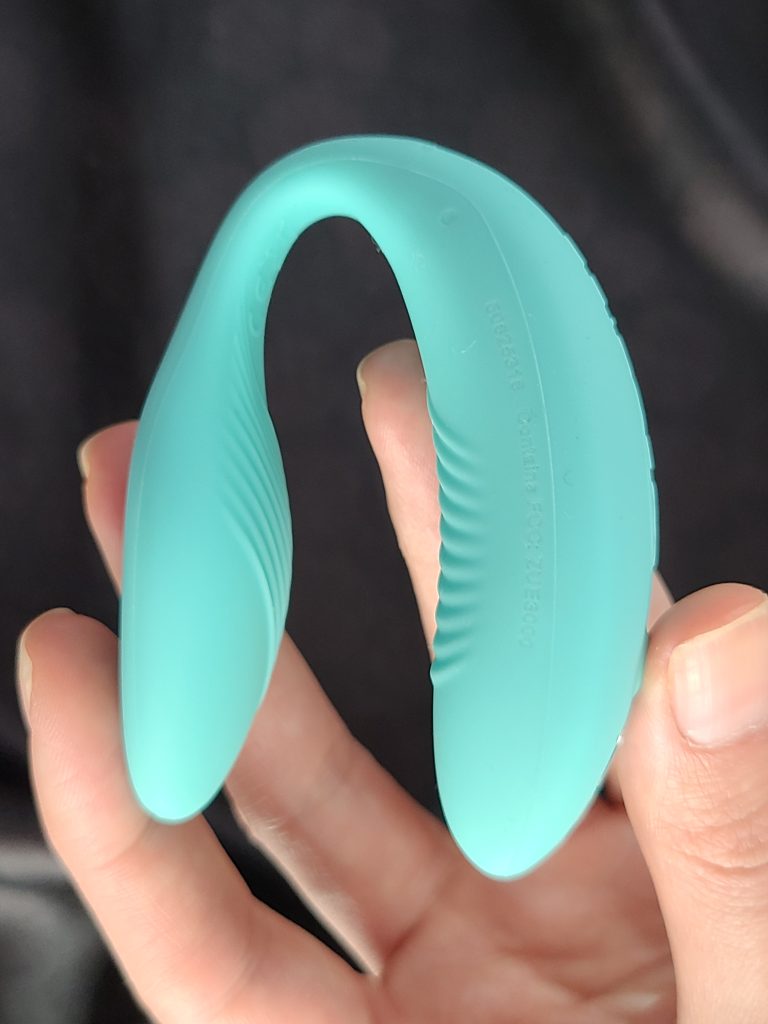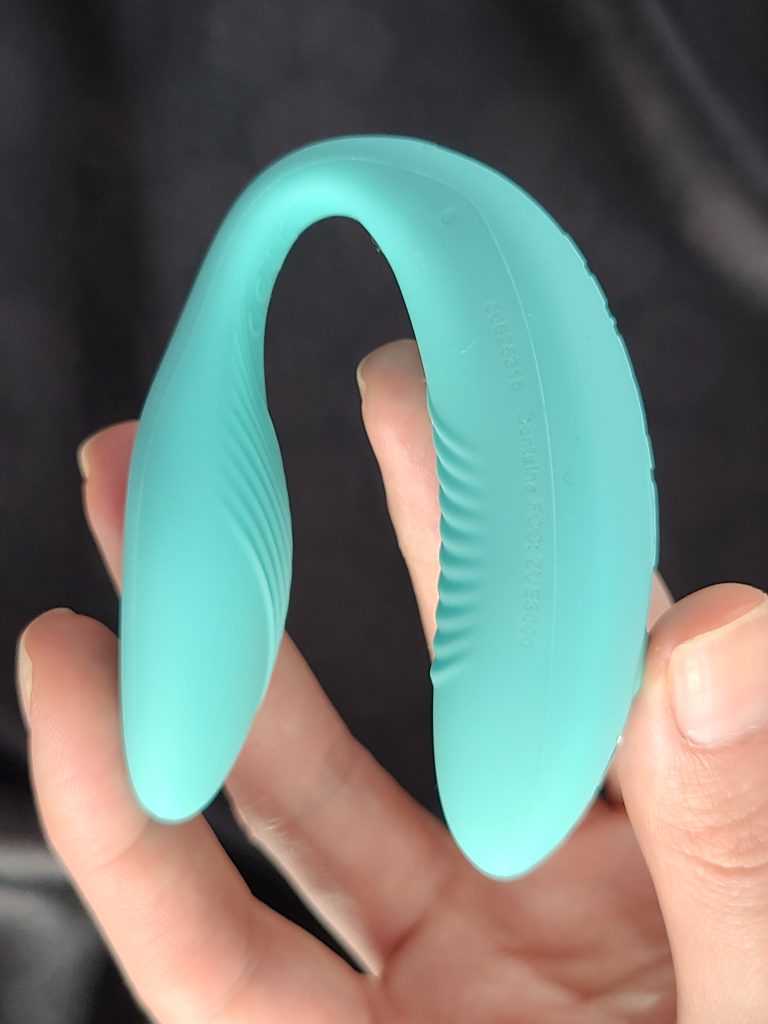 When I received the We-Vibe Sync, I first thought it is smaller than I imagined it. But after I inserted it, I immediately changed my opinion – after all, its' purpose is to fit well and since my clit and the G-spot are completely covered, it does the job perfectly.
Versatility
We-Vibe Sync is not the most versatile sex toy that can be but it comfortably fits most sex positions adding pleasurable pulsations for both you and your male partner.
Battery Life
A complete charge takes 2 hours, allowing you to enjoy customizable vibes for up to 90 minutes if used at the maximum intensity. If you adjusted your We-Vibe Sync sex toy to less powerful vibes, you'll be able to enjoy it for longer.
Cleaning and Care
Here you can learn how to clean, care and store the We-Vibe Sync vibrator.
Controls
Here you can learn how to control the We-Vibe Sync vibrator manually.
App Quality and Connectivity
Read about connecting We-Vibe Sync with the We-Connect app and how to connect and control it.
Is We-Vibe Sync worth your money?
If you want to add some spice into your sex life, partner toys, such as We-Vibe Sync are a quite decent option. After all, you get a reasonably-priced sex toy with versatile functions that provide maximum pleasure.
If you are a woman, you can also use it for solo stimulation but honestly, I had more fun with the device while sharing the vibes.
We-Vibe Sync is a great vibrator for its price range and We-Vibe company proves the immaculate quality of their couples toy with a 2-year warranty, which is rarely seen in the world of sex toys.
Our Experience With We-Vibe Sync vibrator
Once the We-Vibe Sync was completely charged, I needed to prepare my extra patience because my partner wasn't at home yet and I didn't want to try the We-Vibe Sync by myself. Meanwhile, I installed the free We-Vibe's app on my phone and synced it to my smartphone. The remote-controlled vibrator itself is connected via Bluetooth and the Bluetooth range is 10 feet(3 meters).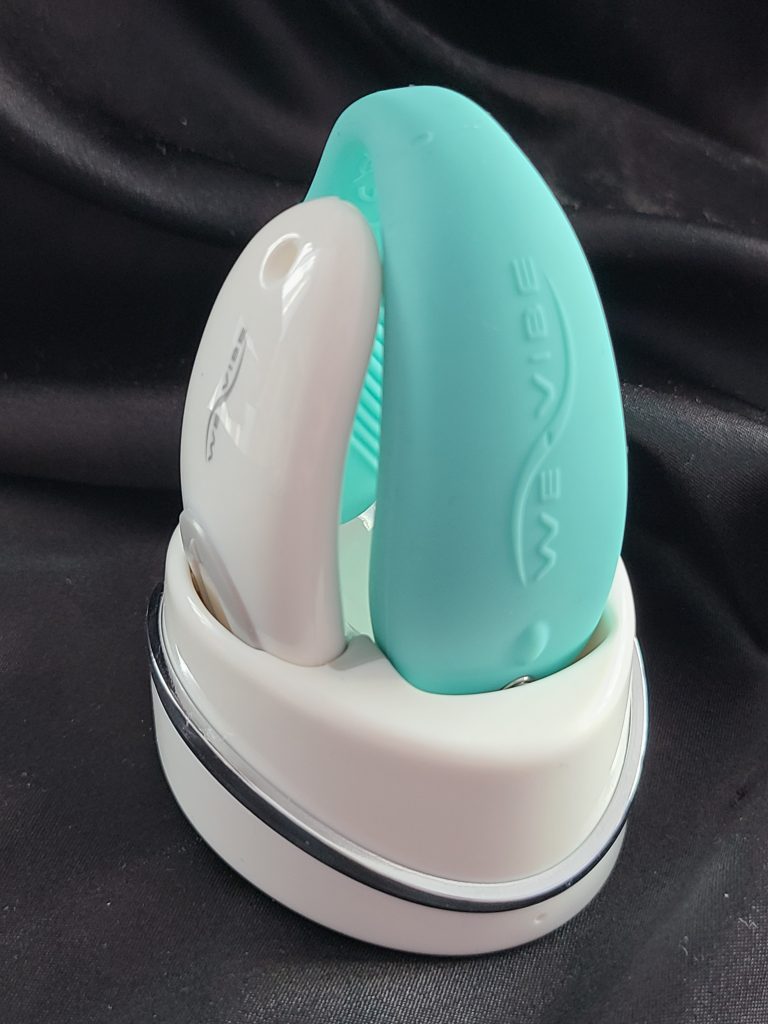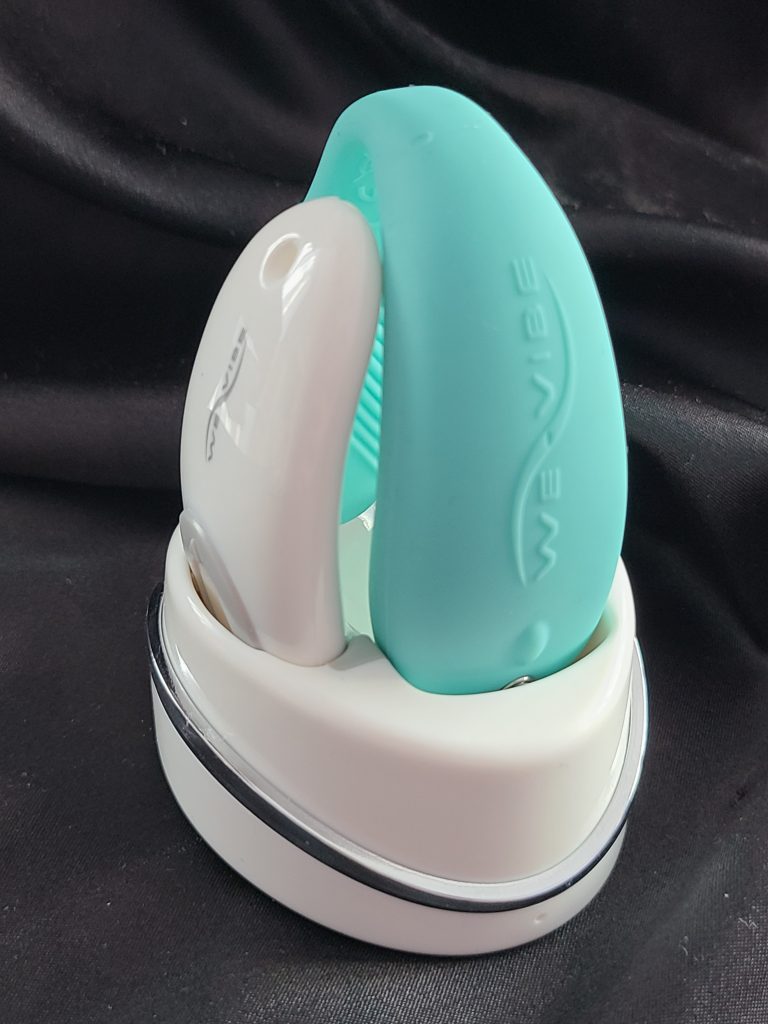 Operating the We-Vibe Sync with the app wasn't easy at first, I couldn't connect my We-Vibe Sync even after multiple attempts. So, I decided to disconnect my Bluetooth and uninstalled the app.
I then reinstalled it, turned my Bluetooth on again and it worked! I was finally connected to the app!
The We-Vibe Sync vibrator responds timely to each of the patterns and what I find intriguing is the option 'Touch" allowing you to create patterns sliding the finger on your screen. Super exciting! Plus, you can save your patterns for the next sessions.
As my partner was walking home, I called him and asked him to install the app to check if it works. After allowing him the control over the We-Vibe Sync he started testing the options and meanwhile we were texting in the We-Connect chat. All tests went well, he even saved 2 patterns he thought we might enjoy. But, honestly, I like the preset patterns more, as they feel way more intense.
Now here the place to mention that the internet connectivity where I live is super fast and this is the only requirement for app-connected vibrators to work properly.
So, back to my first time with the We-Vibe Sync. After my partner got back home I was already prepared for the testing, no lubricant needed. Adjusting the We-Vibe Sync to my body specifics was easier than I expected, I just needed to bend a little the internal arm for G-spot stimulation. I chose to use the remote control since I was still not used to the application.
We started with some spooning, the vibrations felt nice and teasing but We-Vibe Sync couples vibrator was adjusted to its lowest settings, so we both needed something more. After increasing the intensity, I felt the urge to be on top just so I can feel it deeper and this time I needed only a couple of seconds before the first intense orgasm. (Here, I'd like to add that I'm one of the lucky girls who can enjoy multiple orgasms per intercourse)
I felt fantastic during the entire time, the deep orgasms felt stronger than usual, maybe a little pressured, but the sexual experiences was awesome for me.
Later that day my partner came with an idea I wasn't prepared for. He wanted to try bum sex with the We-Vibe Sync, inserted in my vagina and covering my clit.
I needed a moment to gather my thoughts.
Long story short, this time it was him who had more fun than I did. He told me that he still feels the vibrations, but this time more distinct and less intrusive. I also had a very nice experience but this time, I struggled to reach climax. Probably because I was exhausted following our previous session. Or because I'm not that into anal play.
To sum up, I did enjoy the We-Vibe Sync – both times it performed way better than I expected and I'll surely create a routine adding it into our sex life.
Competitive products to consider
Lelo Tiani 3
In terms of aesthetics, Lelo Tiani 3 is available in 3 colors, has an elegant look decorated with its ring of chromed metal aspect, while the We-Vibe Sync vibe has 2 color versions available.
As for the We-Vibe Sync, it has a more sober style, no less elegant but for sure voluntarily discreet, it clearly wants to be there but in a more modest way!
In terms of functionality, the We-Vibe Sync offers great adjustability thanks to its multiple modes of nuanced vibrations and remote application. It also has a "Beat" function that uses music to synchronize the vibrations! But it also means a little longer to get used to it in order to find the vibrations that will suit you best during your lovemaking, but once you're past that stage, you'll be able to enjoy a wide variety of pulsations!
The Tiani 3 is more instinctive thanks to the Sensemotion which allows you to change the intensity of the stimulator for couples with a quick flick of the wrist and follow the rhythm of your lovemaking. No need to read a boring manual, just unpack and go!
They are both 100% waterproof, so you can use them in the shower or in the bath.
And what about the price aspect?
In terms of price, the difference is derisory to a few cents, in fact, you will have to pay the same amount for these two stimulators for couples' luxury, around $150.
This price may seem high, but it is the minimum to have a pledge of quality in terms of durability, they also provide two years warranty each.
In addition, their silicone coating is designed to respect your body and your partner's body during prolonged use, which is not the case with most low-cost stimulators for couples that require a lot of lubricants in order not to irritate the most sensitive areas.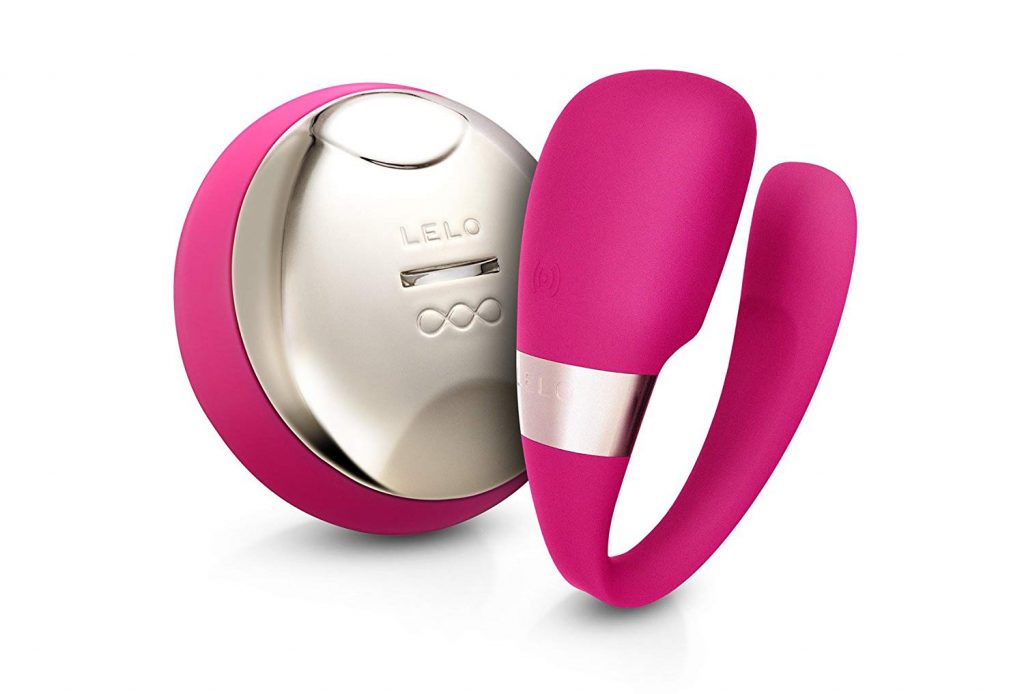 We-Vibe Chorus
Both U-shaped vibrators by We-Vibe are made of body-safe silicone, with no latex. And while the We-Vibe Sync is only available in purple and aqua color, the Chorus has pink, purple, and blue versions.
Compared to We-Vibe Sync,We-Vibe Chorus has a thicker G-spot arm and is a bit more flexible, thanks to the clitoral arm that can bend outwards.
While the We-Vibe Sync vibe requires approximately 2 hours to get completely charged, with Chorus the charging period is around 1.5 hours.
According to many reviewers, the Chorus vibrator offers a bit stronger and deeper stimulation and controlling it is made easy – Chorus starts on lower intensity and ends with more powerful and deeper vibes.
With Chorus you can control your toy via squeeze control – the tighter you squeeze, the stronger the pulsations and there are added responsive control options.
As for the price, Chorus is more expensive, as expected, but has more added value to it.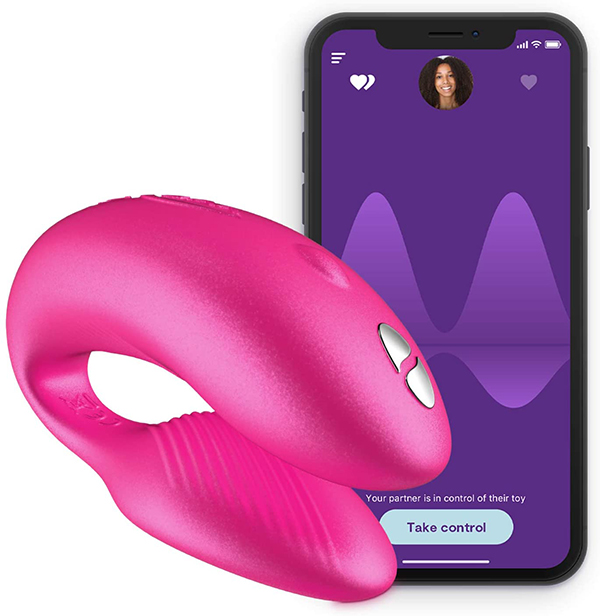 We-Vibe Sync vibrator evolution
We-Vibe company tends to listen to customers' feedback. With the previous We-Vibe Sync version, We-Vibe received not-so-enthusiastic reviews about the silicone material they used. It was causing discomfort for some users and was barely bendable. So, the company made the improvements needed in order to meet everyone's expectations. This is why the current version of We-Vibe Sync feels amazingly soft to the touch and both arms are easily bendable and adjustable to the desired position.
Unboxing We-Vibe Sync
I have just received my brand new We-Vibe Sync in the mail and the first thing I can say about it – We-Vibe company indeed cares about customers' privacy. The We-Vibe Sync was delivered in a plain cardboard box with a single sticker with details about the courier company. The cardboard box was safely secured by 2 cable zip ties.
After I cut them and opened the box, there was wrapping paper used to diminish the friction and prevent any potential damage during transportation.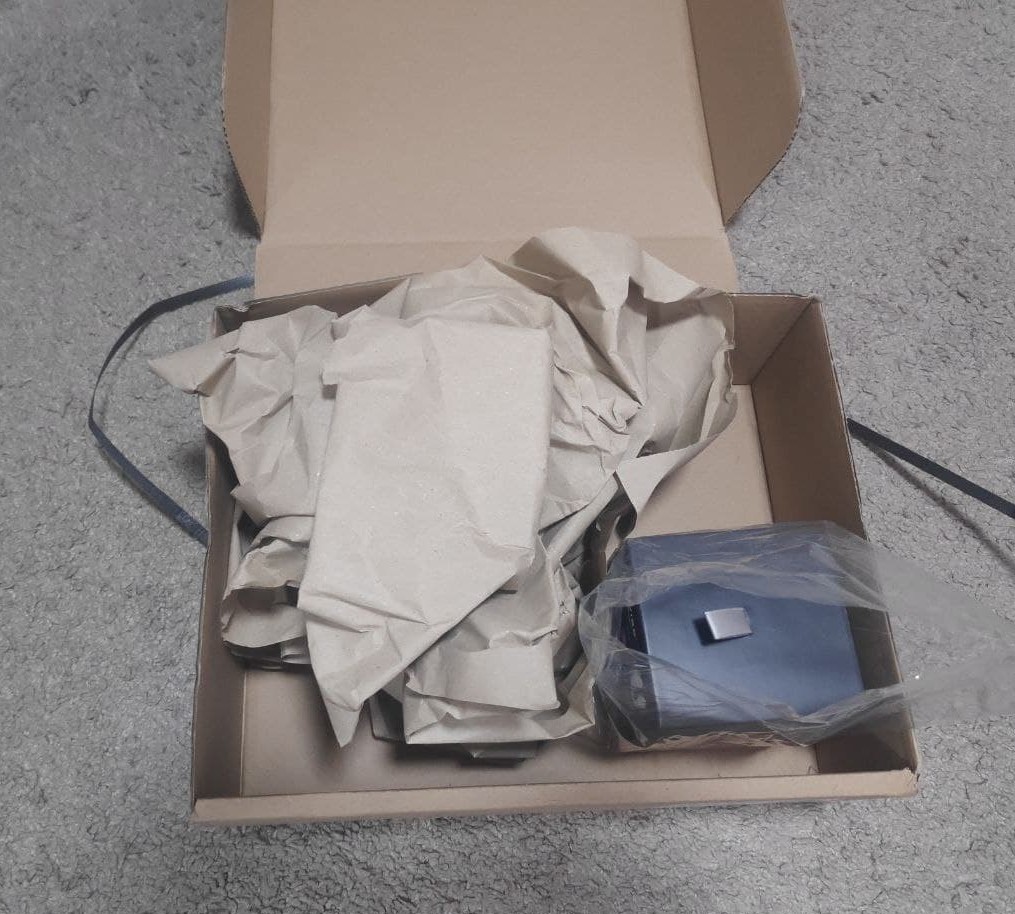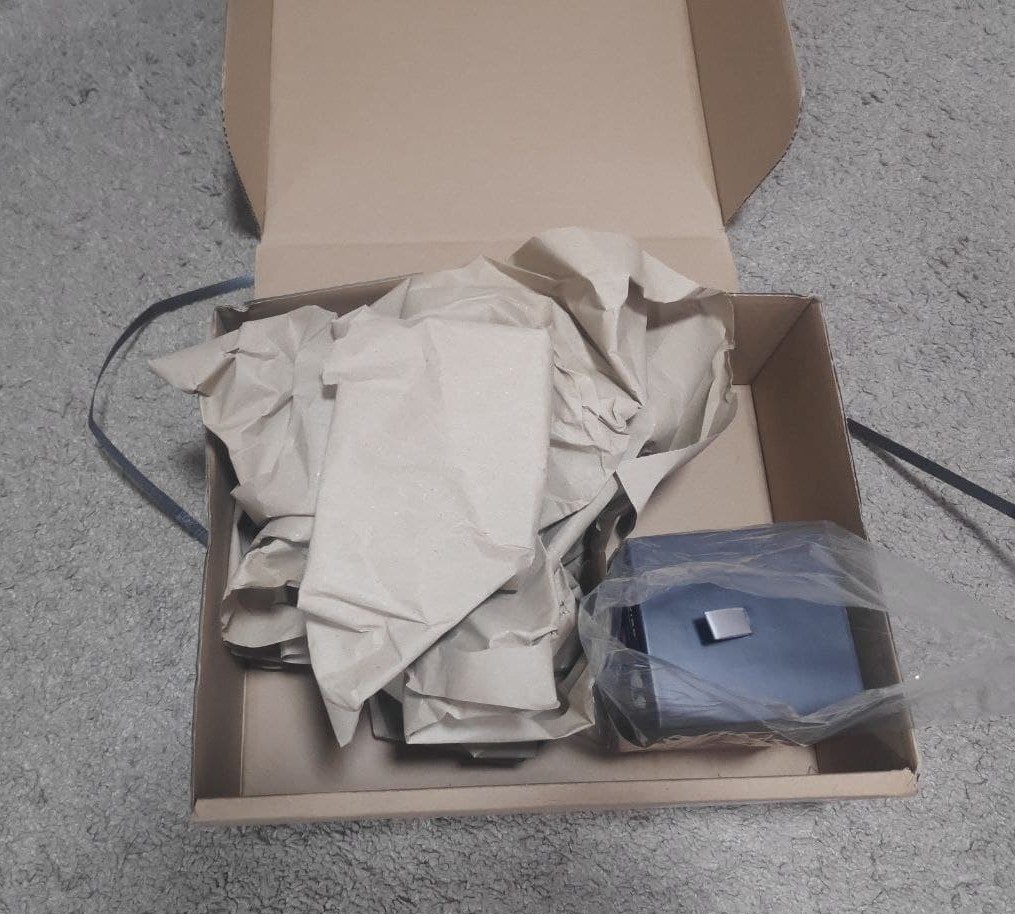 And there it was – the beautiful, funky box of We-Vibe Sync couples vibrator with a comfortable handle on top. We-vibe's packaging never disappoints! I got the aqua color We-Vibe Sync (there's also a purple and a cosmic purple version), it comes with a luxury charging case and the next thing I need to do is to begin charging this little miracle so that I can try it with my partner later today.
In the box, I also found a USB cable, user manual (that is mostly pictures, showing the main functionalities of the We-Vibe Sync), a wireless remote, and a 20ml sample lube (pjur).
Check We-Vibe Sync' price: We-Vibe
We-Vibe Sync was provided to me free of charge in exchange for an unbiased review. This is in compliance with FTC guidelines.