Calor is the newest addition to the Lovense sex toy line. Calor is a heated, remote-controlled masturbator for men that is highly customizable.
In my opinion, it feels just like the real thing, which even I find a little disconcerting. You know, technology is already smarter than us, but it seems that it's surpassing us on a whole new level – namely in terms of sexual satisfaction…
The combination of vibration, squeeze, and depth control adapts to almost any size and personal preference. With a little experimentation, Calor will treat you to earth-shattering orgasms.
As for the vibration settings, there are plenty of options available to you. From the lightest tingling to an almost brutal setting that will literally beat your meat. Whatever you like, it has the right power level for your body's needs. You can control it from your phone or have your partner control it, no matter the distance. You can also save your settings and enjoy them later.
The deeper you insert it, the more intense the vibrations – that's my favorite feature on this awesome stroker.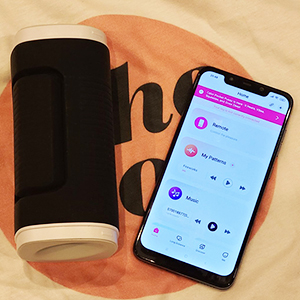 | | |
| --- | --- |
| Power: | (5.0 / 5) |
| Noise: | (5.0 / 5) |
| Material: | (5.0 / 5) |
| Design/Size: | (5.0 / 5) |
| Experience: | (5.0 / 5) |
| Price: | (4.5 / 5) |
| Controls: | (5.0 / 5) |
| App: | (5.0 / 5) |
| Average: | (4.9 / 5) |
Premium male masturbator for stroking. Fully adjustable, programmable, with unlimited remote-control options
You can buy this vibe from:
Pros and Cons
Pros
Offers earth-shattering orgasms; for me –  similar to actual sex
Provides rumbling vibrations and has nice grooves on the inside for more sensation
Features 3 depth control sensors – the deeper you penetrate, the more the toy responds
Costs less compared to similar sex toys (especially if you take advantage of the Lovense discount)
Has unlimited functions and power levels
Can be used under running water
Is easy to clean (use a mild soap or sex toy cleaner)
Helps people with ED or the elderly who could use a little help
Easier to grip compared to most male masturbators, including Lovense Max 2
No need to buy batteries, cords, or adapters – Calor is fully rechargeable and everything you need is in the package
Made of non-porous silicone inside makes it 100% body-safe
Features a heating function and depth control unlike most pocket pussies
Cons
The pressure is controlled manually – by pressing the grip-side of the toy (I personally enjoy this feature but others may not)
How does it work?
Vibration, squeezing, heating, and depth control are the main options of Lovense Calor.
It has 3 depth sensors.
The toy reacts more strongly the deeper you penetrate. When your penis passes one of the internal sensors, the motor next to it is triggered.
It also has a compressor that allows you to grip and squeeze harder while masturbating, as well as an optional heating function.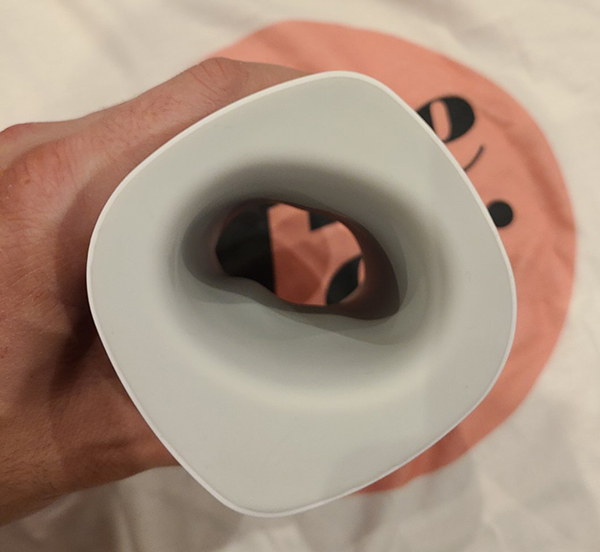 The temperature range for the heating function is between 38° and 42° C.
To use the heating function, use the charging cable, connect it to the device and press and hold the A button for three seconds. Depending on the room temperature, it may take 5-20 minutes to heat up.
When the orange light on button B turns off, the toy has reached its maximum temperature.
When using this feature, you should check the heat of the toy with your fingers before penetrating it with your penis. No more cold Fleshlights!
My Experience
My first impression of Calor when I opened the box was its simple yet sophisticated design. It is compact and feels very soft to the touch. I took the magnetic charger and connected it to the stroker to power it for the first test.
Since I was excited (as always) to try out the new toy, I started with the quick setup guide. Most of the control and pattern functions were familiar to me, as they are controlled through the Lovense app. I already have quite a few Lovense toys and know how to use the app, so I quickly connected them via Bluetooth.
Calor is made of ABS plastic and pure silicone. The inside is also silicone, so I prepared my water-based lube. Always use water based lube along with silicone toys.
What piqued my interest is the heating function. You can set the masturbator to a temperature between 38 and 42 degrees Celsius (100-104 Fahrenheit) before starting the session, so it feels warm and natural like a real vagina.
For the first test, I did not wait until it was warm. Once the masturbator's battery had some juice, I decided to give it a try. I generously applied lube to my penis and to the inside of the Calor, connected the masturbator to my phone to better control the power and play with the patterns, and started getting myself hard.
Once my penis was erect, I tried the Calor. I set the vibration to the default setting (the first) and inserted myself into the toy. It was silky smooth and the vibrations felt good. They were strong enough (unlike Gush) to make me harder and it felt nice. At this point, I could not use the squeeze handle because I was filling the width of the masturbator all the way. I spent the next minute trying different vibration patterns and they all felt good.
Then I chose the one I liked best, which had a pulsating rhythm with faster and slower tempos, and started stroking with the Calor. In just thirty more seconds I came with a big load.
Later that evening, I decided to try the heating function. The feeling was so much more intense that from now on I will always take the time to heat the Calor first. It felt just like the real thing.
I found that if you get hard and insert the masturbator to the max, it is also pleasurable. Then set the vibration to the highest level and let it massage the underside of your penis and balls. It's a strange but very arousing feeling.
Overall, Calor is my favorite Lovense's masturbator so far. Max 2 is too complicated to clean and use and I did not find it as exciting. Gush is not as powerful and only massages part of your penis at a time (since it is a glans massager). Calor has all the advantages and none of the disadvantages of the others. It is definitely one of my favourite strokers so far.
Specifications
Power
In terms of power, Lovense is still unbeatable. Calor is extremely strong. So strong, in fact, that I had to reduce the intensity to be honest, lest I damage my penis. As for the lower settings, they are all great for lightly massaging your penis. I think the lower settings are perfect for edging, longer erections, and stronger orgasms.
Noise
Calor is more discreet than the Max 2 and most other automatic masturbators for men. Compared to Gush – Lovense's Gland Massager, Calor is almost as discreet. It all depends on what pressure you are using while masturbating.
Materials
ABS Plastic on the inside provides a firm grip, 100% body-safe silicone that provides an extra comfortable experience. None of Lovense's products contain phthalates or other harmful chemicals.
Apply a water-based lubricant before each use. A single application of a high-quality water-based lubricant should eliminate the need for reapplication during use.
Note that Calor is completely waterproof. It has an IPX7 rating, which means that Calor can be submerged up to 1 meter in water for 30 minutes. So you should have no problems using it while showering or bathing. Keep in mind that the Bluetooth connection is not stable at all times in and underwater!
Design
The exterior of the Calor is slender and simple. The Calor's shape is similar to other smart technologies such as portable Bluetooth speakers, making it an unobtrusive design. It's small enough to fit comfortably in a nightstand. Calor is black on the outside, which I like and white on the inside.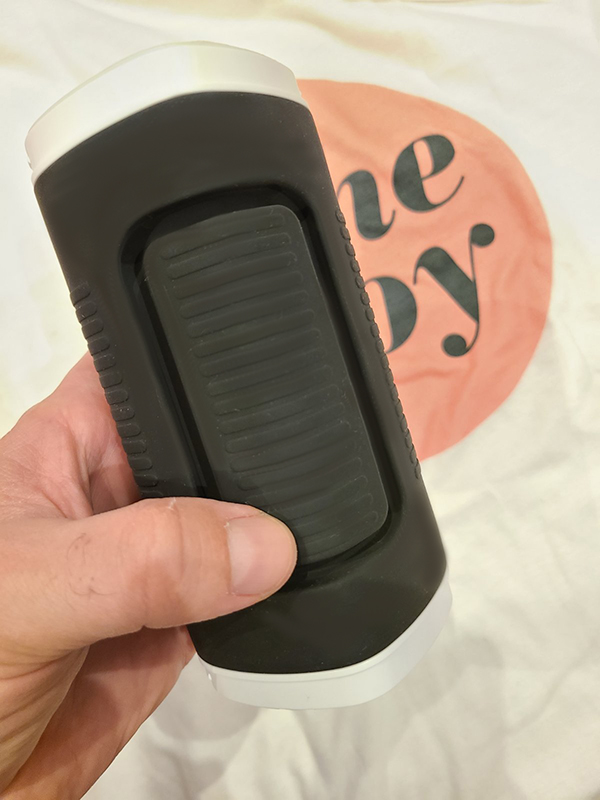 Size
You can see the size of Lovense Calor below: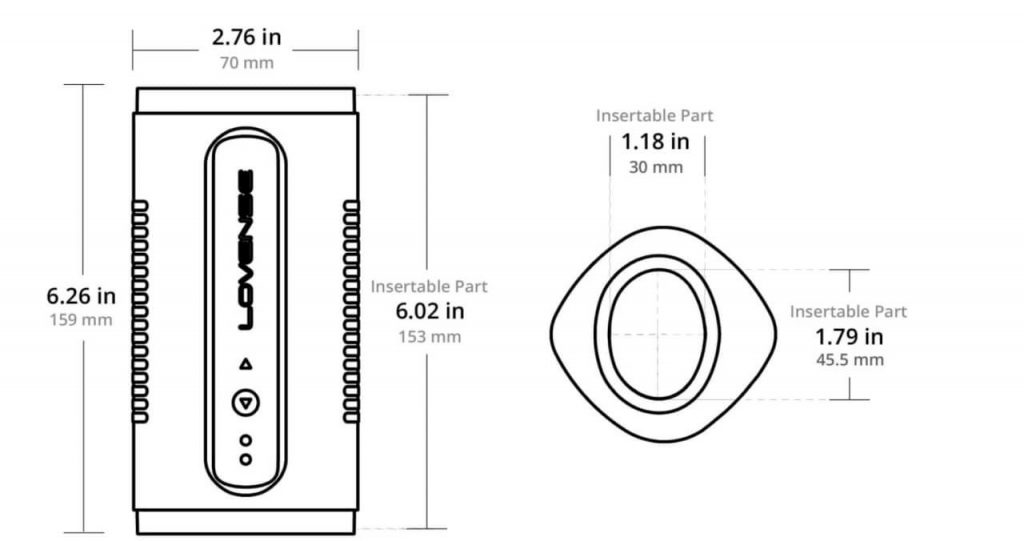 Calor is designed to fit about 95% of men. You can check the size of the hole since if you are extremely gifted, you won't fit in the stroker. It works great for smaller sizes since it has a grip that can be squeezed.
The hole where the penis should be inserted is an ellipse (1.16 in/ 30 mm x 1.79 in/ 45.5 mm).
The insertable part is 6.02 in/ 153 mm in length.
Charging
With a charge time of 90 minutes and a standby time of 120 hours, it will run continuously for about an hour and a half to two hours, depending on what level you have it configured at. Like most of the newer sex toys made by Lovense, the Calor uses a magnetic charging cable (included in the package).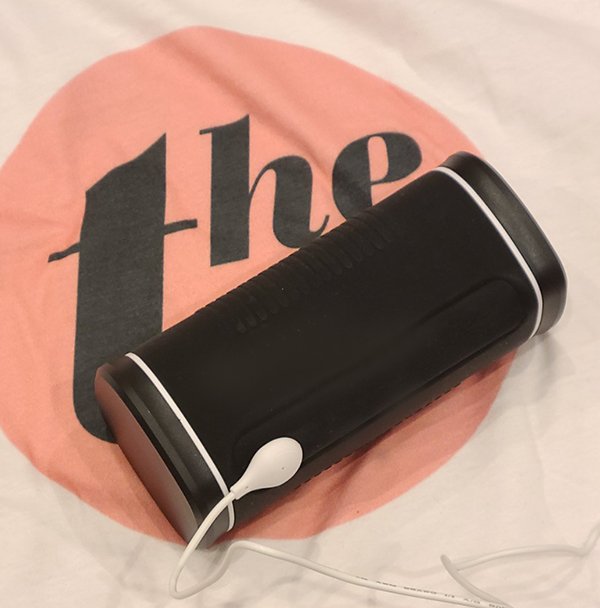 Never use your toy while it is charging/heating!
How does the heating function work?
Connect the charging cable and press and hold the A button for 3 seconds. Heating may take 5-20 minutes depending on the room temperature. When the orange light on the B button OFF comes on, the toy is fully heated.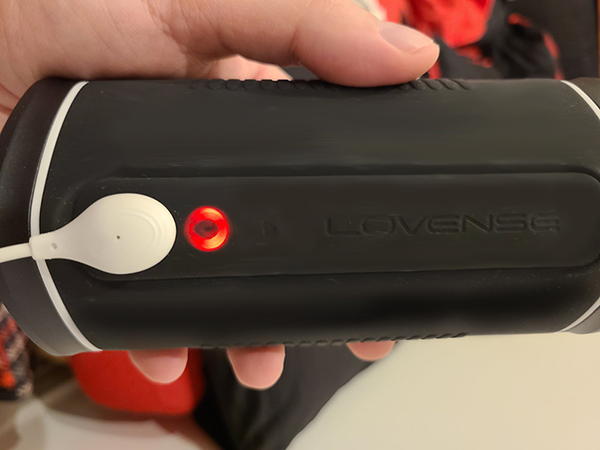 When using this function, check the temperature of the toy with your hand before inserting the penis. The temperature range for the heating function is between 38° and 42° C.
Controls
You can find the two control buttons of Lovense Calor next to the magnetic charging port. Button A should be held for around 3 seconds to heat up the device. Tap again to start cycling up through the preset vibrations. The heating feature can be used when the charging cable is attached to the toy. and when the orange light on button B is off, this means the Calor is heated and ready for use. With button B you can switch from depth control to button control by holding it for around 3 seconds. You can also cycle down through the preset vibrations by taping it.
Storage
I highly doubt you will forgo the pleasure of Lovense Calor, but if you do, make sure your toy is recharged at least once every six months.
Cleaning
Clean the inner and outer parts with warm water and mild soap (or a sex toy cleaner) and dry thoroughly before storing.
Price
While there are dozens of teledildonic sex toys on the market, only a few companies are able to combine advanced technology, postmodern minimalist aesthetics, and high-quality materials in a way that makes the final product feel truly luxurious. And Lovense does so at an affordable price.
With or without a discount, the Lovense Calor costs less than any other male masturbator in its class. The regular price is $199, but Lovense usually offers discounts. Impressive discounts of up to 50%.
Check the price of Lovense Calor: Lovense
App
Lovense is one of the few sex toy companies pushing the boundaries of what is possible in the future of sex technology. Their integrated app is a great example of this.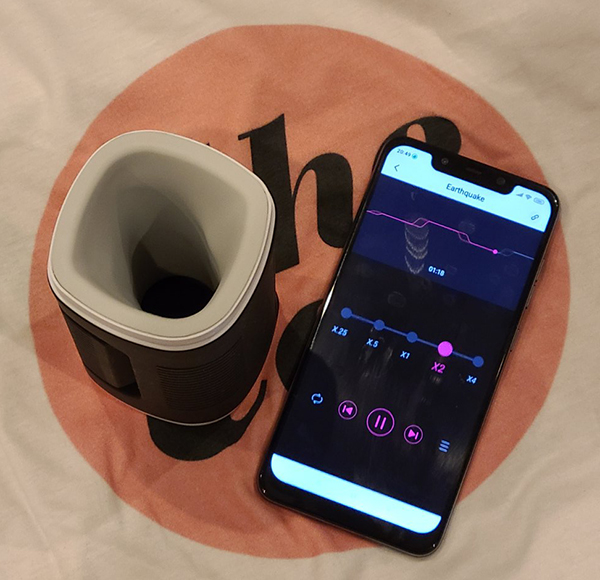 With the Lovense Remote app for Apple or Android devices, you can fine-tune Calor's vibrations, create and share your own patterns, have the device respond to music or ambient sounds, and take or grant remote control for long-distance interactive sexual adventures. Make sure you have downloaded and installed the Lovense app on your smartphone.
It is available for free from the App Store and the Google Play Store.
Lovense Calor easily connects with other Lovense sex toys like Domi, Gush, Hyphy, and Lush 3. The vibrations of the connected devices pulse with the same intensity and frequency, creating a very realistic experience for both parties. You can also use the desktop version if you do not have a smartphone and your PC or Mac has Bluetooth.
To connect the Lovense Remote app to your device, all you have to do is turn on your Bluetooth connection and your Calor masturbator, log in in the Lovense app, and start playing.
With the Lovense app you can play around with the different vibration patterns and speeds.
If you (or your partner) prefer to control Calor via Bluetooth, you can do so from anywhere as long as your device is connected to the internet, which is the case with most smartphones and tablets these days.
You already know that the app is the most attractive feature if you have other Lovense toys. Lovense remote-controlled vibrators offer almost unlimited possibilities to create, mix and match patterns and adjust the intensity of the vibrations.
Learn how to use the Lovense app and everything you need to know about it.
Unboxing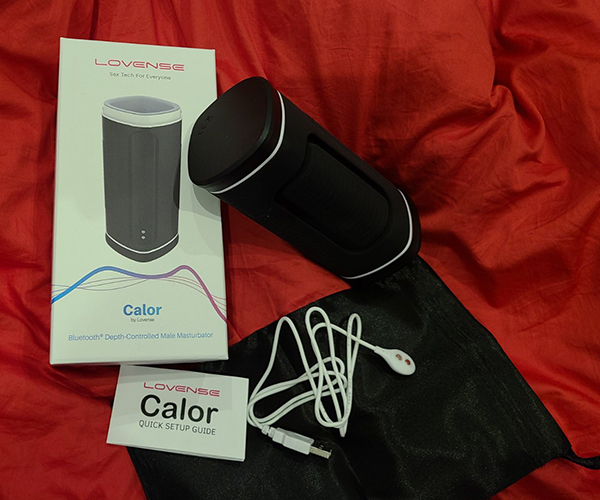 The Lovense Calor male masturbation toy,
a discreet storage bag,
a USB charger, and
two instruction manuals
will all be included in the box when you purchase it from the official manufacturer or an authorized retailer.
Check the price of Lovense Calor: Lovense
Check out all Lovense sex toys below: