The Lovense Flexer is the latest and most exciting vibrator Lovense has launched to date. Why? Not only does this toy have a powerful motor for intense clitoral AND vaginal stimulation, but it is also remote-controlled, so all functions can be adjusted through the Lovense phone app. It is the only Lovense toy that not only vibrates but has a back-and-forth motion that delivers automatic pressure to the g-spot. The Flexer was the vibrator that broke my orgasm per session record, so I think it's worth reading this review.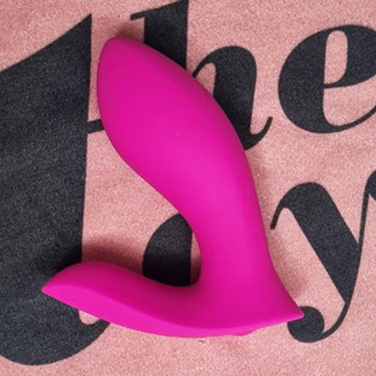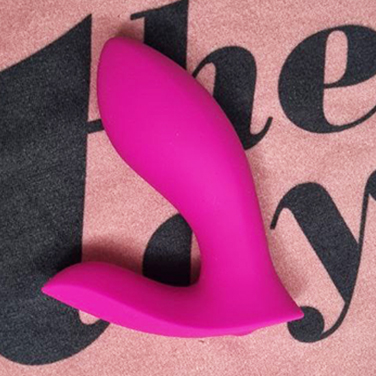 | | |
| --- | --- |
| Power: | (5.0 / 5) |
| Noise: | (4.0 / 5) |
| Material: | (5.0 / 5) |
| Price: | (5.0 / 5) |
| App: | (5.0 / 5) |
A dual panty vibrator with a G-spot arm that uses pressure and motion against the G-Spot, creating a "fingering" sensation
You can buy this product from:
What is the Lovense Flexer?
The Lovense Flexer is a vibrator that can be worn like a regular panty vibrator but it has an extra arm for internal stimulation that mimics the curling back and forth of human fingers. It is made of silicone and has a soft, matte finish. The vibrator is rechargeable and has three speeds and up to 10 vibrating patterns. The Lovense Flexer is waterproof and can be used in the shower or bath, solo, or with a partner. It is also quiet and discreet.
Pros and Cons
Pros
Provides simultaneous stimulation of the G-spot and clitoris.
Comfortable to wear (except during climax).
The Lovense Flexer is made of high-quality medical-grade silicone that is body safe and easy to clean. It is non-porous and free of phthalates.
It is USB rechargeable and waterproof to use in the shower or bathtub.
The Lovense Flexer has two powerful motors that provide intense vibrations.
Average-priced vibrator of premium quality
Has unlimited vibration patterns
The Lovense Flexer comes with a one-year warranty.
Cons
Not discreet enough.
Impossible to wear in public (unless you are wearing very tight panties)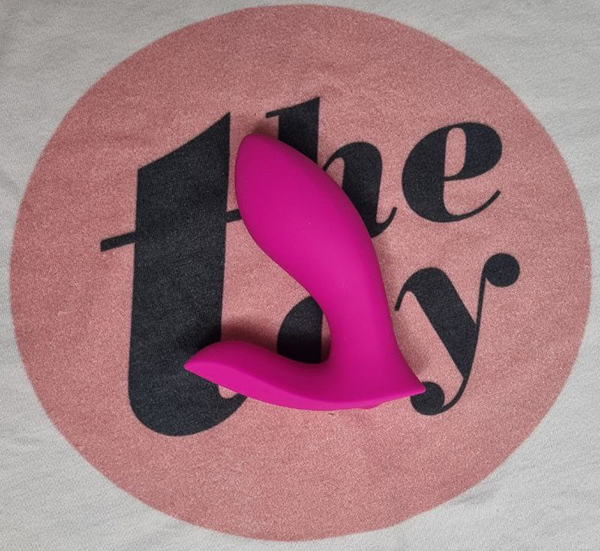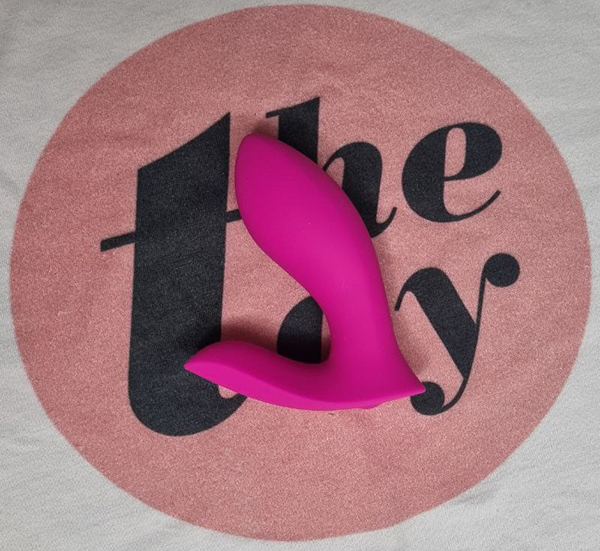 How to use
Lovense Flexer has excellent usability. But in order to use this dual panty toy to its' fullest potential, you need to take care of a few things first.
Start by lubricating the head of the vibrator with a lubricant that is suitable for vaginal use and has an appropriate pH. A healthy vaginal pH is between 3.8 and 4.5, so that's the range you should choose.
The vibrator and the Lovense app now need to be connected. You can also control the Flexer manually, but I can assure you that controlling it via the Lovense App is much more comfortable and offers unlimited control options.
Even though the name Flexer suggests that it is a flexible sex toy, it cannot be bent if the internal arm is not turned on. You can not adjust it the way you would with the Lovense Dolce, for example, before inserting it and expecting it to stay in place.
So I suggest you look at the vibration patterns and intensities (of the clitoral arm) and then decide on one to start with. This is where the app comes in handy, because most of the preset patterns are too intense for me. However, through the app I can choose to start with the minimum settings and then gradually increase the speed.
As for the G-spot arm, I personally prefer to turn it on after inserting the Flexer.
The higher the intensity chosen, the buzzier the vibrations get.
Once you've inserted the vibrator, you can use it for indoor or outdoor games. Remember, though, that you need to wear tight panties so that the Flexer stays in place and doesn't slip out of your vagina.
Manual Control
You can manually control the Lovense Flexer by pressing the ON /OFF button (next to the charging port) for about 3 seconds. You can choose between 3 steady vibrations (gentle, medium and intense) and 5 patterns with different pulsations. Note that you cannot manually control the finger movement of the Flexer. You can do this via the Lovense app.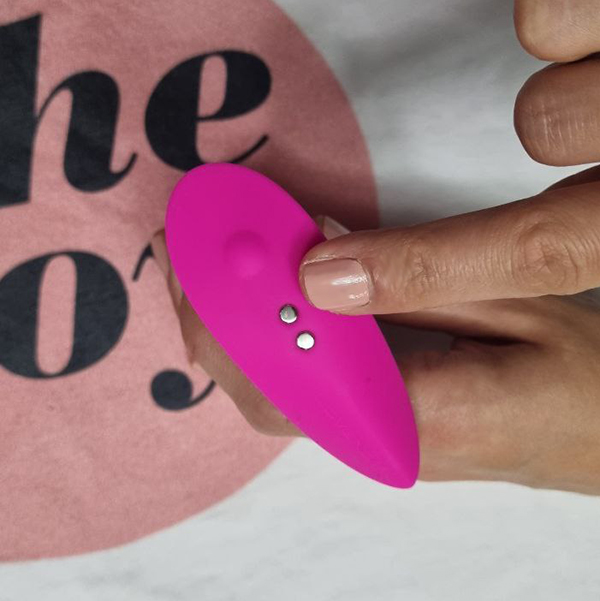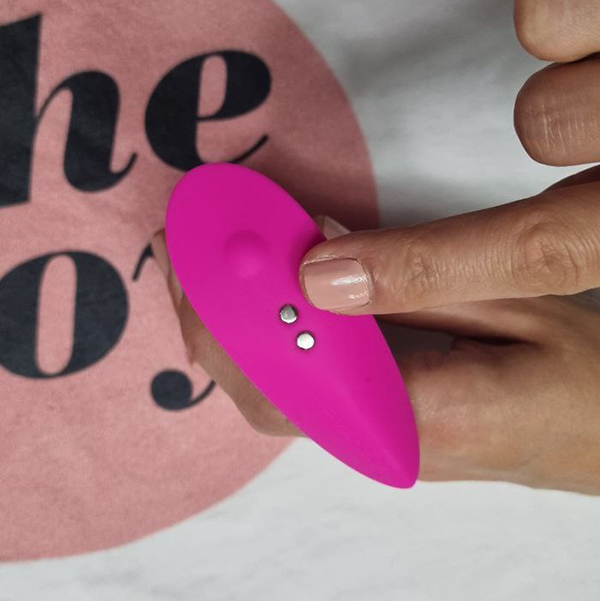 App Control
To get the most out of your Flexer experience, pair the panty toy with the Lovense phone app.
Lovense is one of the few sex toy manufacturers that pushes the boundaries of technology. Their integrated Lovense app illustrates this very well.
With the Lovense remote control software for Apple or Android devices, you can customize the Flexer's vibrations, develop and share your own patterns, make the device respond to music or ambient sounds, and take or share remote control for long-distance interactive sexual adventures. Make sure you have downloaded and installed the Lovense app on your smartphone. The Lovense app is available for free in the App Store and Google Play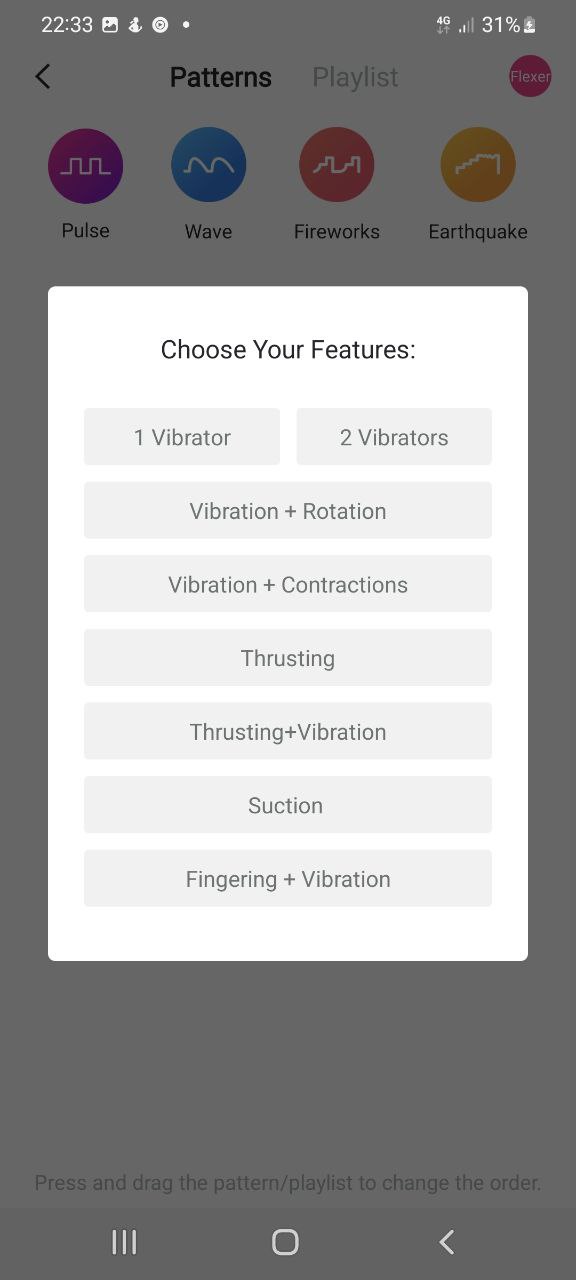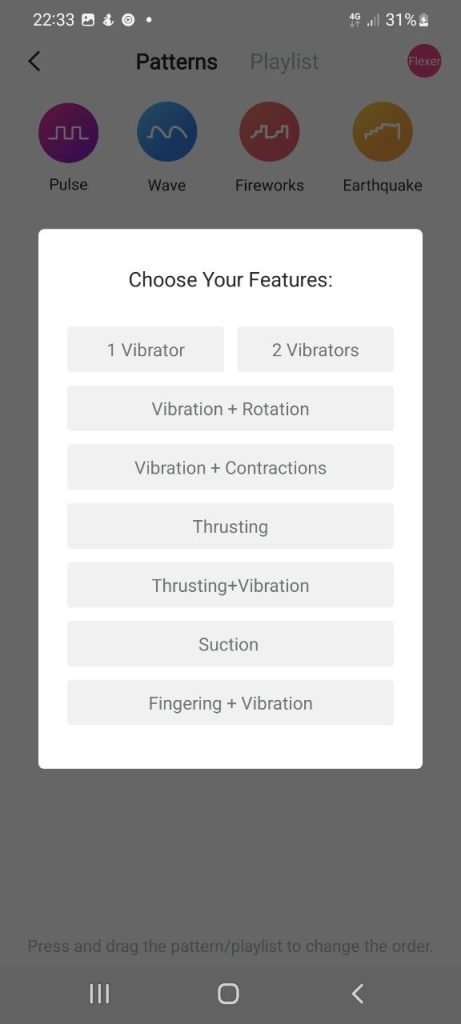 Other Lovense sex toys like Domi 2, Gush, Hyphy, and Lush 3 can be easily connected to Lovense Flexer. It is incredibly realistic for both parties as the vibrations from the connected devices pulse at the same frequency and strength.
If your computer or mobile device has Bluetooth, you can also use the desktop version if you do not have a smartphone.
It only takes a few simple steps to pair your device with the Lovense Remote app: turn on Bluetooth and your Flexer panty vibrator, then log in and use the app.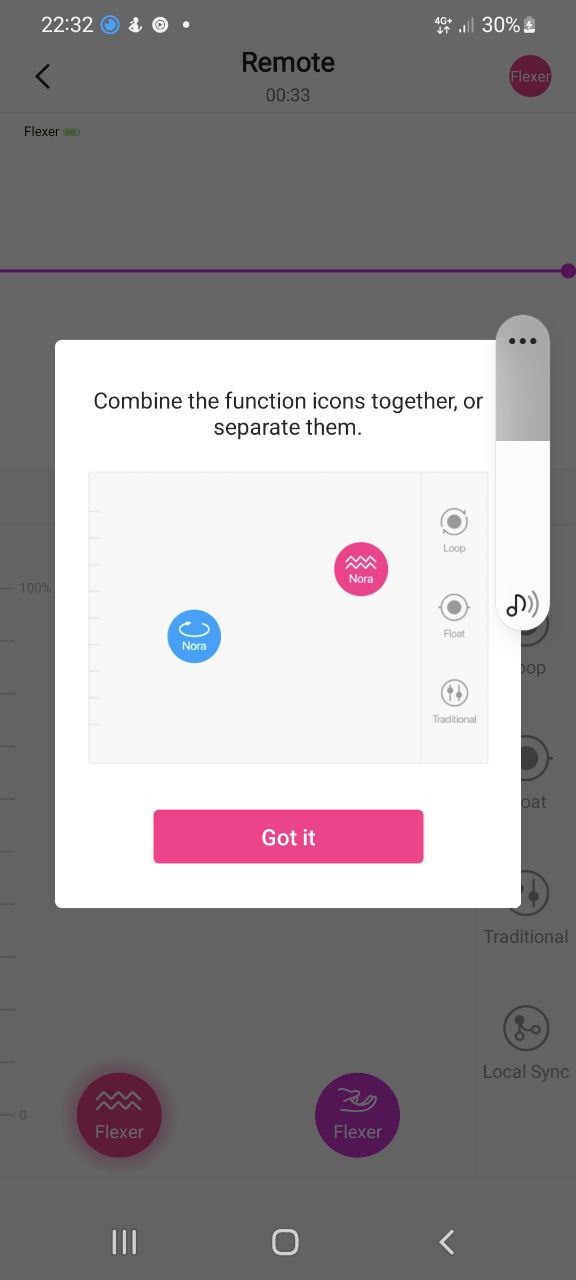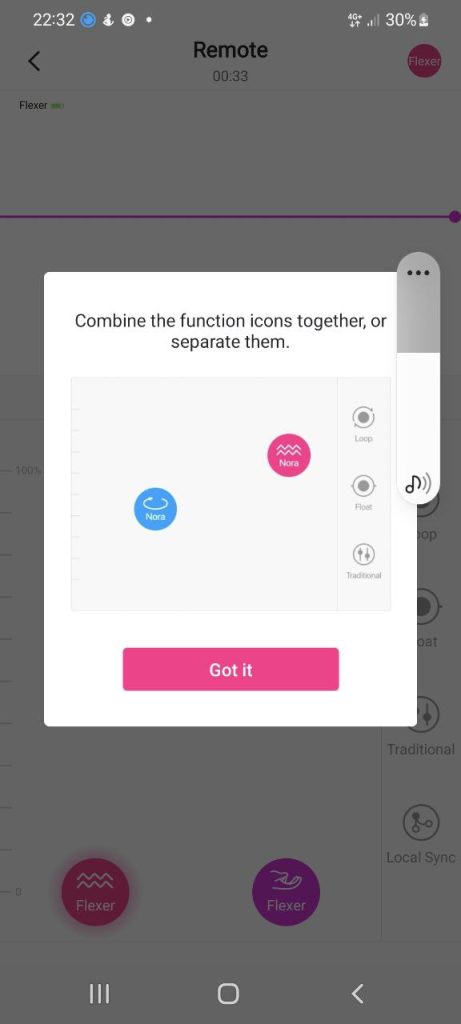 With the Lovense app, you can experiment with different vibration speeds and patterns.
If you (or your partner) prefer to control the Flexer via Bluetooth, you can do so from anywhere as long as your device is connected to the Internet, which is the case with most smartphones and tablets these days.
If you own other Lovense toys, you already know that the app is the most enticing feature. The possibilities for creating patterns, combining patterns, and adjusting vibration intensity with remote-controlled vibrators are practically endless.
Learn how to use the Lovense app and everything you need to know about it.
My experience
My experience with the Lovense Flexer was unexpected. I've tested so many sex toys, but never experienced anything even remotely comparable to the Flexer.
It was perfect timing for testing sex toys. I was in the right mood and hadn't had sex in the days before. Under these circumstances, the use of lube was unnecessary.
Besides, my partner was very curious to test how this double panty works for me, because he knows my passion for fingering.
I simply connected the toy to the app (I already have several Lovense toys connected) and offered him my phone.
And then the test began with gentle rhythmic pulsations.
But since I prefer steady stimulation, I asked him to switch to something more … more continuous, instead of pulsating.
And he complied with my request, but I didn't expect what would happen next. The continuous vibrations of the Lovense Flexer pushed my body toward orgasm. This may be due to the sturdy construction of the toy or the fact that the Flexer isn't adjustable, I don't know. I could feel the inner arm moving inside me, pressing on my vaginal wall while the clitoral arm vibrated. I remember being surprised at how much friction I felt while the toy was inside me.
I mean, the Flexer is good, and I've to say the idea is genius. But it's not for everyone.
The kind of orgasm it induces builds up tension in my body that I desperately needed to get rid of. It is a forced, pressured orgasm.
Sure, I was able to climax four times during this 'product test', but it wasn't the liberating feeling I'm used to when I orgasm. Still, that's a personal orgasm record for a single session. Yay!
And every time I reached my "O", the toy slipped out due to the contractions of my vaginal muscles. Sure, I wasn't wearing panties, but I wouldn't take the risk of wearing the toy in public.
Specifications
Power
Whether you like gentle or super intense pulsations, you can certainly customize the Flexer toy to your specific needs.
In my opinion, the clitoral portion of Flexer is almost as intense as the power of the Lovense Ferri, and the Ferri has been tested and proven to be one of the strongest panty vibrators. But unlike the Ferri, the Flexer's vibrations become more buzzy at the higher settings, which I personally do not like.
As for the inner part, the feeling is very unique, but I can not compare it to a true fingering experience. Yes, the inner arm feels very comfortable and the vibrations are deep and fulfilling, but not like fingering. At least with my partner, the feeling is softer and gentler. And of course, the intensity is completely different.
The 'curling back and forth of human fingers' feels like pressure to me.
Noise
The noise that comes from this toy during use is not my favorite aspect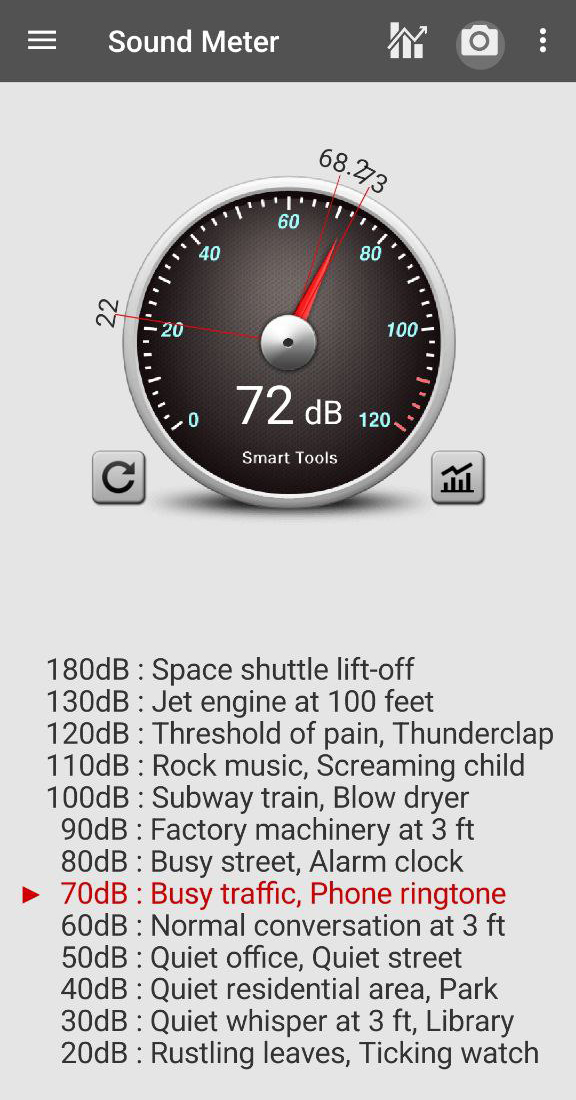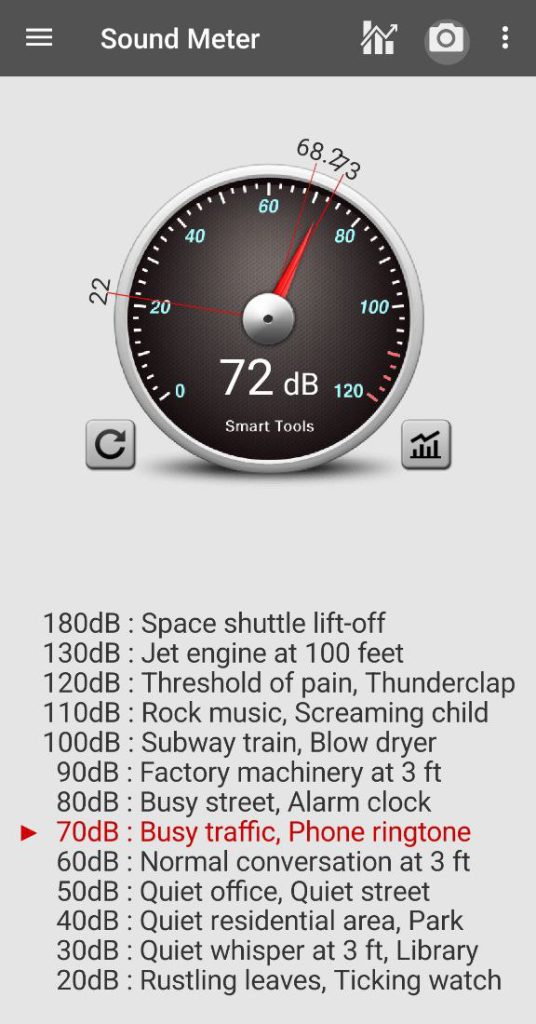 This result is measured indoors, on the first steady vibration.
For me, it's not as discreet as I would want a panty toy to be. I mean, vibrations coming from my crotch are not something I would enjoy.
In a busy place, like a bar or concert, it would be perfectly fine, but in a quiet place I would not wear it
Material
Like all Lovense Toys, the Flexer Dual Panty Vibrator is made of body-friendly silicone and ABS plastic. It is phthalate-free, non-porous and cleans easily with soap and water. The Flexer is IPX7 waterproof, so it can be submerged in 1 meter deep water for 30 minutes.
Design
There is the bulbous part that goes inside the vagina and hits about 3 inches in depth. As for the clitoral arm, it does hit my clit but (since the toy is not adjustable) may not be suitable for all body sizes.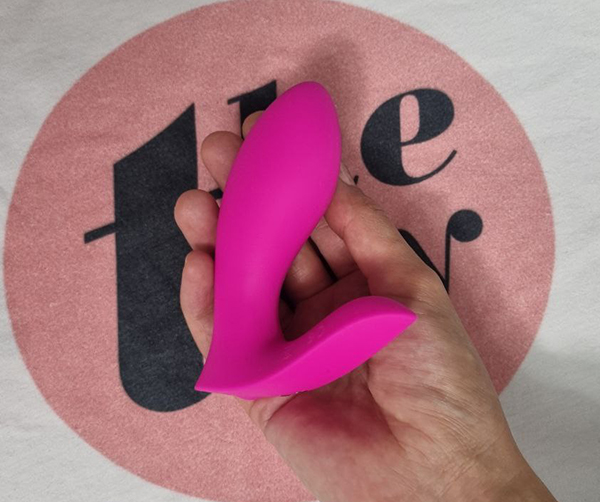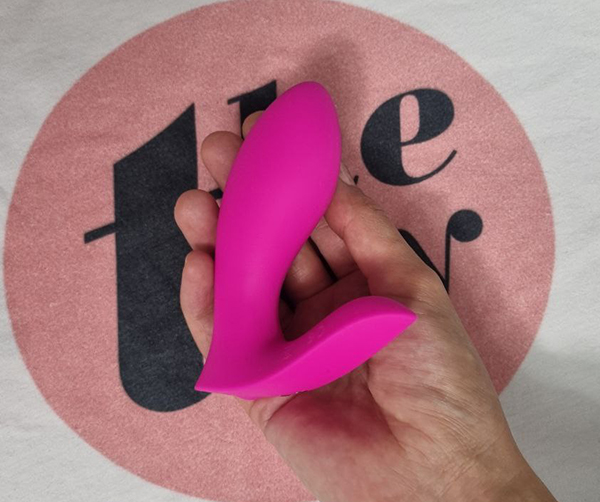 I would say the design is quite sleek and comfortable. If I could hold it internally while I'm climaxing I'd definitely go for a sexy walk in the park.
Size
You can see the exact size of the Flexer panty below: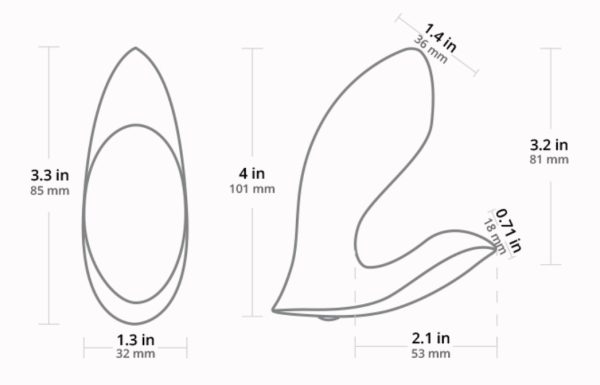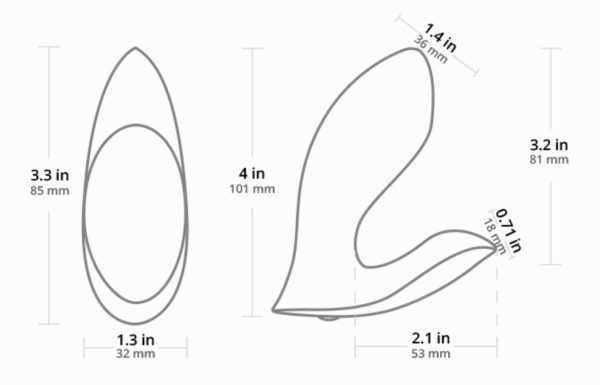 Compared to my hand, Flexer is that big: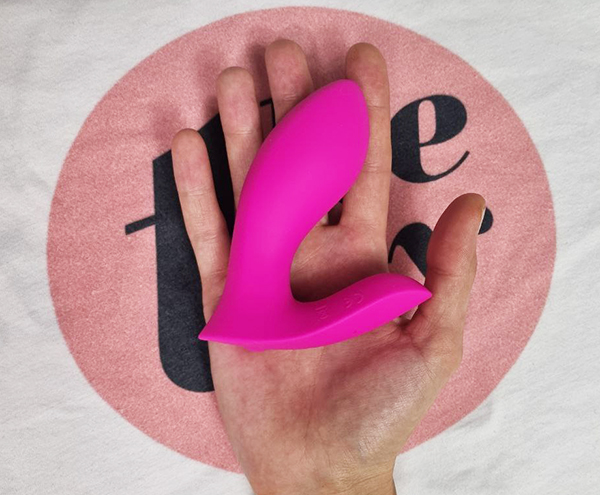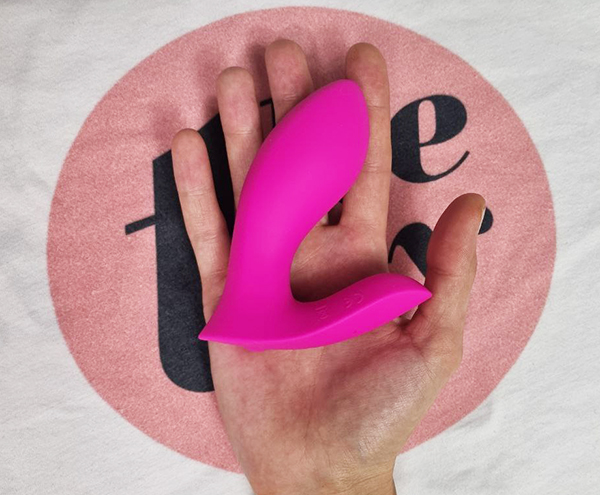 Charging
Flexer is a USB magnetic rechargeable device.
The magnetic charging cable that is included with the pack must be plugged into a power source for the toy to be charged. Full charging takes approximately 60 minutes, allowing about 120 minutes of playtime. When in standby mode, Flexer can be used for up to 120 hours.
Since the battery does not drain quickly, even if you leave the device in standby mode for several hours, you do not have to charge it frequently.
The battery life is significantly shorter than that of the Lush 3, which can run for up to 5 hours on an 85-minute charge.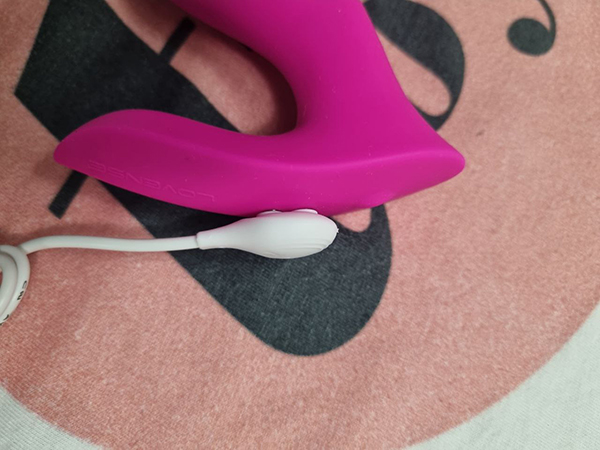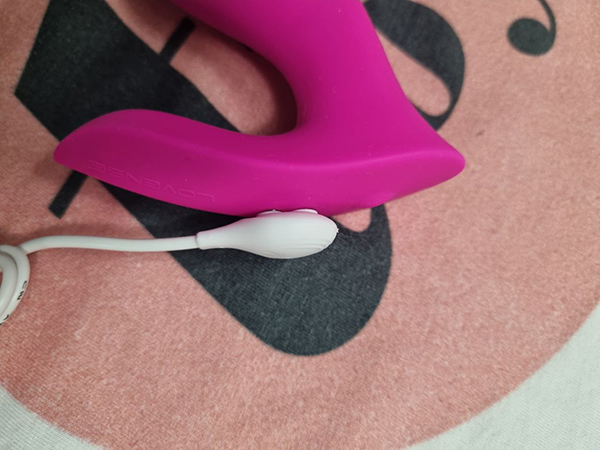 Cleaning
The Flexer Panty Toy cleans easily with soap and water, like all other Lovense Toys before and after each use. You can also enjoy it in the shower or bathtub.
For Anal Use
The manufacturer of the toy is not advocating this, nor is it its intended use. So technically, you shouldn't insert the Lovense Flexer anally. Because it moves and vibrates, and because the clitoral component can act as a stopper to prevent the toy from entering your ass and burying itself in the depths of your butt hole, I imagine it could become a makeshift prostate massager if you are a male and really insist on doing this. It will also vibrate your perineum, which can feel nice. However, if you want to try Flexer for anal stimulation, I think the neck of the toy would be a little too heavy and uncomfortable.
Plus, the clitoral portion of Flexer is too small to ensure a safe experience, so I wouldn't recommend inserting it anally.
Price
The toy is now being offered for $99 USD on Lovense's website (promo deal). It may seem too much for such a small vibrator but I believe the price pays off for the consistent quality and cutting-edge technology available.Also , compared to other panty vibrators that don't even have a G-spot attachment or remote-control functions, Flexer can be considered an average-priced product.
Unboxing
When you open the box, you'll find the Lovense Flexer vibrator, a magnetic USB charging cable (for faster charging), a black satin pouch, and a user manual.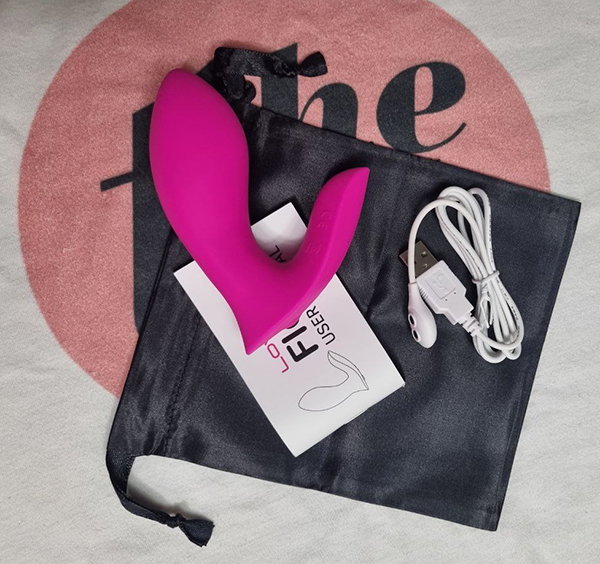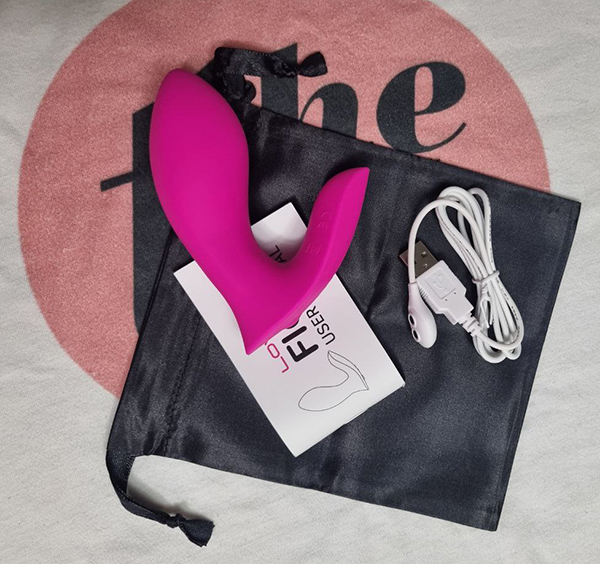 I want to add that I received the Flexer panty toy in a plain cardboard box that didn't mention what was inside. Kudos to the Lovense company for protecting users' privacy!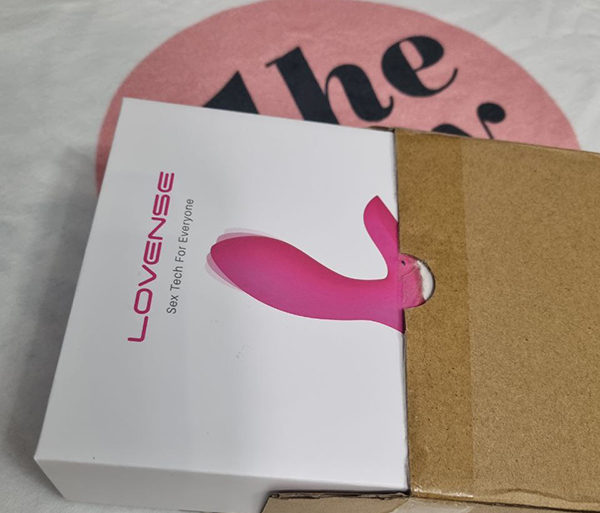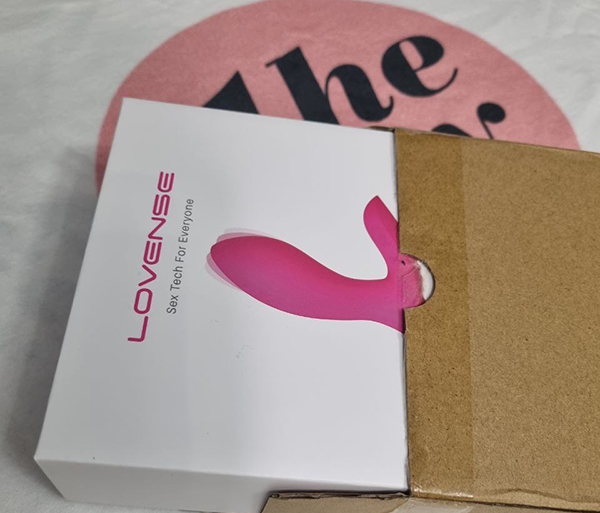 Lovense Flexer Alternatives
Flexer is a dual panty toy inspired by the great success of its predecessors Lush 3, Ferri and Dolce. It is a combination of the best features of all these products, which I appreciate.
Flexer vs Lush 3
Lush 3 is considered the most powerful insertable vibrator in the world. However, the Flexer has almost the same intensity and the added benefit of also being a clitoral toy. On the other hand, Lush 3's battery lasts twice as long.
Flexer vs Ferri
Ferri is the most popular panty vibrator, not only because of its impressive vibration intensity but also because it is very discreet and can stay in place whether you move or not. It has a strong magnet that keeps it securely attached to the underwear. Besides, it has an ergonomic shape that hits directly the clitoris.
Flexer vs Dolce
Flexer and Dolce are very similar in terms of their purpose. Both stimulate the clitoris and G-spot at the same time, and both are insertable, but while the Flexer is intended to stay in the vagina without slipping out, the Dolce is bulkier and harder to wear. One positive aspect of the Lovense Dolce is that the toy is bendable (unlike Flexer) and adapts to most shapes and sizes.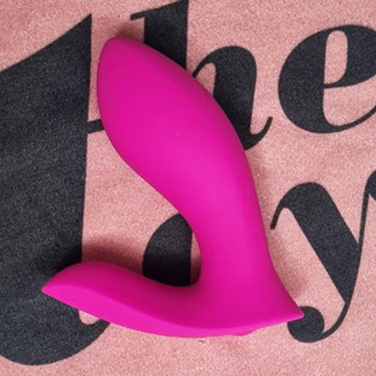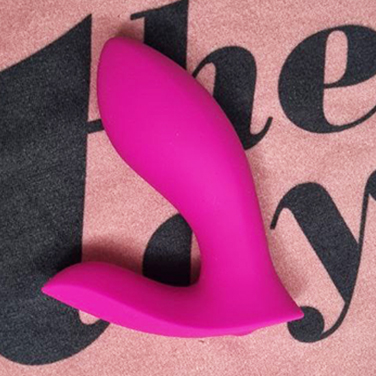 | | |
| --- | --- |
| Power: | (5.0 / 5) |
| Noise: | (3.5 / 5) |
| Material: | (5.0 / 5) |
| Price: | (5.0 / 5) |
| App: | (5.0 / 5) |
A dual panty vibrator with a G-spot arm that uses pressure and motion against the G-Spot, creating "fingering" sensation
You can buy this product from:
Are you interested in other Lovense toys? Click here to see their website!