Tracy's Dog OG Flow is a unique clitoral-sucking vibrator that provides both clitoral and vaginal stimulation. It features two independent motors, each with its own set of vibration patterns and intensities. The result is a toy that's twice as much fun. We were curious to see how this toy would work, so we tested it out.
Read on for our full review of Tracy's Dog OG Flow.
Pros and Cons
Pros
Double the stimulation can mean double the fun
Specially designed to stimulate the G-spot and clitoris for intense pleasure all over the body
Waterproof design means you can take your fun into the shower or bathtub with no worries
This toy is rechargeable, so you do not have to worry about the batteries running out in the middle of use
Quite affordable, compared to similar double vibrators
Cons
Since the toy is very powerful, some users have found that the suction can be too strong, causing discomfort rather than pleasure. If this is a problem for you, try adjusting the intensity until you find a setting you like
The design of the clitoral arm might be uncomfortable for some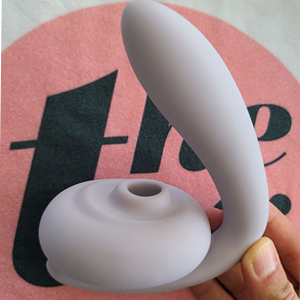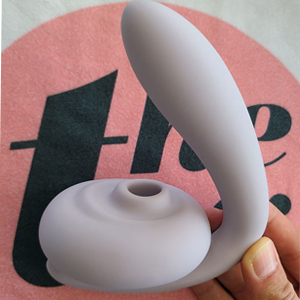 | | |
| --- | --- |
| Power: | (5.0 / 5) |
| Noise: | (3.0 / 5) |
| Material: | (5.0 / 5) |
| Price: | (5.0 / 5) |
| Ease of use: | (5.0 / 5) |
Powerful clitoral-sucking vibrator with a bendable G-spot arm that can be controlled individually
You can buy this product from:
Functions: Lots Going On
When it comes to sex toys, there are many different options on the market. But not all of them are the same. The OG Flow is a unique and innovative product that offers double pleasure for both the G-spot and the clitoris. This means that you can enjoy the sensations of sensual clitoral stimulation and vaginal penetration at the same time.
The OG Flow is made of high-quality materials and features two powerful motors that provide intense stimulation. The ergonomic design makes it easy to use, and the silicone sleeve is soft and comfortable against the skin. Tracy's Dog OG Flow is also 100% waterproof, so it can be used in the shower or bathtub.
With so many features, it's no wonder the OG Flow is getting more and more attention and positive customer feedback.
This is definitely a sex toy you should consider if you're looking for a way to spice up your sex life.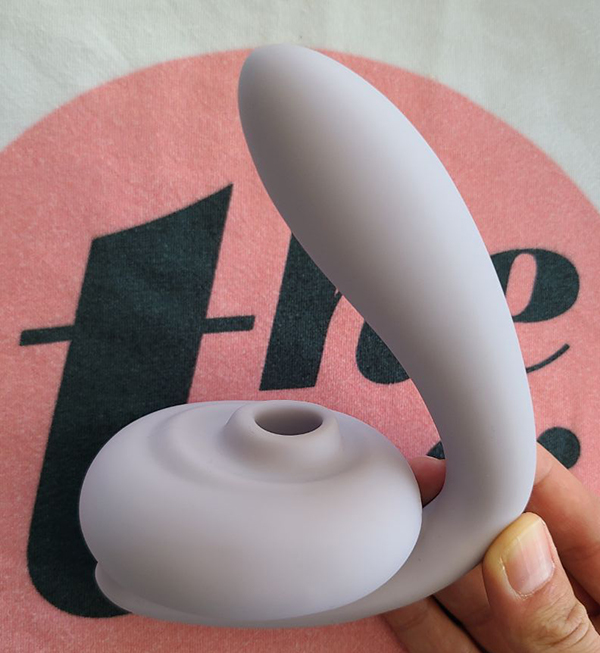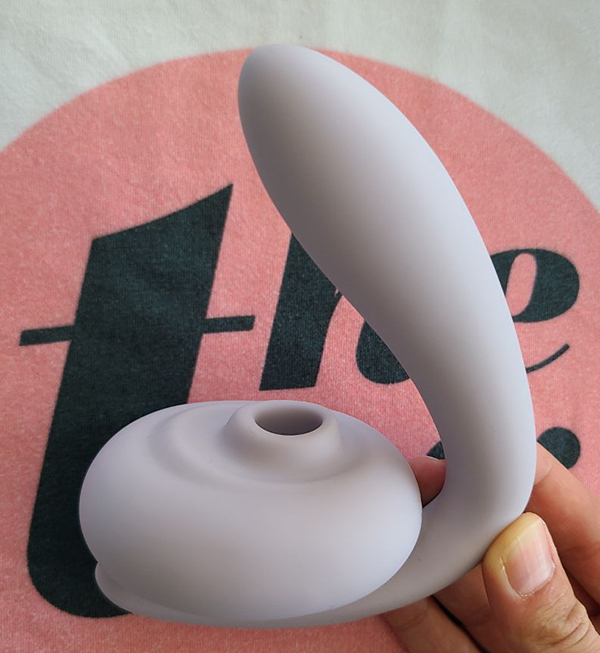 How to Use the OG Flow?
Here are some tips on how to use the OG Flow for maximum pleasure:
Start by using the outer arm of the OG Flow on your clitoris. The suction and vibration will feel incredible, and it's a great way to warm up before moving on to penetration.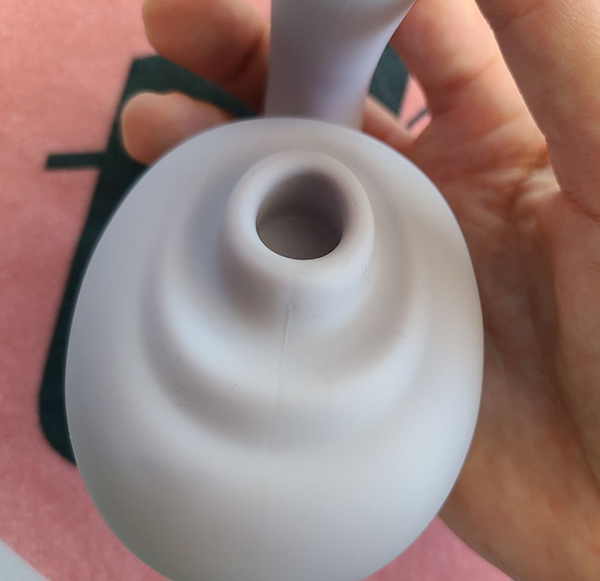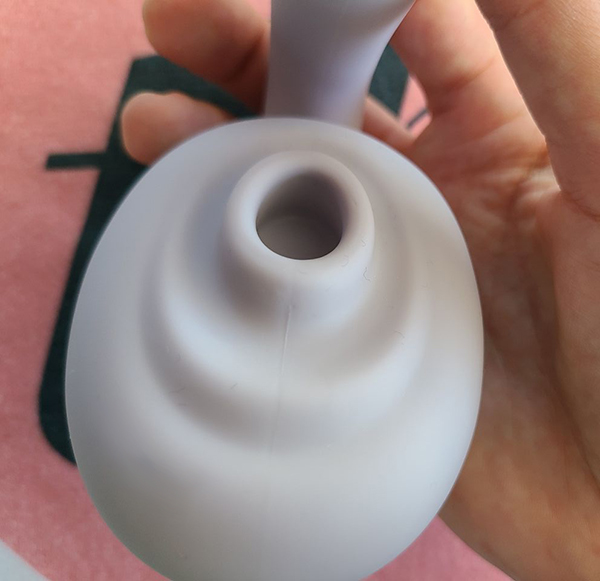 Once you're aroused, insert the inner arm of the double vibrator into your vagina. The G-spot stimulator will help you hit the right spots, while the clitoral suction function will bring you to the brink of an explosive orgasm.
Experiment with different speeds and vibration patterns until you find what you like best. And don't be afraid to get loud! The OG Flow is designed for maximum pleasure, so let loose.
My Experience: How Does OG Flow Feel?
I have to say that I was pretty skeptical about the OG Flow before I tried it. It is very different from other clit-suckers I have seen and used so far. My first impression was probably because of the unusual shape of the clitoral arm – with OG Flow it is bulbous and I didn't believe it would fit me well at first. But I have to say, I was pleasantly surprised. The OG Flow feels amazing! I find it even better than Tracy's Dog Pro 2 which was indeed impressive for me.
The main difference between the OG Flow and the other OG clit suckers is that the Flow has a bendable G-spot arm that stays in the position you choose. And let me tell you, both arms feel incredible! The clitoris arm is just as strong and intense as the other OG suckers, but the G-spot head takes it to a whole new level.
The best thing about the OG Flow Toy is that you can use both heads at the same time or separately. I usually use both at the same time because it feels so incredibly intense. But of course, if you want to focus on either your clit or your G-spot, you can do that too. Either way, you are guaranteed to have a great experience with this toy.
Overall, my experience with this clit sucker was amazing, although I would change certain aspects about it, including the bulbous clitoral arm, which can feel uncomfortable at times.
Specifications
Design
Tracy's Dog OG Flow is a unique sex toy that is sure to catch your eye. The vibrator's super soft, bulbous clitoral arm is something I have never seen before.
It is made of high quality silicone and feels great in your hand. The shape of the toy is ergonomic, it fits most body shapes and is easy to use.
As mentioned above, the shaft is bendable (45°-140°).
However, I personally prefer  Tracy's Dog OG's design better because the clit arm is easier to adjust. For me, the bulbous part is a bit too large.
Material and Care
The OG Flow is made of medical grade silicone and is 100% waterproof. It comes with a USB charging cable and a plush storage pouch.
To clean the Tracy's Dog OG Flow, simply wash it with soap and water or use a sex toy cleaner. Allow it to air dry completely before storing it in the included plush storage pouch.
Size
The exact size of this clitoral suction vibrator is 5.3 in/13.4 cm. You can see the actual size of the product, compared to the palm of my hand: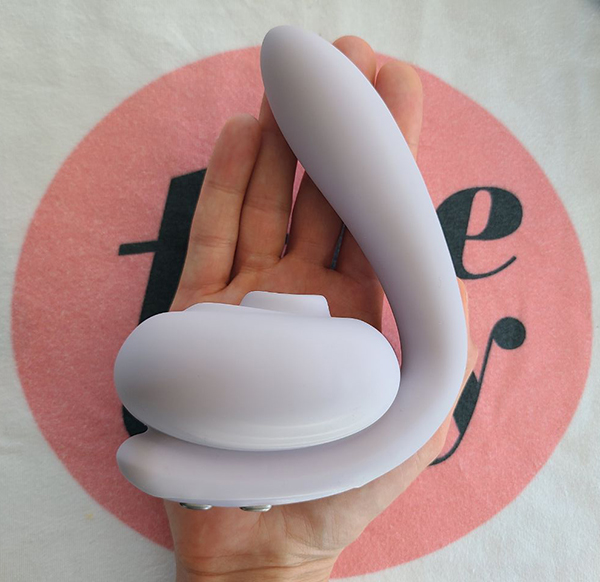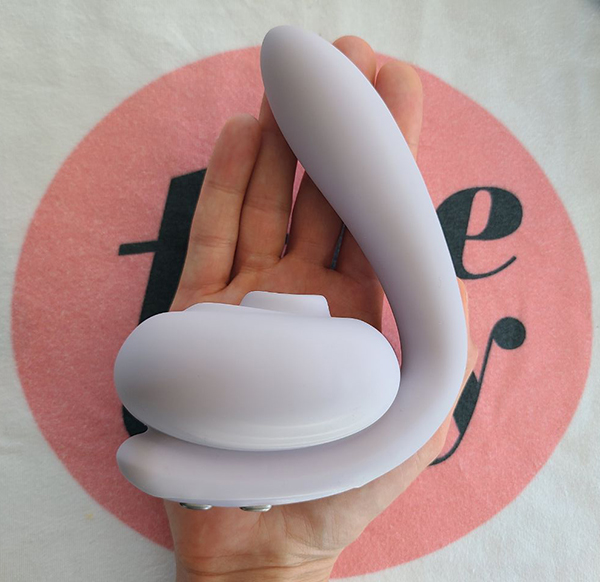 Simultaneous Air Suction & Vibration
The OG Flow offers a unique and unparalleled experience. This dual-purpose toy is designed to stimulate both the clitoris and the G-spot simultaneously for intense and explosive orgasms.
The air suction function creates a vacuum-like effect that sucks in and massages the clitoris without touching it directly, while the powerful vibrations target the G-spot. Together, these two elements make for an intense, pleasurable experience that will leave you weak in the knees.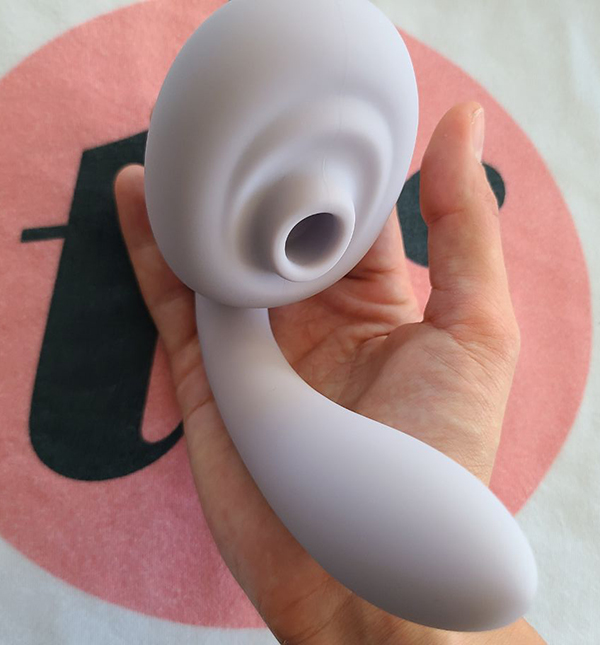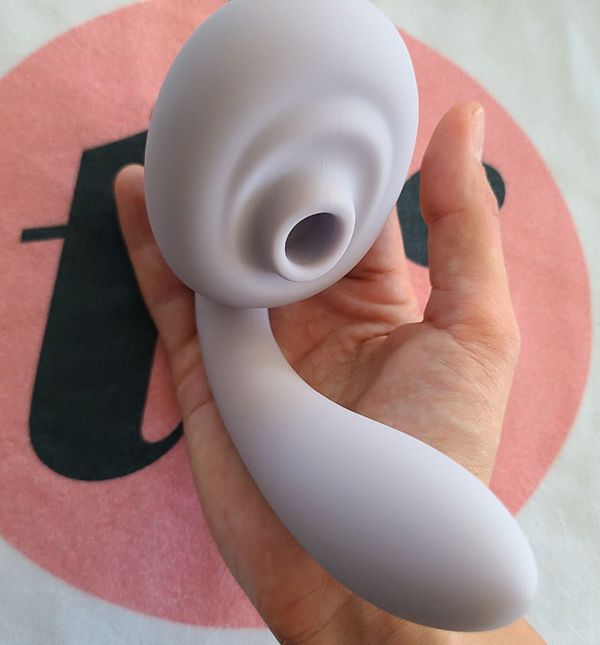 Whether you use it alone or with a partner, this dual vibrator is sure to take your sex life to new heights.
Charging
Tracy's Dog OG Flow is USB Rechargeable. It uses a magnetic charging cable, which you should snap onto the control buttons.
You will need approximately 1 hour to fully charge the vibrator, which will give you around 90 min of uninterrupted play (depending on the intensity level).
Controls
There are two control buttons, located on the back of the clit suction arm. One button controls the clitoral arm, and the other controls the g-spot arm. Each has 10 steady intensity levels, starting from caressing pulsations to extra powerful suction/vibration.
How to clean the OG Flow?
This clit-sucking vibrator can be easily cleaned under running water or using a sex toy cleaner. Make sure to clean the toy before and after each use, and always let it dry completely before storing it.
Noise Level
Because of the rather high volume, you should only play with it when you are undisturbed or at least have the whole room to yourself. Even though the sound is not particularly loud, it is so loud that it is not possible to masturbate in complete discretion.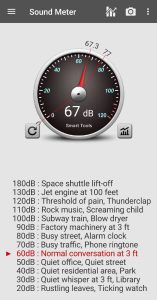 Storage
Tracy's Dog OG Flow comes with a convenient plush storage bag, so put it back in there after cleaning it after each usage.
Price
Compared to similar products, this one comes at a very affordable price. You can get yours for less than 90$, which I find impressive, having the awesome quality and performance of the product.
Unboxing
Upon unboxing, you will find
The OG Flow clitoral-sucking vibrator
A detailed user manual
A magnetic charging cable for a faster-charging experience
A soft plush storage pouch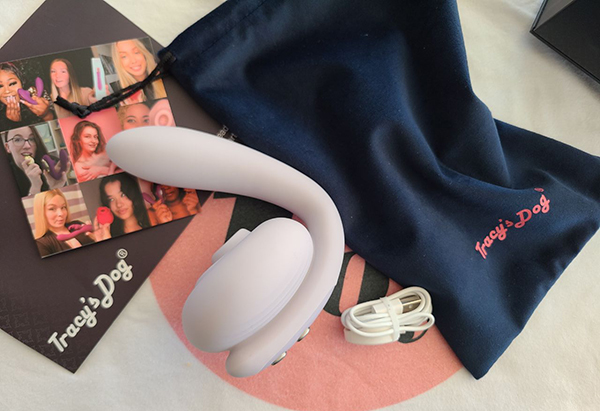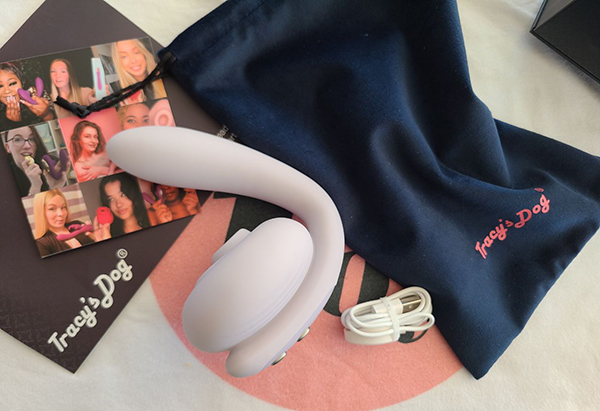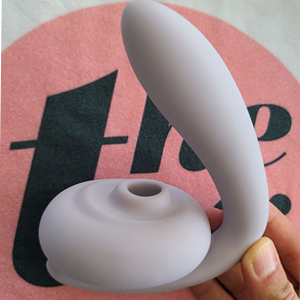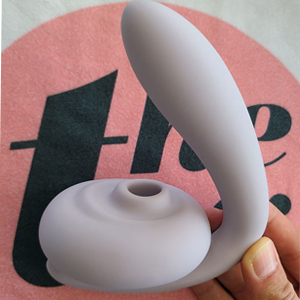 | | |
| --- | --- |
| Power: | (5.0 / 5) |
| Noise: | (3.0 / 5) |
| Material: | (5.0 / 5) |
| Price: | (5.0 / 5) |
| Ease of use: | (5.0 / 5) |
Powerful clitoral-sucking vibrator with a bendable G-spot arm that can be controlled individually
You can buy this product from: