If you are looking for the best G-spot vibrator, then you have come to the right place. After thorough research with the help of sex educators, sex toy bloggers, and 2 sex shop owners, we have selected the best G-spot vibrators that you can use to experience intense orgasmic sensations. We have tested only sex toys that are made of 100% safe materials.
In this guide, you'll find G-spot massagers made by some of the leading brands on the adult toy market, including Lovense, We-Vibe, and Lelo.
The mysterious G-spot is more of an area than a point. It is said to be located behind the pubic bone and consists of a network of glands and ducts. This spongy patch of tissue is also connected to the clitoris, making it super sensitive to stimulation. That's right, internal stimulation of the G-spot means also clitoral stimulation.
G-spot vibrators are the type of sex toys meant for pinpoint stimulation of the G-spot (short for Grafenberg's point). This is an erogenous area on the front wall of the vagina. When stimulated, it presses against the clitoris and clitoral ligaments, creating a pleasurable sensation that usually results in climax as it feels more intense than external clitoral stimulation.
Read on to learn more and let the best G-spot vibrator fill you up in every sense.
Reviews of the best G-spot vibrator models
Osci 2 by Lovense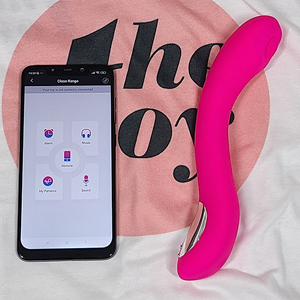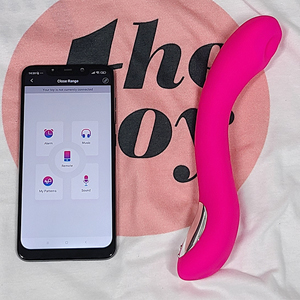 Osci 2, as described by Lovense company, is the world's first oscillating sex toy that targets the g-spot. This is the feature, distinguishing Osci 2 from the conventional g-spot stimulators. It is not the dynamic vibration we are used to with most sex toys. Instead, the tip of Osci 2 performs oscillation movements, allowing the head of the vibrator to move side to side against the hottest spot.
The S-curved design of Osci 2 is precisely created to make it easier for women with all body types to reach their g-spot area. The fascinating shape of Osci 2 provides easy grip during use in all positions. The size of the G spot toy also plays a major role for its' performance – Osci 2 is a bit larger compared to the previous Osci vibrator.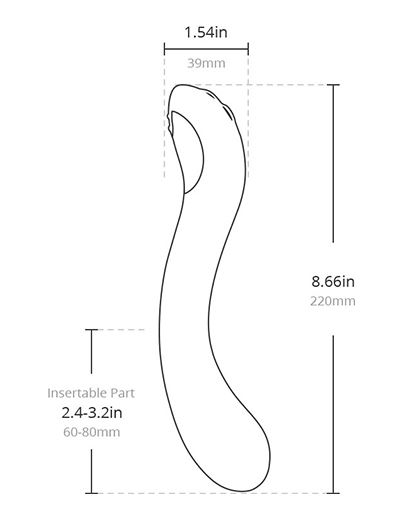 According to multiple reviews and testers, Osci 2 is incredibly accurate at hitting the right spot, and once you find the most comfortable position and indulge into play, you're well on your way to an intensive orgasmic sensation.
But you can also perform some teasing first – since the intensity of the vibrations can range from light, titillating G spot stimulation. You can enjoy Osci 2 during solo masturbation or foreplay with a happy end for you.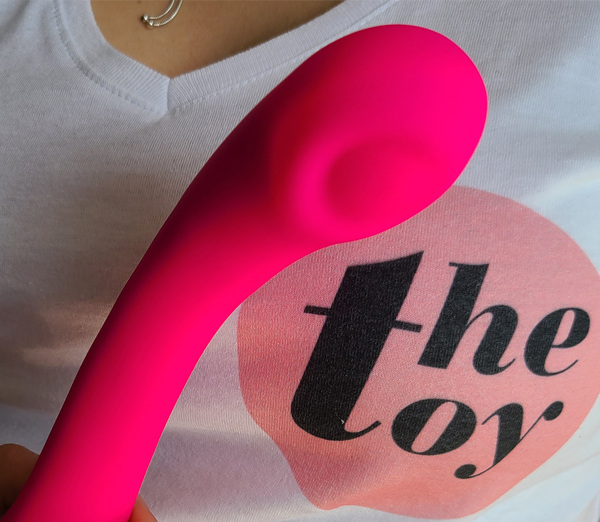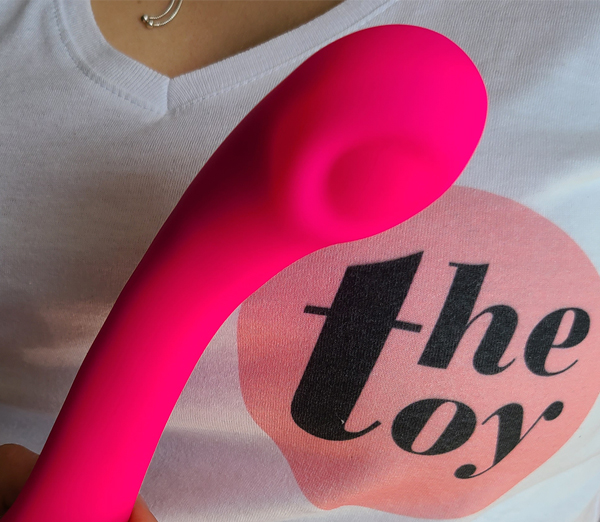 The extra intense – like earthquake vibrations – can be used once you're ready to orgasm because it won't take much time to reach one.

There are 3 personalized vibration levels and up to 10 patterns using the Lovense app, which is free for iPhone, Android, Mac, and Windows PC users. Osci 2 allows you 4.5-5 hours of continuous, uninterrupted use per charging.
This g-spot stimulator is waterproof, USB-rechargeable and completely programmable. The long-distance control and targeted stimulaton are what makes Osci 2 the most preferred g-spot vibrator you can currently find.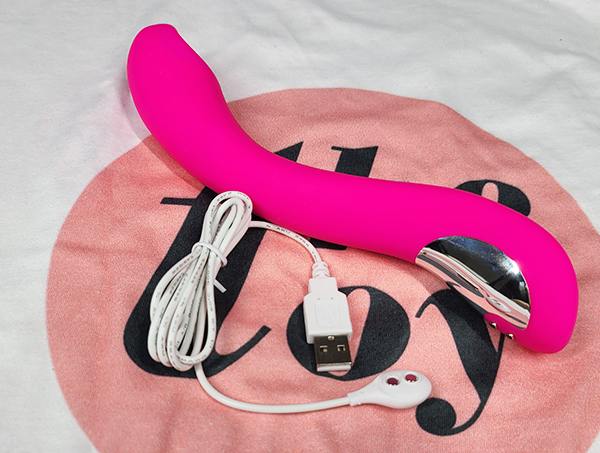 Compare Lovense Osci 2 price: LovenseLovehoney
We-Vibe Rave 2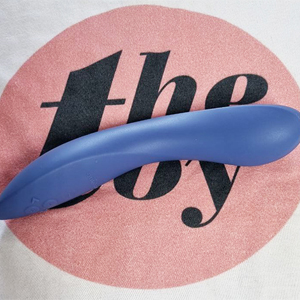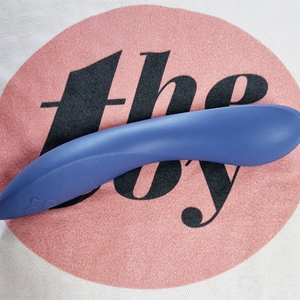 | | |
| --- | --- |
| Power: | (5.0 / 5) |
| Noise: | (4.0 / 5) |
| Material: | (5.0 / 5) |
| Price: | (5.0 / 5) |
| App: | (5.0 / 5) |
Asymmetrically shaped G-spot toy with remote control functions, designed to give you exceptional orgasms each time you masturbate
You can buy this product from:
Rave guarantees you orgasmic me-time. Each time.
If you're on the hunt for the next big thing in the world of intimate toys, let me introduce you to the We-Vibe Rave 2. This isn't just another vibrator; it's like that perfect playlist that hits every note just right, making your solo or duo sessions unforgettable.
Feels Right, Every Time
First off, let's talk about its shape. The Rave 2 sports this cool twisty design that's all about hitting the right spots. It's like the designers read our minds and bodies, crafting a toy that knows just where to go. And the silky-smooth silicone? It's like a gentle caress, ensuring every moment feels oh-so-good and worry-free.
All About That Buzz
Now, to the fun part – the vibes! Whether you're in the mood for a gentle tease or a powerful crescendo, Rave 2 is ready to play your tune. With a bunch of modes and intensities to choose from, every day can be a new adventure. And guess what? You can even hand over the controls to your partner with the We-Vibe app. It's like turning each session into a delightful game of surprise.
Worth Every Penny
Let's be real; we all want the best bang for our buck, especially when it comes to pleasure. The Rave 2 might be a bit of a splurge, but it's like treating yourself to that luxury spa day – totally worth it. When you stack it up against other toys, this one's a gem, offering top-notch experiences without burning a hole in your pocket.
A Name You Can Trust
Behind this wonder toy is We-Vibe, the rockstars of the adult toy world. They've got a rep for rolling out the red carpet for our senses, and with Rave 2, they've hit another home run.
Wrapping It Up
To sum it up, the We-Vibe Rave 2 is like that perfect date – attentive, surprising, and always leaves you with a smile. Whether you're a toy-pro or just starting your journey, Rave 2 is ready to make some beautiful music with you. So, why wait? Dive in and let the good vibes roll!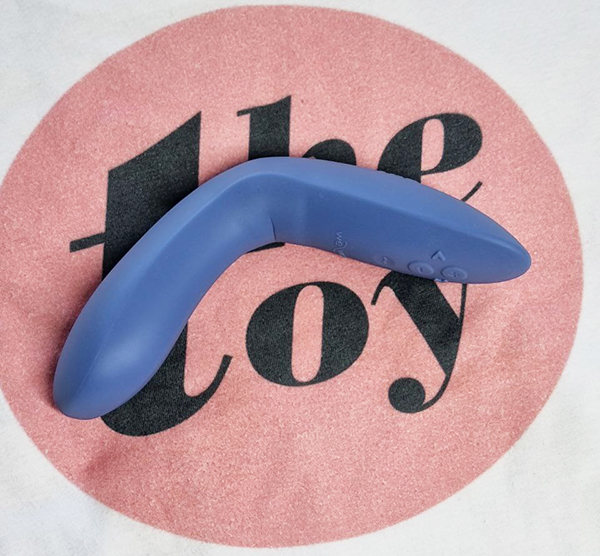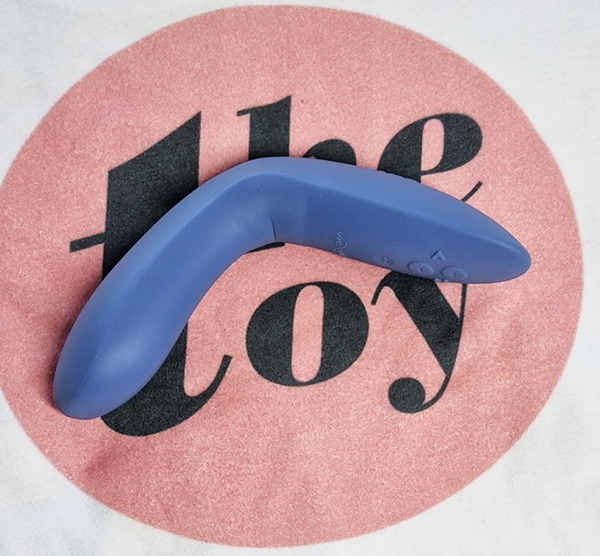 Almost all women who tested the Rave 2 by We-Vibe are highly satisfied with the performance of Rave; after checking the comment section, it turned out that, according to most women the shape of the vibrator hits the exact spot where the pleasure goes. Especially with the bendable feature of Rave 2 -now you can adjust it just the way you enjoy it the most. Some reported prolonged and consistent orgasms; there are reviews of women who experienced multiple orgasms during a single solo session.
Like most G-spot vibes, Rave 2 can also be used for clitoral masturbation – use it like your favorite bullet vibrator. Rave is coated in high-quality matte silicone that is super silky to the touch.
Rave has 10 build-in vibration patterns that users found quite pleasurable. You can enjoy them for up to 3 hours of play on a single charge.
Rave has a sleek and elegant design, the exterior is made of silky soft silicone that feels super comfortable during penetration.
The comfortable grip, which makes Rave easy to hold and maneuver, is another impressive aspect of this G-spot toy.
The strongest vibrations in Rave are located at the head and they transfer throughout the entire shaft of the toy
In the package, you'll get everything you need along with the vibrator – USB cable, satin storage pouch, and a user manual where you can learn more about the impressive features of your toy.
Read our detailed review about We-Vibe Rave 2
Check We-Vibe Rave's price: We-Vibe
Lelo Gigi 2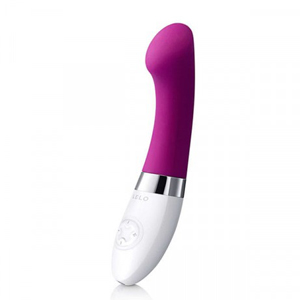 According to Lelo, their Gigi 2 is the world's best-selling G-spot vibrator. And even if they exaggerated a bit, Gigi is certainly a vibrator worth trying.
Gigi 2 is undoubtedly world-famous with a curved design and flattened tip to accurately target your most erogenous spot, the so-called Grafenberg spot, or simply G. With a single push of a button you can start enjoying pulsations, starting from teasing murmur to intense fulfilling vibes.
Its simple controls allow you to operate your toy the easiest way possible – just find the most comfortable pattern and intensity level and indulge into play! You can easily apply direct pressure or thrust on your G-spot, just find out what you enjoy the most and that's about it.
If you are not ready to comfortably insert Gigi 2 and haven't prepared your personal lube, you can just hold your G-spot toy upside down and apply the flattened head on your clitoris. It will take seconds to warm you up and get ready for inserting your Gigi 2. So, we can add versatile to the number of positive characteristics of Lelo Gigi 2.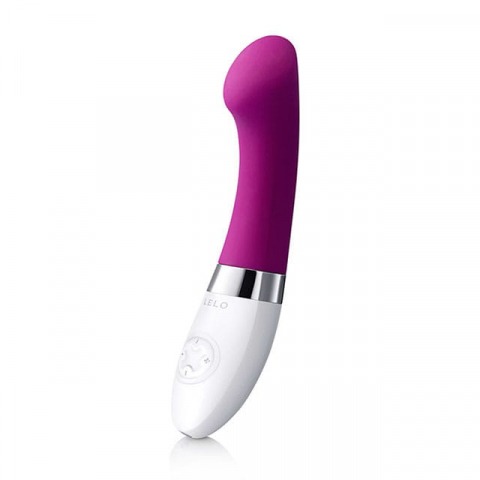 Gigi 2 is completely waterproof so you can enjoy sexy shower sessions as often as you like. This vibrator is specially designed for the hottest solo sessions you've ever experienced. Not that you can't use your Gigi 2 with your partner – you can. But he or she may easily get jealous!
Gigi 2 is a second generation vibrator, and was created after its' predecessor Gigi had enormous success and was highly appreciated by those who tried it
Gigi 2, like all other Lelo products, is made with premium body-safe materials only. FDA-approved medical-grade silicone for the shaft and ABS plastic for the handle of the toy. Both materials are anti-bacterial, non-porous and hypoallergenic.
The extra smooth, matte texture of Gigi 2 makes it super comfortable to the touch – something most of us greatly appreciate.
Gigi 2 is more powerful, compared to conventional G-spot vibrators and the sad truth is that you can you it for longer than 45 minutes without numbing your hand. The same happened to many women
The exact dimensions of the toy are the following: 6.5in. x 1.4in. x 1.3in. (165mm x 35mm x 33mm) and the curve fits well, according to most women who commented their Gigi 2.
Unfortunately, if you're looking for a super quiet sex toy, Gigi 2 won't meet that requirement – the buzzing noise is considered too loud for most women who are afraid that their roommates or family members may hear the vibrations.
Lelo claims this vibrator is whisper-quiet – it works at a frequency of 100Hz and its maximum noise level is <50dB. But in fact, it is a bit more noisy, compared to conventional G-spot vibes.
However, Gigi 2 has an additional feature that can be found in very few modern sex toys – it is travel-friendly. This means you can lock your device before flying in a plane or carrying it somewhere and you can be 100% sure it won't accidentally activate and make you blush at the airport.
With Gigi 2, as with all other vibrators by Lelo, you have a full year warranty and, as reported by users, the device works properly even after super frequent, prolonged use.
Compare Lelo Gigi 2 price: LeloLovehoney
OhMiBod Cuddle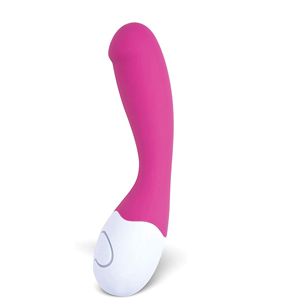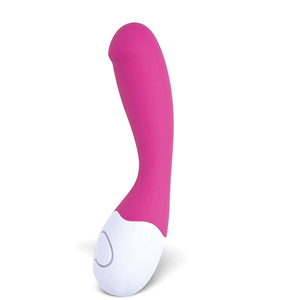 Cuddle is a comparatively new release by Lovelife collection for OhMiBod. OhMiBod's Lovelife Cuddle is a great G-spot vibrator for anyone on a budget. While it is a lot smaller, compared to conventional G-spot vibrations, this rechargeable toy has multiple speeds and patterns, and it represents a great value at half the price. We also recommend it as a great vibrating toy for G-spot beginners, and anyone who prefers a smaller, more discreet toy. Cuddle is also great for travel or any other occasion where privacy is a priority
This convenient G-spot toy is made of silky silicone and 7 preset scalable pulsations. The design of Cuddle makes is super easy to reach your G-spot and start enjoying intense rumbly stimulation. It is 6.5 inches long and 1.25 inches in diameter at the head and tapers down to about .75 inches at the smallest part.
The control buttons, located on Cuddle's base are quite simple and you'll easily get used to them. The heart shaped button has three controls: +, -, and ~. Press and hold ~ for about 3 seconds to turn it on and off and press it more quickly to change and adjust the vibration patterns. The + makes it stronger and the – makes it weaker.
The USB-rechargeable design allows you to enjoy 2 hours of continuous play. The quiet, yet powerful motor brings intense, fulfilling stimulation.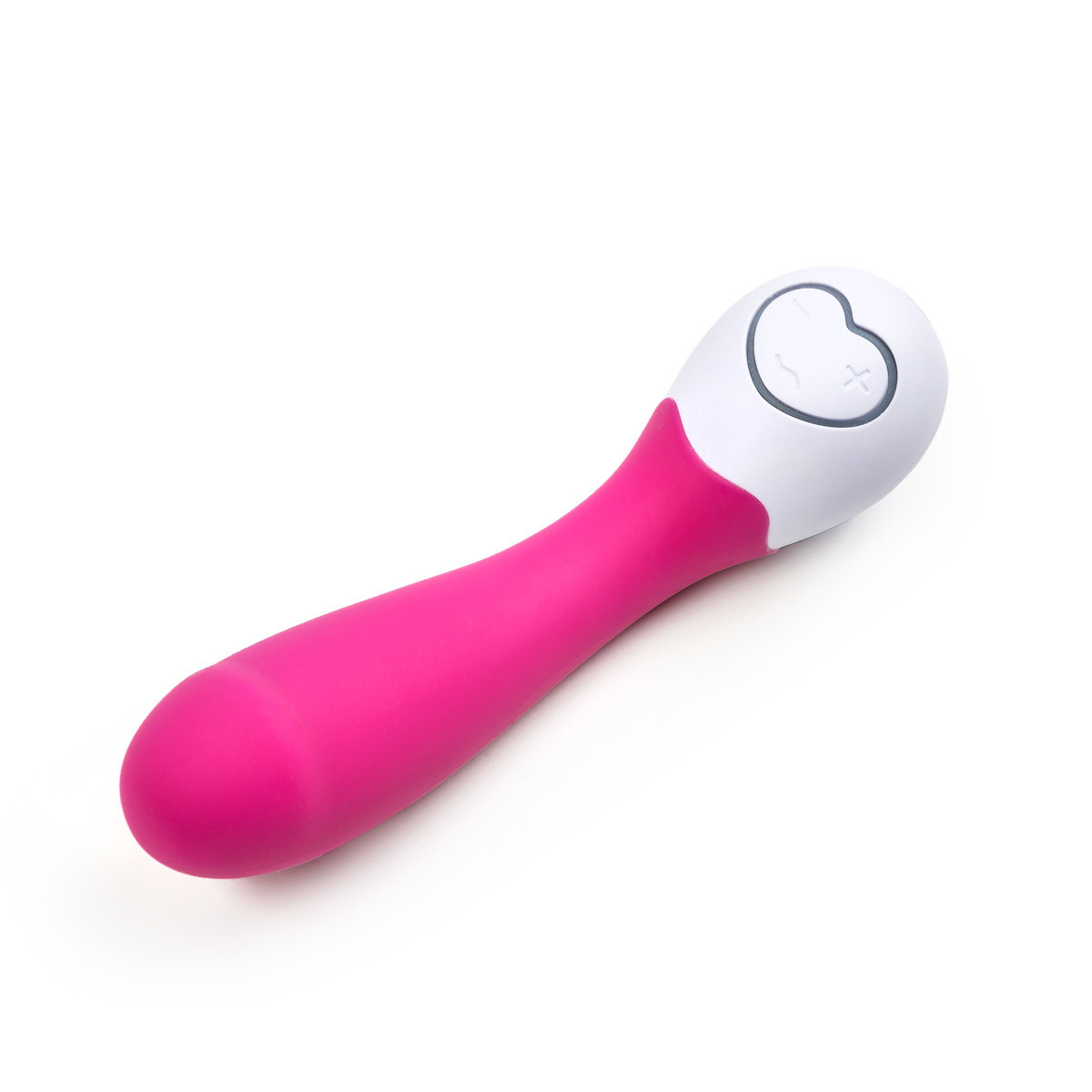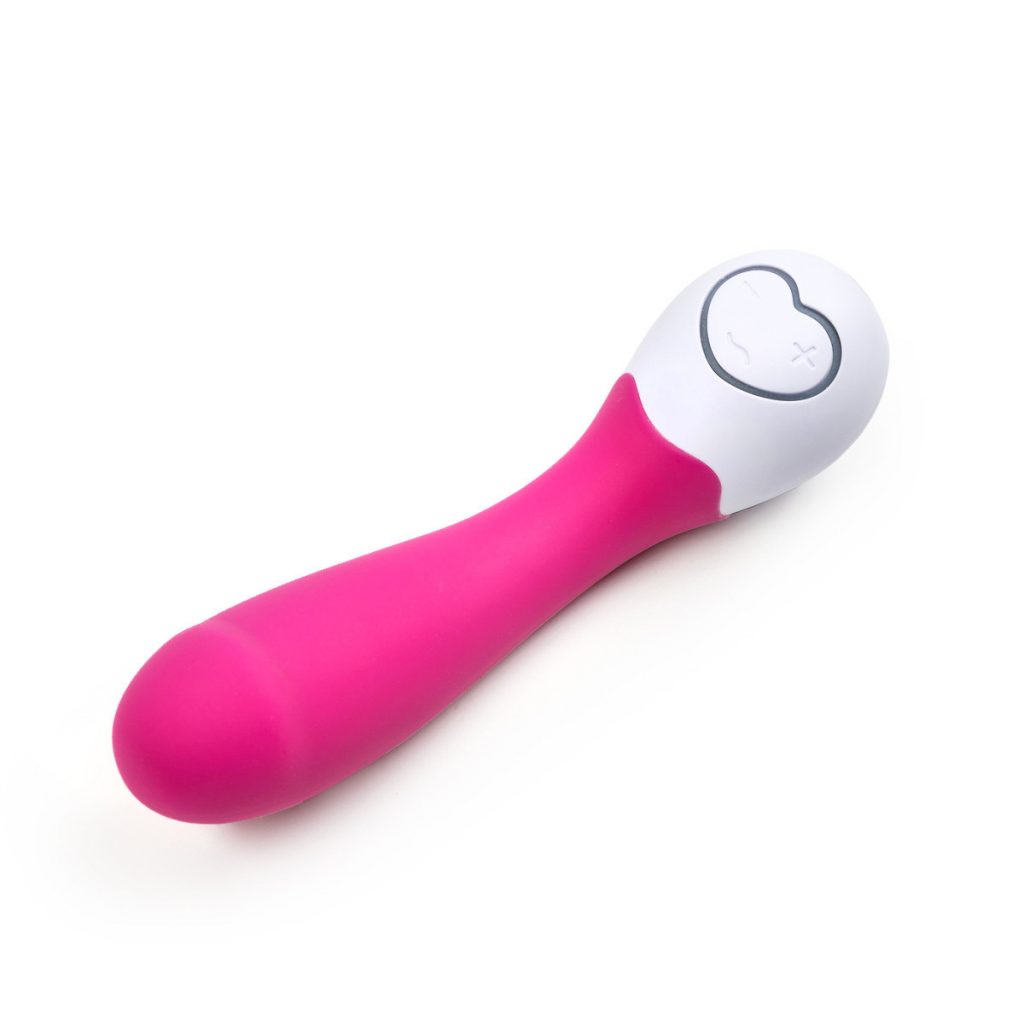 This g-spot massager is made of body-safe materials only. Remember that cuddle is not waterproof, it is only splash-proof, which makes it unsuitable for shower sessions.
Your Cuddle by OhMiBod comes with a classy storage pouch, where you can carry it everywhere you wish. Another great thing about this G-spot toy is that it is perfect fir beginners and those of you who prefer less powerful vibrations. Cuddle is non-intrusive in terms of stimulation – it will easily arouse you and gradually bring orgasmic pulsations on your hottest spot.
The shape and size of OhMiBod Cuddle make it comfortable for insertion. According to reviewers, it won't make your hand numb during use, unlike bulky, super powerful massagers.
The only thing you'll need to keep in mind before buying Cuddle is the user control interface – not that it doesn't work properly – on the contrary, it works great. But in order to switch off the vibrator, you'll need to to hold the button down for a few seconds in order to power it off. Those few seconds are disturbing for those, who would like to immediately stop the vibrator after orgasming.
"When I'm done with a toy, I want it OFF ASAP …"
Cuddle is a perfect combination of affordable price and luxury design, even if it seems like a paradox. This cute vibrator can provide sensational pleasure in no time. Cuddle is also versatile – it can be used for stimulating the clit as well! Many women even prefer using Cuddle for clitoral pleasure because it offers rumbly pinpoint stimulation.
In short, the cuddle is the swiss army knife of sex toys.
Compare OhMiBod Cuddle price: LovehoneyOhMiBod
Lelo Mona 2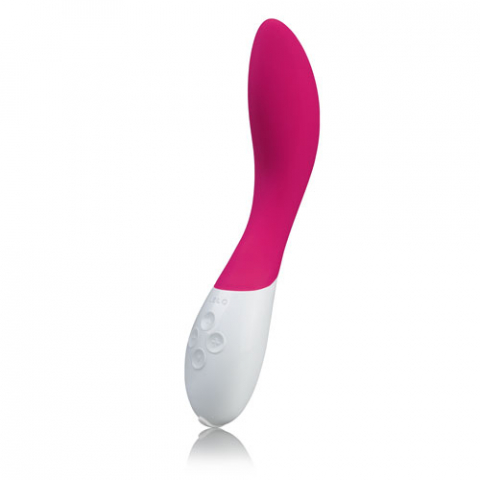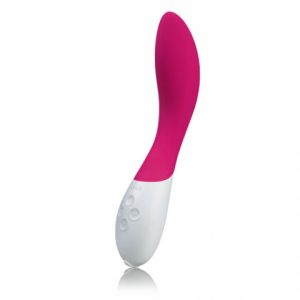 Mona 2 is among the most popular Lelo sex toys. Simply put, Mona 2 has a sleek and elegant design that can bring exceptionally powerful orgasms after just a couple of minutes of intense stimulation.
This luxury G-spot vibrator combines an excellent design and powerful, fulfilling performance. The insertable part of Mona 2 comes in that soft, silky, matte body safe silicone finish that feels amazing during use. The handle is made of ABS plastic, with sticky raised buttons for more comfortable manipulation. Like all Lelo toys, Mona 2 is 100% phthalene-free. It has 3 color options – rich rose, deep red and beautiful purple – all of them look amazing, this is another reason to get more inspired for an orgasm session!
The Mona 2 is completely waterproof and rechargeable. It can stay on stanby up to 90 days, which is quite impressive since most vibrators lose their charge after no longer than 30 days.
The battery life allows up to 2 hours of continuous play.
Mona 2 uses simple controls-the left and right buttons increase strength, while the top and down buttons cycle through the pulsation patterns.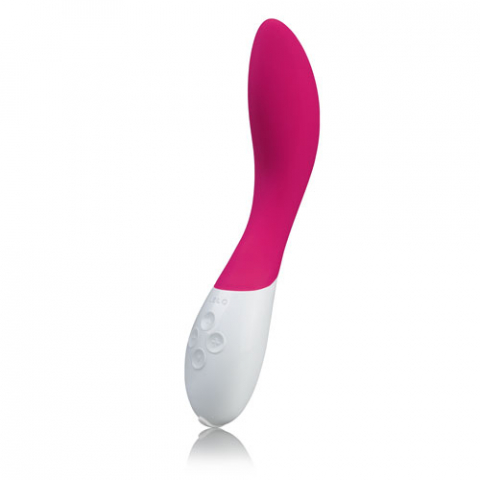 According to women who tried Mona 2, the performance of this g-spot stimulator is quite powerful. Its fuller design helps easily reach your g-spot, which is an awesome feature, but there are many women who find the Mona 2 too overwhelming. If you are a fan of the more intense vibrations, Mona 2 will sure meet your expectations but if you're a beginner or just enjoy the teasing kind of stimulation, it might not be an option for you.
According to experts in sex toy testing, Mona 2 excels in G-spot stimulation, thanks to the ergonomic shape, fulfilling design and pleasurable vibration settings. There are 6 pleasure settings you can choose from, and you can use the less intensive pulsation for clitoral stimulation.
As someone who values personal pleasure and self-care, I decided to give the Lelo Mona 2 a try. This personal pleasure device boasts a unique design, powerful vibrations, and high-quality materials. In this review, I will share my personal experience and thoughts on the Mona 2, which has become a noteworthy addition to my collection.
The Lelo Mona 2 has an ergonomic, curved shape that is designed to target the G-spot for intense and precise stimulation. It's made from body-safe, FDA-approved silicone, providing a silky-smooth texture that feels comfortable against the skin. The device is also 100% waterproof, which makes it suitable for aquatic play and easy to clean after use.
A feature I appreciate about the Mona 2 is its six adjustable vibration patterns and intensity levels, allowing for a tailored experience based on personal preferences. The 4-button interface is intuitive and easy to use, while the quiet operation ensures privacy during use. The rechargeable Li-Ion battery allows for up to 4 hours of playtime on a single charge, which I find quite convenient.
Safety and convenience are important factors to consider when using personal pleasure devices, and the Lelo Mona 2 seems to take these aspects into account. The travel lock feature is a thoughtful addition, preventing accidental activation during transport. Additionally, the device comes with a 1-year warranty and a 10-year quality guarantee, demonstrating Lelo's commitment to customer satisfaction and product excellence.
In conclusion, my personal experience with the Lelo Mona 2 has been overall positive. The device combines an elegant design, powerful performance, and customizable settings to cater to various preferences. If you're looking for a personal pleasure device that offers both style and functionality, the Mona 2 may be worth considering. However, as with any product, individual experiences may vary, so it's essential to find what works best for you.
Compare Lelo Mona 2 price: LeloLovehoney
Desire Luxury by Lovehoney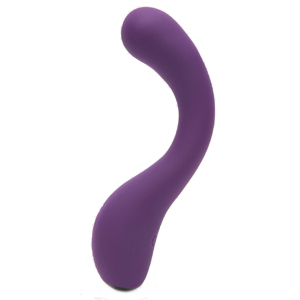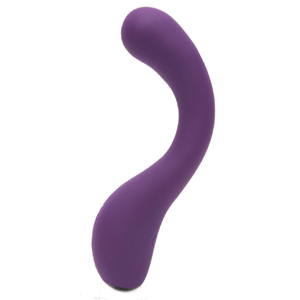 | | |
| --- | --- |
| Power: | (4.0 / 5) |
| Noise: | (3.5 / 5) |
| Material: | (5.0 / 5) |
| Price: | (5.0 / 5) |
| Ease Of Use: | (5.0 / 5) |
Rechargeable and curved g-spot vibe for exquisite internal stimulation
You can buy this product from:
Desire Luxury is a S-shaped vibrator, specially designed by Lovehoney brand.
It's made of highest-quality silicone, which means that it's body safe and easy to clean. It's USB rechargeable, like most modern sex toys, and the charger connection is a sturdy pin that inserts into the base of the toy. It's also submersible, and comes with a convenient storage case. The luxurious case allows you to discreetly charge your vibrator while it is inside.
Most G-spot vibrators tend to follow a formula of bulbous head and thin, straight neck but the Desire Luxury is a bit different. The vibrator is thicker, compared to most g-spot toys, and way more curved, more like a C-shaped toy.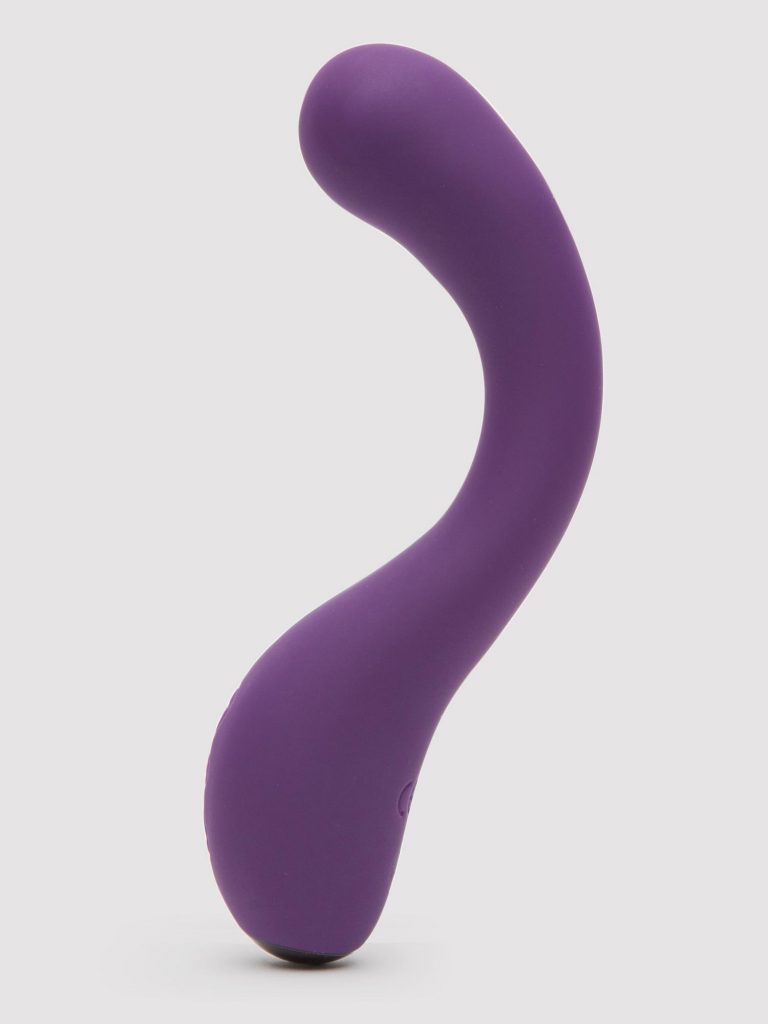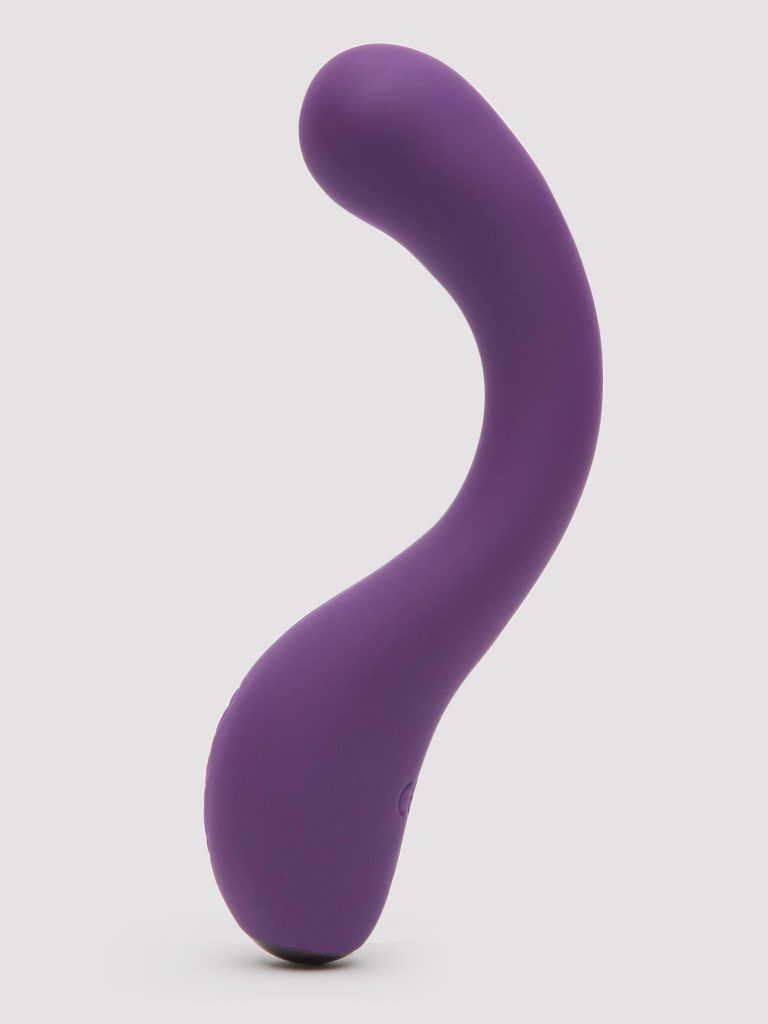 This shape is much more comfortable for me to hold, because you won't need to extend your wrist to reach the right spot. The handle is also thicker, giving a better grip without squeezing too hard, like you have to do with thinner handles. There are poush buttons in the base of the g-spot vibe, allowing you to increase or decrease the intensity and change the pattern of vibration.
Lovehoney Desire Luxury might look intimidating at first, but it's actually designed that way to ease the use of the sex toy.
The more pronounced the curve, the easier it is to reach and massage the front wall of your vagina for maximum pleasure. This toy is also waterproof (so you can enjoy it in the bath or in the shower) and has eight vibration modes (each with 12 custom speeds of intensity). A single charge – which takes about 80 minutes – gets you 80 minutes of play.
But be careful with the lube. Silicone lubricants should not be applied to silicone toys. Use water based lubes instead.
Check Desire Luxury price: Lovehoney
Svakom Cici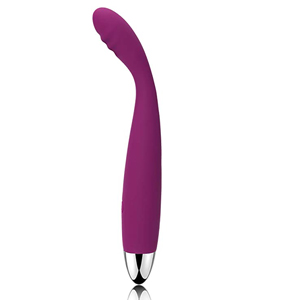 | | |
| --- | --- |
| Power: | (4.0 / 5) |
| Noise: | (4.0 / 5) |
| Material: | (4.0 / 5) |
| Price: | (5.0 / 5) |
| Ease Of Use: | (4.0 / 5) |
Flexible g-spot vibrator with luxurious design for intense pinpoint stimulation
You can buy this product from:
Svakom Cici is a type of g-spot toy that is both comfortable and easy to use. According to a survey aiming to analyze the effect of this vibrator, most women claim to have experienced more intense G spot orgasm, compared to their usual experience.
Additionally, most testers claim that Svakom Cici has very powerful performance and a remarkable design. However, if you live with other people, keep in mind that this isn't the most discreet vibrator you can find, especially if you live with other people.
The vibrator is not suitable for women who prefer large, fulfilling vibes, since Cici is created to deliver very targeted stimulation. If this is your case, you might want to consider buying a rabbit vibrator.
The super-soft, flexible vibrating head of Cici is well accepted by everyone who tried it. The perfect angle of the vibe easily reaches the G-spot and provides good grip and stimulating pressure during use.

By the way, you can use the vibrator as a clitoral stimulator as well – many women are pleasantly surprised by the titillating stimulation of the toy. Cici's curved head allows you to reach your G-Spot without a struggle while simultaneously apply 9it on your clit.
You can choose from 25 thrilling vibration settings that will give you unforgettable blended orgasm each time you are ready to play.
Cici is made of body-safe silicone and tipped with a ribbed texture for pleasurable arousal. Its' powerful motor can be controlled using the single button on the base. Explore 5 tantalizing vibration modes, each with 5 arousing intensities.
You can use the Svakom Cici during foreplay or for your solo sessions. The vibrator is completely waterproof, allowing you to enjoy it in the shower or bath. What is more, this is a budget option, offering premium ultrastrong vibrations.
Just like most modern sex toys, Cici is USB rechargeable and you can enjoy up to 2 hours of uninterrupted vibes when your toy is fully charged.
Check Svakom Cici price: Lovehoney
Other G-spot massagers worth mentioning
Lelo Soraya
Soraya is a rabbit vibe that provides intense vibration both on the clit and the g spot. It received positive feedback for functionality and aesthetics, but like all rabbit vibrators, it is hit or miss: some women found it anatomically fitting, while others did not.
Lelo Elise
It has many of the same features as the Isla but lacks the gold detailing. It's also more powerful, with two motors rather than one.
The Greedy girl G-spot rabbit vibrator
It's so good, in fact, that it's outlasted the last Fifty Shades film and continues to sell well. It is water resistant and cordless, has two separate motors, and a total of 36 vibration settings.
Fun Factory Tiger
The Fun Factory Tiger is a g-spot sex toy that has a flexible shaft made of medical-grade silicone and ribbed design. When you start the G-spot play it can send waves of powerful vibrations leading to an intense orgasm.
Fun Factory Big Boss
Fun Factory Big Boss is one of those G-spot specific vibrators. I really wanted to put the Fun Factory Big Boss higher up in this guide. However, because I'm ranking based on "G-spot impact"—pure pressure—Big Boss is a little lower down the line here. I like how Fun Factory Big Boss has a broad coronal ridge that I can pull over and over into my G-spot without feeling uncomfortable and it delivers balanced G-spot pleasure. It's great for fast thrusting because it's not as hard as other vibes in this guide: its upper half is uncored, slightly flexible, and more forgiving. It has adjustable intensity settings and curved shafts.
The Swan Wand
The Swan Wand, which is more of a G-spot and clitoral vibrator than a wand vibrator, was praised for its anatomical fit. Depending on preference and comfort, users can insert the broad or slimmer end. As a result, it's like having two vibrators in one. There were many positive aspects, but noise, user controls, and durability were major concerns. Nonetheless, this product is worth a shot.
Other vibrators worth honorable mention in this article are Lelo Ina Wave, We-Vibe Nova, Fun Factory Bouncer, Lovehoney G-Kiss, Happy rabbit G-spot curve, Njoy pure wand, Tracey Cox G-spot vibrator, Dame Arc, Tulip intimate vibe.
How to find my G-spot?
We know exactly where the clitoris is. Imagine that the G-spot is located just up behind the pubic bone region. – on the inside of the vaginal anterior wall and is made up of a series of glands and ducts. There are many nerve endings that are connected to the clitoris by porous nerve tissue. When the clitoris is aroused and enlarged, this nerve tissue is also aroused.
Тhis way, sexual stimulation will help you find the hot spot yourself. Insert your fingers into the vagina.
Start pressing against the front of the vaginal wall near the pubic bone and the front of the cervix. Feel the slightly spongier, walnut-sized patch of tissue along the front vaginal wall. The movement of the fingers should resemble the movement with which you invite someone to come to you.
That is, your fingers must move forward and upward. It is important to note that stimulation of this erogenous zone will not have the same effect if you are not aroused. Before that, you have to get aroused in the ways you know, and only then you should start looking for the G-spot.
How we picked and tested
The purchase of a sex toy is considered intimidating by most people, even if they are experienced in sex pleasures. In short, walking into e sex shop and sharing your sexual goals with a stranger is not well accepted for everyone.
Also, the fact that such devices often cost more than we are ready to pay for a non-returnable item are strong reasons to avoid the purchase of a sex toy. And how can you be sure the super positive reviews aren't fake? Next, since everyone is different, how do you know you'll enjoy your new sex toy as much as it was appreciated by other users? After all, sexual response is an individual reaction, varying from person to person.
Honestly speaking, no one would spend more than $100 to test a sex toy that may eventually turn out disappointing.
This is why, we only picked the products that have already proven themselves for being high-quality and effective treatment for most people. The products added in this article are tried and tested by experts but are also suitable for absolute beginners (most of them). The sex toys we've chosen for you belong to various price categories – some are super affordable, there are medium price range products and, of course, the expensive ones, if they managed to meet our strict criteria for high-quality performance.
In short, we tried to make it easier for you to make a decent investment for self pleasuring with a good price-quality ratio.
And since the sex toy industry offers thousands of products, we tried to select the ones that stood out after testing and evaluating their potential. The models we considered the best are the same our testers enjoyed the most. But we also ranked these products based on users feedback who left reviews after testing their new toy. Unlike the vast majority of articles that put in their list clitoral vibrators, wand vibes, rabbit vibes we focus only on g-spot massagers.
The most important criteria for the above-mentioned vibrators includes:
The shape of the vibrator: does it easily reach and effectively stimulate the G-spot (some of the toys included have thicker shaft, others are more curved, and there are toys with bulbous heads)
The best G-spot vibe should be made from nonporous, body-safe material such as silicone, glass, or metal
The vibrator should be firm, as harder toys may offer more intense stimulation
It should be the right size for you – not painful, too large, or too small
Why you should trust us
We selected the g-spot toys, mentioned in this article by reviewing information gathered from various online sex shops, including Lovehoney, We-Vibe, Tantaly, Liberator and others. We've chosen the best selling vibrators with positive feedback from real users. If the online performance (good user reviews, inspiring presentation and useful features) of a particular sex toy is immaculate, then we took it into consideration.
And after our team of testers is ready with the final verdict, this is when the product is added to our recommended g-spot toys.
We followed up our preliminary research with interviews with some of the top experts in the field.
If you're interested in other types of sex toys, please read the following topics we prepared to help you make an optimal choice when choosing your next vibrator:
Most realistic male masturbator
Best dildo exercise ball
Top wand massager
App-controlled cam girl vibrator
Best rabbit sex toy
App-controlled vibrating panty
Best butt vibrator
Clitoral suction vibrator for intense orgasms