In this review of the We-Vibe Moxie, I tell you why I see it as an update to panty vibrators.
The We-Vibe Moxie is the first attempt at a completely external wearable vibrator, although We-Vibe has already made some C-shaped wearable sex toys that can be worn during sex (like the incredible We-Vibe Sync).
Moxie is the first sex toy in the industry that attaches with magnets, rather than the more conventional usage of suitable underwear. With the Moxie, We-Vibe has gone one step further and given us not only the gift of magnets but also all the control options, as this toy is compatible with both remote control and an app.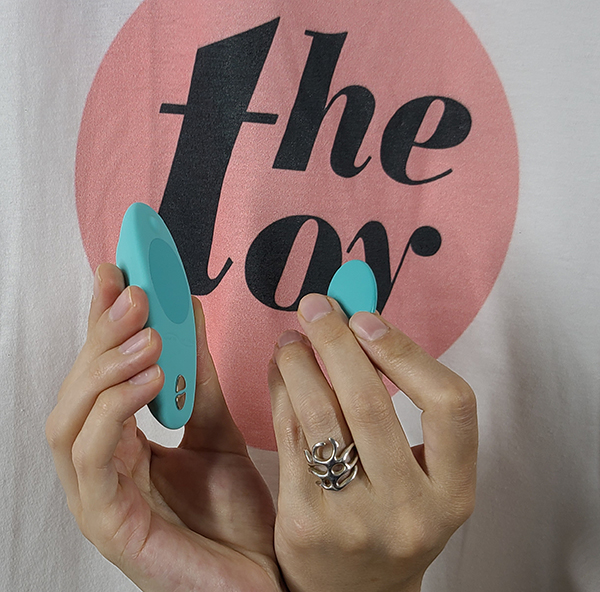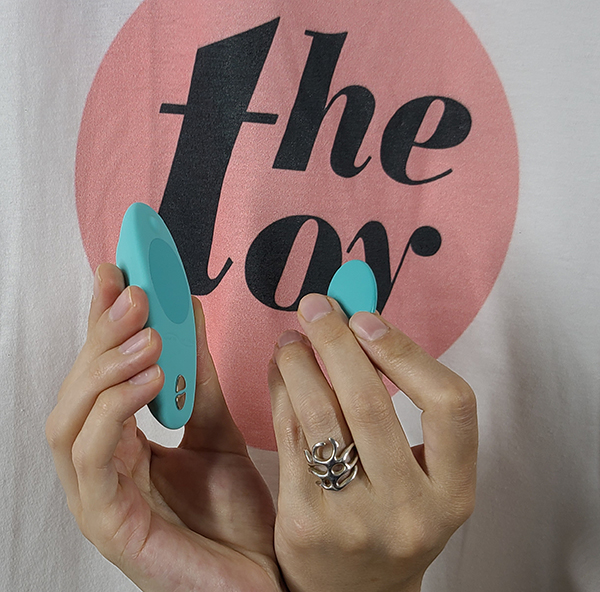 Moxie is ideal for outdoor play thanks to its excellent connectivity and comfortable design.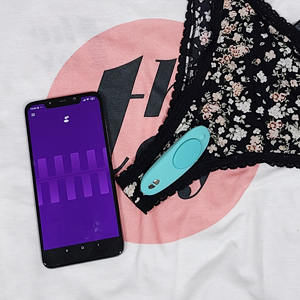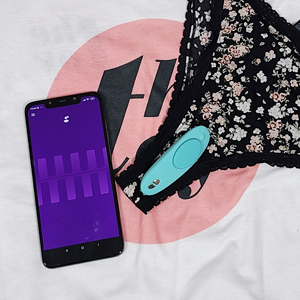 | | |
| --- | --- |
| Power: | (5.0 / 5) |
| Noise: | (5.0 / 5) |
| Material: | (5.0 / 5) |
| Price: | (5.0 / 5) |
| App: | (4.0 / 5) |
Share control of Moxie from anywhere, create custom vibes, and play together anytime
You can buy this product from:
Pros and Cons
Pros
Powerful vibrations that can be adjusted according to your personal preferences
Elegant design
Fully waterproof (super easy to clean) and made of super soft, body-friendly silicone
On the lowest setting, it's quiet enough for public play; on the highest setting, it's discreet enough when worn in a busy area 3 preset settings and 7 preset patterns
Easy-to-use controls
Uses a convenient and customizable app that offers unlimited control options in terms of patterns. And is free for Android and iOs
Can be controlled via a phone for hands-free stimulation
Cons
Cons
A bit pricey (having that similar toys usually cost around $100
Not suitable for quiet places on the highest level
How does Moxie work?
You have three options to control the We-Vibe Moxie:
with the button on the toy itself with the remote control with the compatible mobile app.
Below, I'll talk about each of these options. I'll start with manual control of the toy, which is an excellent choice if you want to use it alone for masturbation.
Since the Moxie only has one button, operating it this way is incredibly easy and feels pretty comfortable to me. Just like the We-Vibe Tango, you can adjust the intensity and vibration pattern by pressing the single button on the Moxie.
You can cycle through the toy's 10 modes, four of which are steady speeds and six of which are patterns, by pressing the button once to turn it on, and it starts at the lowest steady speed.
Then press and hold the button for 2 seconds to turn the toy off.
The Moxie has a memory function, so when you turn it on, it will start in the vibration mode you turned it off in. That's all well and good, and I am used to that vibrators with only one button, but there's one big problem. This is supposed to be a helpful feature, but I personally find it annoying because I usually masturbate with the lowest settings on my toys, especially when I am not aroused yet.
However, with this toy, you can only decrease the intensity of the constant speed by clicking through all the other options first. That's a real fun killer, and besides, I have to set the toy beforehand so that my clit does not go completely numb when the vibrator goes full force.
Also, I think a travel lock for the Moxie would have been helpful since you can logically assume that this is the kind of toy you want to take with you when traveling. After all, the Moxie's button only needs to be pressed once to turn it on, not held down.
My experience with We-Vibe Moxie
Moxie was a surprise to me. I did not expect it to feel so good because I thought its surface was too apartment to serve its primary purpose – to make me orgasm. I recently tried the Lovense Ferri and the OhMiBod BlueMotion Nex 1 and the Ferri felt extremely powerful, while the BlueMotion Nex 1 was a bit weak by my standards.
And the design of the BlueMotion Nex 1 is very similar to the Moxie, so I expected it to be inadequate for my clit.
Well, I was wrong. When I first tried the Moxie, I was surprised that a panty vibrator could be so comfortable and still deliver such powerful vibrations.
After all, most panty toys with a flatter design feel more natural when worn. When walking, sitting, and lying down, it feels like there's nothing out of the ordinary except for the vibration. And the shape is what I like most about Moxie. To me, it's less intrusive and the vibrations feel more natural and teasing.
Sure, Moxie offers broader stimulation, not my personal favorite, but it's a much more relaxing way to orgasm. During my first session with Moxie, it took longer than I'd like to admit to reaching orgasm, but I finally did.
It took me more time to position the toy correctly, maybe it was because the panties I was wearing that day were a little too loose.
But after I got the toy and magnet in the right position, it all started to make sense.
Personally, I would not recommend panty vibrators for solo stimulation because there are easier-to-use sex toys for clitoral stimulation, such as clitoral suckers and wand sex toys.
BUT panty vibrators are an AWESOME way to have fun with a partner!
Me and my SO decided to do our first test before going to TV. We chose a comedy show, I was not prepared at all, I even forgot to apply lube. He used the remote for this session, and started on the lowest setting, hoping I would get wet while watching the show, but I was too distracted, so we needed a change of plans.
No TV, just the two of us testing moxie.
Some nipple stimulation helped prepare me for the vibe. But this time he controlled the toy via the app, choosing interrupting vibration patterns that felt quite arousing after I was already wet.
First at the lowest intensity level and then gradually stronger and stronger. That's when I realized that he was just playing with me, because he knows very well that I only reach orgasm with steady stimulation. And he started switching between the different patterns, which was pleasant and teasing at first, but then I really needed an orgasm, so I asked him to do something about it.
I was able to climax on one of the medium intensity levels of constant vibration. And it felt so liberating this time (compared to what I usually feel), maybe because my partner just went too far with the teasing.
The next time we tried the Moxie outdoors, but that was more of a remote control test. First, with the remote, the perfect connectivity distance is about 10-12 feet.
As for the app, we had no problems connecting and controlling Moxie remotely.
So overall, my opinion about the We-Vibe Moxie panty toy is quite positive in terms of performance. You just have to spend some time to properly fitting it to your panties and getting to know the We-Connect app.
Specifications
Power
The Moxie has a bit more power than typical for a portable vibrator. It's not quite as powerful as the Lovense Ferri, which is its main competitor, but it's not noticeably weaker either.
And while Ferry's vibrations are more spot-on and focused on the clitoris, Moxie's are more spread out. Personally, I prefer Moxie's performance because it definitely does not numb my clit.
Noise
Since the vibrations of moxie are deep and booming, they are almost completely absorbed by the body. This means that they are not easily perceptible even in a quiet place. However, this refers only to the low/medium settings.
The higher settings of the toy are quite loud, so I would recommend not choosing them for outdoor play.
Material
Because the We-Vibe Moxie is made entirely of body-safe silicone, it is stable and comfortable to wear on a date. It is also free of latex, phthalates, and BPA. You can take the We-Vibe Moxie Toy to the hot tub for a splashy, seductive water adventure because its materials are waterproof.
Note: This does not apply to the Moxie remote, so keep it away from the water.
Design
Moxie is a palm-sized, lightweight and compact panty vibrator that comes in aqua (between green and blue) and black. Mine is aqua.
Moxie comes with two disk-shaped magnets (one of which is a spare) to keep it in place. The vibrator is held securely in place by the magnet on all types of panties. You position the vibrator, align the panties and stick the magnet to the outside. Almost no slippage.
The bottom has the power button, a magnetic plate and the charging components, while the top (which rests on the clitoris) is raised and curved for more targeted stimulation.
Compared to traditional panties, it is silky, smooth and more elegant.
Size
The exact dimensions of We-Vibe Moxie are 3.35 inches (85 mm) x 0.9 inches (23 mm) x 1.1 inches (27 mm)
Moxie is small enough to wear in public without sacrificing performance, but not too small. For a portable panty vibrator, it's a perfect size.
Charging
The We-Vibe Moxie Wearable Vibrator can be charged via any USB port, as it comes with a USB charging cable and a magnetic charger. I like magnetic chargers better than regular ones because they are more reliable and include a magnet that indicates which way to plug it in.
The light indicates charging when it flashes rapidly. If the light stays on, the device is fully charged.
According to the user manual, it takes 90 minutes for the Moxie to fully charge once you plug it in.
On my device, it took a bit less time the first time because it was already somewhat charged.
Overall, Moxie has a respectable battery life for an external panty toy. It's about 2 hours on the highest setting, which is quite enough for a decent remote session with my partner.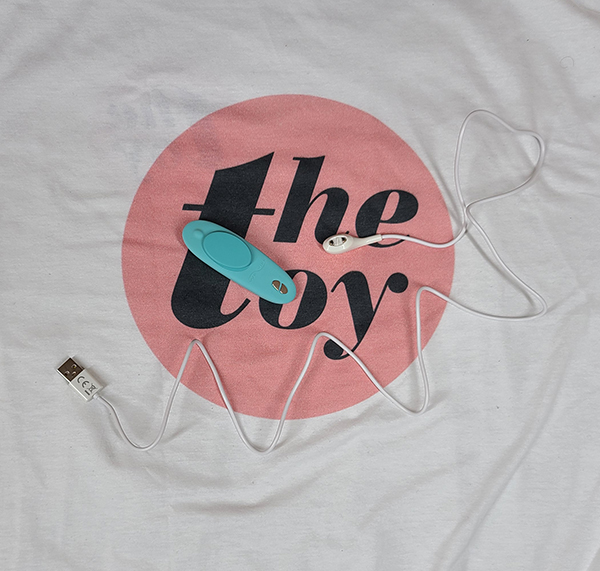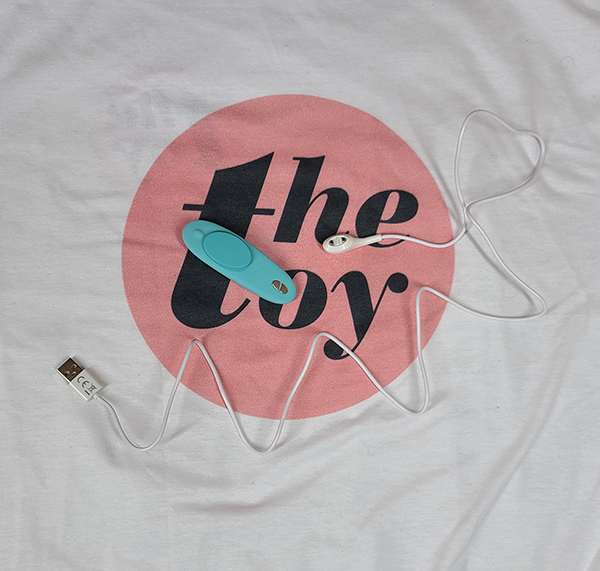 Controls
Button control
The button control is a wonderful choice if you want to masturbate alone. Because the Moxie just has one button, using it in this manner is incredibly simple and feels fairly comfortable.
Press the power button to switch on your We-Vibe Moxie (located above the magnetic plate). It will turn on at the last function you used.
You can cycle through the toy's 10 modes, four of which are steady speeds and six of which are patterns, by pressing the button once to turn it on and it will start at the lowest steady speed.
Then, keep the button down for 2 seconds to turn the toy off.
Press and hold the button for a few seconds to turn the Moxie off.
Remote control
To connect the remote and the Moxie panty vibrator for the first time, press and hold any button on the remote for 5 seconds. The light indicator on your remote will flash 3 times and the Moxie will vibrate 3 times once the connection is successful.
The remote of the Moxie vibrator can be controlled through the four clickable buttons, located in the front part of the device.
For turning on your Moxie vibe, press the below button once. A single vibration will indicate the Moxie is ready.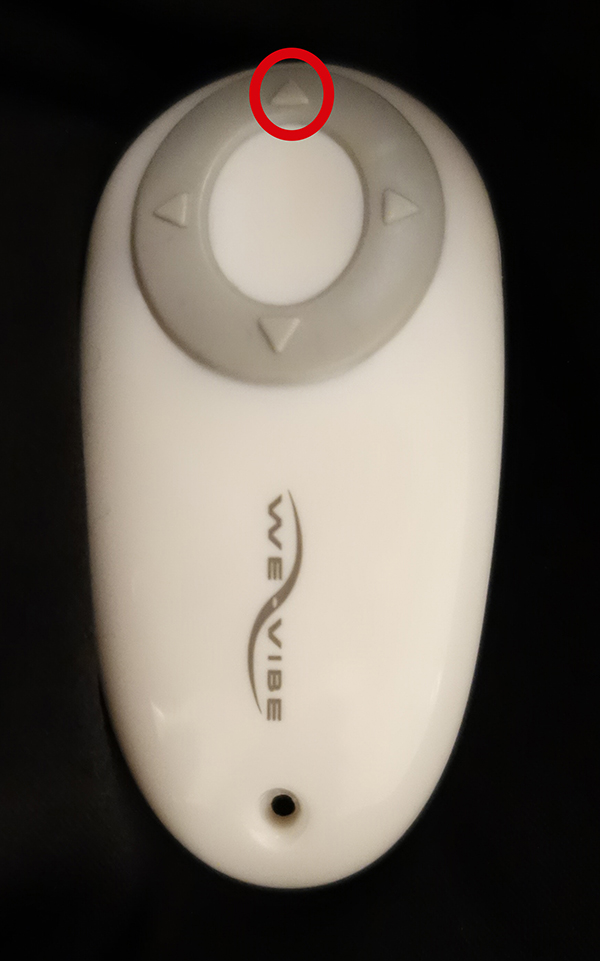 That same button is used for increasing the intensity of stimulation.
With the 2 side buttons, you can go through the 10 preset vibrations.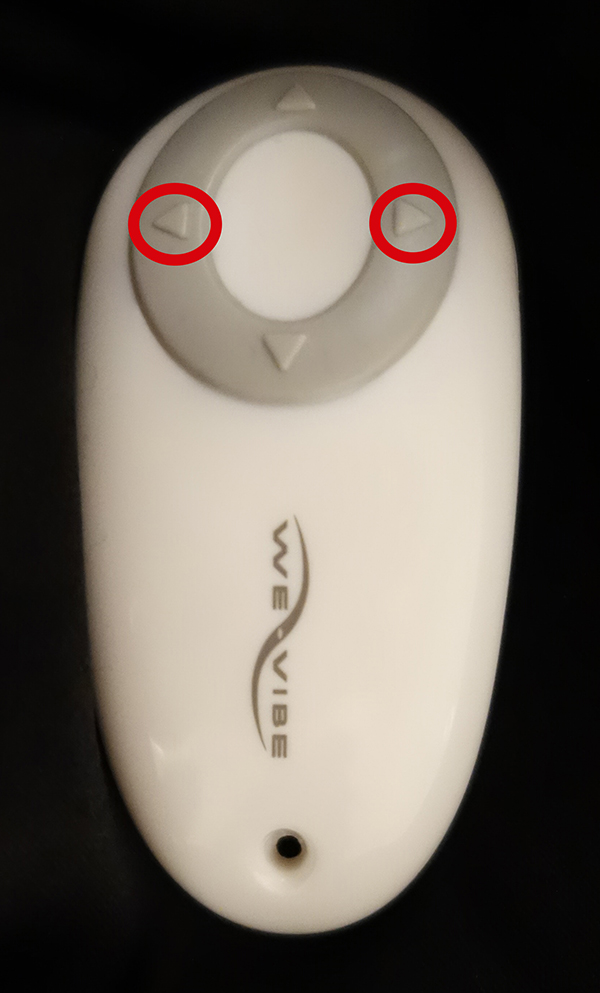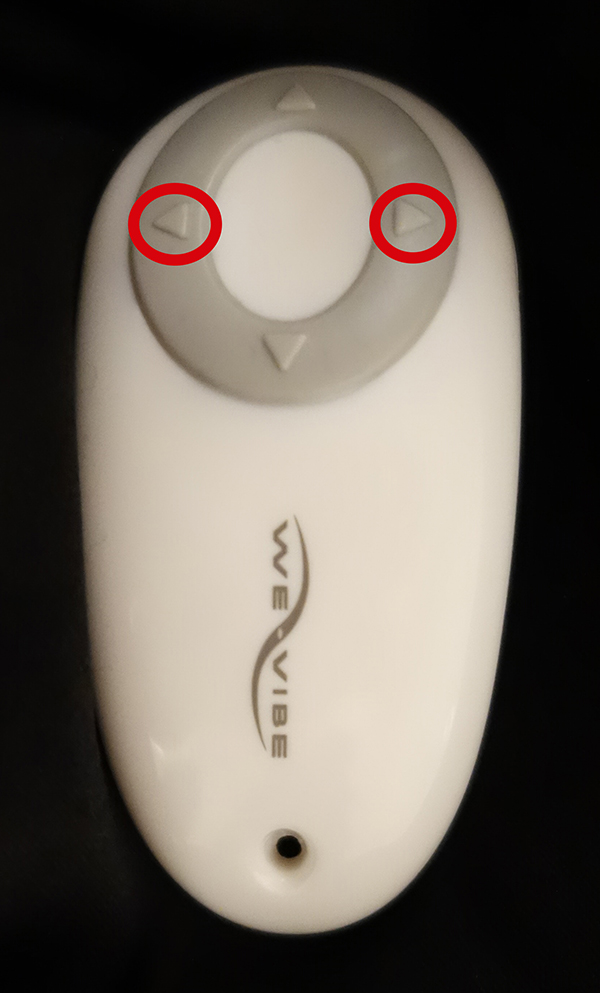 The below button allows you to decrease the intensity of the vibrations and it turns off the vibrator once you click it for 2-3 seconds.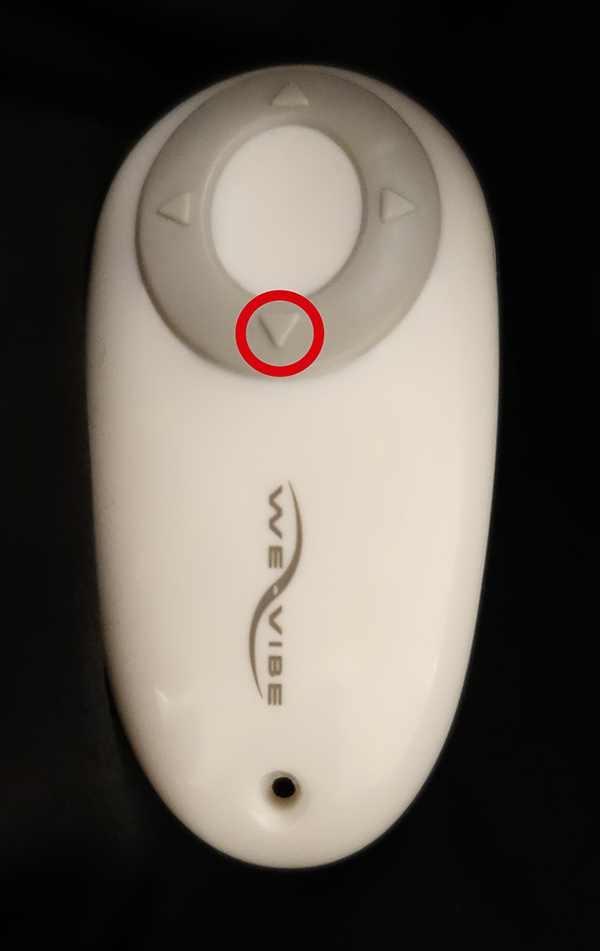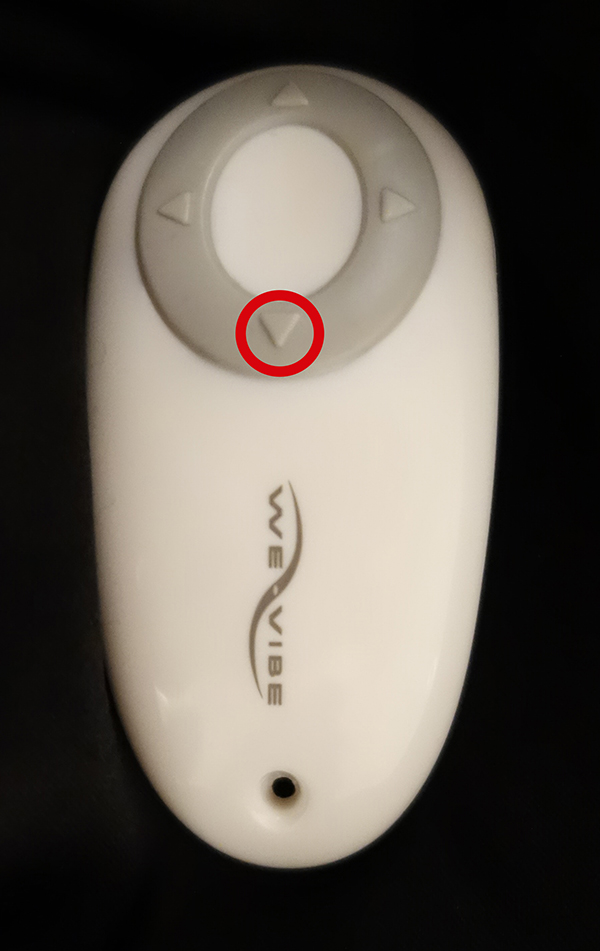 Use with We-Connect app
You must first download the We-Connect app, which is available for both Android and iOS devices and is free.
Simply search for the app in the Google Play Store or the App Store, then click the install button.
It takes around a minute to complete the installation.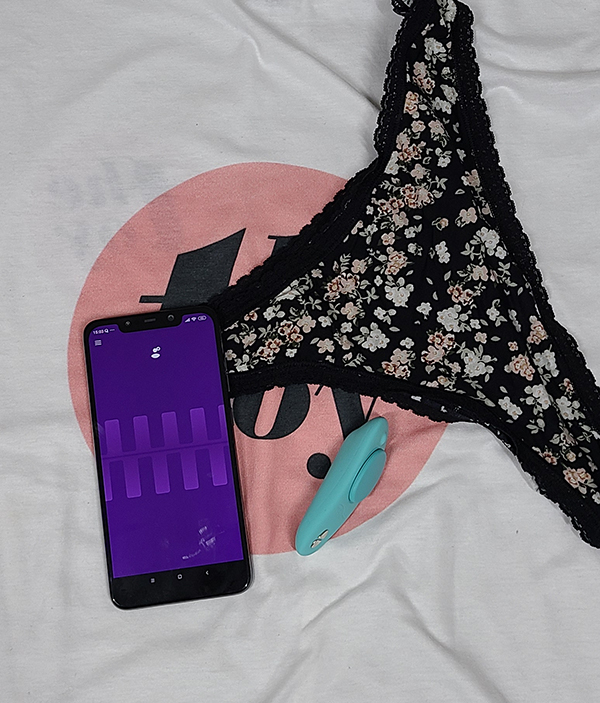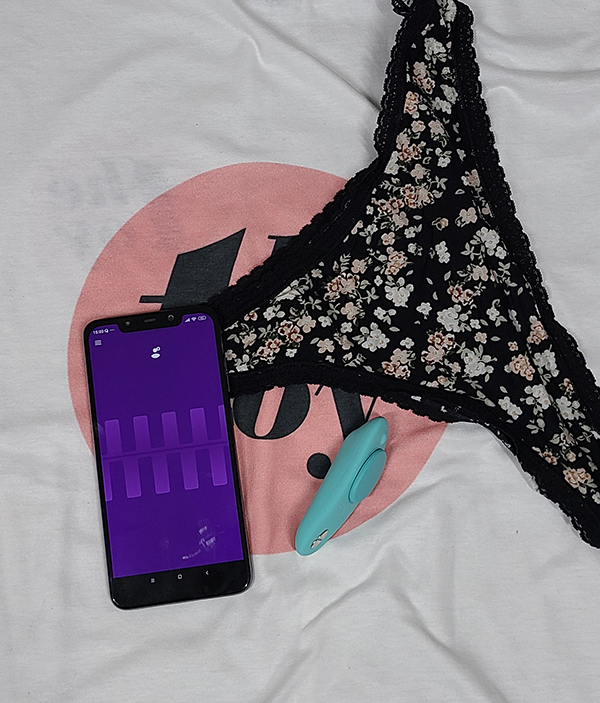 You must successfully connect the phone you intend to use to control your toy with Bluetooth after installing the app.
Then enable your location; this function is required so that your toy and the Bluetooth can simply pair.
The final step is to link your We-Vibe Moxie vibrator to the We-Connect software.
Your toy must be turned ON for this to be possible.
Press the raised button on top of your Moxie vibe and keep it there for 5–6 seconds to activate pairing mode. When pairing mode is active, the We-Vibe Moxie will vibrate three times.
According to my own experience, the connection is made more quickly the closer the Moxie and the phone are to one another.
You should see a screen asking you to connect a toy with a large button like this as soon as you launch the We-Connect app.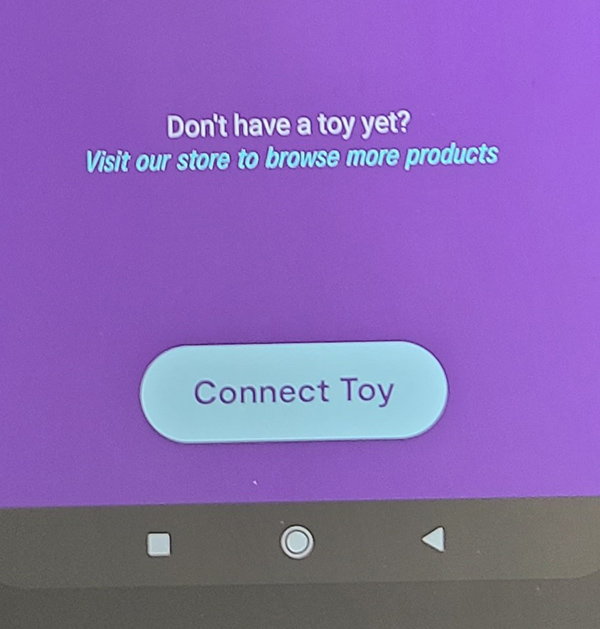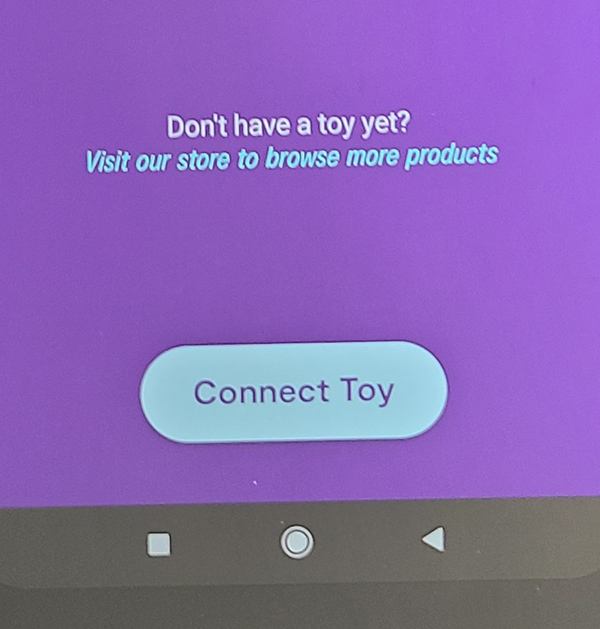 The first time you are connecting your toy you will get a prompt for pairing like this: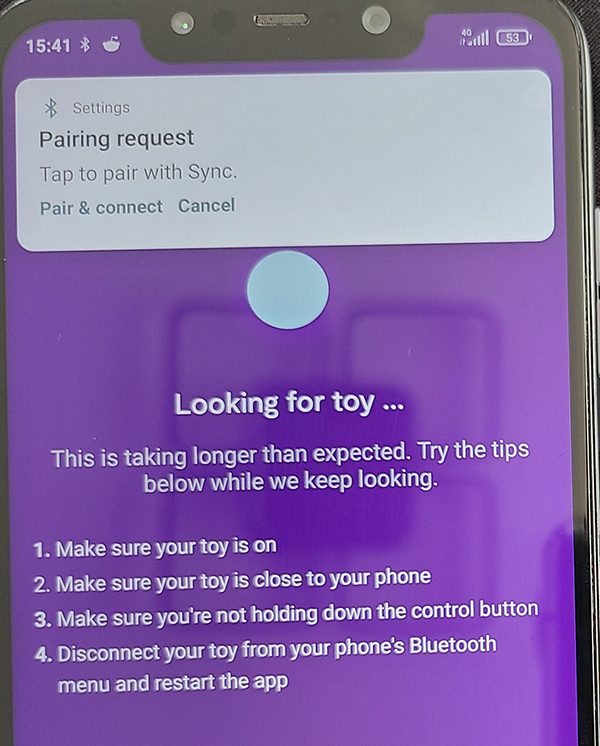 Click on Pair & connect.
Then on the next prompt click Pair and you should be connected to the We-Vibe Moxie.
If something goes wrong or the app searches too long for your vibe, you can close the We-Connect app and open it again and start the pairing.
The last step is to uninstall the app and install it again and follow the steps. Eventually, it should work.
Pro tip: Place the vibrator on the left side of your phone while trying to connect.
How to air Moxie with a partner?
The We-Connect app must be downloaded and set up on the mobile devices of both partners.
The owner of the vibrator is responsible for pairing it with their cell phone.
After that, users must click on the "Person+" icon in the centre of the top line of the screen (circled in red).
The "Yes, I want to connect with a partner" button must be clicked first before the "Connect a partner" button appears.
A list of messaging services will then be displayed. Select your preferred service to send your remote partner the invitation link.
The remote partner must click the link after receiving it, and then click the "Connect to lover" button.
He has to disconnect from another partner if he is connected to him via the We-Connect app.
You can delete your partner by selecting "Settings" from the hamburger menu in the upper left corner and then "Remove Partner".
The partner with the vibrator will receive a pop-up message saying "Your partner would like to connect" and will then be able to operate the vibrator after the removed partner clicks on the person with the green dot (which means your partner is online).
You need to select "Yes."
Then the chat menu will appear and your session will begin.
You can make calls, and send text messages, photos and videos there.
The remote partner must click the upper left corner to operate the We-Vibe Moxie vibrator.
By clicking on the pattern menu, students can quickly design their own vibration patterns. This opens the pattern menu and the button to start or stop the vibrator.
We-Connect's data transmissions are secured and encrypted on secure servers.
However, remember that this is the Internet. So avoid sharing anything that might make you feel humiliated later.
Storage
To prevent bacteria growth, you should clean the vibrator both before and after each use. Make sure the Moxie is completely dry before placing it in its storage box after cleaning.
Cleaning
Your Moxie panty vibrator is made of non-porous, body-friendly silicone, so it's easy to clean with warm, soapy water. You can also clean it with a sex toy cleaner if you like.
You should not put your We-Vibe Moxie, charging cable or remote control in the dishwasher, nor should you boil or microwave them.
Some users recommend disinfecting the Moxie in a 10% bleach solution, but that's not really necessary. A careful wash with soap and running water works just as well.
Price
The We-Vibe Moxie vibrator is a bit pricey. It costs about $125, while competitors' panty vibrators cost about $100. However, the We-Vibe company offers a 2-year warranty, which is unusual in the world of sex toys and should be appreciated, as most companies only offer a 1-year warranty, if there is warranty at all.
Unboxing
My brand new We-Vibe Moxie just arrived in the mail, and the first thing I can say about it is that the We-Vibe company actually values the privacy of its users.
The We-Vibe Moxie was delivered in a plain cardboard box with only a sticker on it with information about the courier company. Two cable ties held the box firmly in place.
To reduce friction and avoid possible damage during shipping, wrapping paper was used before I cut it and opened the box.
And there it was: the beautiful, elegant box of the We-Vibe Moxie panty vibrator. We-Vibe's packaging never lets you down!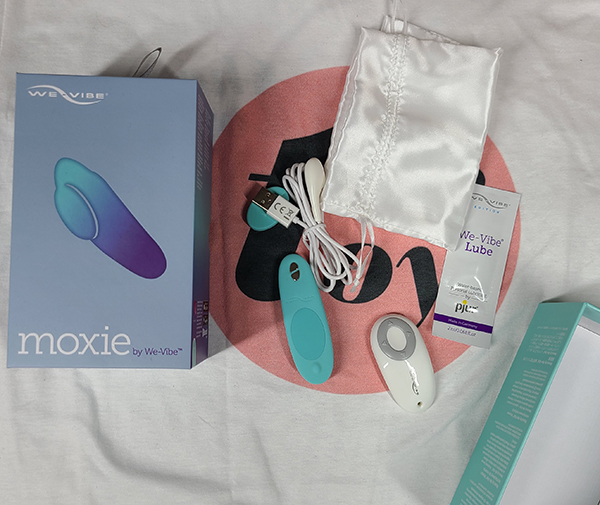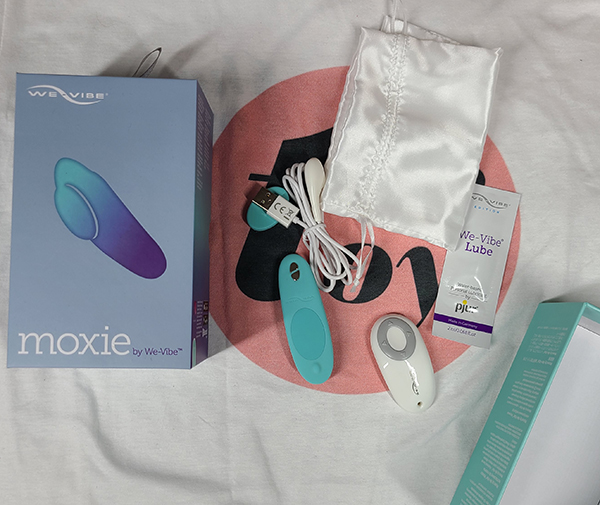 I bought the aqua-colored We-Vibe Moxie.
The Moxie panty toy
2 magnetic clips
One USB cable
User manual with large graphics to illustrate the main functions of We-Vibe Moxie
A wireless remote control
A 20 ml sample of lubricant was also included in the package (pjur)
An elegant satin pouch for storage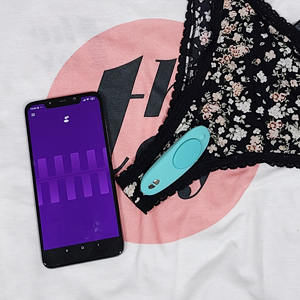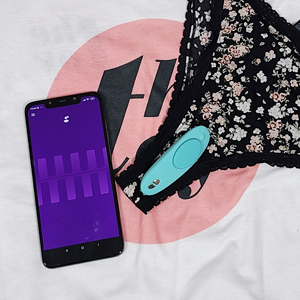 | | |
| --- | --- |
| Power: | (5.0 / 5) |
| Noise: | (5.0 / 5) |
| Material: | (5.0 / 5) |
| Price: | (5.0 / 5) |
| App: | (4.0 / 5) |
Share control of Moxie from anywhere, create custom vibes, and play together anytime
You can buy this product from:
We-Vibe Moxie Vs Lovense Ferri
Each product's creators sought to maximize stimulation without sacrificing comfort. Both vibrators are constructed of soft, firm silicone that doesn't flex or move.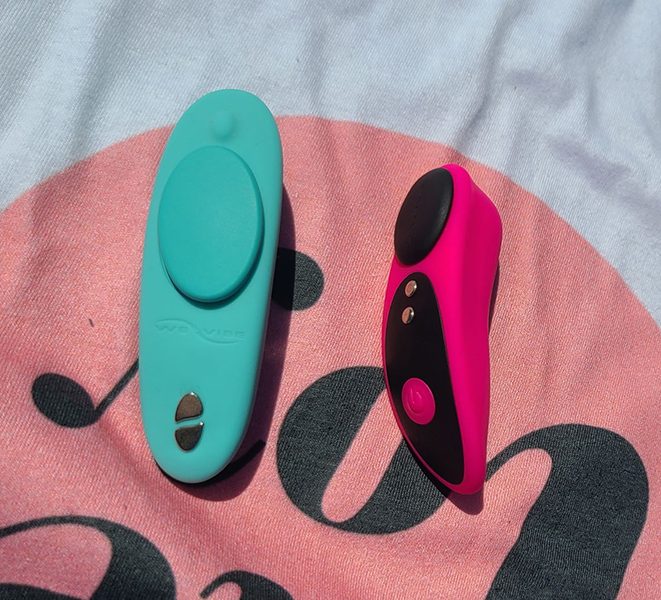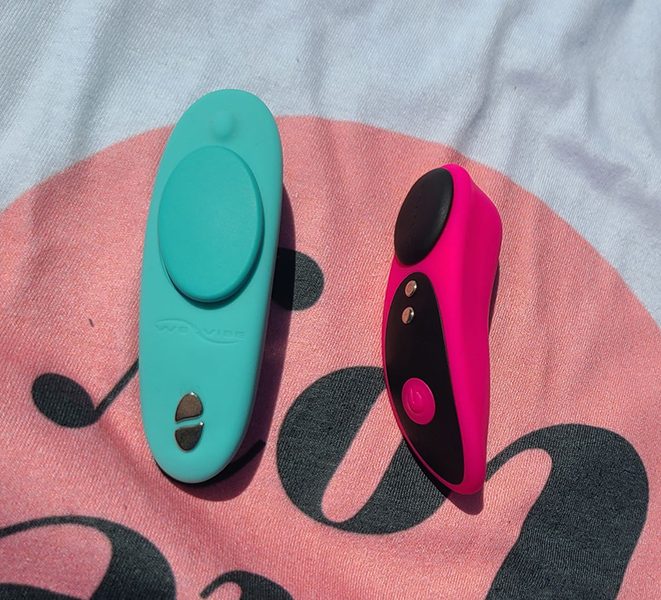 Ferri or Moxie are waterproof panty vibrators. Both may be submerged for 30 minutes at 3 feet. Both sex toys have strong magnetic clips.
Ferri's motor is slightly stronger than Moxie's. Both products are app-controlled, with a free downloadable app; however, Moxie comes with a hardware remote that you can operate without a phone or Internet from afar.
Ferri and Moxie have pre-programmed vibrating patterns and settings, but you can use their applications to adjust them. Both are quiet, though not as whisper silent as advertised.
The Ferri lasts 3-3.5 hours and charges in 60 minutes. Moxie lasts two hours and charges in 90 minutes.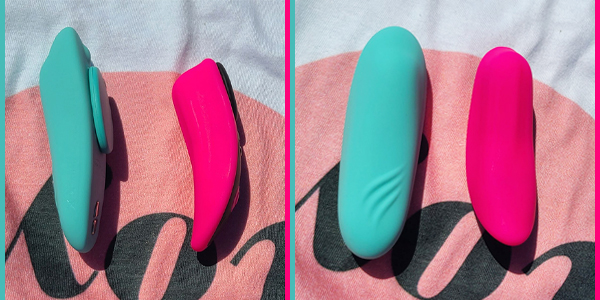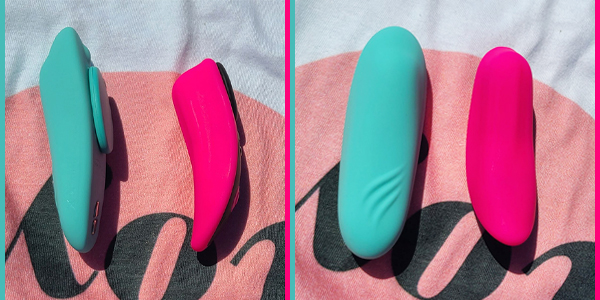 Both long-distance vibrators work well for solo, and couple play. For me, the Ferri is better in public and for long-distance play because of its app, which I consider a bit more reliable. Moxie is a bit more expensive than Ferri.